Girls Winter ONEderland First Birthday
This Girls Winter ONEderland First Birthday is breathtaking! What a beautiful winter-themed celebration for any birthday girl!
Any little girl would be lucky to have this stunning Girls Winter ONEderland First Birthday as the theme to their special day! This party has the cutest details, ever! Unforgettable Events SoCal did an amazing job with styling this event and it also happened to be for her own daughter!
Mom was very specific with how she wanted to create this Pink Winter Wonderland, as she did not want to mix any Christmas decorations in. She truly wanted it to feel like a winter forest for all of their friends and family to enjoy. We think that she MORE than succeeded!
The color palette that was used was stunning and formal, while incorporating fun girly details into baby's first birthday winter ONEderland. With lots of silver and white, things took a more feminine feel with the pinks, golds and creams that were also incorporated. It truly looked like a magical winter wonderland!
The entire dessert table was a winter dream! We just love the mirror name sign, which was hung on the backdrop and made by MJ Trophies & Engraving. Just beautiful! Gorgeous balloon garland by Mad-nificent Balloons was hung around the dessert table, as well as in other areas of the Girls Winter ONEderland First Birthday. It gave everything such an elegant and glamorous feel.
A snow machine was also onsite for all of the guests to enjoy. What is more fun than a true snow shower taking place, while celebrating this little girl's milestone event?! How fun! And the desserts… yum! Mary's Cake Shop did an amazing job on the winter wonderland cake with Birdy Bakes Toppers providing the great cake topper, while The Wild Flour created amazing snowflake cookies. Fairy Sweet Treats provided the remainder of the desserts, which everyone devoured.
All of the children had many activities and party favors to take home with them, including painting their very own winter wonderland canvas, icing and putting together ice castle gingerbread houses, and painting snowflakes. It doesn't seem like anyone would get bored at this winter-themed event!
Finally, Simply Flourish created beautiful floral arrangements around the birthday celebration. Little Quine Crafts also provided the perfect banner that highlighted the monthly cuteness of the birthday girl, which everyone adored. And the perfect additions to a Winter ONEderland Themed Party? Fondue and a hot cocoa bar! Everyone couldn't get enough of the yumminess that the desserts and drinks provided for all ages. We just love it!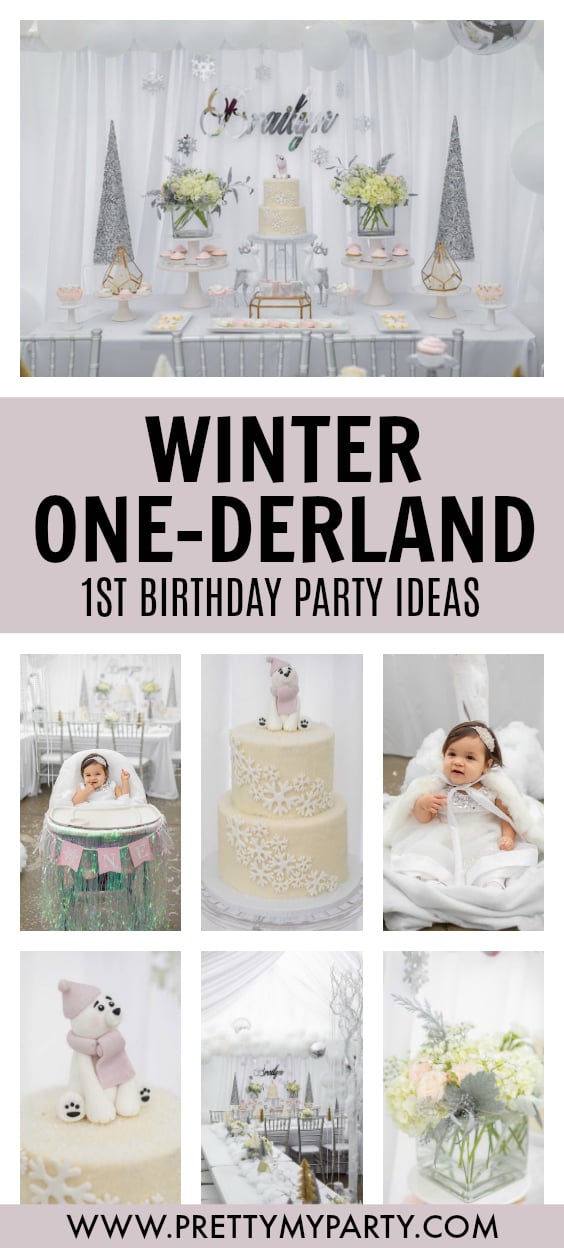 Girls Winter ONEderland First Birthday Ideas
Mirror Name Sign on Dessert Table Backdrop
Personalized Monthly Photo Banner
Gorgeous Floral Centerpieces
Personalized Winter One High Chair Banner
Adorable White, Winter Dress Outfit for the Baby Girl
Gorgeous Snowflake Cake with Polar Bear Cake Topper
Pink, Silver, White and Gold Magical Color Palette
Fun ONE High Chair Banner with colorful streamers
Gorgeous Tent Venue with Dramatic White Fabric Siding
Gorgeous Decorations on Guest Tables
Winter ONEderland Party Supplies
Winter Themed Hot Cocoa Bar
Dessert Table with Snowflake Cookies and Pink Pastel Cupcakes
Delicious Fondue Bar with Fruit and Party Food
Winter Wonderland DIY Canvas Painting
Ice Castle Gingerbread House DIY Creations for Guests to Put Together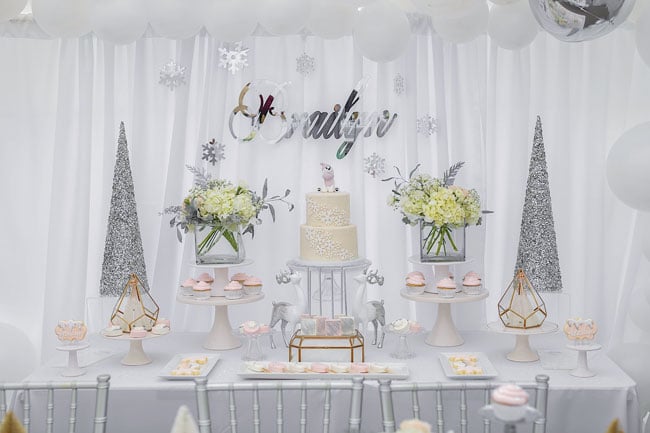 Girls Winter ONEderland First Birthday Supplies and Decorations:
More party ideas for girl birthdays:
This Winter ONEderland Party is a great excuse to have a baby in the winter, right?! All of the details for this First Birthday Winter ONEderland are absolute perfection and we wouldn't even know where to start with our favorite things. But, we definitely love the amazing dessert table, with the gorgeous color palette and backdrop, not to mention the balloons, which tie it all together! And a hot cocoa bar AND fondue?! We just love all of the sweet treats all of the guests got to enjoy. What a fun theme for a winter birthday celebration. What are your favorite details? Let us know in the comments below!
For more party ideas, follow us on Instagram @prettymyparty and Pinterest and join us in our private Facebook group.
Party Vendors