Winter One-derland Birthday Celebration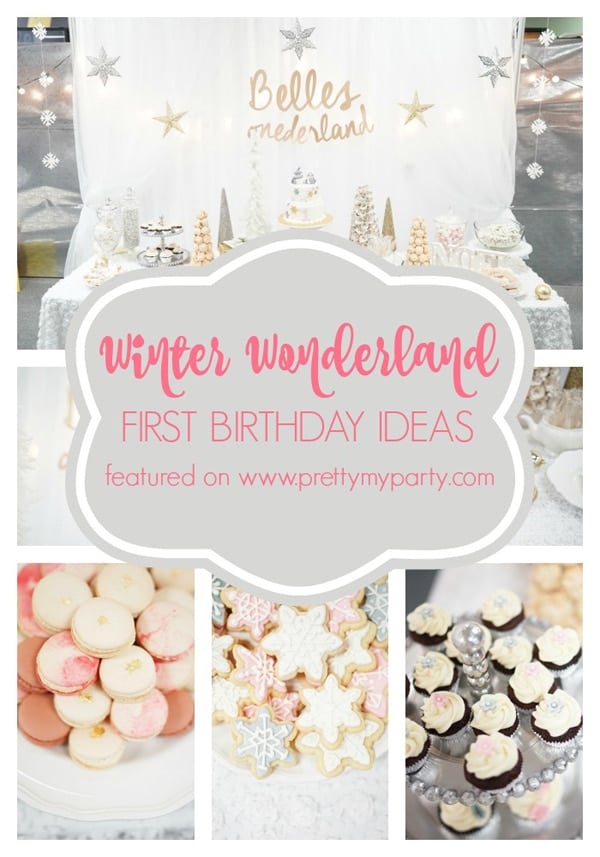 Nothing is as special as a baby's first birthday. But when it happens to be on Christmas Eve, how does one even begin to give it the attention and significance that it deserves? By throwing a Winter One-derland Birthday Celebration. That's how!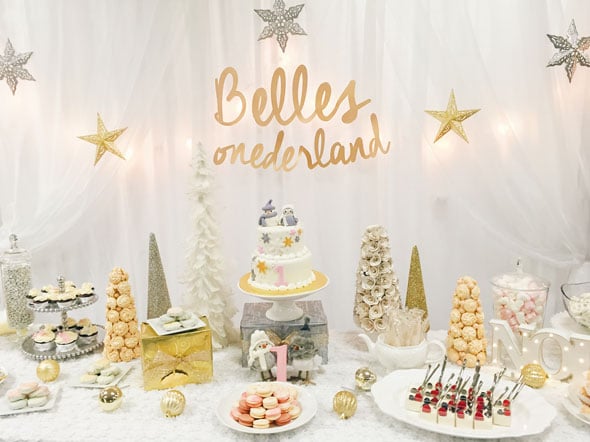 Plan the perfect first birthday winter wonderland party with these party products:
Sign up for a 30-day free trial of Amazon Prime and get free 2-day shipping on your party products!
The theme for this sweet celebration revolved around winter and Christmas, since the birthday girl was born on Christmas Eve. Silver, white and hints of pink were found throughout the party, which was perfect for this special event!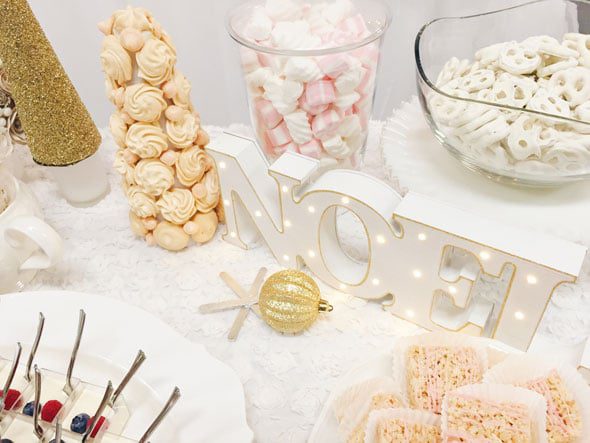 About 30-40 guests came together to celebrate this sweet princess' first birthday in a private residence in L.A. Mr & Mrs Creamery and Sowen Photography were able to capture all of the sweet moments of this little girl's first birthday with great pictures that will be cherished for years to come!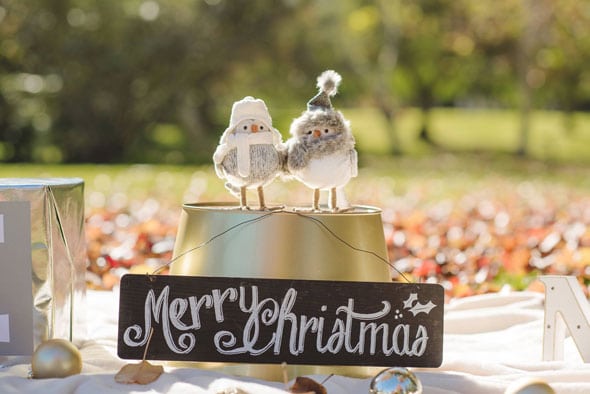 Since this little beauty was born on Christmas Eve, her parents wanted to mesh hints of Christmas and winter into the celebration for her birthday. Pink Martini Events pulled together the design of the party and made sure to keep away from the usual red and green holiday colors.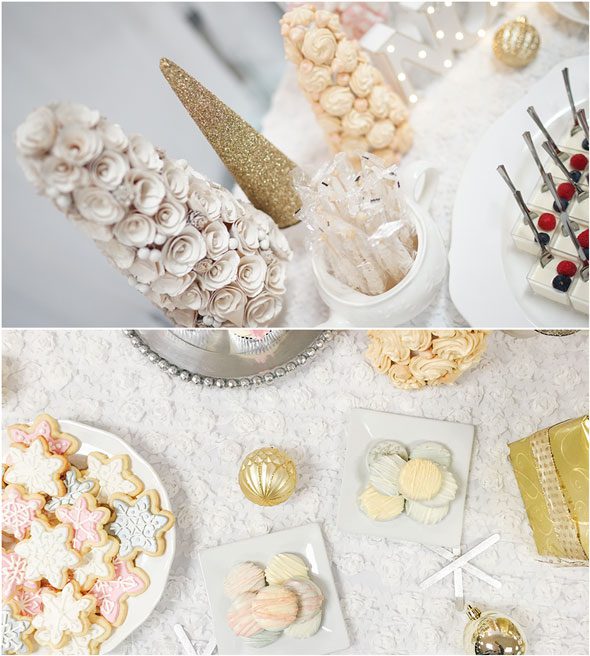 Instead, they focused on elegant and whimsical by using silver, white, gold and touches of pink to bring the birthday girl's "ONE"derland to life!
The highlight of the event was the gorgeous birthday cake that was created by Cakes by Tricia Faye! What a PERFECT cake! The cake toppers were a pair of fluffy birds dressed in winter clothes, which matched the pair of decorative birds that the birthday girl's parents found at Target.
The dessert table was made even tastier with the wonderful desserts from Mr & Mrs Creamery! There were plenty of sweets to go around for all of the guests. Desserts included gorgeous snowflake sugar cookies, Rice Krispie bars, macaroons in marbled pink colors, berry panna cottas and of course, mini red velvet cupcakes. Yum!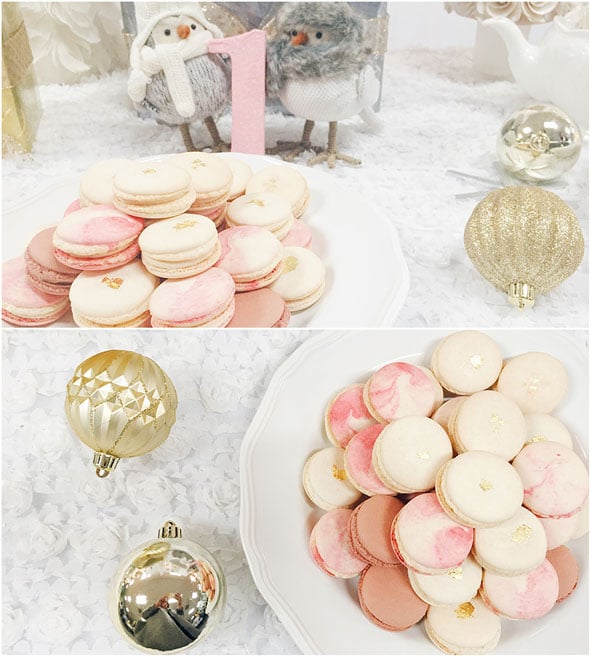 What perfect colors and desserts for a little girl's first birthday celebration!
Food served at the birthday party ranged from dim sum to pasta, where chicken and pizza were found at the party, too! Great frozen yogurt bites with fruit were also there and look at the sweet highchair that was made for the birthday girl! She got to eat in style for her birthday party!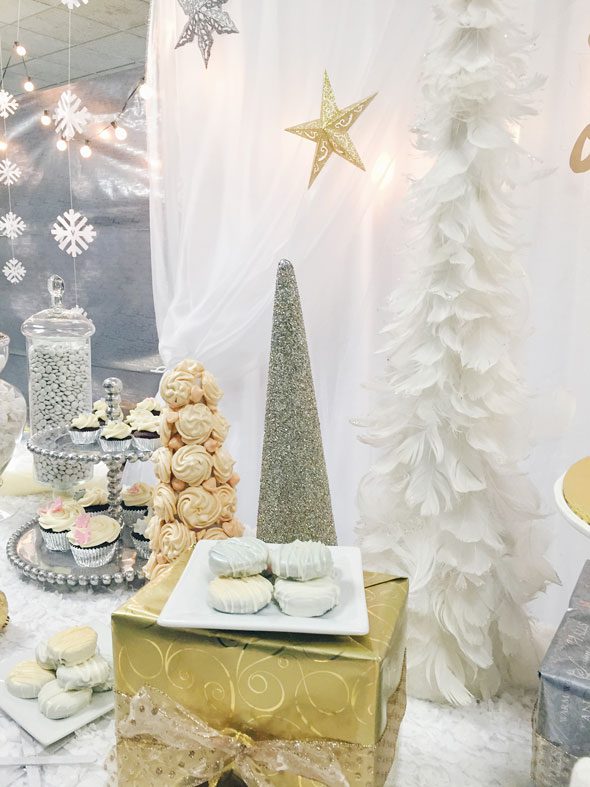 There were also some impressive DIY projects that were made with the help from friends and family. Paper snowflakes were hung around the tablescape and event. These included a mixture of glittery plastic snowflakes along with paper ones, which were hung all along the backdrop. It was so complementary for the theme that was chosen for this little birthday princess!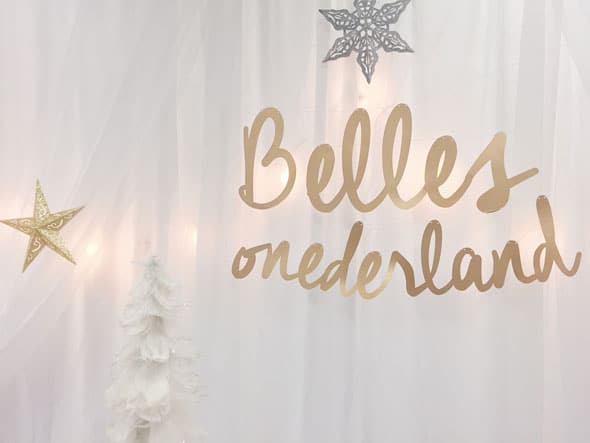 Oh Shiny! Paper Co also contributed to the birthday party by producing the balloons and signs that were found around the party.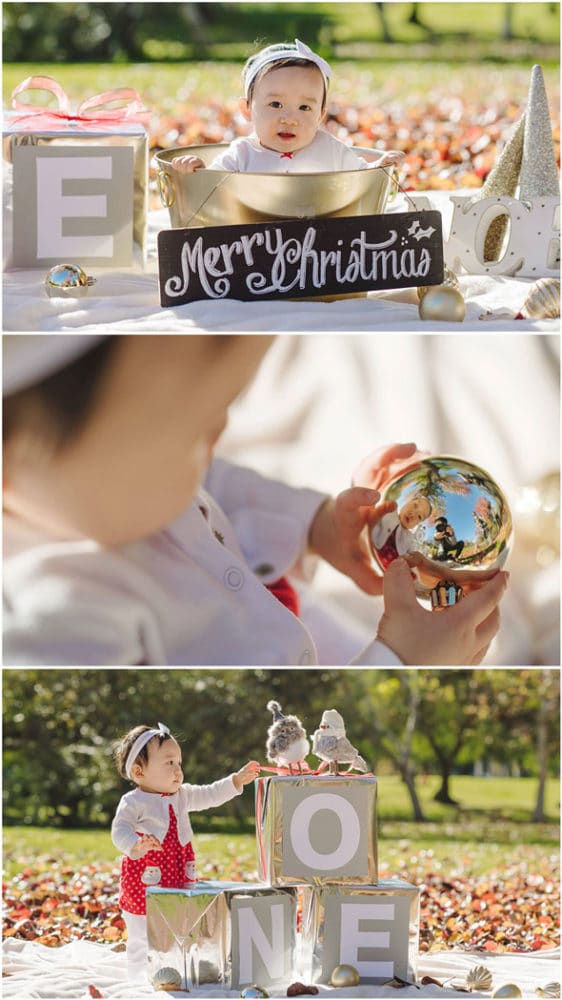 For entertainment, "Belle's Birthday Bingo" took place, which was a huge hit for guests of all ages to participate! Following a few rounds of bingo, everything gathered to watch a popular Taiwanese first birthday tradition where an assortment of items are placed in front of the child and the item he or she "grabs" determines their career path. For this birthday girl's grab ceremony, her options were a stethoscope, book, paint brush, calculator, ruler, microphone and a ball. She went straight for the calculator and kept it for the rest of the afternoon! We can't wait to hear what she ends up doing when she grows up!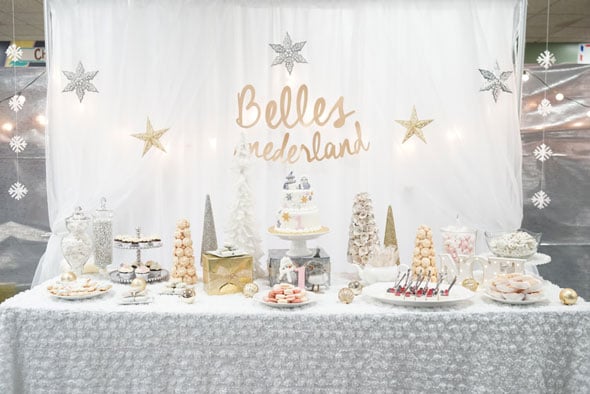 This amazing Winter One-derland Birthday Celebration wouldn't have been possible without the help of all of the family's close friends, family and vendors. What a beautiful way to celebrate a little girl's first birthday around the holidays! So sweet!
Credits & Resources
Photographer: Mr & Mrs Creamery and Sowen Photography // Event Design & Styling: Pink Martini Events // Cake: Cakes by Tricia Faye // Desserts: Mr & Mrs Creamery // Balloons and Signs: Oh Shiny! Paper Co
What's your favorite detail in this sweet Winter One-derland Birthday Celebration? Let us know in the comments below!
Check out these other Winter Wonderland Parties that were featured on Pretty My Party: