Winter ONE-derland First Birthday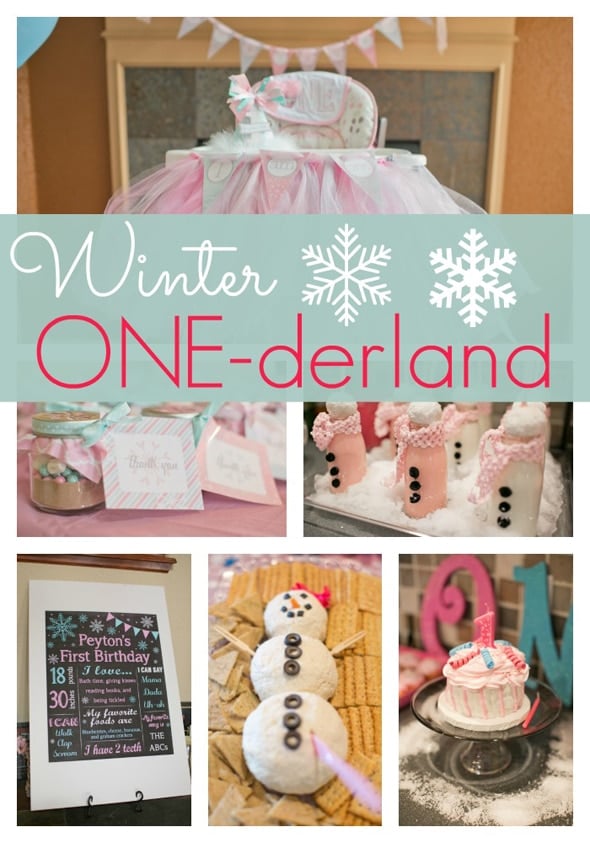 Winter birthdays are so much fun because you can plan a super adorable Winter Wonderland Themed Party! And if your child is celebrating their first birthday you can have a Winter ONE-derland First Birthday! That's exactly what this mama planned and the details are as cute as can be!
Peyton's first birthday was a hit! Mom, Nikki went all out and found the cutest ideas and best decorations for her sweet daughter's party, including the chalkboard print with fun details about the birthday girl. KB Digital Designs captured every detail of this special winter wonderland and we have to say she's one lucky little girl!
Peyton was the cutest with her adorable birthday outfit that had her name on it. She also had a pretty tutu and chevron leggings to match! And we can't forget about the fun 1st birthday party hat that looked totally adorable on her!
We absolutely LOVE the first year photo banners that display cute photos of the baby's first year! It's such a great way to show guests how much they've grown and experienced in their first year of life.
The party featured an adorable Adopt-a-Bear Station where kids adopted their very own cuddly bear that came with a fun birth certificate. How cute!
Fun snowman drinks were a great detail for this winter snow themed party!
Get pinning, this is the best detail yet! A fun cheese snowman appetizer was on hand for guests to enjoy!
In addition to the cute Adopt-a-Bear Station, there was also a Cookie Decorating Station for the little guests. Kids had a great time decorating their very own cookie!
The birthday girl sure had a great time digging into her very own smash cake! I think she's definitely a fan of cake and her mom has the photos to prove it!
Favors included fun hot chocolate mix in cute mason jars for guests to take home. This party was truly a sweet celebration for a sweet 1-year-old. The details were absolutely perfect and the birthday girl looks like she had a great time with family and friends. I'm certain there are many more fabulous parties coming her way in the future!
Credit & Resources
Photography: KB Digital Designs // Cake: King Soopers
Plan a fun Winter ONE-derland 1st birthday for your little one with these party products hand-picked from our editors!
Sign up for a 30-day FREE trial of Amazon Prime and get FREE 2-day shipping on your party products!