Sweet Minnie Mouse First Birthday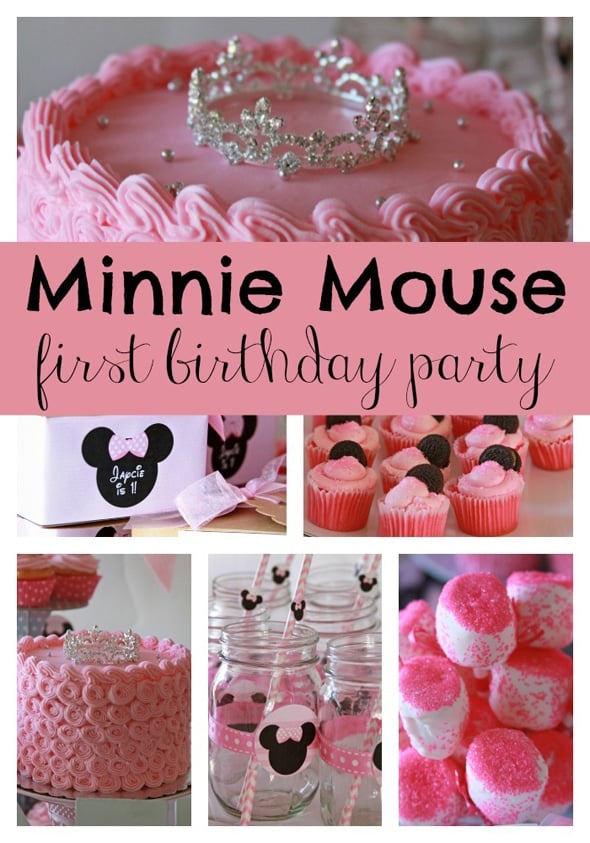 Finding out you're having a baby girl is an amazing time in any family's life. That was exactly the case when this family found out that a precious little girl would be joining the family. Planning her Sweet Minnie Mouse First Birthday has been in the works since then and now was finally the time to celebrate this little princess turning 1!
From Footsteps Photography (The birthday girl's Mimi):
Jaycie Lynn, the sweetest, most easy going baby girl you would ever meet. Her beautiful smiles, those sticky sweet kisses, and the tightest hugs made it so easy for this little princess to work her way into our hearts. She is just amazing … (I know as her Mimi I am supposed to say that, but it really is true!) With her love for Minnie Mouse, the idea for a Princess Pink Minnie Mouse party for our princess, well that was just a given.
Her mommy, my daughter, and I have been pinning ideas for this party since the day we found out she was having a baby girl. After looking at the board of pins from more than a year ago, this looked like an immense undertaking. We own a photography business, Footsteps Photography, and are crazy busy, so the thought of this party and actually having the time to do all that needed done made us chuckle that we could actually pull this off.
Over the years, I have thrown some pretty over the top parties for my girls and now I am blessed to be able to do this for my grandchildren. Each party my husband smiles and asks "Why?' and I have the same answer for him each year, "You only turn (insert year here) once". So the party planning was underway.
I had ordered some items: treat boxes, straws, ribbon, cupcake liners and a cupcake stand from Pick Your Plum, and with that, the Minnie theme party was underway. We found some free Minnie Mouse templates online for water bottle wraps and cupcake toppers. Using them as our guide, we made the party invitations, candy wrappers, kiss spots and wraps for the adorable treat boxes. I made … well Betty Crocker and I made the pink lemonade cupcakes with whipped frosting, red velvet mini cupcakes, vanilla cake pops dipped in white chocolate dyed pink, marshmallow pops dipped in white chocolate covered in pink sprinkles, raspberry sherbert punch and my favorite … mouse cheesecake.
Her actual cake was made by Kathy at The Sweet Spot Bakery in Caldwell, Idaho and it was delicious! We topped the cake off with the princess crown Jaycie wore in her newborn photo shoot and the stage was set. Balloons, and lots of ribbon and bows finished off the look we were wanting for our little angel.
We know she will never remember her party (except for the pretty pictures) but really isn't the first birthday party as much a celebration for the parents? They made it through the sleepless nights, the first teeth, and all the craziness that goes with that first year. They too should celebrate! First birthdays are my favorite, you know why? Because you only turn 1, once.
Pink and black Minnie Mouse details were super adorable! Mason jars with Minnie decor and pink and white polka dot ribbon were on hand for guests' beverages. And we can't forget about the pretty pink paper straws! They really are a fun little element to add to any event! The adorable floral centerpiece was perfect with a cute Minnie topper!
We just LOVE rosette cakes! They are so pretty and girly – perfect for this sweet birthday girl's big day! We love how they added he birthday girl's tiara on the cake.
How fun are these mouse cheesecakes?! … Yum! Such a fun detail for this party!
The pink lemonade cupcakes were enjoyed by guests and they washed them down with some raspberry punch.
The red vintage highchair was her Mimi's from 50 years ago! How sweet to incorporate it for her first birthday! What a wonderful celebration for a sweet little girl! I'm sure she will treasure all of these photos for years to come!
Credits & Resources
Photographer: Footsteps Photography // Design and Decor: Pick Your Plum // Cake Designer: The Sweet Spot Bakery //
Submitted via Two Bright Lights
Plan a fabulous Minnie Mouse Birthday Party with these fun party products hand-picked by our editors!
Sign up for a 30-day FREE trial of Amazon Prime and get FREE 2-day shipping on your party products!