Boho Inspired Winter Wonderland Party
This sweet birthday celebration incorporated a fun, Boho Inspired Winter Wonderland Party that all of the little girls absolutely loved!
Despite the craziness of the holiday season, this Boho Inspired Winter Wonderland Party was the perfect way to celebrate this little girl's big day! What better time than to indulge in a winter wonderland theme?! We just adore this fun and festive boho themed tea party with a pastel winter wonderland vibe! Everything from the vintage floral plates and napkins to the clear jumbo balloons filled with confetti, were so pretty and whimsical!

Shop these Boho Inspired Winter Wonderland Party Decorations: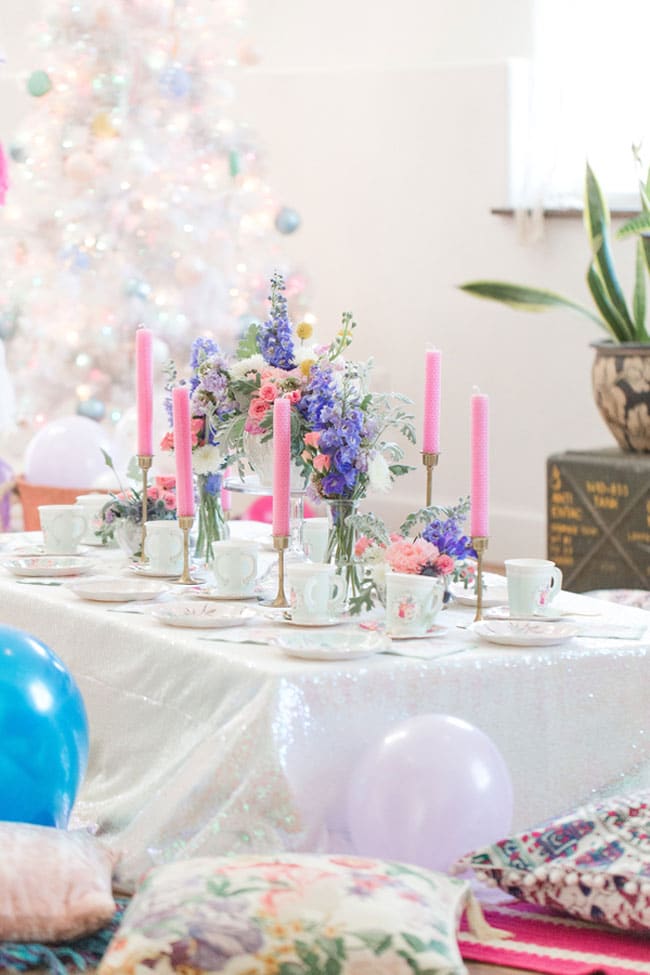 With a birthday falling the day before Thanksgiving, most would stress about throwing together an unforgettable birthday party for a sweet little 6-year-old on top of it! But not this mom, from The Round House Bakery! She threw together an amazing winter wonderland themed birthday party in a matter of days!
Pastels and chocolates were the highlight of the event, which are this birthday girl's favorites!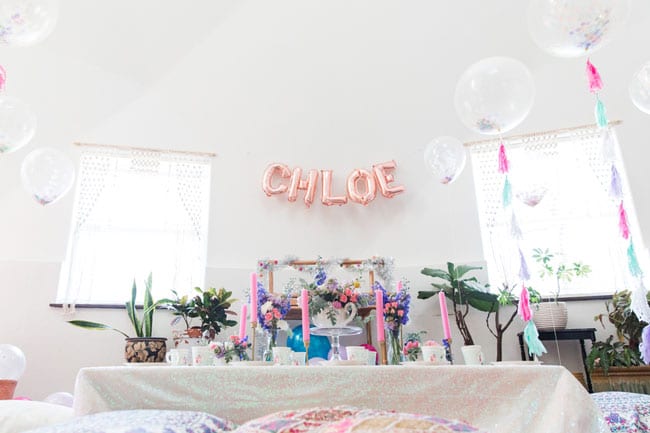 Highlights from this adorable Boho Inspired Winter Wonderland Party include:
The colorful Christmas tree that highlighted the area around the party

Pillows surrounding the fun tea party table for the girls to stay comfy and cozy

The gorgeous macaroons filled with chocolate
Every little girl's birthday dream came true with the colorful floor pillows and amazing flowers found in teapots throughout the home. The kid-friendly plates and cups made the table settings whimsical and perfect!
Winter wonderland decorations were found all throughout the party, with a fun and bright Christmas tree, along with other winter wonderland decor, as well. So fun and bright!
Pretty layered mini cakes, which were topped with roses and blackberries were the delicious desserts the girls were able to enjoy. Believe it or not, the main cake was fake, which was a painted display for mom's bakery window! What a perfect way to serve a small group, yet still have a grand display!
We love the delicate tea sandwiches, with the sweet hearts cut out in the bread. It is the perfect winter wonderland party food!
How delicious do these chocolate-filled macaroons look? And to fit into the winter wonderland theme, there are even ornaments that were used that look like macaroons, too!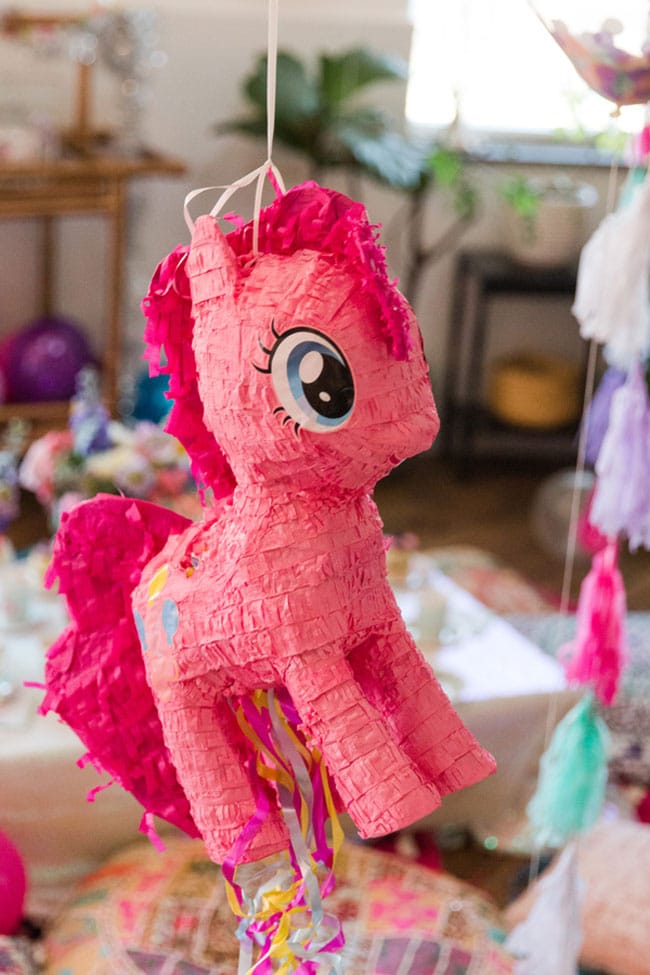 The winter wonderland themed party also focused on fun and sharing, instead of gifts. The birthday girl asked all of her friends to bring craft supplies they had at home to the party, instead of gifts to exchange. They all got to share in an activity, which was a sweet sentiment during the holidays! And this birthday girl loves all things crafts, so it was the perfect way to celebrate friendships! And it doesn't hurt that it saved mom time and resources to plan different activities!
Winter wonderland party decorations were simple and easy, as many supplies were used that were on-hand and stashed from previous events. With the white and green space from the dome living room and kitchen as the backdrop, it was easy to go crazy with balloons, pillows and florals. Beautiful!
How fun and bright are these animal cookies and pastel marshmallows? It's the perfect addition to a winter wonderland party! And this unique house allowed tons of natural light in for a bright and festive atmosphere!
Small floral arrangements in tea pots were put together, as well, and the tea pots were borrowed from the birthday girl's grandma. Adorable paper-china tea cups were from Talking Tables,which inspired the color scheme for iridescent materials and pastel florals.
This sweet birthday girl enjoyed her crushed velvet dress, along with hot chocolate and sweets. It's every girl's dream to have a winter wonderland themed birthday party and her enjoyment is apparent!
What's your favorite detail in this Boho Inspired Winter Wonderland Party? Let us know in the comments below!