Fabulous Tutti Frutti Birthday Party
You can't go wrong with a fun Tutti Frutti Themed Party. These fruity details make this event one sweet party for a 5th birthday!
This Fabulous Tutti Frutti Birthday Party comes from Entertaining with Emily. Her daughter, Ariella, LOVES the color orange. When they were deciding upon the theme for her 5th birthday party, she randomly said "Oranges!" Which led them down the road of fruit, which then eventually led to a Fabulous Tutti Frutti Birthday Party! What a fantastic theme full of bright and colorful watermelons, pineapples, strawberries, kiwi, grapes, and more!
This party features the most adorable Tutti Frutti Party Supplies and Decorations.
This event is full of awesome Tutti Frutti Party Ideas.
Tutti Frutti Party Ideas
Adorable Tutti Frutti Birthday Cake
Cute Tutti Frutti Birthday Dress and Fun Pineapple Shoes
Perfect Tutti Frutti Party Invitation and Party Printables
Pineapple Party Drinks and Pineapple Fruit Cups
Fruit Cut Out Backdrop
Fun Fruity Table Covers
Pineapple Centerpieces
Fruit Party Balloons

Tutti Frutti Party Supplies and Decorations:
Her daughter's birthday is in January, but luckily for them, they starting planning six months early and found a lot of the fruity decorations. They shopped all summer long for fruit decorations, plates, pitchers, tablecloths, plates, etc.
Emily designed the fun Kawaii fruit print and confetti invitations and other graphic items which are for sale in her Etsy shop, Emily Entertains. She searched for vinyl wall decals of the Kawaii fruits, but she really wasn't able to find any, so she ended up using her Silhouette cutting machine and cut out a TON of fruity walls decals.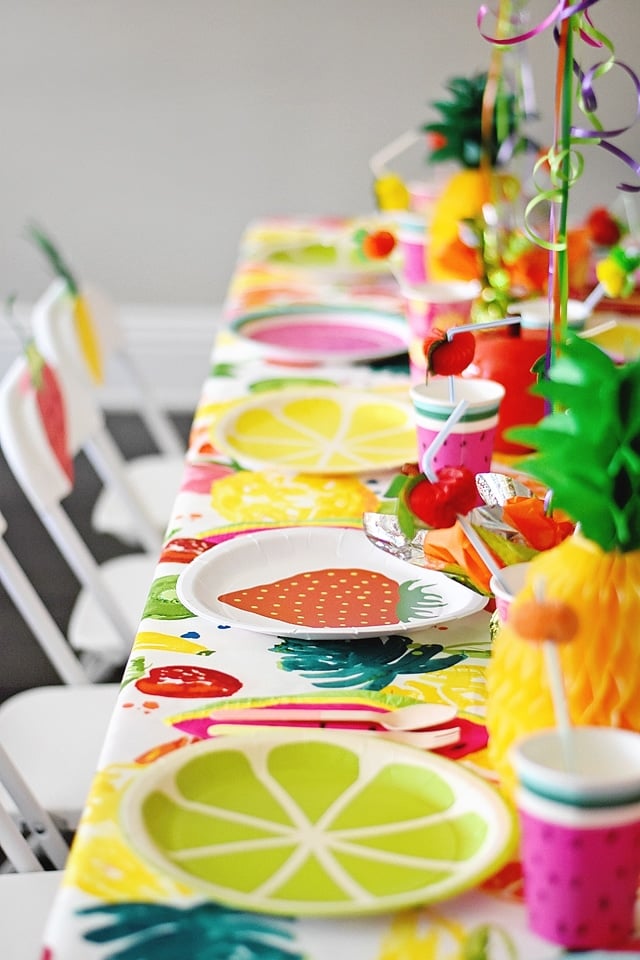 Another amazing element to the party decor were the glittery fruit slices from Lula Flora. They also did extra ones that were put on all the chair backs of the dining chairs, which added even more sparkly color to the party!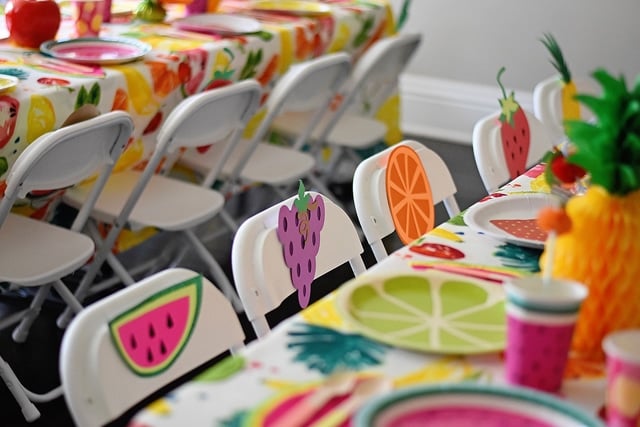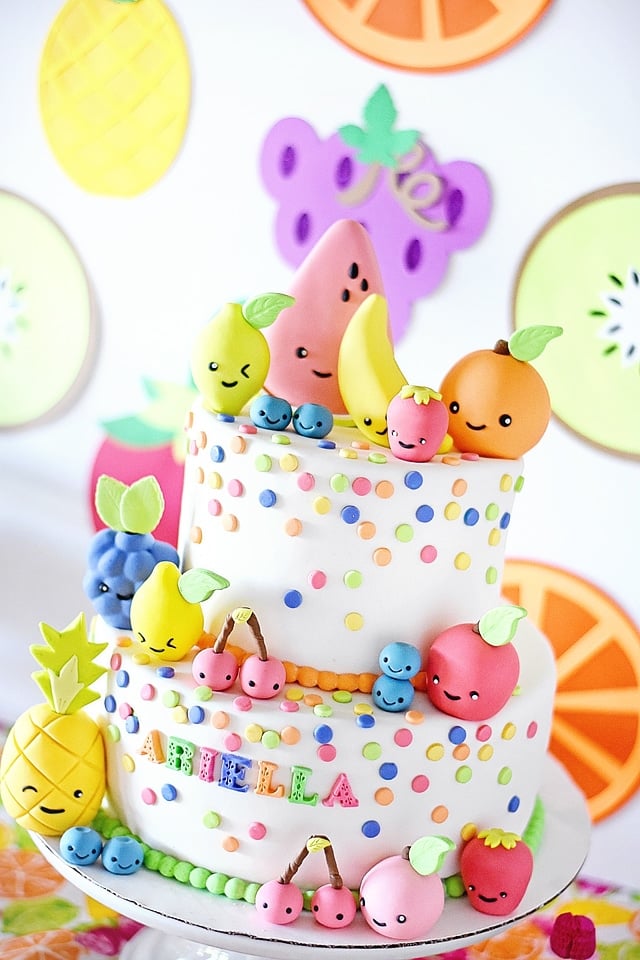 One of the most favorite items was the cake. Liz from Les Pop Sweets nailed the cake toppers to a "T"! Emily sent her a rendering she did, and she recreated it in the most amazing way!!!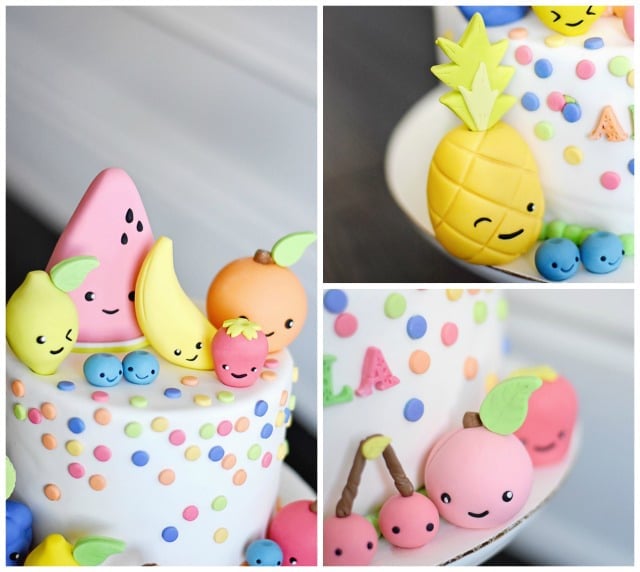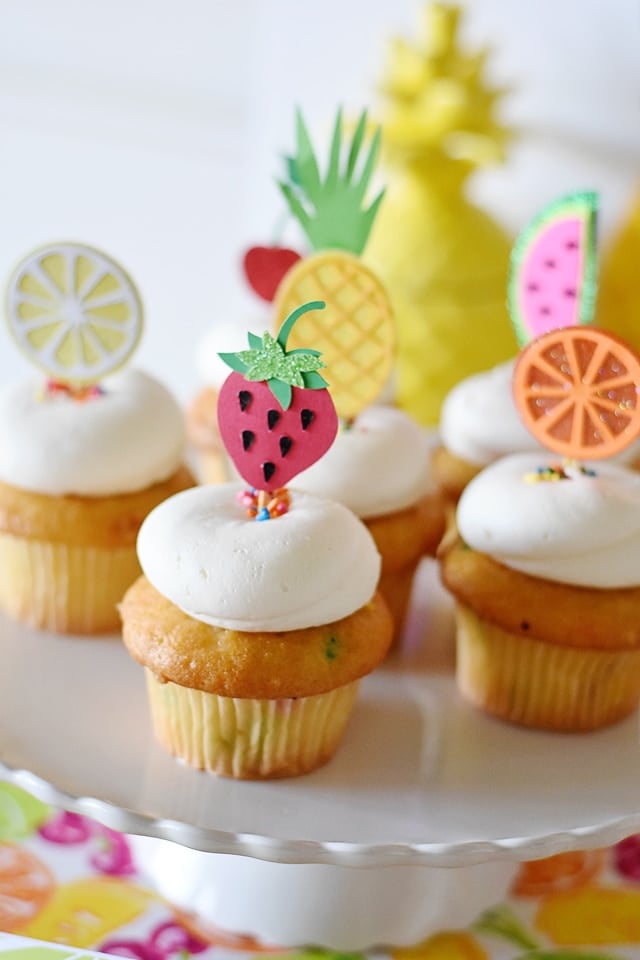 Emily added to the fruity theme with lots of healthy and fresh fruit for the kids to munch on – pineapple fruit cups, fruit and yogurt, etc.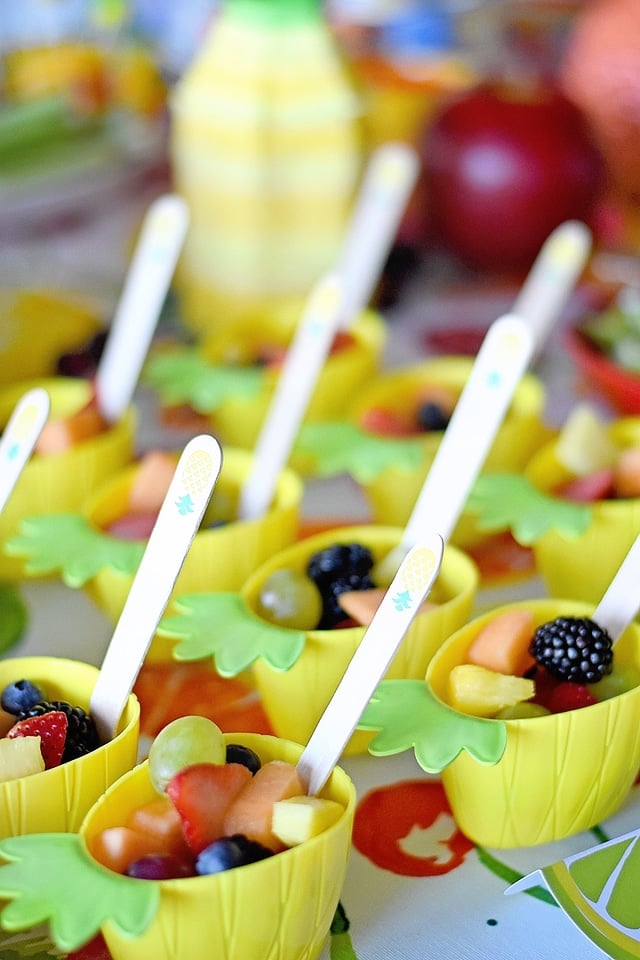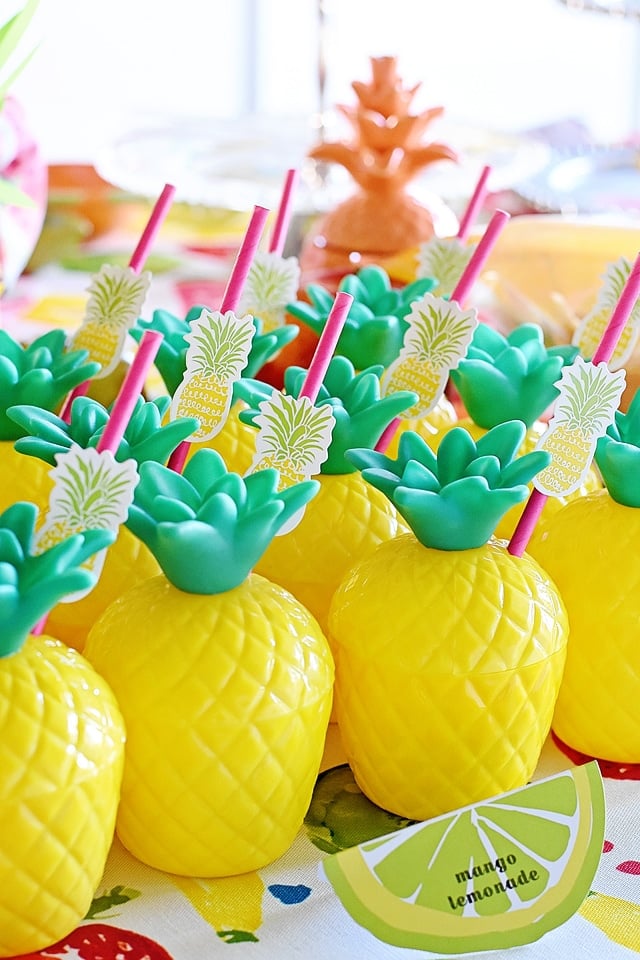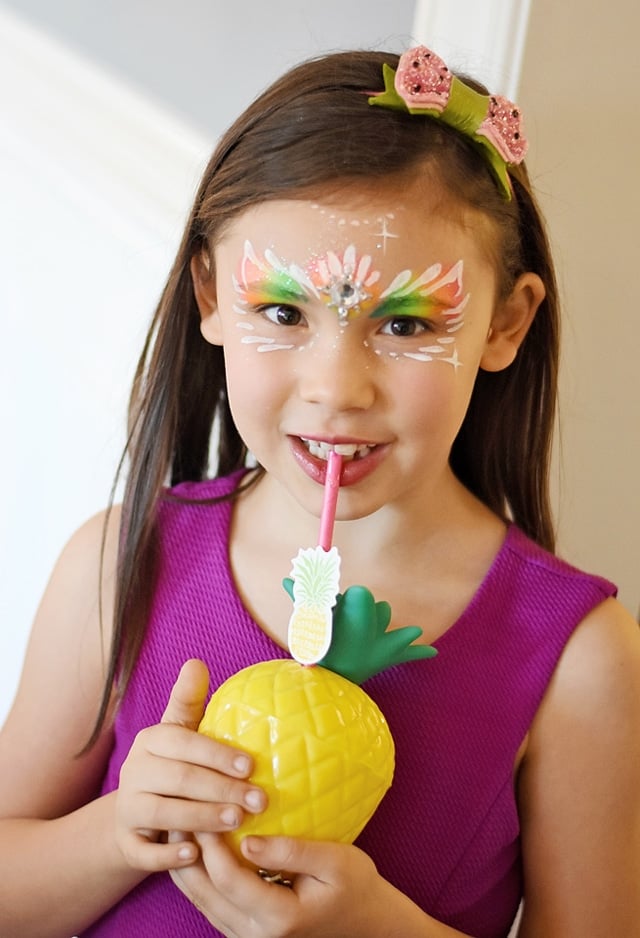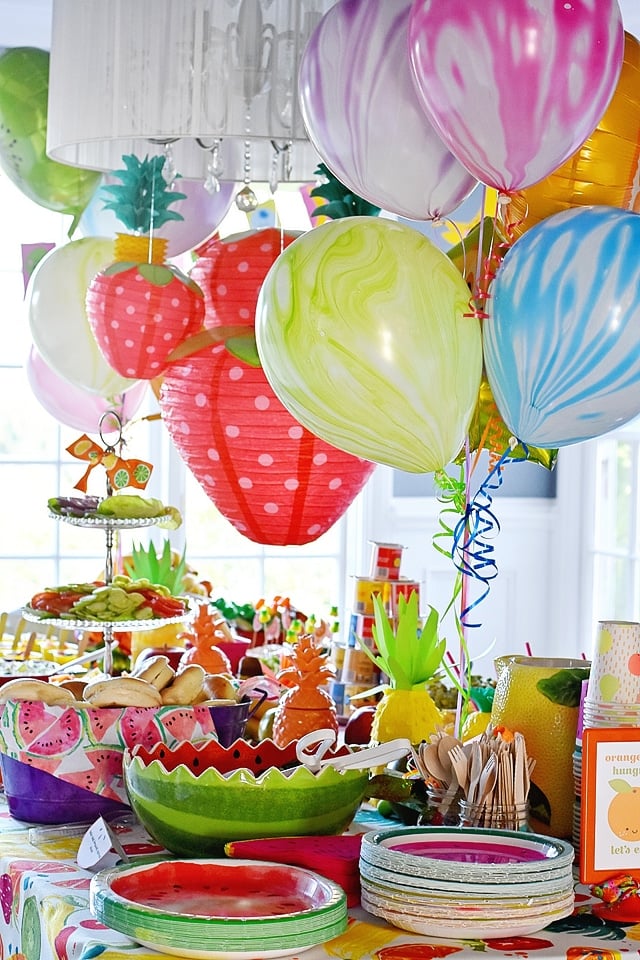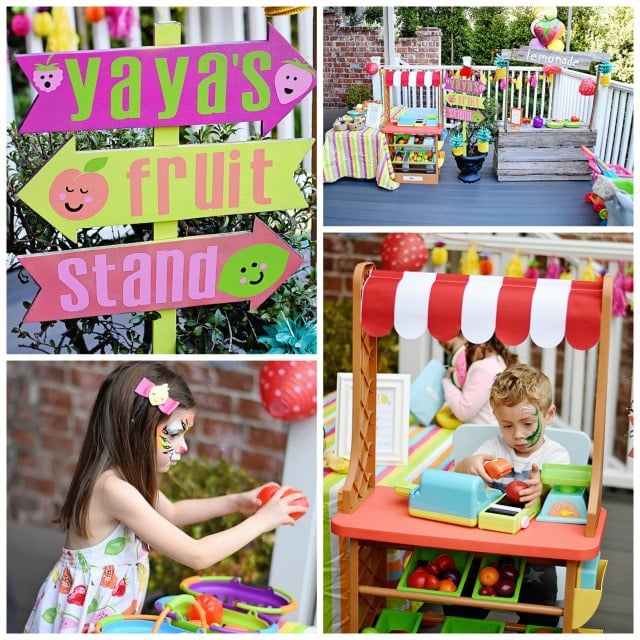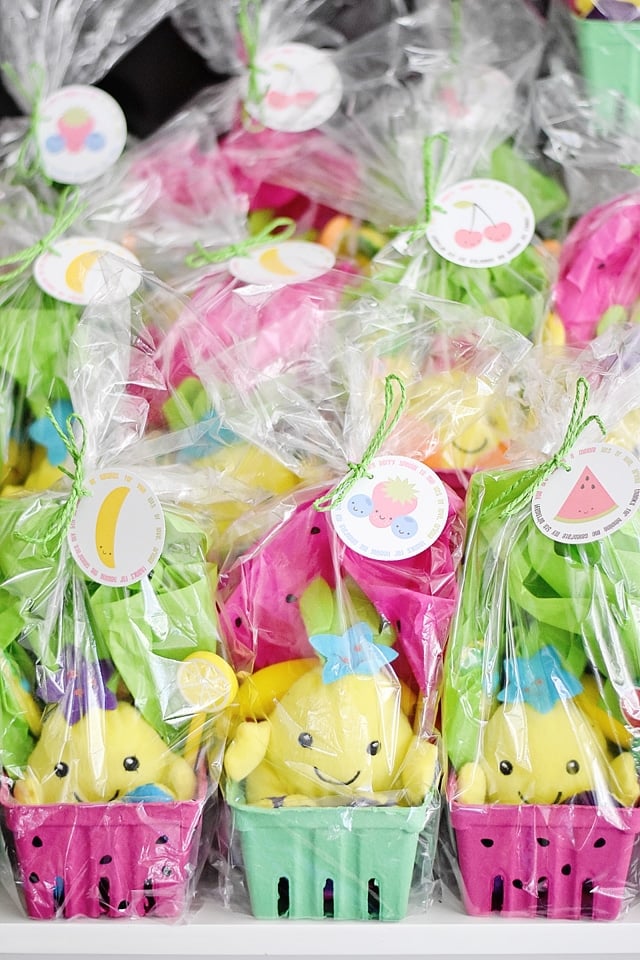 For party favors, Emily found these adorable Kawaii-looking plush pineapples to give away as party favors. She put them into cardboard berry baskets with a few other items, and the kids loved them!
What's your favorite details in this Fabulous Tutti Fruity Birthday Party? Let us know in the comments below!