Summer Fun Tutti Frutti Party
The decorations and food in this Tutti Frutti Themed Party is definitely One In A Melon!
This fantastic Tutti Frutti Party is exactly what one dreams of when thinking about summer fun! This birthday girl is truly "One In A Melon" and sweet as can be, so this party theme was perfect for her! What little girl wouldn't want a fabulous Tutti Frutti Birthday?! She will remember this event for years to come.
Party Deco of the Philippines pulled out all of the stops when it came to this incredible Tutti Frutti Party full of gorgeous details. There are so many creative Tutti Frutti Party Ideas here from fruit themed desserts and party decorations to fabulous DIY ideas you can incorporate into your own event.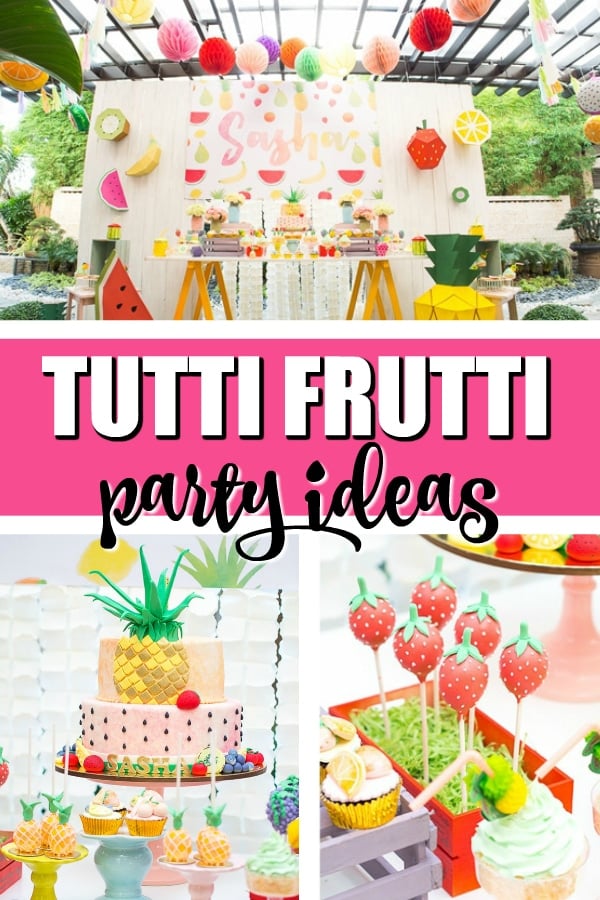 Tutti Frutti Party Ideas
Personalized Watercolor Tutti Frutti Dessert Table Backdrop
Awesome Tutti Frutti Birthday Cake
Fruit Inspired Mason Jar Flower Vases
Fruit Decorations (Watermelon, Kiwi, Pineapple, Banana, Lemon)
Fruity Cake Pops
Fruit Themed Balloons
Fondant Fruit Cupcake Toppers
Tutti Frutti Birthday Party Supplies and Decorations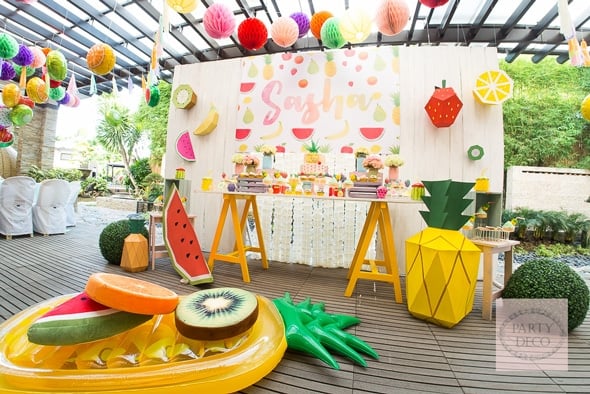 The party space, held outdoors, was all decked out in colorful, vibrant Tutti Frutti Party Decorations. How fun are the life-size pineapple and watermelon decor that accents the dessert table?
Colorful fruity balloons and honeycomb decor hung from above creating a festive vibe.
The dessert table is so fun with bright yellow legs. Wait until you see the Tutti Frutti desserts on the sweets table. They serve as part of the fun decor as well. We're sure the guests loved every detail as soon as they walked into the event. I'm mean who wouldn't right?!
The fruit balloons, together with the gorgeous, bright details made it an unforgettable time. We're loving the watermelon and pineapple cups with straws.
Another fun detail were the cupcakes made to look like margaritas with pineapple straws. So clever!
A fun DIY idea for any Tutti Frutti themed birthday are the fruity mason jars pained to look like various fruits. What a great decor idea for the flower arrangements on the dessert. table. They would also look fabulous on the party tables as a centerpiece as well!
How about that dessert table? Everything looked almost too good to eat. We just love the fun, bright colors that were incorporated throughout the entire event. We also love the mix of bright colors with pastels colors.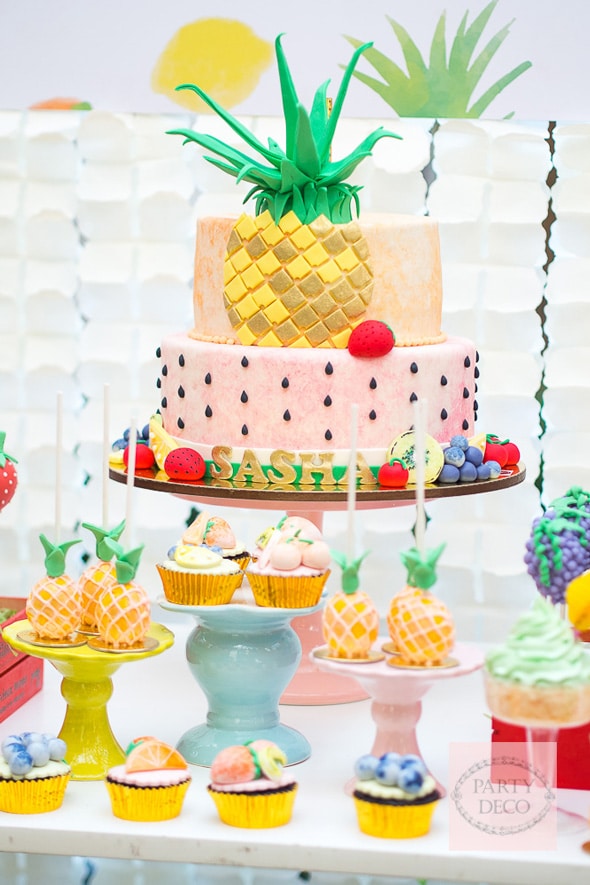 Bianca's Patisserie created the perfect cake for this fun summer birthday, along with the gorgeous cupcakes! How about that pineapple cake topper?! So unique and fun! The bottom layer of the cake was made to look like a watermelon and various fondant fruits were seen near the bottom layer. The concept of the cake is so unique and creative for a Tutti Frutti Party!
The cake pops were absolutely divine! They looked so perfect and Crafty Cakes and Cupcakes couldn't have possibly done a better job. Just look at those grape, pineapple and strawberry cake pops!
Fondant fruit cupcake toppers looked perfect on each cupcake. All of the fruity desserts complements the birthday cake perfectly. Wow what a dessert spread!
This party was truly one of the best when it came to the details. We love the strategically placed 'fruit' that was found around the entire event. Party Deco did an extraordinary job styling this event and created a wonderful backdrop for the dessert table! We're certain the birthday girl loved seeing her name on the backdrop as soon as she walked into her fun and colorful birthday bash!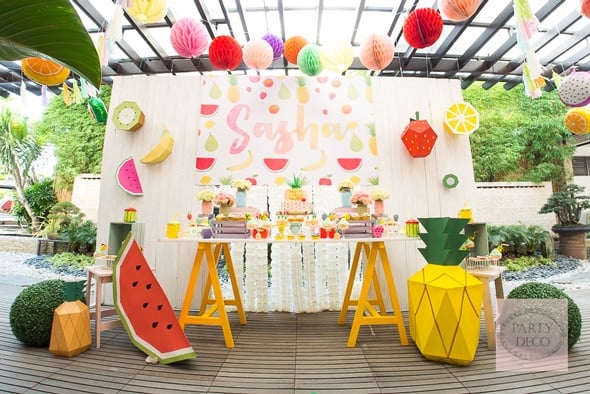 When it was all said and done, we don't think we've seen a more adorable summer Tutti Frutti Party. The desserts and decor really brought this theme to life. If you're planning a Tutti Frutti Party Theme like this one for your child take note of this party for all of your ideas. We're sure your party will be 'One In A Melon!'
What's your favorite detail in this Summer Fun Tutti Frutti Party? Let us know in the comments below.
For more party ideas, follow us on Instagram @prettymyparty and Pinterest and join us in our private Facebook group.