Heartbeat Bunch Valentine's Day Party
How sweet is this Heartbeat Bunch Valentine's Day Party for kids?!
Fall in love with this super cute Heartbeat Bunch Valentine's Day Party, designed by BBfabevents. The decorations and cake just blow our mind and Elevate Decor rocked different decor items throughout the styled photo shoot. We love all of the shades of pinks and reds. How cute to include the pink acrylic chairs, as well!
Prism was the perfect loft venue to hold this Heartbeat Bunch Valentine's Day Party. With white open spaces and loads of natural light, the color palette popped with reds, magentas and pinks. And how adorable are the desserts from De Sweet Treats?! We just love the whimsical and classic cupcakes with the sweet toppers, along with a perfect Valentines themed cake!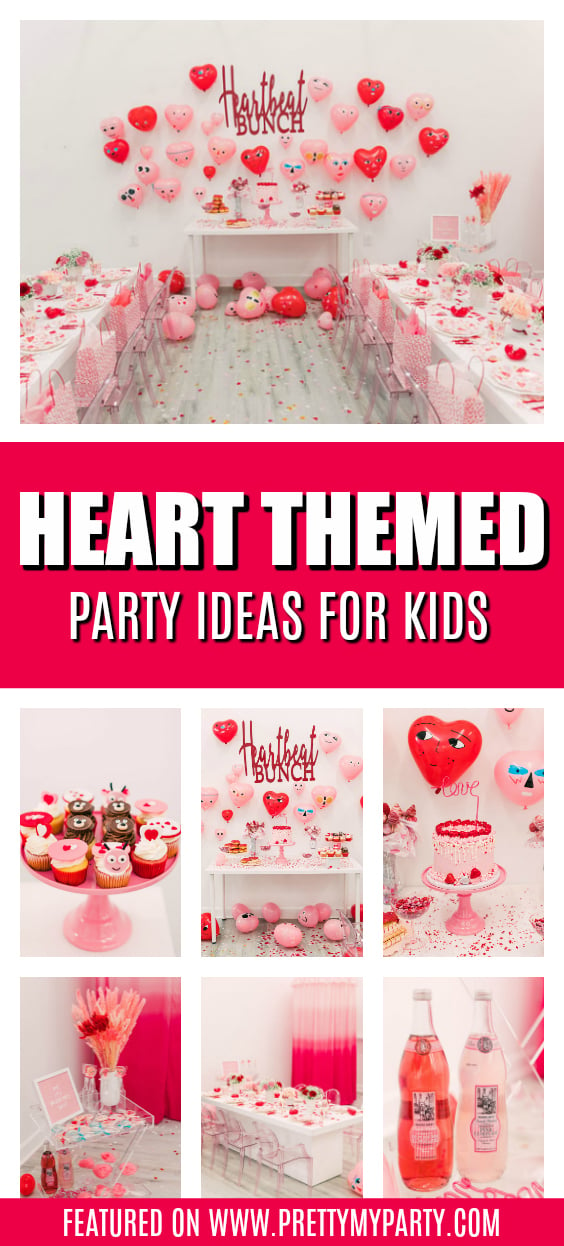 Heartbeat Valentine's Day Party Ideas
Fun heart-shaped balloon backdrop with Heartbeat Bunch spelled out
Pink ghost chairs for everyone to relax
Sweet pink drip cake with heart chocolates
Yummy heart lollipops, cake pops and donuts
Amazing heart tableware with lots of pink and red party decor
Heart confetti and heart balloons found around the venue
Pretty pink, white and red carnation centerpieces
Incredible party favors placed on each individual guest chair in a party favor bag
Clean and modern venue to showcase the colors for the Valentine's Day theme
Fun Valentine's themed drink station with individual soda glasses and swirly straws
Great heart-shaped glasses for the kids to wear, along with fun craft ideas to utilize
Party food including amazing cupcakes with Valentine's themed cupcake toppers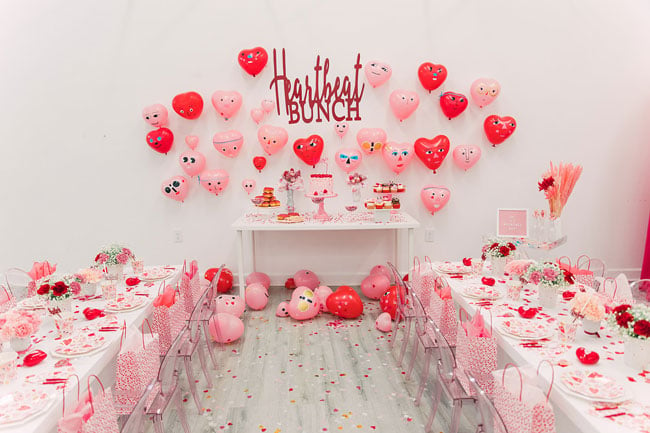 Valentine's Day Party Supplies and Decorations: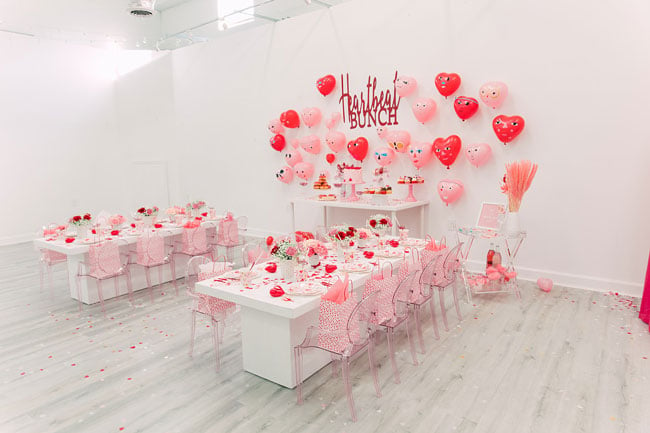 See more party ideas here:
This Heartbeat Bunch Valentine's Day Party provided a ton of ideas for a children's Valentine's Day party. There are so many adorable details! Any kid would love to walk into a party like this with all of these heart-shaped balloons found on the backdrop of the dessert table, along with the delicious desserts that were provided. Yum!
The guest tables looked so fun and inviting for everyone to color and do their favorite Valentine's Day themed activities, as well. And how about those fun party favor bags? We bet the kids couldn't wait to dig into them and see what they could find.
What are your favorite details in this Heartbeat Bunch Valentine's Day Party? Let us know in the comments below!
For more kid's party ideas, follow us on Instagram @prettymyparty and Pinterest and join us in our private Facebook group.
Party Vendors
Event Designer: BBfabevents