Born To Be Wild Baby Shower
Everyone had a wild time at this Born To Be Wild Baby Shower!
How exciting is this Born To Be Wild Baby Shower from Winsor Event Studio?!
This 'Born to be Wild' baby shower was filled with adorable safari details any mom-to-be would love.
It looks like a 'roaring' good time with lots of amazing food and decor!
See also:

Born To Be Wild Baby Shower Supplies and Decorations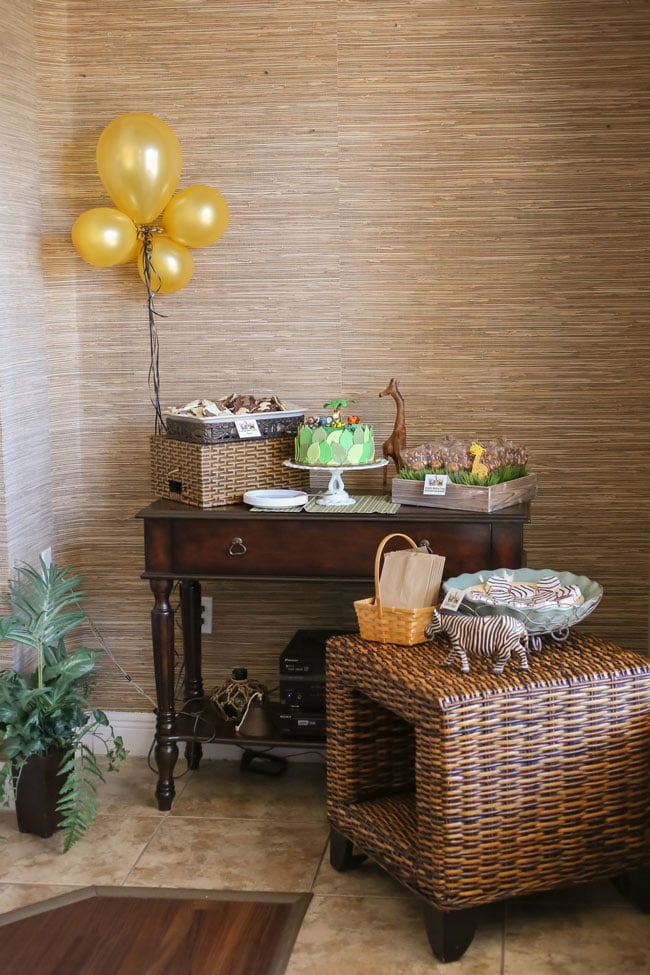 Just look at this cute dessert table!
All of the decorations and balloons were so festive and got everyone into the Wild One Baby Shower Theme right away.
How cute, and there was even great wild animal decor.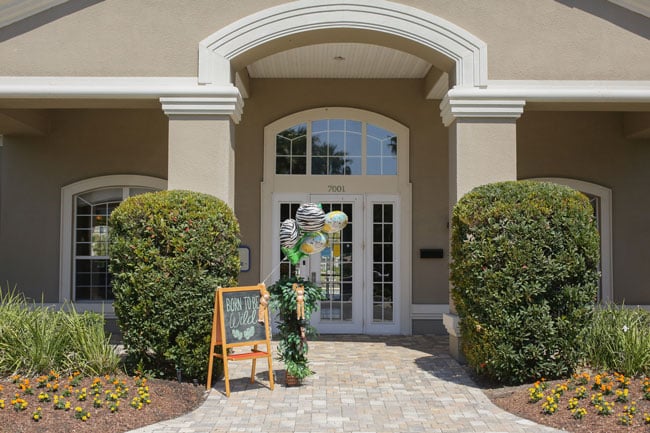 The mommy-to-be was moved to tears when she saw everything for the first time.
This Wild One Baby Shower Theme had so many little details everywhere you looked and was incredible!
Everyone knew walking in that this was going to be one special day for this first time mom!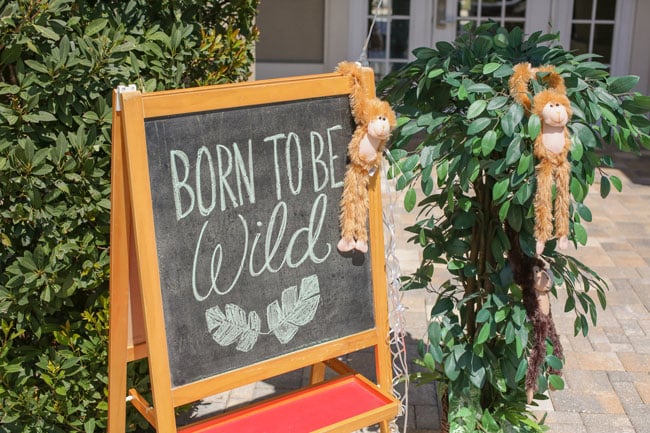 As guests arrived they were welcomed by a cute chalkboard sign and balloons adorned with monkeys. What a simple way to welcome everyone into the event.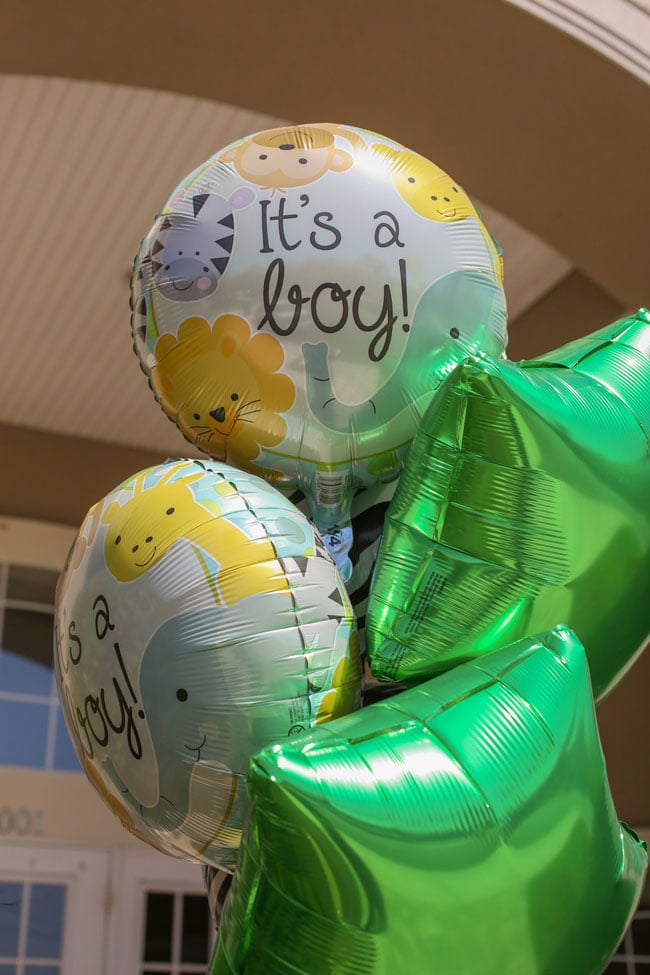 How cute are these great jungle animal balloons?! Jungle animals were everywhere throughout this fun Wild One Tropical Baby Shower!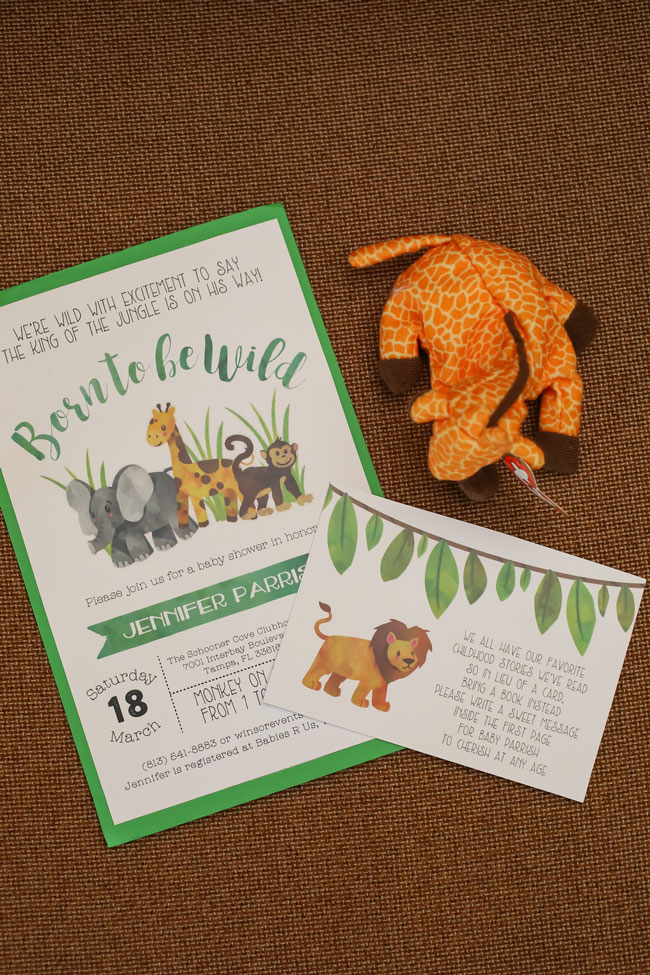 Invitations, which were created by Lollie J Designs, were inspired by the mommy-of-honor's love of giraffes.
The invitation asked guests to 'monkey on over' to a neighborhood clubhouse, and 'RoarSVP' their attendance. How cute and clever is that?!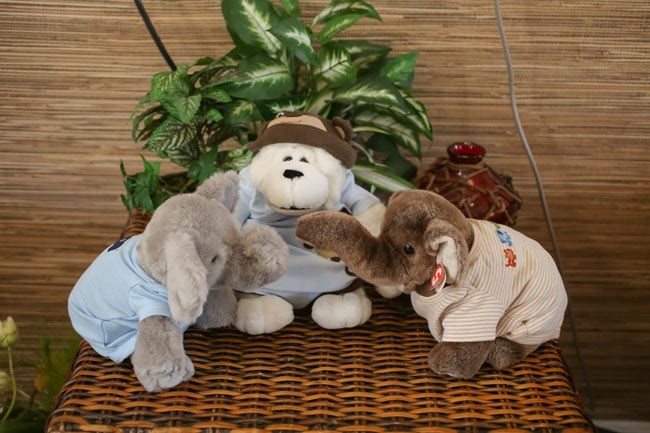 These little guys were ready to welcome all of the guests that attended this fun Wild One Tropical Baby Shower. But they knew their real job … to cuddle that sweet baby once he or she arrived!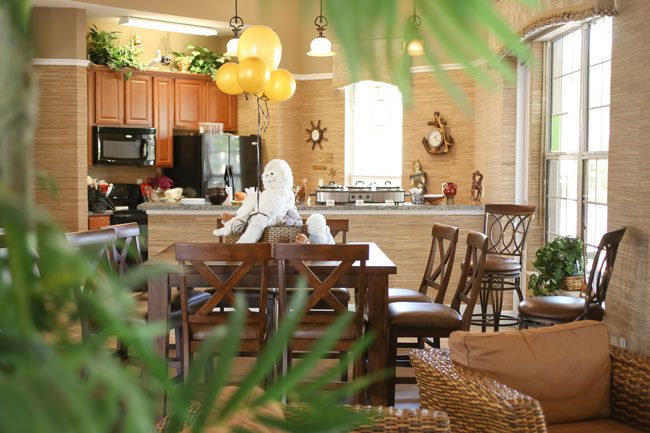 Everything looked so wild and festive in the clubhouse venue. All of the greenery gave the impression of a jungle, while all of the cute "jungle animals" were strategically placed in different areas.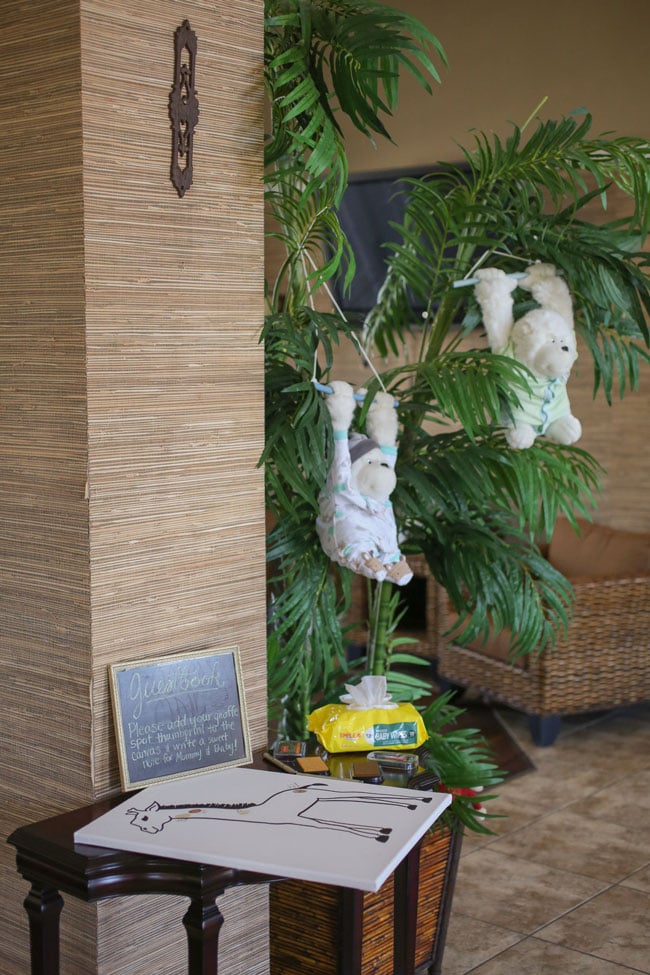 Stuffed animals were "hanging around" all over the place! What great decorations that could easily be repurposed to snuggle with that little baby once they arrived.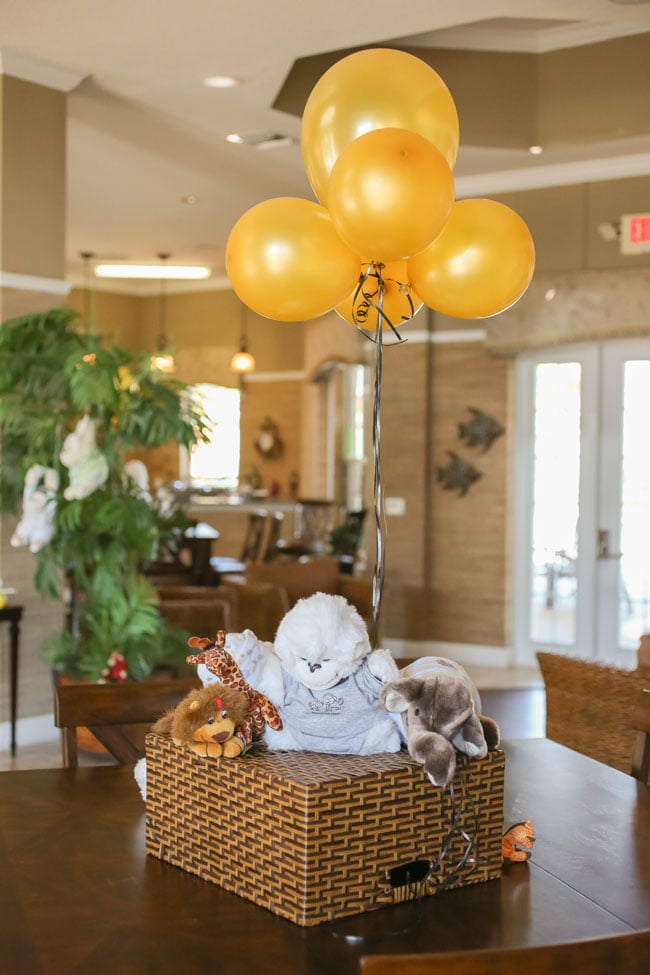 Tables were decorated with assorted jungle animal toys dressed in baby clothes and holding gold balloons (all meant for baby to enjoy after the shower!).
Talk about a great way to make sure none of the decorations went to waste!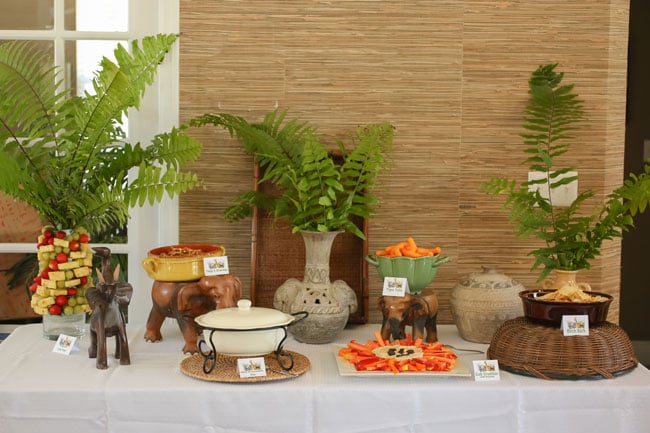 Yum! A great luncheon feast was prepared for all of the guests at the Wild One Tropical Baby Shower.
We love all of the greenery in the pottery containers that were scattered around the food table.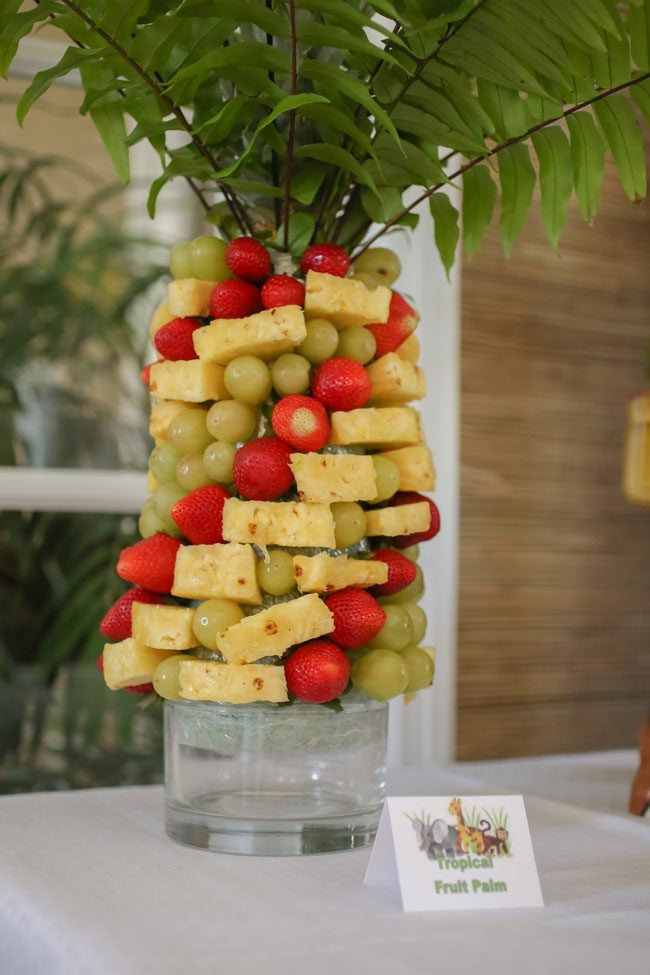 We've never seen fruit displayed quite like this before and we just love it! What a great "palm tree" decoration, that just happened to be the best fruit tree we've ever seen!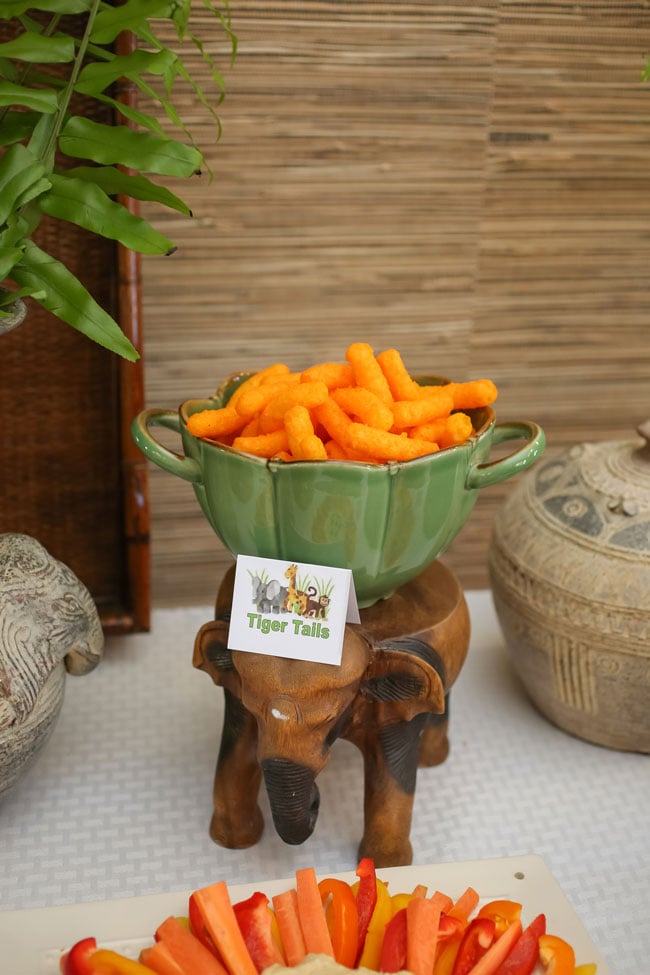 All of the food that was presented at this Wild One Baby Shower Theme had adorable names for everyone to get a laugh out of. Just like these cute "tiger tails"!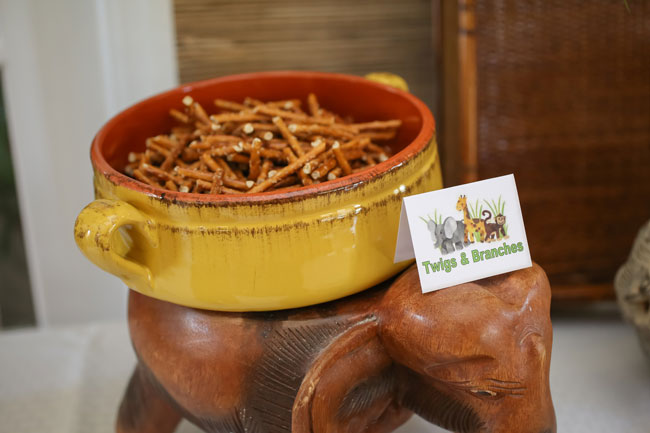 These pretzels doubled as "twigs & branches" for this fun food idea.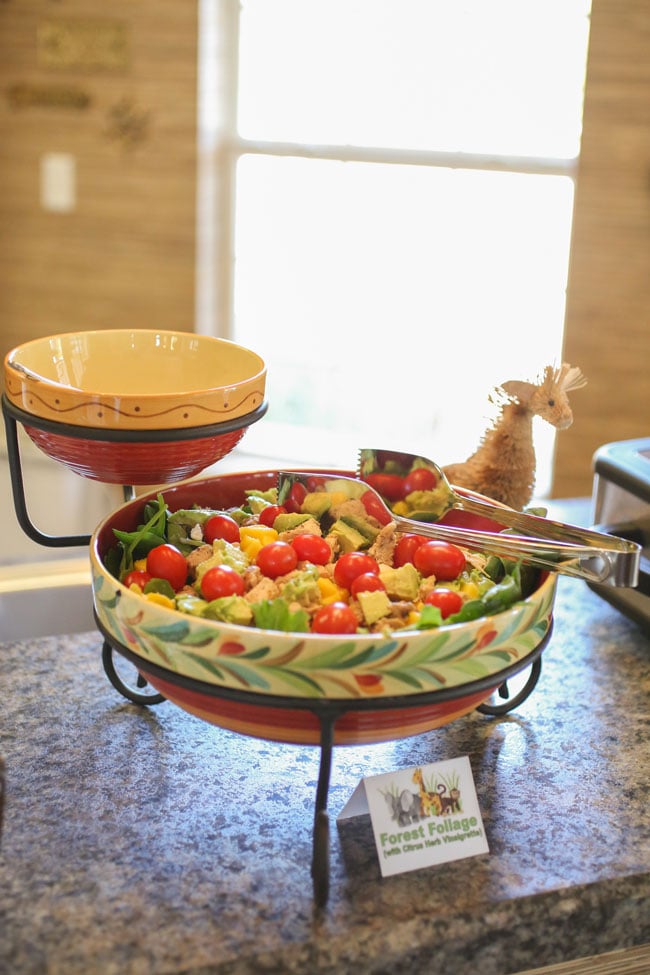 We just love the fun and unique name of this salad menu item that was found on the food table. What creativity!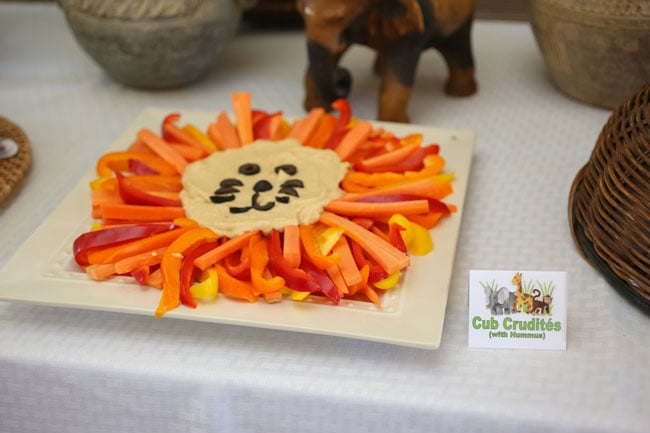 Our favorite food item that was created for this fun baby shower luncheon was this great lion vegetable tray!
What an absolutely adorable way to present this menu item that everyone couldn't get over. Well done!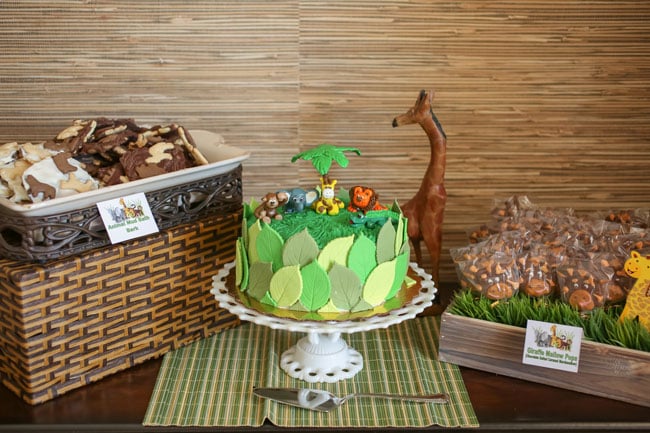 Trudy Melissa Cakes created the delicious marble cake, which resembled zebra stripes, and was also wrapped with gum paste leaves! It may be the most adorable cake you've ever seen.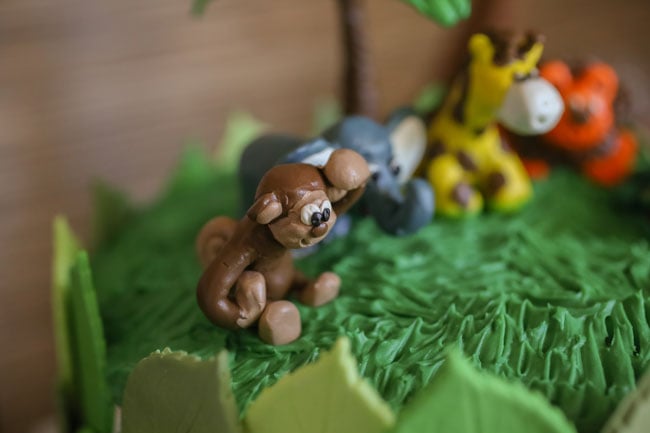 Of course, the gorgeous cake was topped with handmade clay animals sitting in buttercream grass! Just how cute is this sweet monkey?!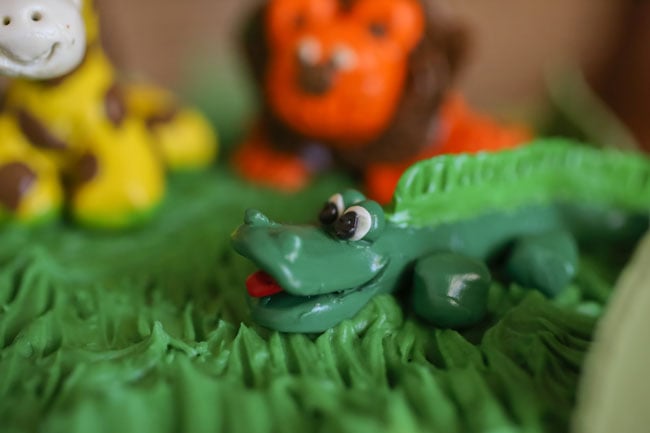 And don't forget the scary alligator. Which doesn't look too scary to us. We think he looks pretty adorable, actually!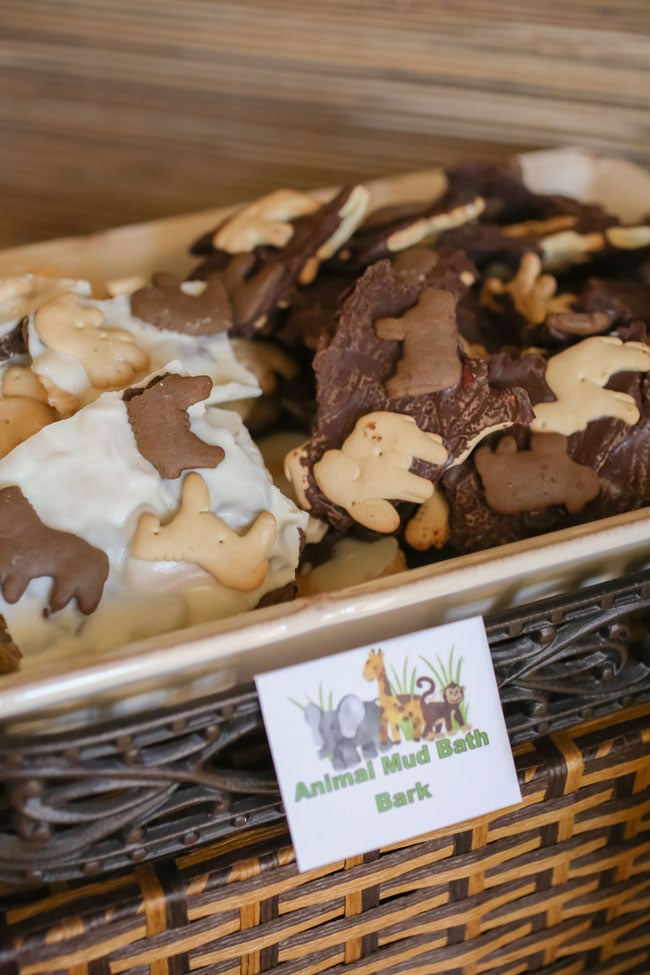 The sweets station consisted of animal mud bath bark, custom giraffe marshmallow pops, and zebra cakes.
Everyone couldn't wait to dig into the sugar rush that was coming for them and it made for quite a wild shower!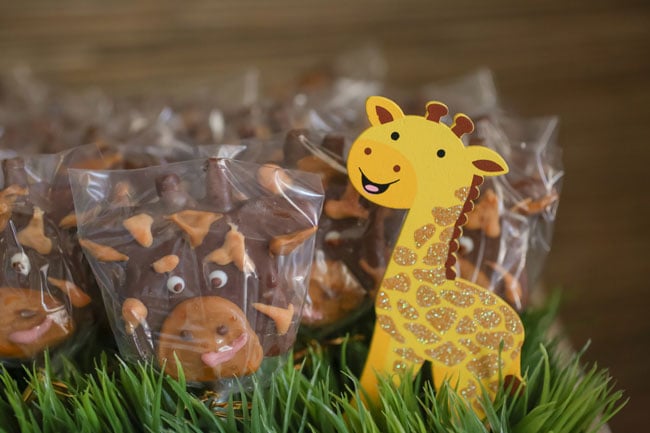 These giraffe marshmallow pops are everything!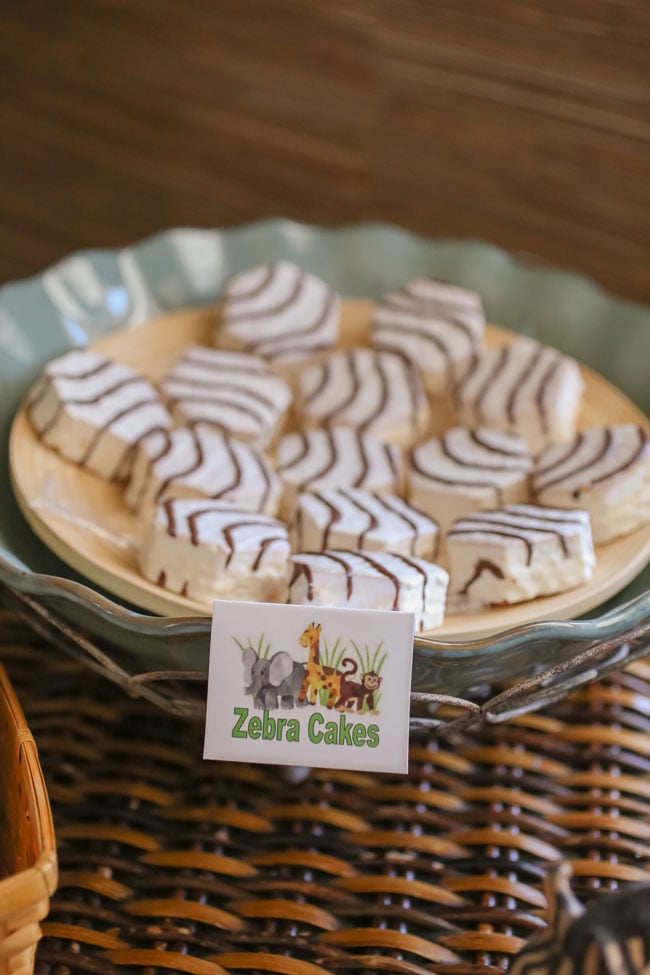 Who doesn't love some zebra cakes to munch on while the mom-to-be is opening up some much deserved presents?!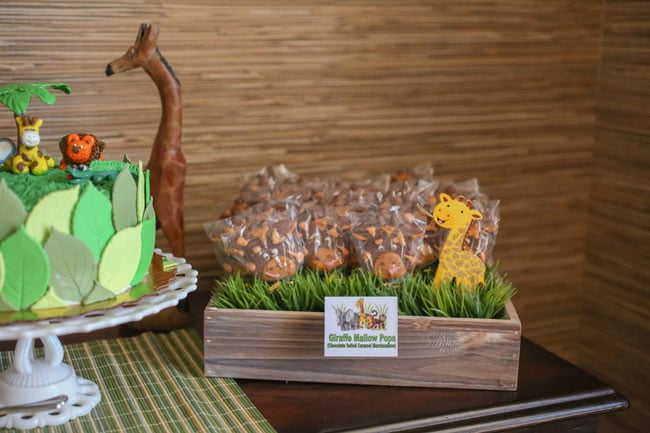 The presentation of all of the desserts was phenomenal. We just love this wooden box that had "grass" in it to hold all of the yummy giraffe marshmallow pops. It definitely had a "wild" feel to this great theme.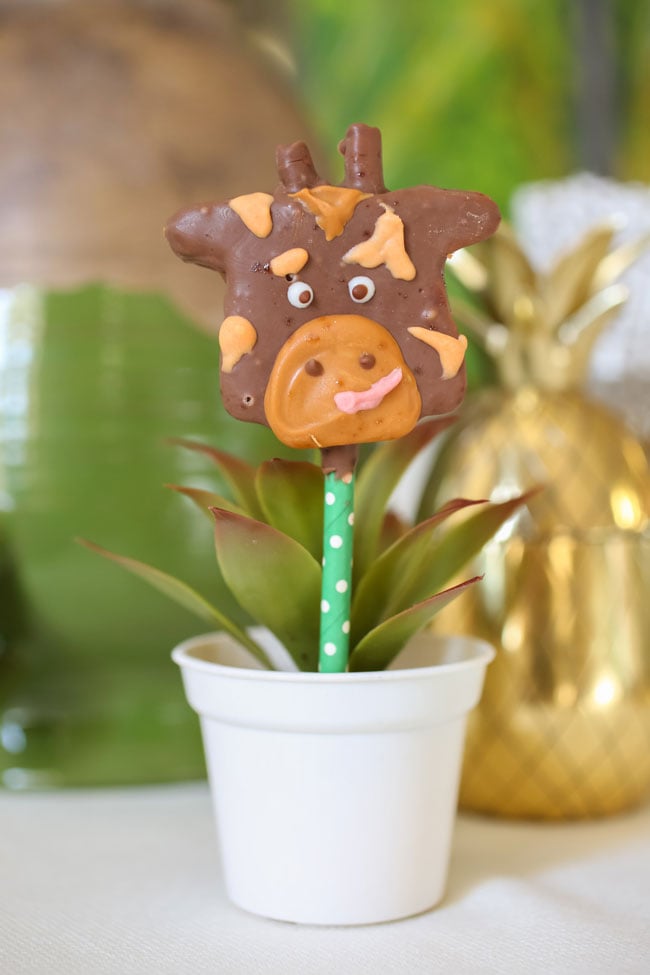 The giraffe marshmallow pops were so adorable! What a great dessert item to add to this spread.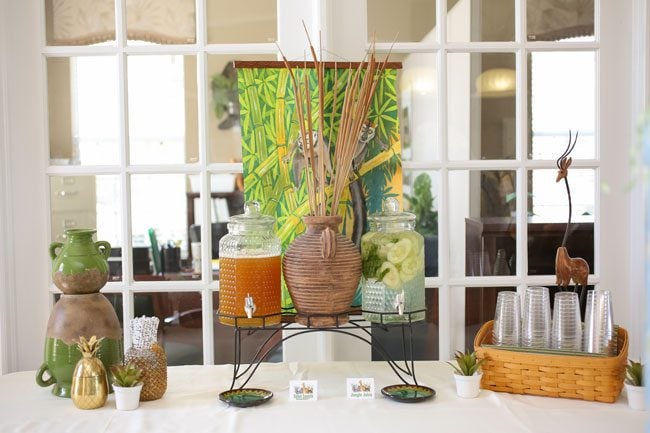 A beverage station offered a cute display of cucumber mint water and sparkling cider sangria. What a cute set-up with a great monkey backdrop.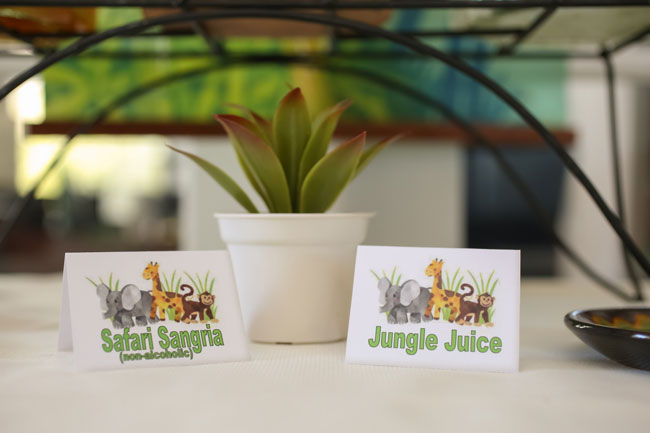 Tent cards were found all around the Wild One Baby Shower Theme, boasting food items like Cub Crudites, Tiger Tails, Tropical Fruit Palm, Forest Foliage, along with fun drink names, as well.
They fit in so well with the other paper products that were there to decorate the venue.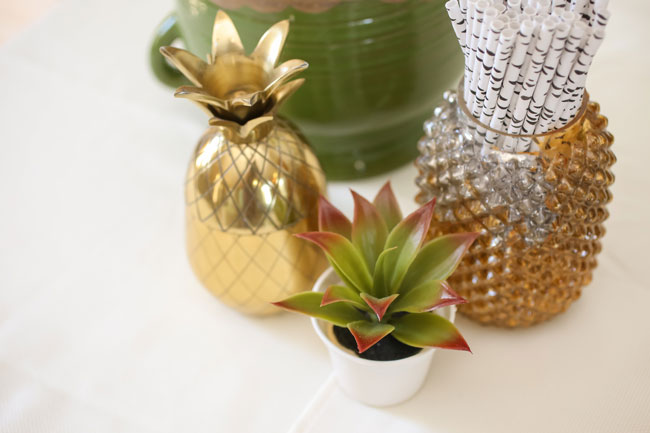 We also love all of the succulents that were found on the beverage station, as well as the other decoration supplies that were used. Especially this fun golden pineapple!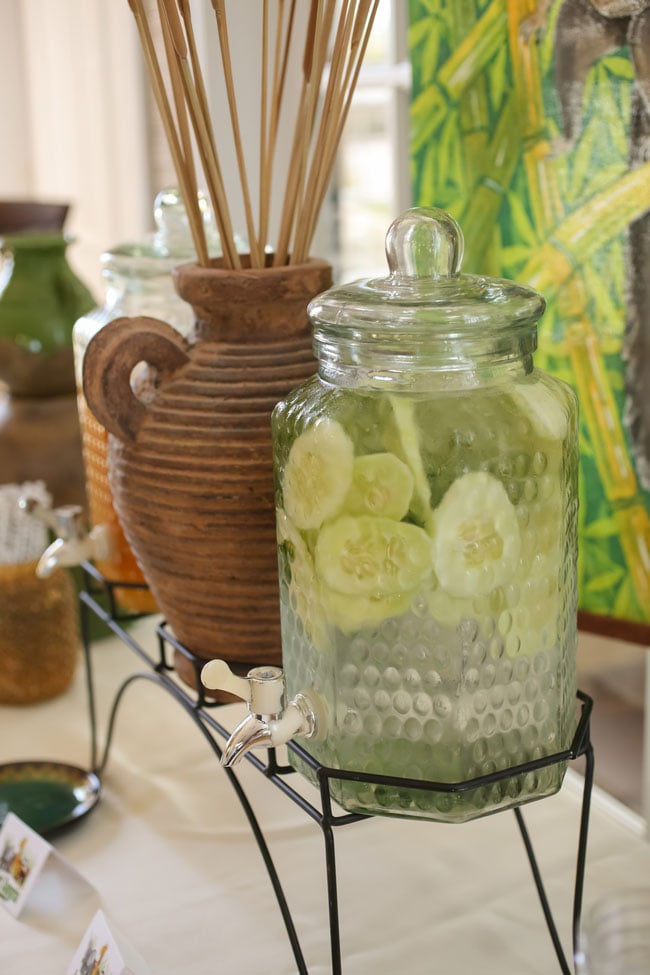 Everyone wanted to make sure mom was well-hydrated with some yummy infused water!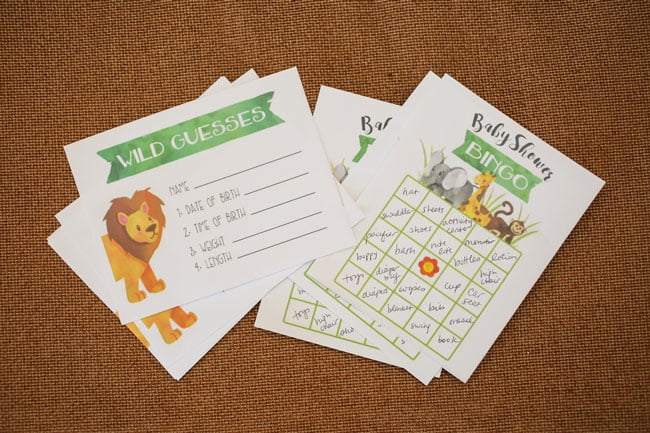 Coordinating stationery pieces included 'wild guesses' cards and gift bingo.
Everyone sure had a great time with all of the games that were played at the Wild One Tropical Baby Shower!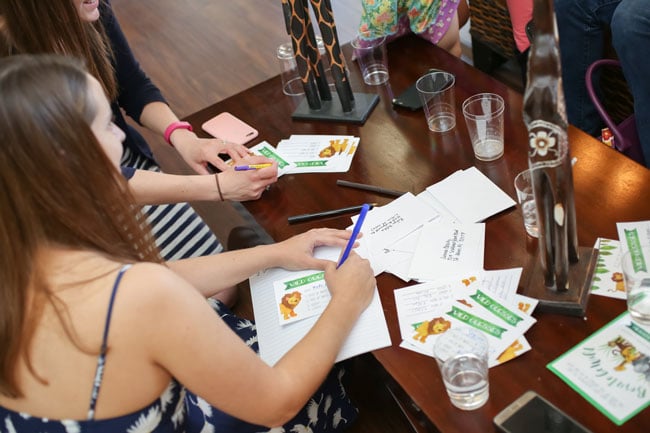 Everyone got to make their guesses for what they thought this little baby would be when he or she came barreling into this world.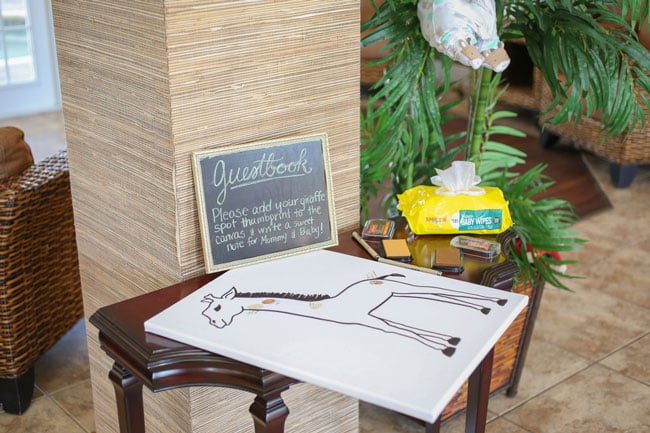 One of our favorite items to commemorate the fact that a little one is on the way was this great giraffe guest book.
What a unique and amazing idea to add to a baby shower!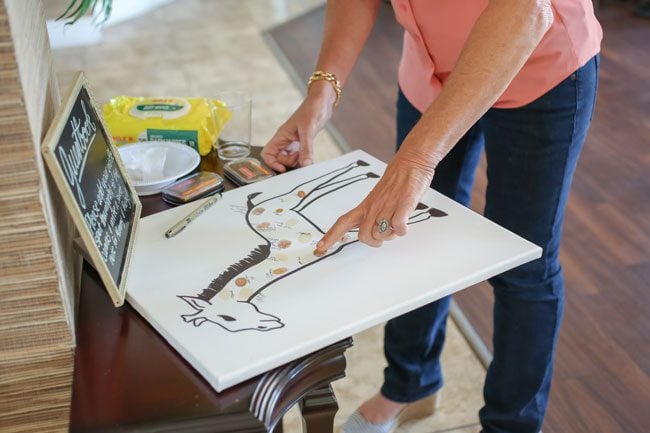 As a unique keepsake to document all those in attendance, guests stamped their fingerprints onto a giraffe silhouette canvas and wrote their names next to the fingerprint spots.
What an amazing idea that could easily be transferred to the little one's bedroom wall, adding to the fun decorations of the event!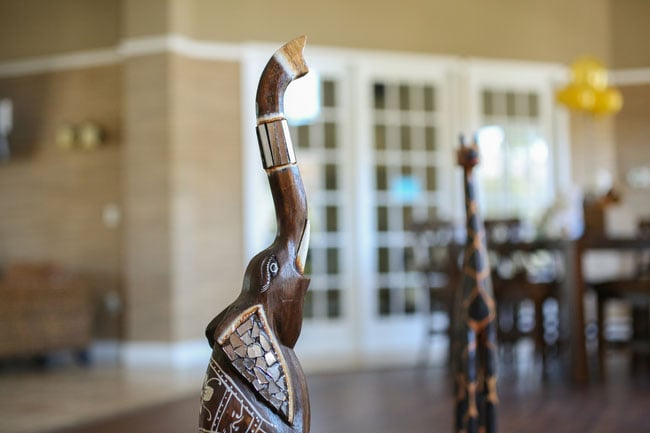 Even amazing wooden jungle animals were used as decor around the Wild One Tropical Baby Shower.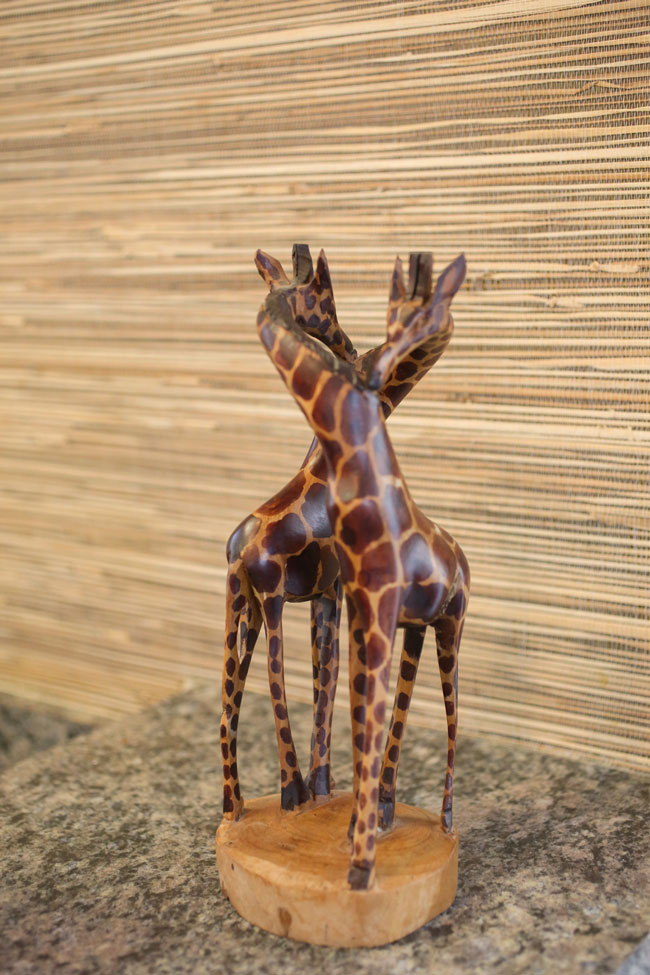 Mom especially loved this decoration, since giraffes are her favorite animal!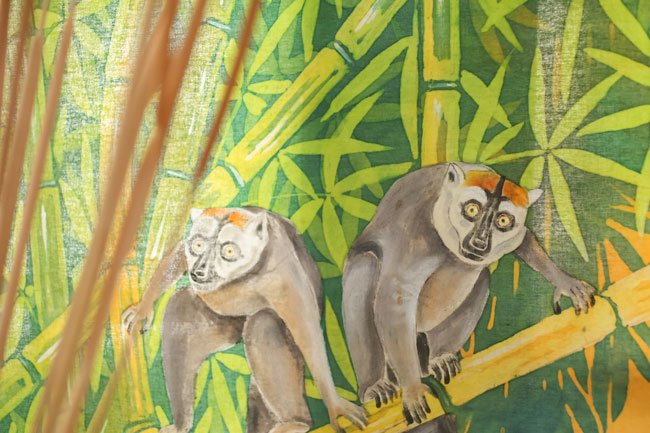 What a great backdrop!
Guests got to fill Kraft paper bags with sweets to take home and you know that everyone was able to get on-board with that idea!
Jungle animals covered the paper bags and all of the yummy food was added, which everyone loved.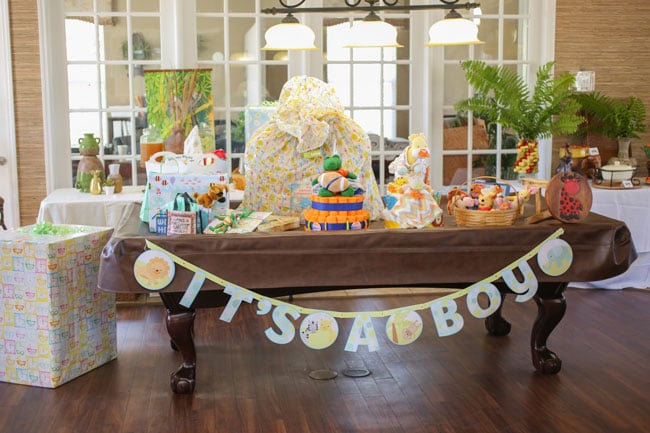 An enclosure card that was sent out with the invitations asked guests to bring a favorite book instead of a baby shower card.
What a great way to establish a library for your little one and it's a great way for everyone to include sweet messages to the baby that will be seen for years to come!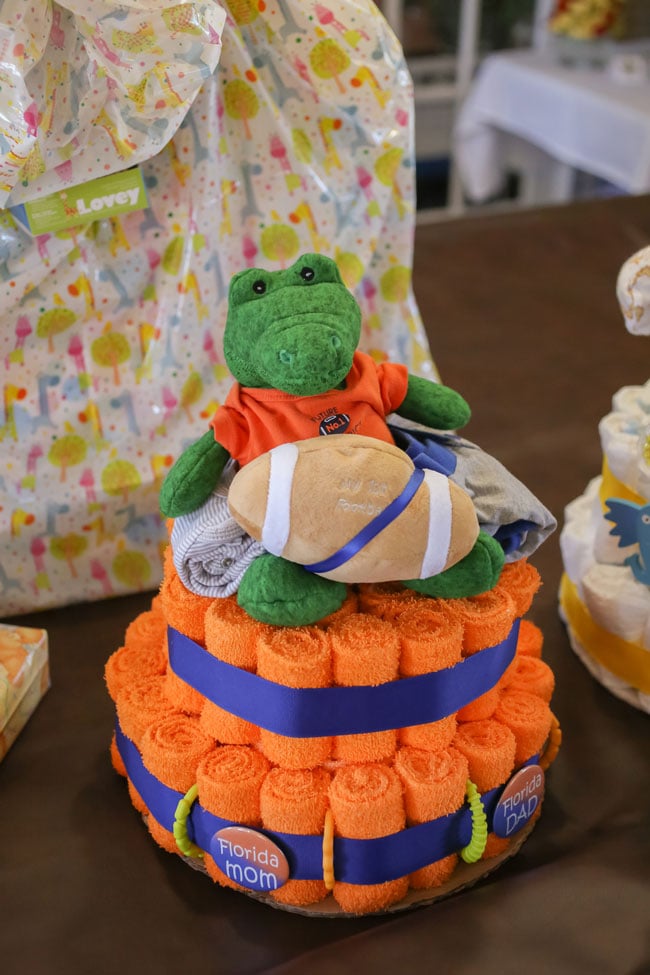 We just love unique baby shower gift ideas, like this awesome towel cake!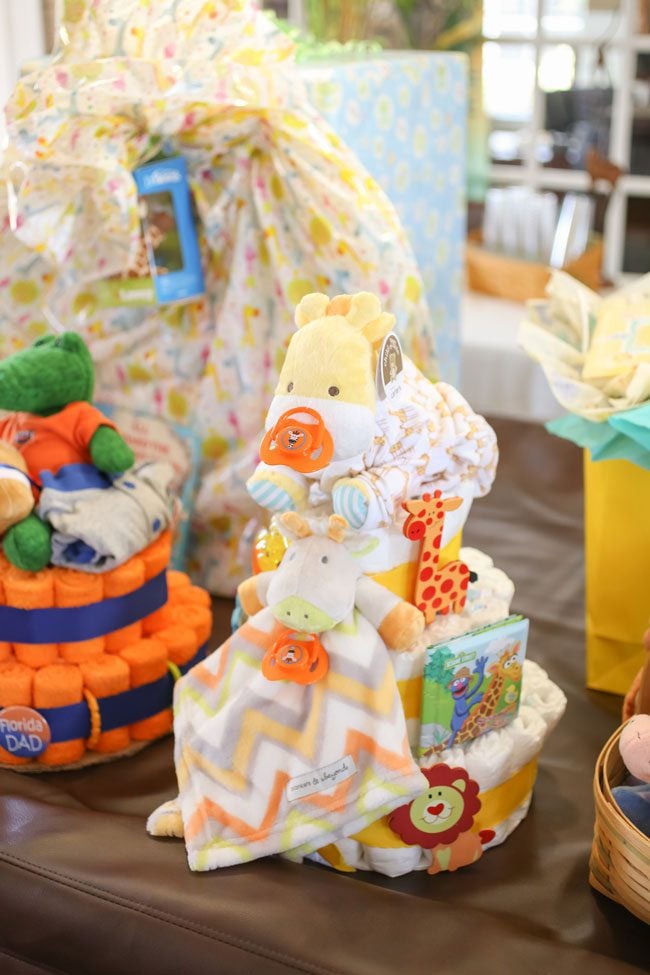 And who doesn't love a great diaper cake to give as a present for a baby shower?! Diaper cakes are so easy to make and can include so many needed items for the parents-to-be.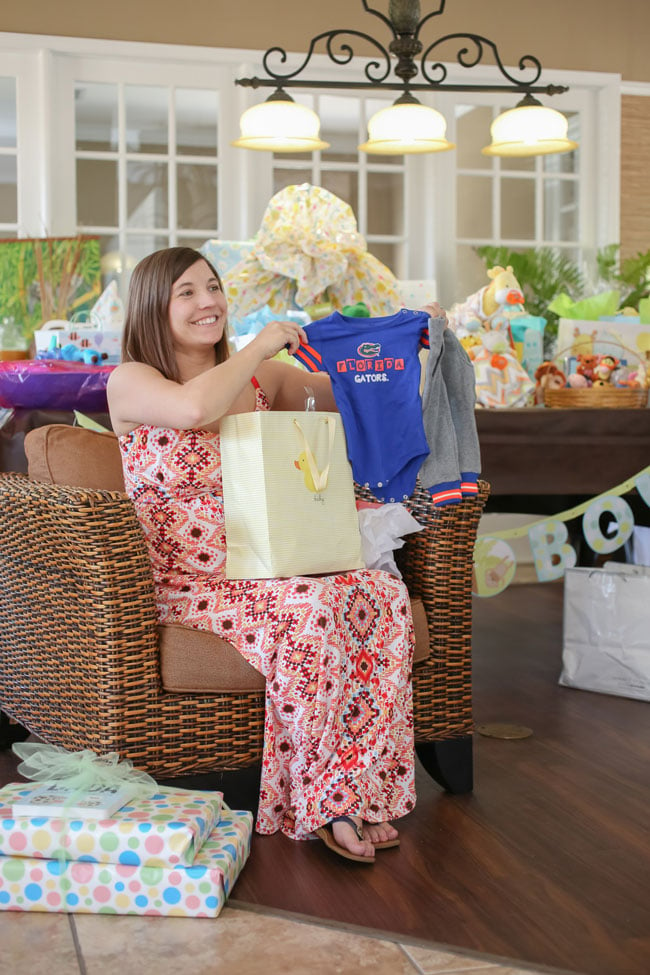 Mom had a great time opening up all of her shower gifts from her guests!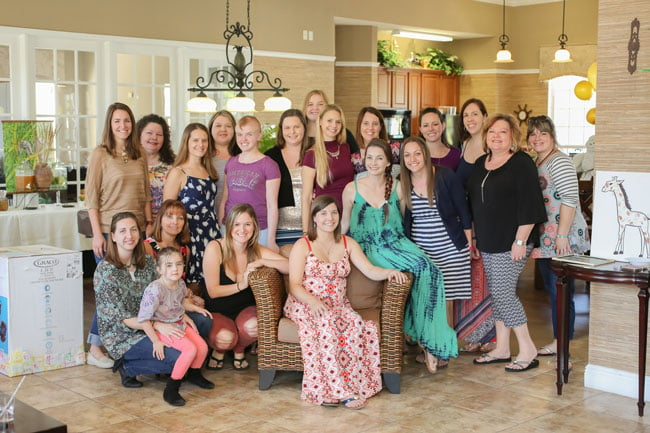 Guests posed for a group photo before the end of the big day and this Wild One Tropical Baby Shower couldn't have ended any better!
What a special memory for any mom-to-be that will be remembered for years to come.
What's your favorite details in this Born To Be Wild Baby Shower? Let us know in the comments below.
Vendors & Credits
Party Styling: Winsor Event Studio
Bakery: Trudy Melissa Cakes
Photography: Lifelong Photography Studio
Invitations: Lollie J Designs