Monster Mash Halloween Party
This Monster Mash Halloween Party, inspired by the classic movie Hocus Pocus, is one fun and boo-tiful bash!
Kaylee Brown of Riner & Company recently held her fourth annual Monster Mash Halloween Party with family and friends at their home in Evans, Georgia. The party was inspired by the costume party thrown at the character Allison's house every year on her favorite classic Halloween movie Hocus Pocus! FUN!
This Monster Mash Halloween Party is the perfect theme for kids and adults. If you're looking to add some creativity to your Halloween party this year, take notes from this boo-tiful bash!
Everything from the party supplies and decorations to the cakes, food and desserts, were so much fun! This Halloween party goes to show that there are tons of creative ideas that you can incorporate into your own Halloween parties this holiday!
This Monster Mash Halloween Party was jam-packed with fun games and activities too, including slime making, punch a pumpkin, bobbing for apples, and much more!
And that's not all, tons of sweets and treats were on hand for guests too! If you're looking for Monster Mash Party Ideas, this event has it all!
Monster Mash Halloween Party Ideas
Frankenstein Cake
Skeleton Cupcake Toppers
Punch A Pumpkin Game
Fabulous Balloon Garland Decoration
Halloween Punch
Best Costume Contest and Prizes
Bobbing For Apples
Slime Making
Veggie Pumpkin Tray
Awesome Pastel Colored Streamers, Balloons and Decor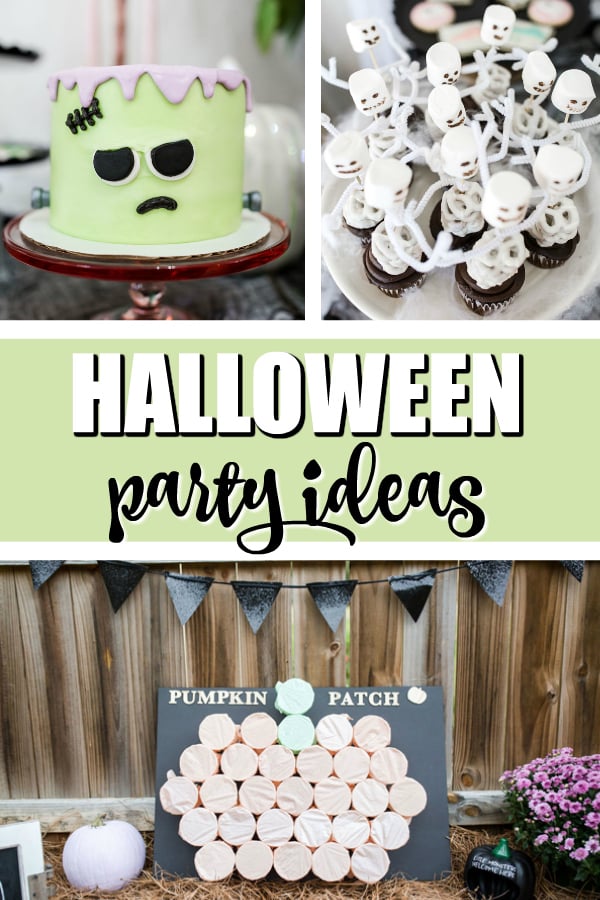 See also: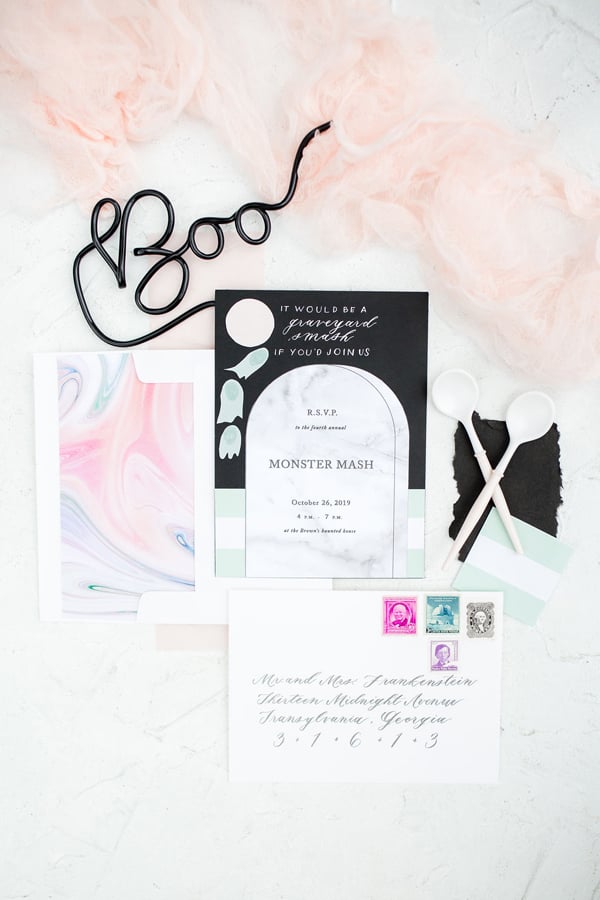 The Monster Mash Party Invitations by Knoxham Co. perfectly set the tone for this boo-tiful bash.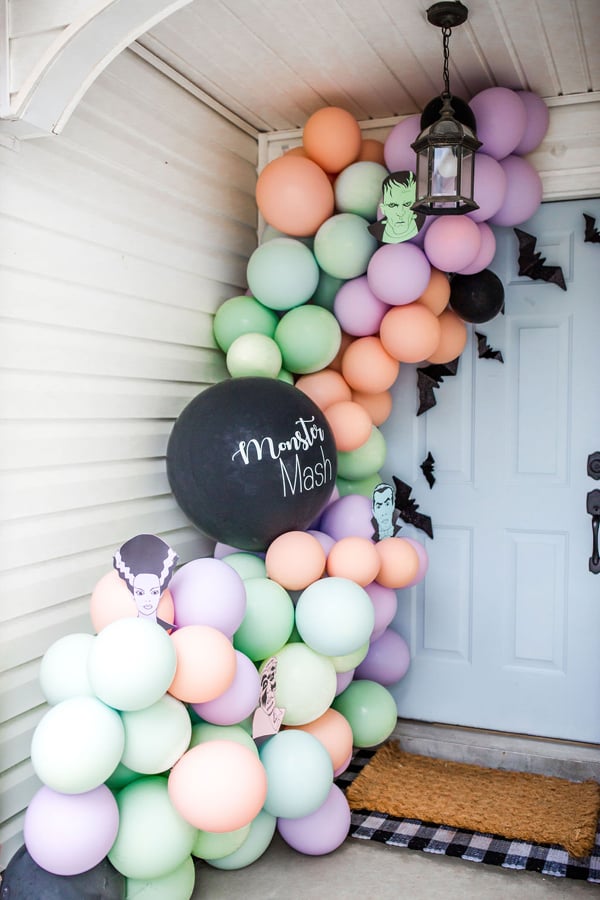 You know when you see an entrance like this that the party is going to be awesome!
We just adore the pastel balloon garland decoration that greeted guests as they entered this fun Monster Mash Party!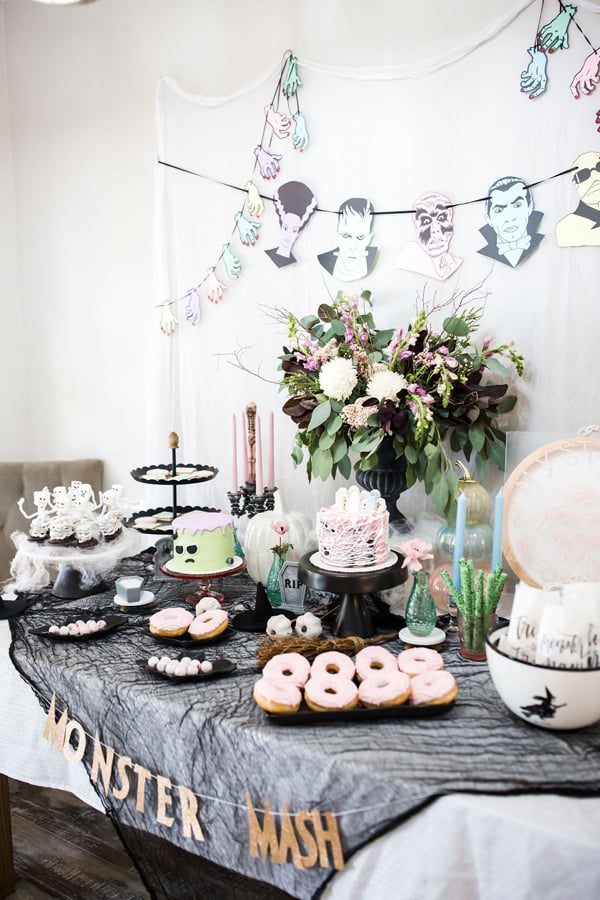 There's nothing like a good dessert table and this Monster Mash sweets table certainly didn't disappoint!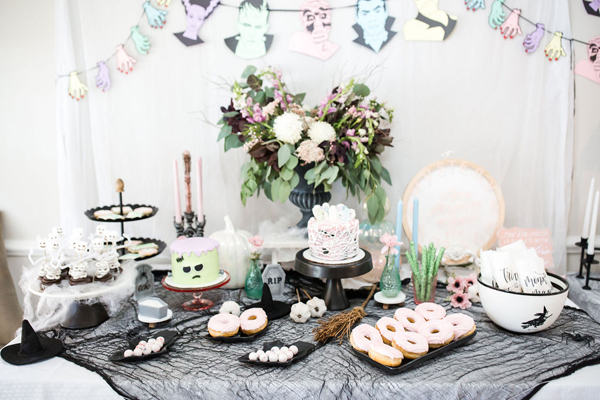 Party desserts included cakes, donuts, cookies, cupcakes, and more! YUM!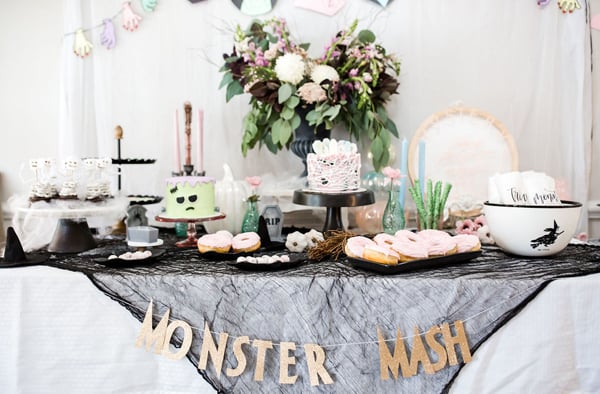 A gold Monster Mash banner hung along the front of the dessert table over the black cheese cloth fabric.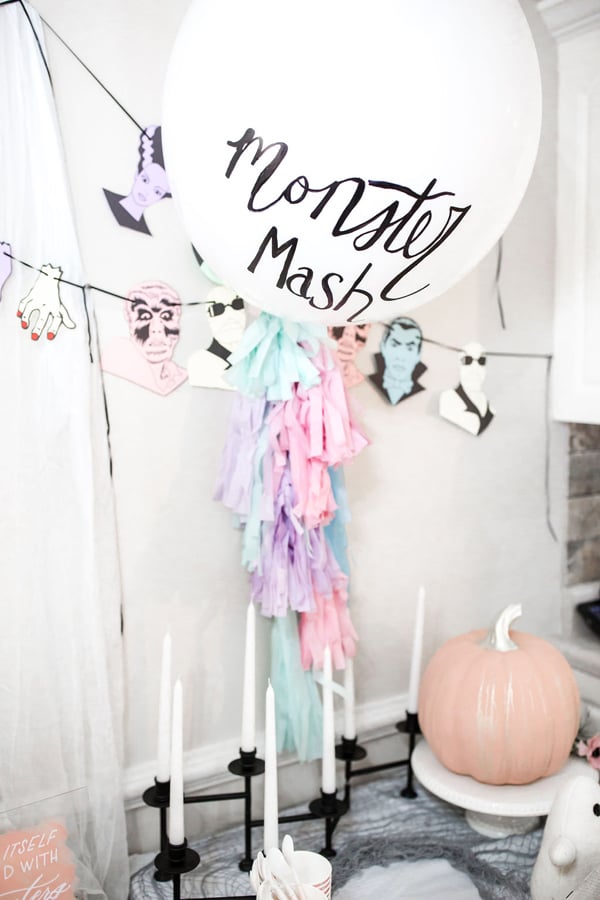 Jumbo balloons always make a statement at any event and this jumbo Monster Mash balloon with pastel tassel coordinated perfectly with the other party supplies and decorations.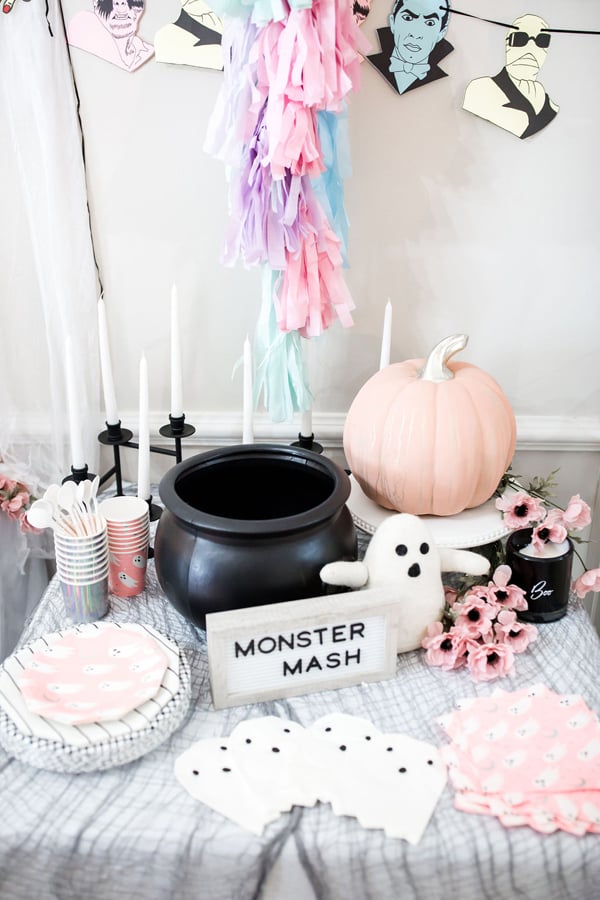 How adorable are the ghost plates and napkins?!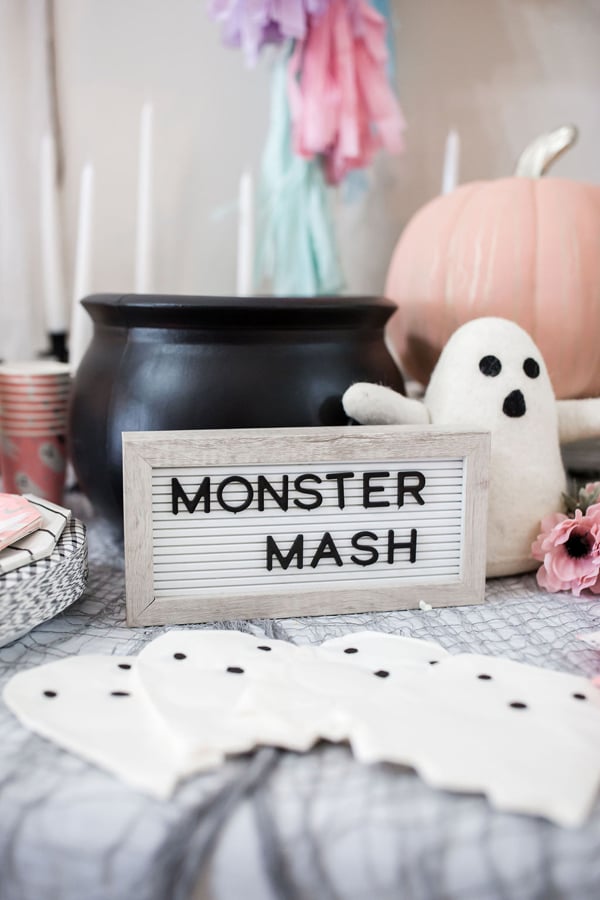 The letterboard sign was a great addition to the fun table.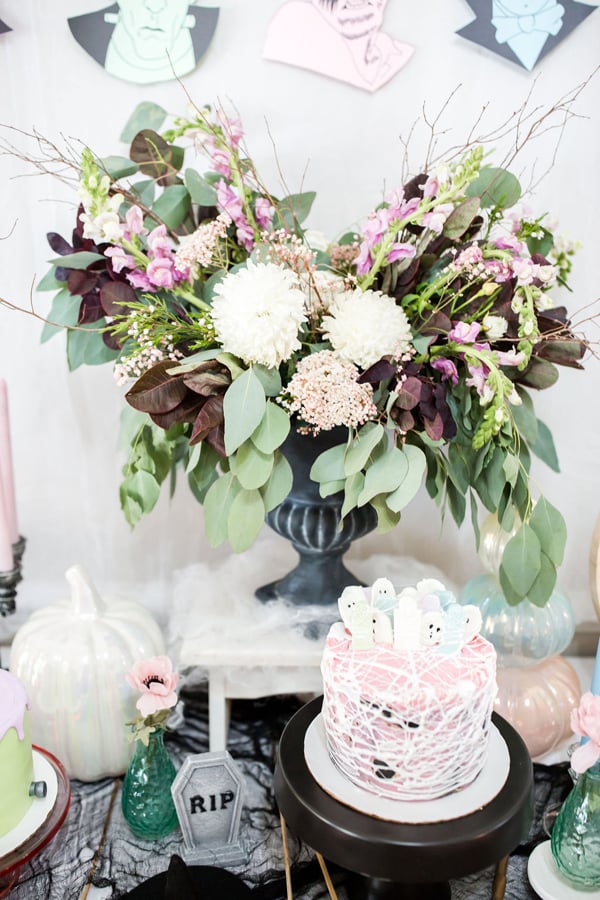 We love when flowers are added as decor at any event and these gorgeous florals went perfectly with the colors and theme.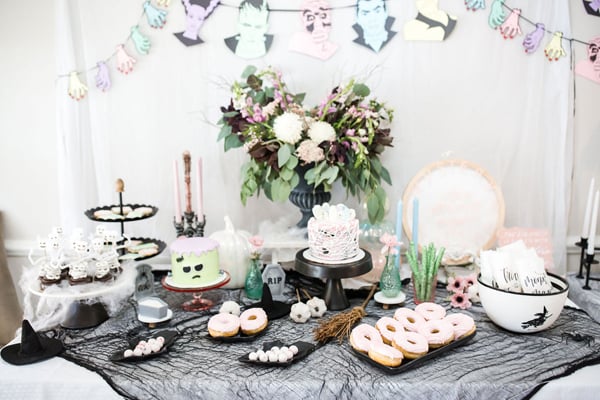 A pastel Monster Mash banner hung on the backdrop of the dessert table. We love how the pastel colors are incorporated into the theme. Everything pairs so nicely with the black accents.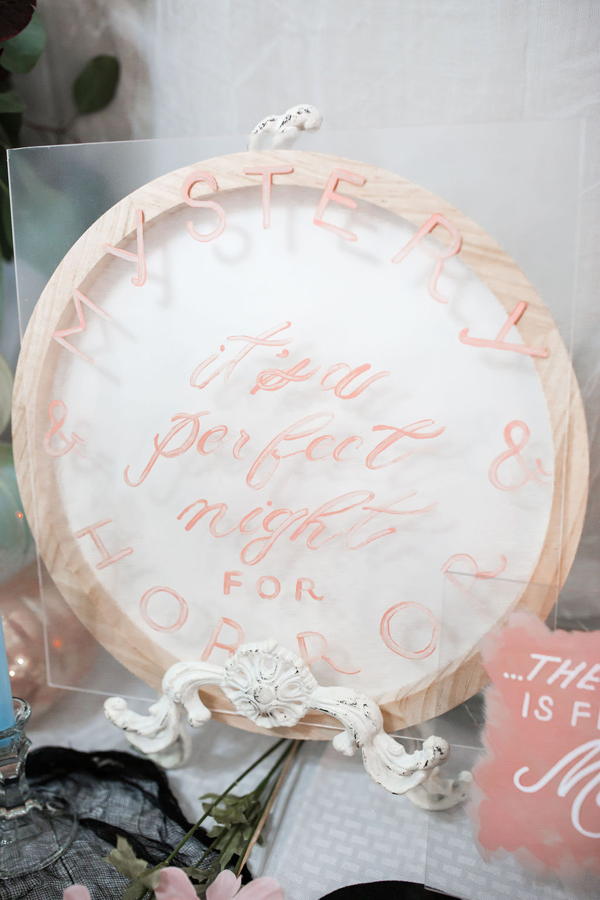 A sign that reads "It's a Perfect Night For Mystery & Horror was added to the table decorations.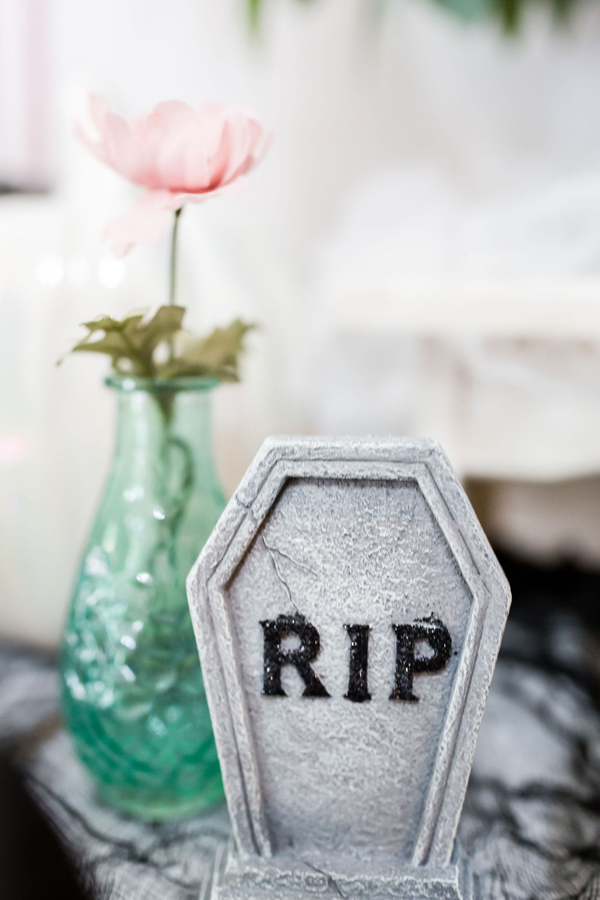 Tombstone decor was also included in the decorations.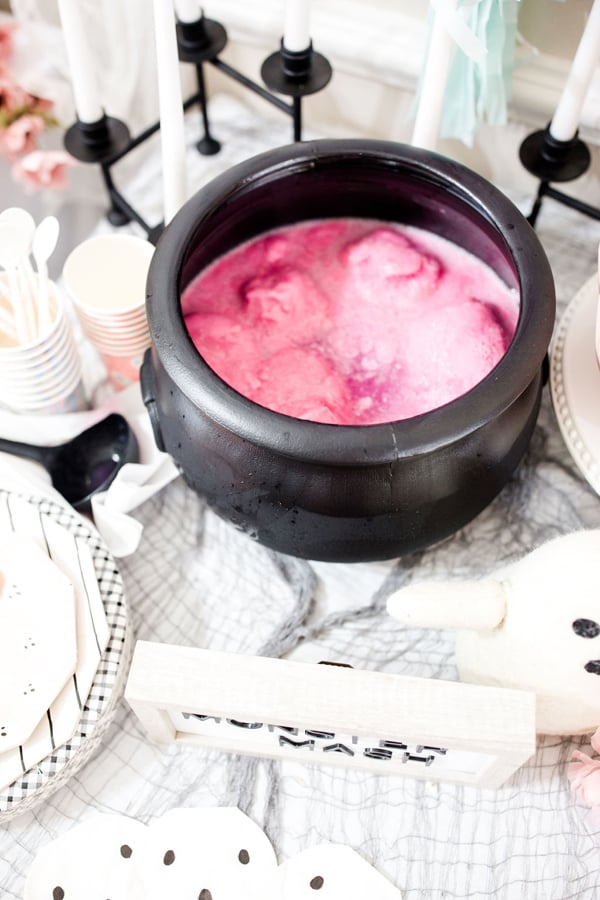 Some yummy punch was on hand for guests to wash down all of those delicious goodies and desserts!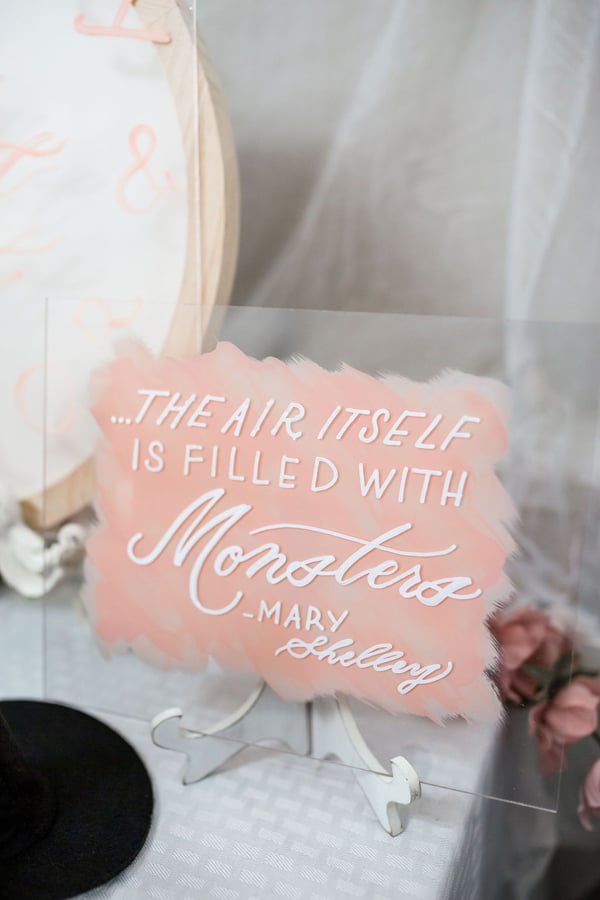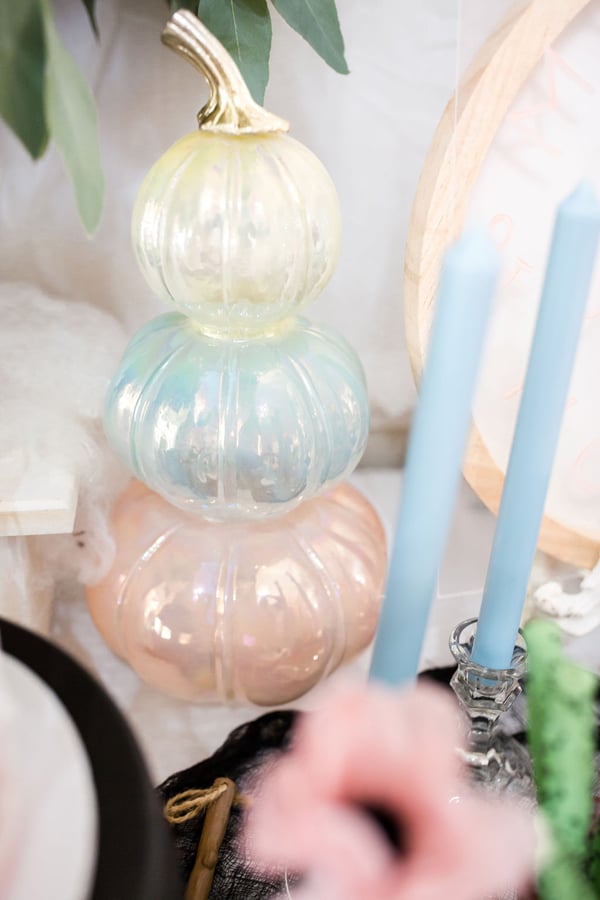 Gorgeous pastel details were everywhere around the party.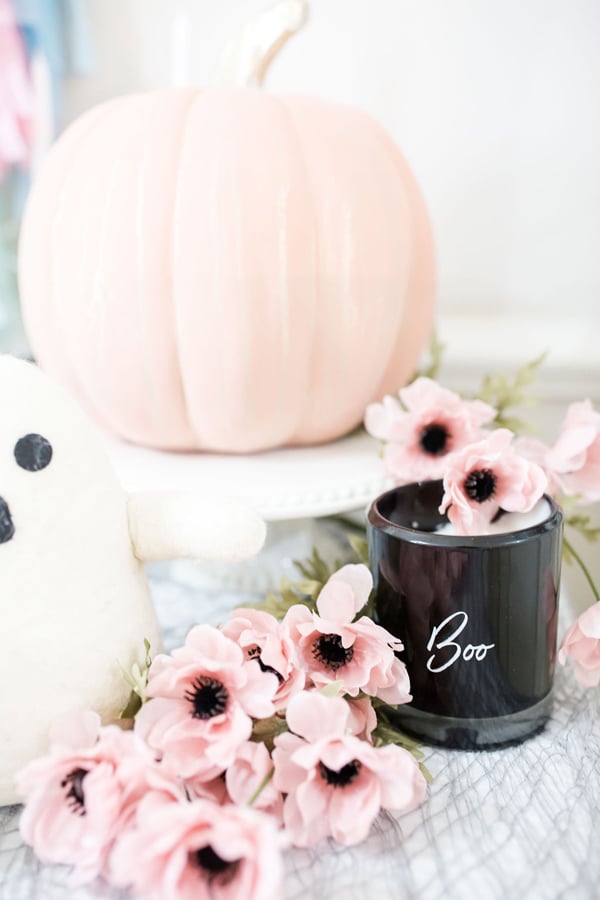 Don't these decorations in pink, white and black just look divine?!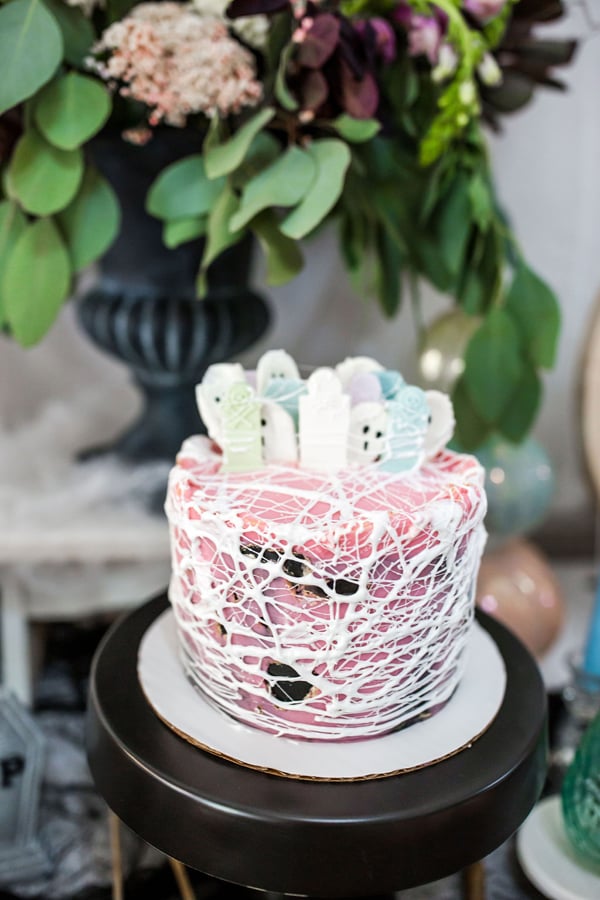 What a fun cake topped with ghosts and tombstones.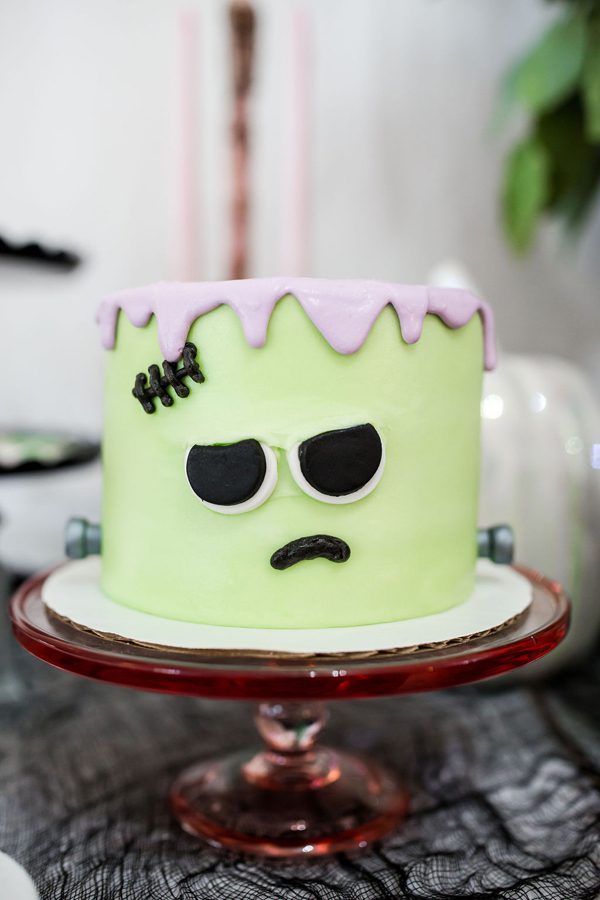 This Frankenstein cake is too cute for words!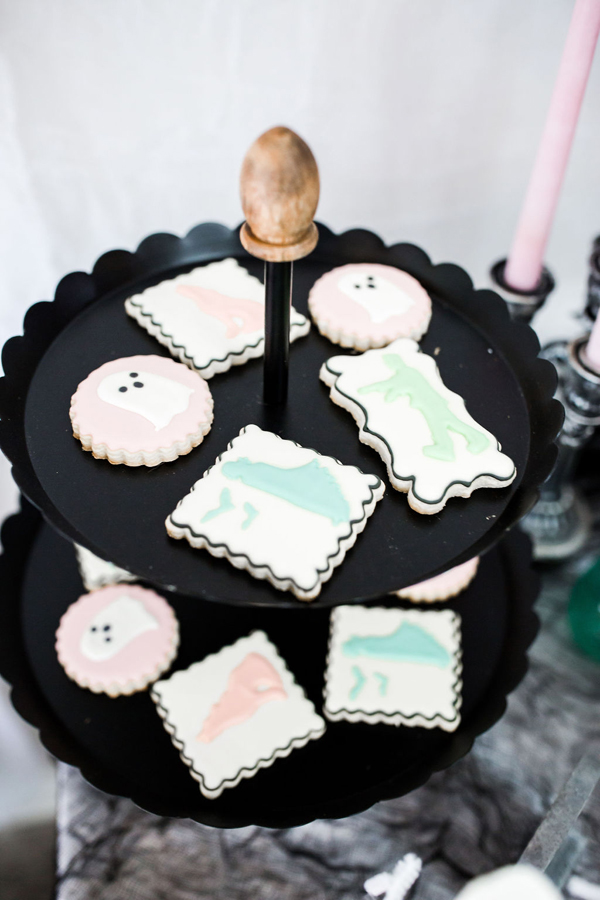 Cookies were also included on the dessert table for guests to eat or take home!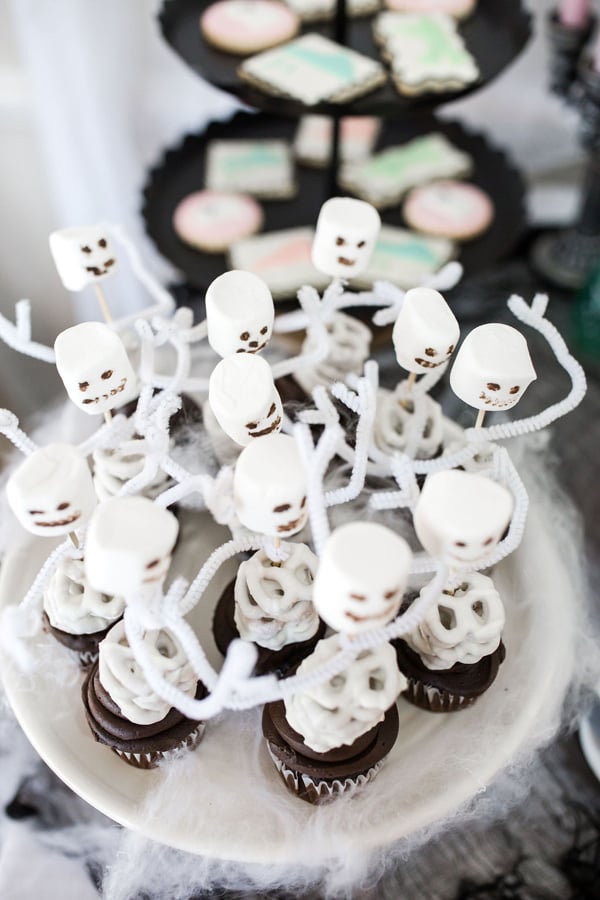 These skeleton cupcake toppers are just too cute and clever! What a fun treat to add to the mix!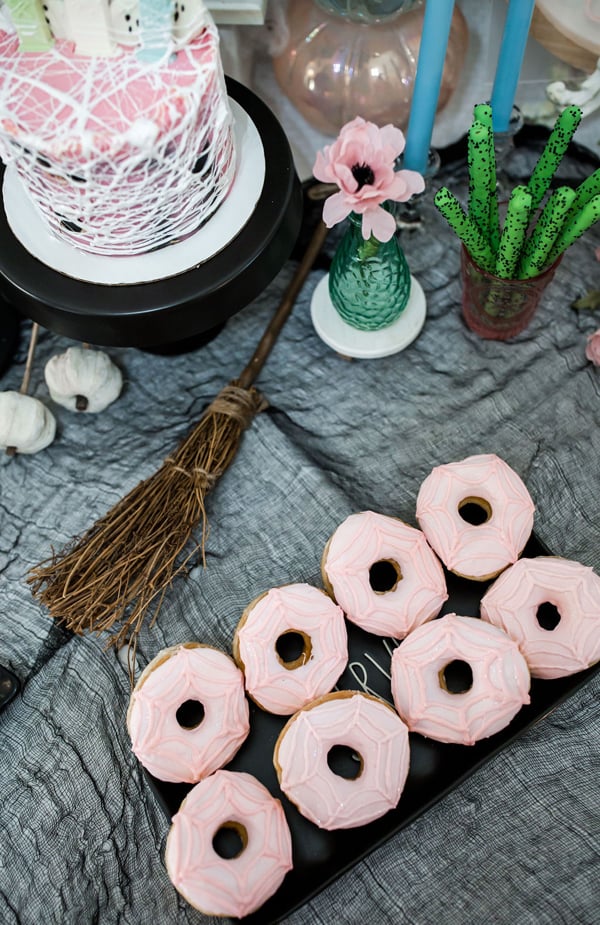 Pastel pink spider web donuts were also a hit!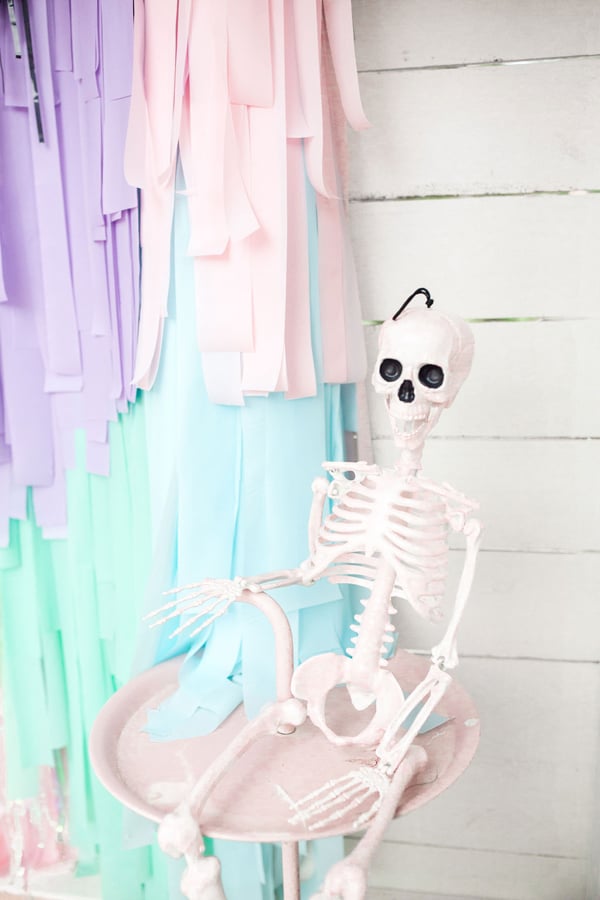 Of course there had to be some skeletons among the decorations. Look at this guy!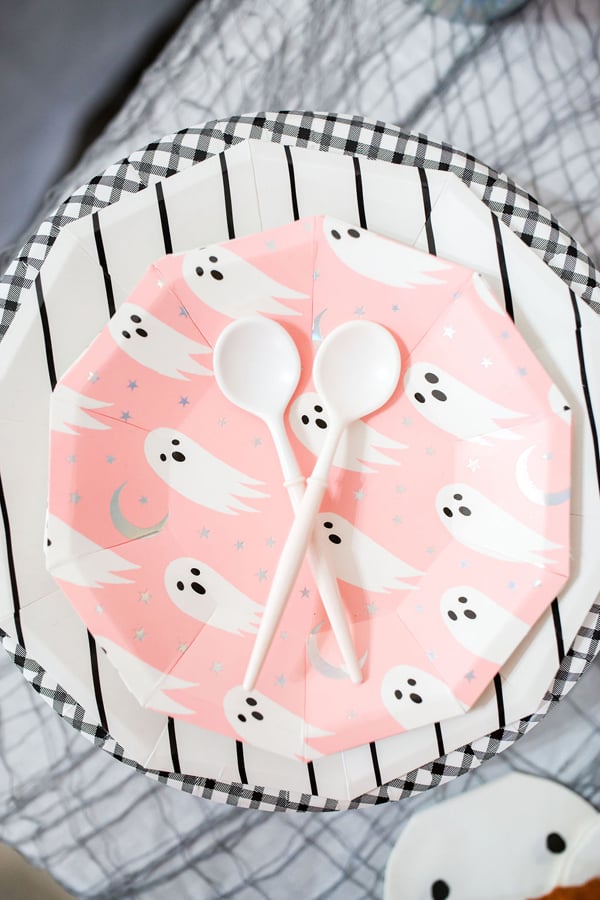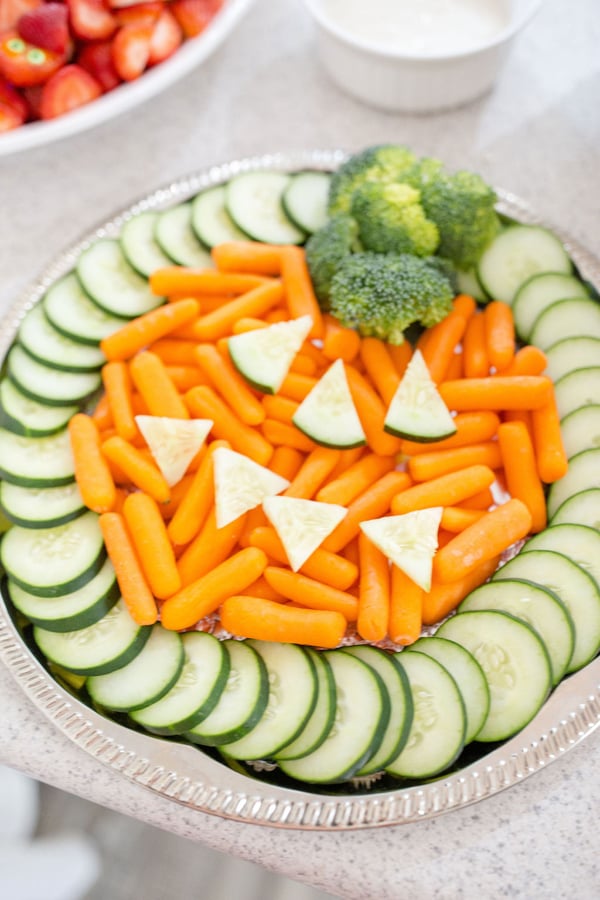 The creative ideas keep on coming … this pumpkin veggie tray is the coolest!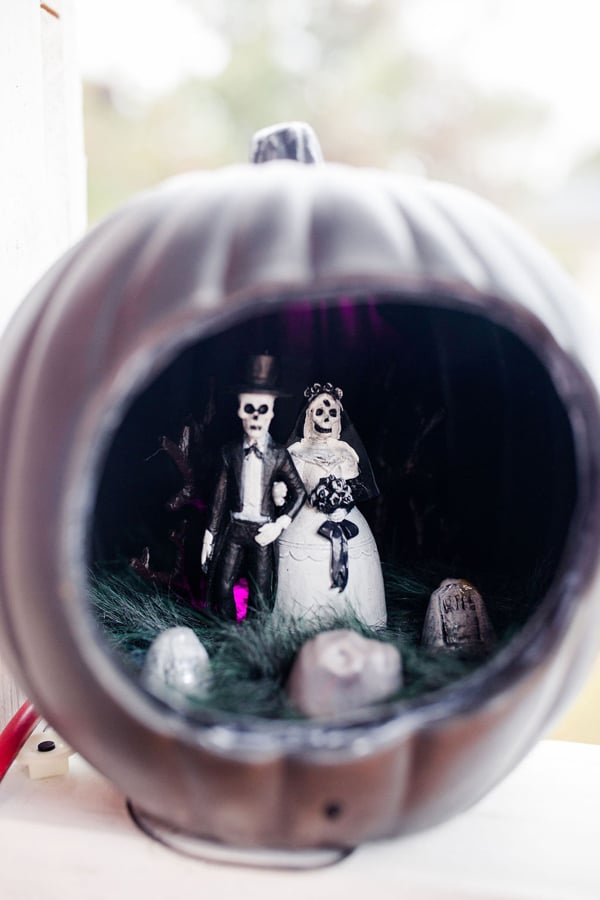 How awesome is this black pumpkin decoration? I think it's safe to say this family sure knows how to throw a Halloween party!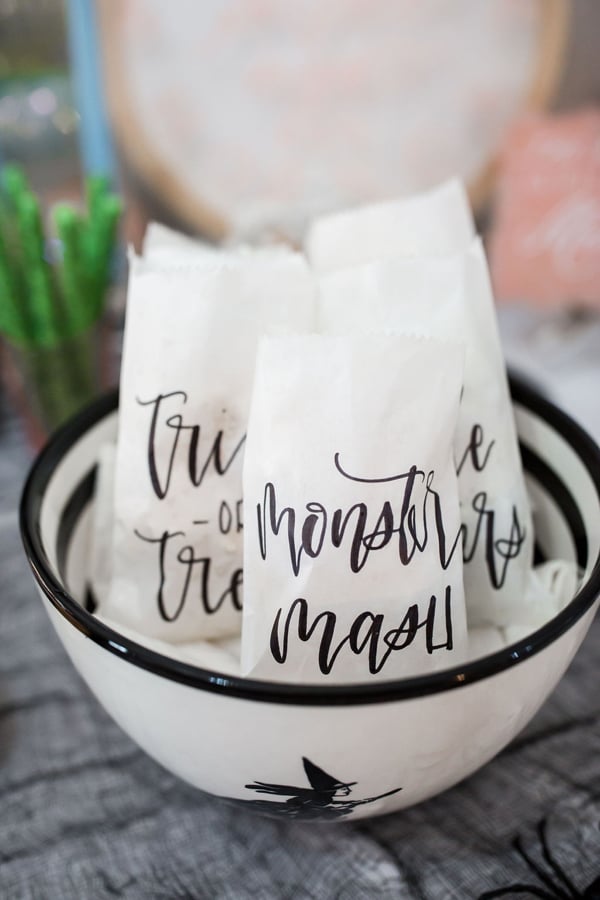 Trick or Treat and Monster Mash Party Favor Bags were handed out to all of the guests.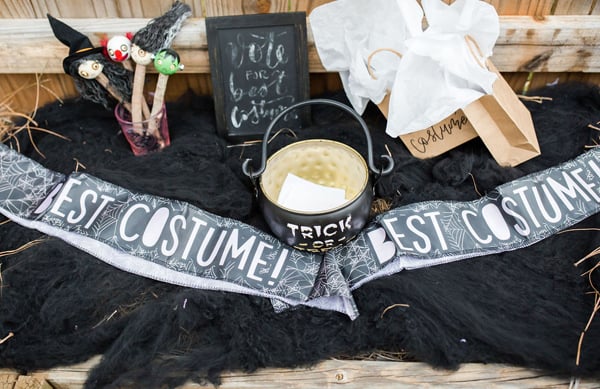 Having a Best Halloween Costume Contest is a must-have at any Halloween Party and this one included some Best Costume sashes for the winners to wear!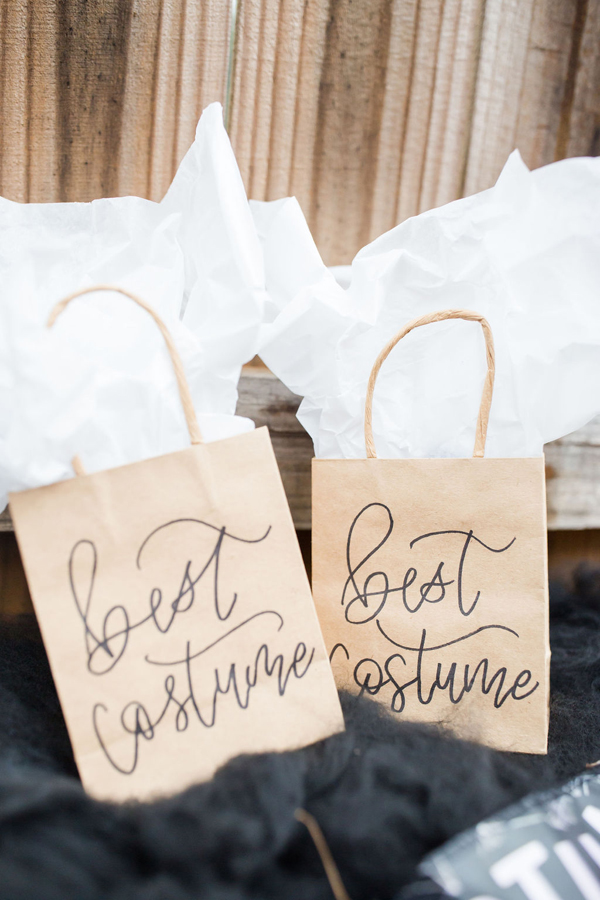 Winners also received prizes for best costume.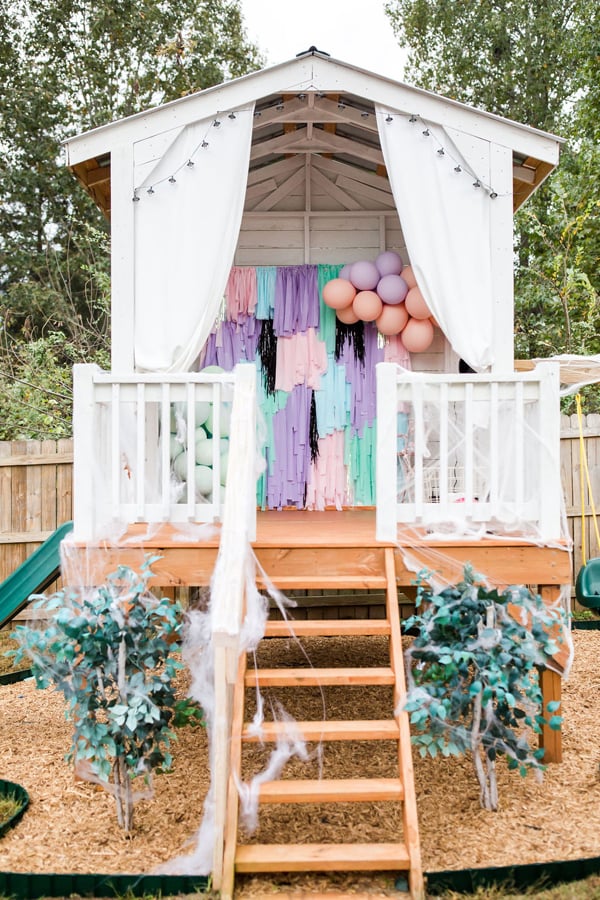 The back yard was also decorated for the party. How fun are these pastel party decorations?!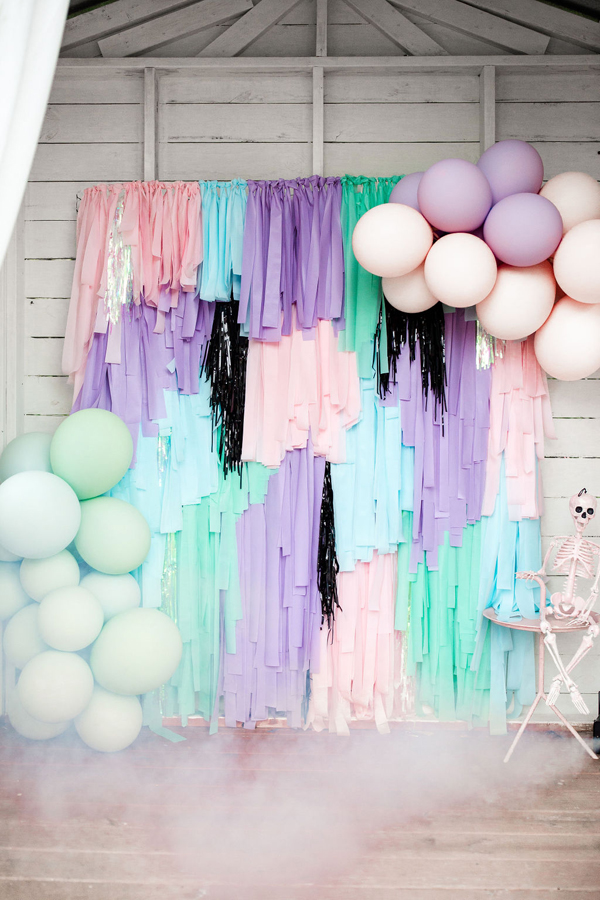 This is the perfect area to take some fun costume photos!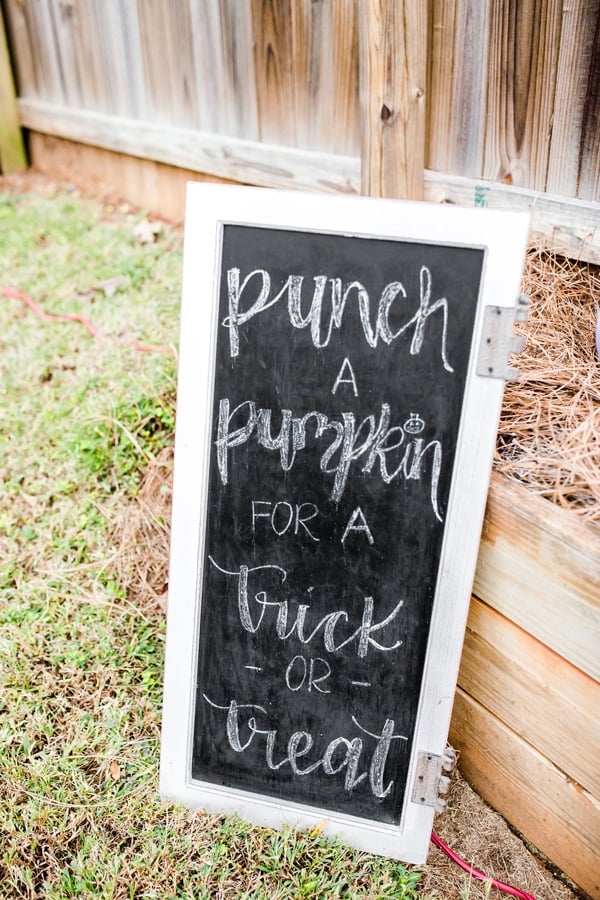 The kids had a lot of fun with the variety of games and activities that were offered at this Monster Mash Halloween Party.
Punch a Pumpkin was a big hit!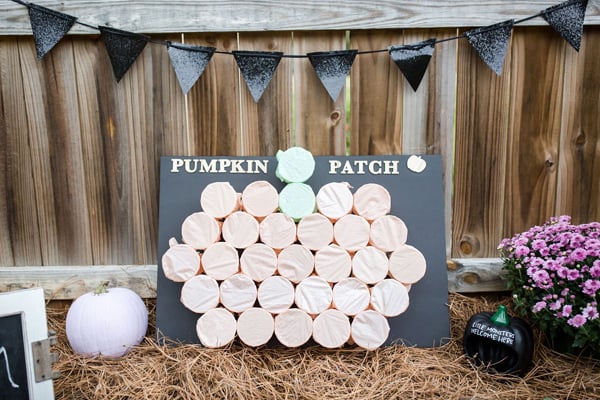 This Punch A Pumpkin party game is easy to make and kids love to get surprises!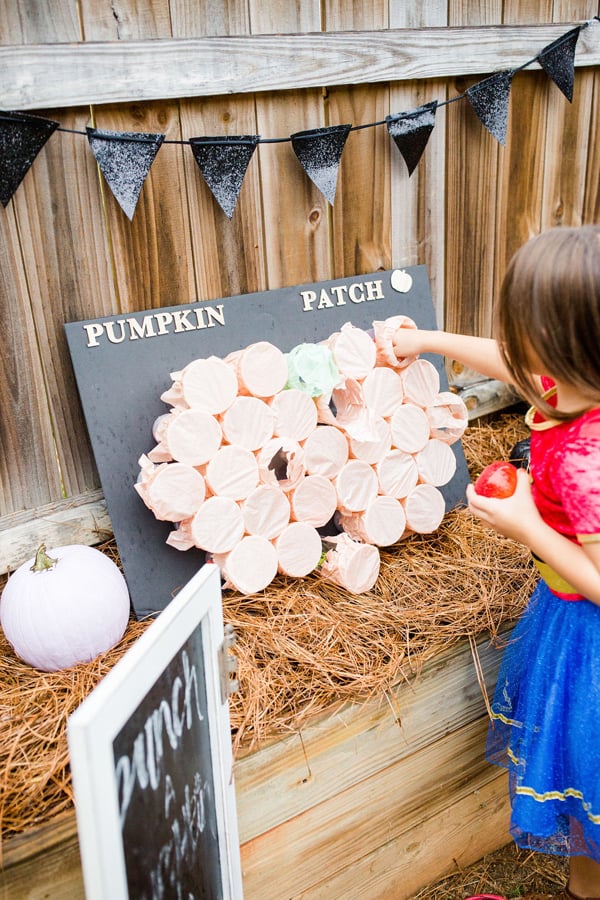 To play this fun game, kids punch through any part of the pumpkin which reveals a fun prize!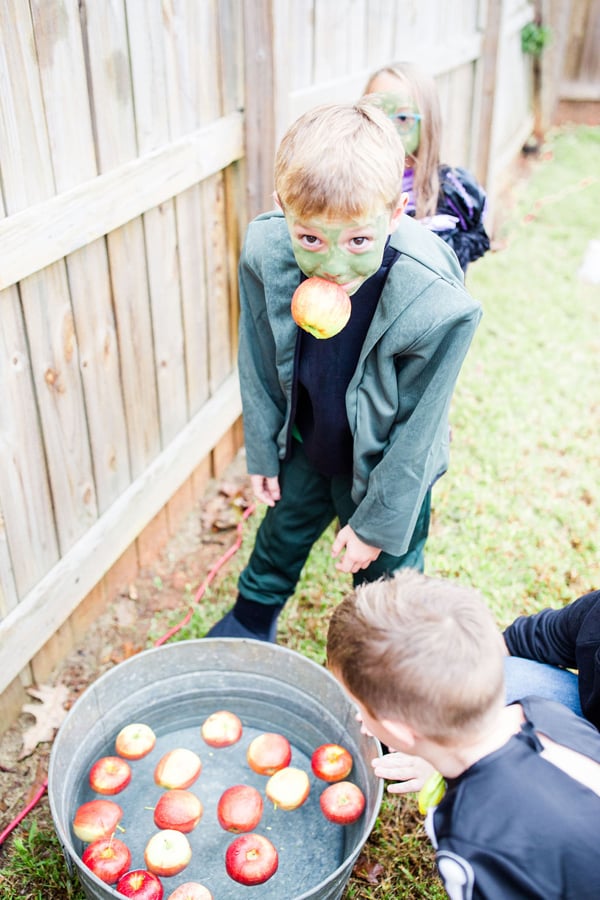 Another great party activity for the kids was the classic bobbing for apples. It sure looks like the kids had a blast at this Monster Mash Halloween Party!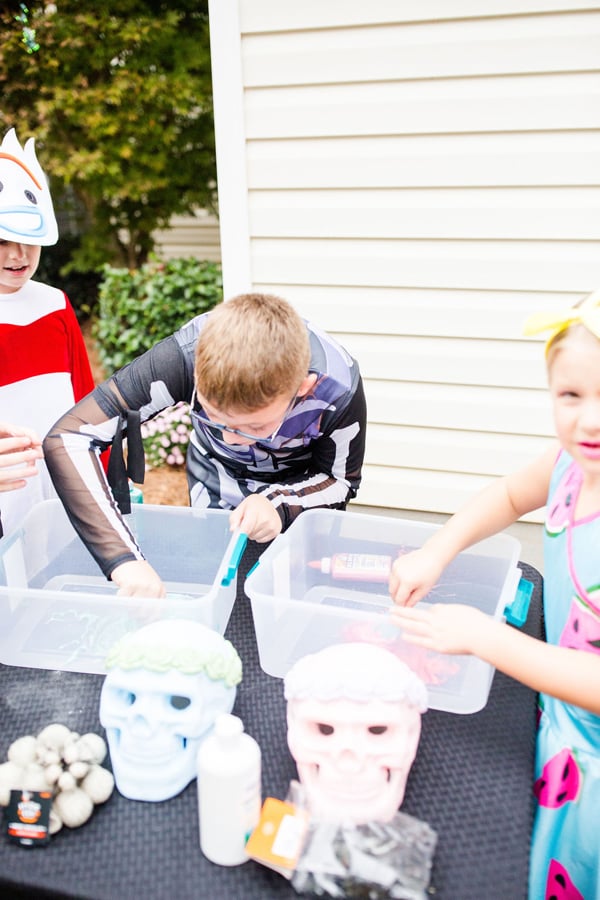 A slime making station was also set up in the back yard for the kids to create some colorful slime masterpieces. What a great party activity!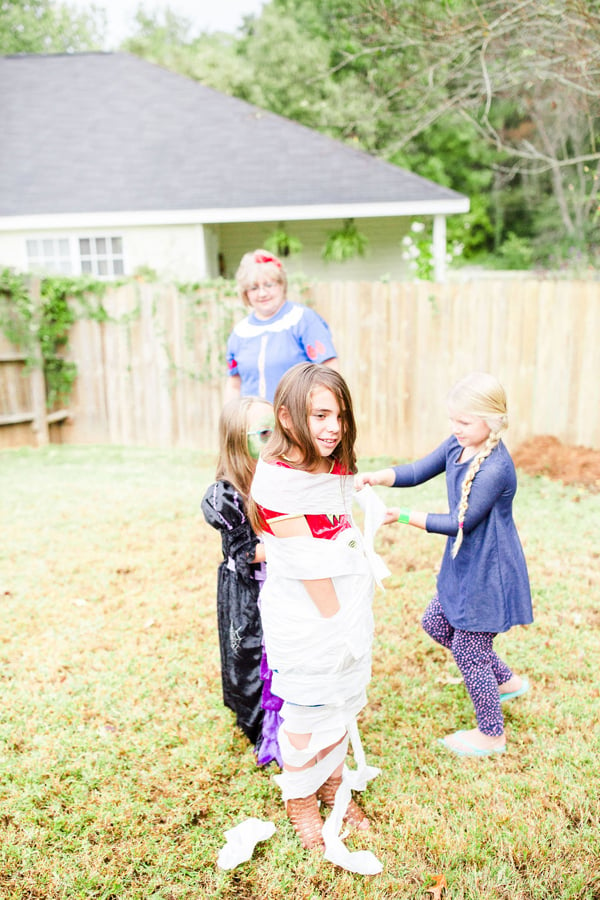 Guests also had the opportunity to play the Toilet Paper Mummy Game. It's such an easy game to set up and the kids have a total blast!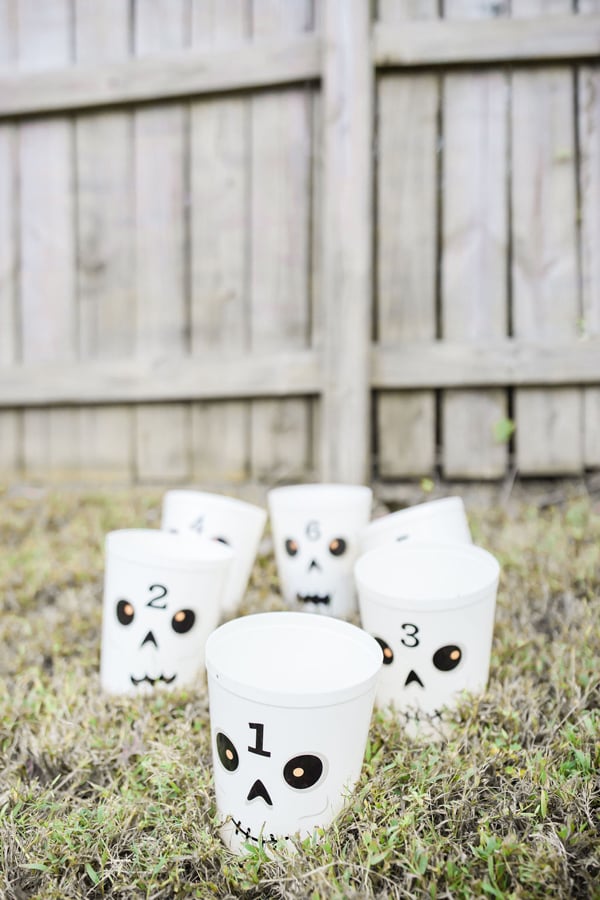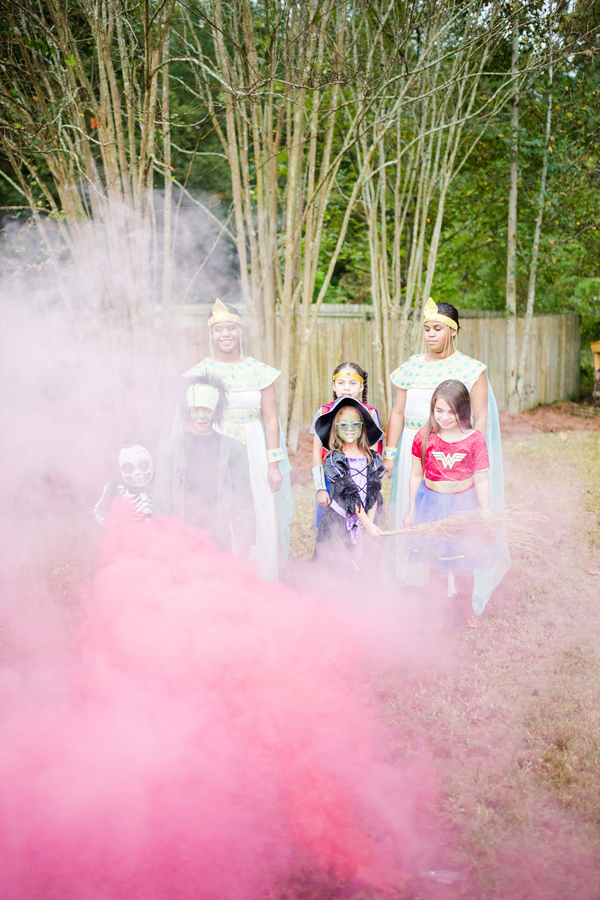 Everyone was dressed to impress at this Halloween party, including the dogs! How cute!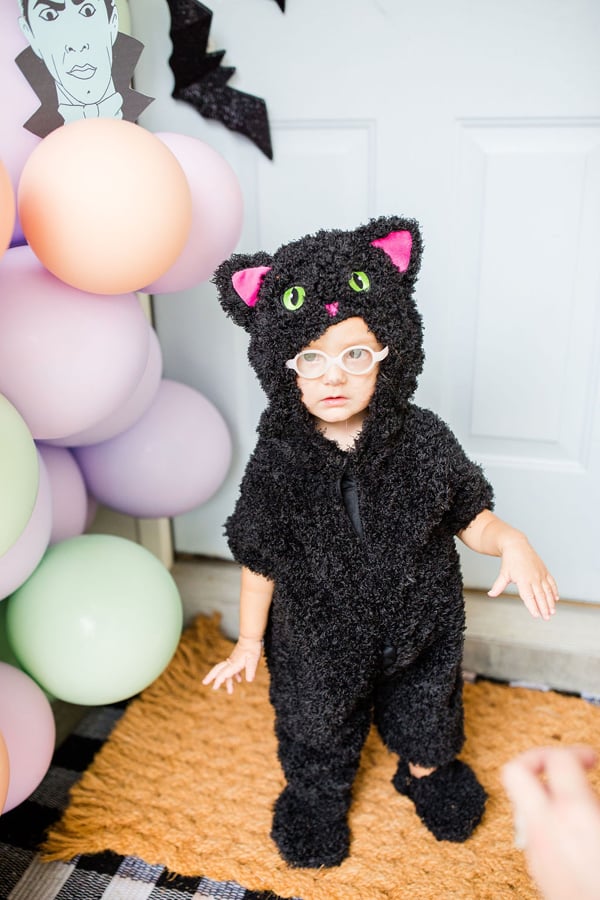 What an adorable black cat!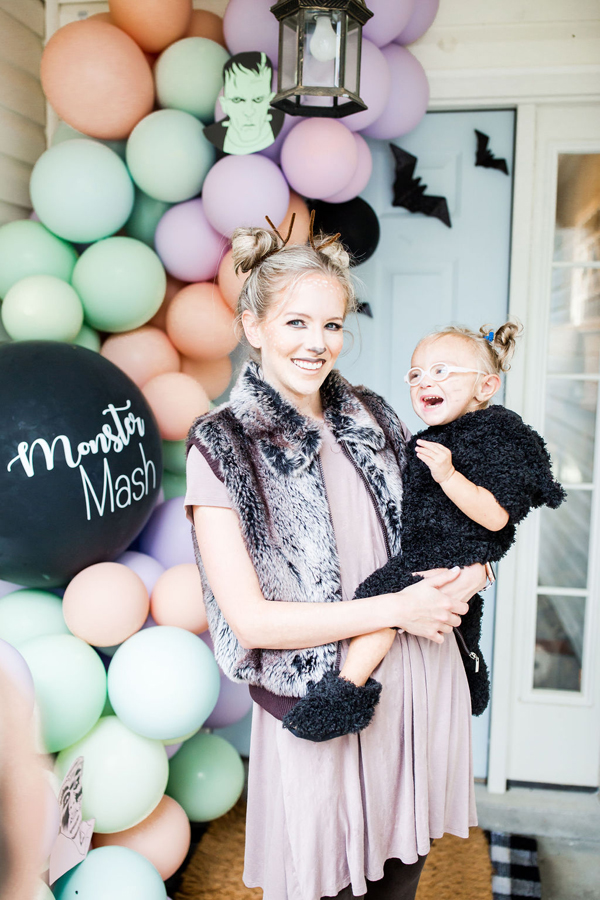 Wow! What a fun and creative party! What's your favorite details in this Monster Mash Halloween Party? Let us know in the comments below.
Vendors & Credits
Host & Planning: Riner & Company
Photography: Katherine Beasley Photography
Balloon & Streamer Art: Simple Pretty Party
Pastel Garlands: Material Gods
Florals: Florologie
Invitation & Acrylic Signage: Knoxham Co.
Hand Lettering: K Creatives
Cakes: Chaffin's Dishes
Cookies: Southern Sweetery
Donuts: Dolce Delights by Dana