Kids Modern Halloween Party
Everyone will be begging to come over for this fun Kids Modern Halloween Party!
This Kids Modern Halloween Party from Sarina of Joy In The Commonplace features free Halloween printables, blue and black decorations, desserts, and more. It is full of great ideas for a kids party of your own!
See also: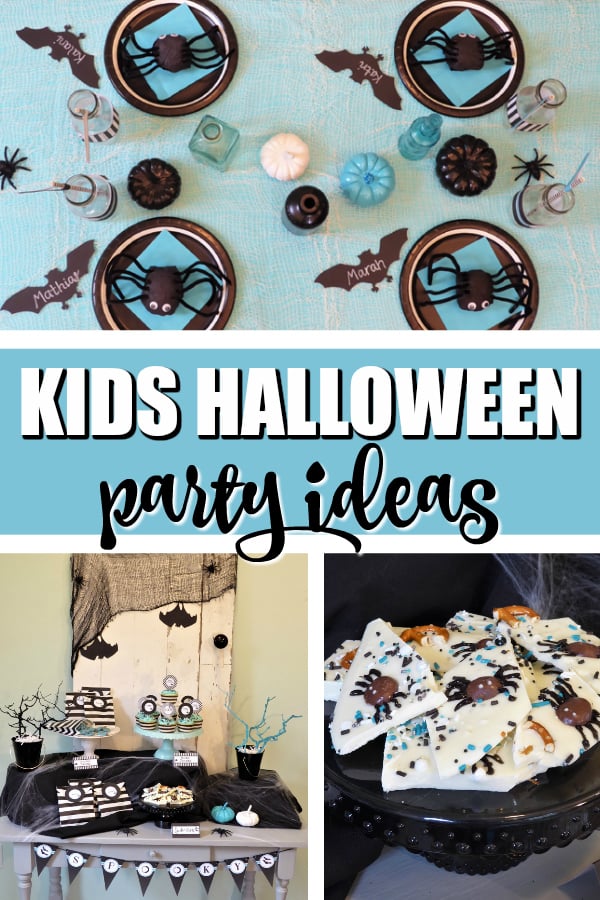 Kids Halloween Party Supplies and Decorations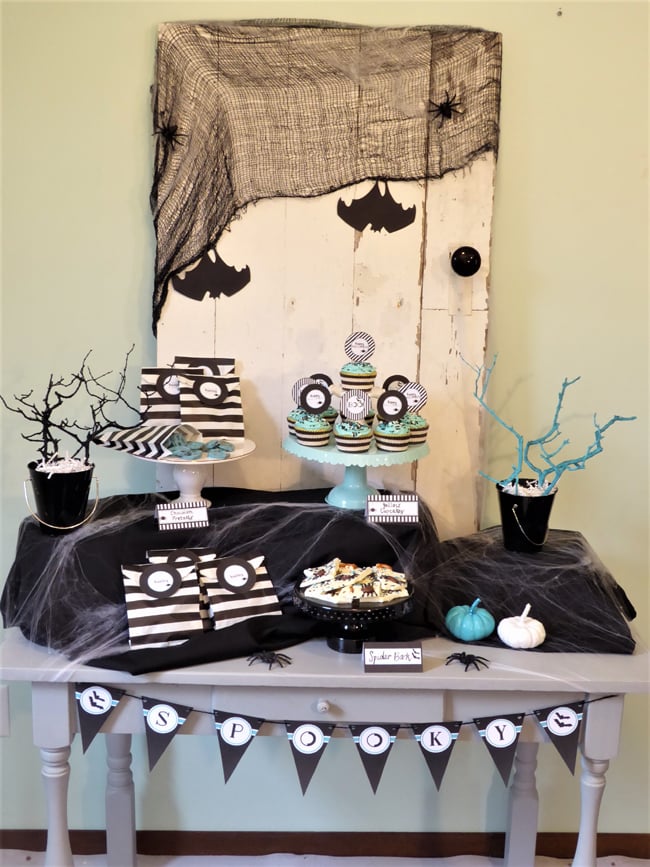 Sarina is all about Halloween, so she set up a modern Halloween party for her kids!
The treat table was black and aqua with yummy treats, including spooky cupcakes, spider chocolate bark, and chocolate covered pretzels. We love it!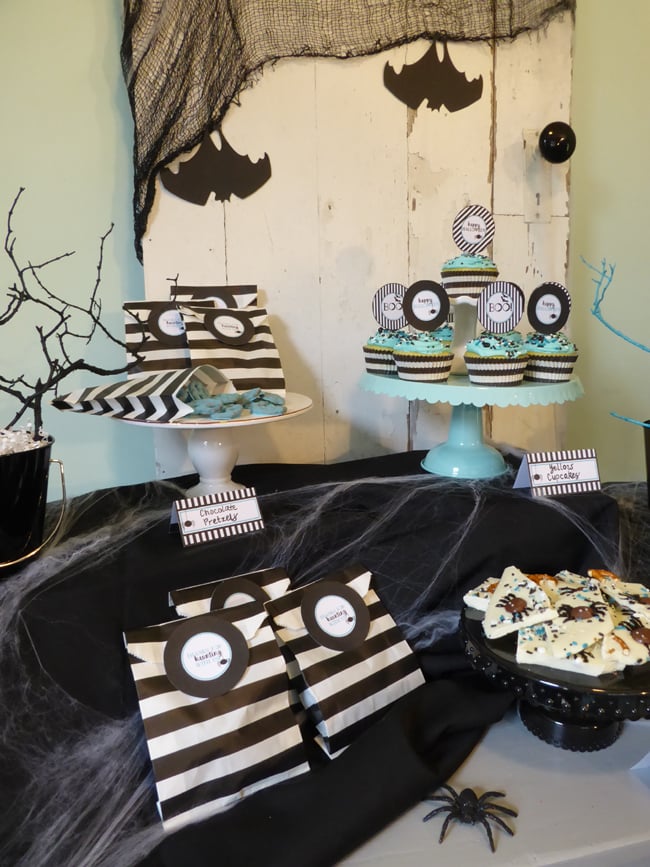 The great white-washed wooden panel backdrop is a perfect addition for the kids Halloween party decor.
We love the color scheme with the striped black and white items, and the pop of blue color.
It definitely gives that cute and easy modern feel to it!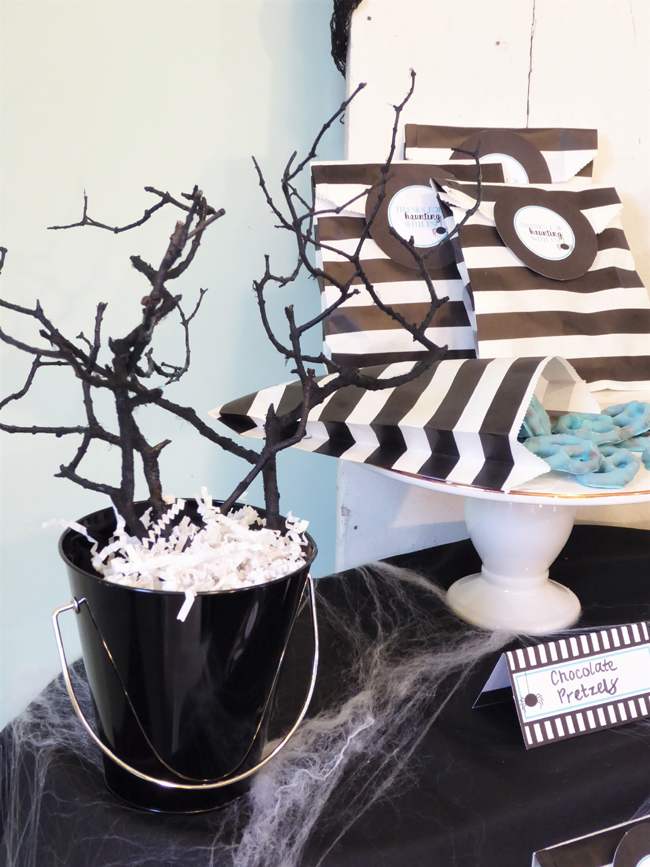 Lots of the decorations were DIY, including the spooky branches and glitter pumpkins. What an easy way to add some spooktacular Halloween themed fun to this Kids Modern Halloween Party!
Adding in the spooky cobwebs on the black tablecloth is another great element to add to any Halloween party table!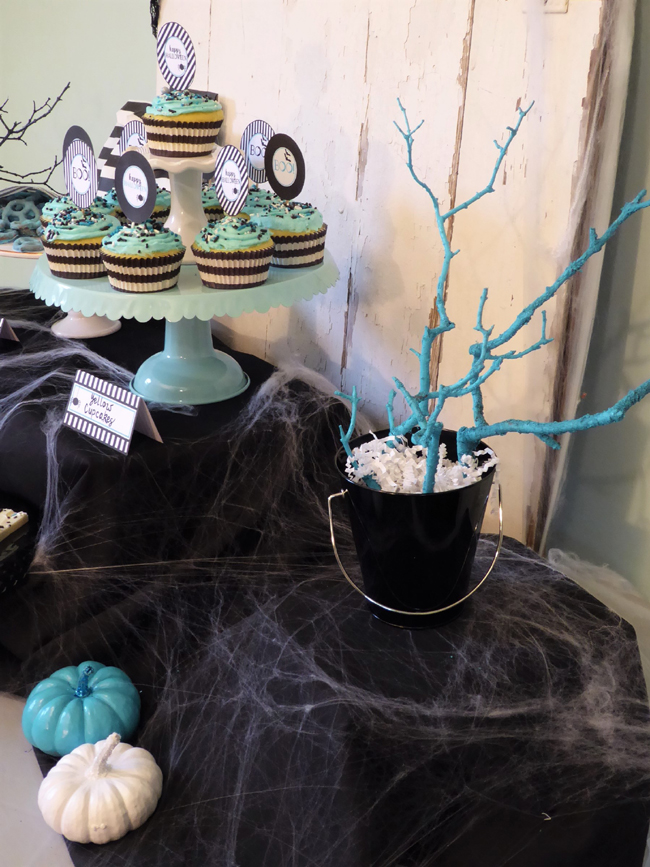 Painting the pumpkins and sticks were easy DIY additions, which helped to create a cute celebration at home.
We love how this could easily be changed to make it any color that would help you create your own Kids Modern Halloween Party. Think purple or green!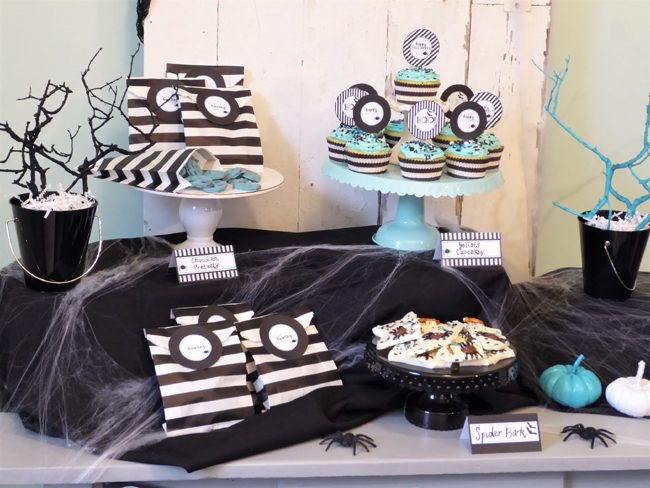 A gorgeous dessert table will have everyone excited about your fun Halloween celebration! Add in some fun Halloween themed desserts and snacks and you've got yourself one fun holiday bash!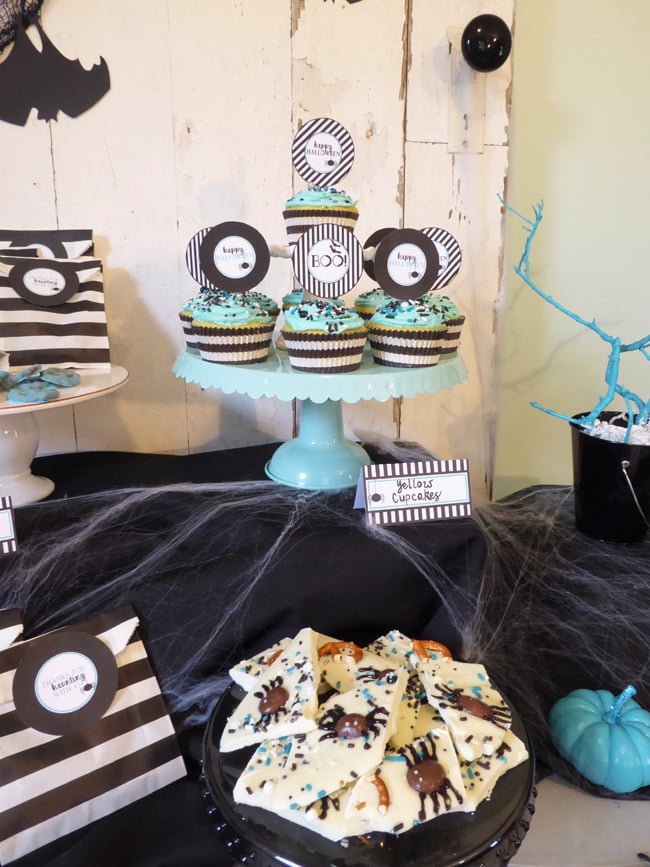 Yummy cupcakes that matched the colors of the decorations were on hand for the kids to gobble up, along with other sweet treats.
We also love how there are little favor bags that were made available on the dessert table too!
That way, everyone can take a few treats home with them to enjoy later in the spooky night!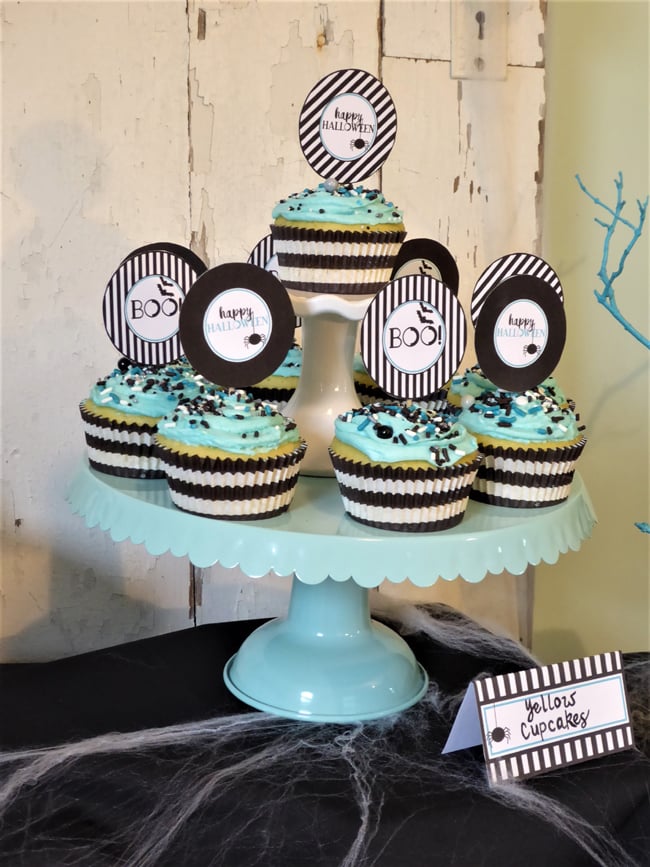 Look at those yummy cupcakes! Even the cupcake liners were black and white stripes, which makes it even better.
We love the great printables that were created for the cupcake toppers, as well.
So simple, yet everything came together perfectly to pull off the ultimate Kids Modern Halloween Party. And the cupcake serving tray was the perfect color, too!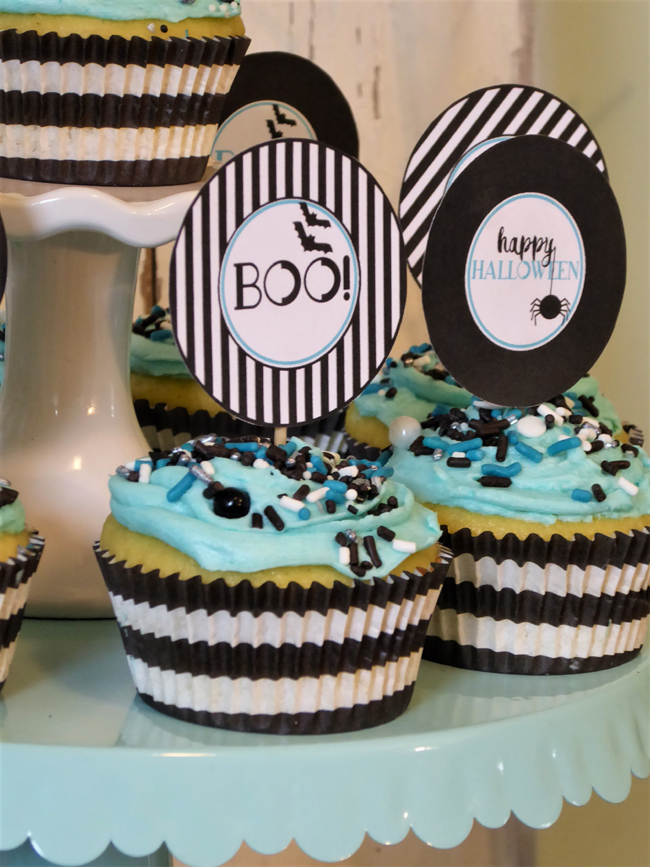 Cupcakes just don't work without some fun sprinkles to add on top!
This is a fun way to get the littles involved with getting ready for the Halloween party, too!
Who doesn't want to put sprinkles on cupcakes?!
It's always a good idea to have some activities ready for the kiddos when you're busy trying to get other things ready, as well. It's the perfect distraction!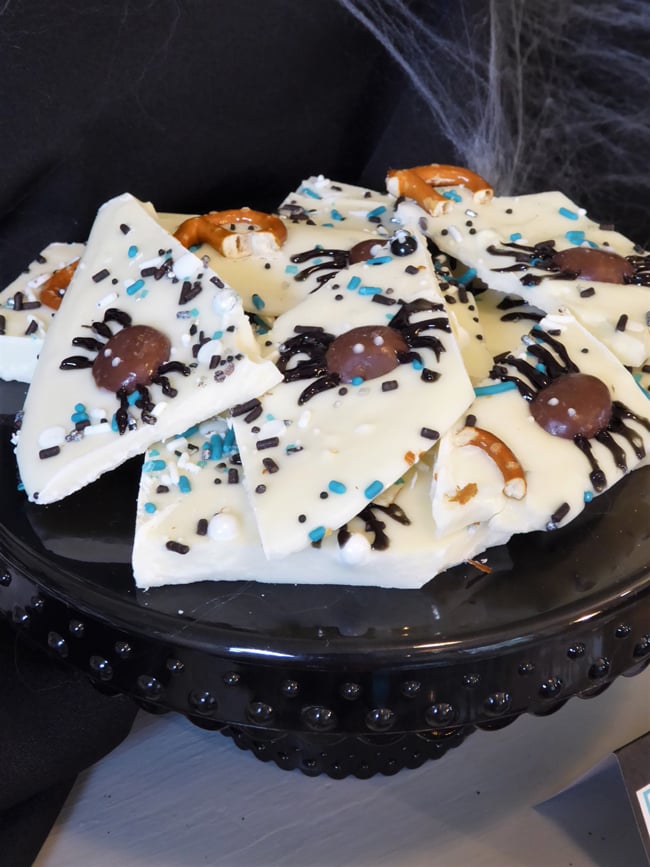 Cool spider chocolate bark was homemade and ready for all of the guests when they arrived. What great DIY desserts that you can easily create on your own at home!
A Kids Modern Halloween Party doesn't have to include expensive treats and desserts when you have the ability to make a few things yourself. The kids will love it too!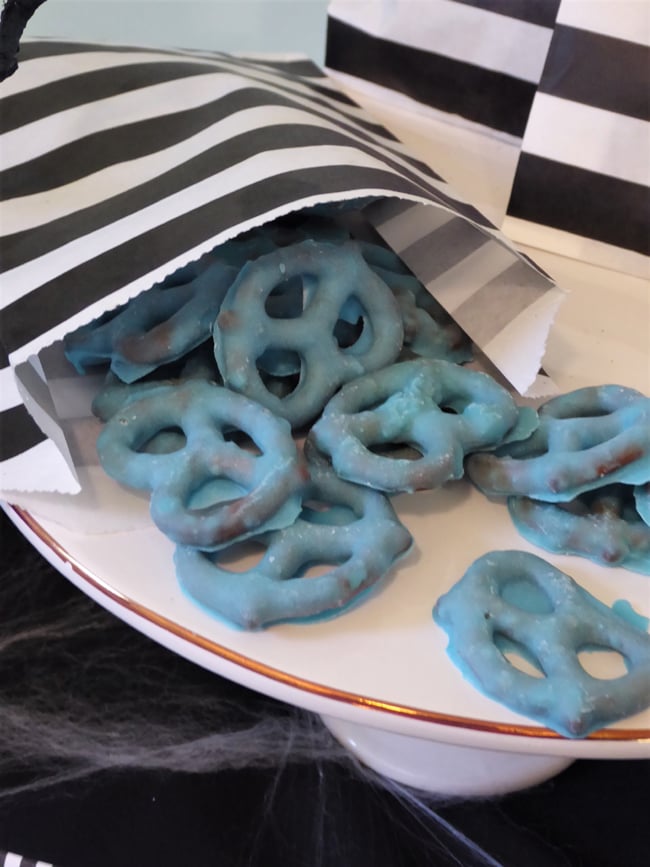 Chocolate covered pretzels that are blue?! Yes, please! What an easy DIY dessert anyone can pull off. All you have to do is get some pretzels and dip them in some blue candy melts.
You can also whip up some more yummy treats dipped in candy melts like strawberries, cookies, Rice Krispie treats, etc.
What great Kids Halloween party ideas and they are so cute!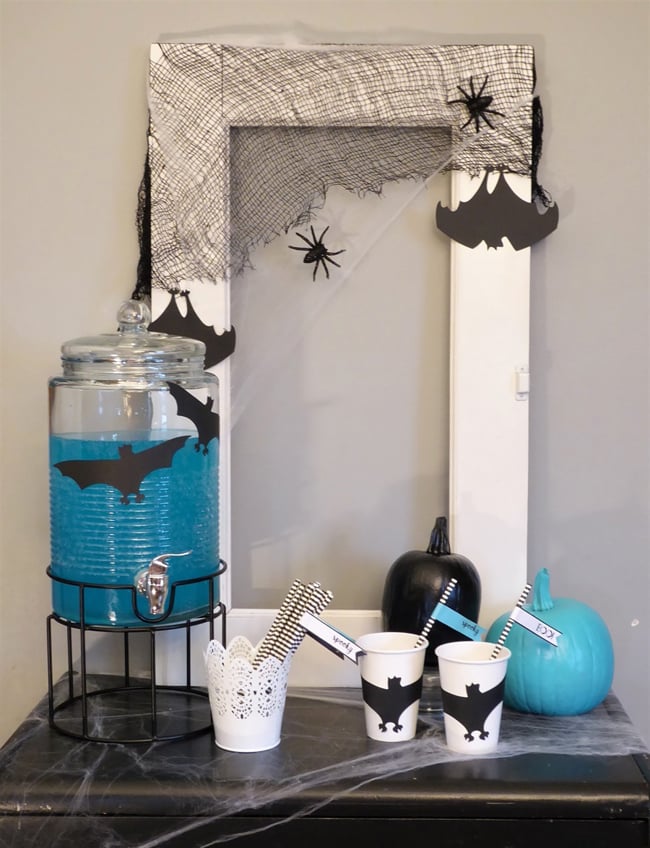 This drink station may be the most spooktacular thing we've seen for a fun Kids Halloween party!
We love the black cheesecloth that is used to simulate a spider web and of course, there are some spiders and bats around the white frame looking to scare the little ghouls and goblins that head over for some drinks!
Even the party punch fits in with the blue modern color scheme, which is perfect. The cups feature some DIY cutout bats with coordinating straws and straw flags. What simple Halloween fun anyone can do at their home!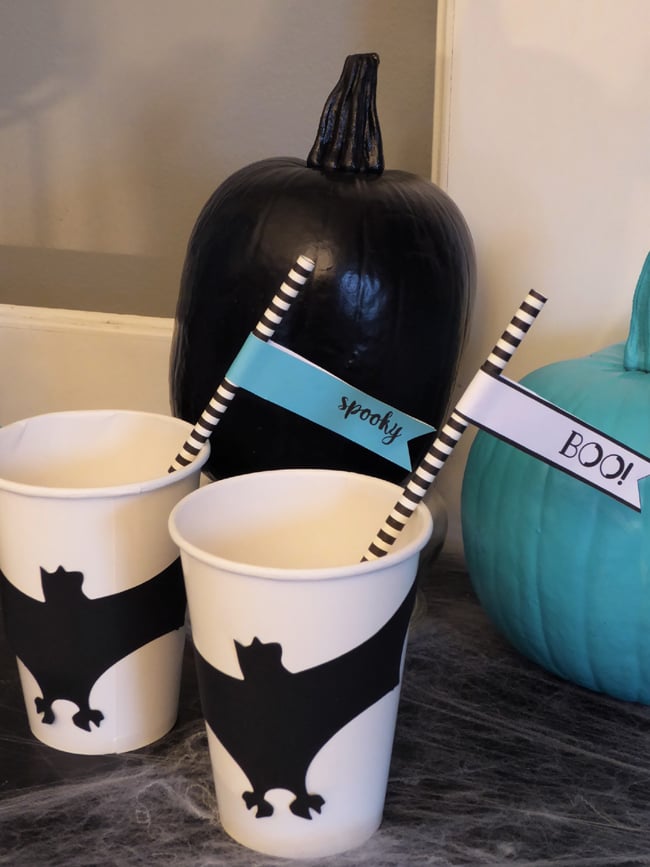 Painting pumpkins to match the theme of your own modern Halloween party for kids is such a quick and easy way to add pizzazz around your party.
It's even easy to add in some faces if you so choose, or glitz and glam with sprinkles and glitter. It's all up to you and what you envision when you plan a Halloween party for kids!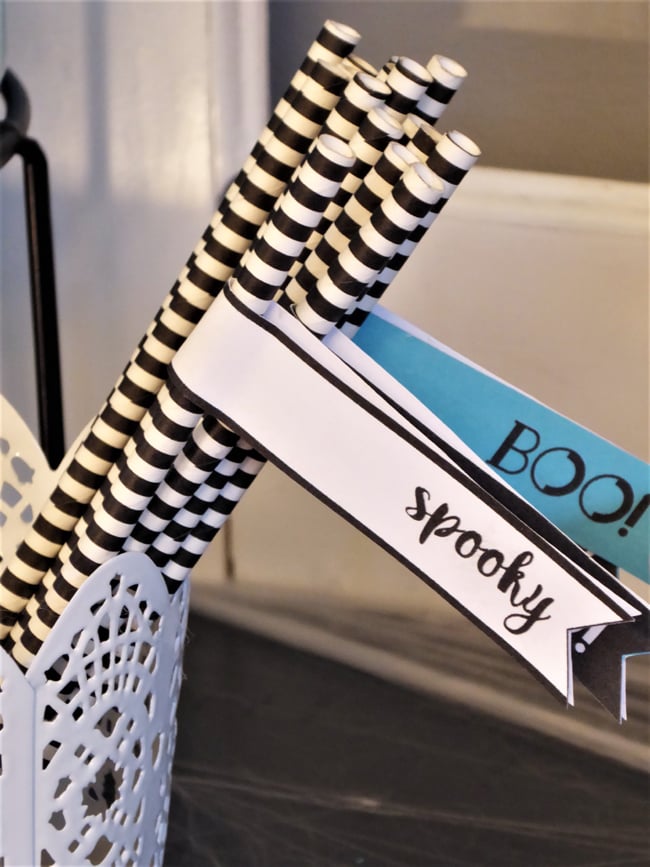 Shop Sweets & Treats did a wonderful job providing the straws, goodie bags, cupcake liners and sprinkles that were used around the Halloween celebration.
These party supplies were a great way to add in the modern elements that this mom wanted, while not breaking the bank.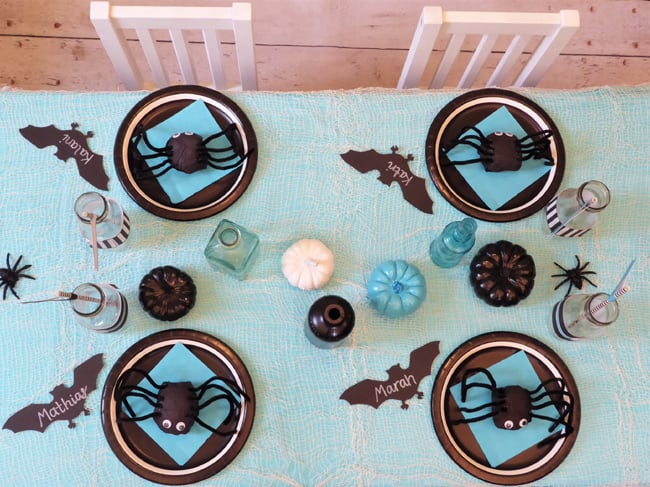 Painted mini pumpkins served as the centerpiece for the kids Halloween table.
Everyone had their own place settings, as well, thanks to some easy bat cutouts that were drawn on with a white marker.
We just love this fun color scheme and the tables look simple, yet boo-tiful!!!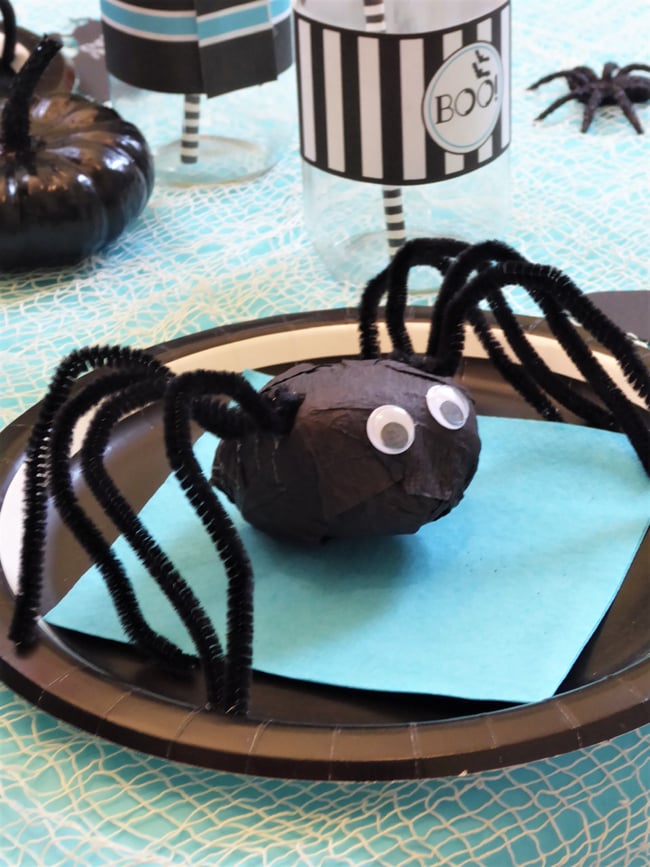 For a fun party favor, the host made all of the kids these cute DIY spider surprise balls.
The guests had no idea what to expect, but when they unraveled the spiders, it revealed fun trinkets or toys that they got to take home and enjoy.
What fun and easy favors that didn't include candy. Because we all know that kids have enough candy and treats to last them for months when Halloween arrives!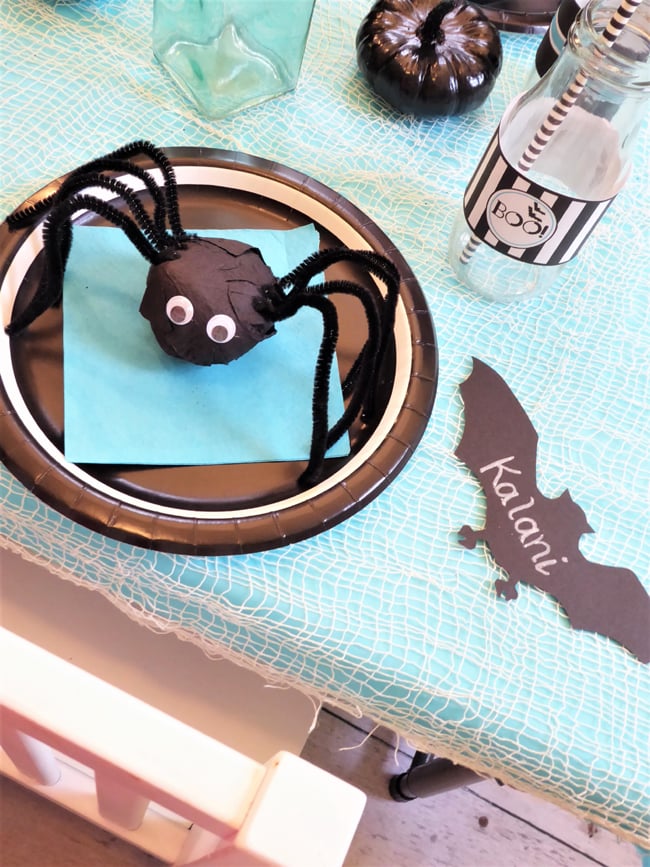 The cheesecloth that was found over the blue table cloth was the perfect addition for this Halloween party theme.
If you have a little one who is celebrating a birthday around the same time as Halloween, this would make a spectacular birthday celebration theme, as well!
What a great time of the year to celebrate a birthday with fun costumes and activities to take part in.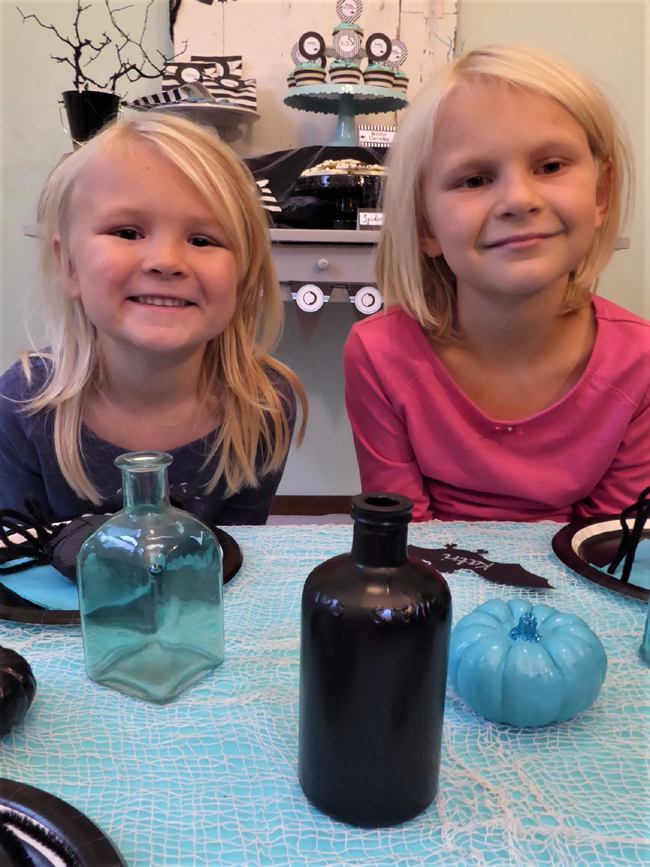 Overall the party was a hit and these two cuties couldn't wipe the smile off their faces for days!
A Kids Modern Halloween Party is just the way to go if you're looking to spice things up this year and have all of your child's friends over.
Vendors & Credits
Party Styling: Joy in the Commonplace
Free Halloween Printables: Mimi's Dollhouse
Straws, Goodie Bags, Cupcake Liners and Sprinkles: Shop Sweets & Treats