Floral Themed First Birthday
Your little lady will love all of the colors and textures with a gorgeous Floral Themed First Birthday!
Arielle Petes Photography created a shabby chic Floral Themed First Birthday for her daughter and it couldn't have been more beautiful! With a tastefully simple design and a gorgeous feminine color palette, this little lady was surrounded by gorgeous party decor for her fabulous first birthday celebration!
See also: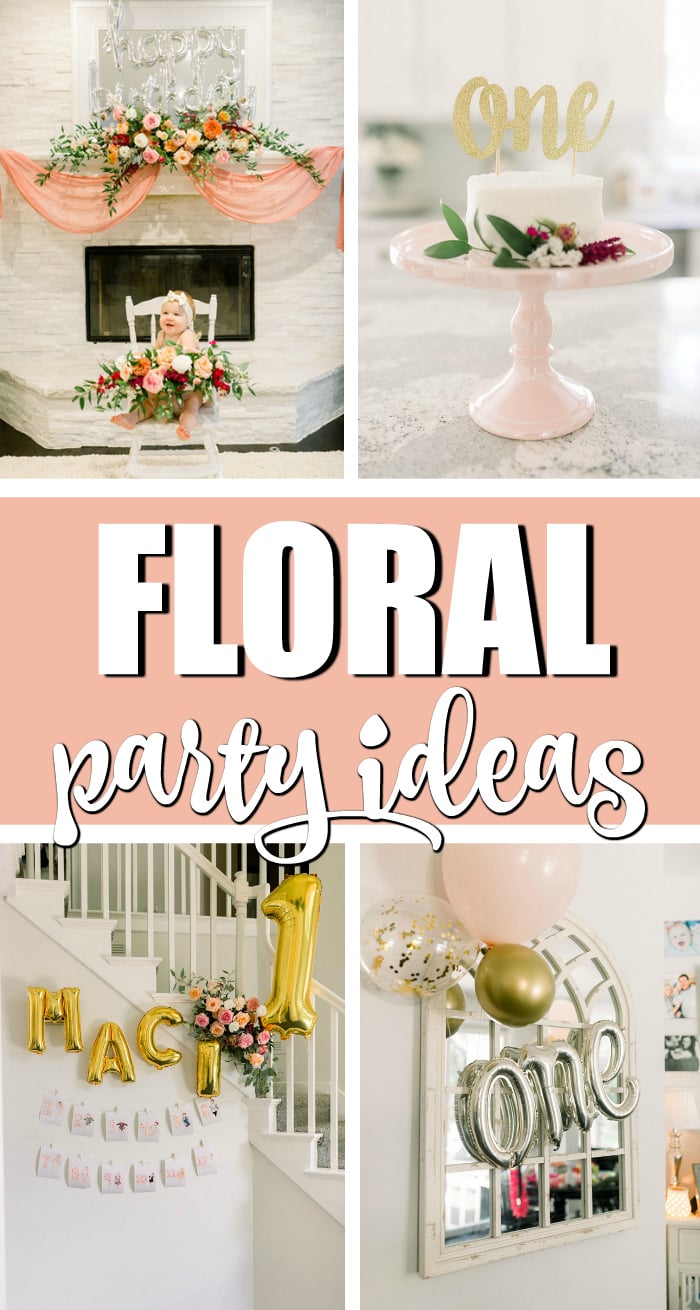 Floral 1st Birthday Party Supplies and Decorations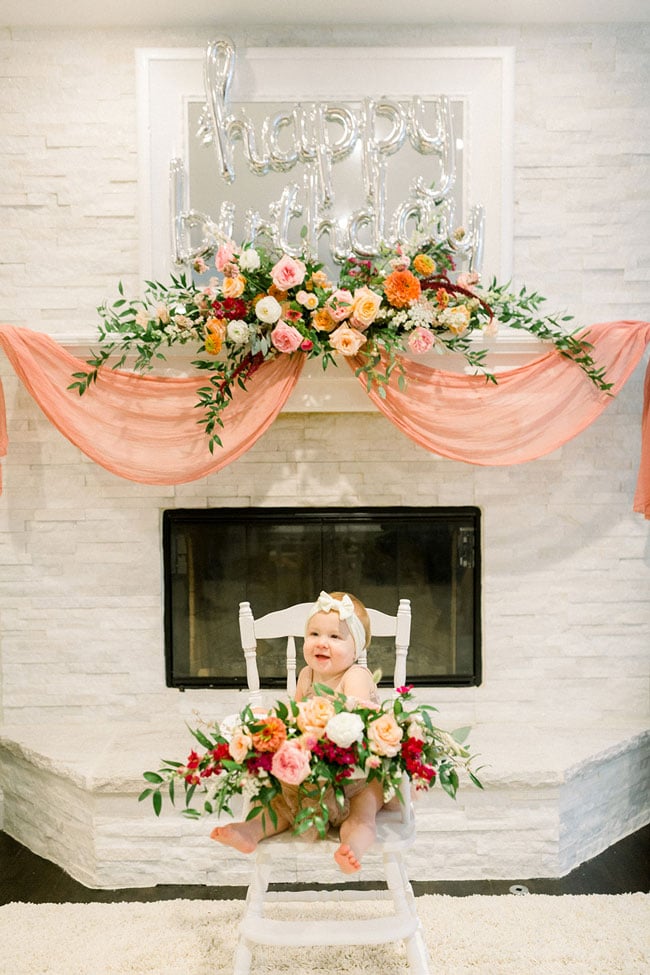 Mom wanted to keep things fairly low-key, so flowers were just focused on the entry wall, the fireplace area (where she'd do her cake smash), along with decking out the cakes.
What type of Floral Themed First Birthday would it be without a beautiful flower arrangement on her high-chair?!
This was going to be where the birthday celebration would be centered around for this special lady.
Who doesn't want to be crowded around a 1-year-old getting ready to smash a cake?!
What a gorgeous floral theme for a special birthday celebration! What incredible arrangements with lovely greenery included, as well.
What kind of floral 1st birthday party would it be without giant balloons placed around the celebration for this lucky lady?! We love the color palette of pinks, golds and whites to complement all of the beautiful floral arrangements that were found around the celebration.
We love this unique decoration that included gold balloons spelling out the birthday girl's name, along with a first year photo banner.
What a special way to see how big the birthday girl has grown within the last year, by including a picture of her once a month over the past year.
What a great addition to this Floral Themed First Birthday!
Every month Mom took pictures of her sweet baby to mark the milestone of that first year. And of course, flowers played a huge part in those pictures, as well!
What a wonderful, whimsical way to bring it all together by throwing a flower theme birthday party, as well!
Big balloons were found around the floral theme, which added to the shabby chic vibe of the day.
We love big balloons that spell out the names and ages for the birthday kiddos!
There is nothing quite as special as a floral first birthday celebration!
The design of the florals, along with the gorgeous fabric that was used to pull together the color scheme on the fireplace mantle was exquisite.
We love the whimsical way this fabric draped across the mantle and made everything look chic. What a gorgeous backdrop for when this little girl would dig into her big first birthday cake!
Against the white backdrop of the fireplace, these gorgeous colors came to life for this Floral Themed First Birthday.
The addition of the silver and gold balloons also gave that extra pop of color that made things stand out, too!
Just look at this amazing flower arrangement. It looks like a beautiful garden has come to life, right in the middle of this fun flower theme birthday party!
The design was impeccable and girly, with bright pinks and pastels making up the floral theme.
The main cake was decorated with additional flowers and greenery and looked spectacular when it was finished.
We love the simple tiered white cake, which was the perfect addition to this Floral Themed First Birthday.
The flowers on the cake were gorgeous and we can't get over every single detail!
Cupcakes were also provided, with a fun pink flower being placed front and center on the serving tray. How fun!
We also love how the simple greenery is placed around the tray for contrasting color. What a simple, yet elegant dessert idea.
Don't forget about that fun smash cake. What kind of Floral Themed First Birthday would it be without the smash cake for the birthday girl to have a little fun with?!
It is almost too beautiful to set in front of this baby girl, but we all know how much fun those smash cake pictures are once that one-year-old gets going!
We love the gorgeous, yet simple smash cake topper, signifying this special girl's big day. The sparkly gold really helps to make things stand out, as well. Just gorgeous!
And she's off! This little girl really got into the celebration spirit once that smash cake was set in front of her.
We love some good pictures of a one-year-old digging into that cake! What a fun Floral Themed First Birthday!
There she goes! Digging into that cake like a true champ! And we know she loves being a girly girl, because that sweet bow didn't even move from her head.
Look at those little cake-filled hands! It looks like the cake smash was a huge success for this little girl.
We're thinking that everyone is going to enjoy looking back on these fun pictures for years to come.
We love how the large balloons complemented the rest of the decorations so well at the Floral Themed First Birthday. One of them even had gold confetti inside too!
What a sweet little birthday outfit for this little baby!
All of the decorations are perfection and we love the cute little white chair that pictures were taken in to commemorate this big day. And of course, lots of fun pink balloons!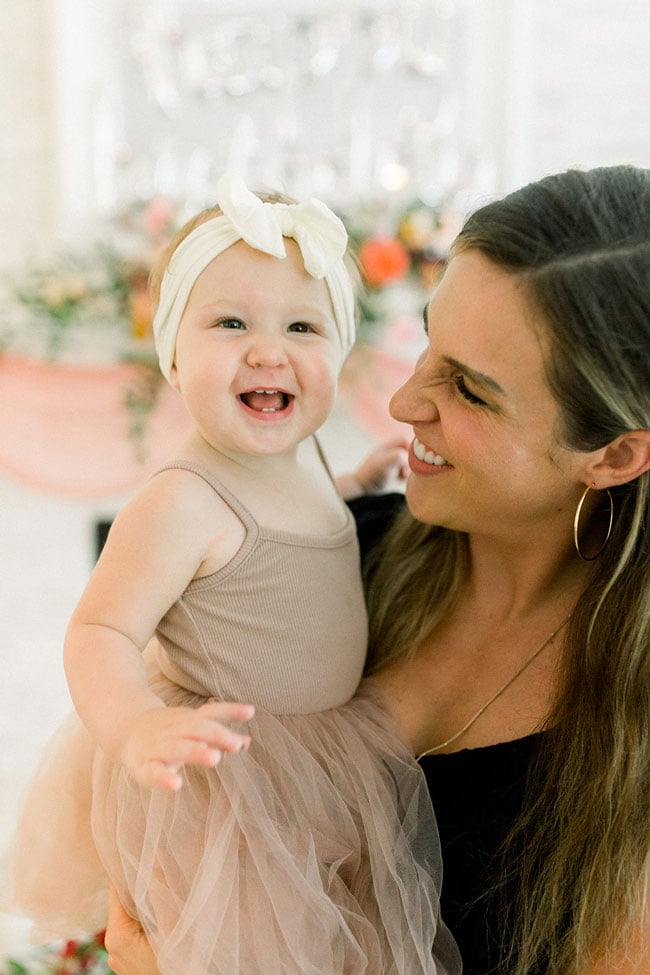 This gives such helpful inspiration for others on keeping things simple, yet so pretty and elegant for a first birthday party. We just adore the Floral Themed First Birthday and it looks like this sweet girl enjoyed herself too!
Vendors & Credits
Party Styling and Photography: Arielle Petes Photography
Florals: LB Floristry
Cake: Meijer's Bakery
What's your favorite detail in this Floral Themed First Birthday? Let us know in the comments below.
For more party ideas, follow us on Instagram @prettymyparty and Pinterest and join us in our private Facebook group.