Wild One Tropical Baby Shower
Nature and greenery was front and center at this fun Wild One Tropical Baby Shower!
This Wild One Tropical Baby Shower from Paper Moon Event Design + Production featured not only an amazing baby shower, but also a small photo shoot with the mom-to-be, dad-to-be and other loved ones.
What a great way to commemorate this special occasion and prepare for this big day with a great nature theme!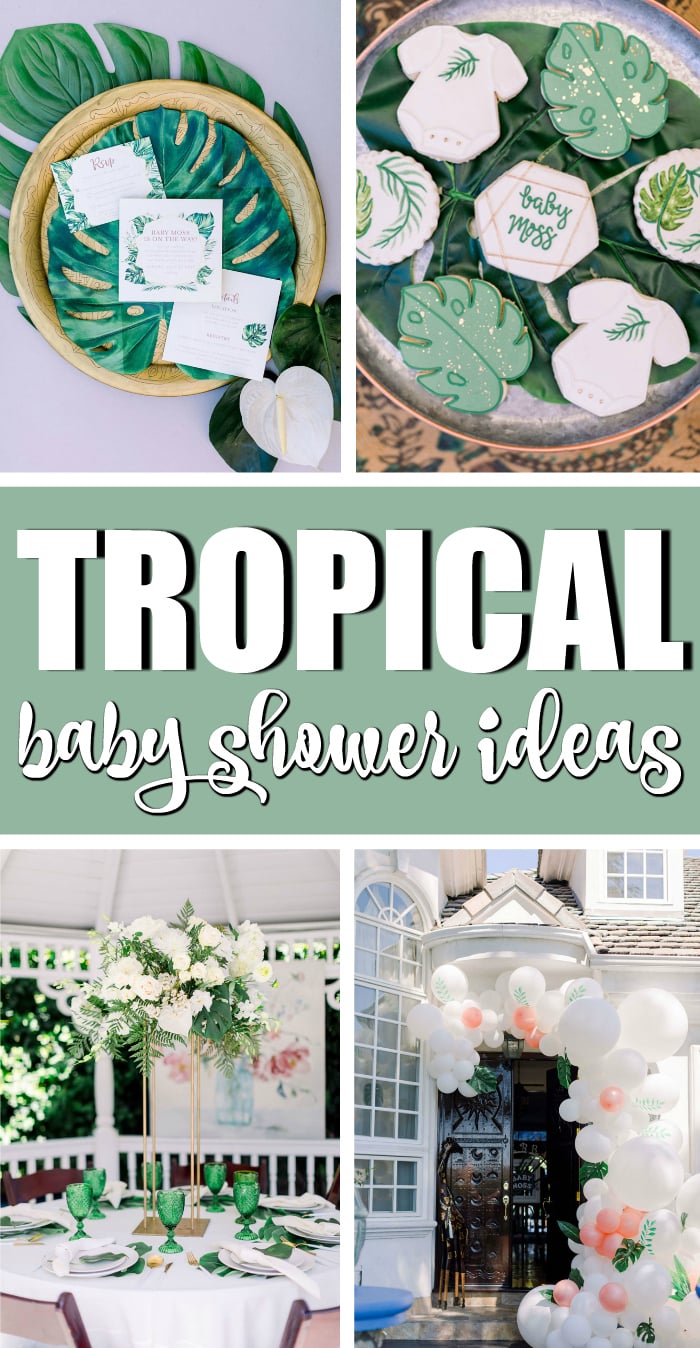 See also:
Wild One Tropical Baby Shower Supplies and Decorations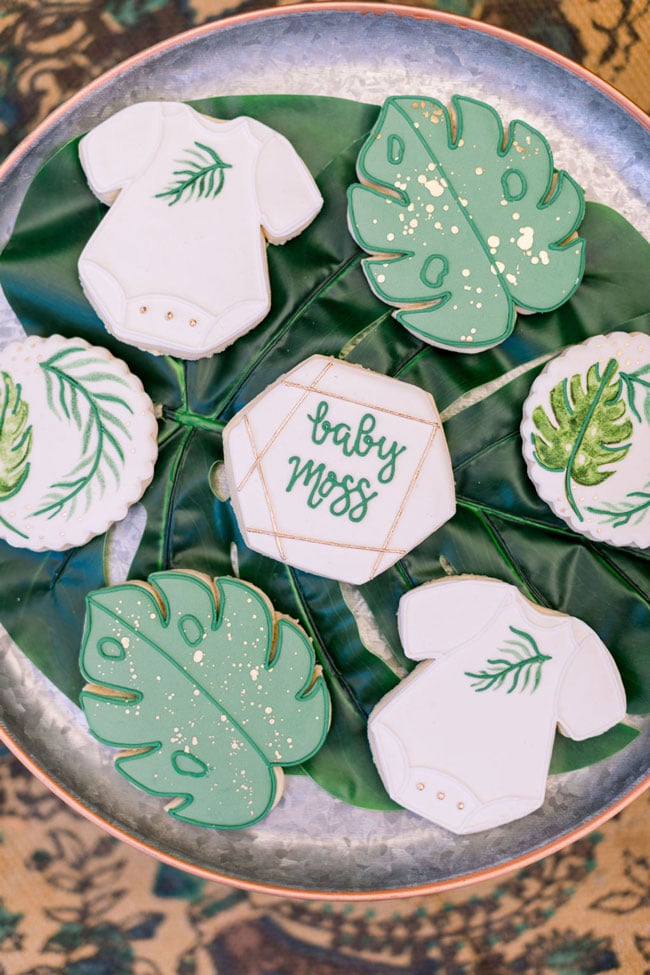 This fun jungle baby shower was set in Southern California and there is no doubt that this sweet baby will be loved and raised by a village of family and friends after seeing this amazing shower!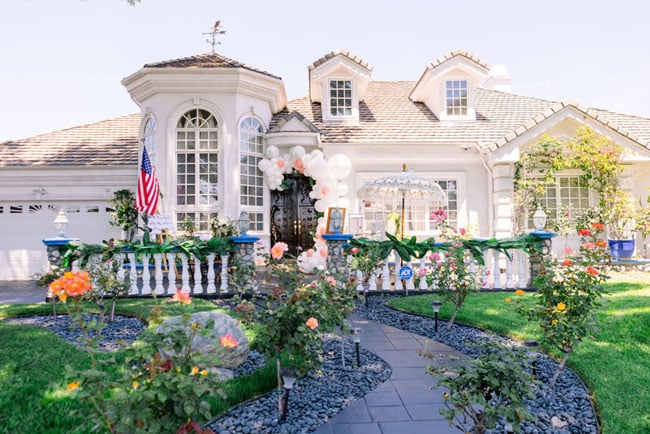 This was baby number one for this fun couple and this Born To Be Wild Baby Shower was the perfect way to celebrate!
All of the couple's family and friends were able to be a part of the big day at the childhood home of the mom-to-be, which made it even more special!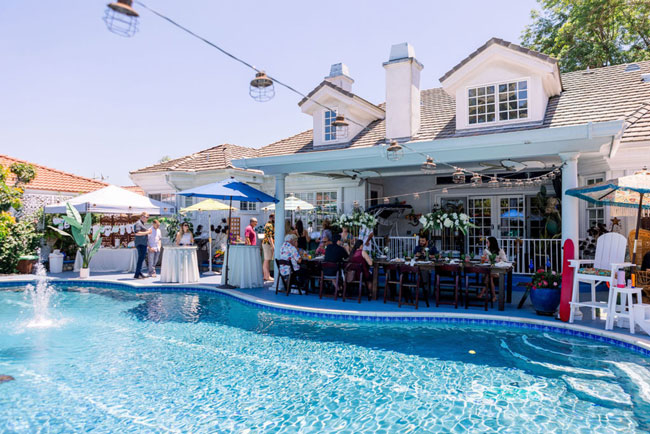 Paper Moon Event Design + Production crafted an elegant, yet relaxed backyard bash complete with lush greenery from LV Floral Events.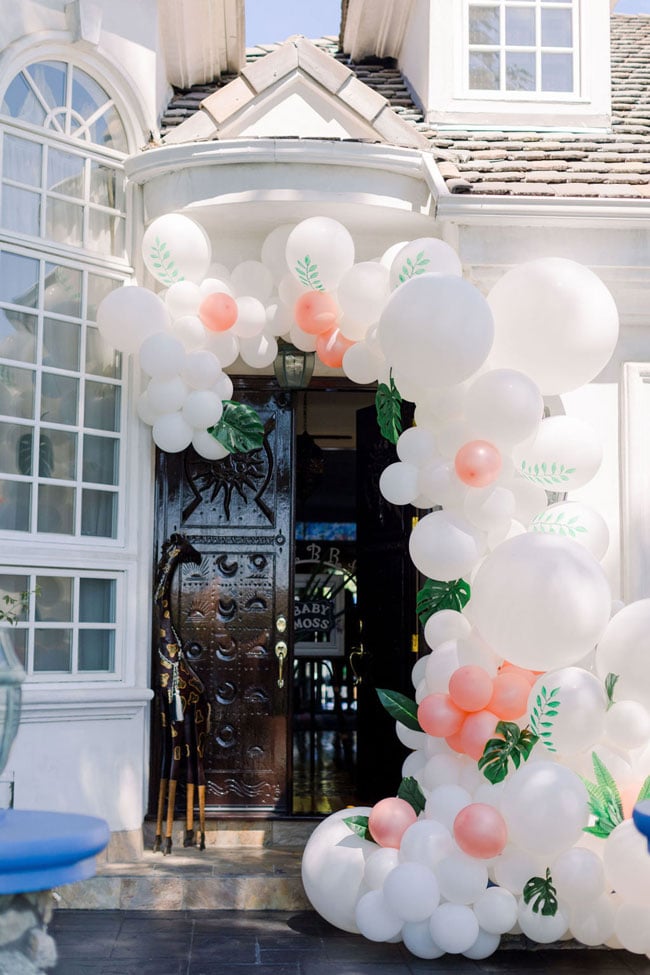 Tropical blooms met modern accents to complete the transformation from family home to tropical paradise.
Just look at this amazing balloon entrance that was created for the big day!
Everyone knew this was going to be quite the Born to Be Wild Baby Shower Theme when walking through this awesome balloon garland!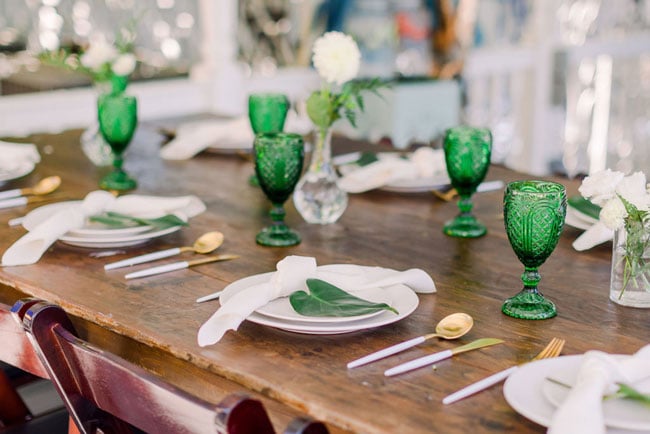 The jungle theme was very apparent in the amazing table displays that were created for the guests.
We just love the green hues, along with the rustic undertones of the tables, that set everything up for an amazing Born to Be Wild Baby Shower Theme.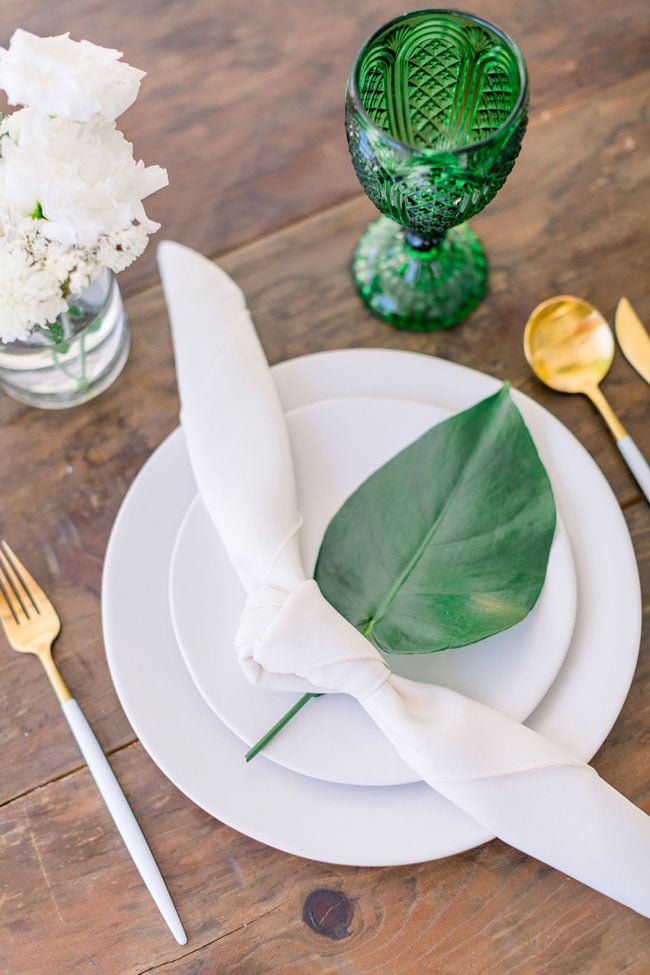 Just look at those place settings, that really bring the tropical jungle theme to life! So fun, yet simple and elegant.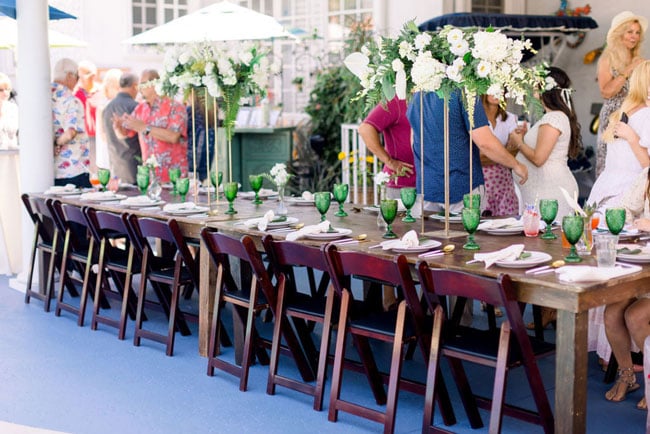 This little baby's gender was kept a secret, even from the soon-to-be parents! But that didn't mean the shower theme couldn't be fun.
One of the main reasons the Born to Be Wild Baby Shower Theme was used was because of all of the organic greens.
Just because the party wasn't going to be the traditional "blue or pink" didn't mean it should be boring!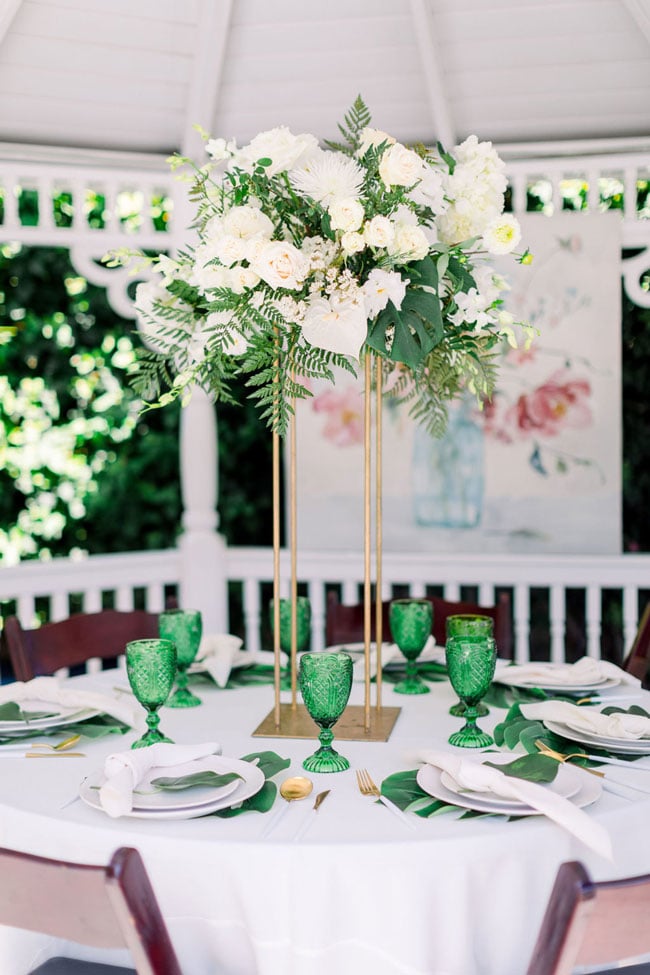 What amazing centerpieces that were the highlight of the guest tables. Just look at these beautiful decorations that adorned all of the guest tables.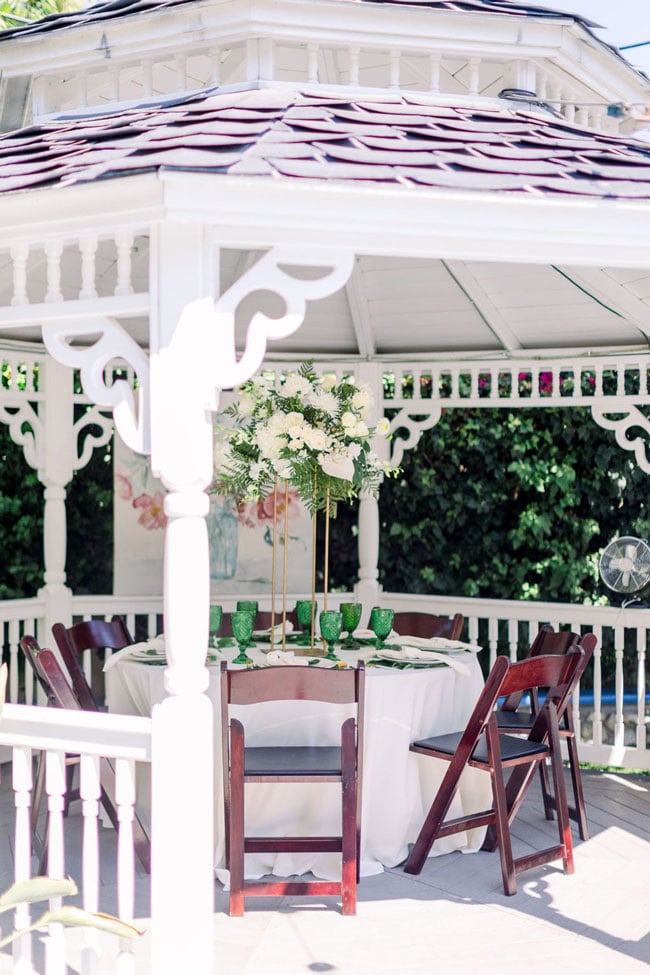 How sweet that some of the guest tables were set up in a romantic gazebo that was on the property? This Born To Be Wild Baby Shower was setting out to be one big celebration!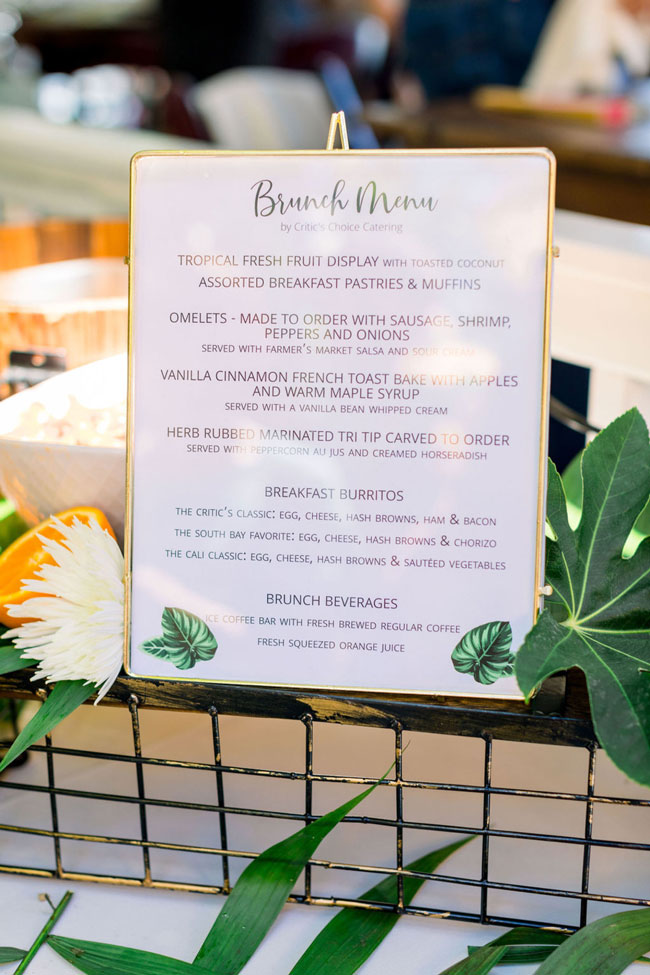 An exquisite brunch menu was prepared with an amazing array of food. We're sure with a tropical jungle baby shower everyone was going to work up an appetite, so thank goodness for this amazing menu!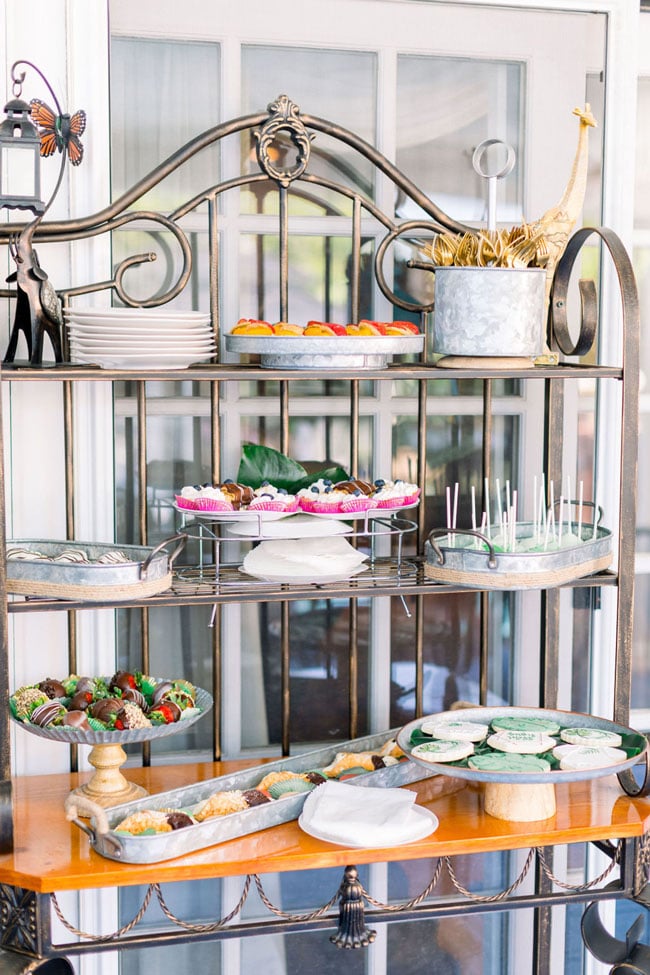 What a fun presentation for some of the lighter fare that was served at the Born To Be Wild Baby Shower.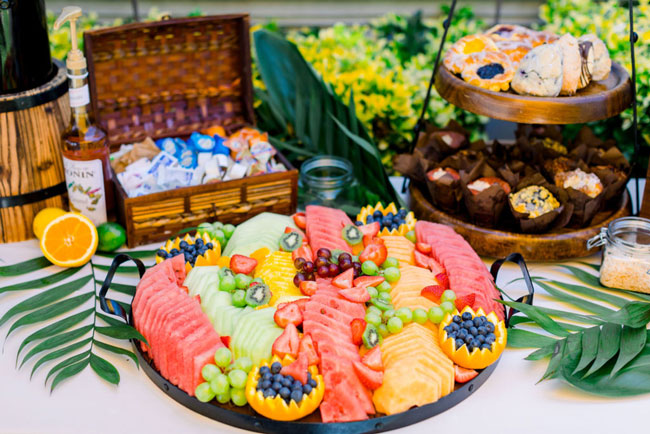 This amazing fruit platter has a jungle theme written all over it. What great presentation with all of the greenery found on the table, as well.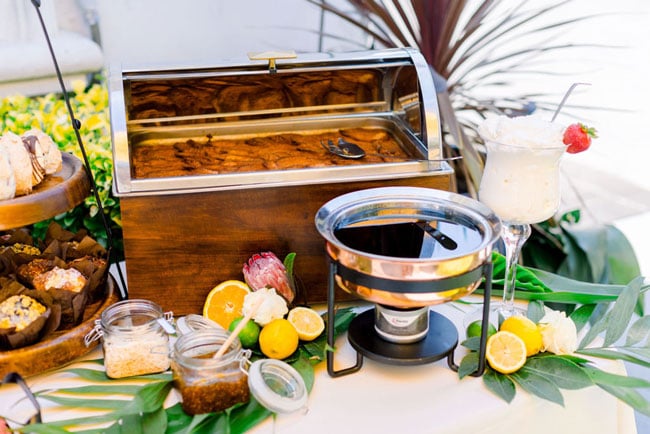 Delicious food was found around every corner!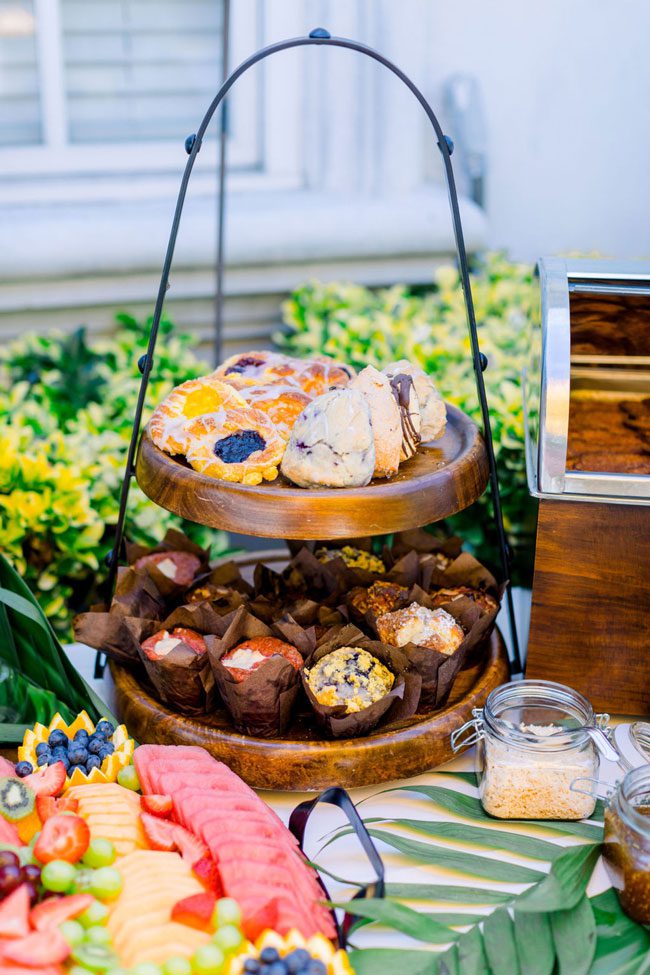 Everyone was able to enjoy some good food while celebrating this mom-to-be!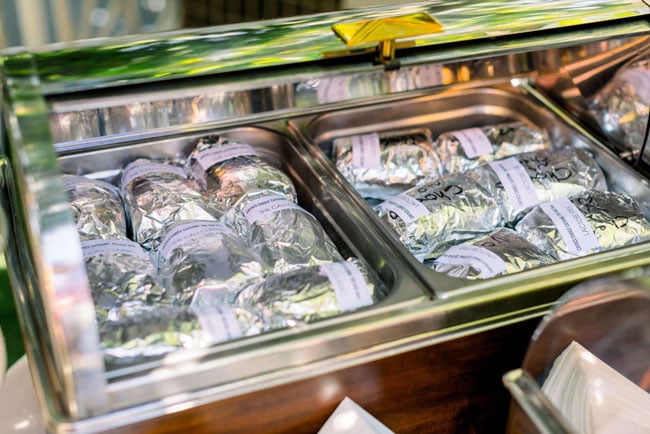 What a great way to serve different items that were available for the Born to Be Wild Baby Shower Theme!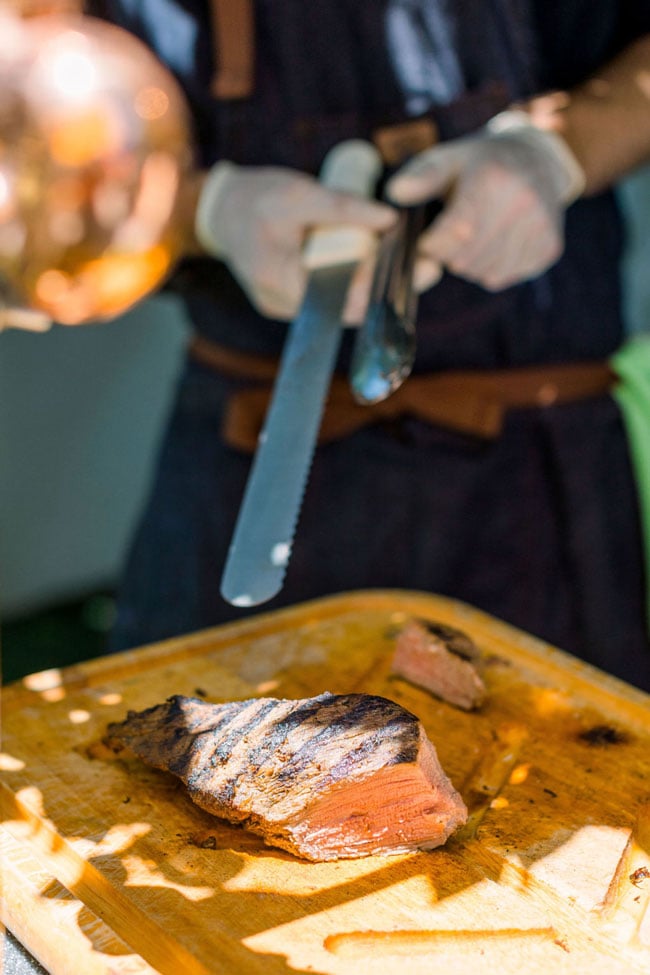 Everyone was ready to dig in after some celebrating in nature in this tropical jungle!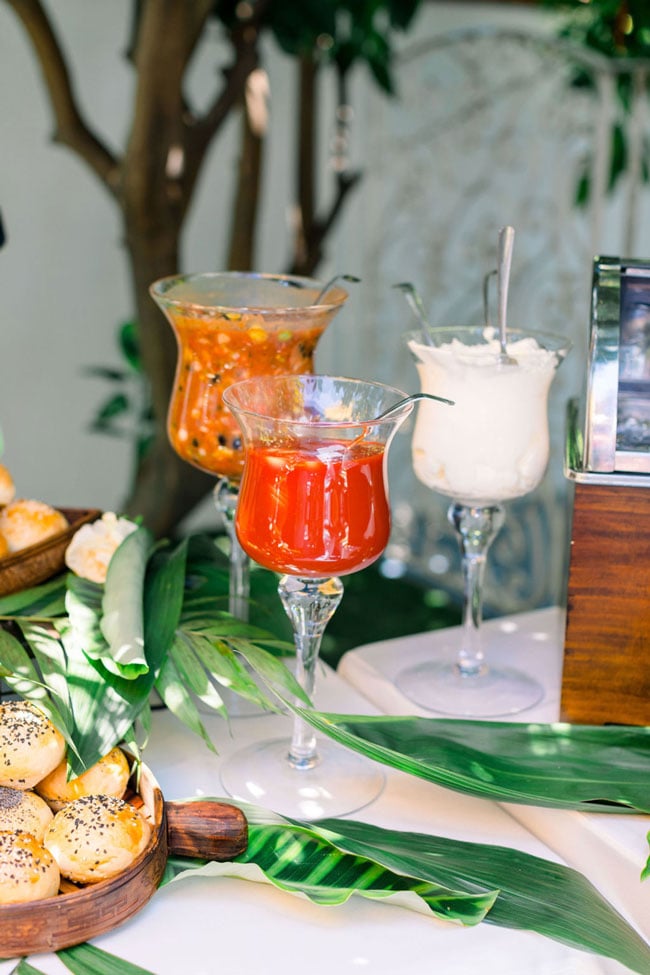 Nothing was forgotten, including all of the condiments and sauces that guests may enjoy. What a beautiful backyard meal!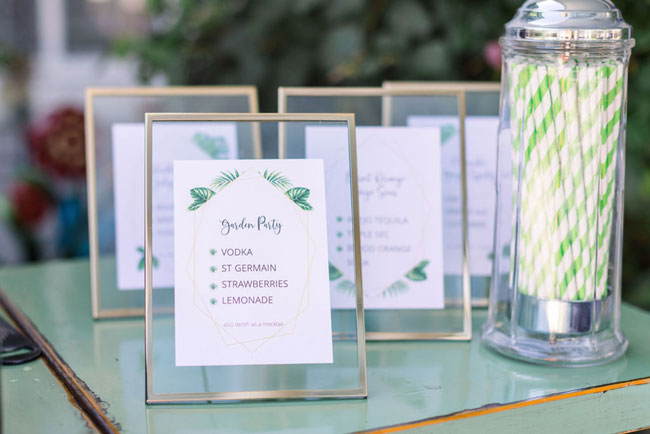 What would a Born To Be Wild Baby Shower be without some amazing signature cocktails that were available? While the mom-to-be may not have been able to indulge, she was happy to see her guests have such a fun time at her garden party!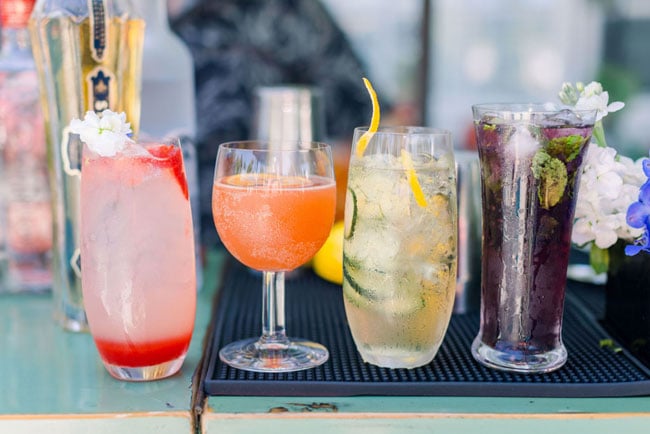 They all look absolutely delicious, as well as stunning! We love when signature cocktails have fun garnishes on them, too!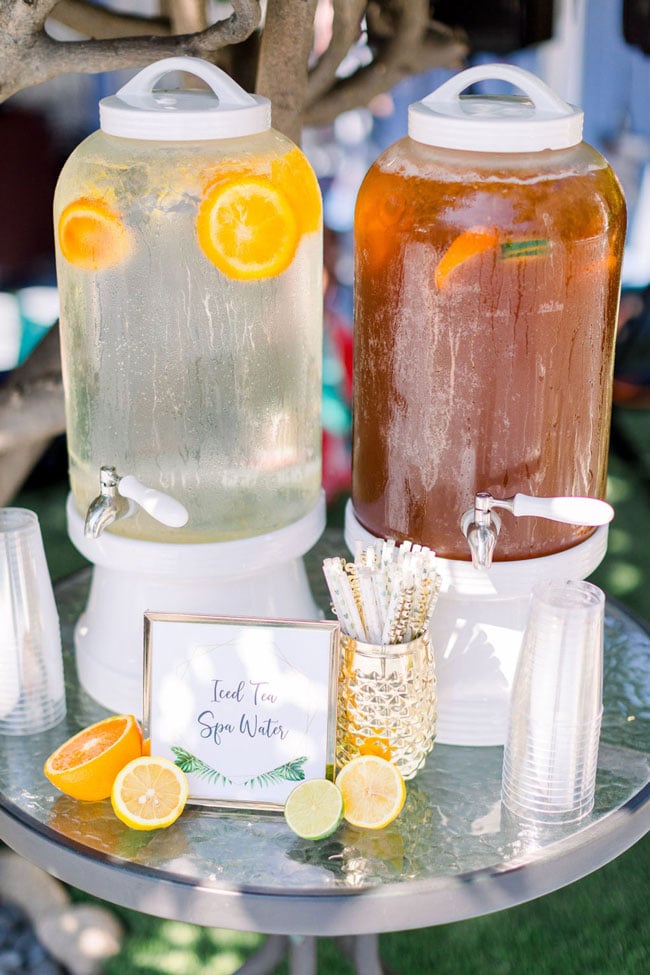 For those who didn't feel like partaking in signature cocktails, delicious infused water was available, as well.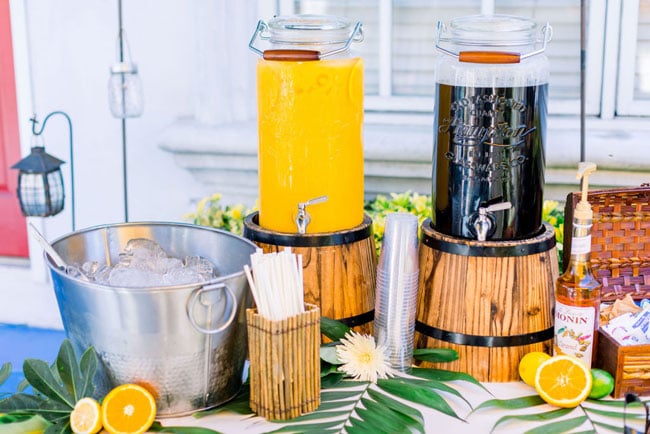 We love all of the palm fronds, as well as the cut up oranges and flowers that were on all of the different serving tables. What simple, yet stunning decor ideas!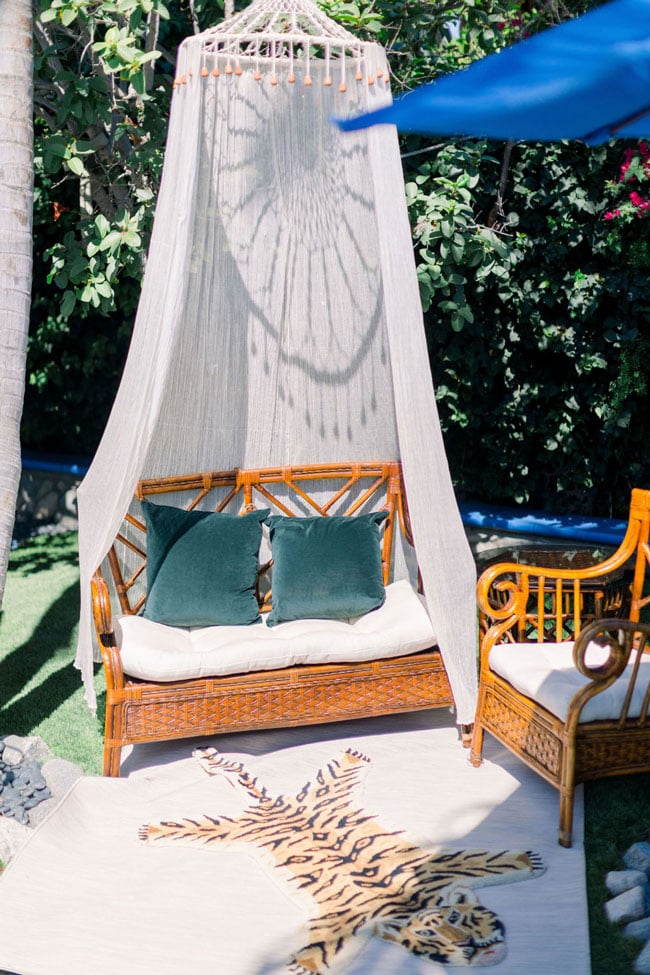 The guest-of honor's mother and sister-in-law hosted the event for their side of the family, and really transformed the backyard into a special garden party jungle theme!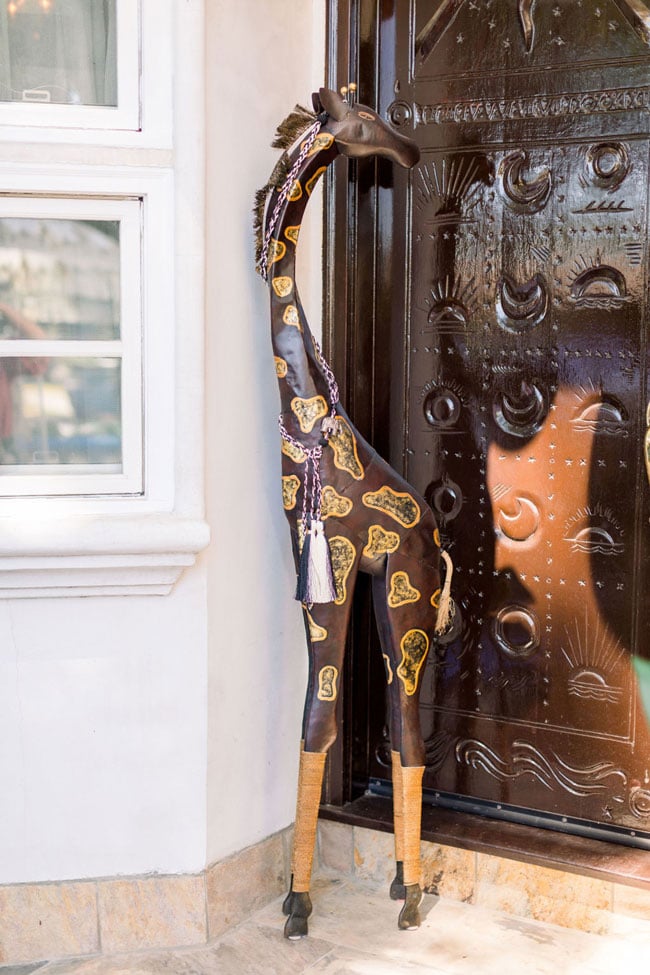 This sweet giraffe was standing front and center on the front stairs when all of the guests arrived. Everyone knew they were in for a fun Born To Be Wild Baby Shower when they were greeted by this sweet guy!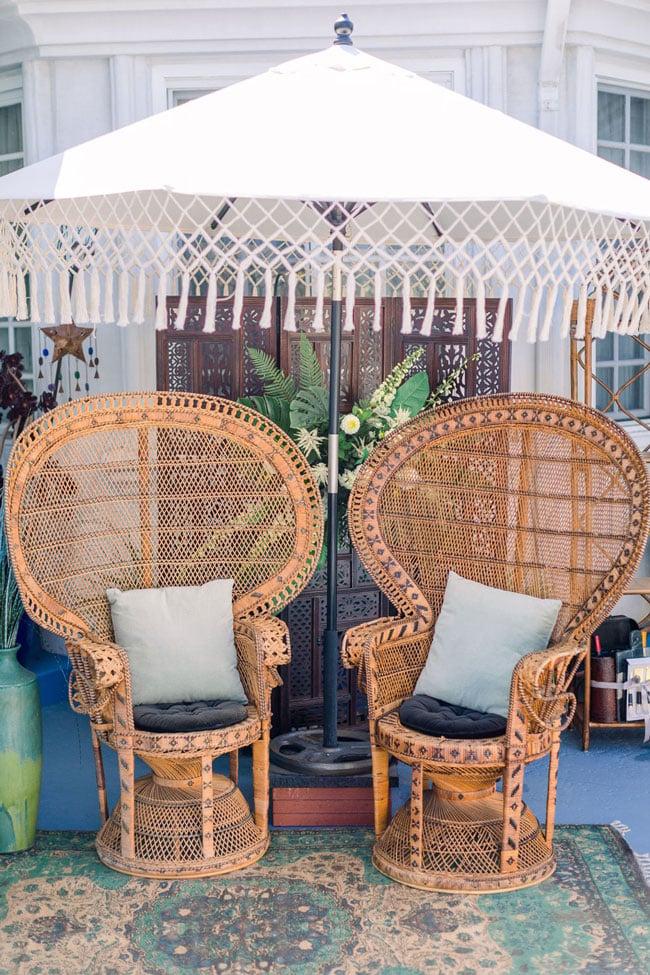 We love the amazing touches that were found all over this Born to Be Wild Baby Shower Theme, including the wonderful chairs that were set up for games and present time. We're sure mom felt like a queen with these fancy chairs waiting for her!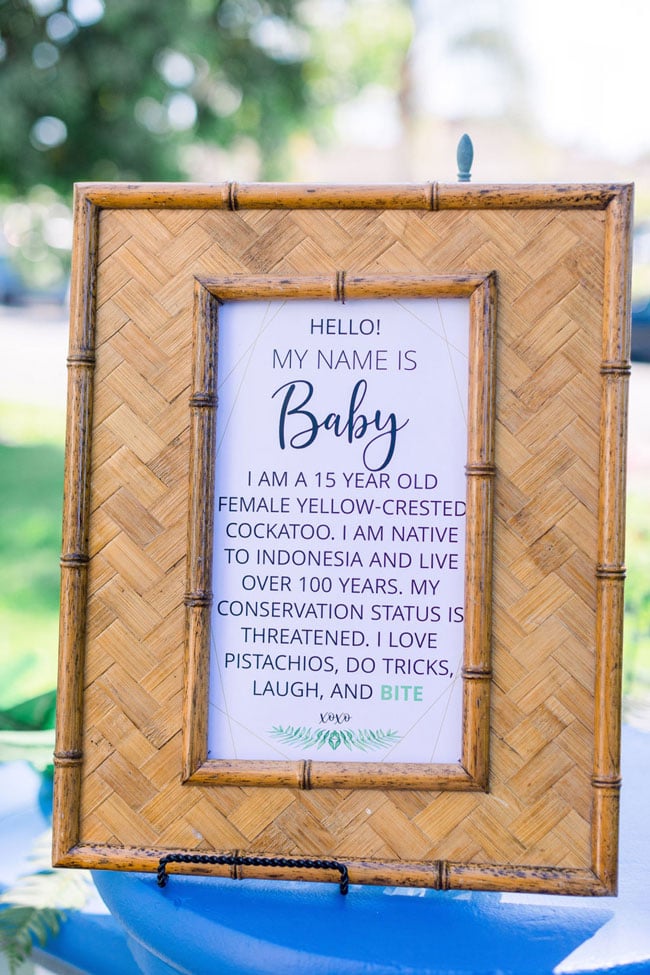 The jungle theme was brought to a fever pitch by incorporating fun elements like having turtles in the pool and inviting birds (Coco and Baby) to the party! We love that they added some great signs to share information about the birds, as well.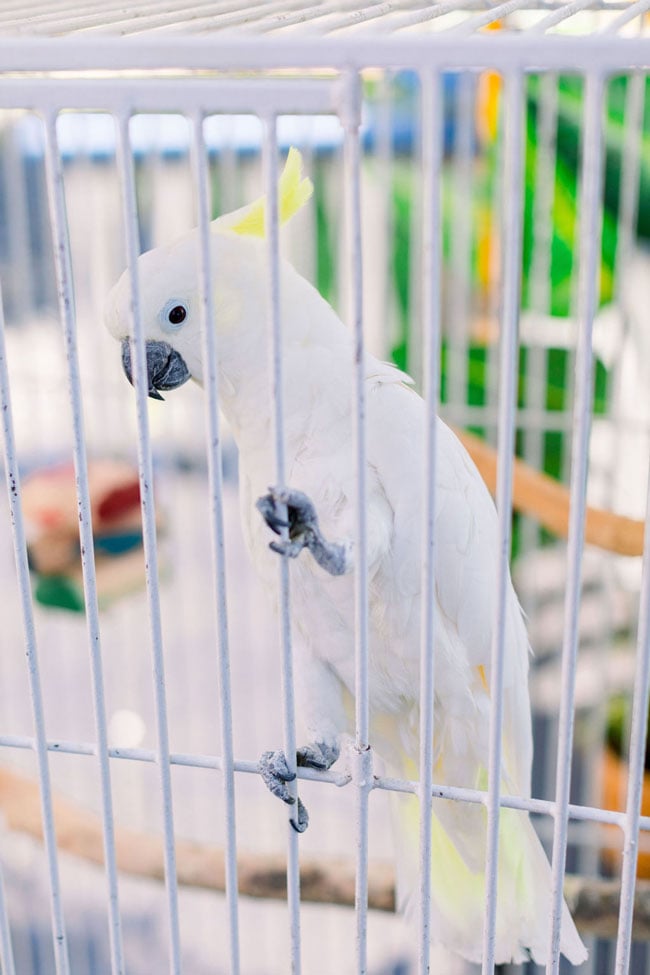 Animals like this little guy were around to greet all of the guests! Talk about an incredible Born To Be Wild Baby Shower with real tropical jungle animals! Incredible!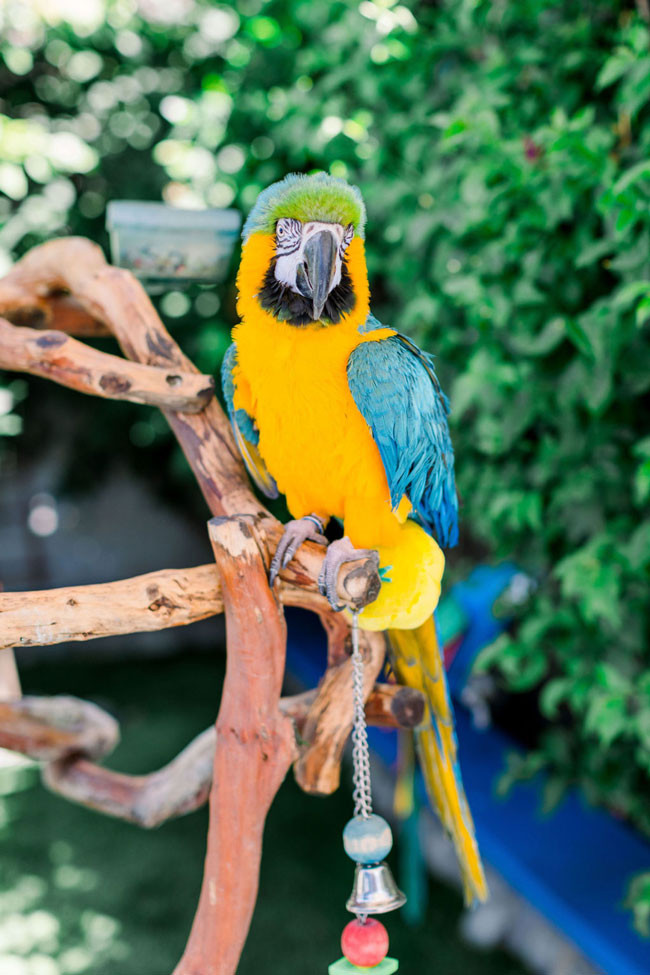 This guy had a lot of fun with the guests, as well. We just love that the jungle was brought into this backyard in such a convincing and fun way!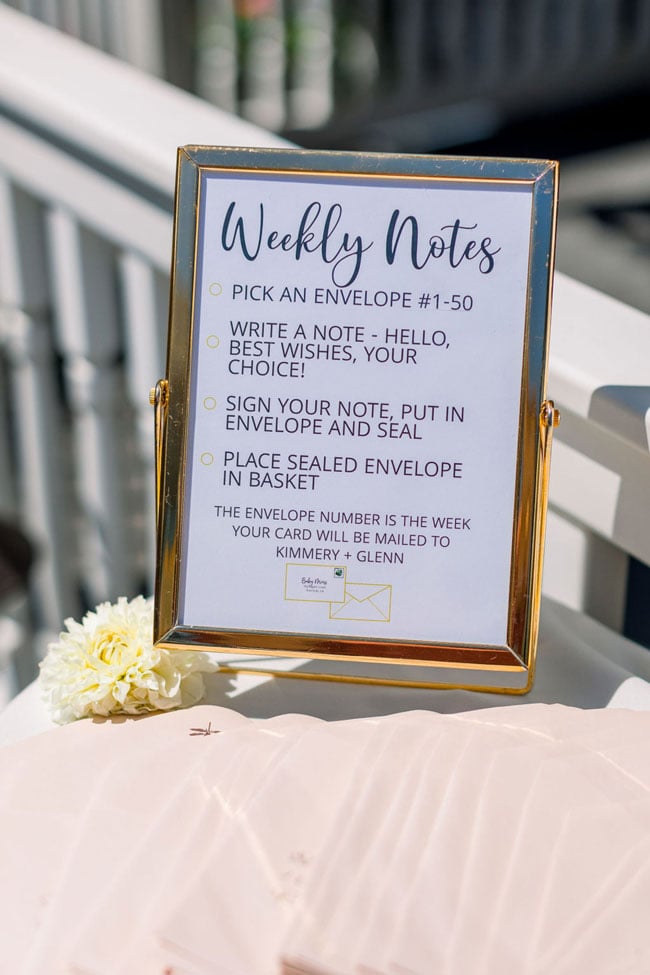 Games and activities were also part of the fun at this Born To Be Wild Baby Shower.
They had so many fun and unique ideas, such as this first year of inspiration that would be sent to the new parents as they were navigating those first days of parenthood. What a great idea!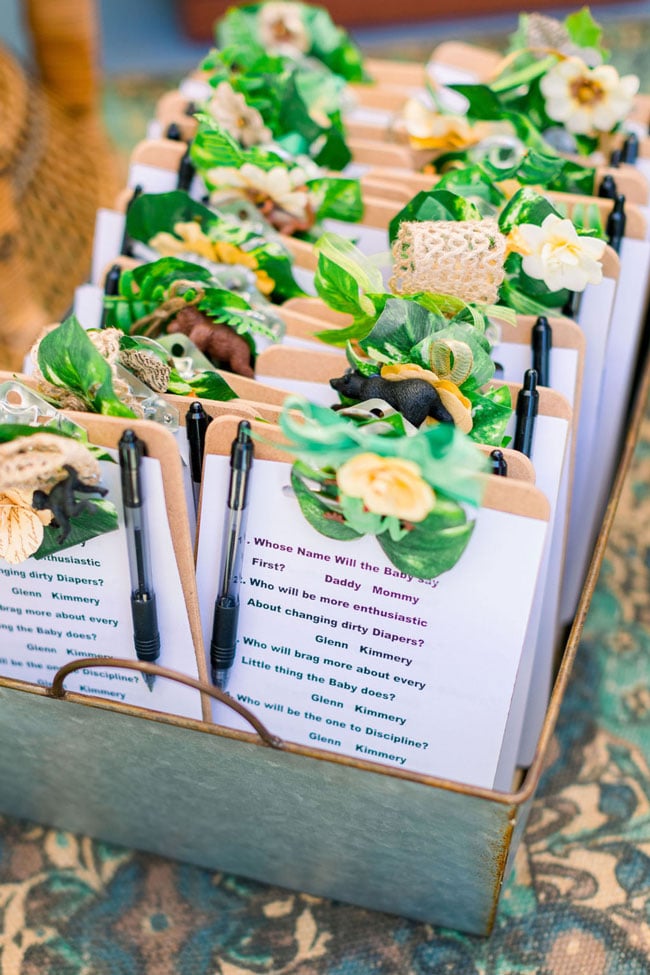 We love all of these great games that were played, including this one, which was such an amazing display of fun!
They turned into wonderful decorations with the clipboards being decorated to fit the jungle theme and everyone was able to write their answers easily!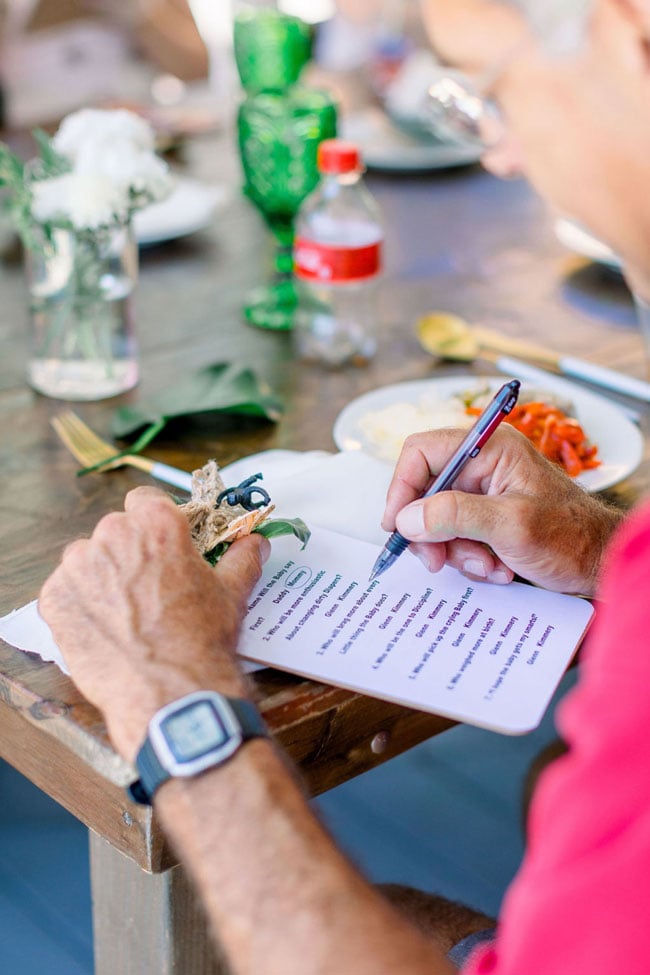 What a fun way to get everyone involved at a co-ed baby shower!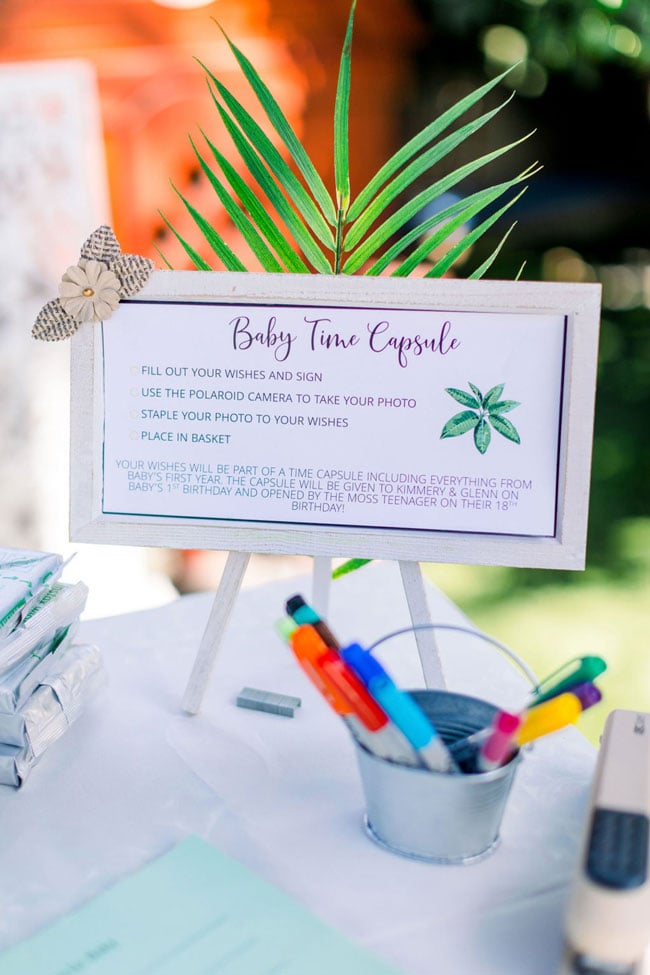 Another fun activity was the baby time capsule that was created by all of the guests.
What a wonderful thing to create that will be remembered for years to come.
We want to know what happens when the little guy (or girl) opens this on their 18th birthday!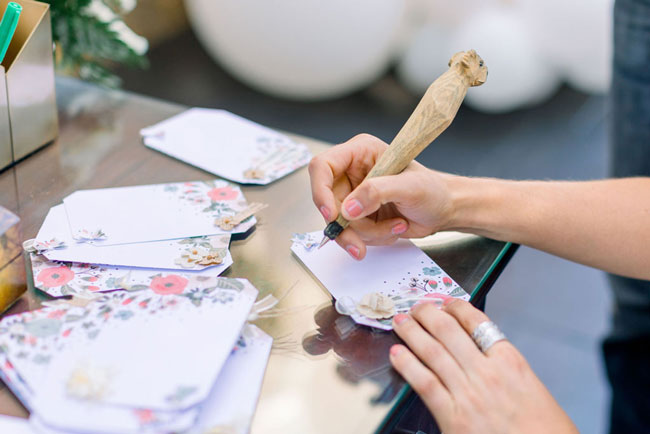 We love the stationary that was used to create the capsule, as well!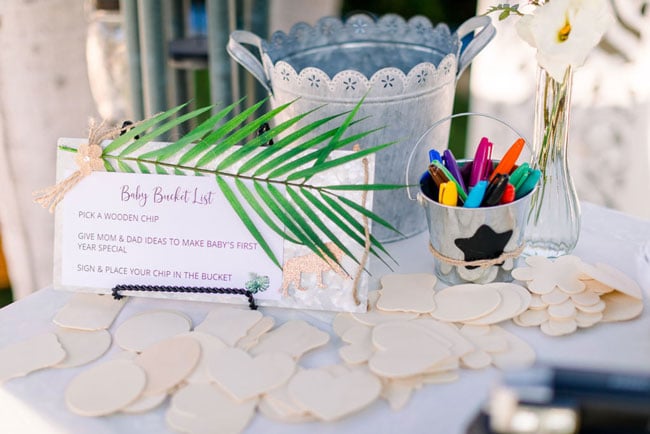 What new parents don't love helpful ideas to get them through that chaotic first year!
We love the amazing jungle theme party printables that were used for all of the games and activities.
They fit in with the theme perfectly!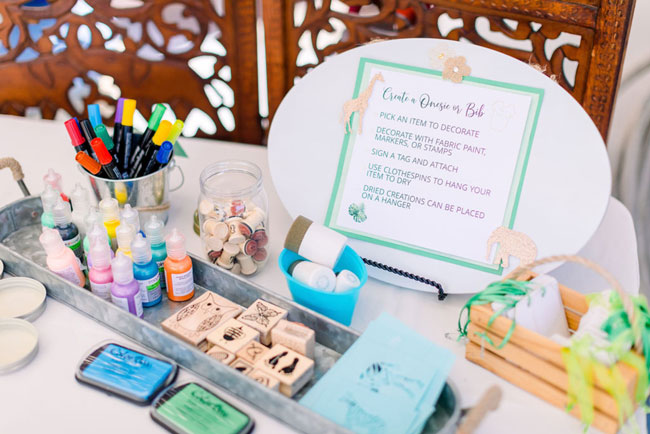 Our favorite activity from the Born To Be Wild Baby Shower, however, was this amazing onesie and bib creation station!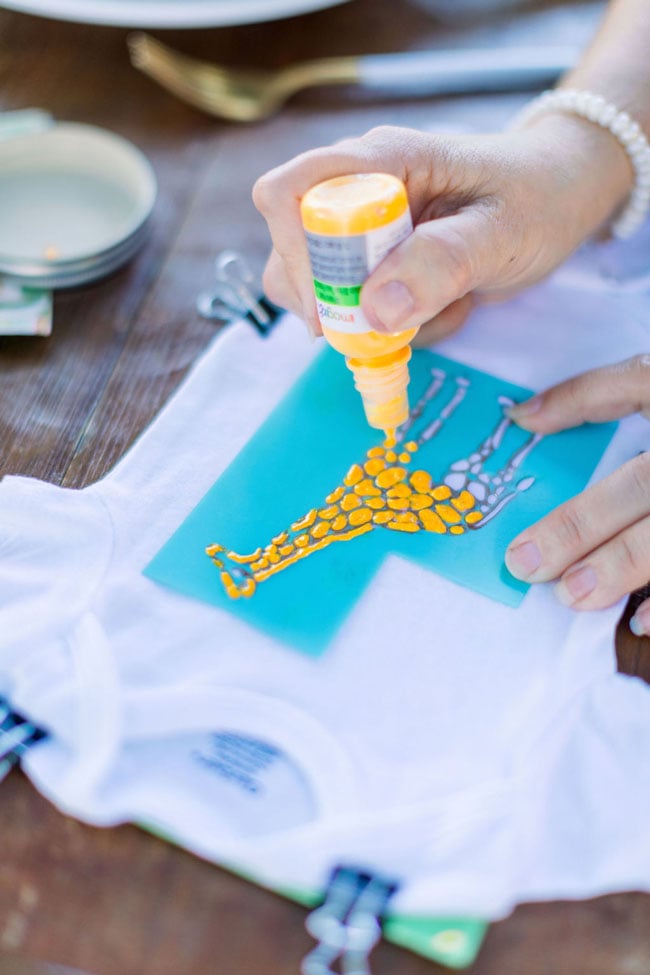 Everyone was able to put their own spin on the new baby's wardrobe by creating the perfect jungle theme onesie for the little one to wear!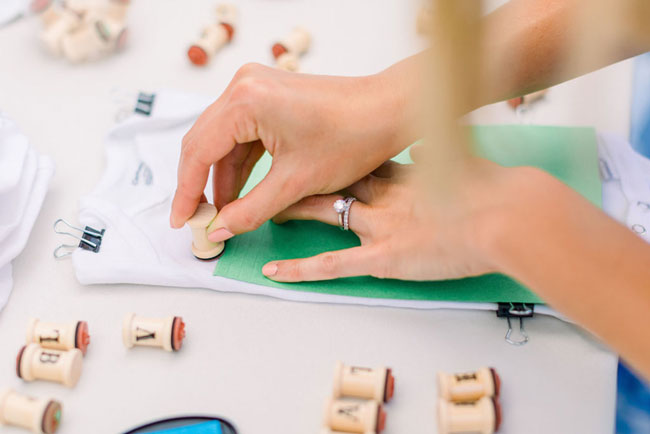 Having it in the backyard gave it a more relaxed feel than a traditional ladies-only tea party, which was really important, since the celebration was co-ed.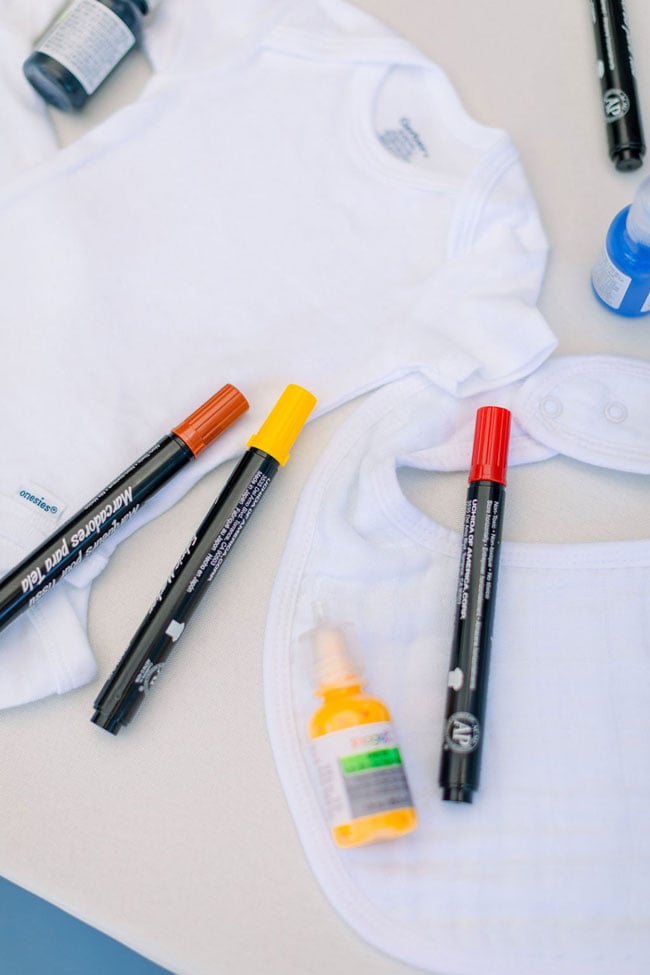 Everyone loved creating all of the different onesies and bibs that were available and we're sure these will be treasured items that mom will hang onto long after the new baby grows out of them!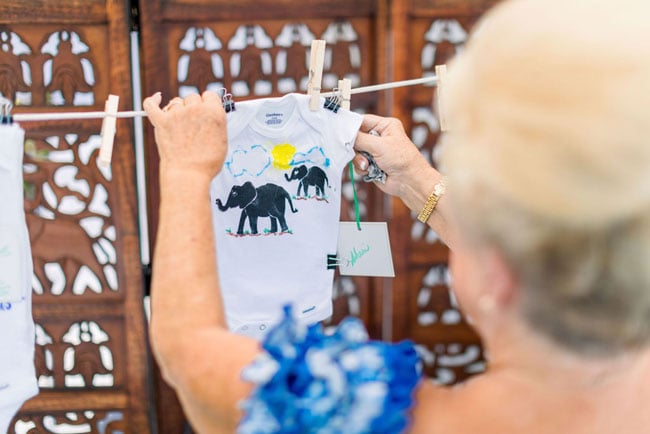 Once they were all done, guests were able to hang them up to dry. What a fun way to get to see everyone's work and create decorations at the jungle baby shower, as well!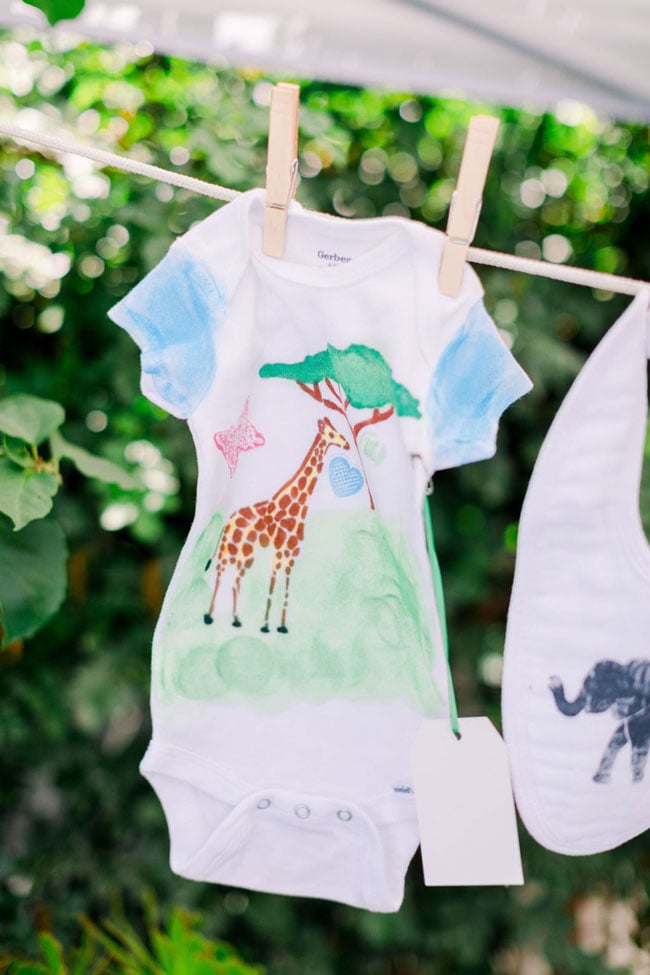 How cute are these?! All of the loved ones had some serious talent to be able to create such awesome onesies and bibs for the little baby. What a special activity!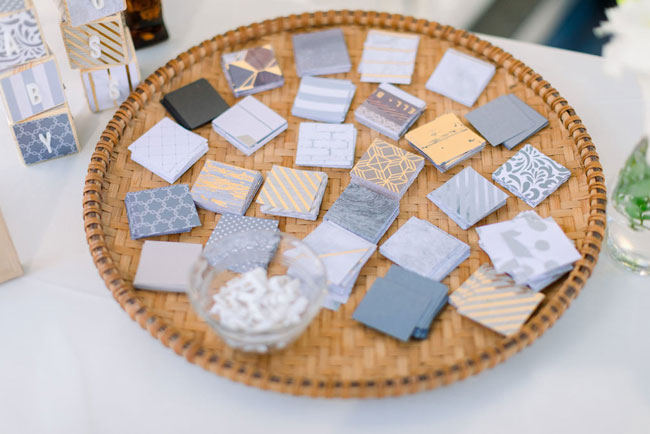 Activities and games just kept coming, with people being able to create fun baby blocks that the little one would be able to play with eventually, as well.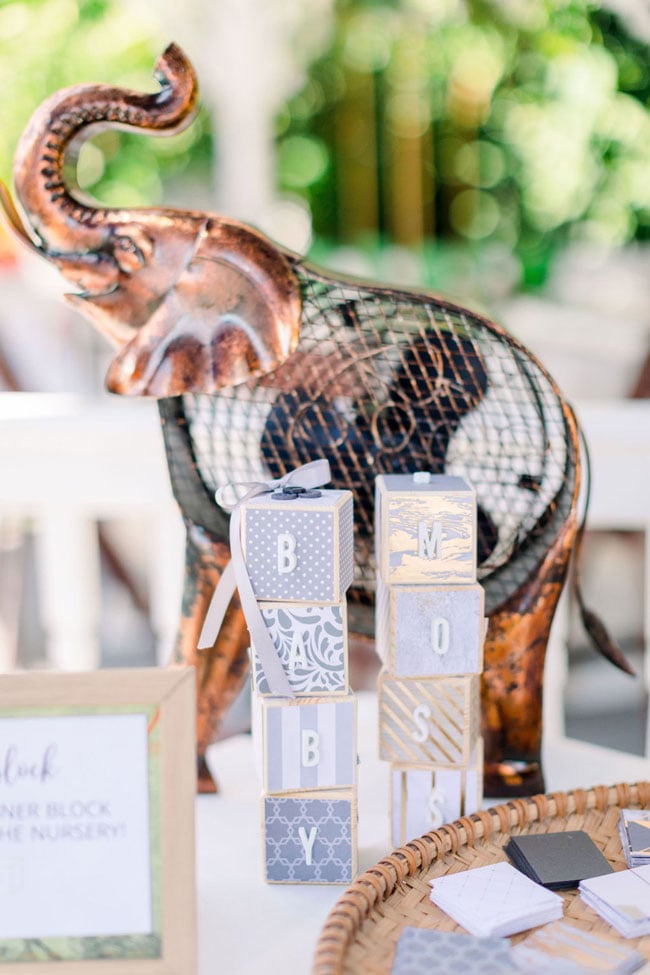 The theme felt just like this new growing family – organic, adventurous, and a little wild! Just look at these baby blocks that were used as the "template" for people to get their ideas from!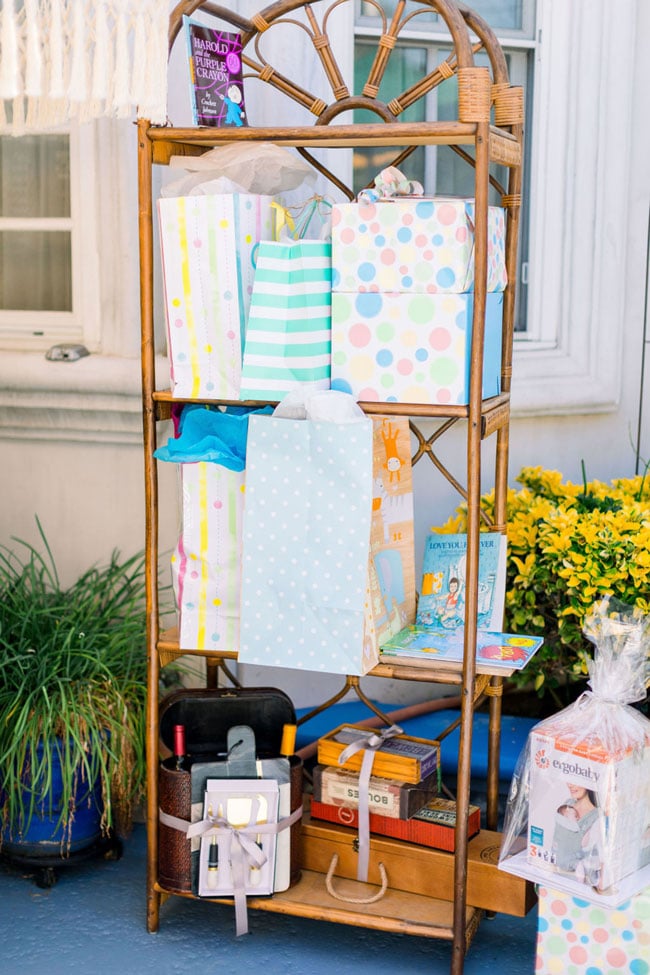 A great gift station was created for everyone to drop off their presents when they arrived. Looks like these parents are going to be busy for a bit opening all of their goodies for their bundle of joy!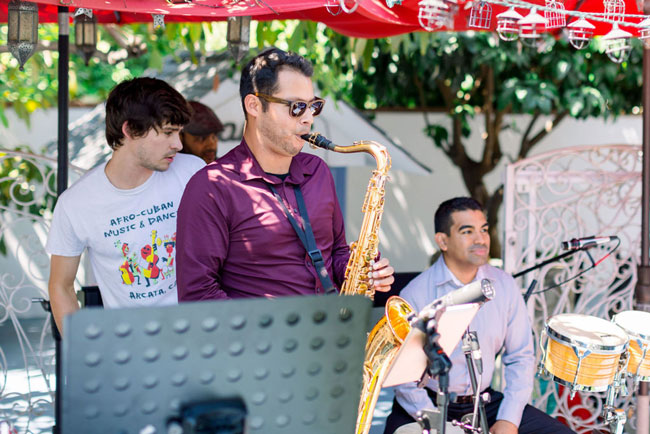 A band was even added to the Born To Be Wild Baby Shower. What a great way to entertain and keep things fun and light at an outside baby shower!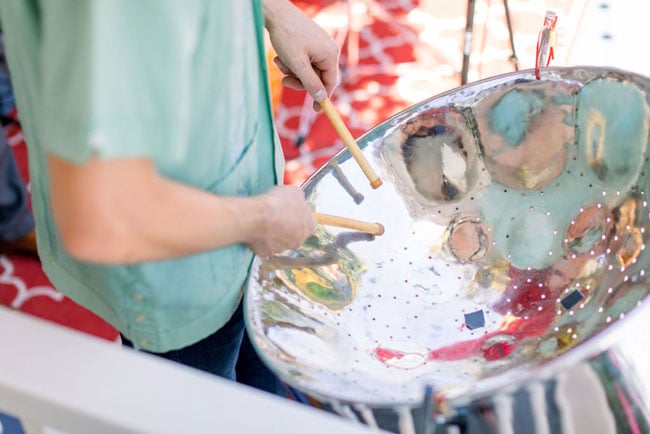 It sounded just like a tropical jungle with a fun steel drum adding to the band's fun sound!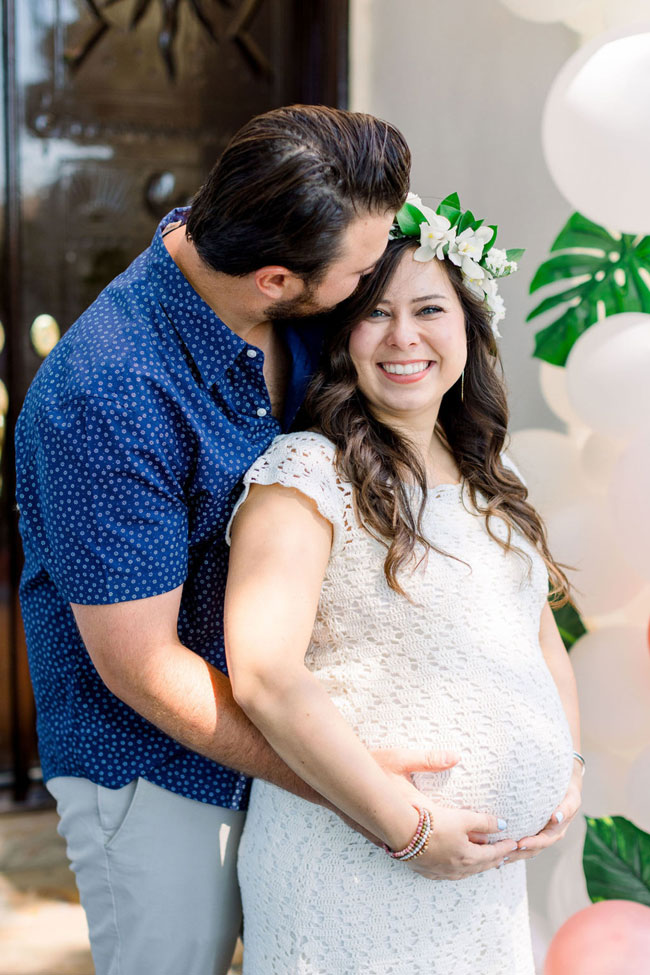 This sweet momma was 31 weeks along at the time of the baby shower and mini-maternity shoot.
What a perfect time to commemorate this special event and enjoy the last few weeks of nesting and prepping for this little one's arrival!
What's your favorite details in this Wild One Tropical Baby Shower? Let us know in the comments below.
For more party ideas, follow us on Instagram @prettymyparty and Pinterest and join us in our private Facebook group.
Vendors & Credits
Party Styling: Paper Moon Event Design + Production
Photographer: Erin Kaiulani Photo
Caterer: Critic's Choice
Floral Designer: LV Floral Events
Bakery: Smoky Hollow Baking Co.
Equipment Rental: MTB Event Rentals
Decor Rental: Circa Rentals