Ghouls Squad Kids Halloween Party
Everyone will have a spooktacular time at this fun Ghouls Squad Kids Halloween Party!
This Ghouls Squad Kids Halloween Party is one boo-tiful event that everyone will want an invite to!
If you're looking for a celebration that calls for striking styling and themed sweet treats, this is the one for you!
Read about all of the cute details below and find out how to host your own Ultimate Halloween Party for your #ghoulsquad!!!
Kids Halloween Party Ideas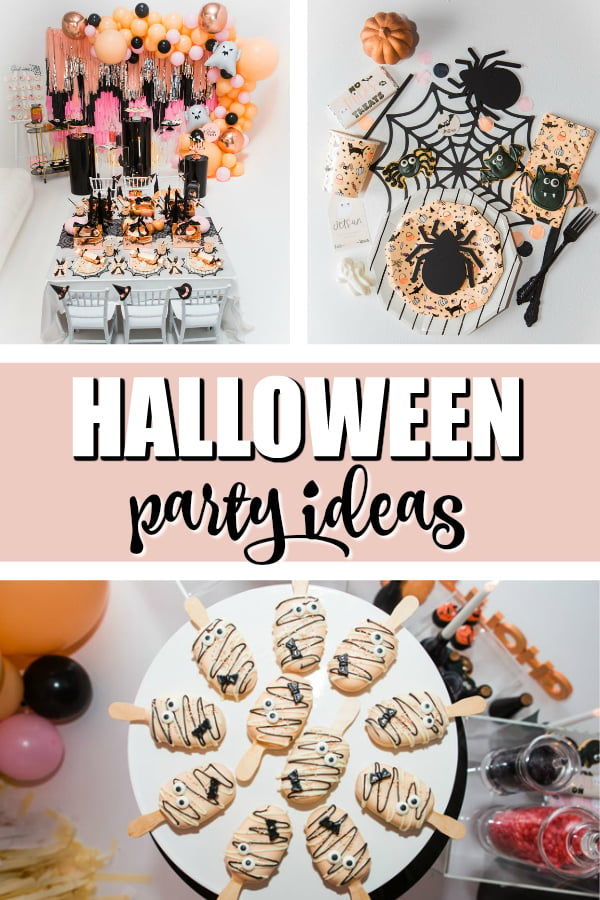 Halloween Party Supplies and Decorations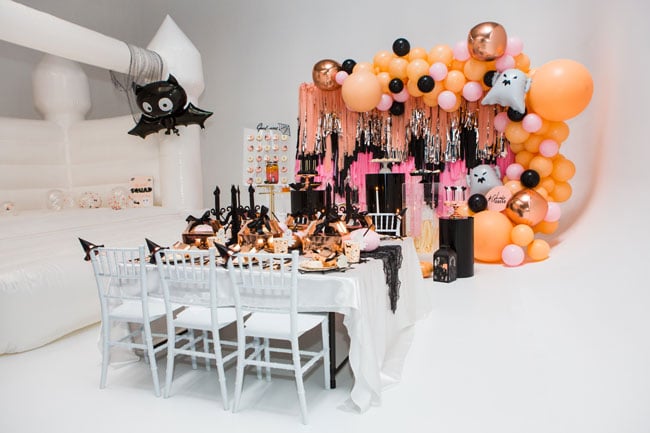 We love a good Halloween party theme celebration, and this spooktacular event incorporates all things ghostly and ghoulish.
Concept and styling was created by Party Mamma Parties & Events and Cookie Queen Kitsch'n.
If you're ready to crush the creepiest day of the year with a party that's frightful, but family-friendly, this eerie event inspiration is all you need!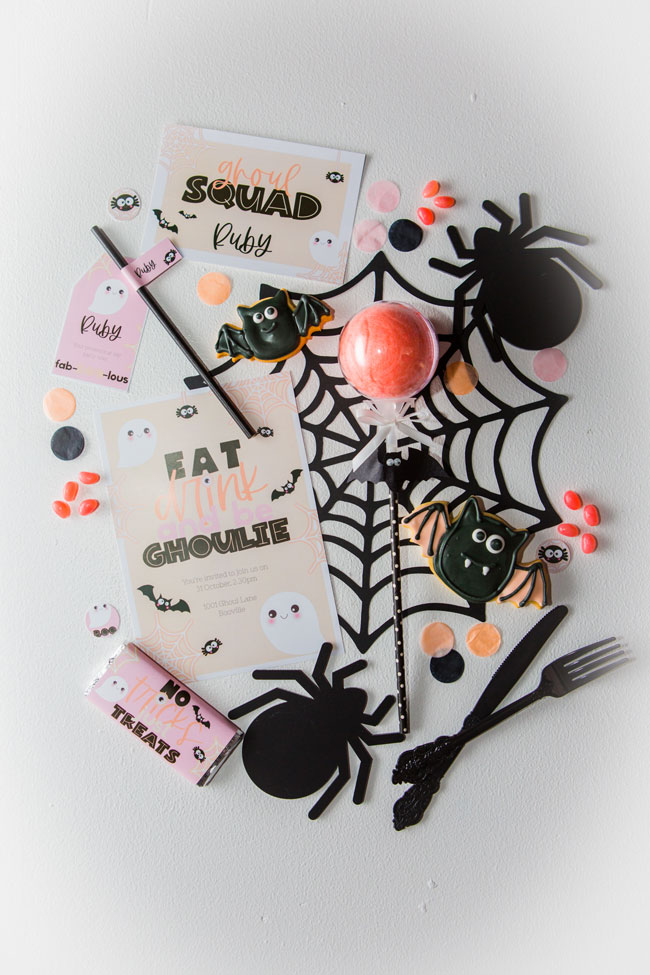 My Eye Photography captured every event detail perfectly! We love all of the paper products created by Joyful Invitations, along with all of the great prop and party details that were included.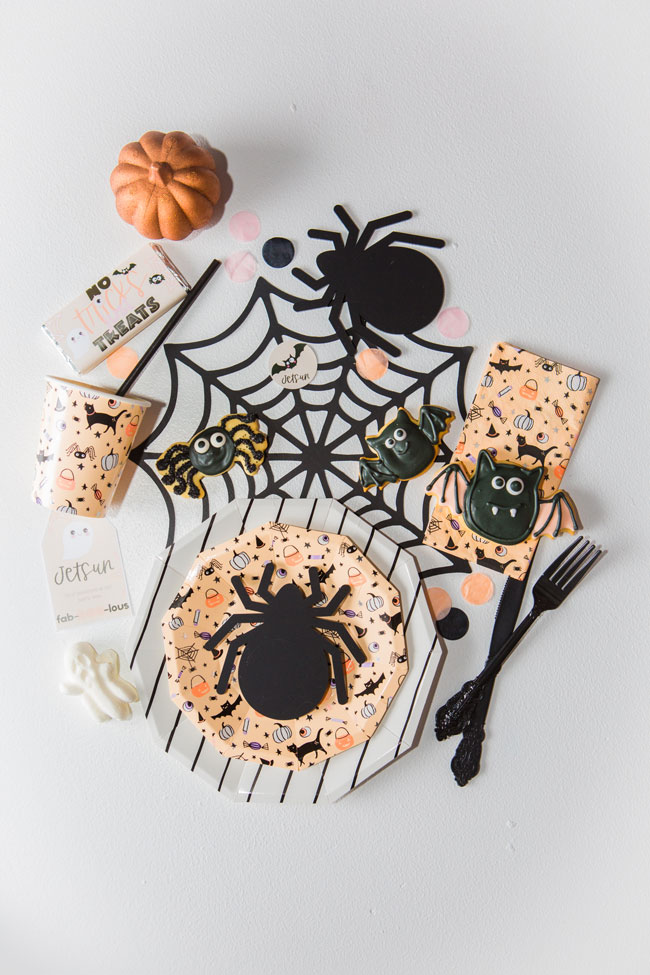 Favor Lane Party did a spectacular job on all things plates, cups, napkins and straws.
Just look at the great detail that was included with a fun vibe.
How great to know that kids Halloween party decor can be created for your #ghoulsquad without a single drop of scary blood in sight!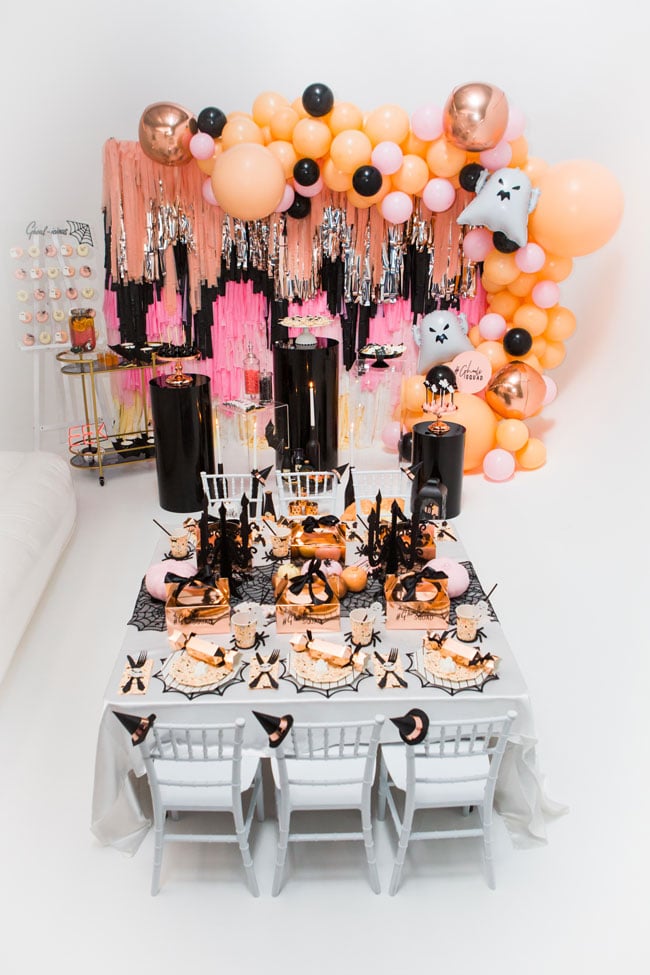 This Ghouls Squad Kids Halloween Party is a great celebration for all ages.
The unique color palette featured lively punches of pink, pumpkin, and rose gold against whispers of white and ghoulish black.
Bringing the scary theme to life (or death!), balloons by Babe Instant Party Hire were a hauntingly great hit!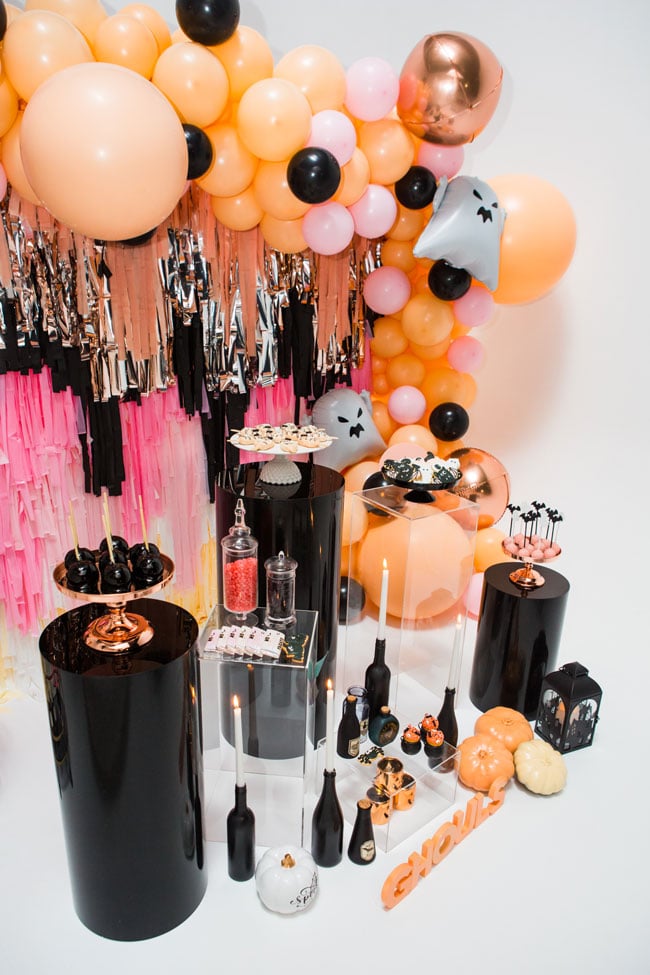 Kids Halloween party supplies and decorations were stunning at this cute Halloween-themed party.
We just love the unique black pillars that were set up to hold all of the sweet treats and snacks! And just look at that awesome backdrop!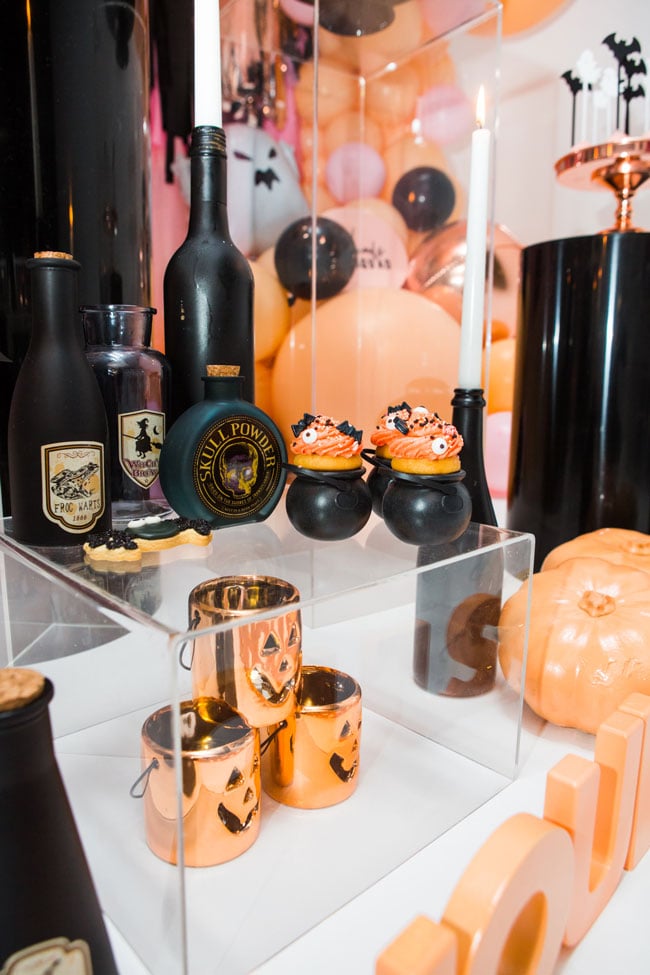 All of the Halloween themed decorations were ghostly and ghoulish and were so much fun!
We're sure all of the kids were ready for a fun trick or treat event at this Ghouls Squad Kids Halloween Party.
What a fun and fabulous set-up!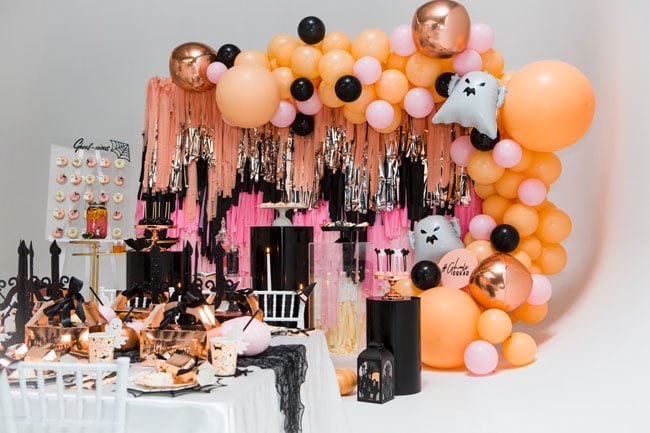 Not only is the backdrop and all of the fun kids Halloween party supplies and decorations amazing, but we are just in love with the fun balloons that are wrapped around this spooktacular Halloween-themed party!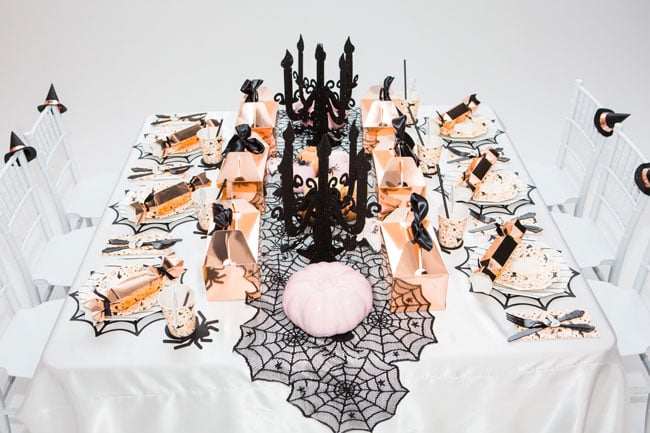 Favor Lane Party provided all of the amazing plates, while also supplying the napkins, cups, straws, and spooky bat balloons.
The table settings are just amazing with the fun spider web table runner and place mats.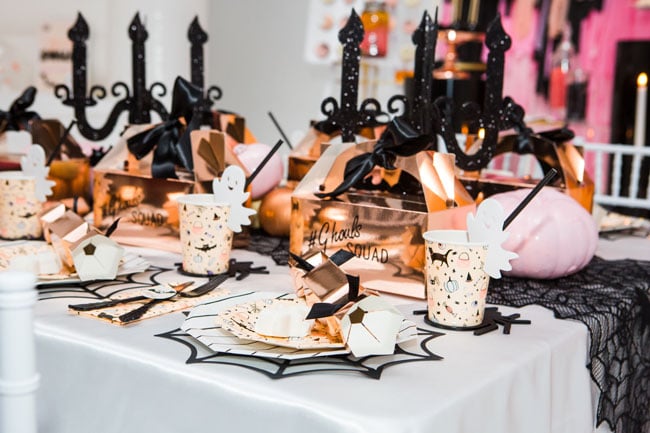 Look at all of those boo-tiful details that every guest was able to enjoy once they sat down! We love the little ghosts that are on the side of all of the cups, along with the great spider web place mats that were found at each setting.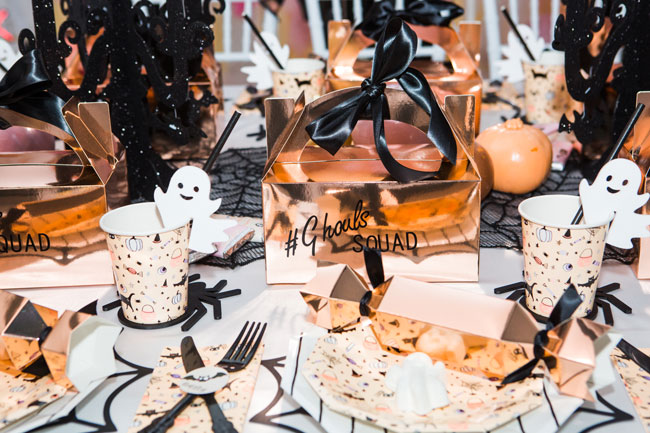 Everyone had a special party favor waiting for them when they sat down at this fun Ghouls Squad Kids Halloween Party.
Look at those fun, shiny party favor boxes filled with snacks, favors and treats!
Goody Boxes, Bon Bons, Bats, Witches Hats and Bat Cups were provided by The Party Parlour.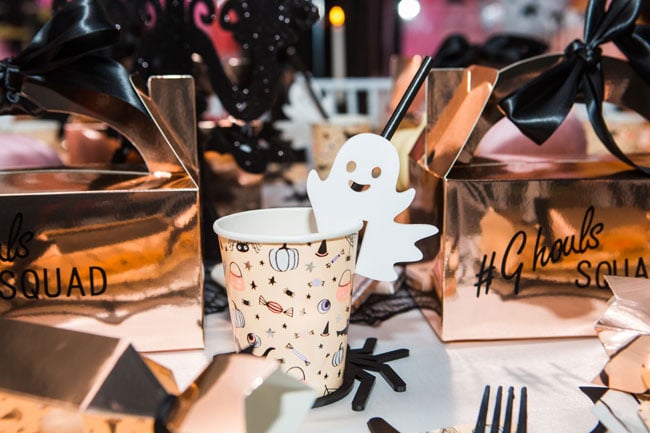 Boo! These ghost straws are just the cutest! What a fun kids Halloween party supplies and decorations!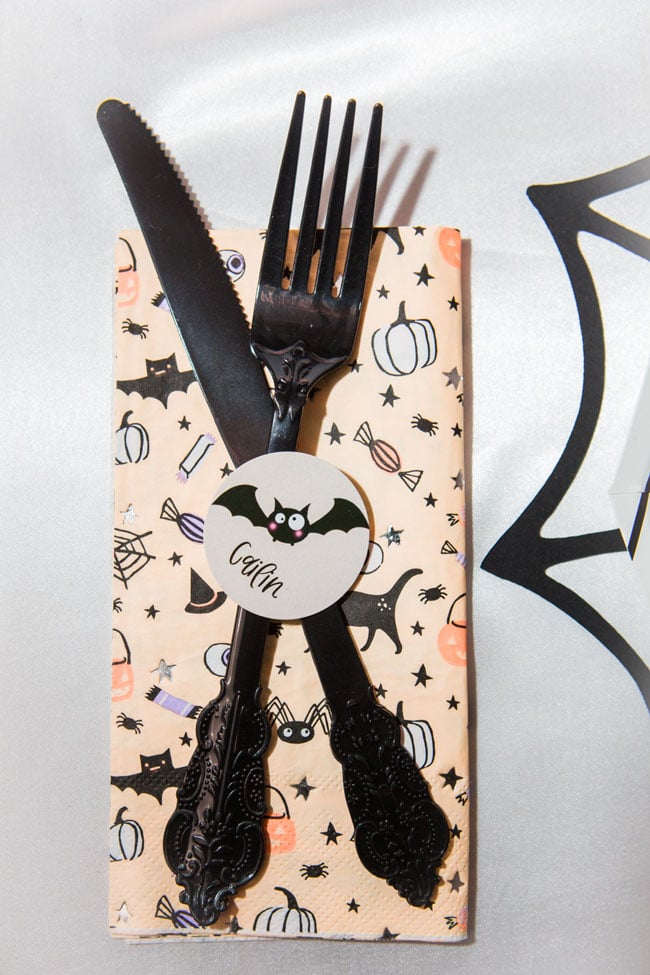 How cute are these Halloween party theme napkins and silverware?!
Nobody wants to deal with washing dishes after a fun party, so plastic silverware and paper plates are always the perfect solution.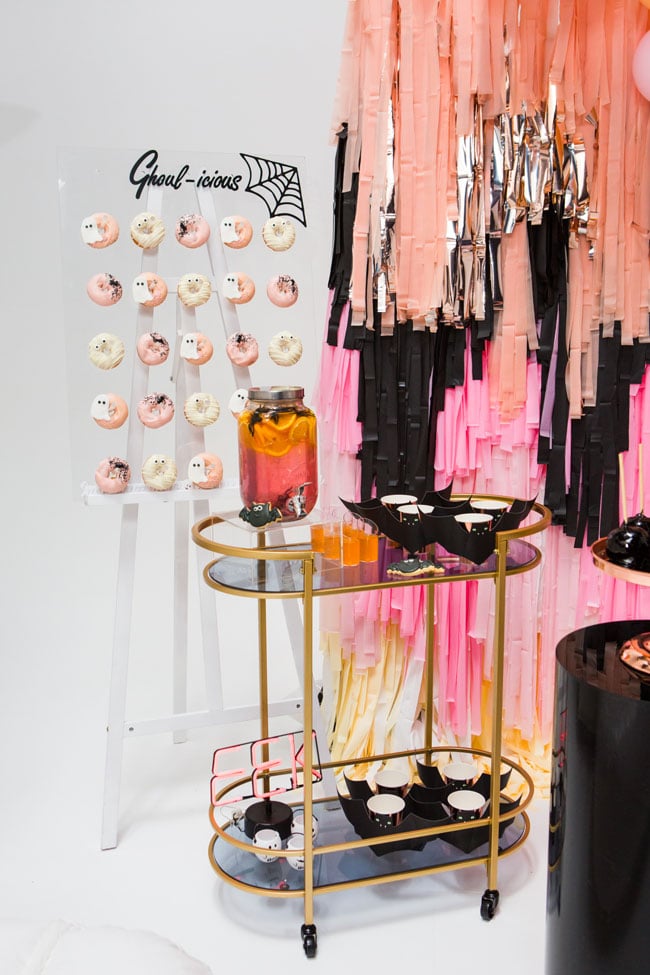 In lieu of traditional trick-or-treating, guests at the stylish soiree munched and crunched their way through a series of decadent desserts including the biggest and best donut wall by Cookie Queen Kitsch'n!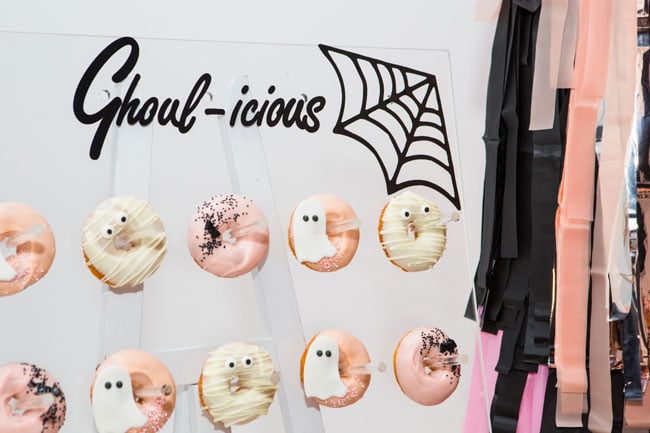 Just look at all of those cute and ghoulish donuts! What a fun donut wall that all of the guests love picking their favorite treat from. Look at all of those sweet donut details!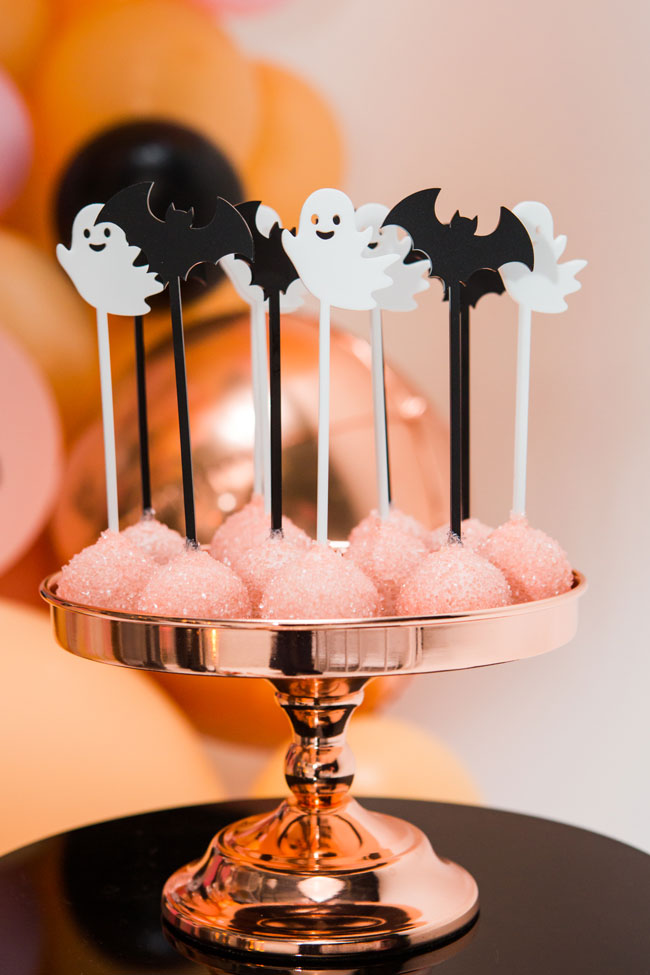 The #ghoulsquad munched on fairy floss wands by Your Sweet Memories, which were sparkly and safe for such a spooky event!
Nobody was worried about the ghosts and ghouls popping out of these!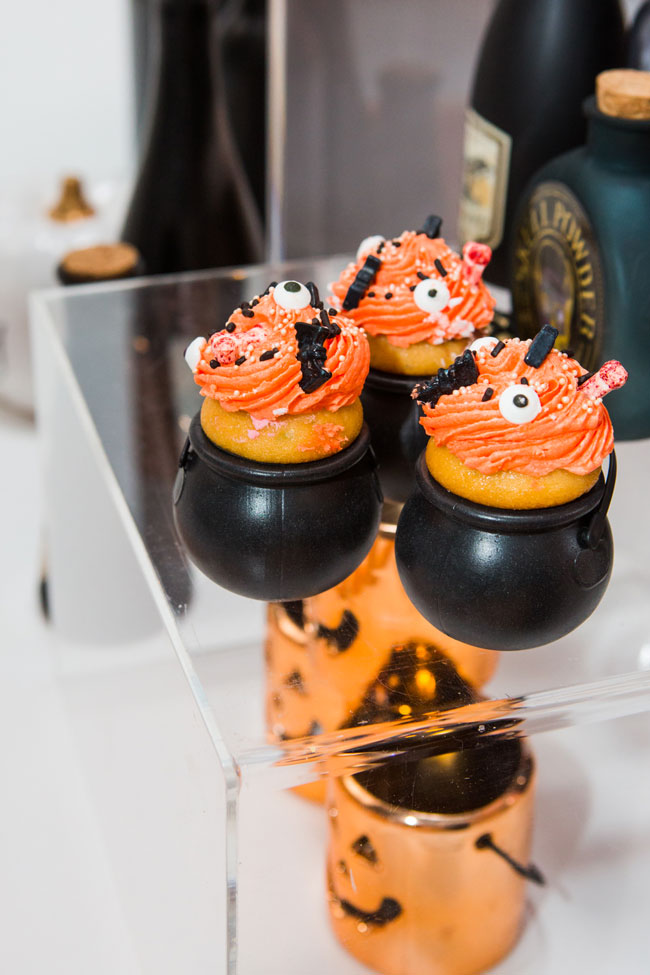 Yummy cupcakes were available, as well. Our favorite part of these, though, is how they were presented.
What great little cupcake holders to fit in so well with the Halloween-themed party!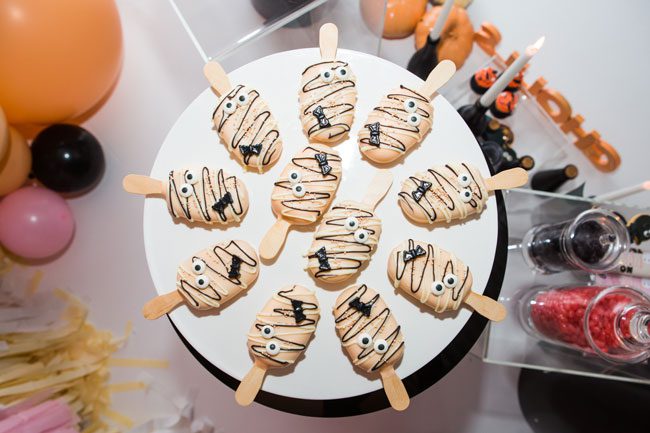 Marshmallow Club created some fun Halloween themed marshmallow treats that everyone loved.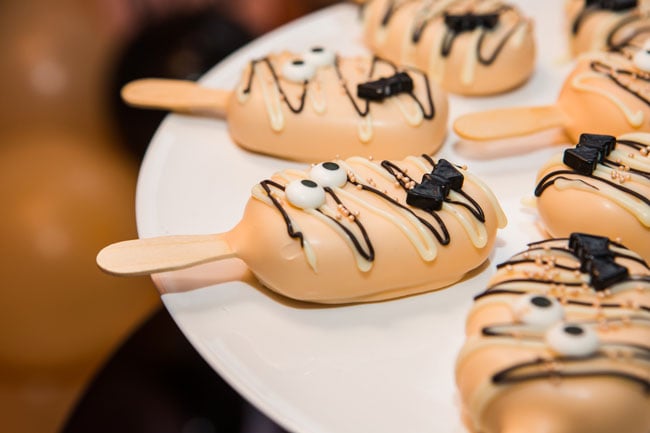 Just look at those cute googly-eyed fun treats! Who wouldn't want to dig into them?!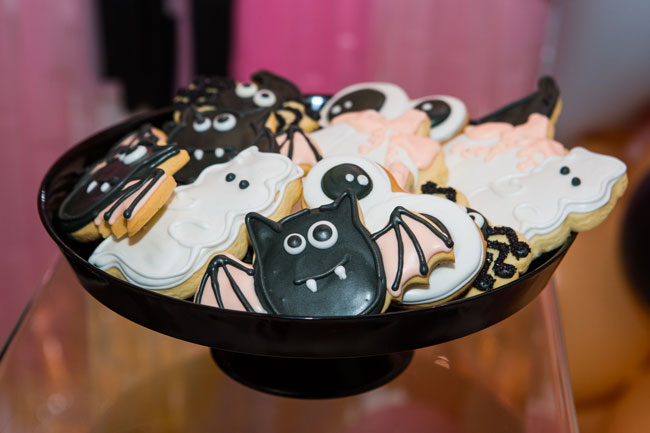 What kind of Ultimate Halloween Party would it be without some awesome custom cookies?!
The details on these ghoulish creatures is amazing and we bet they tasted pretty amazing, as well.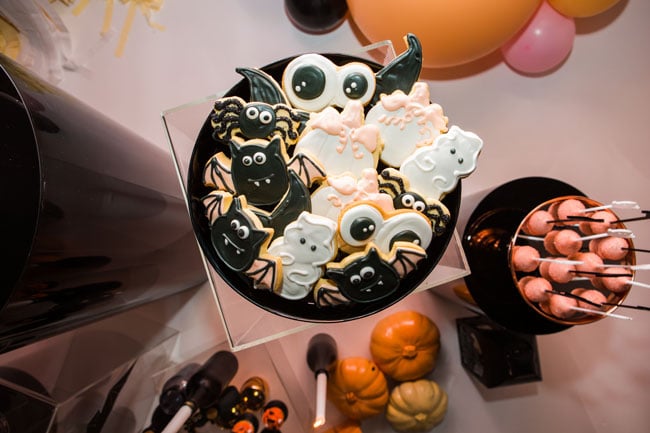 All of the desserts looked so wonderful. The kiddos couldn't wait to dig in and fill their plates with some spooky and scary Halloween themed treats!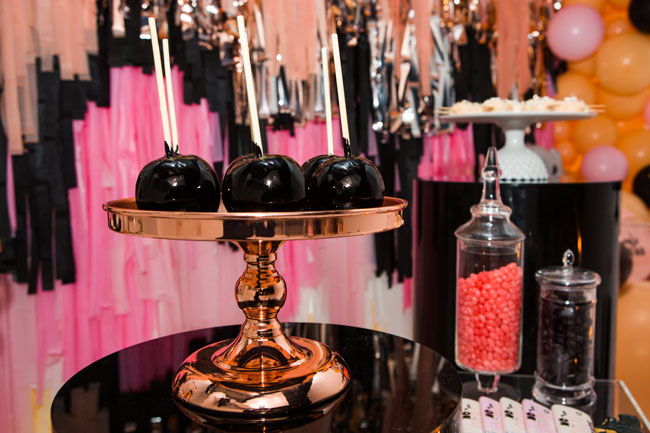 How fun are these cute Merlino Toffee Apples, which were black dipped toffee apples for this spook-tacular event?! What a creative treat!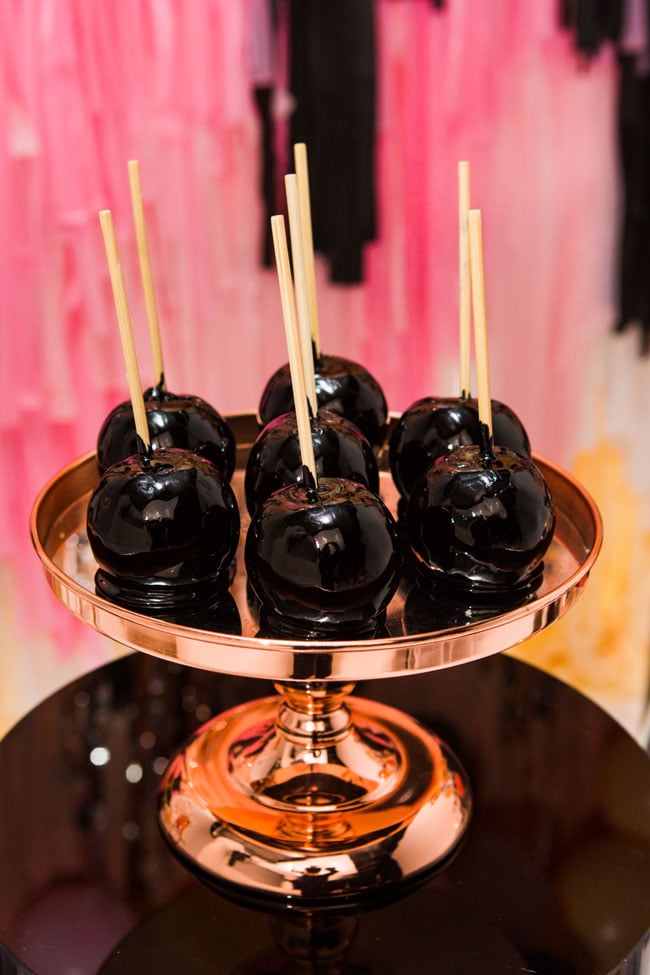 These are some sweet treats that looked just a little bit scary for this fun Halloween party theme. What a great idea to add to any kids Halloween party!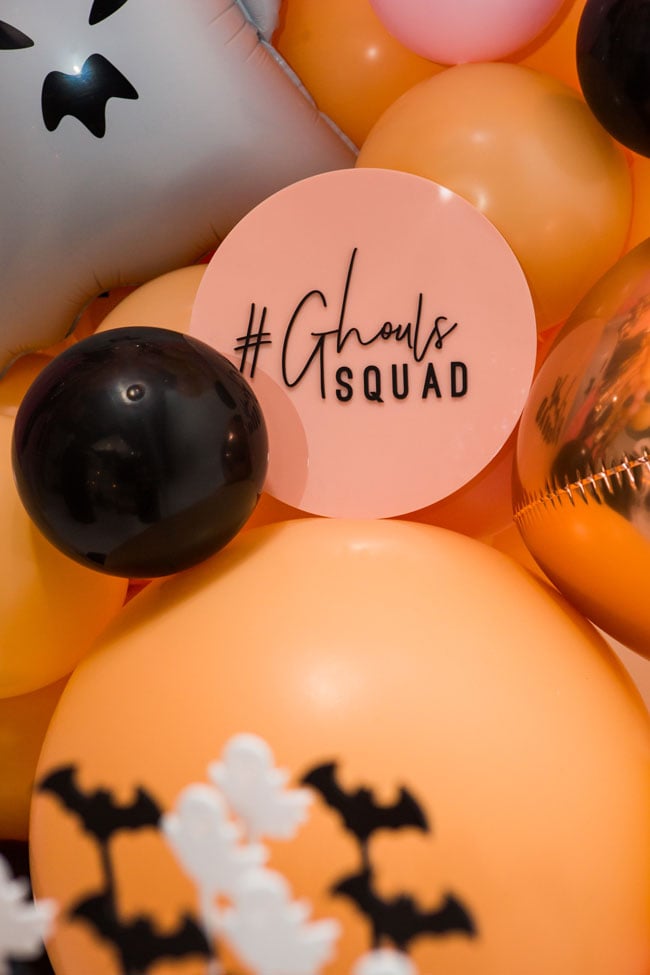 We love the hashtag addition to this Ghouls Squad Kids Halloween Party. What a fun way to share it on social media and get a following for a ghoulish Halloween party theme that everyone can follow and enjoy!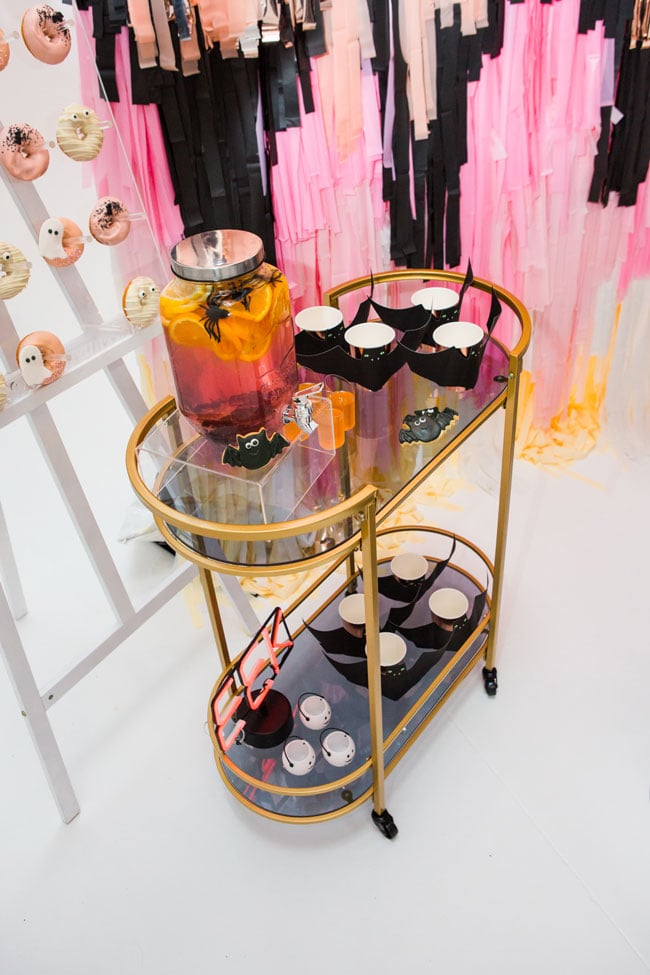 Of course, there had to be a spooky area where all of the kids' drinks would be found!
This amazing drink station hit the mark perfectly.
We love the fun bats that are found on the cups surrounding the fun drink concoction that was created for this Happy Halloween event.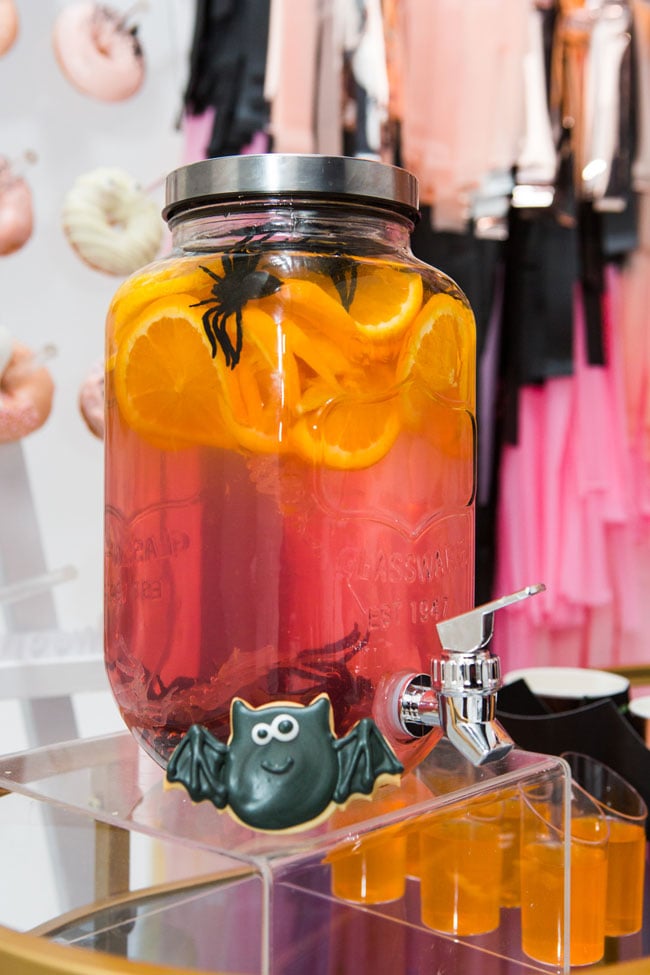 Some of the kids may have had second thoughts when they saw the spiders in the drink container, but rest assured, they are just plastic additions!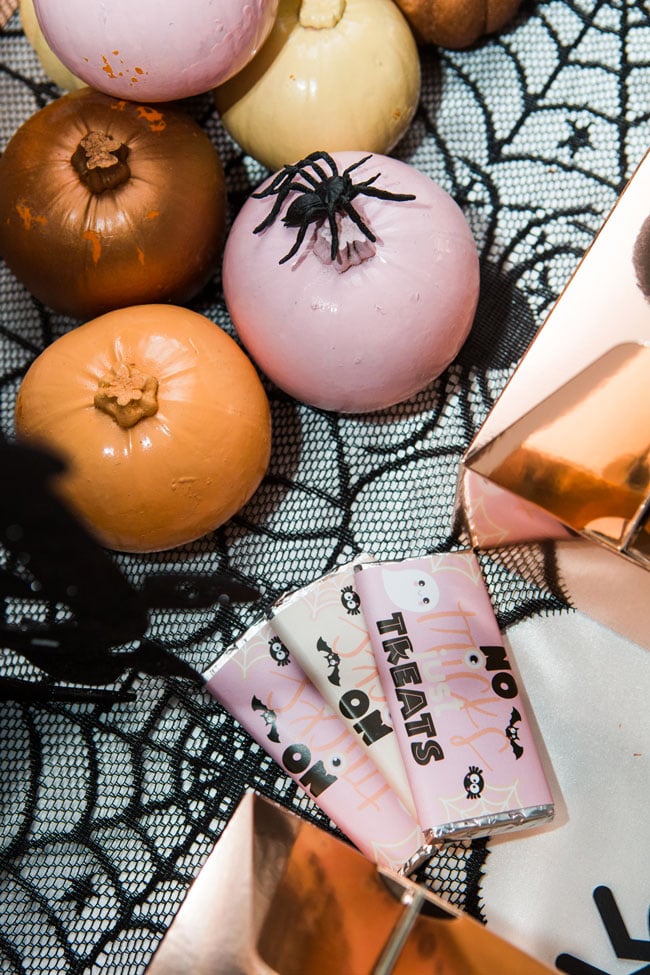 Customized chocolate bar wrappings were also created for this Ghouls Squad Kids Halloween Party.
What a great addition for all of the place settings, or to put into the party favor boxes!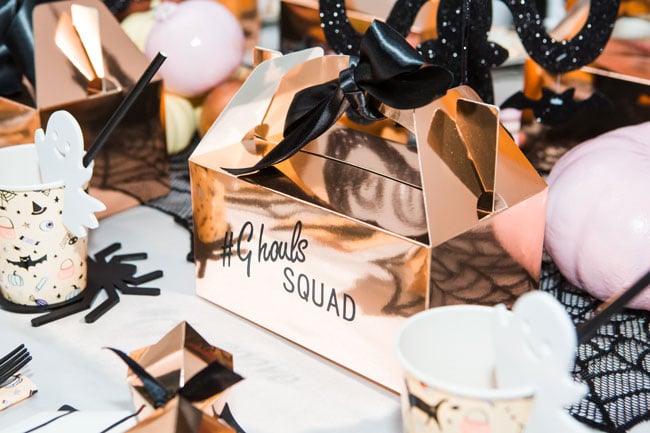 We love the up-close look of the glossy feel of these fun party favor boxes. And the personalized hashtag was added to each box, along with being wrapped up by a ghostly black ribbon.
The party favor boxes are just perfect for this Halloween party theme!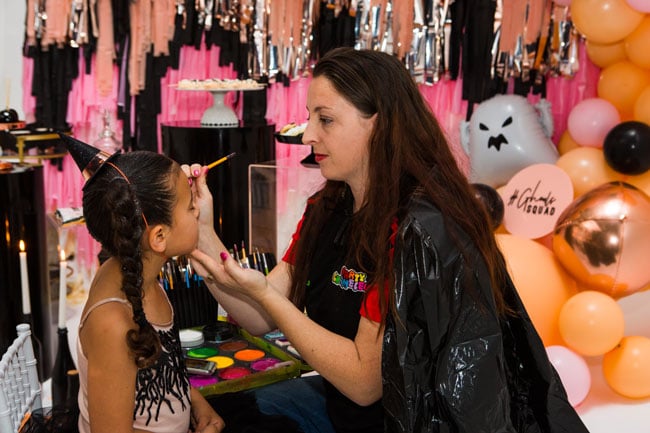 Happy Halloween faces were painted by the talented Party Chameleon NSW – Central Coast & Hunter Region.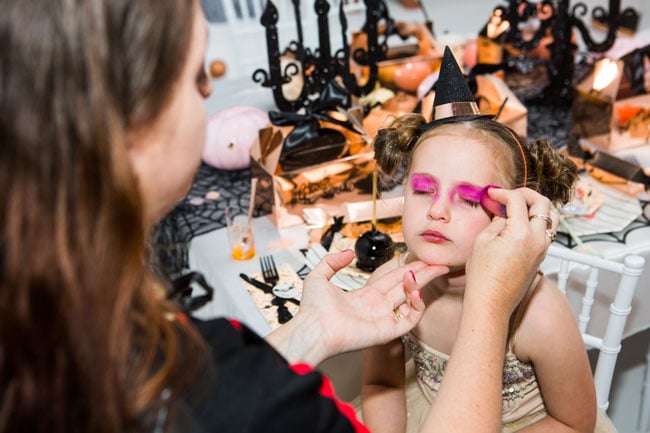 We know how popular face painting can be at any event, so we're sure it was a hit and can be done for your own kids Halloween party! The kids absolutely love it!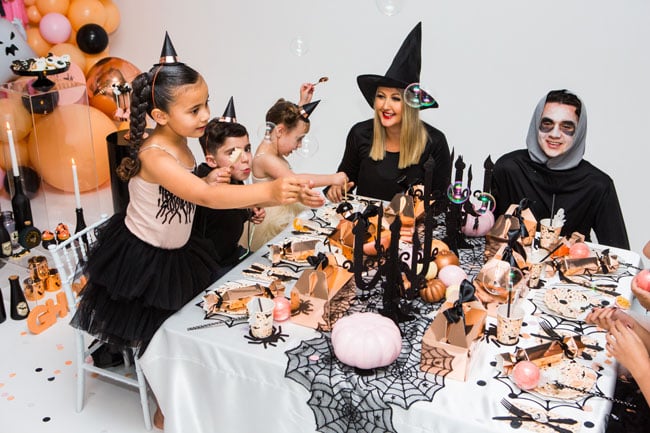 The Witch and The Ghoul joined in the fun from The Glass Slipper Parties. We bet the kids would just love to interact with these spook-tacular guests for a Halloween themed event!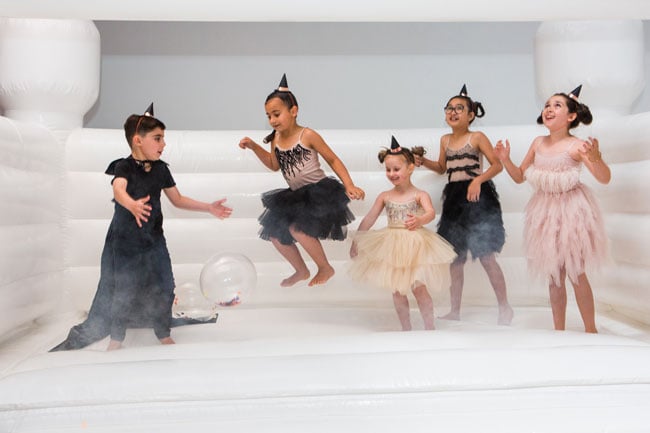 Bounce O Rama – AU had everything under control when it was time for the kids to take their sugar-high to the sky with a fun jumping castle!
What perfect activities to keep the kids moving during a Ghouls Squad Kids Halloween Party!
Everyone had a great time celebrating the Halloween holiday. If you're ready to plan a Halloween party for kids, this is an amazing inspirational event to give you some great kids Halloween party ideas!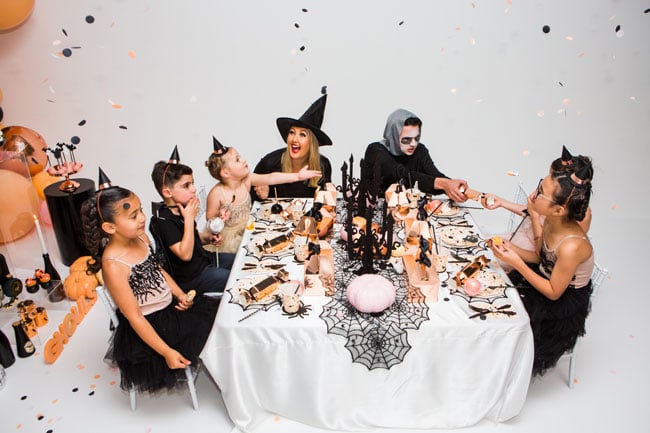 All of the kiddos got to wear some fun Halloween-themed designer dresses from Wishful Playground. We bet they felt extra special for this fun event. Who doesn't love to wear a great costume?!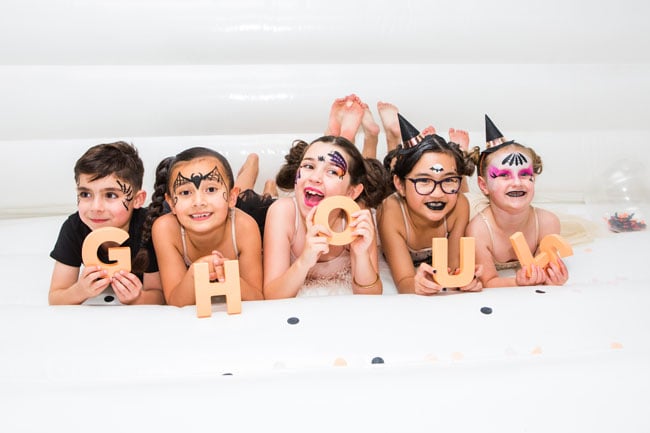 This Ghouls Squad Kids Halloween Party was spooky, sweet and everything in between. The Kids Halloween party decor was top notch and we bet each and every little goblin would love being invited to a special holiday event like this!
What's your favorite details in this Ghouls Squad Kids Halloween Party? Let us know in the comments below.
For more party ideas, follow us on Instagram @prettymyparty and Pinterest and join us in our private Facebook group.
Vendors & Credits
Concept & Styling: Party Mamma Parties & Events and Cookie Queen Kitsch'n
Photographer: My Eye Photography
Prophire: Party Mamma Rentals
Venue: The Garage Studios
Magnum Pops, Cookies, Cake Pops, Donuts: Cookie Queen Kitsch'n
Plates, Cups, Napkins, Confetti, Straws, Bat Balloons: Favor Lane Party
Stationary: Joyful Invitations
Custom Acrylics: Love & Etch
Balloons & Tassel Wall: @babeinstantpartyhire
Smoke Machine & Face Painting Party Chameleon NSW – Central Coast & Hunter Region
Jumping Castle: Bounce O Rama – AU
Toffee Apples: Toffee Apples
Designer Dresses: Wishful Playground – Designer girls wear for hire
Entertainment: The Glass Slipper Parties
Halloween Fairy Floss: Your Sweet Memories
Custom Marshmallows: Marshmallow Club
Goody Boxes, Bon Bons, Bats, Witches Hats, Bat Cups: The Party Parlour