Whimsical Butterfly Birthday Party
Any girl would be lucky to celebrate her big day with this Whimsical Butterfly Birthday Party theme!
This outdoor butterfly themed kids party has us feeling pretty, playful and stylish, thanks to these wonderful pictures captured by Love & Story Collective. Butterflies were found everywhere, which made this little birthday girl one happy camper.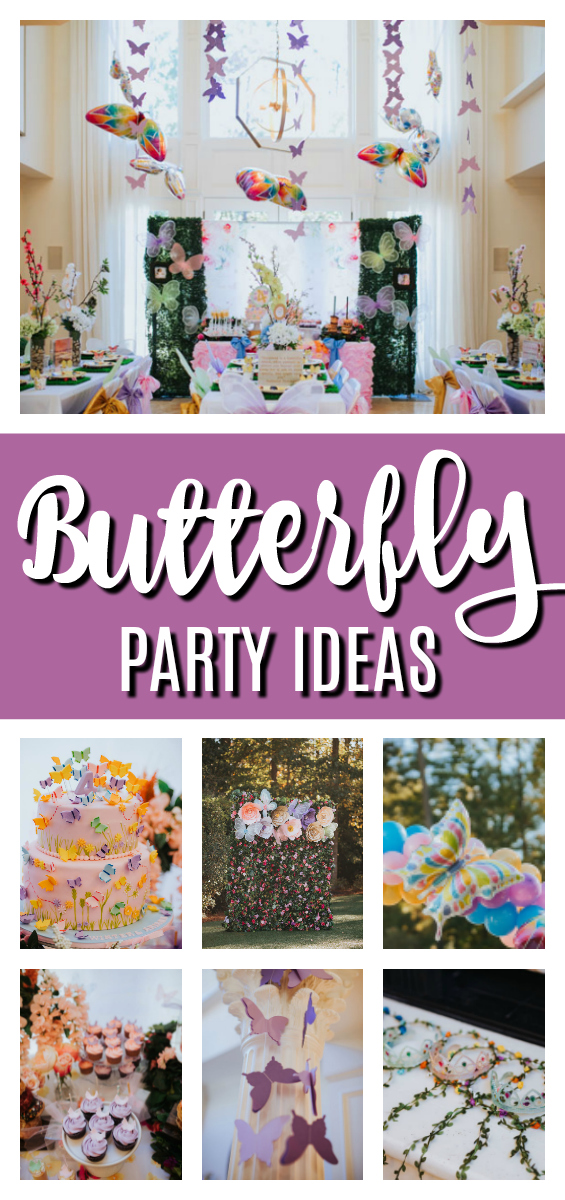 Butterfly Party Supplies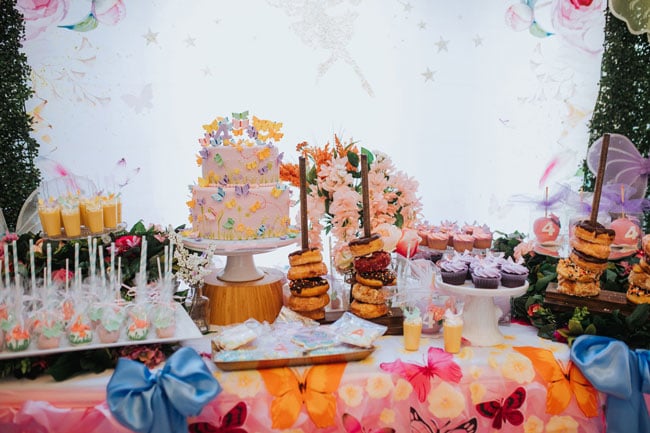 This butterfly theme party backyard celebration was a bright and vivid garden party that everyone enjoyed being a part of! How could you not love it with the gorgeous natural light that streamed through the home of this birthday girl! What an amazing dessert table, filled with yummy food to quench everyone's taste buds!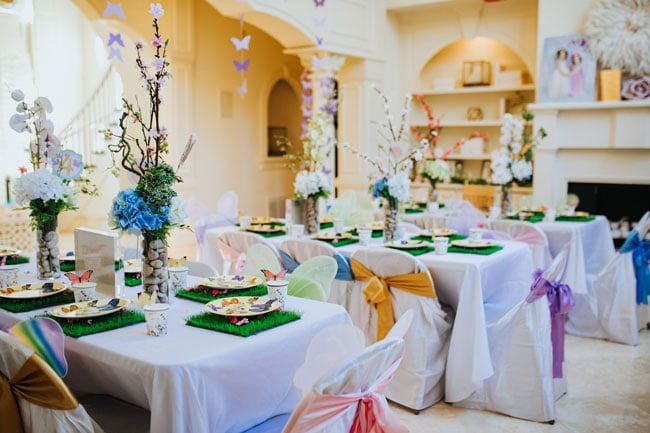 What an amazing set-up at home for this whimsical butterfly birthday party. We love parties that can be held at home. It makes for such a cozy and welcoming atmosphere that everyone is comfortable in. Just look at these guest tables! Butterfly party decorations were found in every corner of the celebration!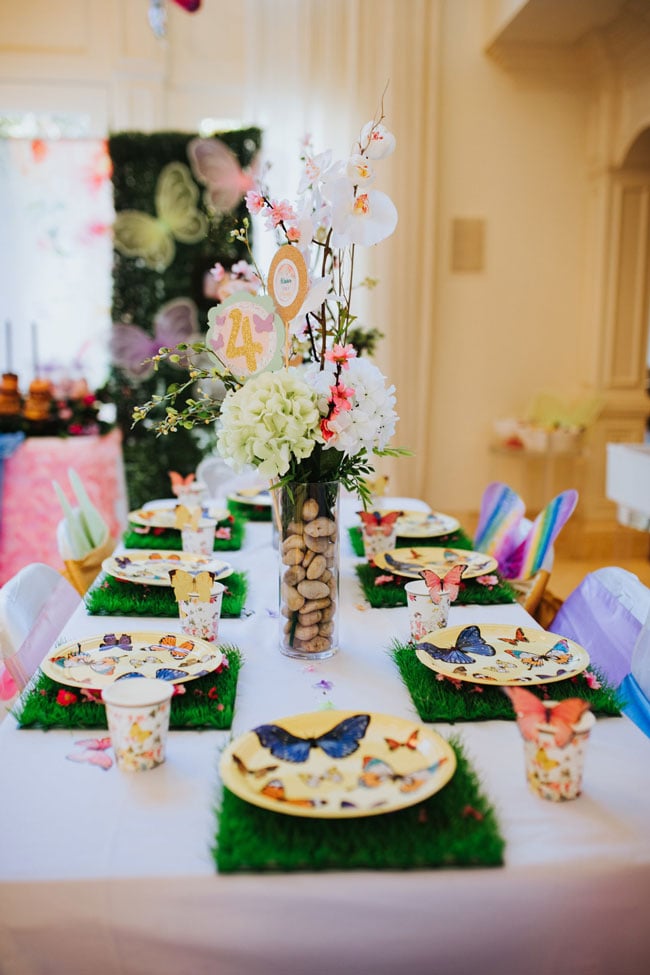 We love everything about the tablescape at this butterfly birthday party! All of the individual place settings were on a grass placemat, which is such a fun and unique idea! Butterfly party supplies were used with the plates and cups, with a fun butterfly clipped on each cup for the guests to enjoy. And those centerpieces?!?! They are incredible!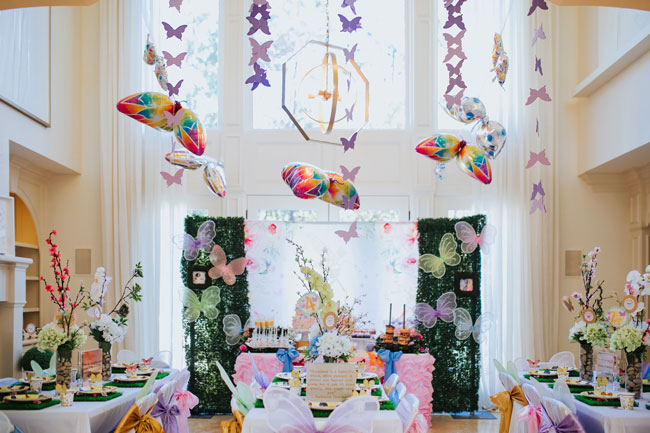 With a soaring ceiling in this home, it created the most beautiful natural light for everyone to enjoy themselves at the whimsical butterfly birthday party. We are just in love with the backdrop that was used on the dessert table. The gorgeous greenery that was found on each side, along with fun sheer butterflies attached, was the perfect addition to this butterfly theme.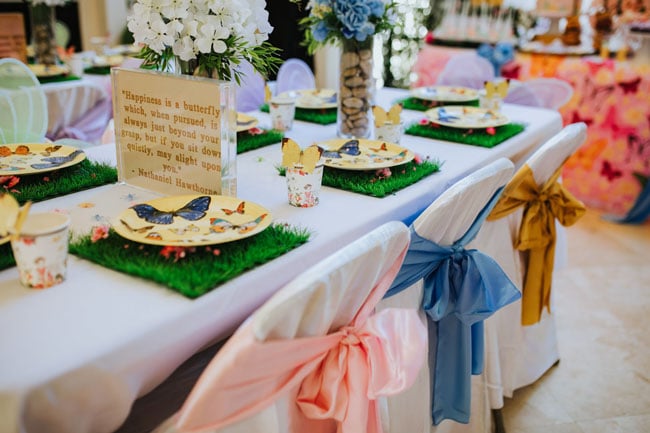 Elegant chair covers with gorgeous multi-colored bows were found on all of the guest tables. Another great DIY addition that was used were the amazing quotes that were printed out and set on the tables. What a cute idea and also a great reminder to just have fun!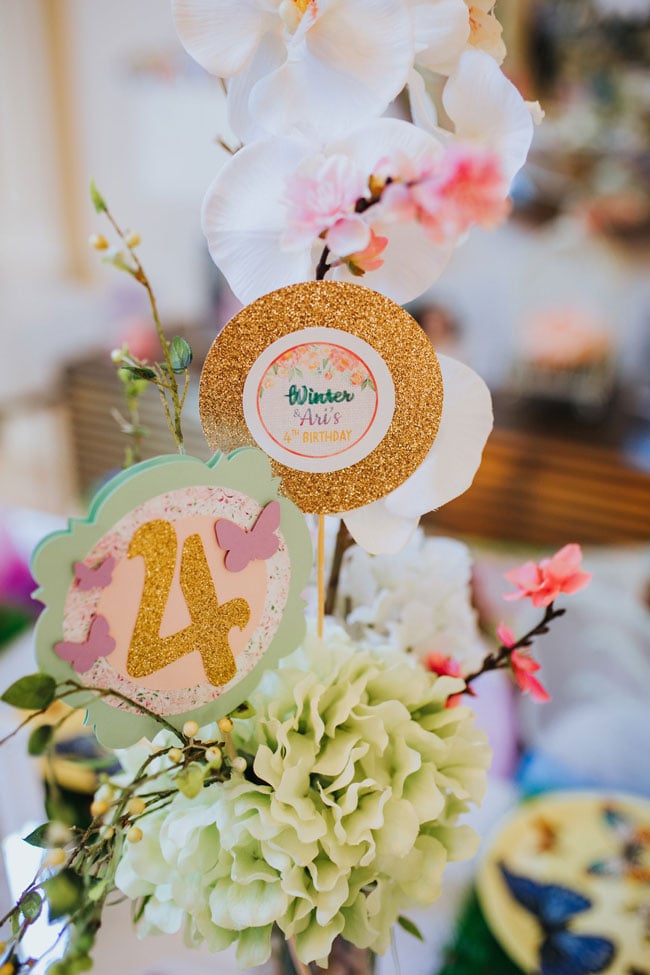 Birthday printable decorations were even found in the flower centerpieces on the table. We love the glittery gold additions which made everything more beautiful and elegant!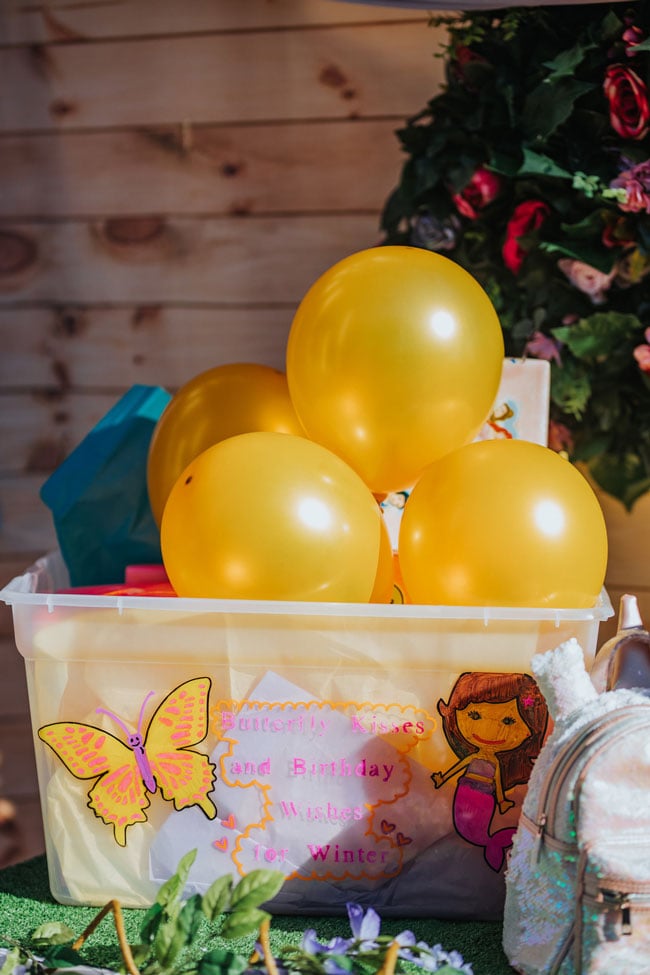 Everyone was able to enjoy fun gift bags and party favors to take home after spending the day celebrating at this amazing butterfly themed birthday party.
The dessert table felt like a whimsical fairyland at the butterfly theme birthday party. How gorgeous are all of these butterfly cupcakes that were elegantly displayed on white cake stands?! We just love the different colors that were used, along with the butterfly additions found on each cupcake.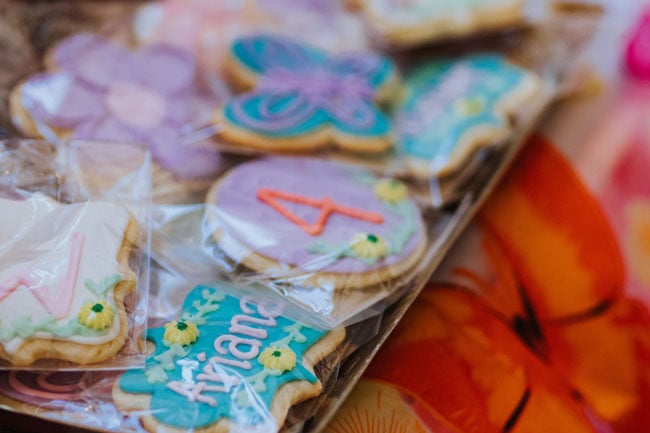 What kind of whimsical butterfly birthday party would it be without some gorgeous cookies to go along with the event?! They were all even individually wrapped so guests could take one home with them at the end of the day.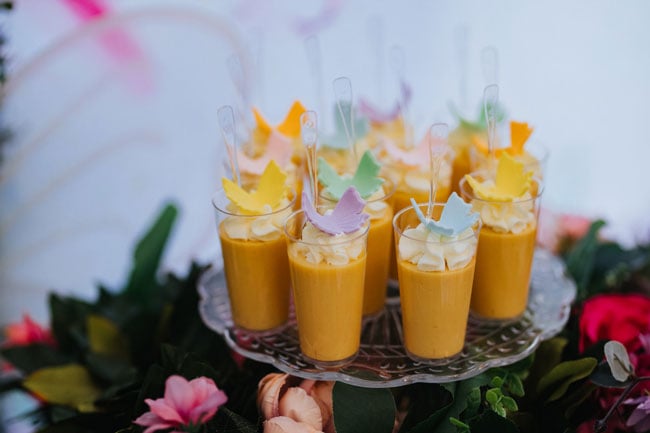 We just love this great dessert, topped with whip cream and edible butterflies! All of the flowers and greenery that were found on the dessert table made it feel like a great garden event that everyone was able to enjoy.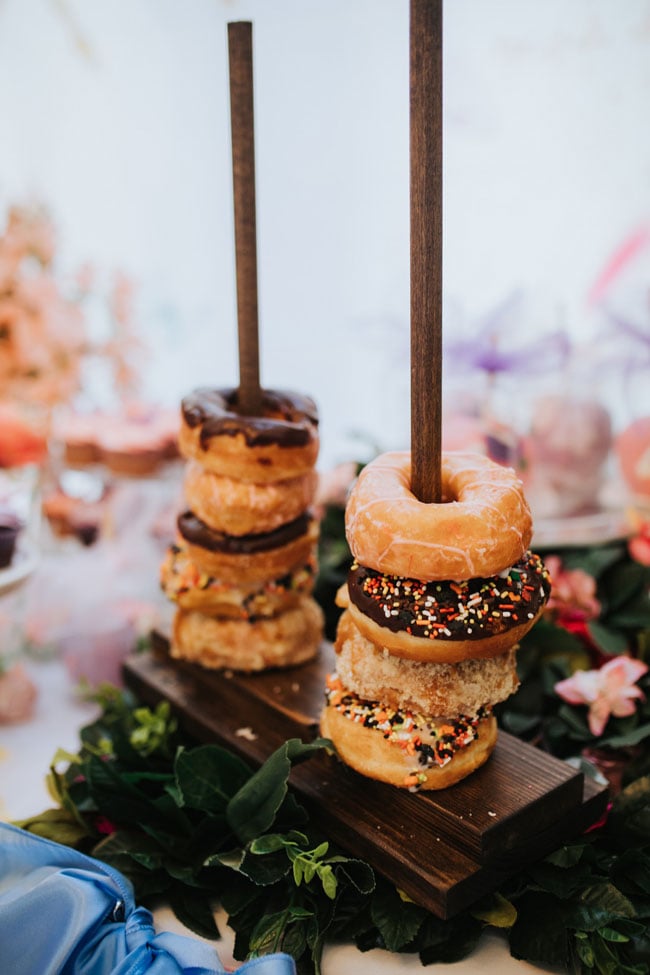 Donuts are meant to be eaten, but when they are displayed so perfectly with this wooden donut holder, we may agree that they should just stay put to admire! What a unique rustic addition that looked great on the dessert table.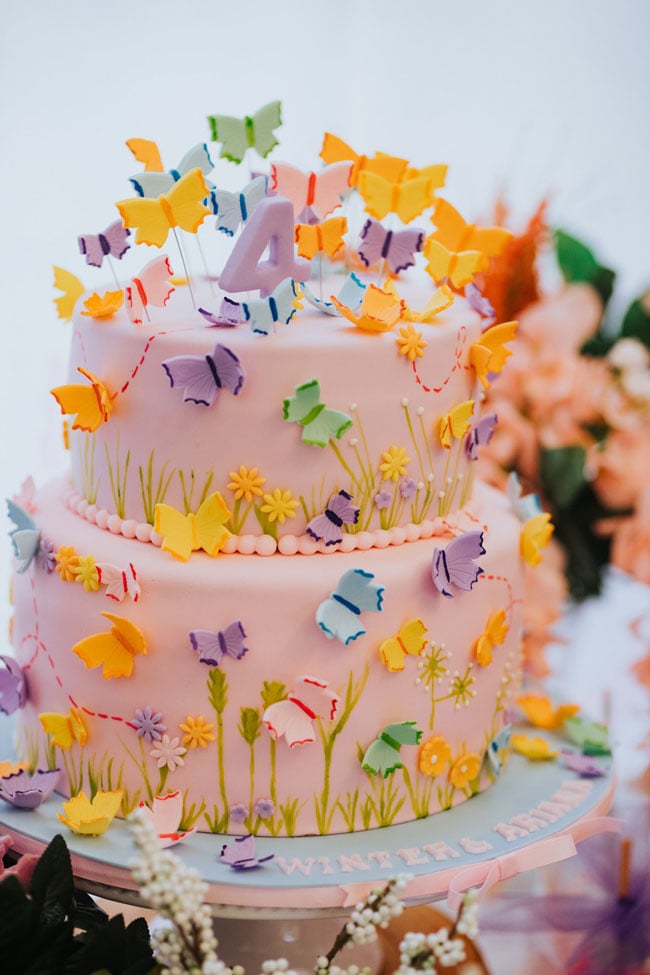 Take a look at this amazing butterfly birthday cake! Wow! Sweet edible butterflies look like they might carry away this gorgeous cake before anyone gets to enjoy it. We also just love the greenery and flowers that were added onto the cake to give it a fun garden vibe. What a beautiful creation!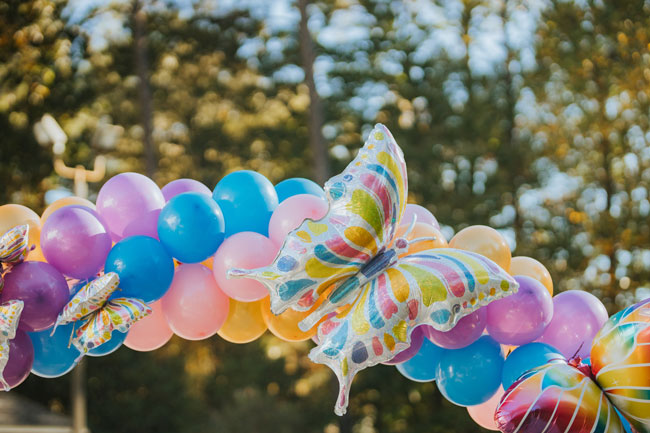 A fun balloon arch was found in the backyard for everyone to run through. The multi-colored balloons made it a fun addition to the whimsical butterfly birthday party, along with butterfly balloons that were added to the arch, as well.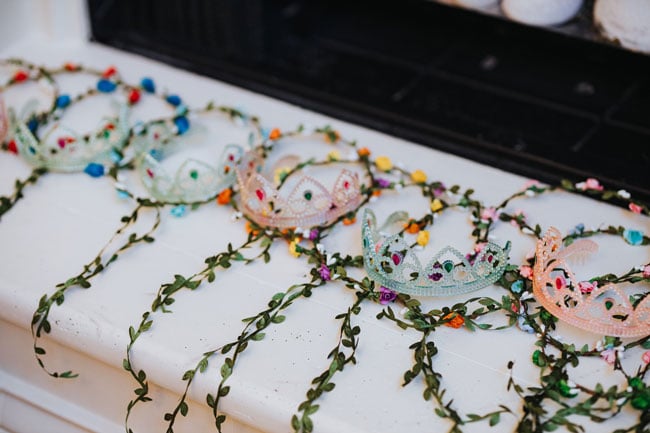 What would a backyard butterfly birthday celebration be without gorgeous DIY princess crowns for all of the little guests to enjoy?! Whimsical strands of greenery were added to all of the crowns, which made everyone look like beautiful fairies floating around like butterflies around the backyard. We love these sweet butterfly birthday party ideas!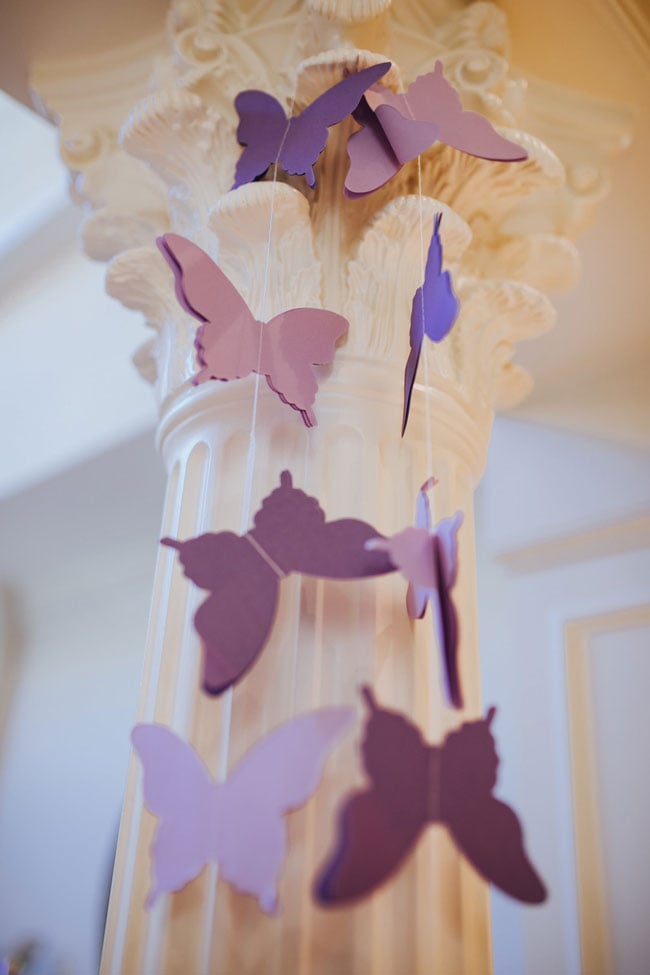 Paper butterfly strands helped to decorate the unique indoor party space and were easy to make with a design that was used to duplicate the butterflies. All of the kids just loved seeing all of the butterfly decorations all over the party space!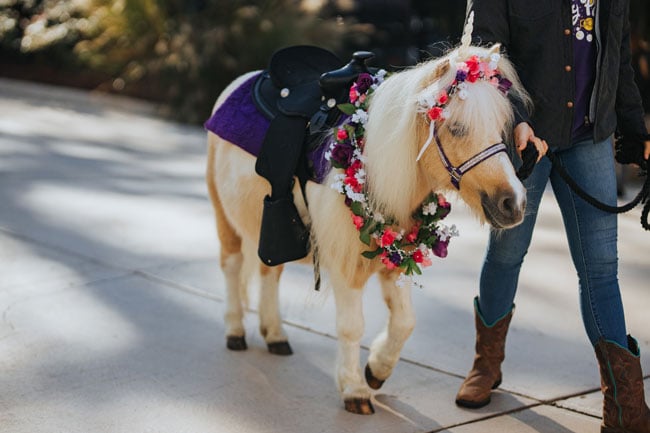 Look what arrived in the middle of the whimsical butterfly birthday party! A very special unicorn! All of the little girls were able to spend a little time with the sweet "unicorn" who came to greet the birthday guests. What a memorable event for everyone!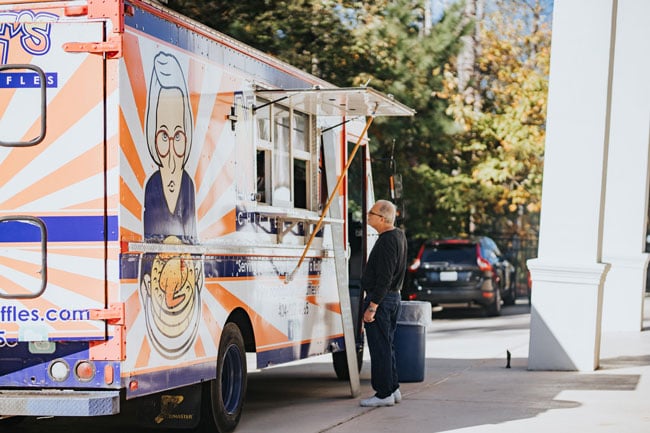 A food truck provided amazing food for the birthday party guests. What a unique idea to provide food for the birthday that everyone was able to customize to their own liking. It is also a great way to cut down on clean-up for those who were throwing the celebration. Very smart, because who likes to spend hours cleaning up after a big birthday party?!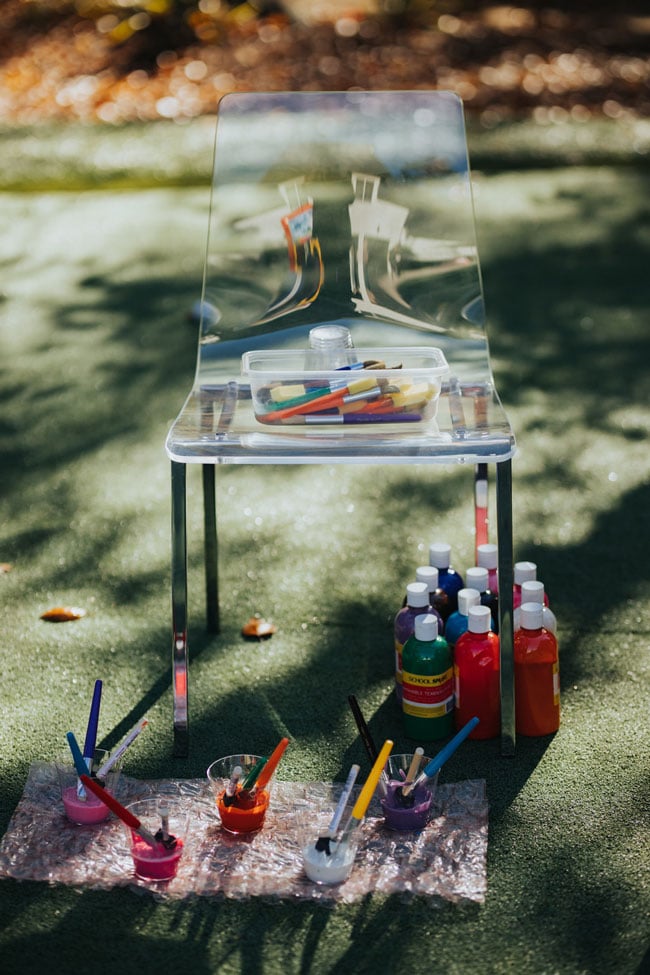 Everyone knew they were in for quite a treat when they came outside to find a painting station set up for their use. Many different brushes, paint colors and additional supplies were provided for the party guests to get started on their own masterpiece.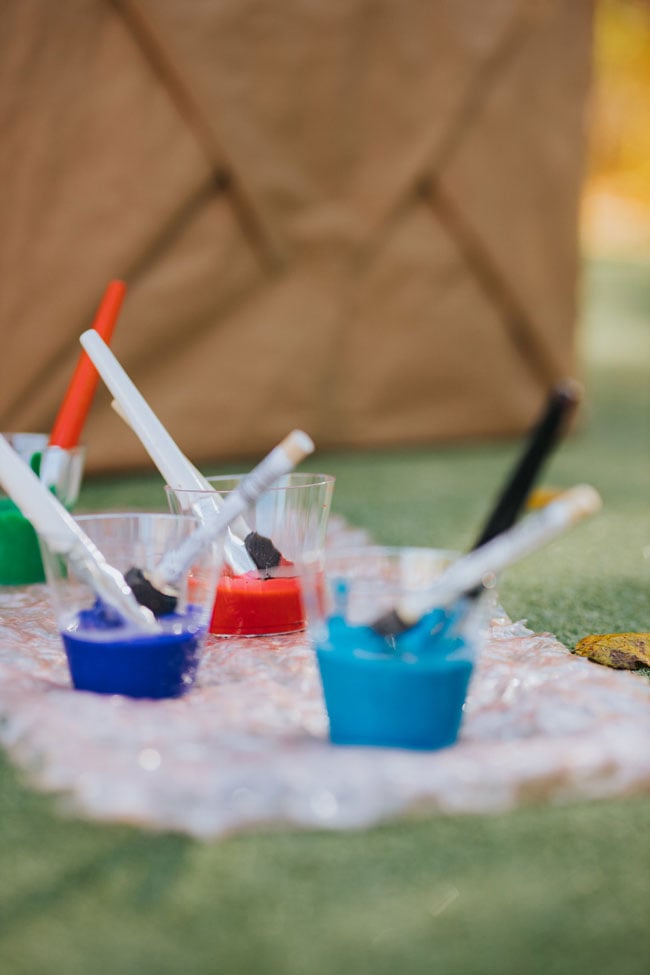 Big, bold and bright colors were ready for all of the party guests to start using! What a fun birthday party activity!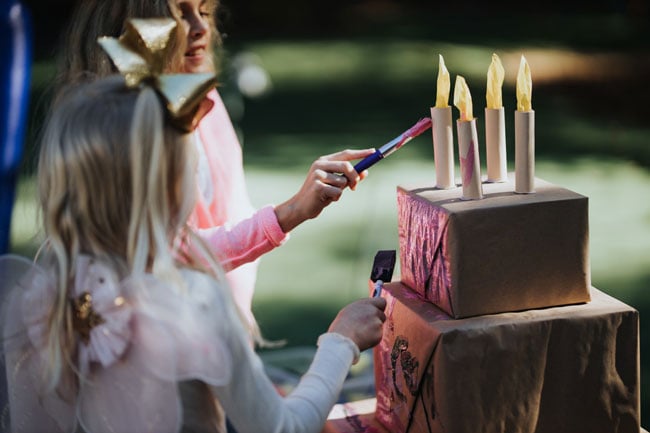 Party guests were able to paint a fun "birthday cake" to their exact specifications, which was a huge hit! What an amazing whimsical butterfly birthday party activity to create with all of the birthday guests.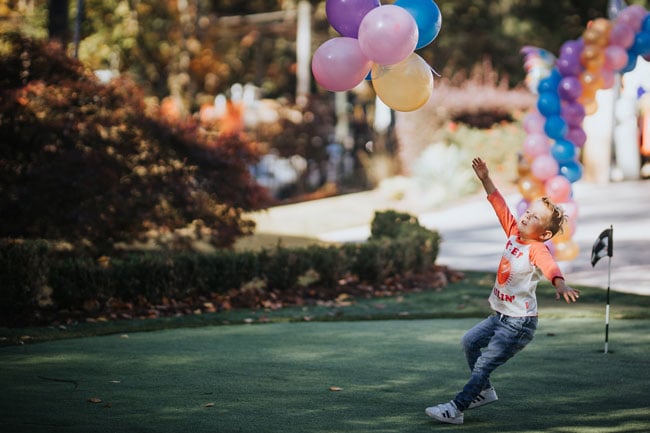 Be careful, all of those balloons will carry you up up and away!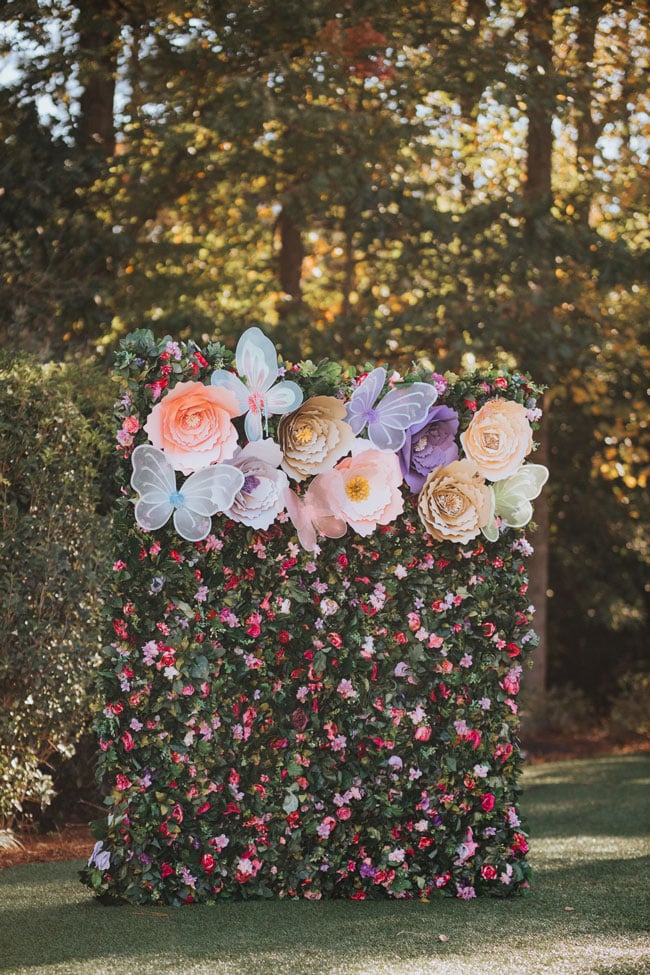 An amazing floral backdrop was created for the event, along with lush greenery to help all of the brightly colored flowers stand out. Who wouldn't want to go and take advantage of this amazing photo wall?!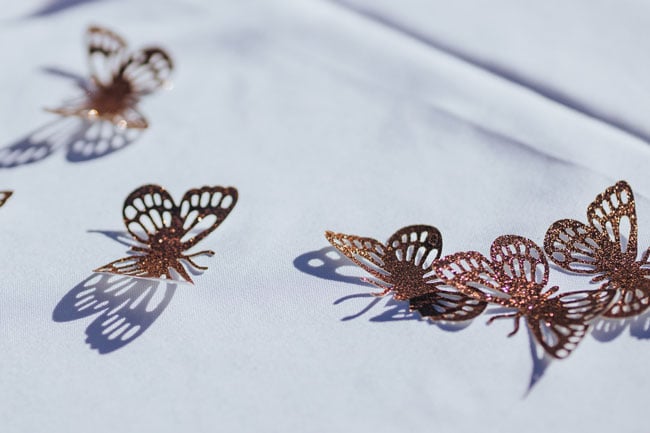 Sweet paper butterfly party decorations were sitting on different tables around the butterfly themed birthday party, which was the perfect addition! The kids loved them!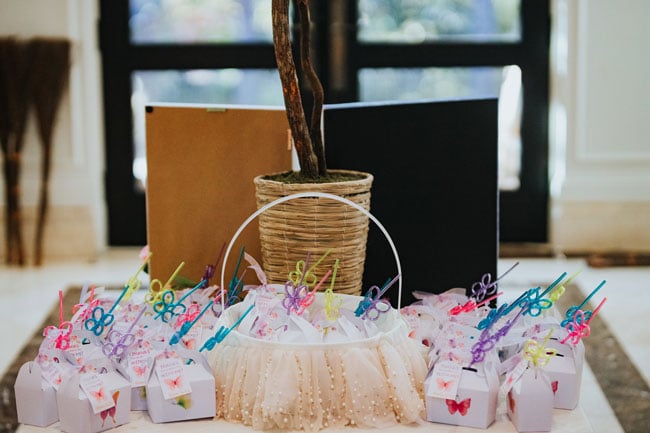 Butterfly party favors were a big highlight of the whimsical butterfly birthday party and everyone couldn't wait to get their hands on one! Instead of the normal candy favors, these gift boxes contained real, live butterflies for everyone to take home and enjoy!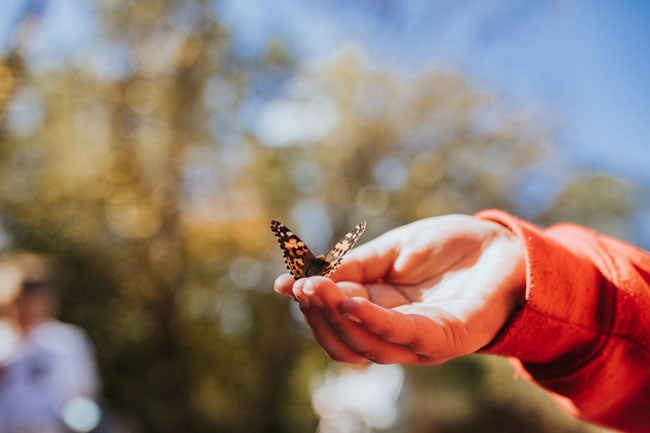 You can only imagine the excitement as the boxes were opened to find real butterflies ready to fly around the birthday celebration! What an amazing idea for this butterfly birthday theme!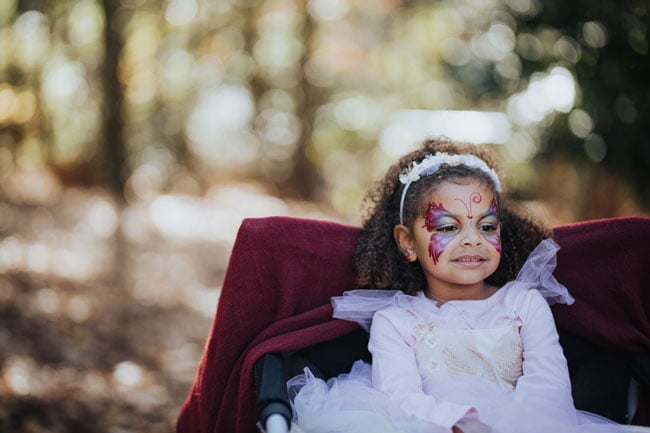 Face painting was another great activity that was held at the birthday event, and this lucky girl didn't seem to mind! What an amazing whimsical butterfly birthday party that blew everyone's mind.
What's your favorite ideas in this Whimsical Butterfly Birthday Party? Let us know in the comments below.
For more party ideas, follow us on Instagram @prettymyparty and Pinterest and join us in our private Facebook group.
Vendors & Credits
Photographer: Love & Story Collective