Carnival First Birthday Party
What an amazing Carnival First Birthday Party celebration with fun traditions sprinkled in!
Talk about a fun first birthday with this amazing carnival theme party! We love everything about it, including the monthly photos of the birthday girl, which were used as centerpieces, along with all of the fun carnival party decorations. And don't forget the gorgeous circus dessert decor!
But even more impressive was how the family incorporated their Korean first birthday traditions into the celebration. The birthday girl had an amazing Doljanchi, which is a first birthday tradition that the Korean culture continues to celebrate to this day. We love it!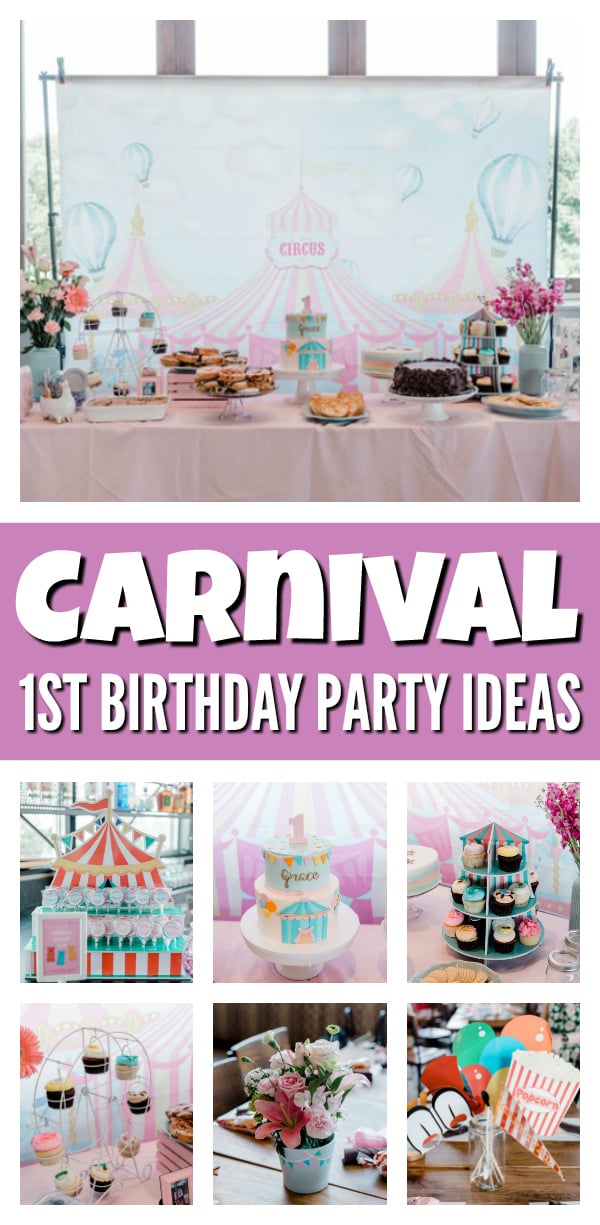 Carnival Party Ideas
Beautiful Pastel Big Top Dessert Table Backdrop
Gorgeous Pastel Carnival 1st Birthday Cake
Ferris Wheel Cupcake Holder
Ferris Wheel 1st Year Photo Display
Pastel Big Top Photo Booth Backdrop With Fun Props
Big Top Lollipop Holder
Cotton Candy Cone Party Favors
Carnival Party Supplies and Decorations: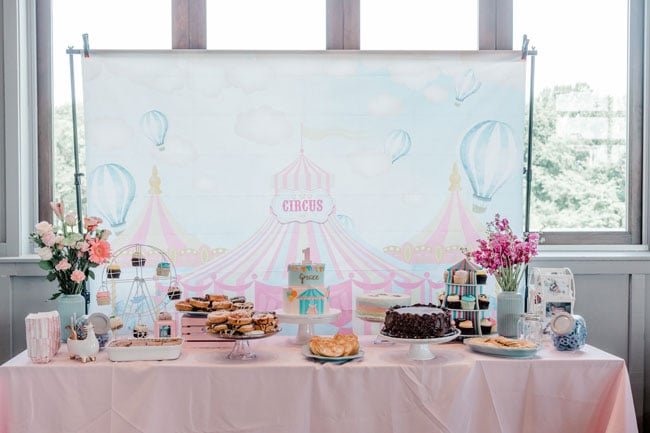 This amazing DIY Carnival theme party was the perfect gathering for close friends and family to celebrate this sweet birthday girl's first birthday. The family wanted a fun carnival theme that they could get creative with and that everyone would enjoy. What better than a carnival first birthday party?!
Carnival theme party ideas began swirling in the entire family's mind when mom told everyone she was considering a pink carnival theme. Everyone looked at Instagram pictures of carnival parties, along with late nights googling different ideas. There were many late nights spent painting and crafting for the carnival themed birthday party, but it was all worth it!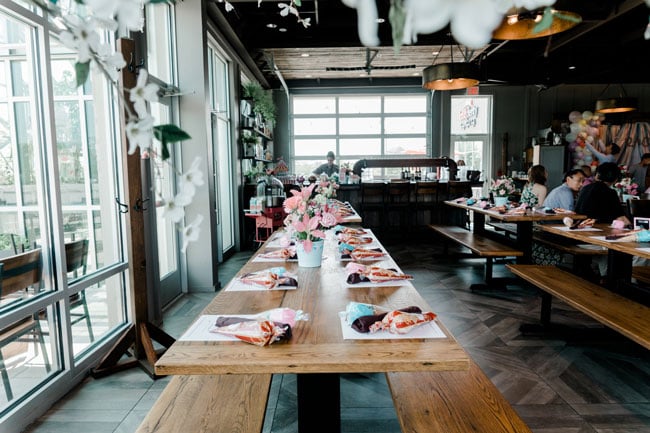 The family decided to hold the fun carnival first birthday party at the venue Food Plenty. It was the perfect spot since the food was delicious and the space was beautiful and exactly what mom was looking for. Everything was made enjoyable and easy thanks to a great process!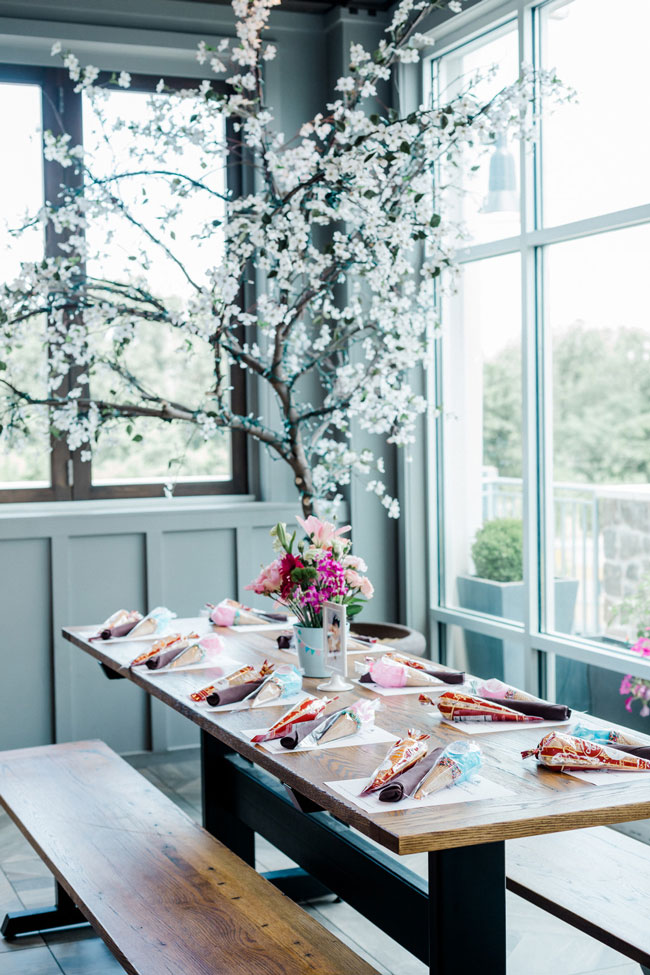 Everyone loved the open space and all the natural light coming through the windows at the venue. The bright and vivid colors of red, blue, magenta, white and pink were found in many different areas of the celebration and were the perfect uplifting color palette for this fun event!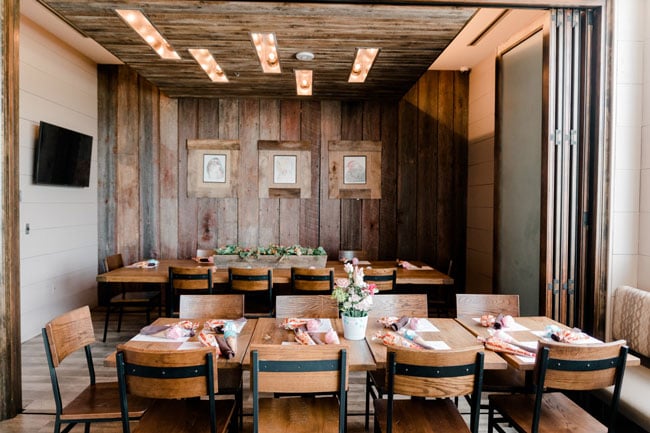 Close family and friends attended the carnival first birthday party and everyone couldn't help but marvel at the carnival inspired celebration. What a beautiful rustic backdrop for all of the vivid colors that were used for the party.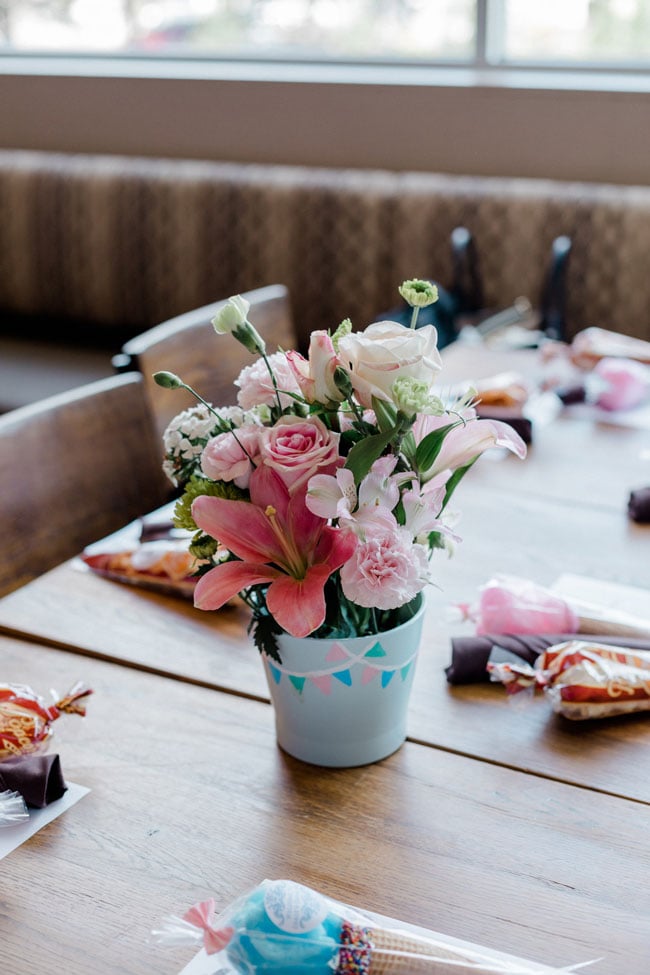 Grandma arranged all of the centerpieces. For example, mom wanted to tie in the carnival theme on all of the tables, so she painted triangle buntings on all the centerpiece fower vases, the card box, and the pails used for the doljabi. What amazing DIY projects that ended up being great carnival party decorations!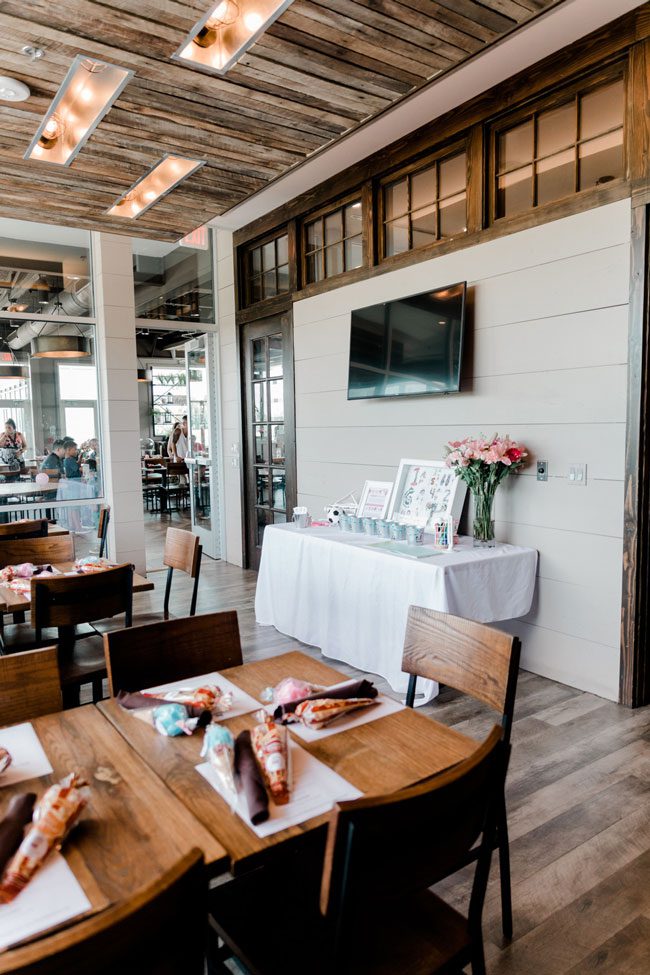 Peach May Photography did an amazing job capturing all of the different areas of the carnival themed birthday party. We love all of the details that were found and it is going to be amazing memories that everyone will be able to relive for years to come!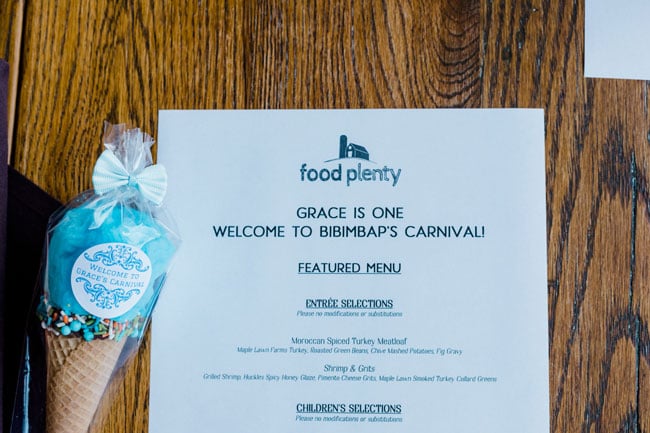 The family made more than 100 cotton candy ice-cream cone favors! Look at how amazing they are! They were created by dipping and sprinkling the "cones", which were hand spun cotton candy and wrapped it up with a bow! A personalized sticker was added to each cone and everyone was able to take one home for a fun party favor.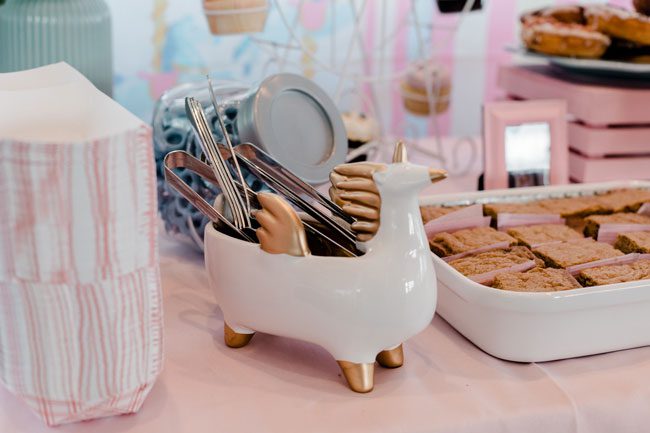 Fun carnival party decorations were found everywhere, even on the food table! What a fun way to add quirky and gorgeous decor in different ways.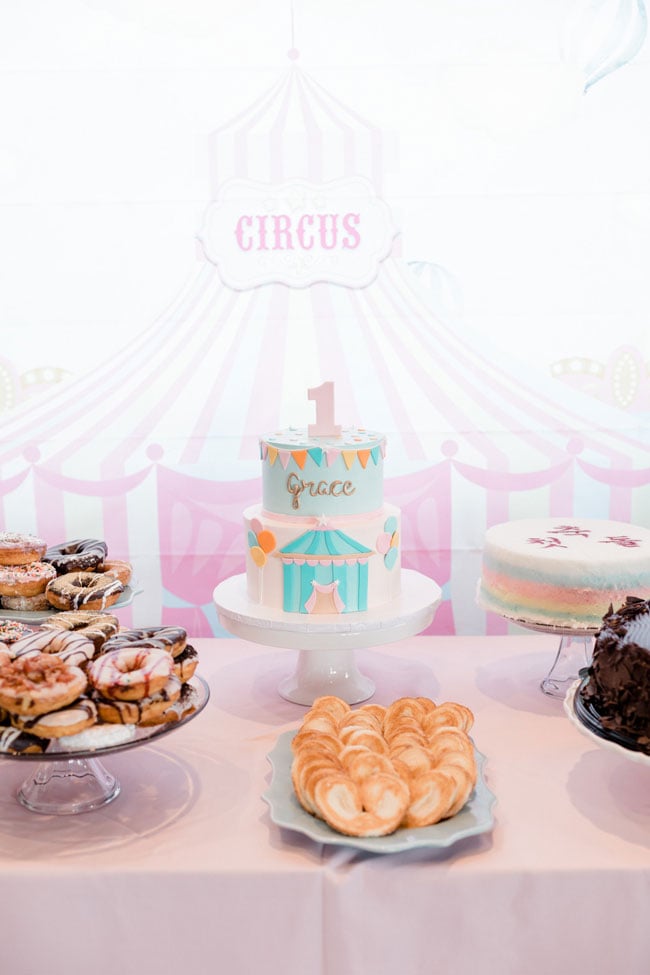 Look at that amazing carnival inspired backdrop! We love how the backdrop added in a big top circus tent that was a major focal point of the entire event. What a gorgeous and dramatic backdrop!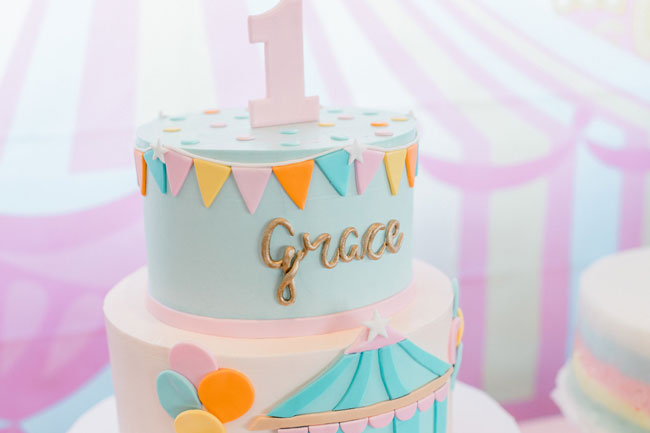 How showstopping is this carnival party birthday cake?! All of the detail and colorful additions really make this eye-popping cake a centerpiece of the dessert table. What a lucky little birthday girl!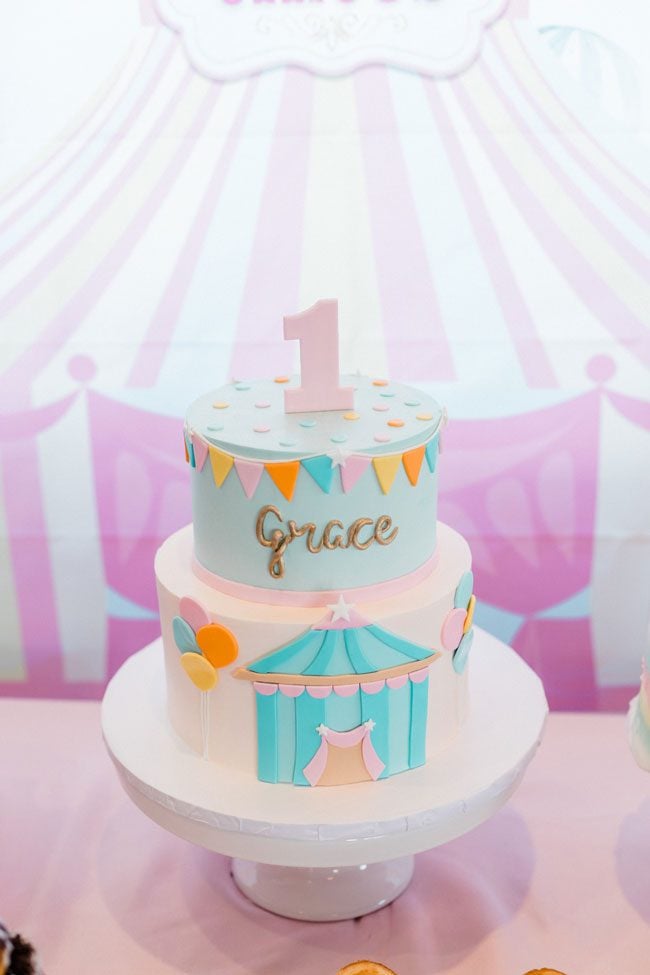 The cake details were suburb. The tent that was added on, along with the colorful bunting and balloons made the cake pop and everyone couldn't wait to dig in!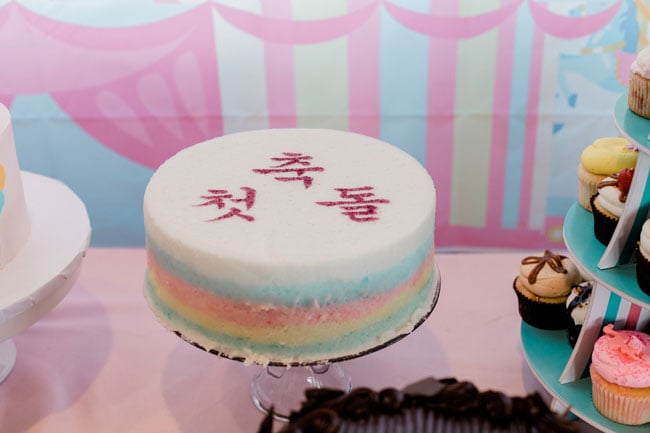 There was even a special cake for the birthday girl to celebrate her Korean heritage. What a great addition for the family and the birthday girl!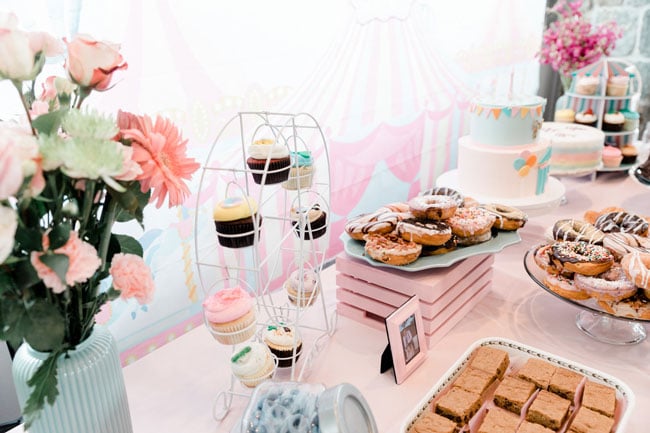 Just look at this yummy dessert table! Everything looked so delicious and many of the items were handmade by the family. Talk about the ultimate DIY Carnival First Birthday Party!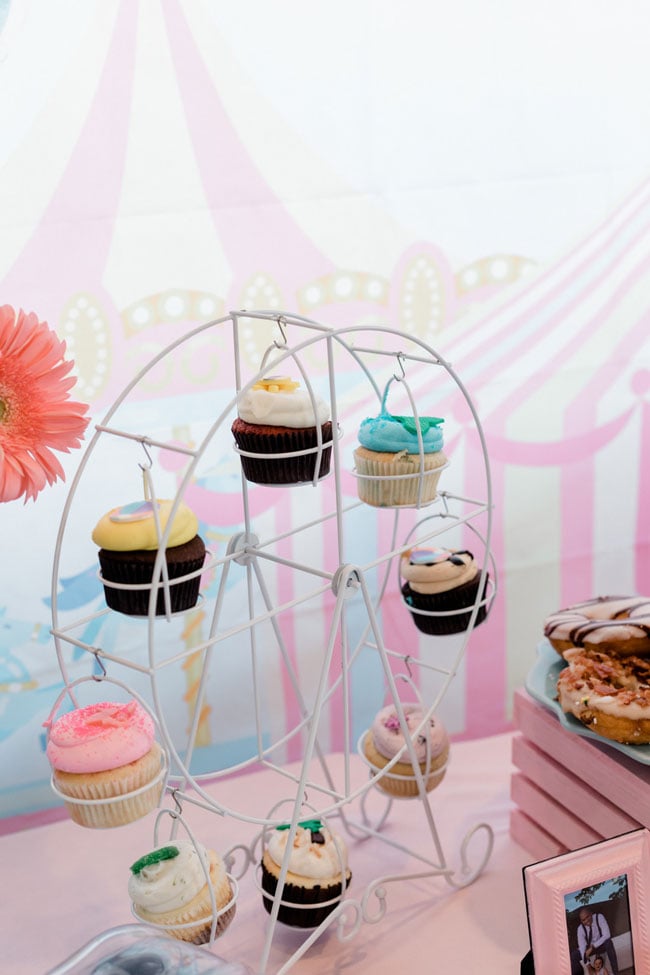 How fun is this great Ferris Wheel cupcake holder?! That is the ultimate carnival party decoration! What a great addition to the dessert table!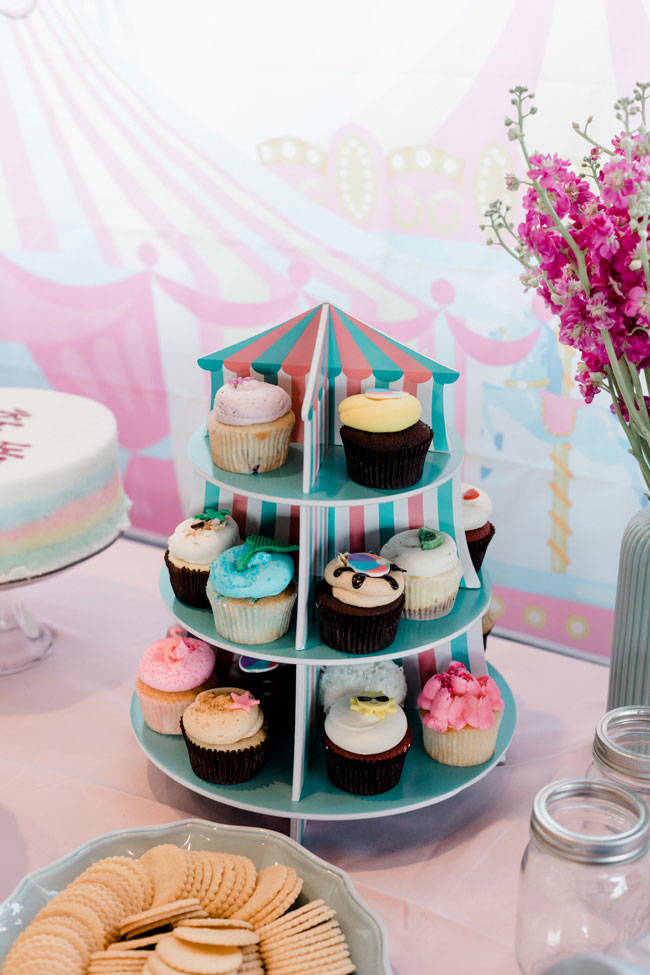 There was also another fun carnival-inspired Big Top cupcake holder on the dessert table, as well. We love the colorful cupcakes that were placed around the dessert table with all of the different types of frosting, toppings and flavors. There was something for everyone!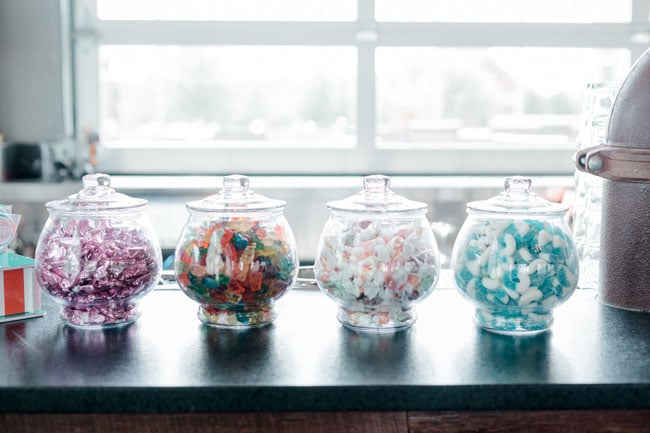 What would a carnival theme party be without some candy jars for everyone to enjoy?! Yum!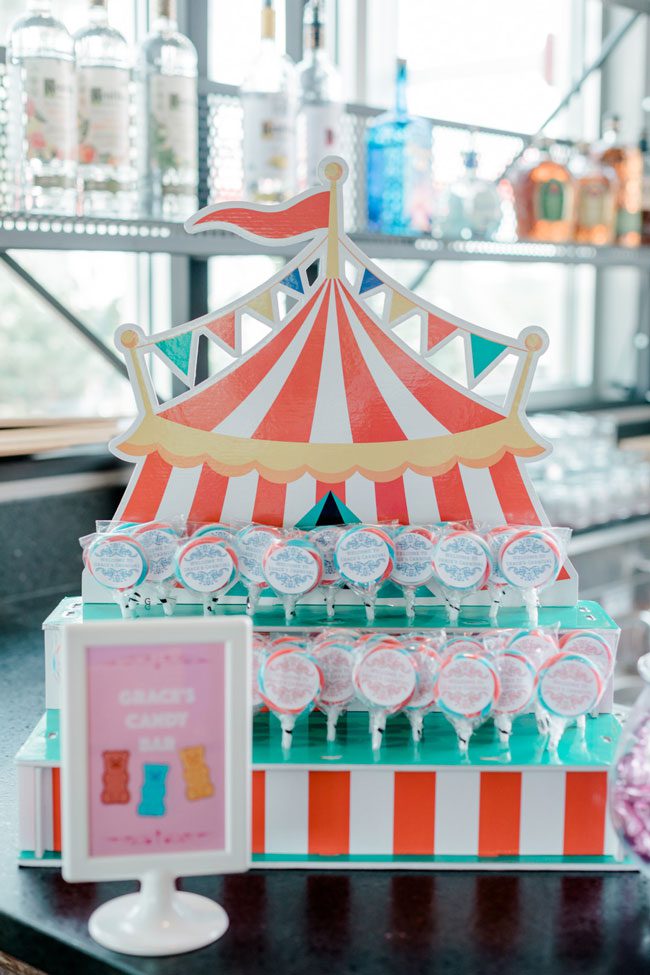 There was even the perfect addition of a candy bar table that was found at this carnival birthday party and everyone couldn't wait to get their hands on some of this candy! What an amazing candy bar that had personalized printables on each of the pieces of candy. Plus, we love the Big Top lollipop holder too! What a great carnival decoration!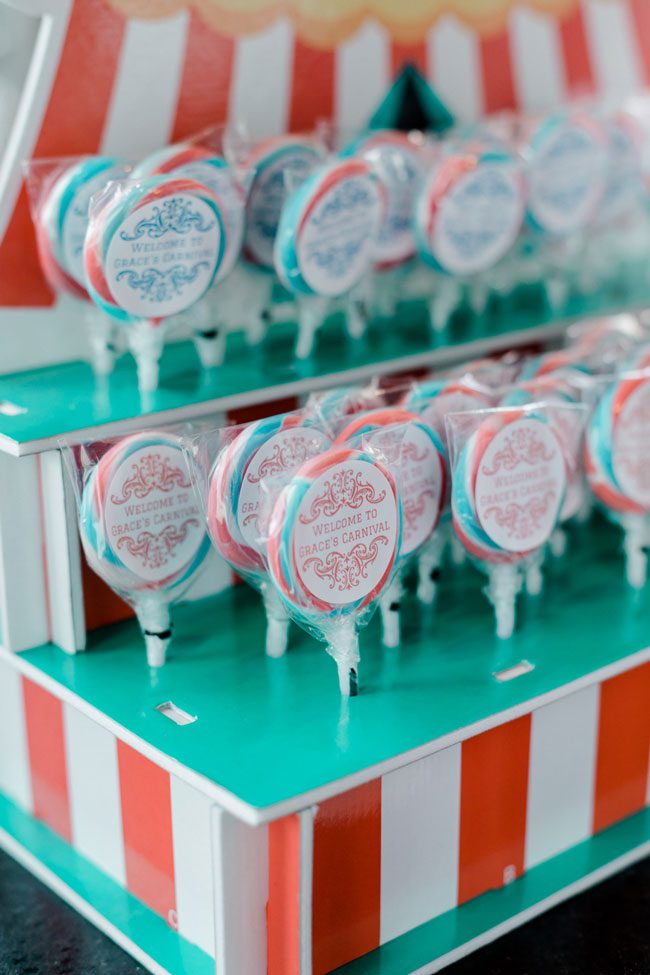 Who wouldn't want their own carnival-inspired birthday celebration with fun suckers that were placed on the candy table?! The candy holder was incredible!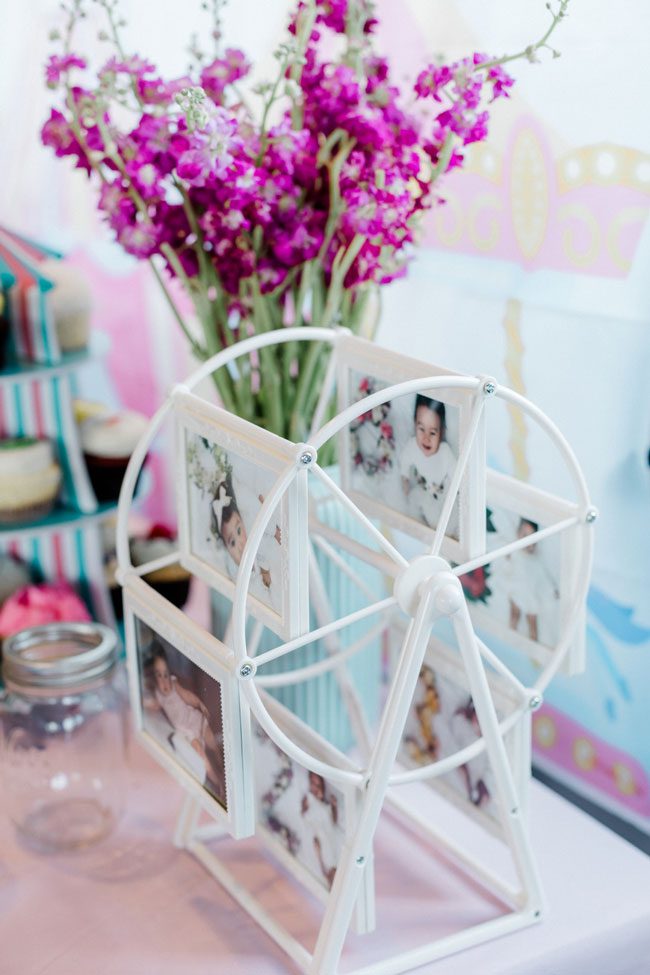 A Ferris wheel picture holder was even found, where pictures of the birthday girl's first year were included for everyone to admire. It was the perfect way to showcase the birthday girl's first year!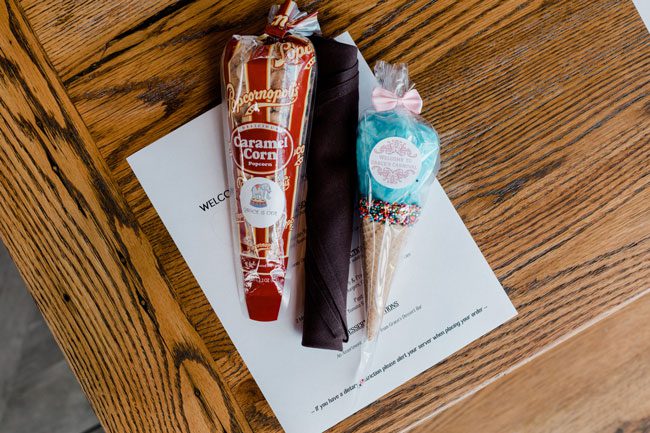 Everyone got to enjoy some yummy personalized treats that they could take home. What kind of carnival birthday party would it be without some yummy cotton candy and popcorn to enjoy?!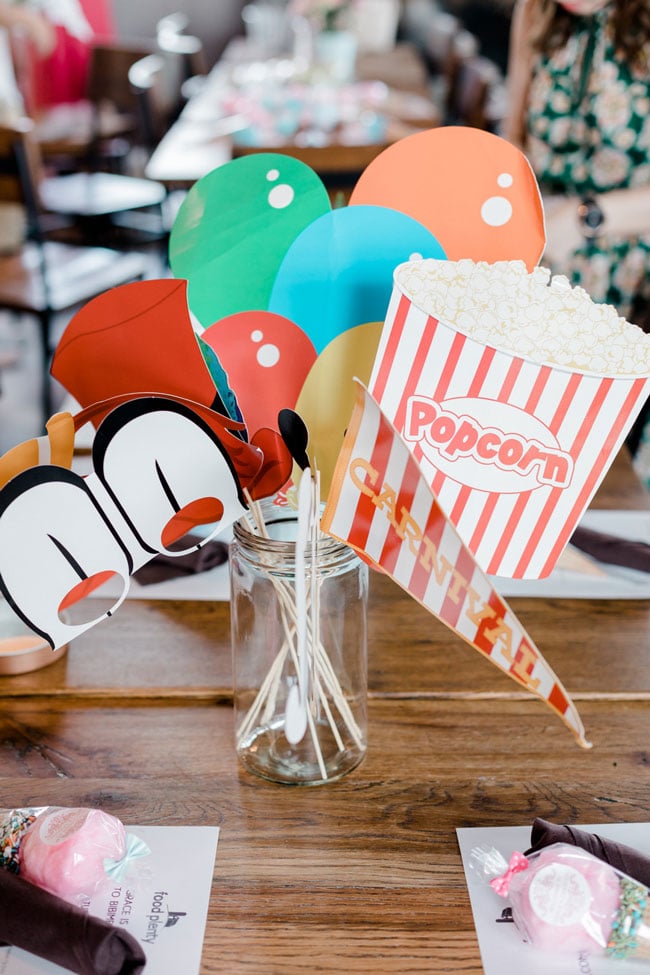 Fun entertainment was made available for all of the guests too. These cute photo booth props were used for everyone to take as many selfie pictures as they want, with everyone getting lots of laughs out of them!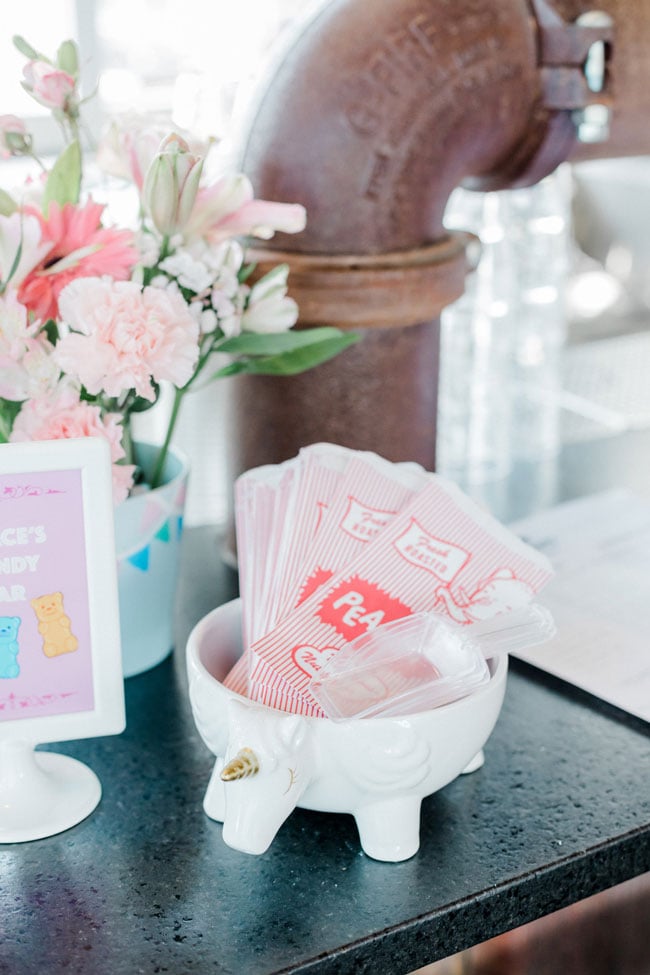 There was even a peanut station available where guests could fill their peanut bags until their hearts were content. What a great addition to a carnival themed birthday party!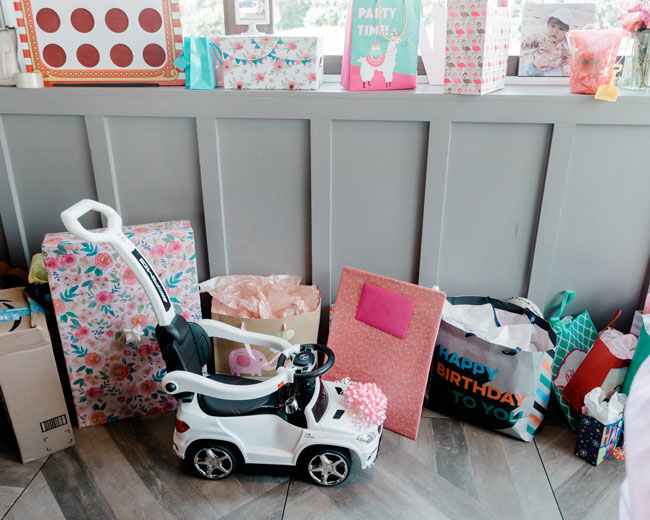 Just look at all of those fun presents that the birthday girl got to rip into! One-year-olds definitely show no restraint when it comes to presents and it's always one of the most fun times of a first birthday party!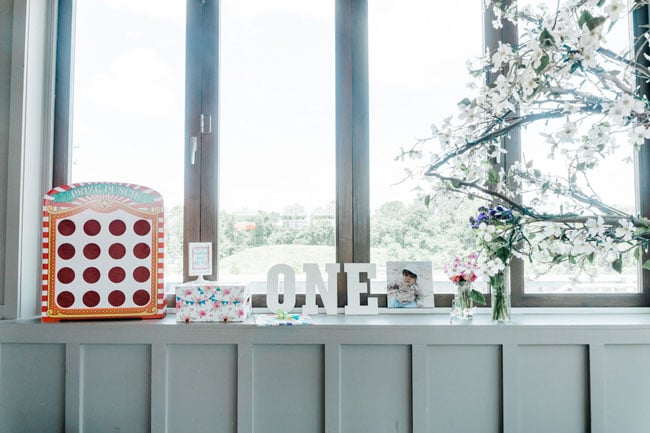 Carnival party decorations were found throughout the event, with fun wooden letters spelling out different words, along with flowers, pictures, and carnival-inspired decor available!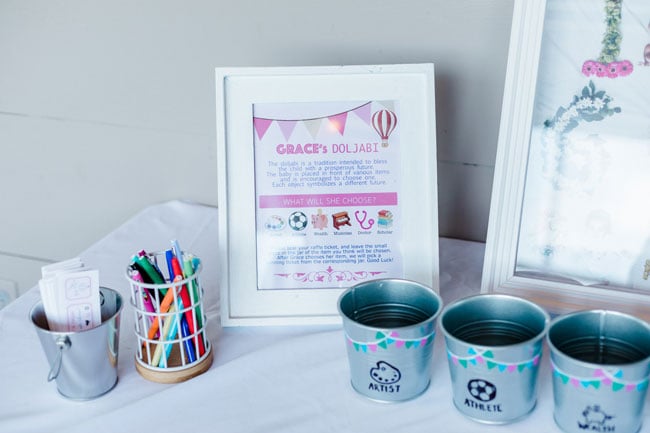 Soon, it was time to enjoy the Doljanchi, which is a tradition where the child is placed in front of a table of foods and objects such as string, paint or calligraphy brushes, ink, and money. The child is then urged to pick up an object from the table. It is believed the one selected will foretell the child's future.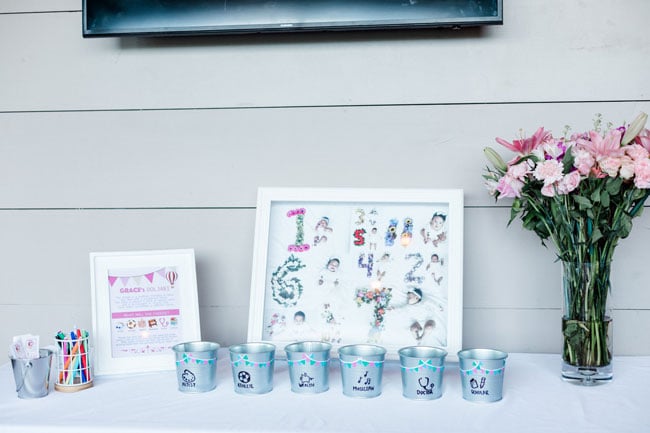 Dol or Doljanchi is a Korean tradition celebrating the baby's first birthday. In the past, many babies didn't make it to their first birthday, so it was a major milestone to celebrate with friends and family.
This is a tradition that is near and dear to this birthday girl's mom, as she loved looking back on pictures of her own Dol. Her parents dressed her up in a traditional Korean dress, called and invited close friends and family to celebrate the joyous occasion. Therefore, it was important for the family to plan a beautiful Doljanchi for their own daughter as well!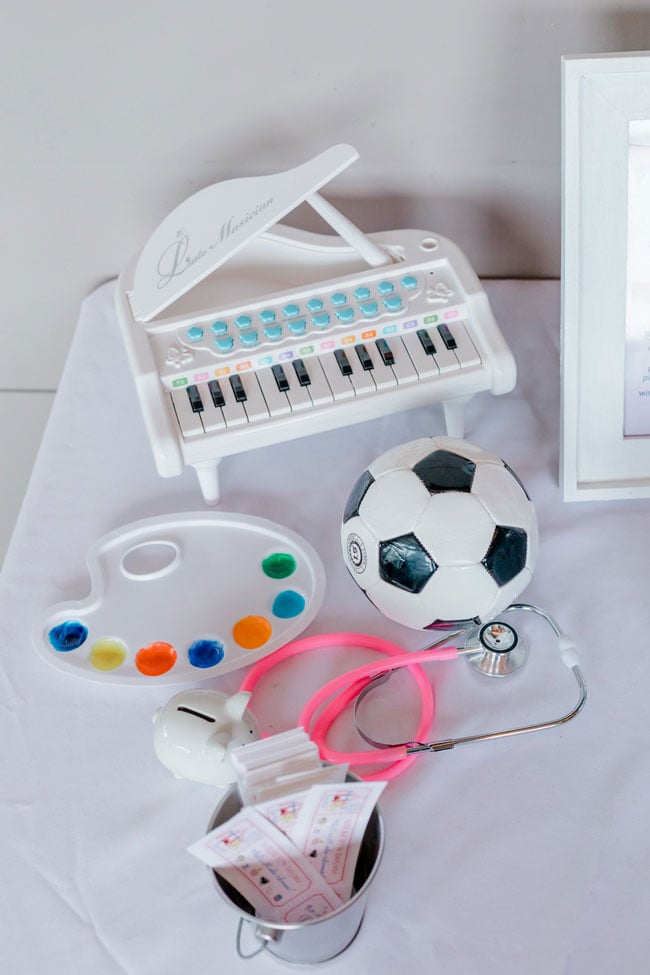 If a child picks up a paint/calligraphy brush or book, they are destined to be smart. If they pick up money, they will be wealthy. If they pick up food, they will not be hungry. If the child picks up the thread, it is believed they will live a long life. The types of objects placed on the table for the baby to choose has evolved over time.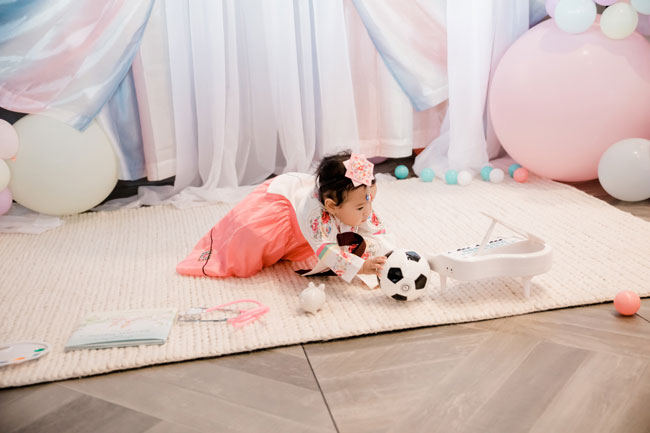 The picture of the birthday girl in front of all the items for the Doljabi before she picked the soccer ball was one of the family's favorite! It captures the excitement and anticipation of the moment so well!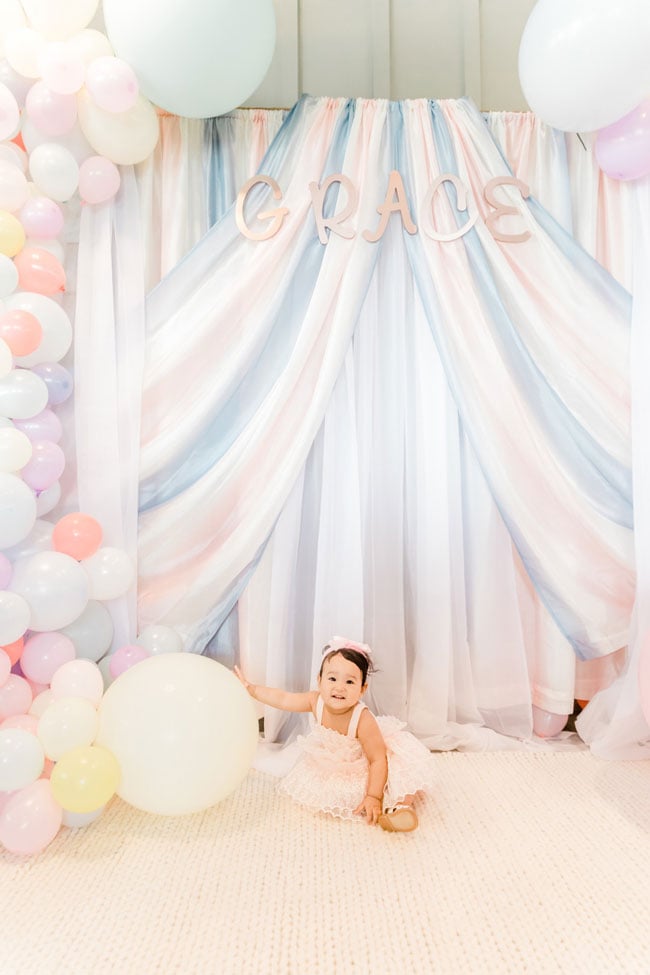 The birthday girl's uncle created this amazing photo backdrop, which photographed beautifully. He even fell asleep the night before the big carnival first birthday party while blowing up all the balloons for the backdrop!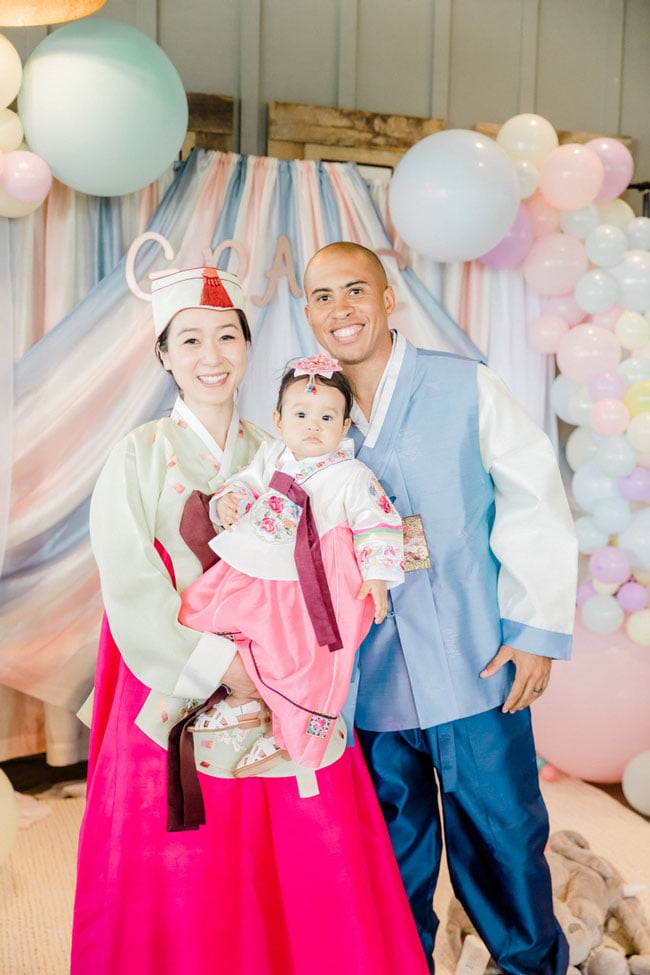 What a beautiful Carnival First Birthday Party, which perfectly included the traditional Korean Dol that the family was so proud of. Everything was perfect for this little girl's special birthday!
Vendors & Credits
Photographer: Peach May Photography
Venue: Food Plenty