Big Top Circus Theme Party
If you're looking for a fun theme for any age, celebrate with a Big Top Circus Theme Party!
This birthday boy is absolutely obsessed by the movie The Greatest Showman. Therefore, it was only a natural fit to throw him a Circus Theme Party for his birthday! Come one, come all, for this great birthday adventure under the Big Top!
Add to this, a mom who goes above and beyond (and may even have a bit of a party planning obsession), and you know the circus party is going to be a huge hit! Some of our favorite details from this Circus Birthday Party include:
The Fun Circus Theme Cake
The Greatest Showman Cookies
Under the Big Top Dessert Table Display
Under the Bog Top Gift Tent
Festive Red and White Striped Circus Theme Table
Circus Theme Party Supplies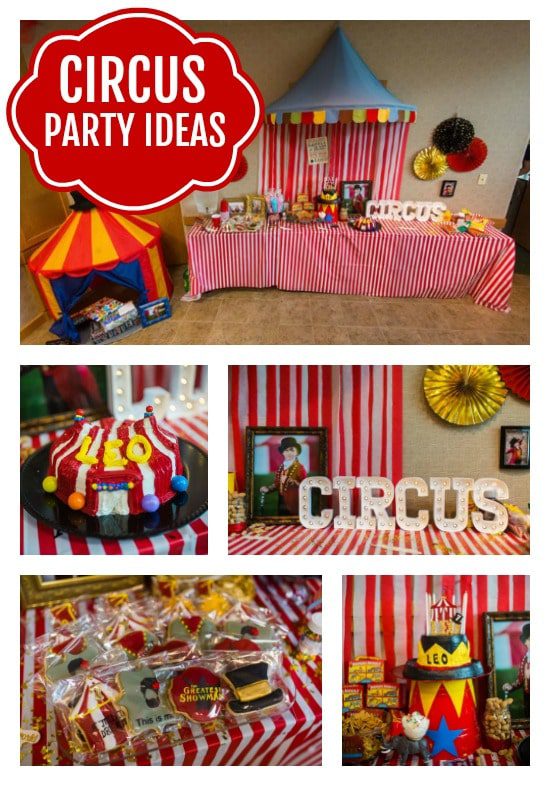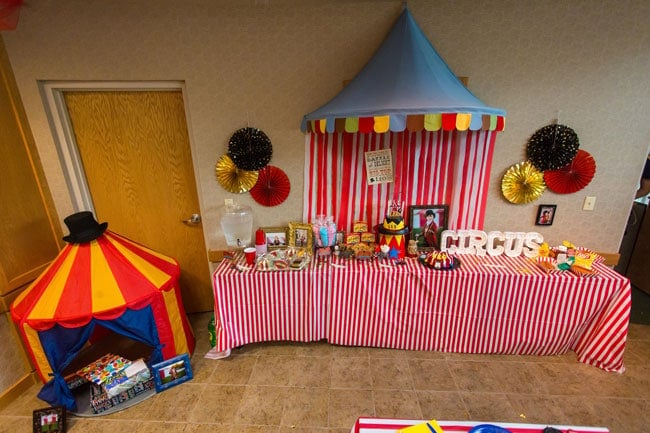 Circus Theme Party
Tiffany of Tiffany Rea Photography (aka… Mom) has always been told that her second calling in life other than photography should have been party planning. There is nothing quite as satisfying as putting all of the details together to create a bigger vision.
Because of her son's obsession with The Greatest Showman, it was clear that this obsession was going to turn into the best Circus Themed Birthday Party ever. We just love how everything came together so flawlessly!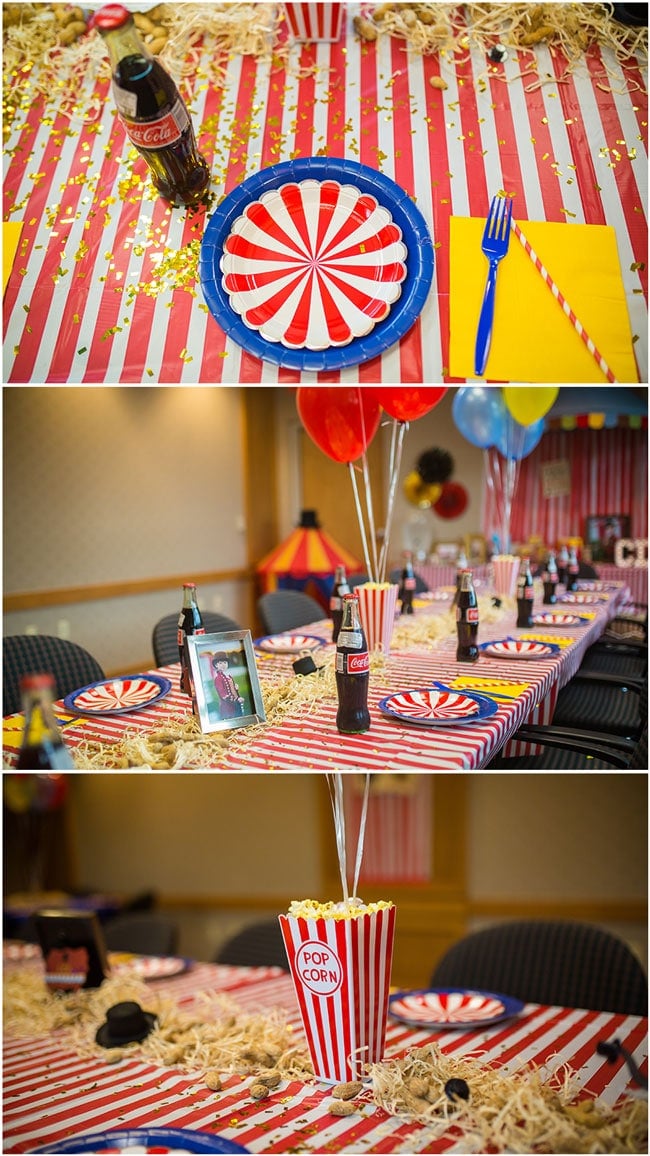 Table settings for all of the guests were perfect in every way! Red and white striped tablecloths came from Party City and worked very well for the Circus Theme Party! Blue plates, yellow napkins, blue cutlery and red and white striped straws were all sourced from Hobby Lobby. It was the perfect way to get those bright, primary colors noticed, too!
One of mom's Circus ideas that was absolutely perfect was using glass bottles of Coca Cola instead of paper cups. Even though it is a bit more expensive to go this route, it really lends the air of authenticity to give this Circus Theme Party a more genuine feel to a real circus! We love it!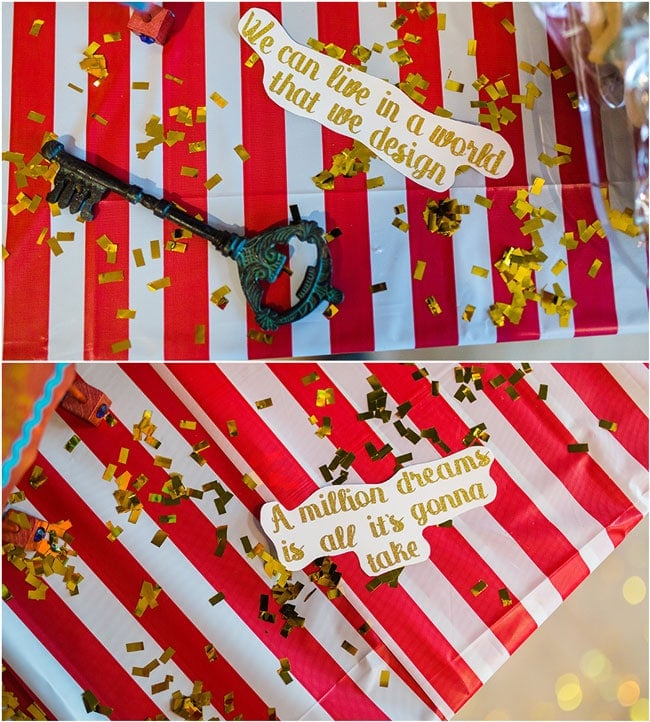 For table decor, things were kept simple, but fun. Gold confetti was used first and was sprinkled across all of the tables, which looked so awesome! We love the shiny color pop the gold provides.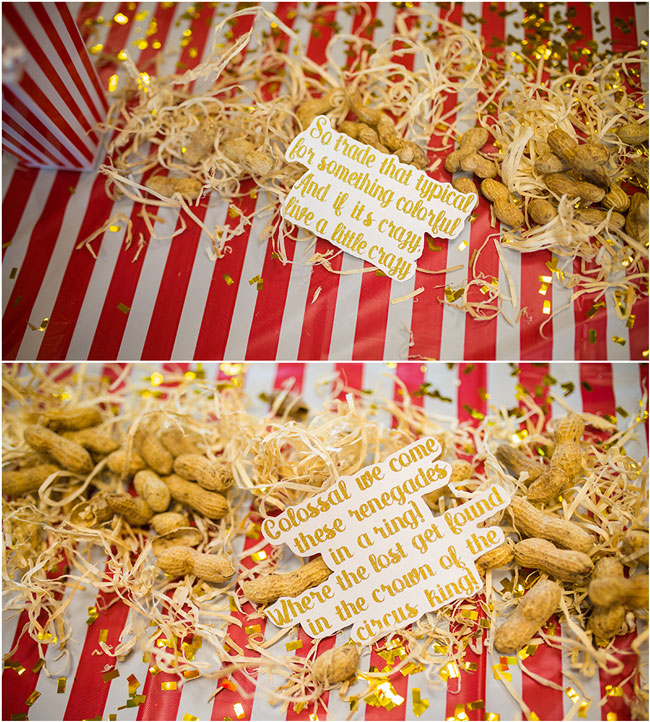 The next touch really set the tone and essence for the tables, and we are in love! Undyed Excelsior Moss was spread across the tables to resemble hay, then peanuts were scattered around it to provide great decor, as well as a fun snack for people sitting at the tables! A fun bonus? The whole room smelled of peanuts, which made everyone feel like they truly were at the circus!
A final touch was added to the tables, which really brought in so much of what The Greatest Showman fans loved about the movie. Quotes from the songs placed around the table! Reves Impressions by HR created the quote "confetti" and it might have just been the best detail about the guest tables!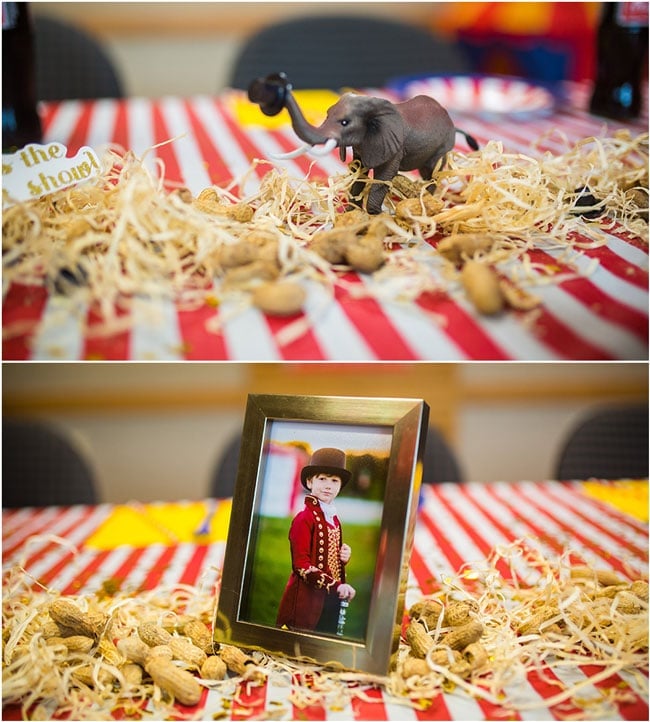 A few 4×6 photos in gold frames of the birthday boy in his fancy P.T. Barnum outfit were scattered across the party to tie in more of the movie. We love the little plastic elephants that were found throughout the event, as well!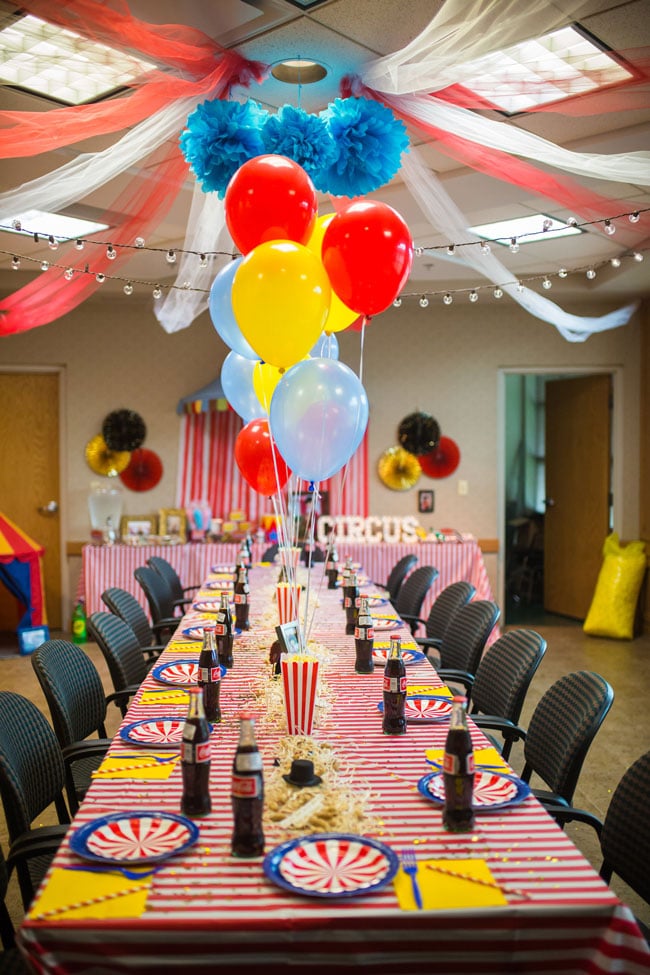 There was A LOT of tulle and balloons used, which created a gorgeous Bit Top effect! About 300 yards of tulle were used to create the "tent" and some puffy tissue paper pom poms were strategically placed to hide the areas where the tulle was tacked to the ceiling. Lights were also strung up to give an extra circus-y effect. And it doesn't feel like a circus party without lots of balloons!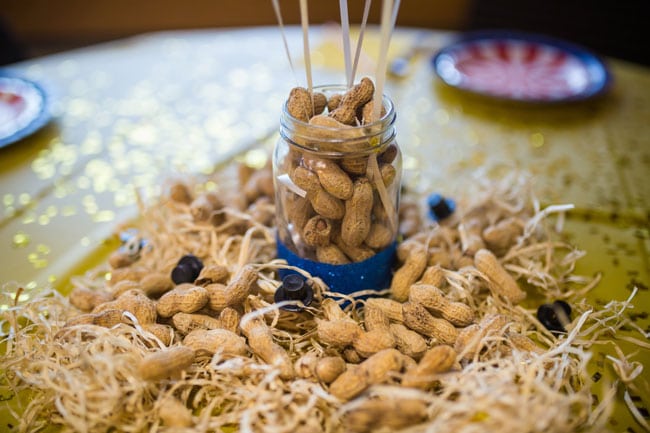 Check out how much this venue was turned into a big top for the day! All of the details that went into it were absolutely perfect and we love the peanuts that were added to the jar full of balloons. What a great way to weigh them down!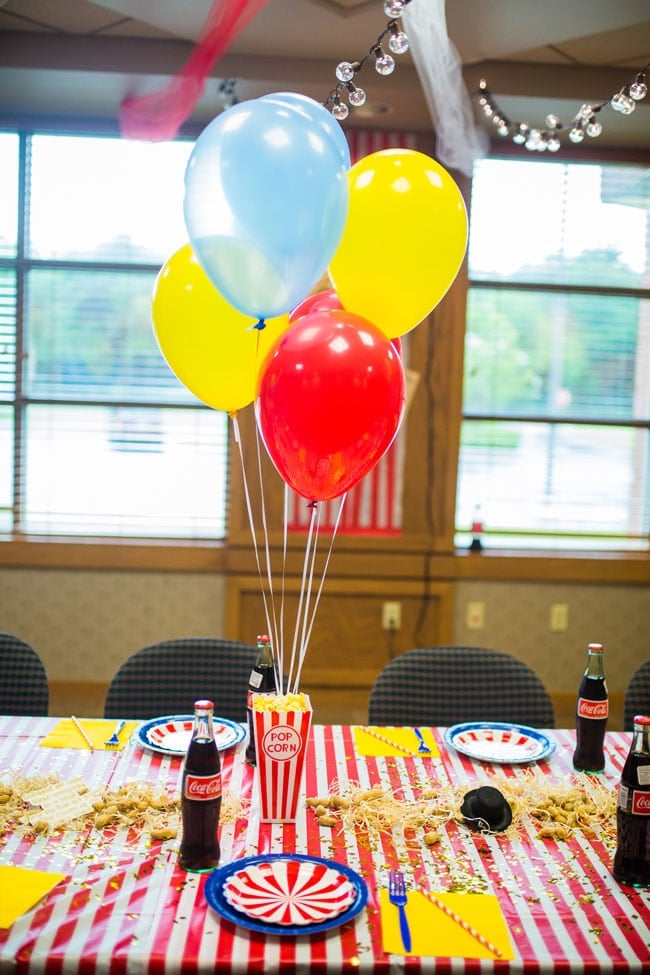 A few small top hats from JoAnne's were scattered around to help it feel like more of a Greatest Showman party, rather than just a circus theme party. Popcorn boxes were also used as centerpieces with balloons inside. After putting the balloons in the popcorn boxes, they were topped off with real popcorn for aesthetic purposes. Brilliant!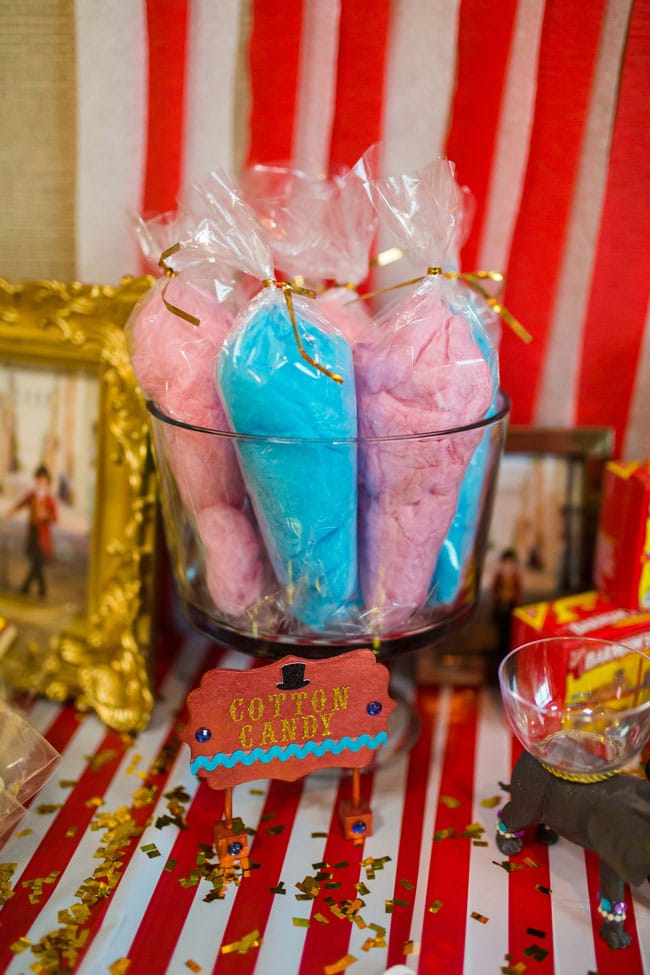 A circus theme party isn't legit unless there is cotton candy to partake in! It may just be the quintessential Circus theme party food!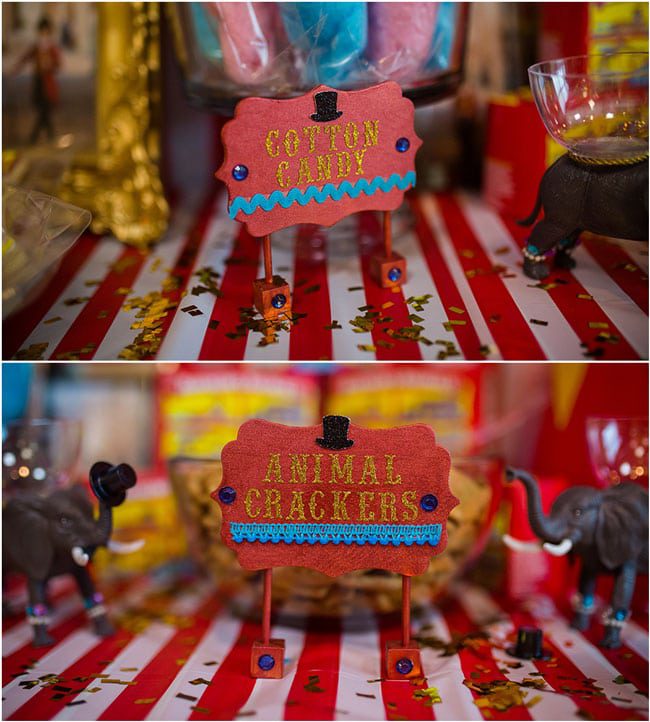 These little signs were put together perfectly by Tiffany Rea Photography. Materials were gathered from Hobby Lobby and Mom did what she does best to put them together perfectly! A metallic red paint was used for the bottom and gold stick-on letters were used for the words. Finish it off with fun trim and it turned out perfect!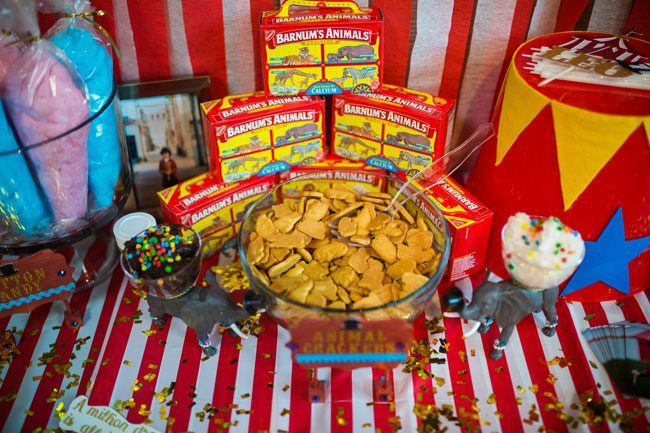 Another fun touch was hosting a movie night for The Greatest Showman. Barnum's Animal Crackers were used, with fun icing on the side. Mom made the icing holders out of toy elephants by gluing small plastic bowls to their back and bedazzling their ankles to make them look more in tune with the circus theme. So fun!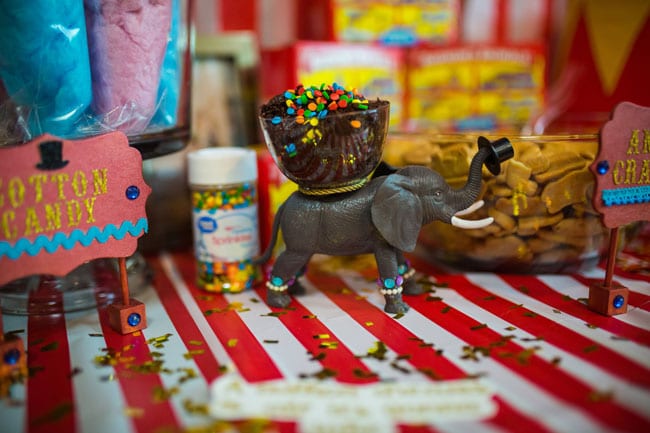 What an amazing job with all of the small, but important DIY projects that were done around this fun circus theme party!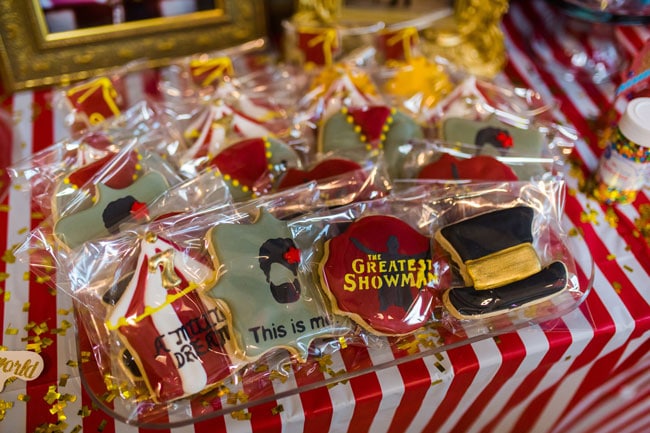 A few weeks earlier, Mom happened to be at a street fair, where she came across a booth with super cute cookies! After chatting a bit, she ordered cookies for the circus birthday immediately! Confections by Cunningham did an amazing job and everyone loved them, with some even stuffing them in her purse to get a couple extra for later!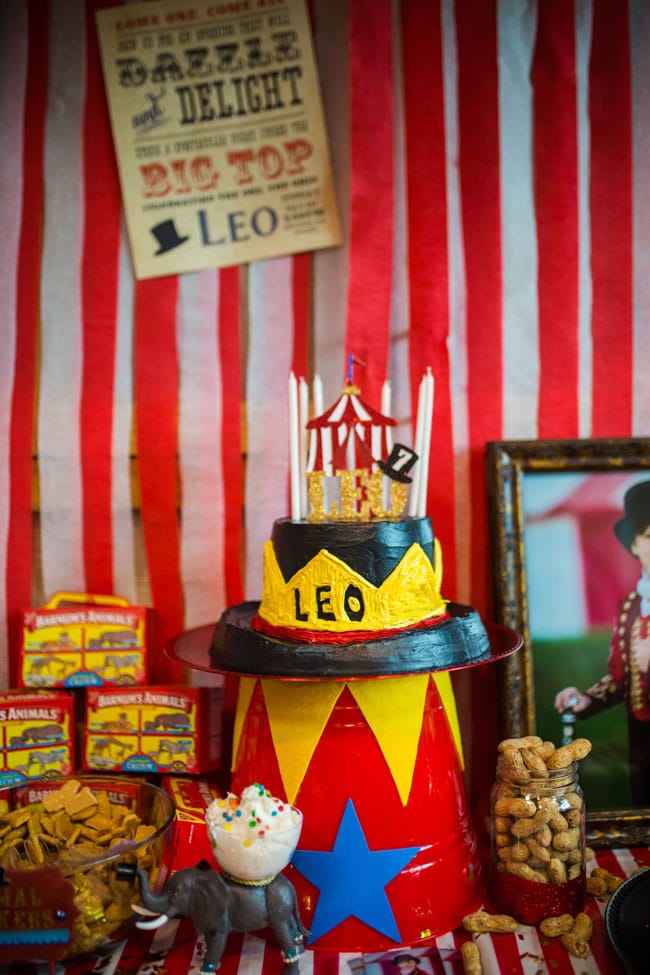 And then there was the Circus theme cake! Absolutely breathtaking! Both cakes, above and below, were created by Cakes by Crazy and they turned out fabulous! What an amazing top hat cake! Mom, of course, went above and beyond with the perfect DIY cake stand, made from a red plastic bucket!
Yellow felt triangles and blue foam stars were used to make it look like a circus elephant stand. A little bit of hot glue was used and voila … a circus cake stand was created!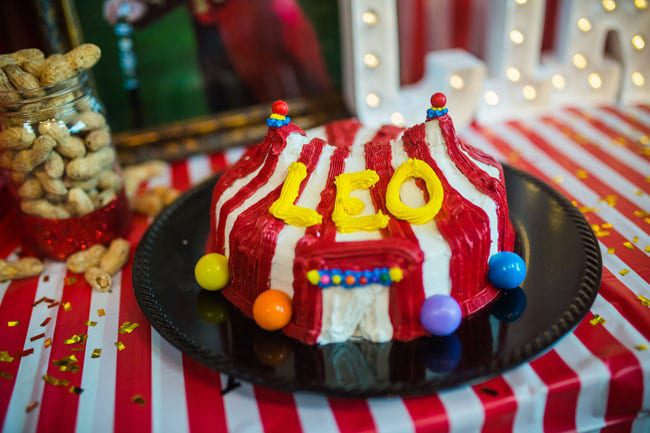 The birthday boy requested a cake to look like a circus tent, which turned out better than anyone could have imagined. How cute!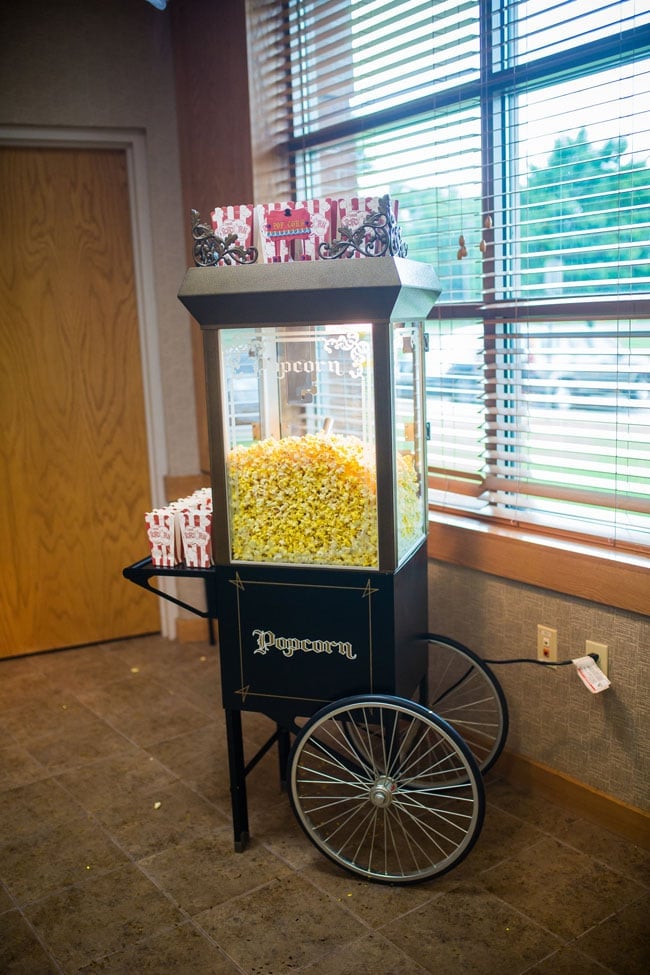 What could make you possibly feel like you were at a circus more than using a vintage popcorn machine from the birthday boy's grandpa?! How perfect!
Food and snacks were kept as circus-y as possible. Hot dogs were served as the main meal and there were also animal crackers, peanuts, cotton candy and popcorn available. It was the total circus experience!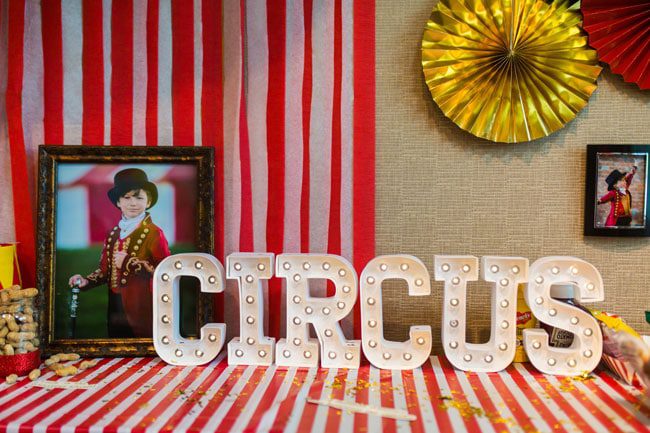 On the food and cake table, fun letter lights were used to spell "Circus" next to a larger photo of the birthday boy. Mom, who is a photographer by trade, had a great idea and placed a stack of wallets of the same photo in front it. This way, guests could take one home with them. We just love this idea!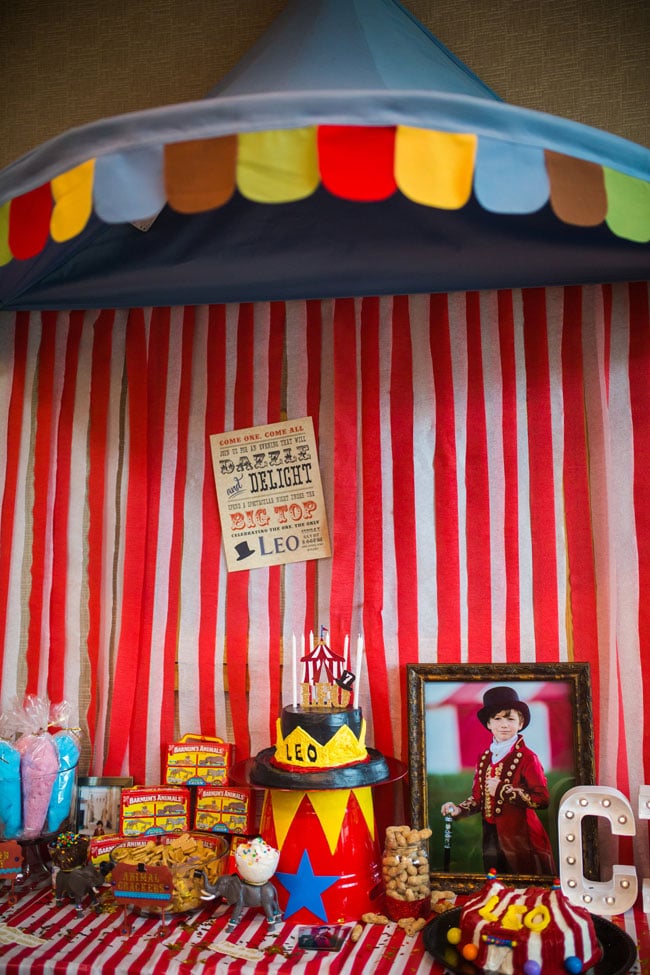 That cake topper is absolutely amazing! Mom designed it in Photoshop, and it was made into a reality by Paper Trail by LauraB. We just love it!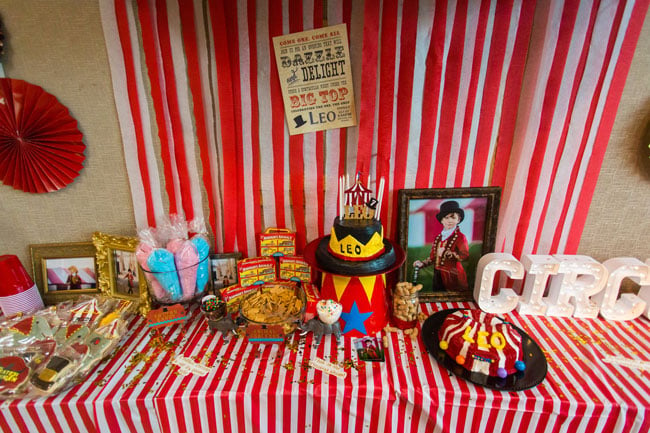 Everything turned out absolutely amazing and couldn't have been more perfect. This little guy will remember this spectacular Circus Themed Birthday for many years to come. When can Mom come over to our house to use all of these great Circus Decoration Ideas for another party?! We're in love!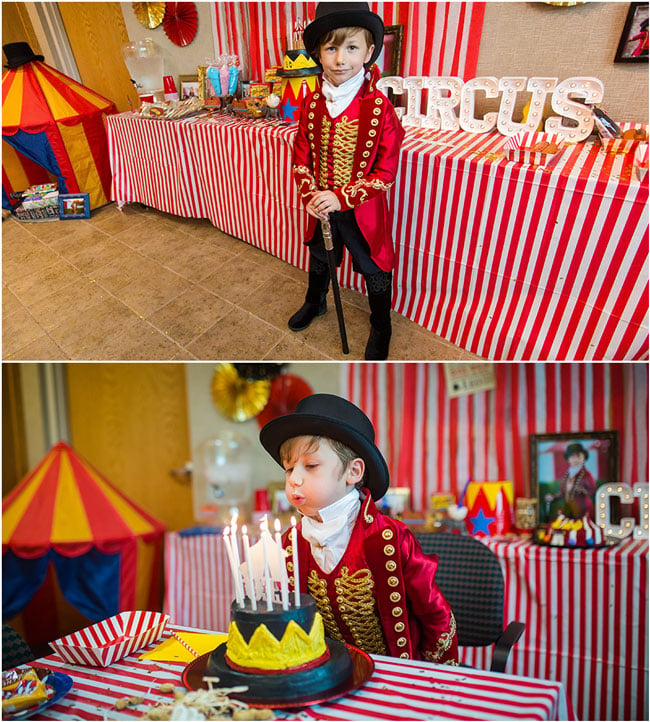 The circus play tent and the overhanging tent that fell over the dessert table both came from IKEA. Who knew?!
This party just exudes fun and you can tell how much fun it was to put it all together. It's always worth it when the birthday boy lights up when he walks into a room! It was turned into the best Big Top, ever! What amazing memories this boy will have that will last a lifetime.
For more party ideas, follow us on Instagram @prettymyparty and Pinterest and join us in our private Facebook group.
Vendors & Credits