Peter Pan in Neverland First Birthday Party
Nothing is quite as special as celebrating a child's first birthday. This Peter Pan in Neverland First Birthday Party is literally bringing dreams to life and we love every single detail!
This little guy's adventures in Neverland start the moment you walk into this Peter Pan Themed Party. You can tell Pixie Dust has been spread magically all throughout the event and we can only imagine how the guests felt walking in and seeing it all firsthand! This Peter Pan in Onderland Birthday Party was brought to life by many creative details including:
Dessert Table Backdrop Greenery with "Onederland" Sign
Peter Pan, Captain Hook and Tinkerbell Cutout Decorations
Custom Terrarium Centerpieces including Pixie Hallow, Crocodile Creek, Mermaid Lagoon and Skull Rock
Refreshments creatively named Pixie Punch and Pirate Punch
Cannibal Cove Hideout with treasures for guests to take home
Green and Gold Watercolor Cake with Leaf Cake Topper
Indian Camp, Complete With Tepees, Rugs and Cushions
Peter Pan Decorations and Party Supplies: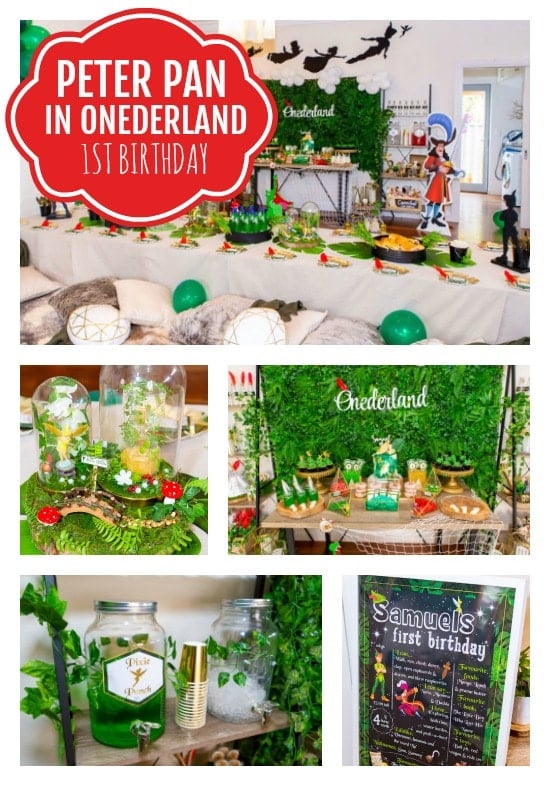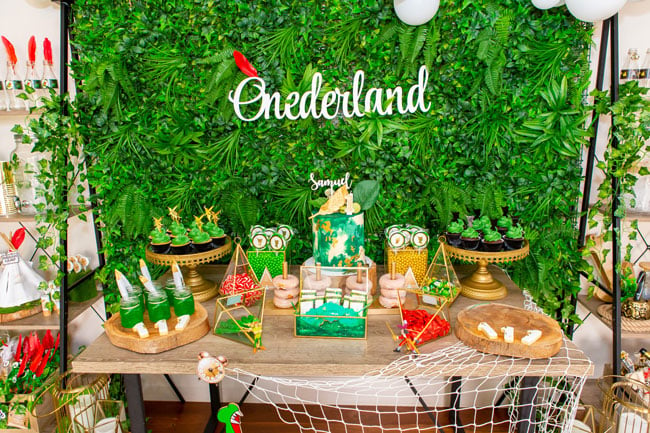 Peter Pan in Neverland First Birthday Party
When you're lucky enough to have a Peter Pan First Birthday, why would you even want to get any older?! This little guy may just want to pretend he's Peter Pan forever after this amazing Peter Pan Birthday!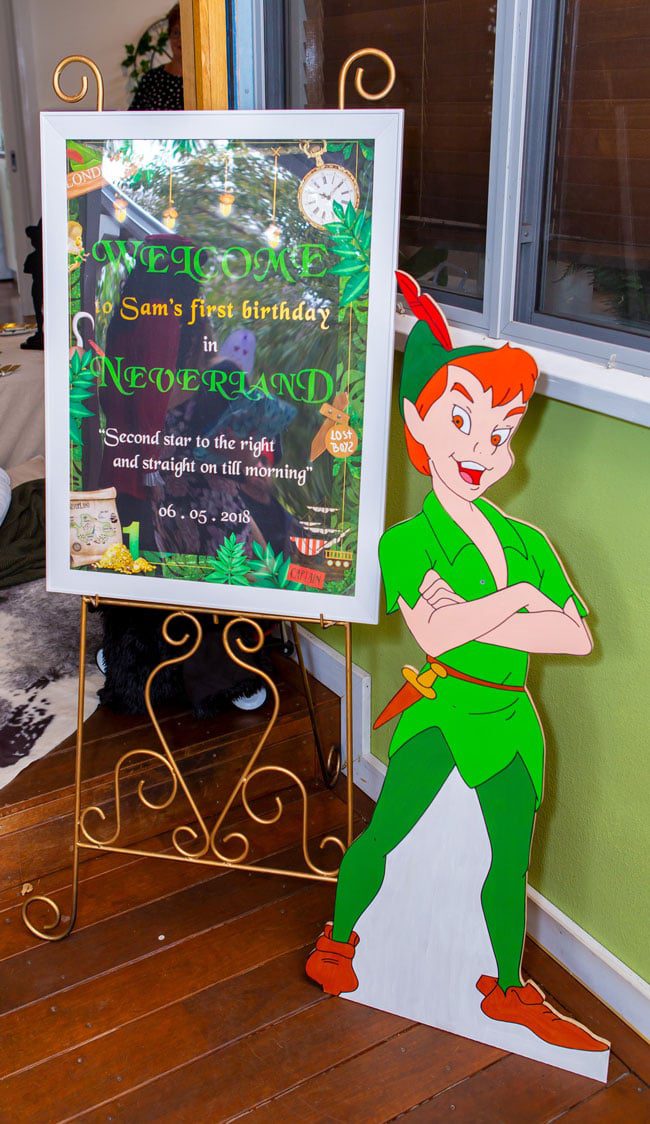 A wonderful Peter Pan cutout sign greeted guests as soon as they walked in. Sassy Snaps Plus, which this little guy is lucky enough to call "Mom", did an amazing job with every little detail that was used in this birthday celebration. Just look at those amazing Peter Pan Decorations!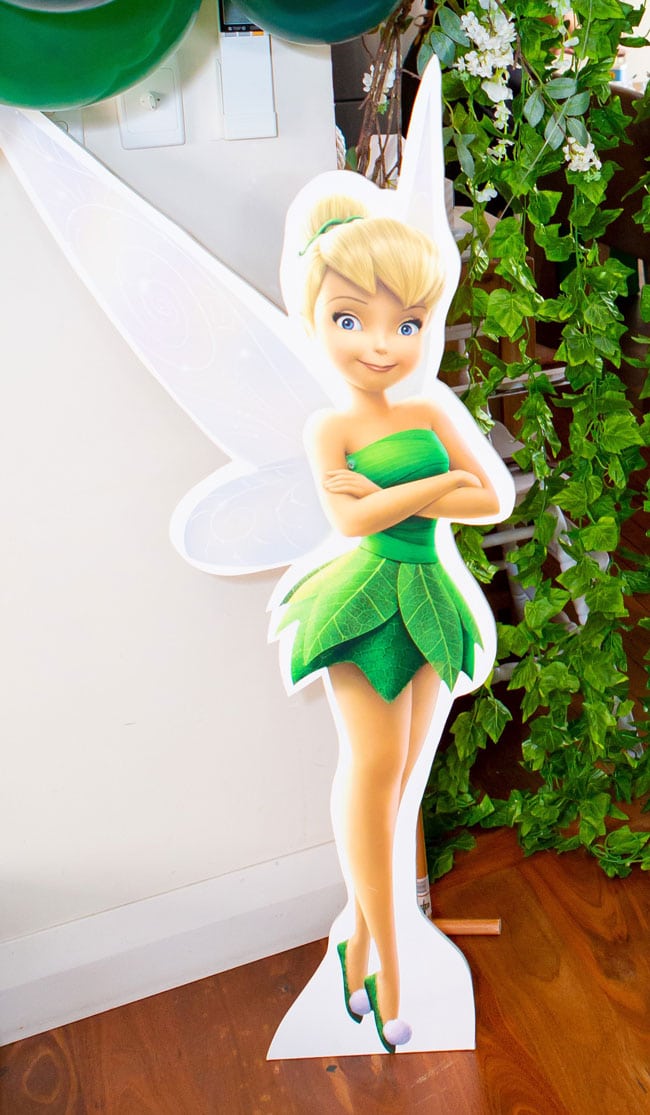 The entrance to the party contained a display of vines hanging from a branch, along with a Tinkerbelle standee to greet guests at Tinkerbelle's Hideaway! All of the character cut-outs seen at the Peter Pan in Neverland First Birthday Party were created by Nicole's Party Creations. They all added to the magic of the party setting.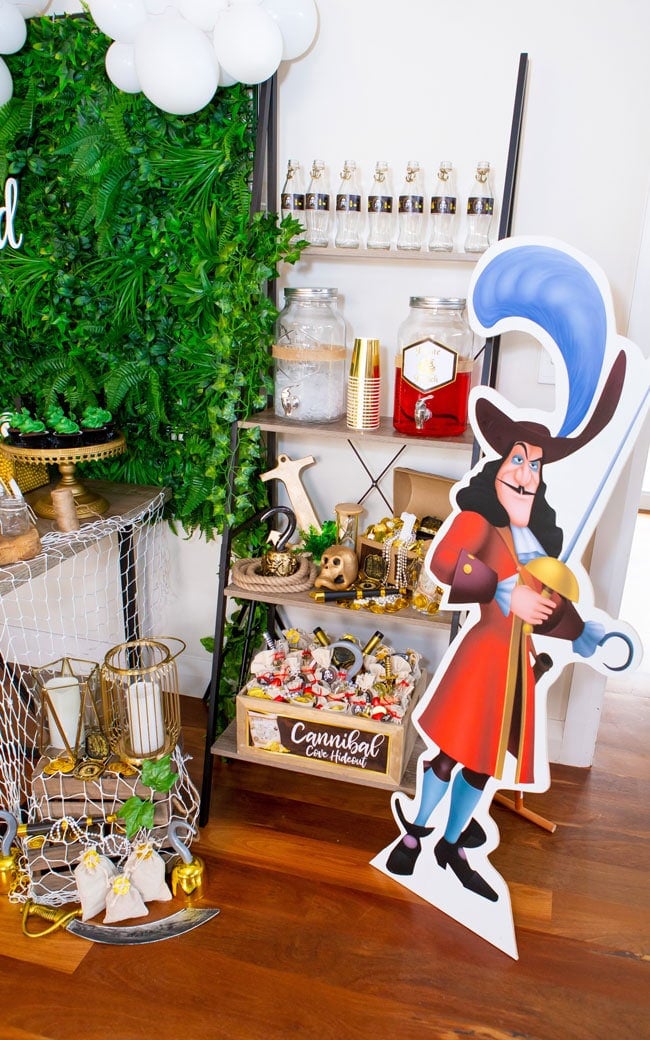 Different areas were created throughout the party, with amazing decor everywhere to be found. Captain Hook got in on the action, as well, and had his own fun treasure that he protected from all of the party guests! Don't get in his way!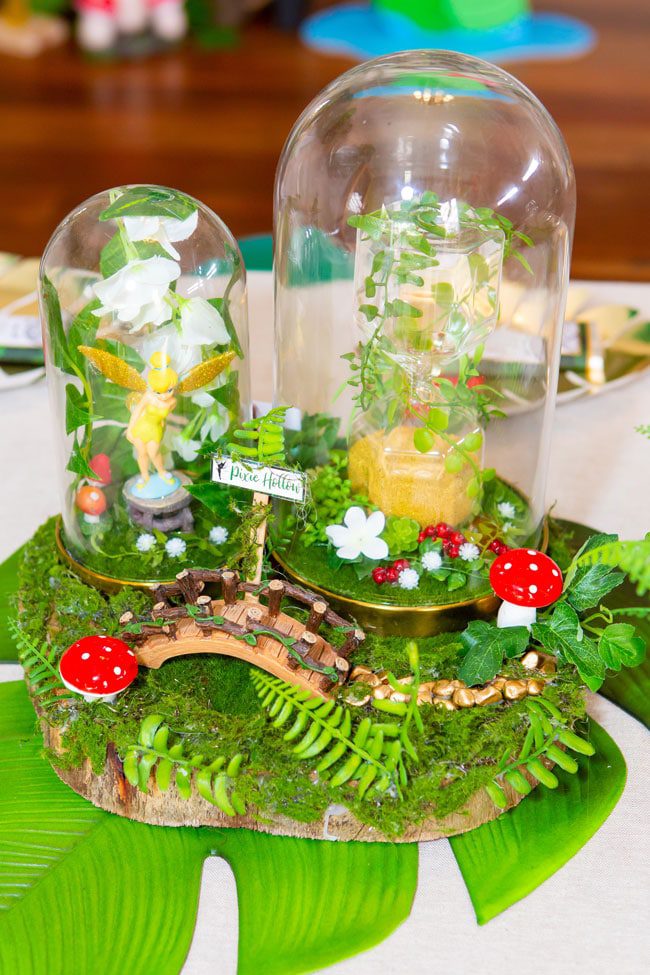 Custom terrarium centerpieces also brought to life some of the key locations of Neverland. These are absolutely incredible! Just look at Pixie Hollow!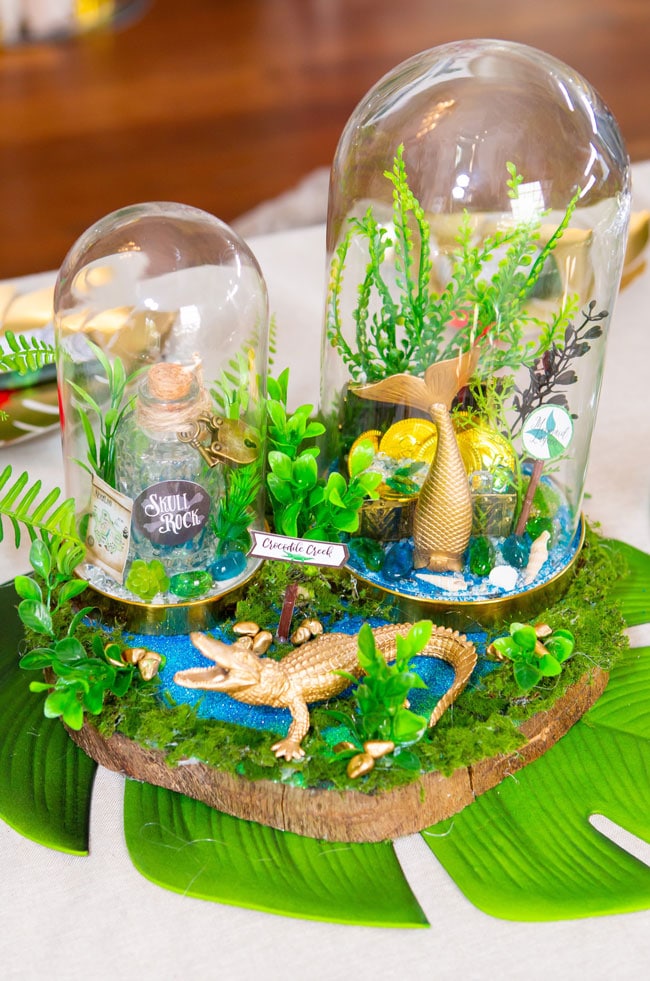 The custom terrarium centerpieces also included Mermaid Lagoon, Crocodile Creek and Skull Rock. These are so beautiful and a great way to include the Peter Pan Theme into even more areas of the birthday party!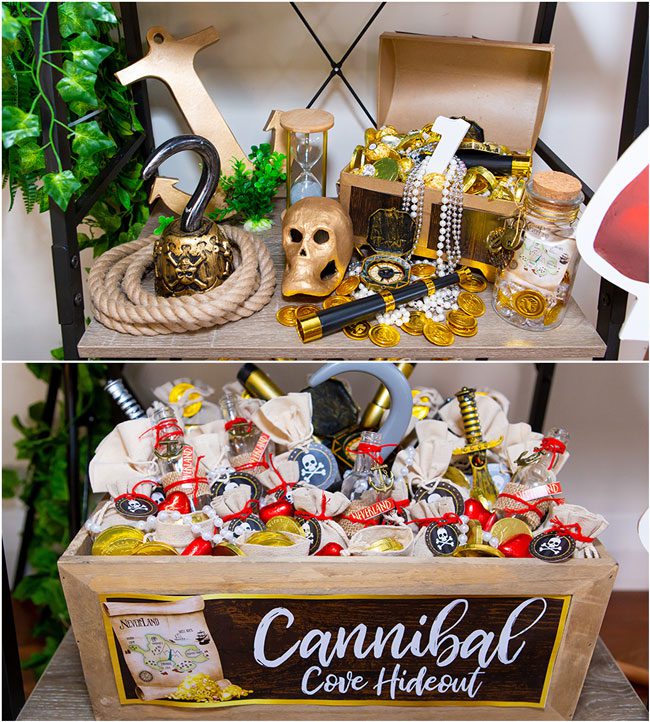 Cannibal Cove Hideout looks like it had a lot of great buried treasures for everyone to find! It included great party favors for everyone to take home at the end of the fun Peter Pan Birthday Party.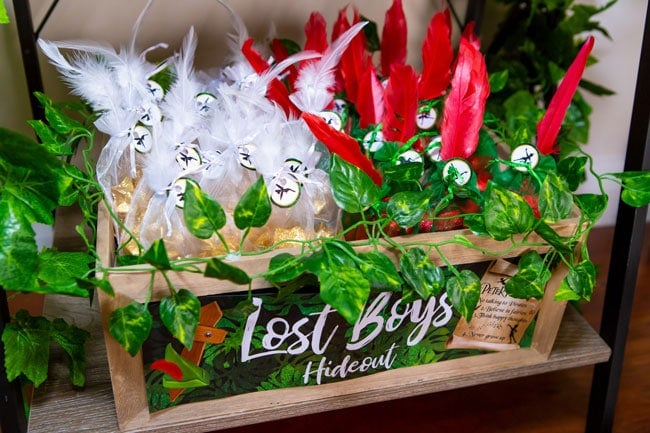 Even more party favors were available for all of the party guests, thanks to the pirate maps that would lead them to the chocolate treasures in these goodie bags! Yum!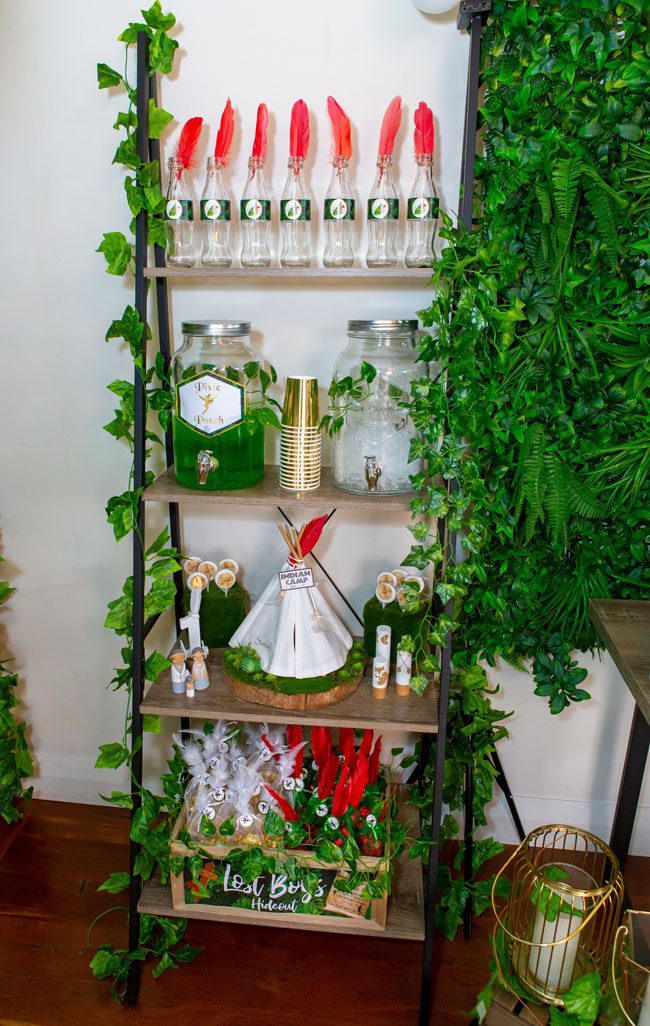 What a cute way to set up drinks for the Peter Pan in Neverland First Birthday Party. We just love all of the great Peter Pan Decorations that were seen all throughout the party.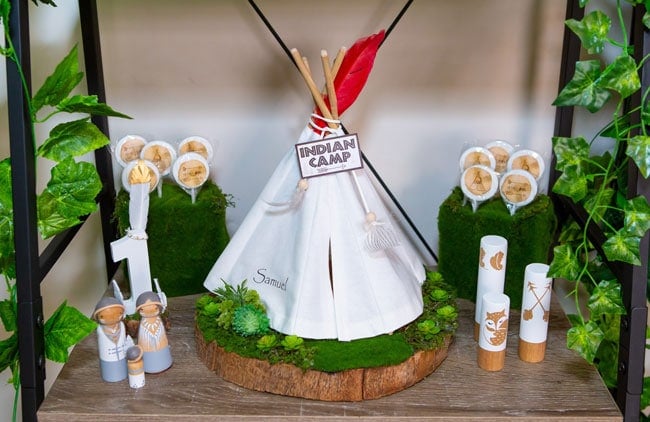 Phoenix Tribe created this amazing mini teepee that was used as decor around the drink station. We also love the little totem pies by Twine and Twig, along with the Indian Peg Dolls created by The Ginger Kids Co. How fantastic! It will be a great keepsake to play with in the future, as well!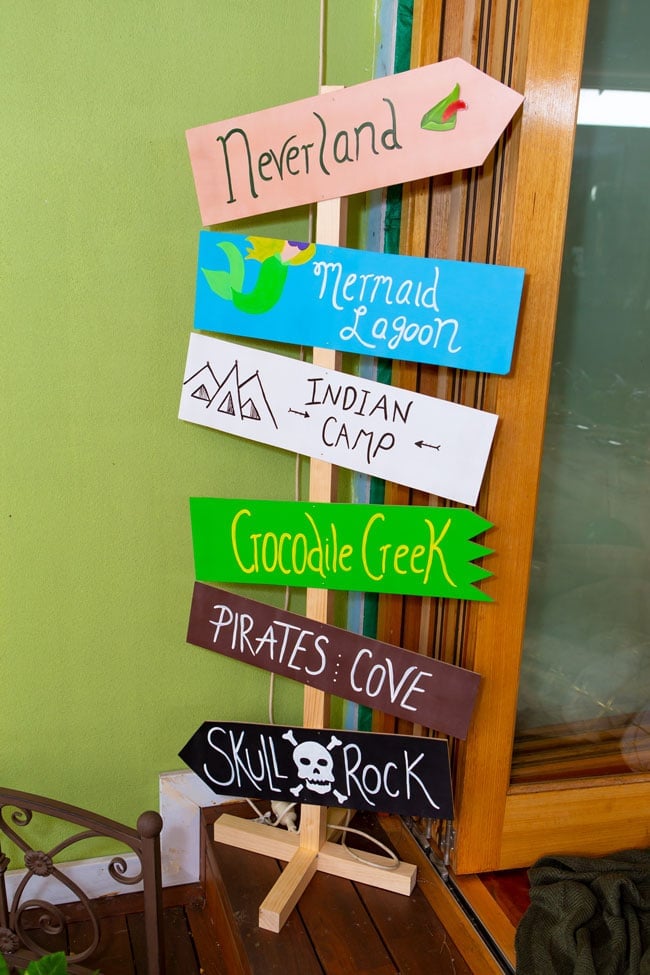 Of course, you have to make sure everyone knows where they are going when they walk in to the fun Peter Pan in Neverland First Birthday Party! Luckily, this sign pointed everyone in the right direction to where all of the fun was to be had!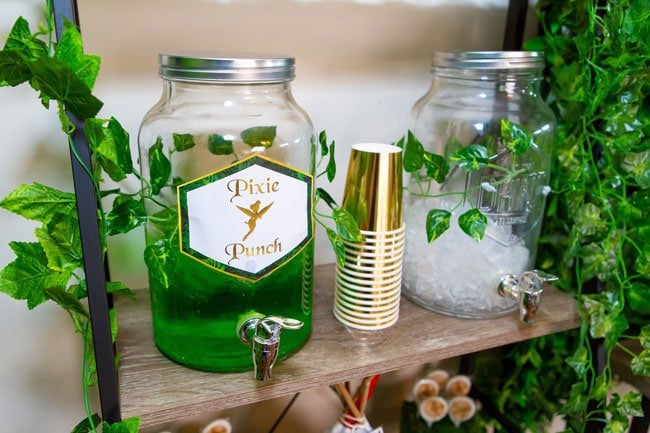 Pixie Punch along with some ice was available for anyone who was interested in partaking in a little treat from Tinkerbell! It was a hit!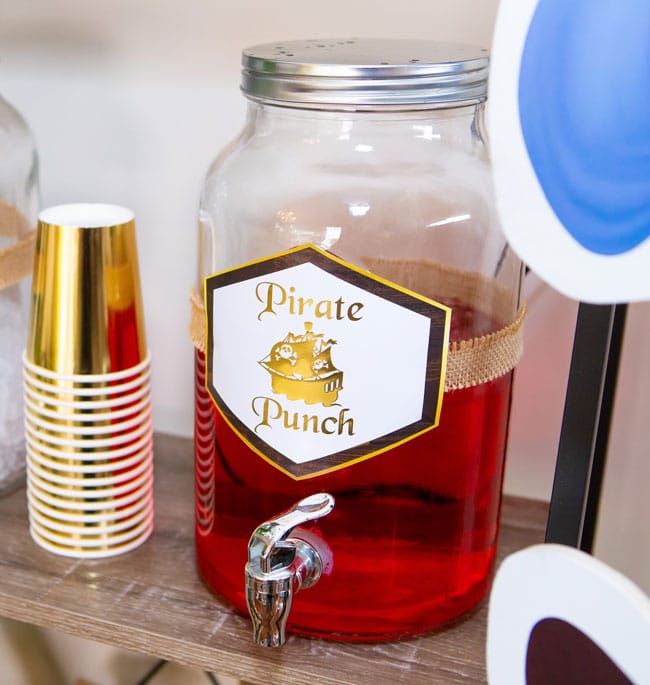 For all of the party guests who were looking for something with a little bit more kick, the Pirate Punch hit the spot! Arrrr – Matey!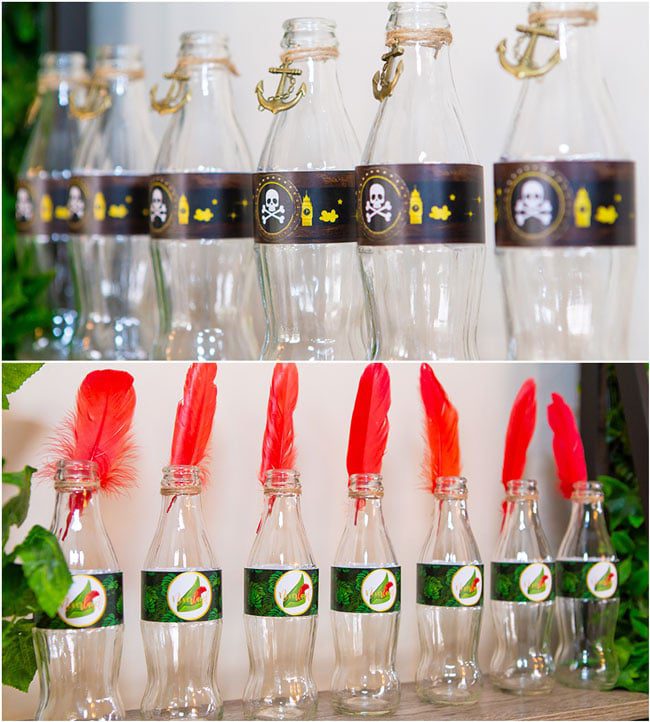 Look at these great bottles that were decorated with Peter Pan feathers and pirate skulls. Good versus evil, which would you choose?!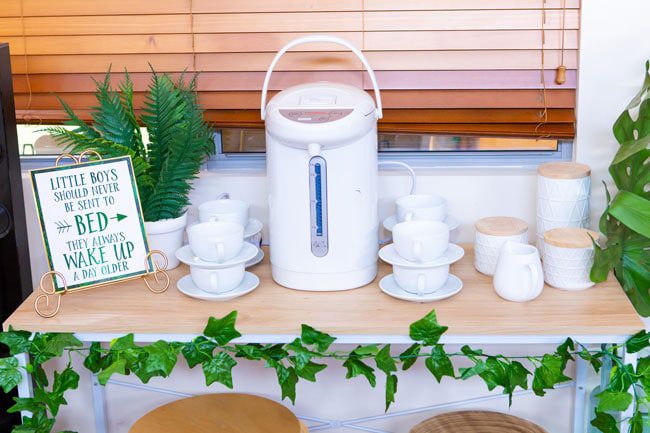 For all of the parents who needed that extra jolt of caffeine, there was also a coffee station set up to bring everyone back to life after all of the fun of the Peter Pan Birthday Party!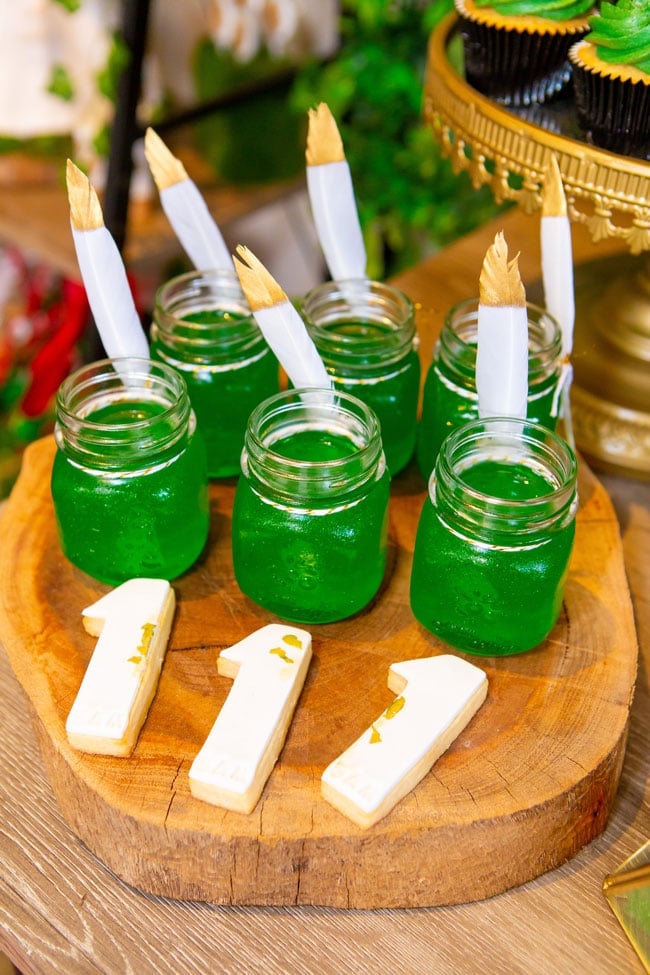 In addition to all of the desserts, little green jello containers were available for everyone to enjoy. We also love the wooden slices that were used for servingware, as well.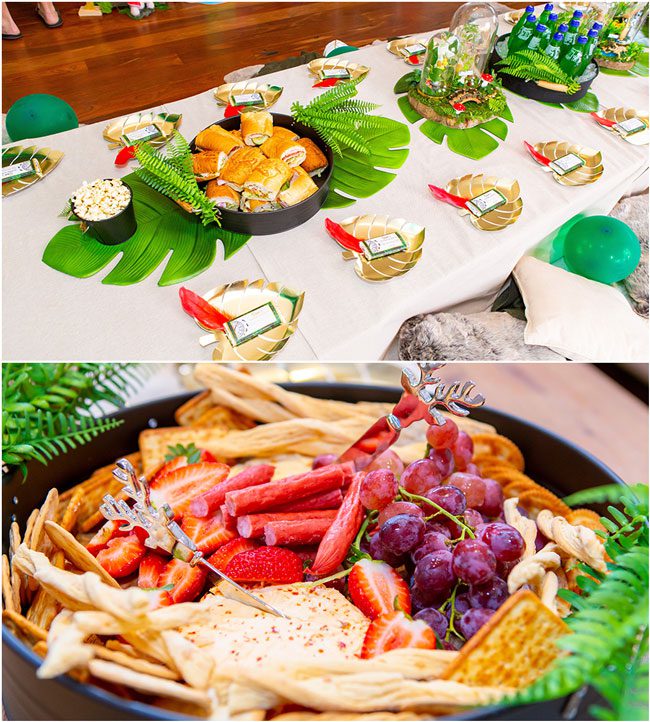 When you have the best Peter Pan Decorations around, it's easy to go with subway catering the lunch. What a simple, yet effective way to feed everyone at the Peter Pan in Neverland First Birthday Party!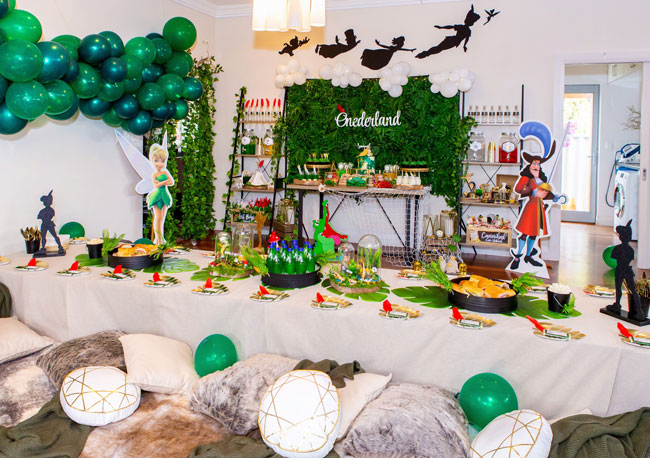 The main table, surrounded by cow hides and faux fur rugs and cushions, helped to create a Lost Boys sit down lunch space. All of the birthday guests loved being able to sit on the floor to dig into the yummy birthday lunch. What a fun way to add a little touch of extraordinary to the Peter Pan First Birthday!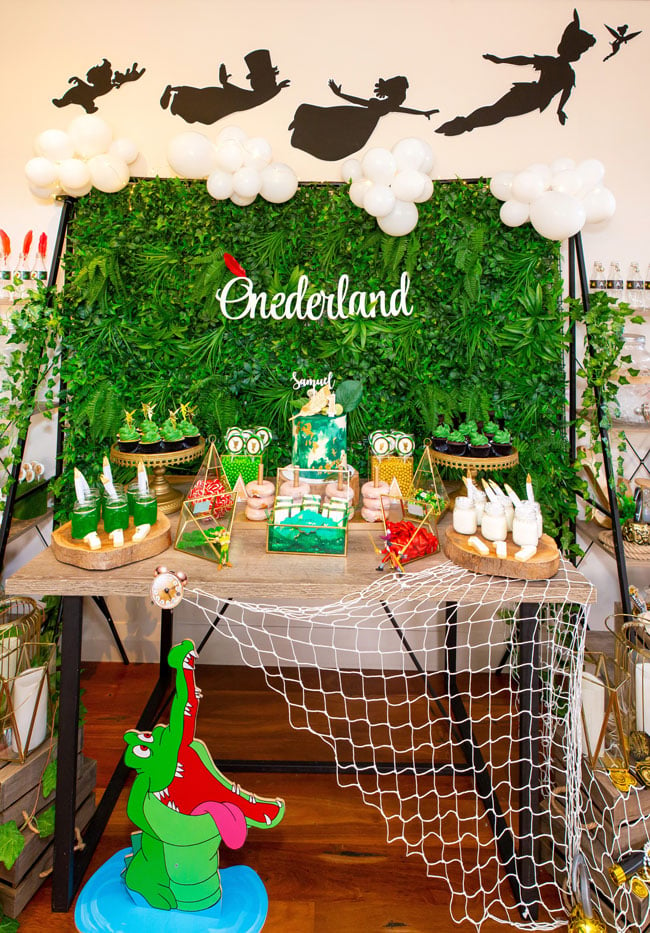 The green wall with a 'Onederland' plaque, created by Bubz and Co, was the backdrop for this table display. Cloud shaped balloons were soaring above, where you can spot Darling children and Peter Pan silhouettes flying around. We just love those silhouettes!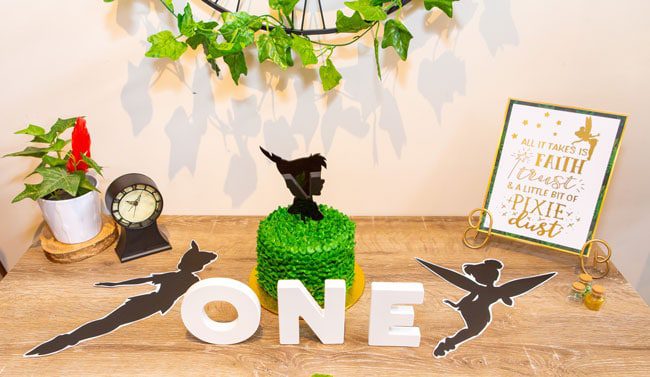 What kind of Peter Pan in Neverland First Birthday Party would it be without a smash cake?! What a beautiful table set-up with wonderful Peter Pan Decorations that surrounded the cake. This little guy couldn't wait to get his hands on that smash cake!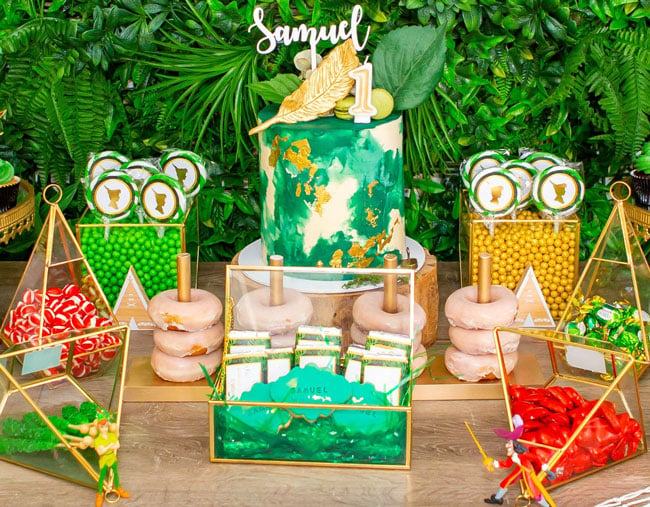 The dessert table was packed full of sweets and treats for everyone with a sweet tooth. The candy table certainly was a sweet treat for all of the kids and adults, alike.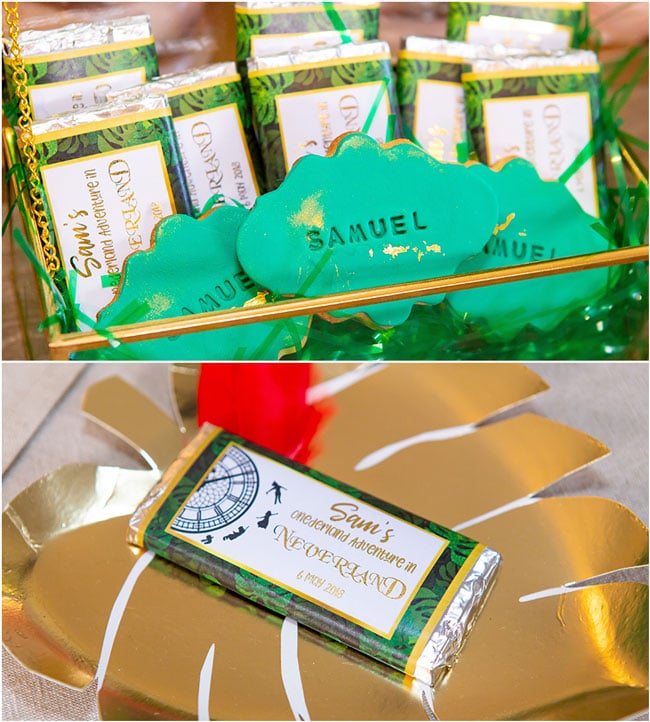 Chocolate bars were even available for everyone to pick up. Personalized wrappers were used to celebrate this little guy's first birthday. Everyone had to grab one to remember this special day and they loved it!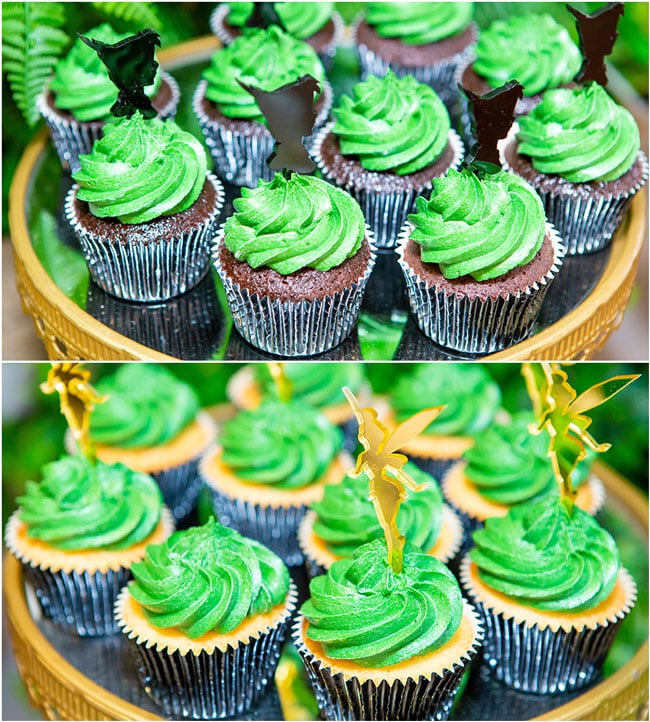 Cupcakes were simple, yet oh, so cute! Nothing was forgotten on this dessert table and the Tinker Bell and Peter Pan cake toppers were the perfect final touch, which were created by XOXO Designs!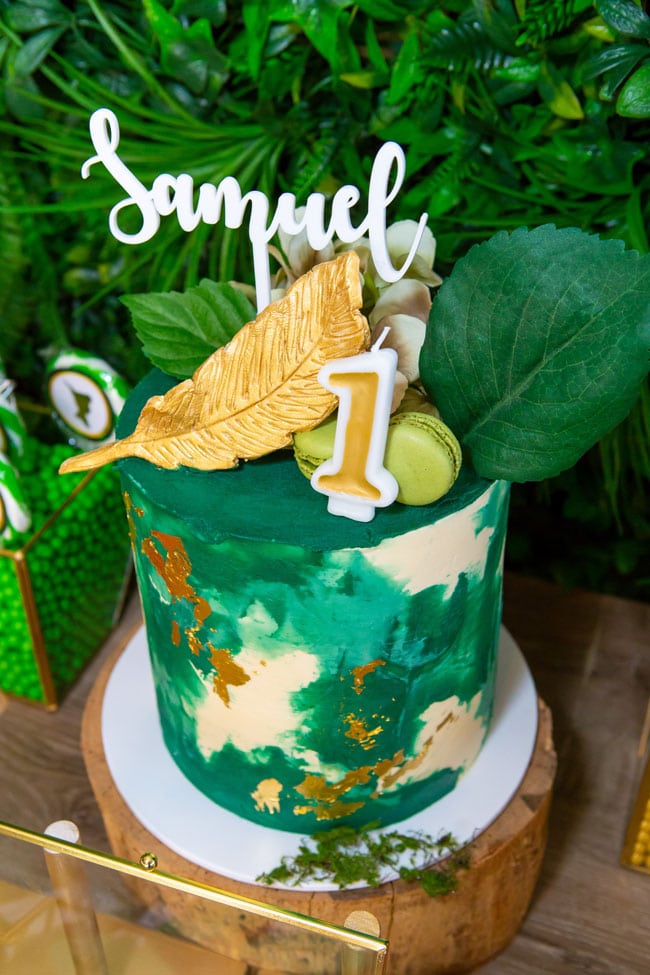 Cakes by Desiree created the perfect Peter Pan Theme cake! It just feels like you are flying through a canopy of trees right along with Peter Pan when you look at this brilliant cake! And of course, we are absolutely in love with the cake topper found on this big boy's birthday cake. Bravo!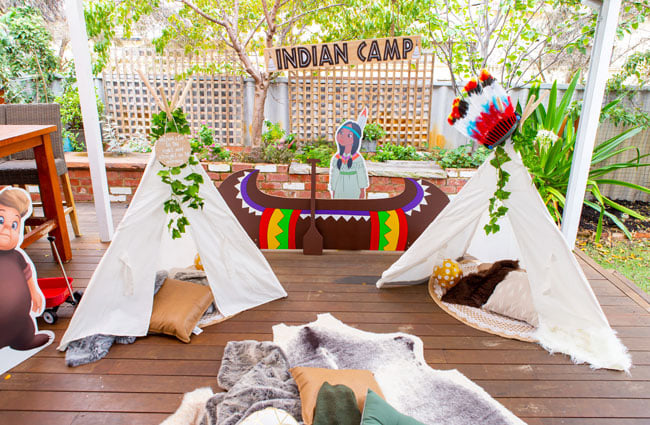 Outside, an Indian Camp was set up, complete with tepees, rugs and cushions. There was also a canoe standee with Tiger Lily. This space was created with the kids in mind to play comfortably during the party.
We absolutely love the teepees and all of the fun rugs and cushions that were available for the kids to get comfy. What a great idea!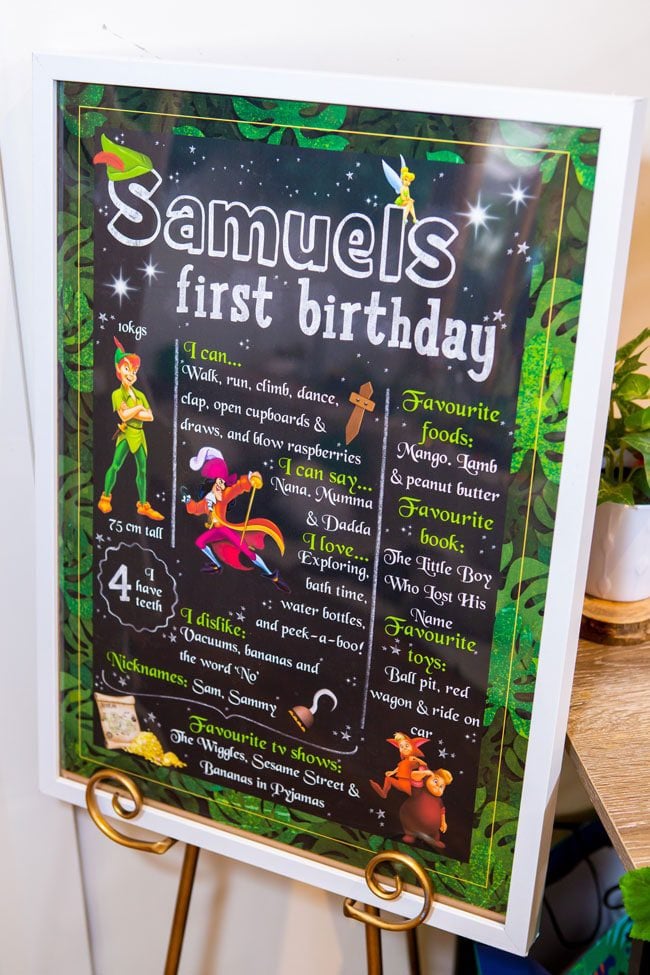 Of course, no first birthday party is complete without looking at all of the milestones! It's so fun to look back on these signs in the future. It's great to see what the birthday boy's favorite things were when he was one! Time goes by so fast!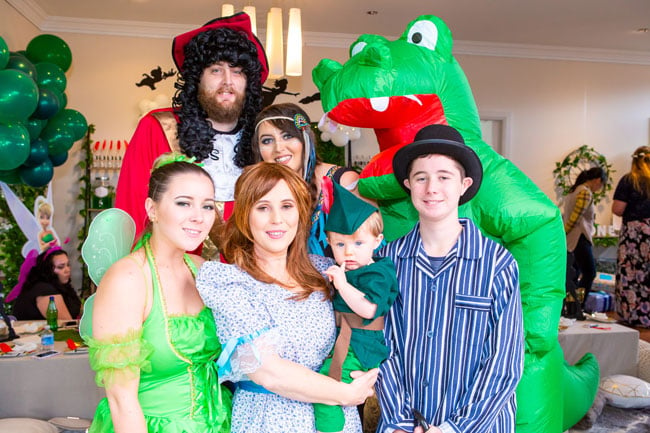 It wouldn't be a good Peter Pan in Neverland First Birthday Party if everyone didn't get in on the action! The entire family dressed up to be a part of this guy's big day. We just love it!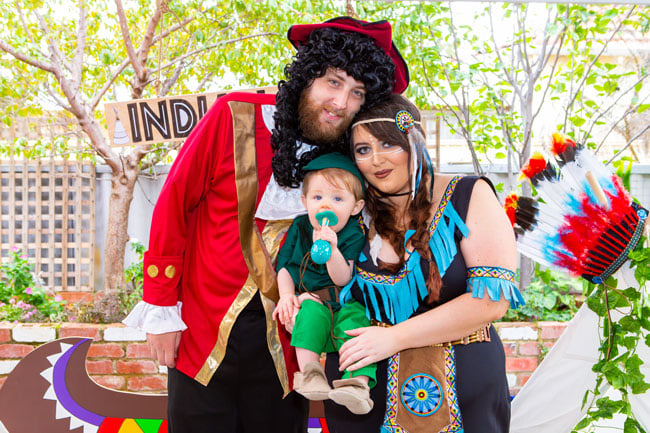 Mom and Dad went all out! Great job with the outfits. You truly made this Peter Pan First Birthday come to life in the best possible way!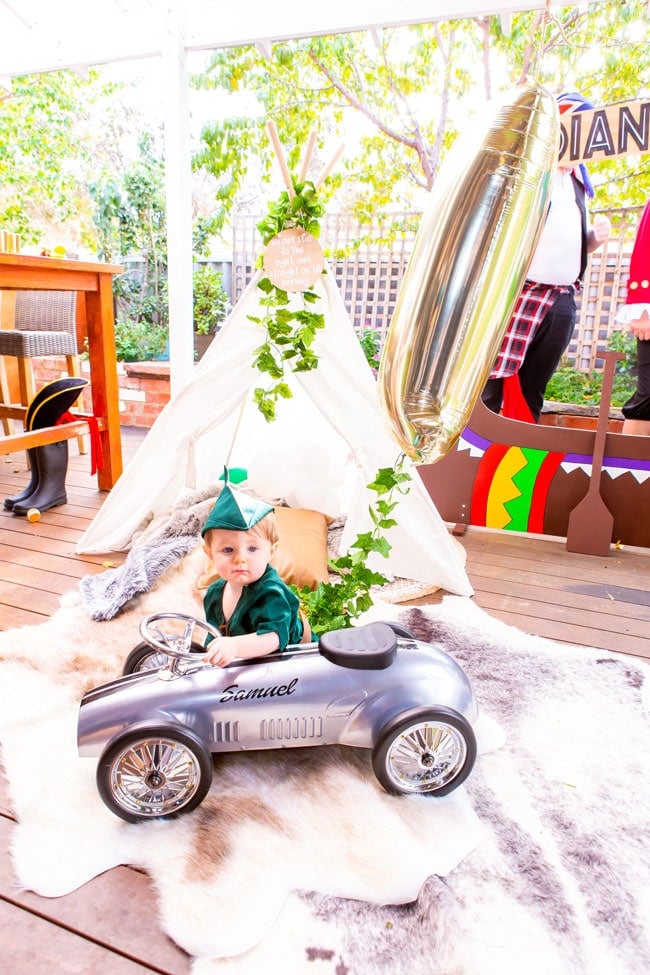 This little guy's adventures in Neverland were things that dreams are made of! We still can't get over his adorable Peter Pan outfit from
Little Royals Co. He may not remember all of the details of this sweet day, but he's going to love looking back on all of these fun pictures in the future to see how much he is loved!
Vendors & Credits