Fun Quarantine Party Ideas
Celebrating a party during quarantine? It's possible! Here's some fun Quarantine Party Ideas when you're on lockdown!
Who says you can't celebrate major milestones in your child's life because of the COVID-19 (Coronavirus) pandemic? These Fun Quarantine Party Ideas are just what you need to make light of the situation.
While it's important to prioritize safety above everything, it's also essential (to our sanities!) to make sure that your child, and your entire family, still get a semblance of normal life during these difficult times. Throwing a safe corona party or quarantine themed birthday party in the safety of your own home is an excellent way to celebrate your kid's or teen's birthday while staying at home and practicing physical distancing.
A super mom with super ideas, Kylie Najjar made the most of the lockdown while keeping her family safe at home by staging a fun quarantine themed photoshoot and simple birthday party with cake and dancing. After posting an adorable photo of her one-year old with a quarantine birthday banner behind him and some hazard tape for decorations, her idea went viral on Facebook and Instagram! She was even featured on the media for her creativity!
Keeping that in mind, there are so many ways for you and your kids to have a fun birthday celebration even if you had to cancel their birthday party with friends. From virtual parties to birthday parades, more and more people are coming up with wonderful ideas to celebrate and share the joy while still keeping safe.
While this situation is scary, it's okay to poke fun at what's happening in the world right now to lift everyone's spirits. Check out the photos below for some awesome quarantine party ideas that practice safe social distancing!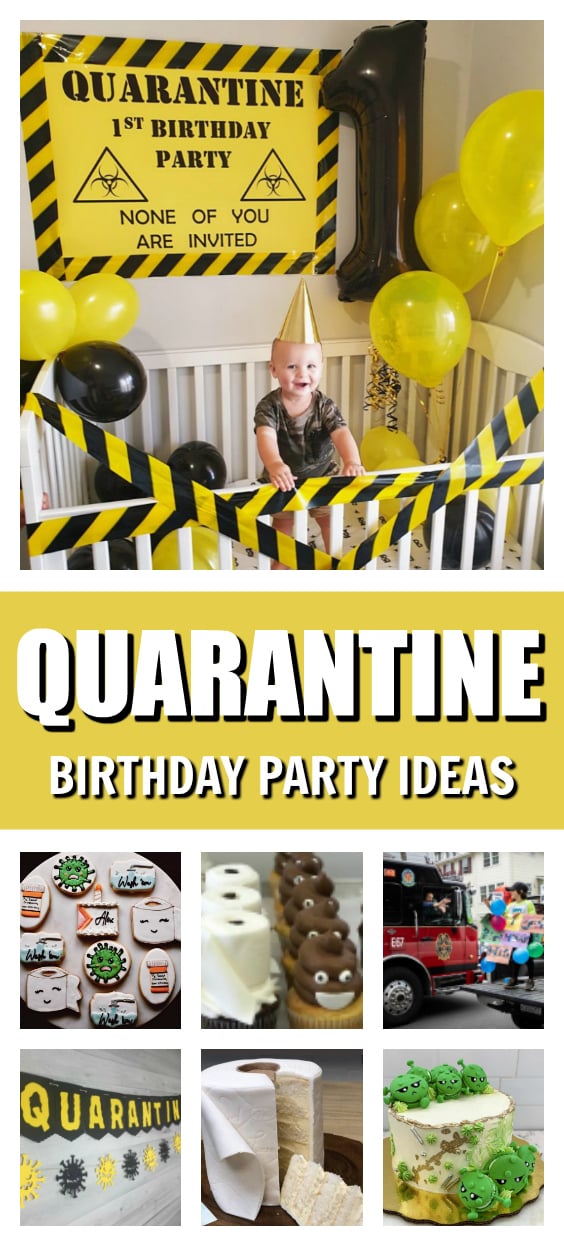 Quarantine Birthday Party Ideas
Quarantine themed birthday banner with fun, witty messages

Clever use of hazard tape for decorations

Encourage friends and family to make video birthday cards

Have a virtual birthday party through Zoom or Houseparty

Send out virtual invitations to your online party

Enjoy some interactive fun with kids such as baking and dance parties

Have a birthday parade with handmade signs from friends and family or get your local police and fire departments to conduct a parade

Stage an online karaoke party

Setup up online board games and video games that your kid can play with friends without leaving home

Host an online watch party for your kid to watch movies with friends

Incorporate quarantine themed desserts like a toilet paper cake, poop emoji cupcakes, etc.
Get a fun ball pit or small bounce house for some indoor or outdoor fun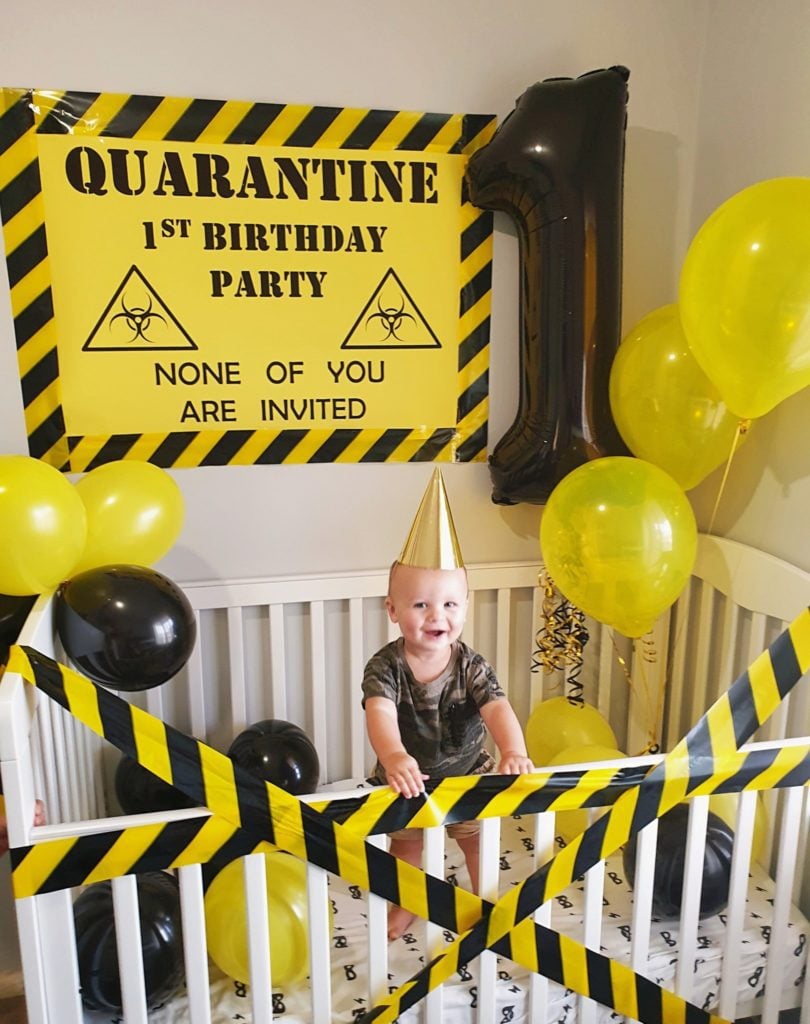 Quarantine in style with these fun party decorations.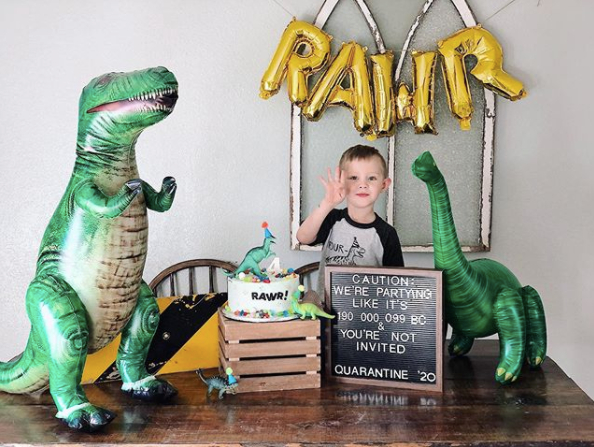 Set up a fun mini photoshoot at home like this adorable Quarantine Dinosaur Party.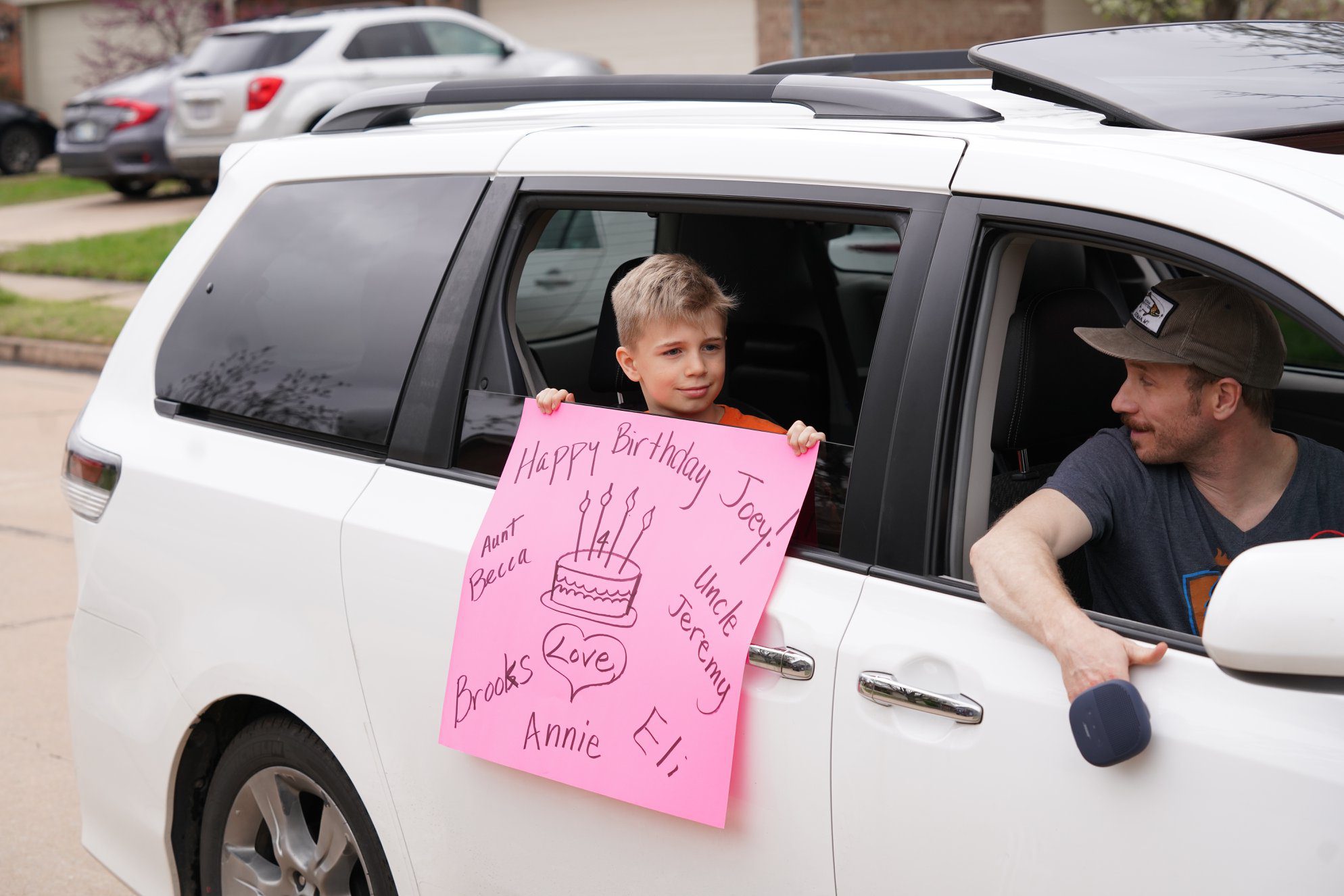 Plan a neighborhood birthday parade with signs and balloons.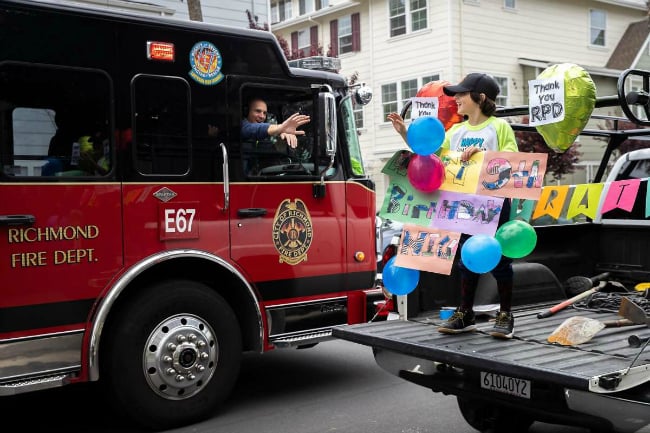 Plan a birthday parade with your local fire department.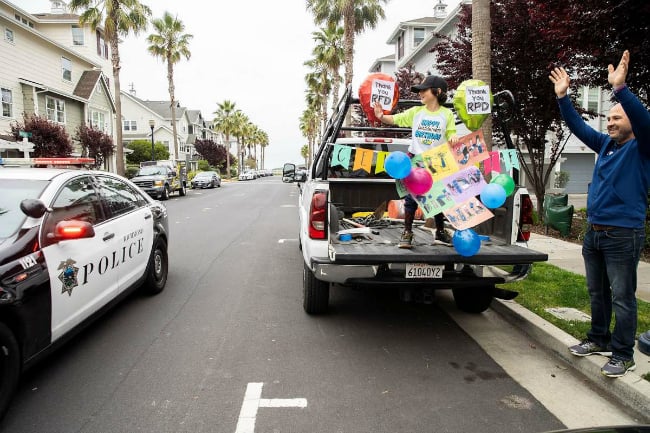 Invite your local police officers to surprise your child for his or her birthday.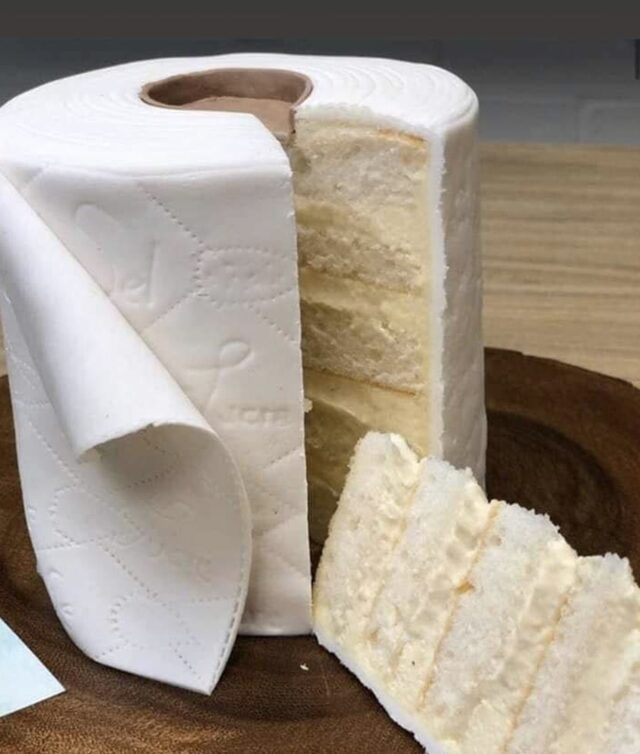 Toilet paper is suddenly in high demand. Surprise the birthday celebrant with a funny toilet paper cake.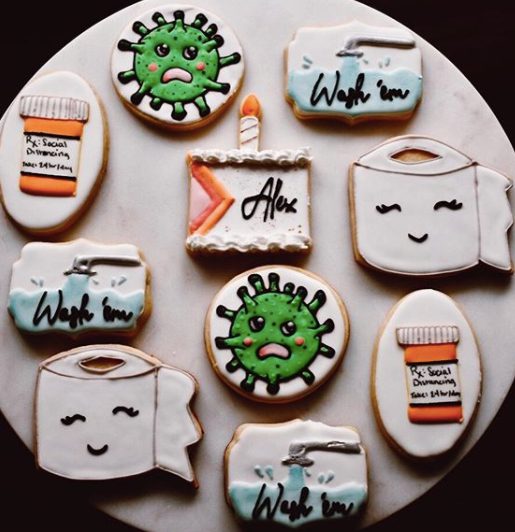 Everyone will get a kick out of these funny quarantine themed sugar cookies.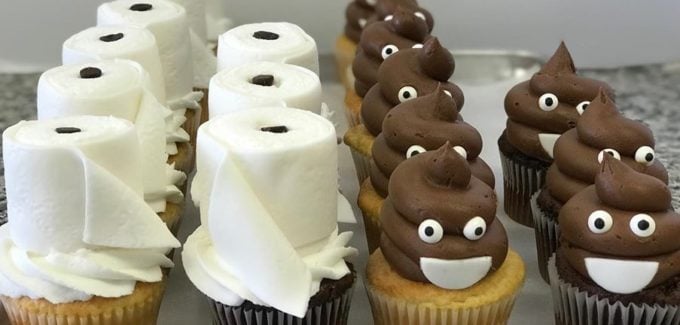 Add a fun twist to your quarantine birthday party with these hilarious toilet paper and poop emoji cupcake toppers.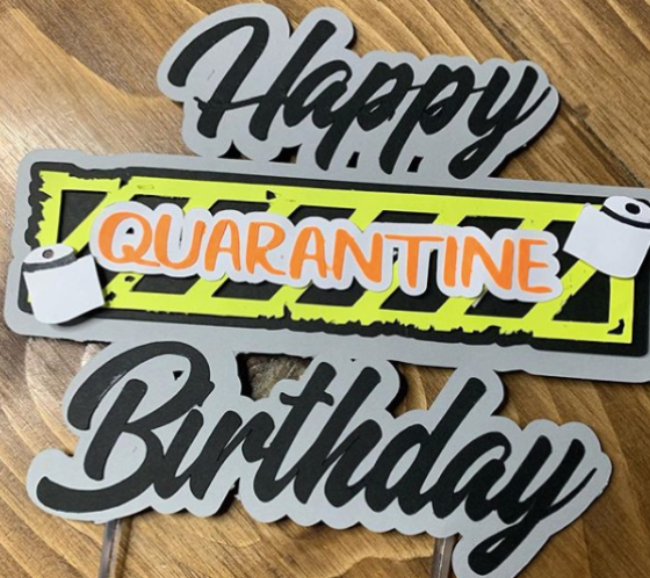 Add this quarantine cake topper to your funny toilet paper cake.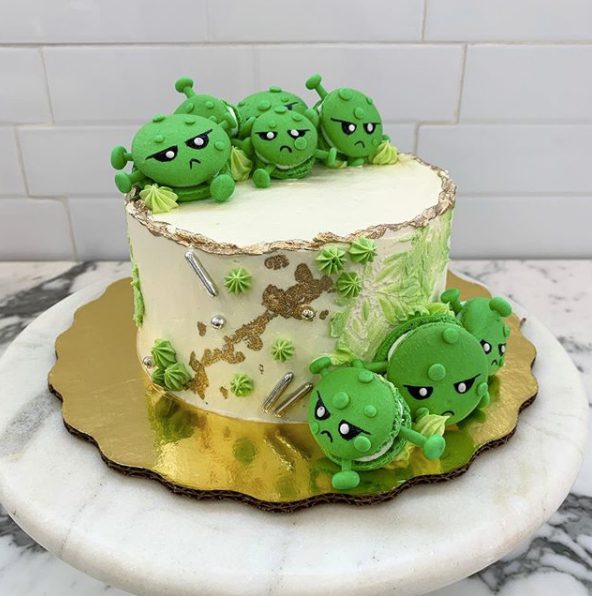 Surprise your loved one with this clever Covid-19 Quarantine birthday cake.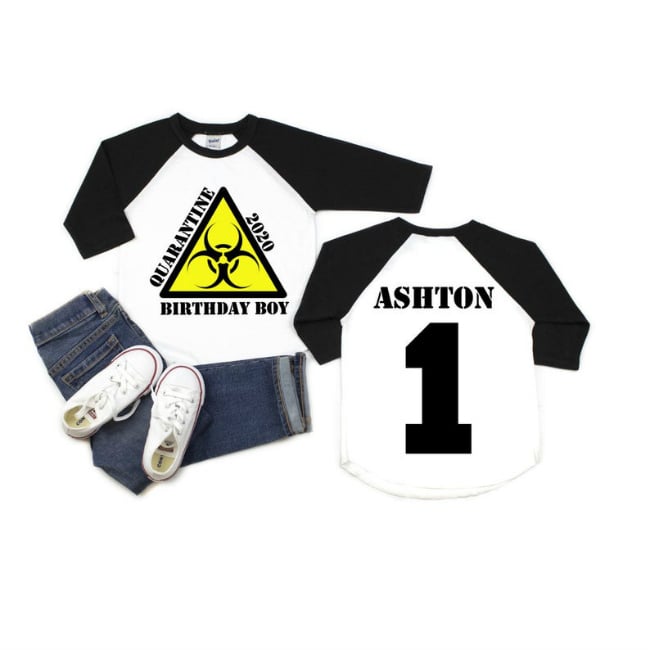 Dress for the occasion with a quarantine 2020 birthday shirt.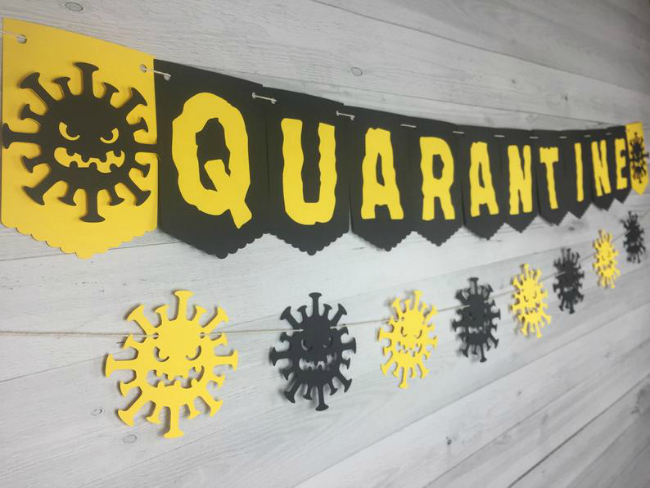 Make the best of out the situation with a quarantine themed birthday party and decorate with this quarantine birthday banner.
Quarantine Birthday Party Supplies and Decorations:
When it comes to having an awesome quarantine birthday party, it's all about the mood! Decorating your home with clever quarantine backdrops and party banners can help set the tone but, of course, you need to be in a party state of mind too!
If you want to stay inside as much as possible, consider using any of the party supplies and decorations you've already bought and just add a quarantine twist to it. Just make sure to use yellow and black! Digital downloads are a great way to decorate without spending too much, and there are many customizable digital files around, some you also get for free.
Taking advantage of the internet and technology is also important when planning your kid's quarantine birthday party. Apps like Zoom and Houseparty or other video conferencing tools allow your friends and family to join the fun even while in the safety of their own homes. You can also send out virtual invitations or e-vites to make everything feel more like a real party! Set up online gift registries on different shopping sites so that your little one can still get presents from friends and family. Reach out to friends and family in advance if you're planning a birthday parade, so they can prepare homemade banners to greet your birthday boy or girl.
How are you planning to celebrate your little one's birthday while on quarantine? Do you plan on doing any of the quarantine birthday party ideas above? Share your thoughts about having a lockdown party in the comments section below! Stay safe everyone!
For more birthday party ideas, follow us on Instagram @prettymyparty and Pinterest and join us in our private Facebook group.