Orange and Navy Baby Shower
A fun and unique Orange and Navy Baby Shower is a great way to welcome a new little one to the family!
This unique Orange and Navy Baby Shower is absolutely adorable! We just love everything about the citrus decor found throughout the event. Along with the luscious florals and greenery from Rhapsody in Bloom, everything was the perfect balance between elegant and fun.
The citrus themed baby shower was held at Historic Acres of Hershey, a gorgeous farmette with natural light streaming through the venue. The mom-to-be is in the event industry, herself, and had very specific visions of what she wanted when it came time to celebrate her own baby shower. Everything was gorgeous!
The day she found out she was pregnant, it was time to see those visions come to life. A baby shower with fresh citrus and greens, on a classy navy background was decided on immediately. Soon, everything came together perfectly and the lush feel of the decor was seen in every detail.
We especially love all of the fresh citrus and oranges that were found all around the venue. From the greenery on the tables, to the beautiful cake, the citrus warmed up the space and set a great, celebratory mood.
This Orange and Navy Baby Shower was exactly what the mom-to-be had envisioned. It was a very special day, indeed!
Orange and Navy Baby Shower Ideas
Elegant citrus and navy blue theme, perfect for a baby boy or girl
Lush greenery used as centerpieces on the guest tables, with oranges, lemons and candles used as accents
Unique baby shower decorations, including vases filled with oranges and classic script signage
Maternity photos placed around the event to add to the decoration ideas
Navy blue napkins to offset the orange and white decor
Classic white dinner plates used at the luncheon buffet and dessert table
Gorgeous cake decorated with full and sliced oranges, along with greenery
Baby shower games including a fun "Price is Right" game on customized printables
Elegant welcome sign decor, framed with greenery and billowy fabric
Special cards and gifts table with customized sign and decor
Wonderful luncheon table with food variety, including sandwiches, bread, fruit, and vegetables
Unique dessert table with a variety of pies, along with the main cake
Orange-flavored water station, along with an orange juice station for guests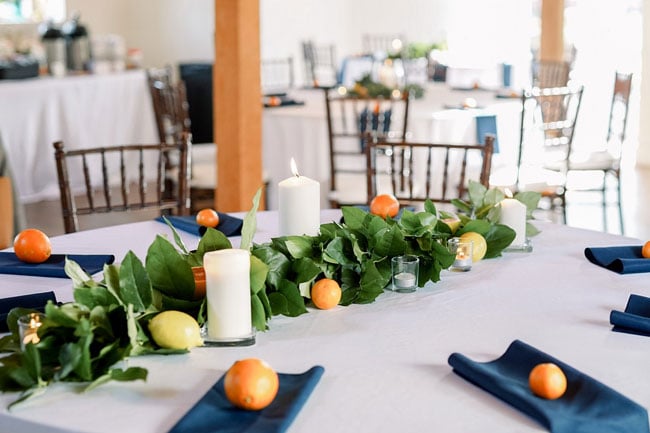 Orange and Navy Baby Shower Party Supplies and Decorations: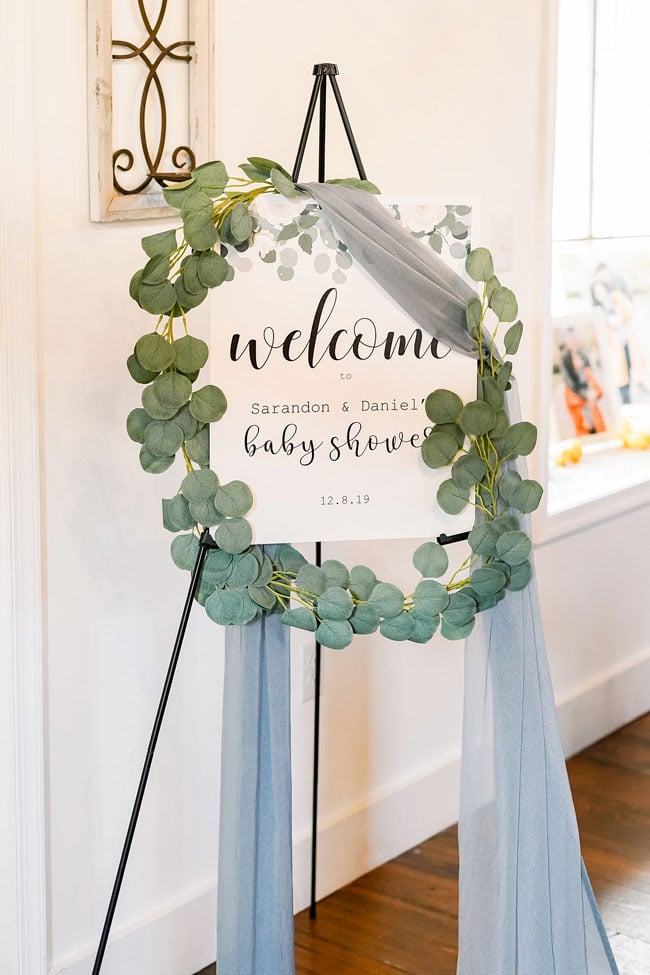 SEE MORE BABY SHOWER IDEAS HERE:
Everything about this sweet Orange and Navy Baby Shower has us oooo'ing and ahhhh'ing at all of the unique items that were included. We love when a different theme is used that is unique, yet absolutely beautiful. Who knew oranges could make life so grand when it comes to planning a baby shower?!
Our favorite feature from this special event has to be the gorgeous centerpieces that were created from lush greenery. We love how the citrus adds that special color on the tables, as well as in vases and around the event. And that orange cake?! It looks so pretty and it's a fun way to keep the gender of the baby a surprise when planning a baby shower.
In addition, the gorgeous signage that was found around the baby shower was the perfect touch of elegance and style, as well!
What are your favorite details from this gorgeous Orange and Navy Baby Shower celebration? Let us know in the comments below!
For more baby shower ideas, follow us on Instagram @prettymyparty and Pinterest and join us in our private Facebook group.
Party Vendors