Colorful Dino 1st Birthday Party
What better theme for a boy's 1st birthday than a cool and colorful dinosaur celebration like this one!
This Colorful Dino 1st Birthday Party from The Party Muse features vibrant dinosaur themed party supplies, decorations, balloons, birthday cake, desserts, and more! Not only was this celebration a dinosaur theme, but it was also a Doljabi to celebrate the birthday boy's Korean heritage.
The purpose of the Doljanchi celebration is called the Doljabi. The Doljabi is a ceremony that blesses the child with a prosperous future and healthy life. The Doljabi is a tradition where 6 to 8 various items are placed on blanket and then the child is placed in front of the items. Once the child is placed in front of the objects, he or she is encouraged to grab one or two of the items. The item(s) that the child picks represents the future for the child, such as a lifestyle or career.
A dinosaur themed birthday party is the perfect theme to celebrate a baby boy's 1st birthday! And we LOVE that this one is bright and colorful with lots of fun and creative party ideas! If you're searching for Dinosaur Party Ideas, get some inspiration from this fun toddler-friendly dinosaur party!
Dino 1st Birthday Party Ideas
Colorful dino tails on each chair for guests
Yellow, blue, lime green and white balloon garland table centerpiece
Adorable dino party plates
Fun dinosaur toy table centerpieces
Dino 1st birthday cake with yellow dinosaur cake topper
Colorful ball pit fun for the kids
Balloon wall decorations behind dessert table
Colorful palm leaf decorations
Dinosaur head decorations
Colorful desserts, including cupcakes, lollipops, cake pops, etc.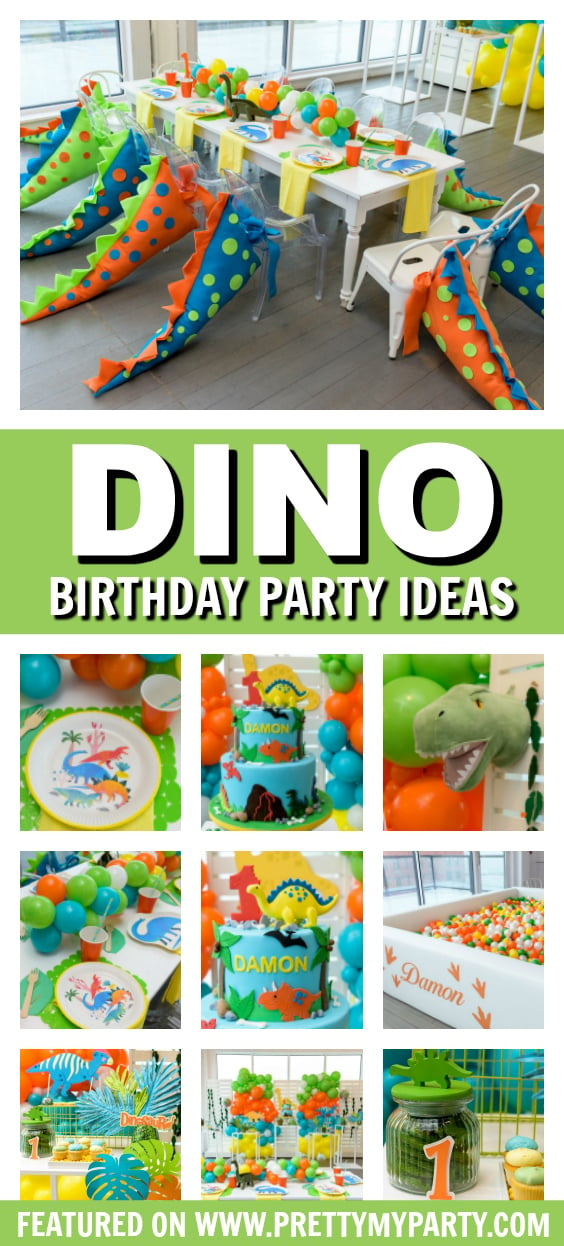 Dino 1st Birthday Party Supplies and Decorations:
See more Dino Party Ideas here: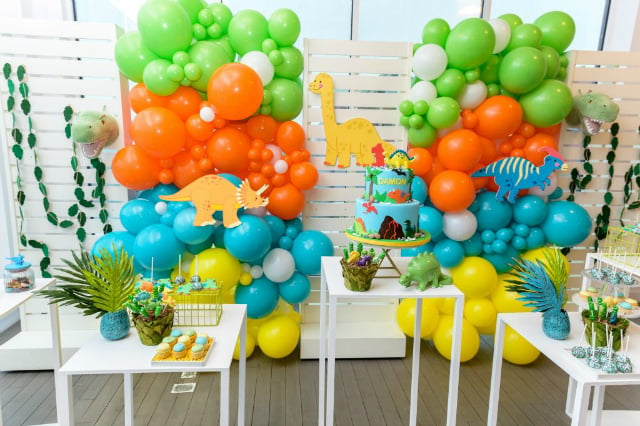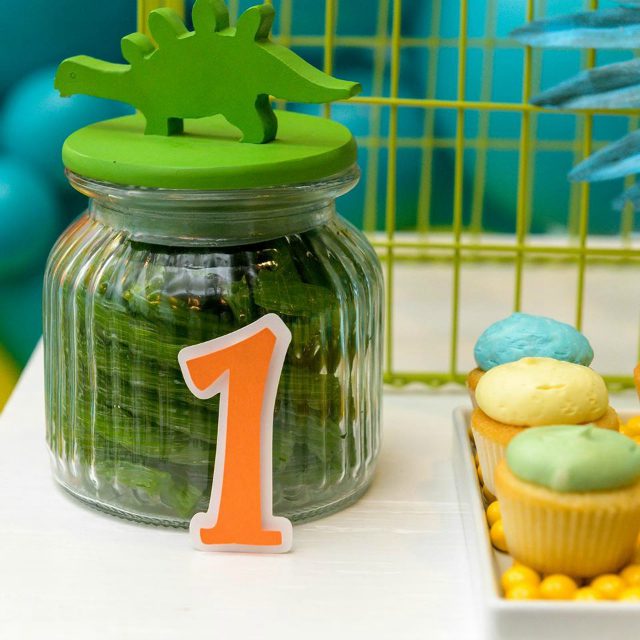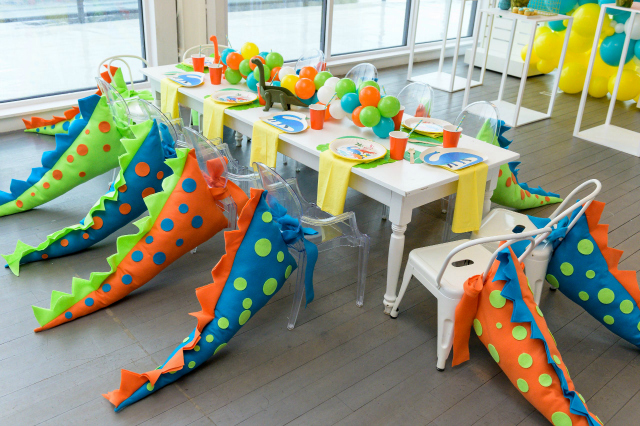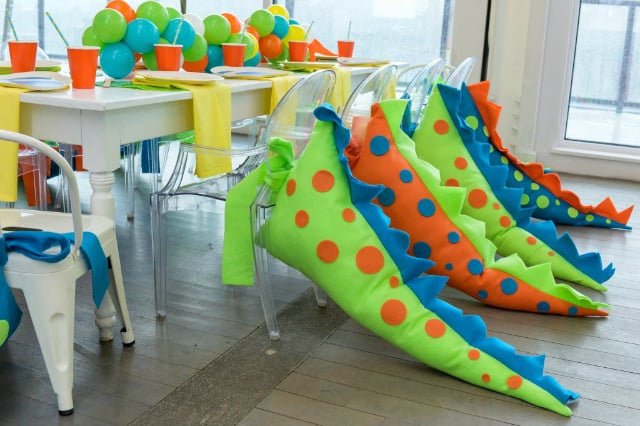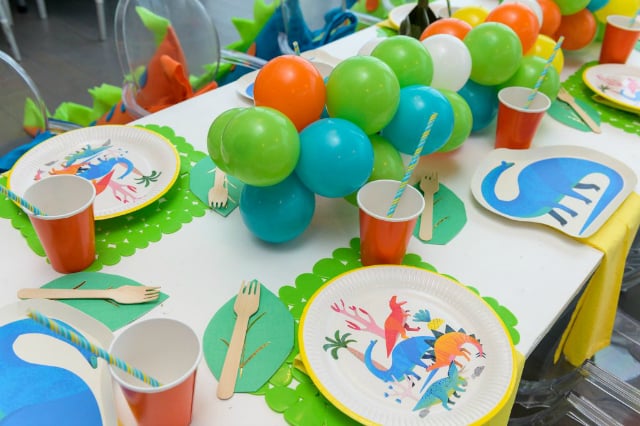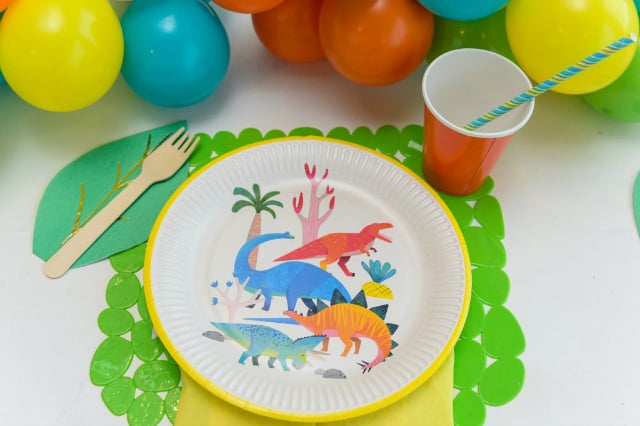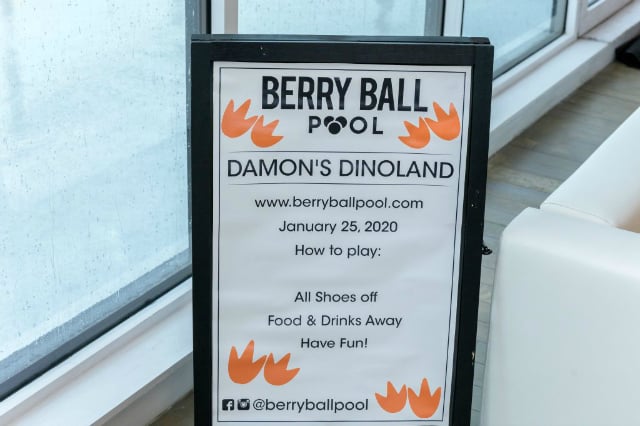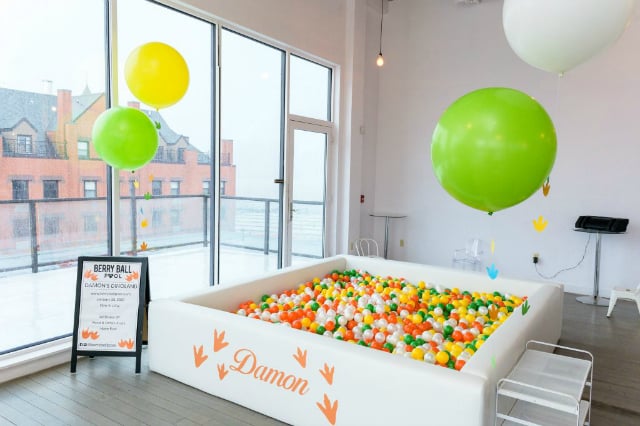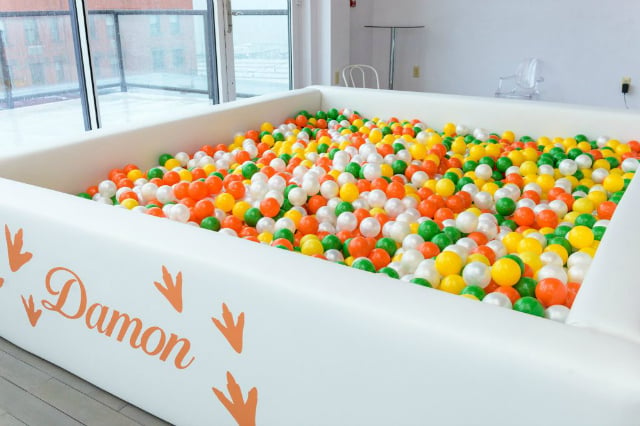 We're sure this dino themed birthday party was a ROARing Good Time for everyone!
What's your favorite details in this Colorful Dino 1st Birthday Party? Let us know in the comments below!
For more ideas, follow us on Instagram @prettymyparty and Pinterest and join us in our private Facebook group.
Party Vendors
Party Styling: The Party Muse
Photography: F. Sly Photography
Cake: The Hudson Cakery
Balloons: Aureliza Events
Ball Pit: Berry Ball Pool
Tables & Chairs: Petite Seats
Venue: Antique Loft in Hoboken, NJ