Farm Animal Themed 2nd Birthday Party
This Farm Animal Themed Party features the most adorable party ideas for kids!
This cute Farm Animal Themed 2nd Birthday Party by Trendy Events of Puerto Rico is the perfect theme for any animal-loving child!
This lively, lovely farm animal themed party is everything a little animal lover can ask for! Everything from the bright red barn and adorable adopt a farm animal giveaway to the intricate details and super cute fondant farm animals on the cake make this party the perfect celebration for any barn-loving buddy.
The bright and fun setup of the dessert table was instantly a huge hit! The big red barn backdrop and printouts of adorable farm animals on display immediately drew everyone's attention. The artificial lawn also added to the real country farm feel, and the little ones definitely loved running around the "grass." Of course, the lovely little adoptable balloon cows and pigs in their little custom made animal pen made the tiny tots go wild!
There's also a super creative section for the little ones to claim cute and fuzzy toy chicks with each chick in its very own custom-made paper crate! There are even egg cartons with tiny "chicks" that have just hatched!
Everyone also loved the gorgeous and delicious desserts! The awesome birthday cake was filled with lots of adorable little details such as cute fondant animals and veggies, a rustic wooden sign with the birthday boy's name, and the lovely overalls with the little ladybug and checkered print decoration. Other sweets such as veggie sugar cookies, farm animal cookie pops, fudge brownies, pigs in the mud pudding cups, and rustic metal milk jugs complete the farm-themed dessert table.
If you're looking to host your very own farm animal themed party, look no further than our favorites ideas from this wonderful party!

Amazing Farm Animal Party Ideas
Giant, red barn party backdrop

Super cute adopt-a-farm animal balloons inside a large custom-made pen

Check table cloths and rustic wooden chairs

Cute, little farm animals and fresh produce on the birthday cake

Large number sugar cookie decorated with more farm animals and veggies

Cute animal cookie pops

Bushels of "fresh vegetables" sugar cookies

Farm fresh milk served in adorable little metal jugs

Pigs in the mud pudding cups

An artificial "lawn" for that true farm feel

Free fuzzy plush chicks as giveaways

Lots and lots of animal print art and toys!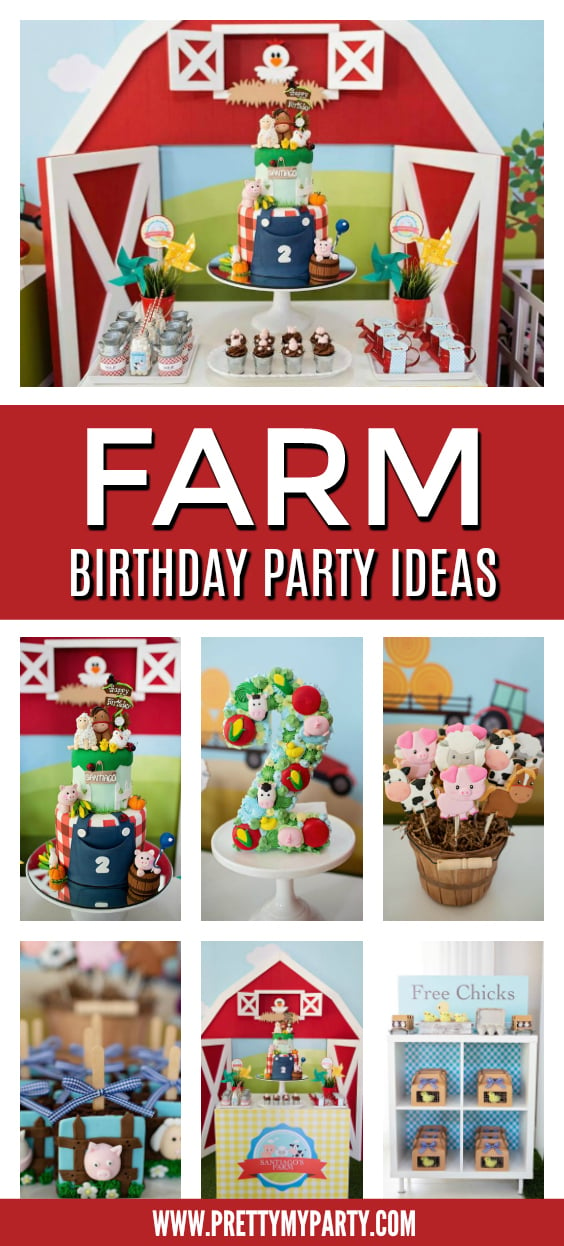 Farm Party Supplies and Decorations:
See more Farm Themed Parties here: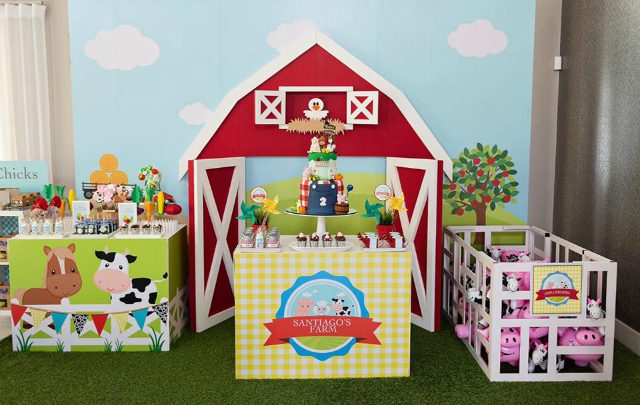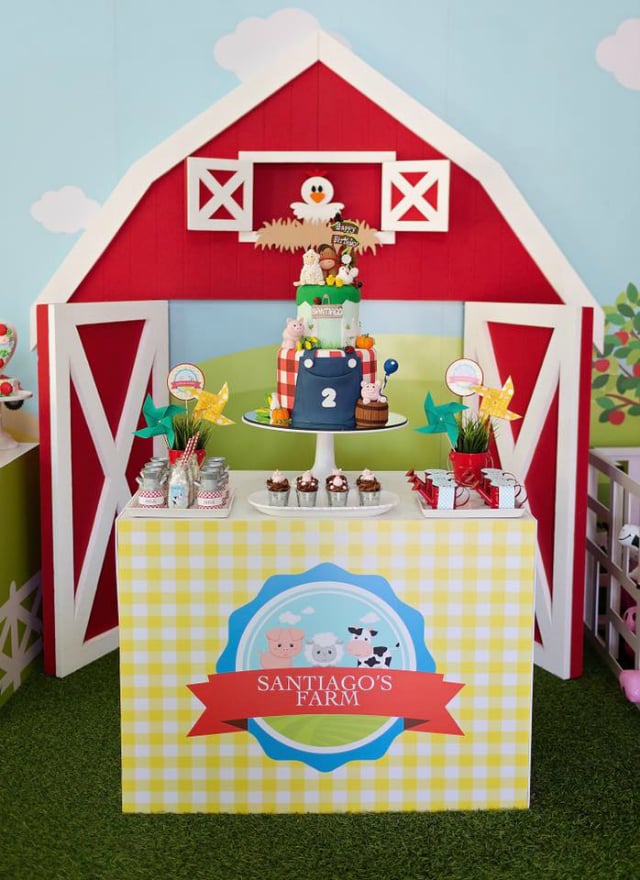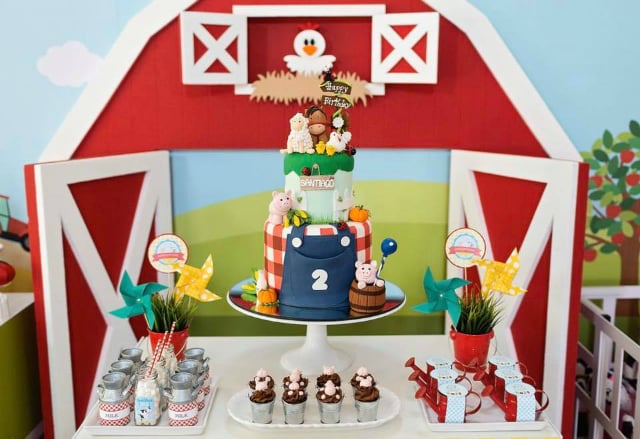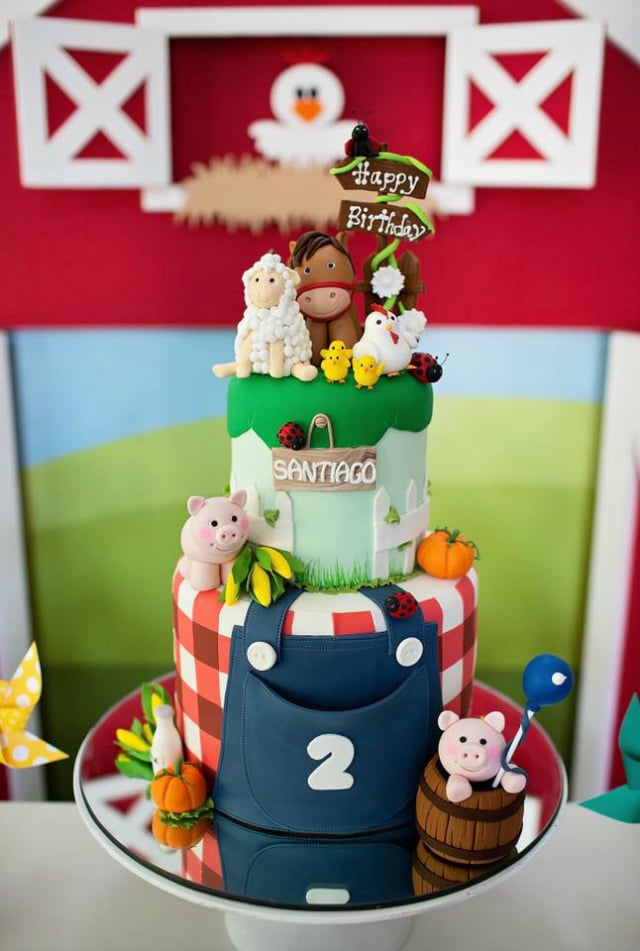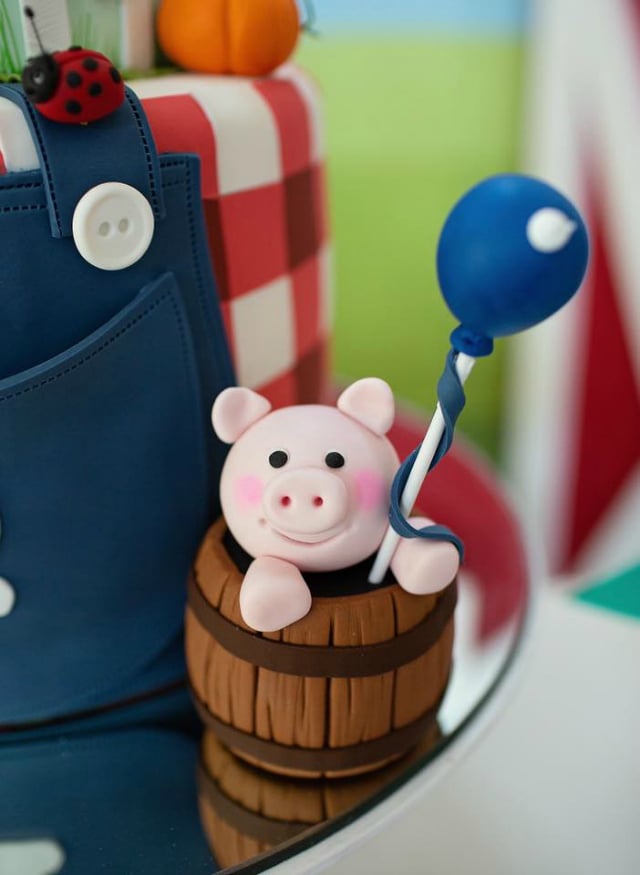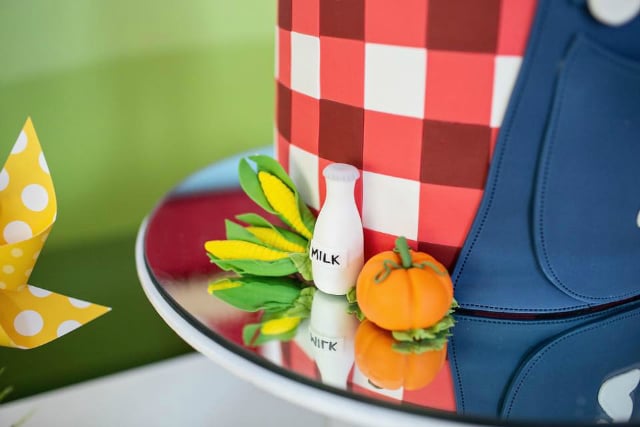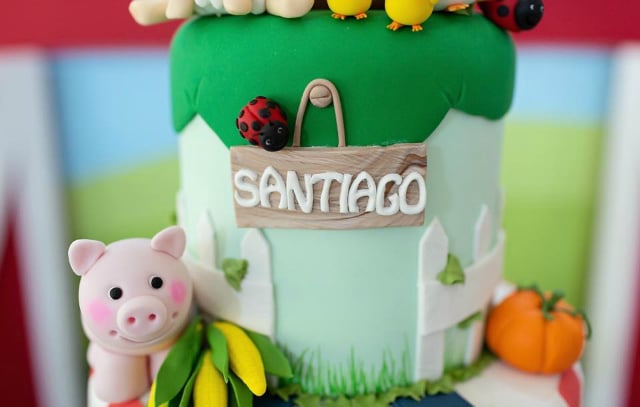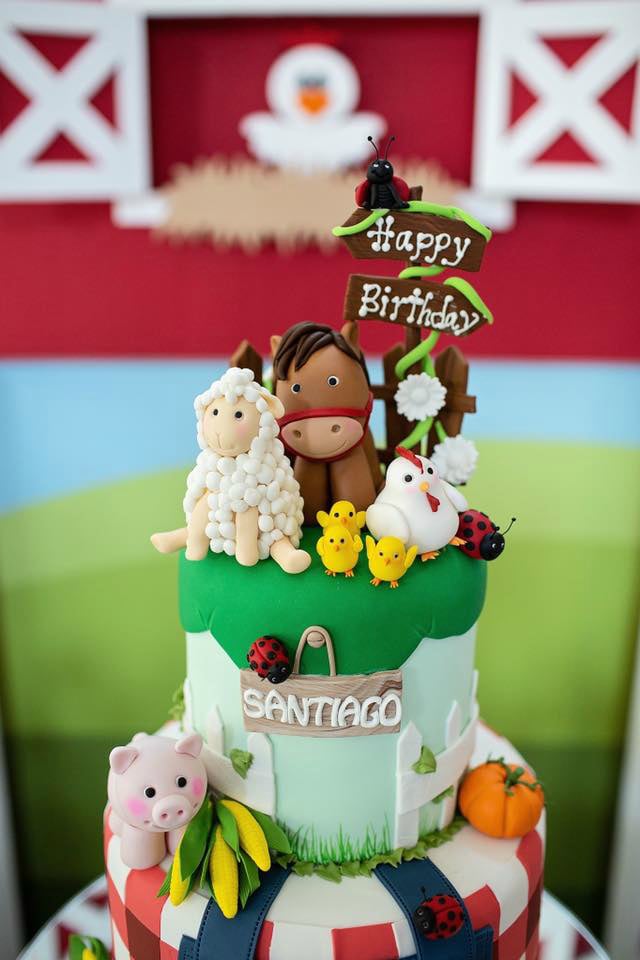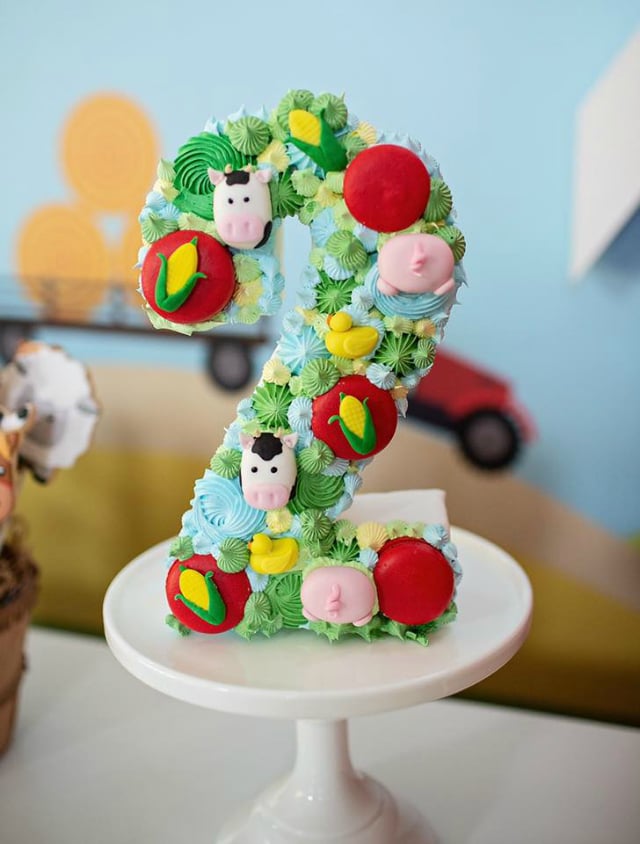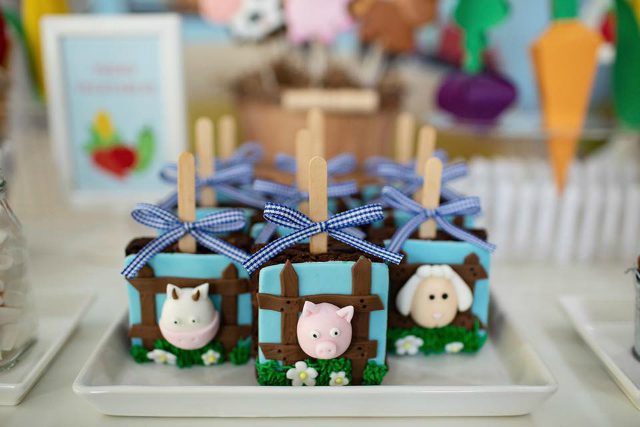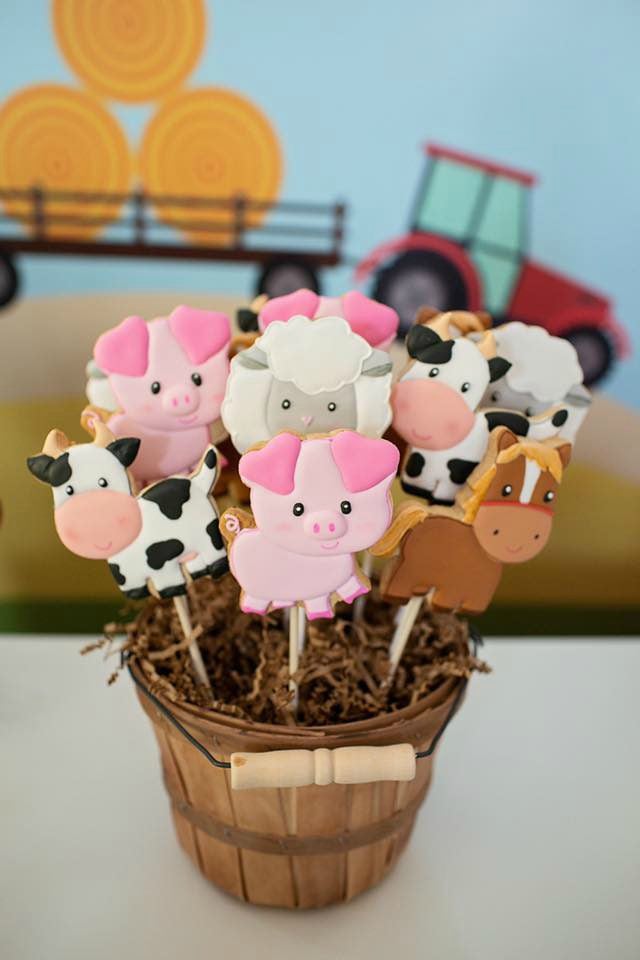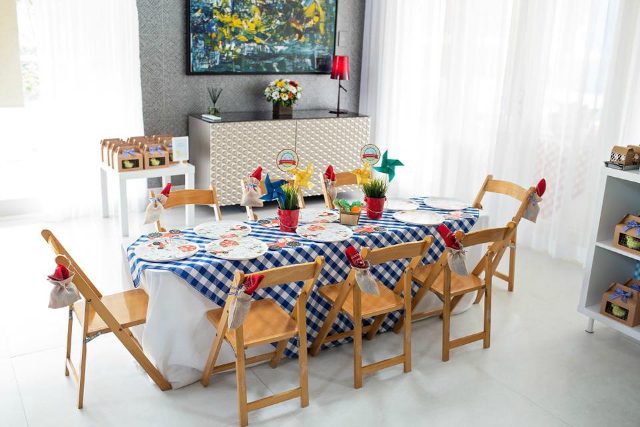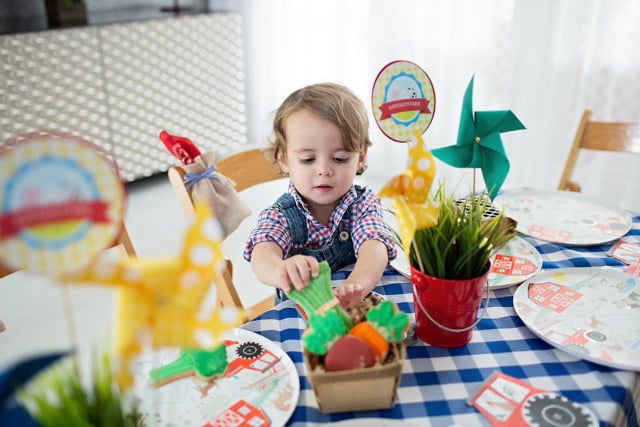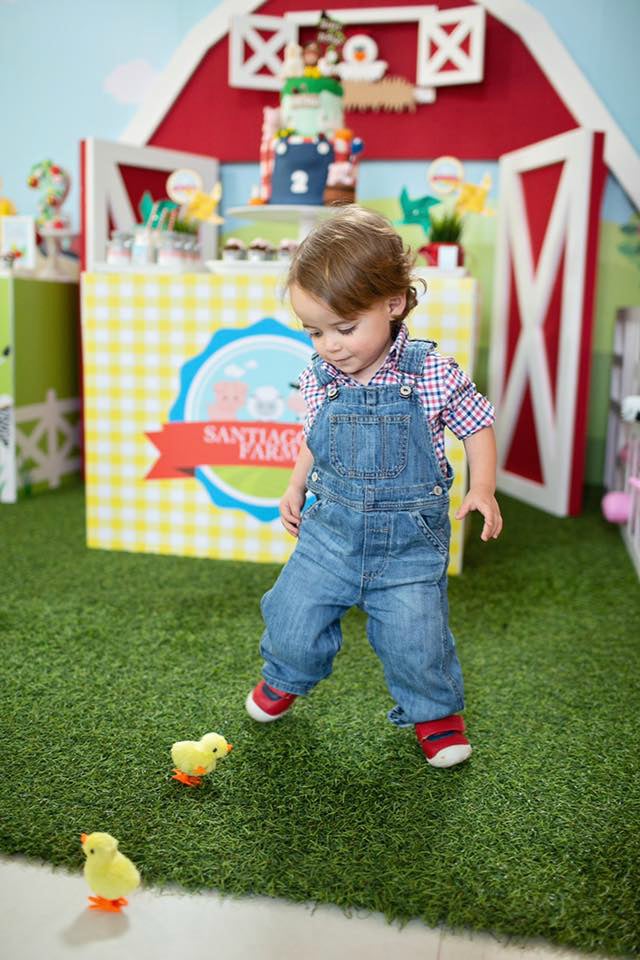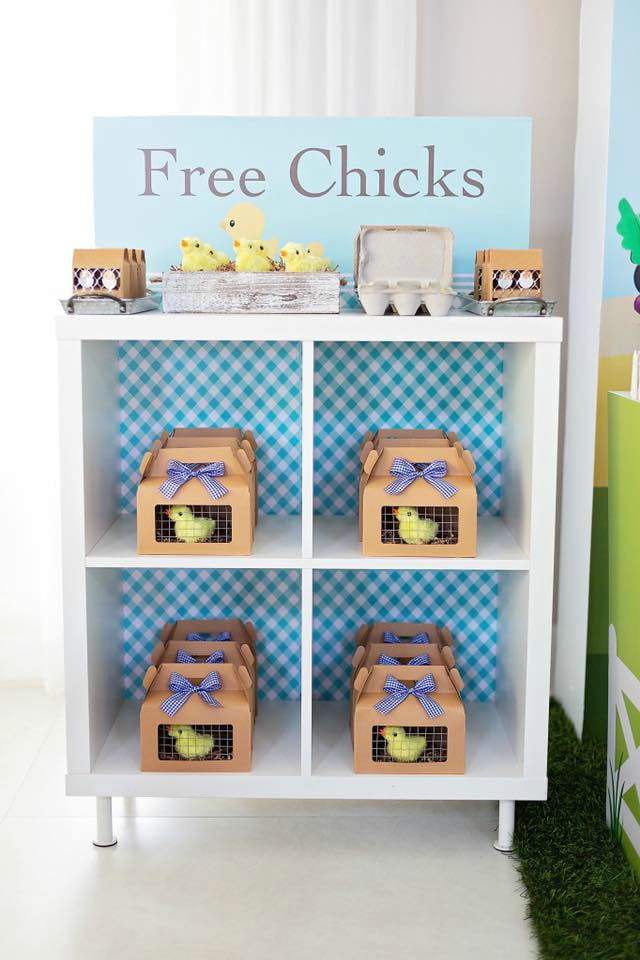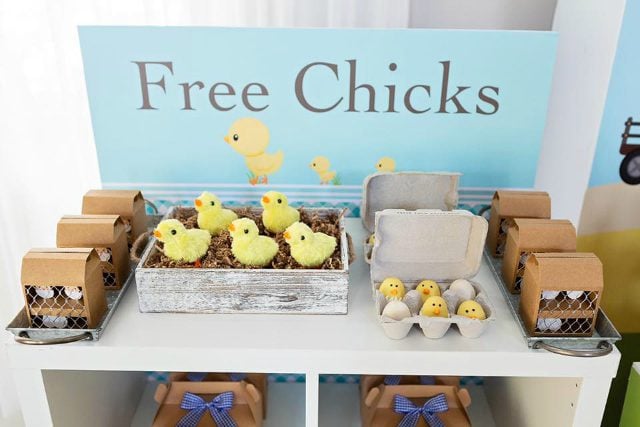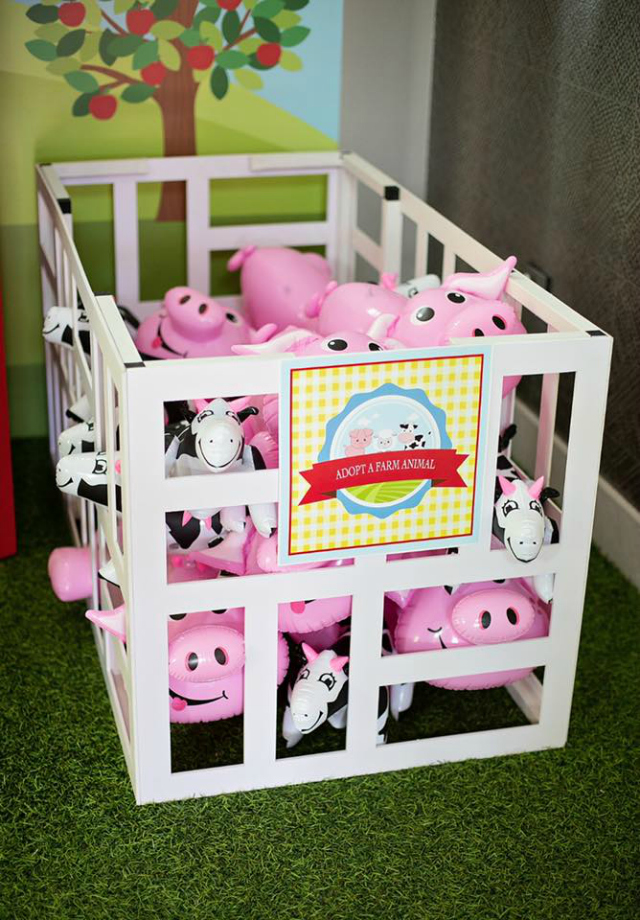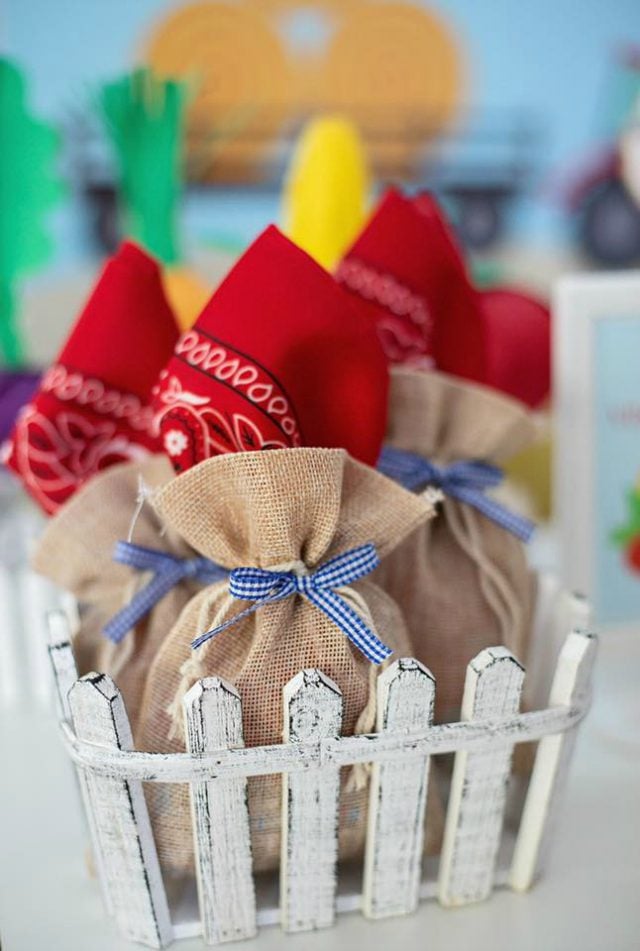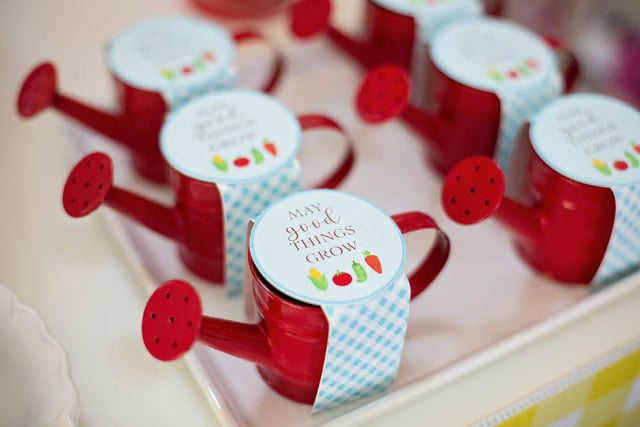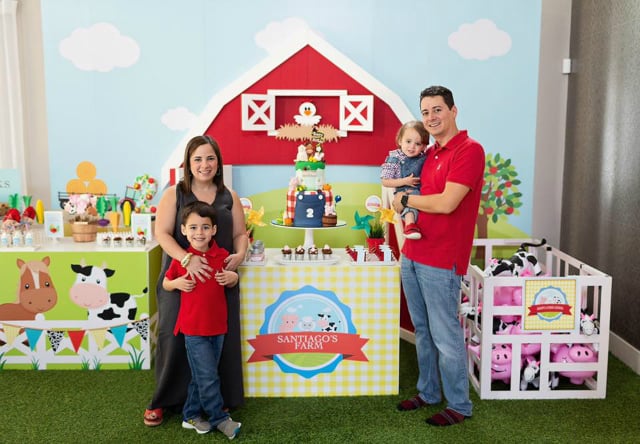 This fun farm animal themed birthday party was a massive hit! The birthday boy and all his little friends had an absolute blast playing with all the "farm animals" and eating lots of yummy farm-themed treats.
Every kid would love to have a birthday party that has an animal theme, and a farm animal themed party is definitely one of the best options! Little boys and girls absolutely adore the friendly animals that they see on the farm, from little chicks and ducks to the cute pigs, cows, sheep, and horses.
By throwing a farm animal themed party, you can make your little one and his or her guests have loads of fun being surrounded by the adorable animals they love!
Which of these farm animal themed birthday party ideas did you love most? Have you hosted a birthday party with a farm animal theme yourself? Let us know your thoughts in the comments section down below!
For more ideas, follow us on Instagram @prettymyparty and Pinterest and join us in our private Facebook group.
Party Vendors
Planning designing and styling by Laurie Figueroa of Trendy Events
Graphic Design and Personalized Items: Hello Stickies
Photography: Nicole Pierce Photography
Cake: C+M Cake Designers
Farm: Grilos Arts & Grafts
Cookies: Sugar Box PR
Sweets: Heidy Beltran + Gdeligths
Paper Crafts: VS Print Art Design