Farm Themed First Birthday Party
This super adorable Farm Themed First Birthday Party is the perfect theme for any little one! Cute barnyard animals are seen throughout this party and really upped the cuteness factor! Liam's mom had some wonderful ideas and pretty much everything you see in this party was her idea! WOW Mom! The adorable farm-themed cake with a personalized "Liam is one" cake topper was the centerpiece of the party! A blue glitter number one also adorned the cake and looked perfect! How adorable is the little pig on the cake?! There was even a cute pink pig smash cake for the birthday boy! Seriously, how cute is that?!!!!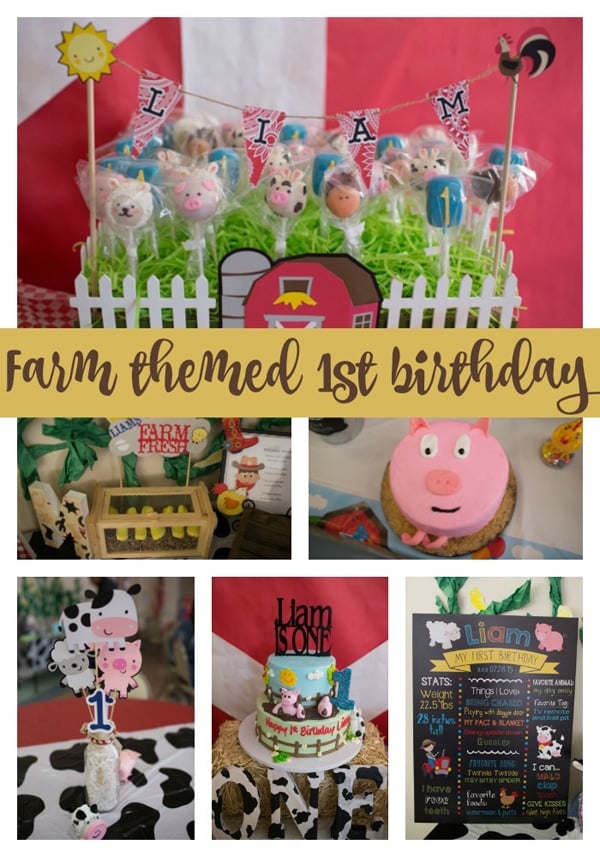 A chalkboard sign with details all about the birthday boy was such a great added touch to the party decor! Cow printed wooden letters that spelled "ONE" were a great added detail as well. Liam's name was also spelled out with wooden letters as an added decor element! He could even put that in his room after the party! What a great idea!
Hay barrels were used to prop up snacks and desserts on the cake table, which added to the fun farm theme! Monthly photos of the birthday boy were displayed for friends and family to see how much he's grown in the last year. Other desserts included fun farm animal cake pops and cupcakes. A farm themed piñata kept the kids entertained outside! Everyone had a wonderful time celebrating Liam turning 1 and mom made the whole day special and personalized with her fabulous ideas! What's your favorite detail in this Farm Themed First Birthday Party? Let us know in the comments below!
Plan a fun Farm Themed Birthday Party with these adorable party products!
Join Amazon Family 30-Day Free Trial
Check out these adorable party features on Pretty My Party!