Party Like A Dinosaur Theme
If you have a dinosaur lover with a birthday soon, this Party Like A Dinosaur Theme is everything!
Take a look at this Party Like A Dinosaur Theme from Fresch & Fancy of Dallas, Texas!
If you have a little guy who is obsessed with all things dinosaurs, this Dinosaur Themed Party will give you plenty of Dino inspiration to choose from!
Everything looks like a rawr-ing good time with tons of Good Dinosaur Party Ideas ready for you to use. We just love this fun party theme!
Dinosaur Themed Birthday Party Ideas
Coolest Dinosaur Birthday Cake
Dinosaur Themed Rice Krispie Pops
Awesome Dinosaur Themed Cookies
Dinosaur Cupcakes
Green Balloon Arch
Wooden Dessert Platters
Rawr Backdrop
Roar Plates
Cute Dinosaur Decorations
"Ice Aged Water"
Dinosaur Cake Pops
Dinosaur Favor Boxes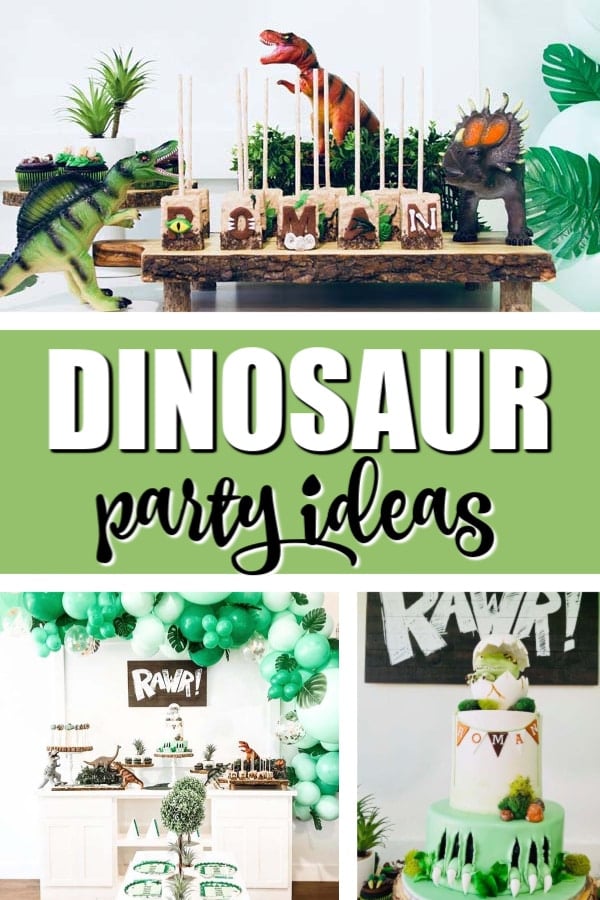 Dinosaur Party Supplies and Decorations
More Dinosaur Party Ideas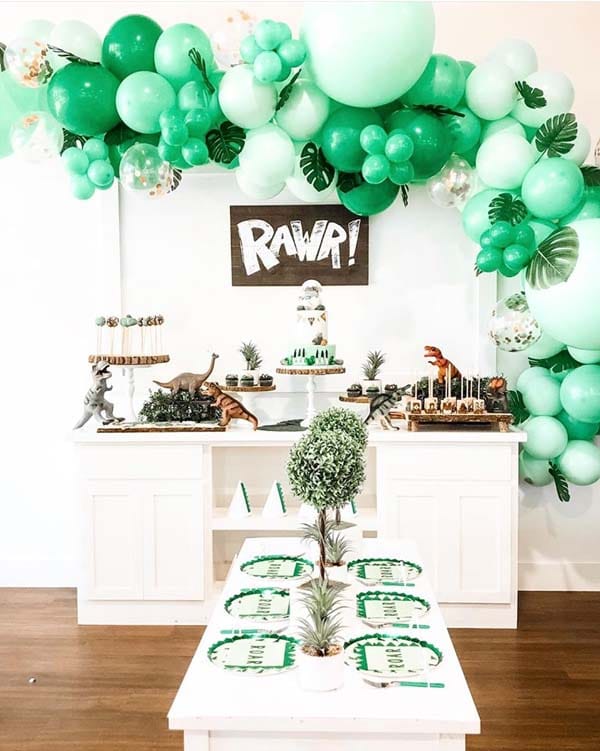 It looks like everyone had a DINOmite time celebrating this little guy's second birthday. Fresch & Fancy went above and beyond with styling.
Just look at this amazing dessert table, which was complete with cake pops, cupcakes, and Rice Krispies.
Everything was all decked out with dinosaur bones, fossils, eggs, and claws and it looked spectacular! What amazing Dinosaur Party Decorations!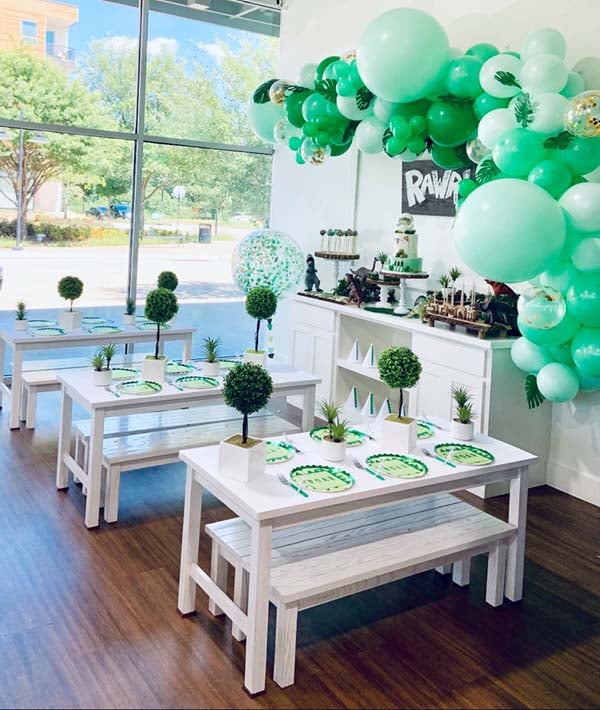 From a balloon garland provided by Balloon Therapy, complete with Jurassic touches, to a life-sized Velociraptor who stomped into the party to the guests' surprise, this party was rawr-some in every way.
We just love the color scheme that was used for the Dinosaur Birthday Party and everything was tied together effortlessly.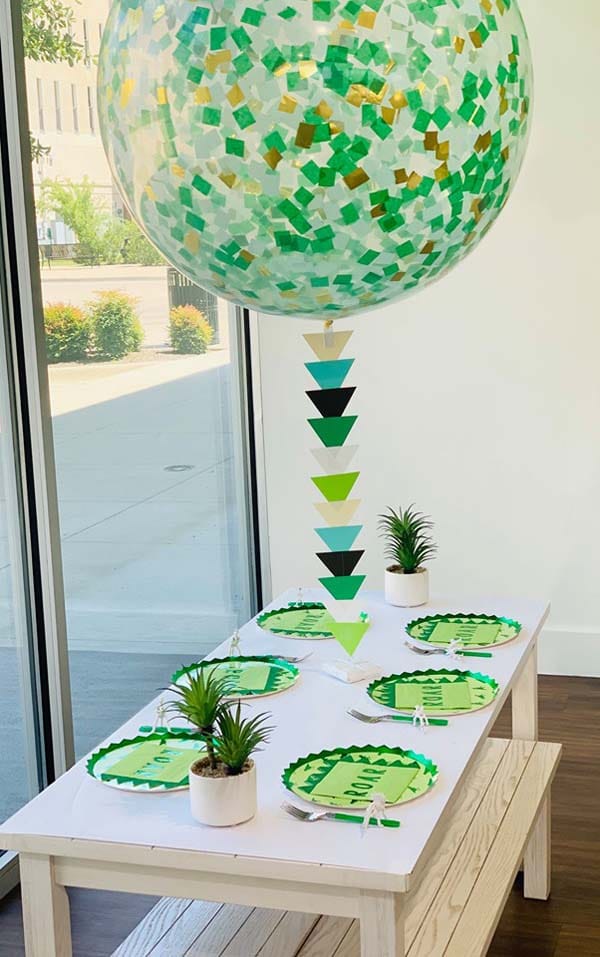 Centerpieces included plenty of Jurassic-like greenery, which made everyone think that they were in the jungle and a dinosaur might make an entrance at any moment (Which may have happened eek!)
The picnic table place settings were a great idea, as well, when it comes to a children's party. It makes everything feel so much more festive, light and comfortable!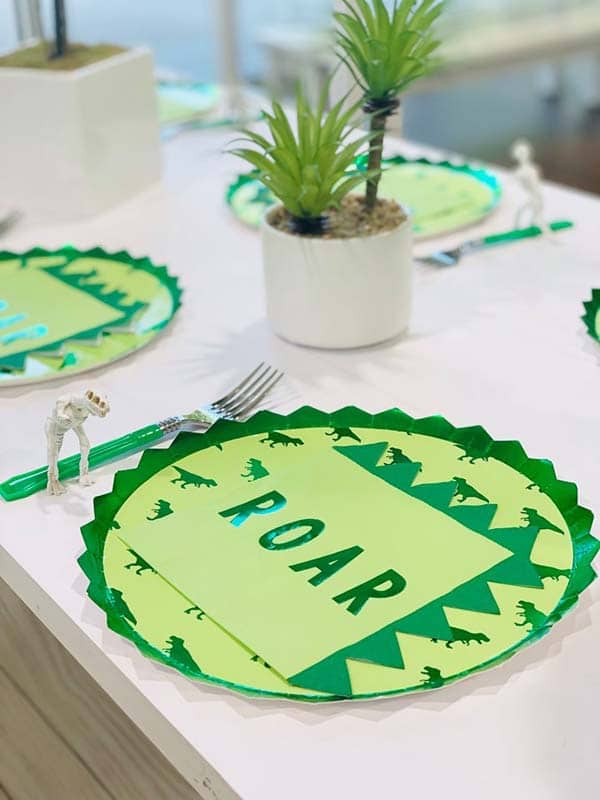 Those ROAR Dinosaur Party Plates were a hit with the whole crowd, young and old!
And with fun little dinosaur party accessories roaming around the table, everyone was bound to stomp over for a good time!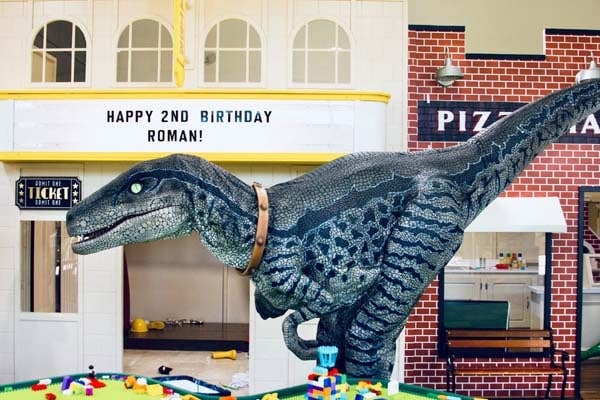 What kind of dinosaur party accessories could possibly show up for this amazing Dinosaur Party if it wasn't going to be a real, live animal? The next best thing, something just as large to a little child's eyes! We just love the huge life-like Dinosaur Costume!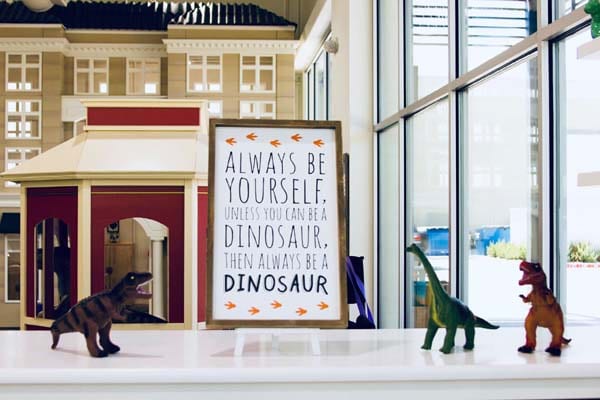 So many amazing Dinosaur Party Decorations were used from one end of the event to the other and all of them were picture-perfect. So simple, yet completely had all of the kids begging to get their own to take home!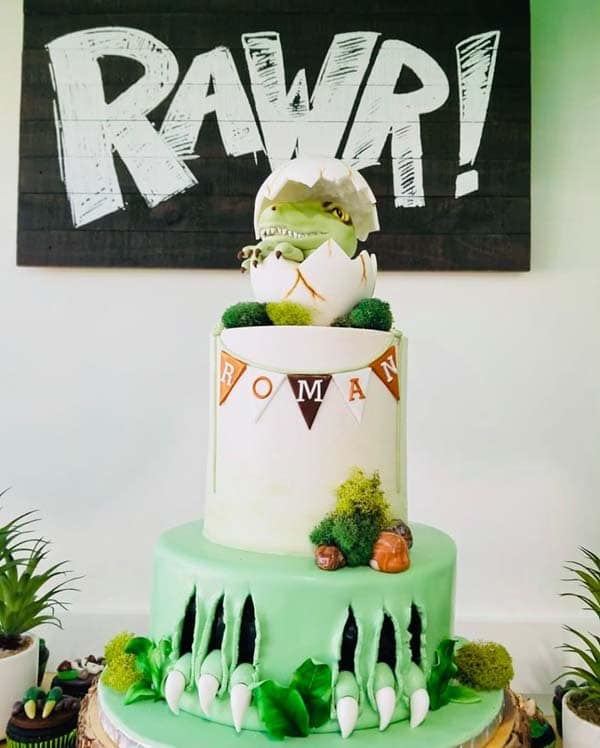 This birthday party cake is EVERYTHING! The details are amazing from the top to the bottom, but we have to say, we really love those claws coming out of the bottom of the cake!
What a fun and unique idea to add to the Party Like A Dinosaur Theme! It's AMAZING!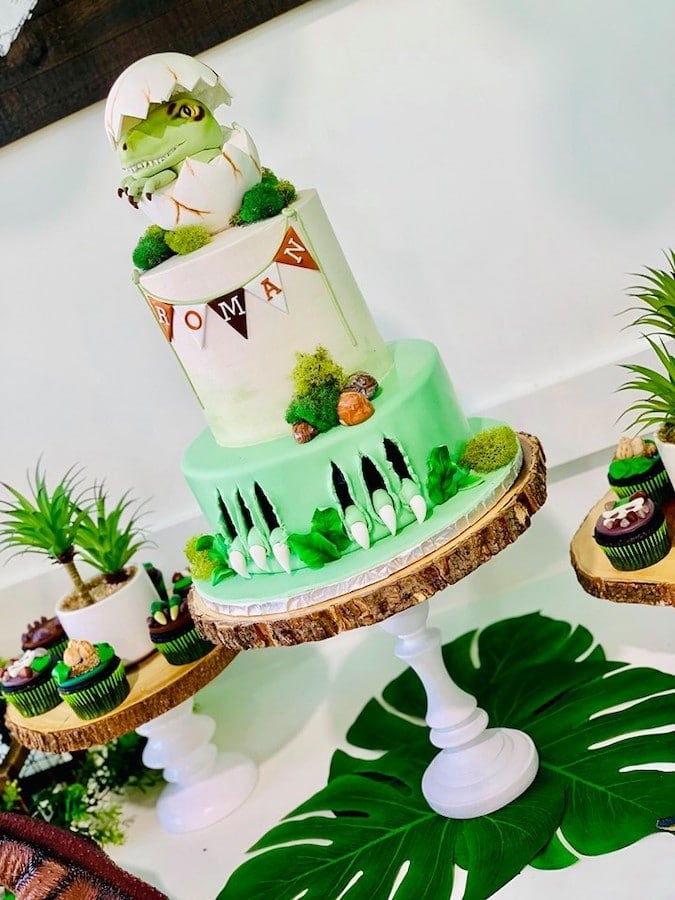 The London Baker created this masterpiece, which took everyone's breath away! We also love how all of the stands are wood chargers. It's so classic and it keeps the theme outdoorsy like the jungle or woods, where we all know the dinosaurs love to hide!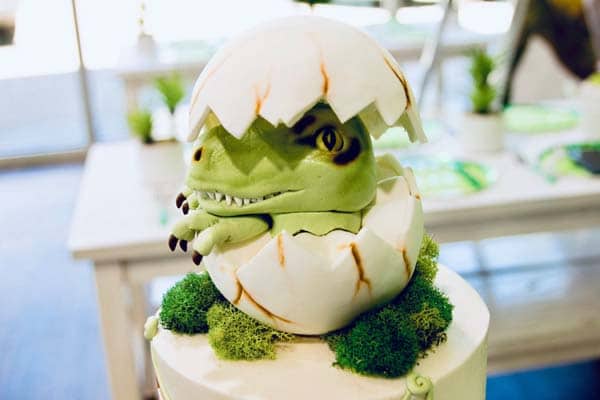 How amazing is this dinosaur egg cake topper?! We just love how this guy is trying so hard to break out of his shell. It fits in perfectly with the Party Like A Dinosaur Theme!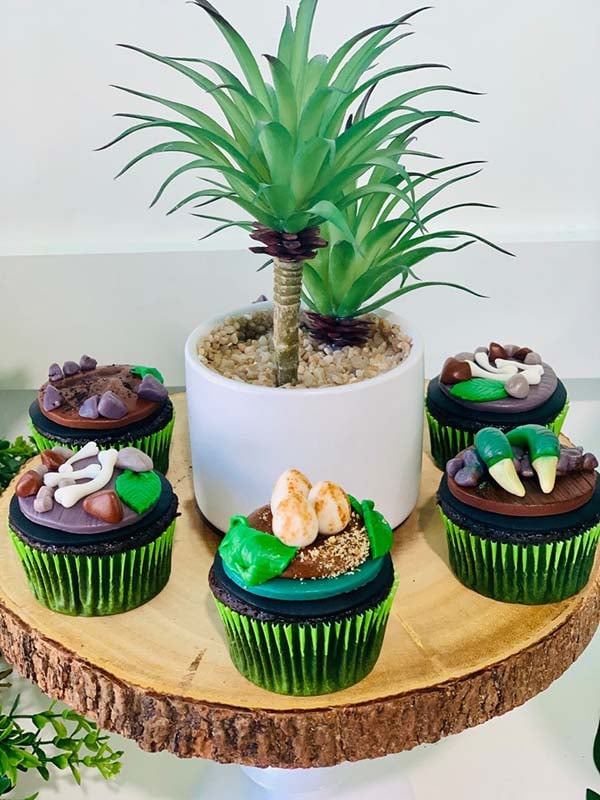 Cake Pops, Rice Krispies, Cookies, and Cupcakes were created by Divine Cake Candy and all of these Dinosaur Birthday Party Food Ideas were right on point!
How amazing are these dinosaur cupcakes, all which have a variety of different toppings. What a great variety for this dinosaur theme!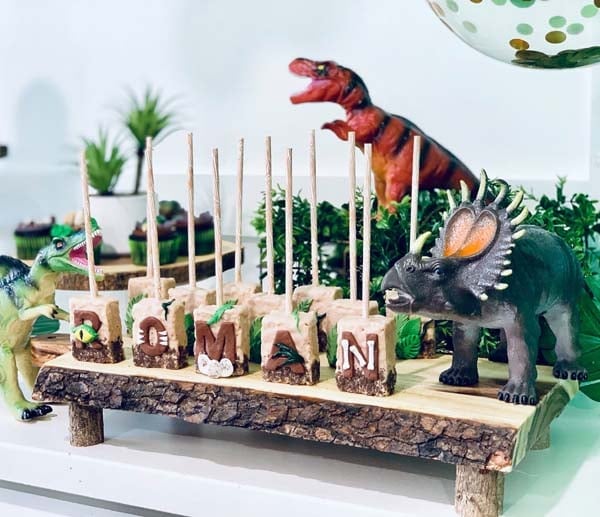 These Rice Krispie treats look like something you would build at a campfire. We love the wooden stand that they are displayed on, as well. What delicious Dinosaur Party Food!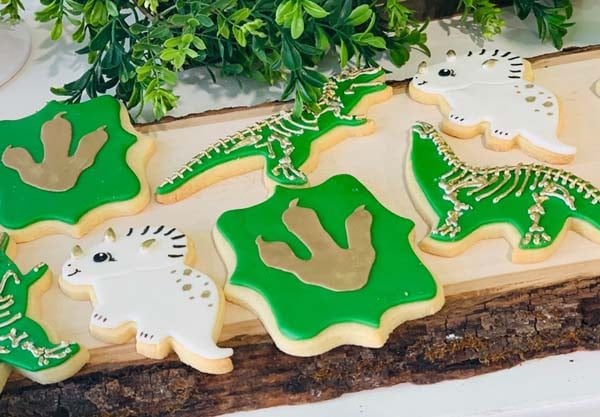 Check out these incredible dinosaur cookies! They are so cute and we're sure everyone couldn't wait to get their hands on one of them!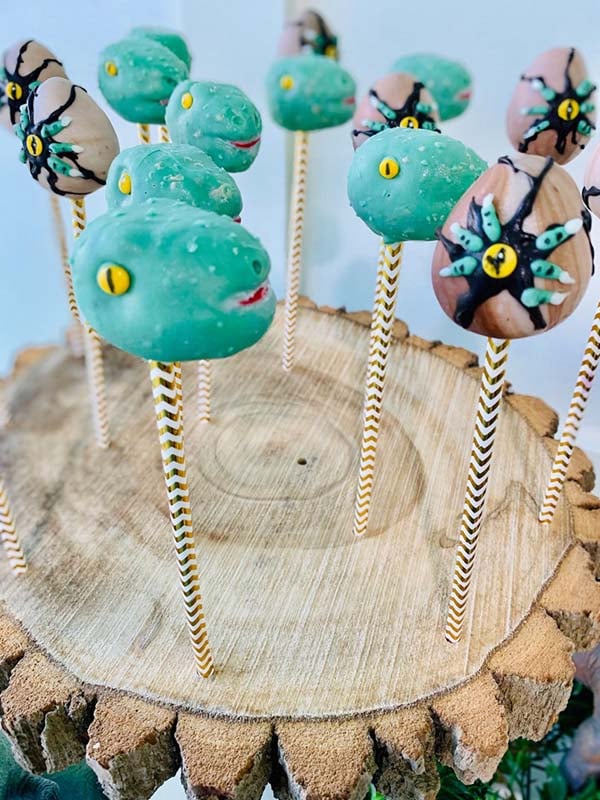 These fun dinosaur cake pops are everything! No matter which one the guests chose, we're sure they were delicious. Just look at how fun they are!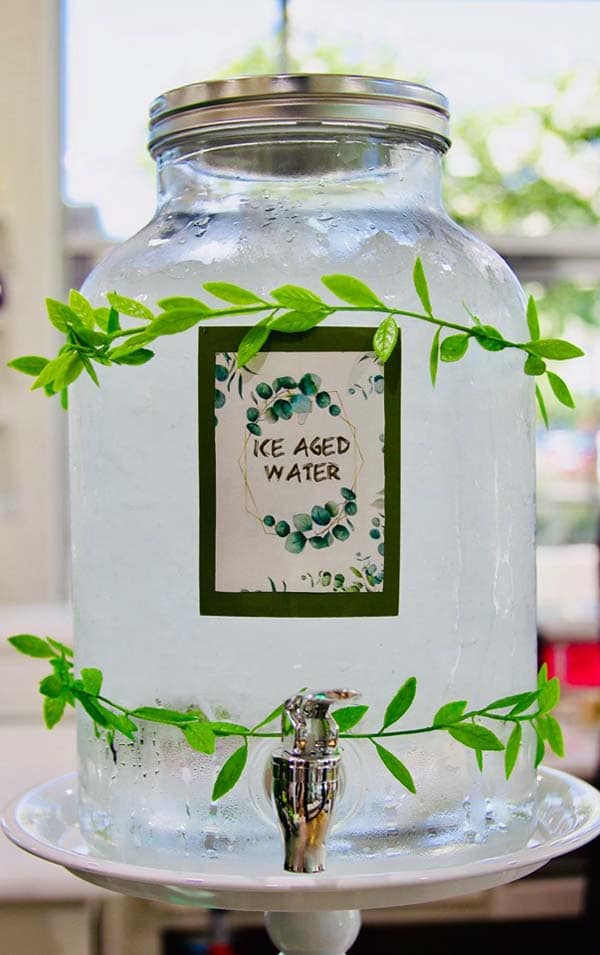 What a fun idea for refreshments for the little ones. This 'Ice Aged Water' probably wasn't actually from prehistoric times, but we're betting the kids loved the decorations that surrounded it.
We just can't get over all of these Good Dinosaur Party Ideas!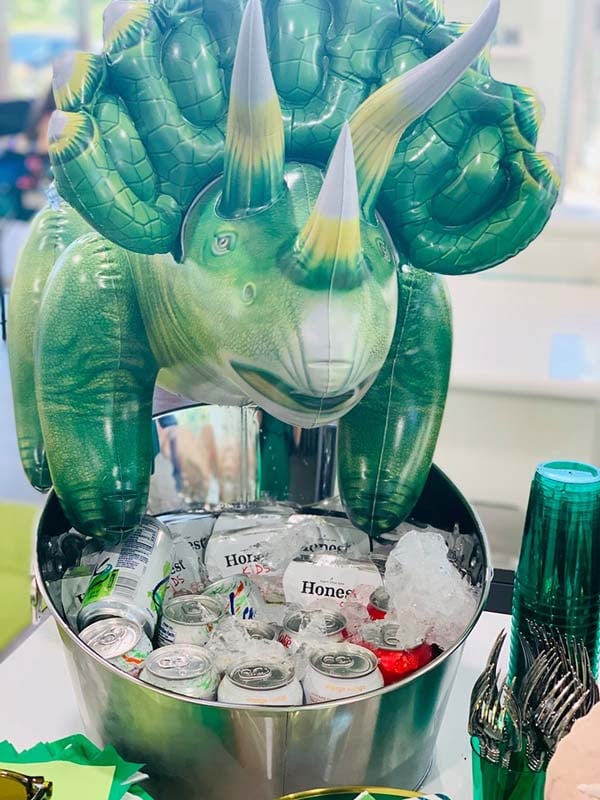 This Giant Dinosaur Balloon was ready to welcome anyone who was looking a little parched.
He had all kinds of goodies that were ready to be passed out, but you had to come face-to-face with him first! We think he looks kind of cute!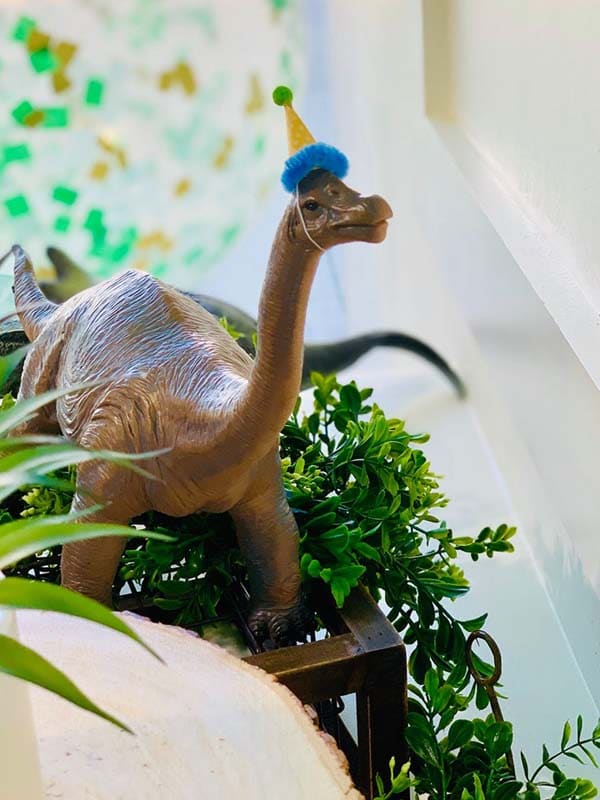 Simple dinosaur party accessories, like this plastic dinosaur, were found throughout the event. Between these types of decorations, along with all of the greenery, it really felt like you were in a jungle as you moved around!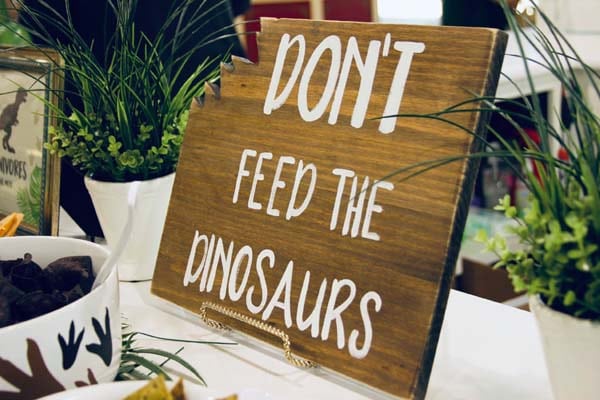 This cute sign made sure that everyone knew they had to keep their plates of food and desserts to themselves! No sharing with the dinosaurs around this birthday party!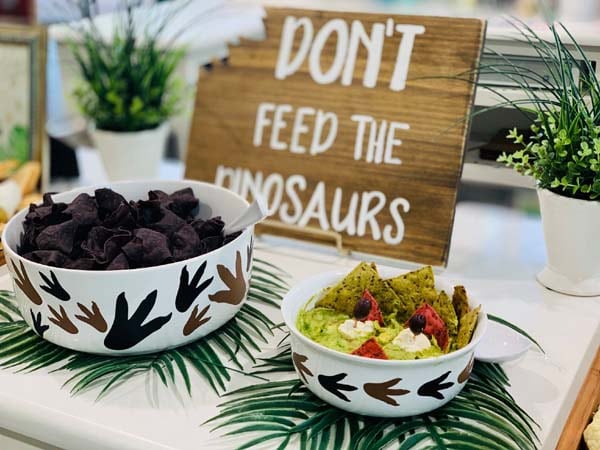 Even the bowls that were used had excellent dinosaur tracks on them to fit in with the theme. Nothing was forgotten and every detail was amazing!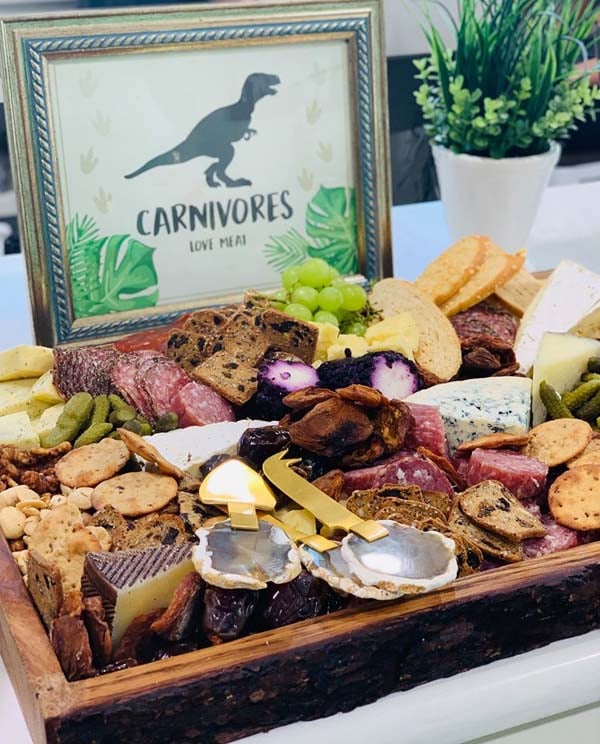 The adult carnivores enjoyed an expansive charcuterie platter. We love ourselves some good charcuterie platters that are loaded with all kind of different goodies!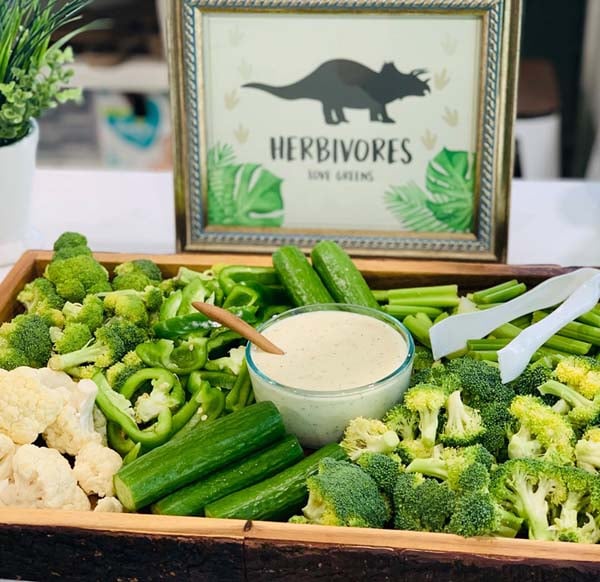 The herbivores, on the other hand, chose from a wide variety of greenery. It all looks so delicious!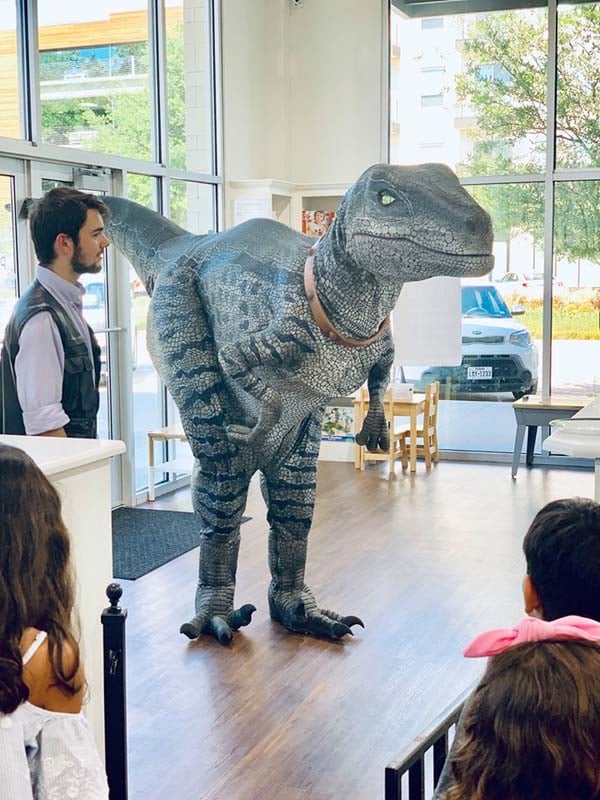 There was even a dino dance off with dinosaur entertainment provided by Maxon Production and Events. We bet all of the little ones couldn't wait to get their groove on with this cool guy!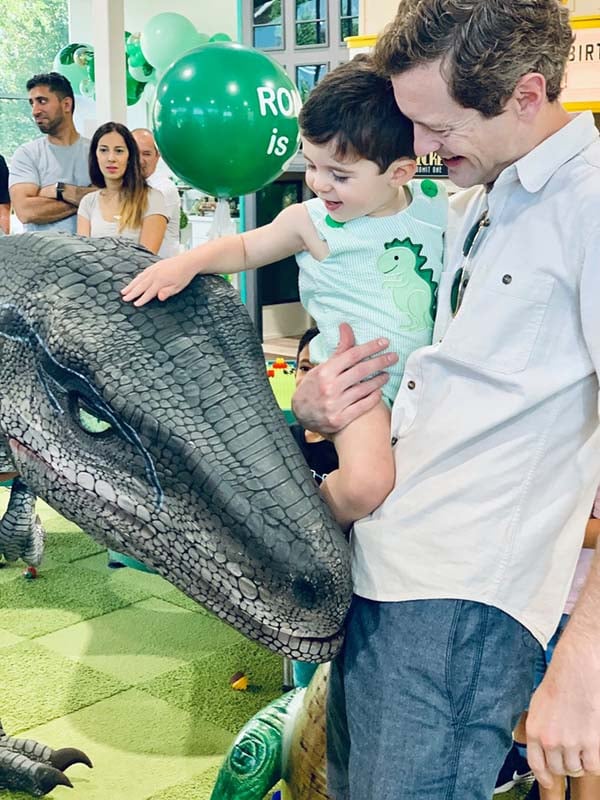 Everyone was able to get up close and personal, no matter their age. See, it doesn't look so scary to us!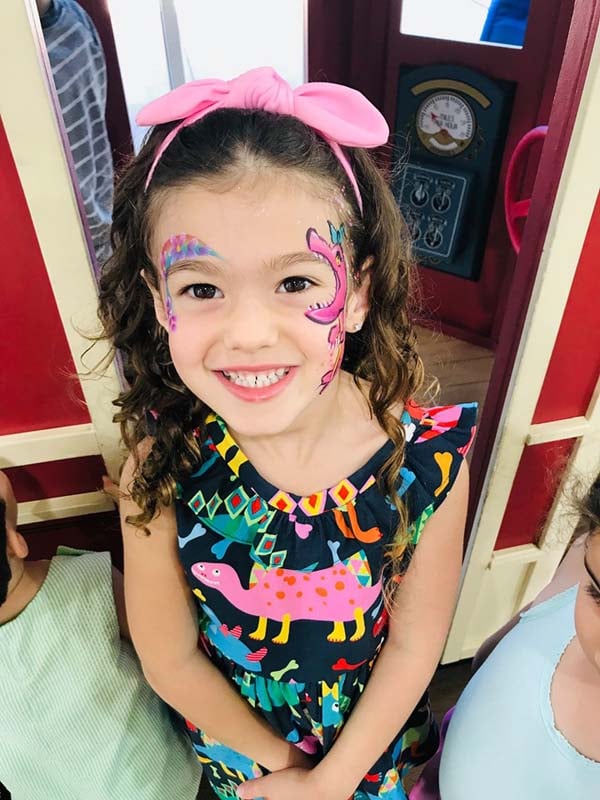 You can't have a birthday celebration without a little face painting! Lydia O. Face Paint entertained the birthday guests with lots of fun dinosaur-themed face painting ideas.
The kids just loved it! Look at how much they loved showing off their pretty, fresh faces!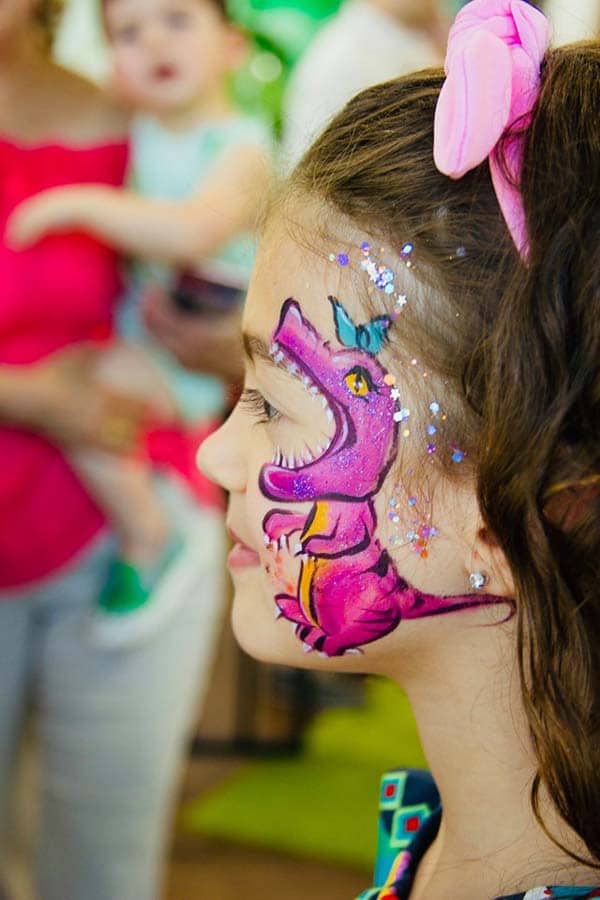 One guest got this purple dinosaur painted on her face. Beautiful design work!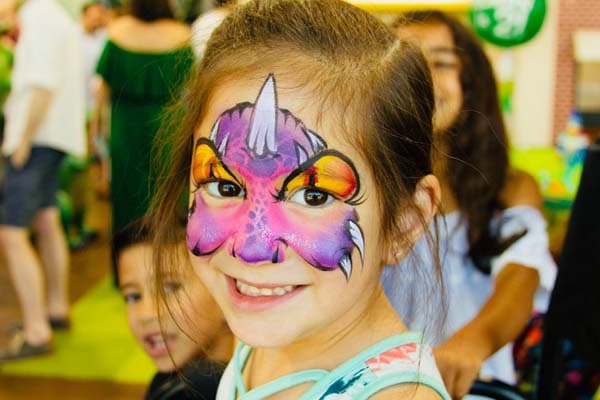 These fun Dinosaur Party Games and activities kept everyone excited to see what would be next. What an amazing Dinosaur Themed Party!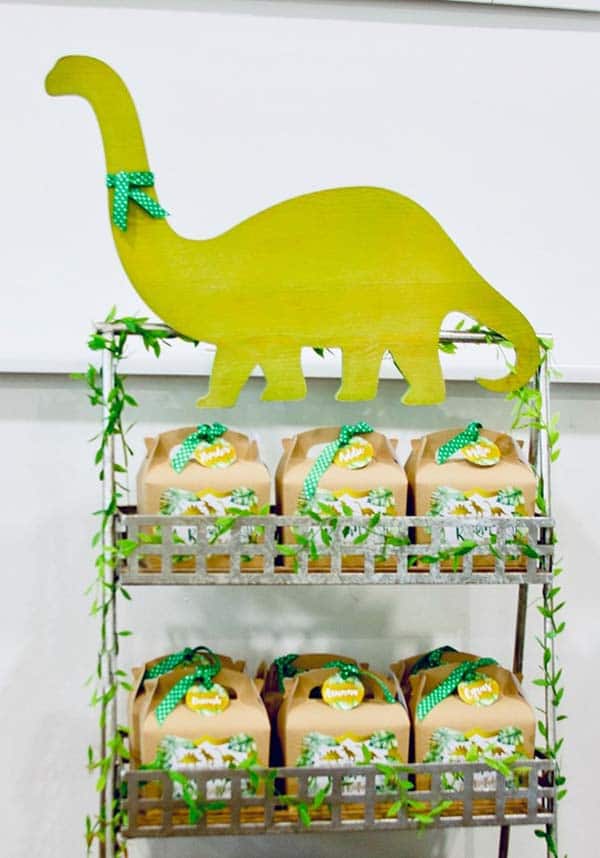 These Dinosaur Party Bags were ready to take home when all of the Dinosaur Birthday Party guests were ready to leave.
How cute are they, with amazing tags and printables that matched many different aspects of the party?!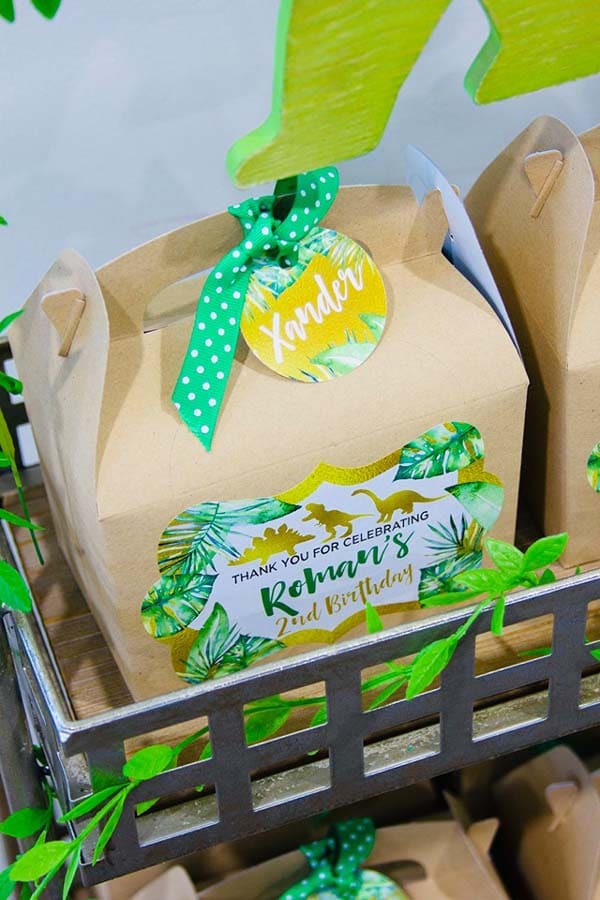 Overall, we'd say it was a ROARING success! If you're looking for Dinosaur Themed Birthday Party Ideas, this is going to get you exactly what you need from start to finish!
We're betting that a lot of little boys would go bananas walking into this birthday celebration for them. This theme is so easy to turn into a girly birthday as well!
Vendors & Credits
What's your favorite detail in this Party Like A Dinosaur Birthday? Let us know in the comments below!
Shop these Dinosaur Birthday Supplies
(Amazon Affiliate)