Pretty Pink Swan Birthday Party
This Pretty Pink Swan Birthday Party is full of frill, fun and is adorably fancy!
We just love this Pretty Pink Swan Birthday Party by Partylicious of Sri Lanka. From the beautiful swans found all around the celebration to the gorgeous balloon garlands that were used to decorate the dessert table and entrance, all of the decorations were so elegant and special for this fabulous first birthday celebration!
You are going to ooooh and aaaah over all of these incredible Swan Birthday Party decorations and desserts!
Swan Birthday Party Ideas
Gorgeous Swan Themed Dessert Table
Pretty Swans With Gold Crown Decorations in Front of Dessert Table
Matching Swans With Gold Crowns For the Table Centerpieces
Amazing Swan Birthday Cake With 3 Tiers and Giant Swan Cake Topper
Fun Pink, Peach and White Balloon Garland
Incredible Swan Cookies
Adorable White Wings With A Gold Crown and Pink Tutu Chair Decorations
Gorgeous Floral and Feather Decorations and Table Centerpieces
Beautiful Swan Party Food, including Cupcakes, Cake Pops, Popsicles, and MORE!
Swan Party Supplies, including Favor Bags, Party Hats, Napkin Holders, and Party Cups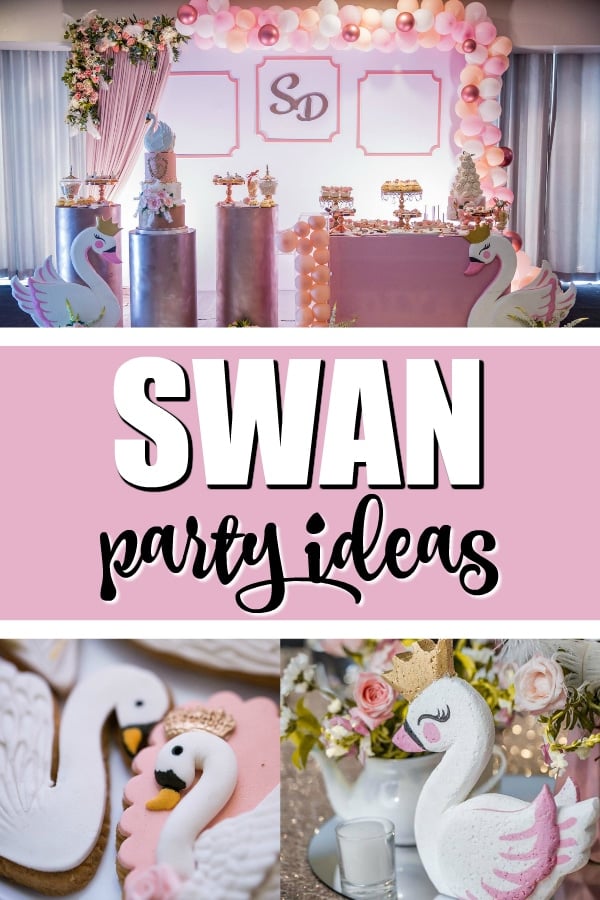 Swan Party Supplies and Decorations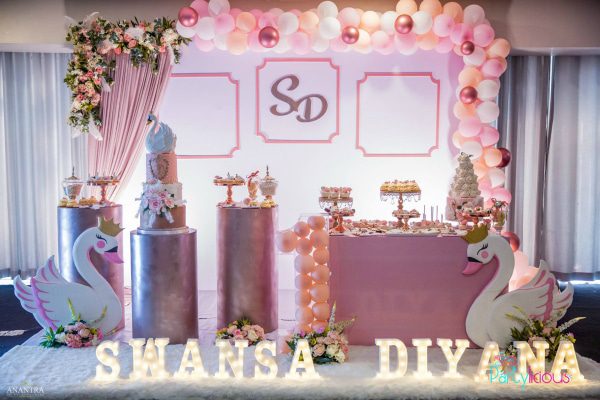 Just look at this amazing dessert table that was created for the Swan Themed Birthday Party! It is absolutely incredible and it kind of takes our breath away!
This lucky one-year-old princess will have these gorgeous photos for a lifetime, which captured her incredible 1st birthday party and all of the love she received from her family and friends on her special day.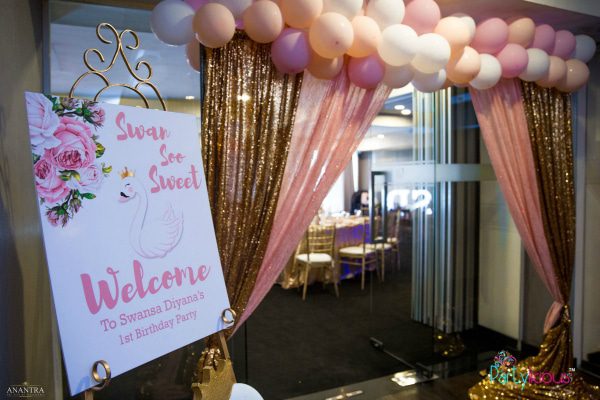 There was no doubt that everyone was going to know exactly where to go thanks to this gorgeous welcome sign announcing the Swan Birthday Party!
And the icing on the cake was the amazing balloons that were around the doorway, with gorgeous gold and pink drapes ushering everyone into the special event.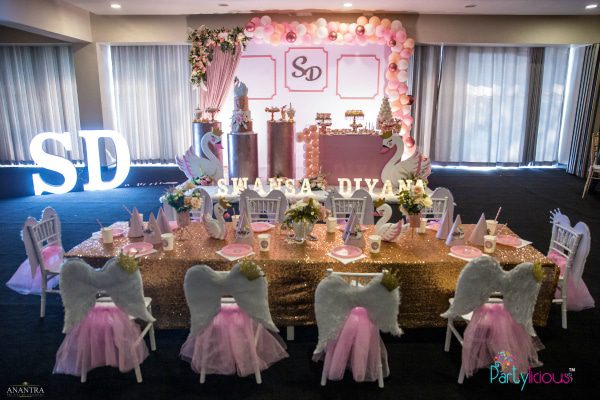 All of the party guests enjoyed the Swan birthday party decorations as they were sitting at the table dining on their delicious treats.
What a gorgeous table setting that was used for the Swan Birthday Party. All of the themed party plates, together with the personalized hats and cups sat perfectly on the table for the lucky guests.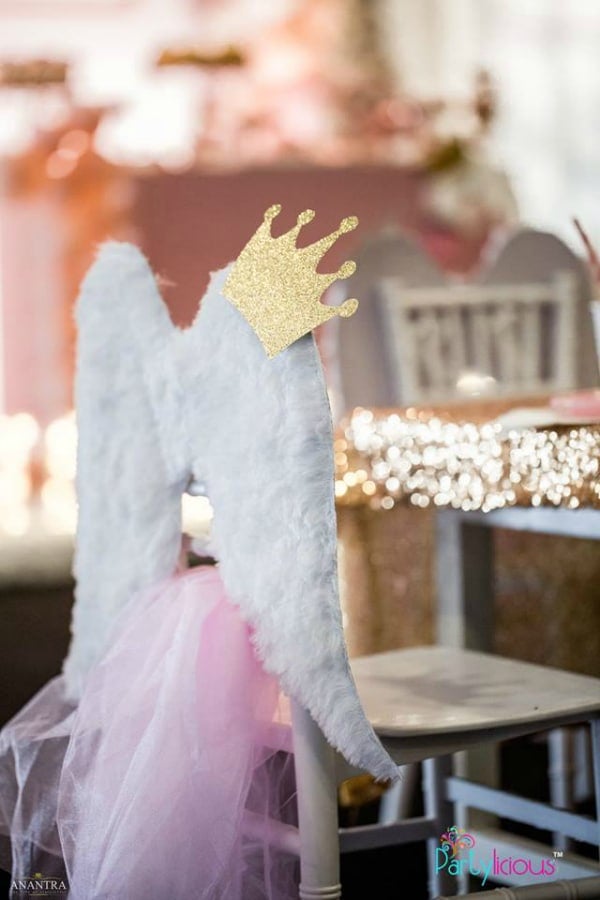 Our favorite details of the tables were the amazing swan chair covers! Just look at these!!!!!
We can't believe how amazing these pink tulle chairs look with the perfect swan wings spanning across the back of the chairs with the gold crowns.
What a great added details to the other decor. It fit the theme perfectly!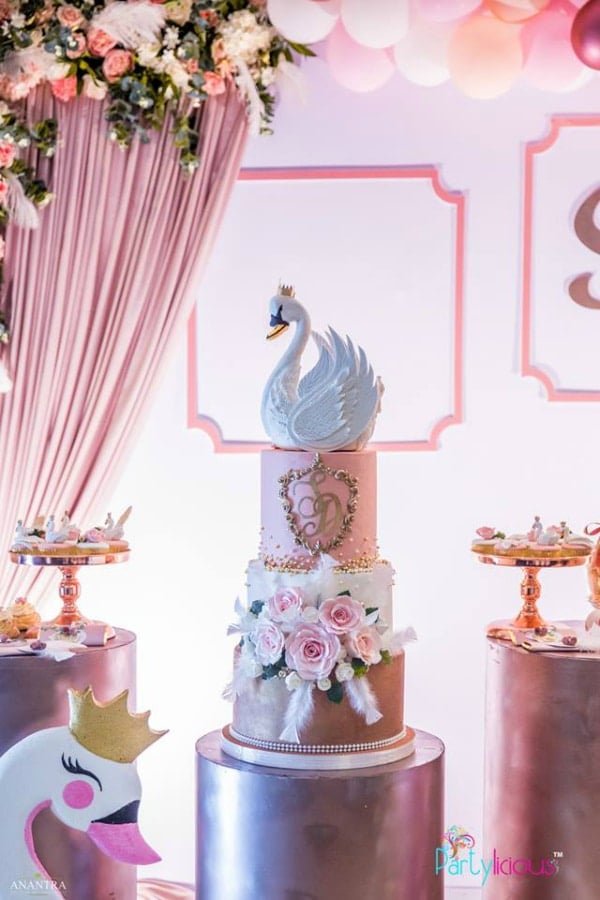 This gorgeous Swan Birthday Party cake was jaw-dropping, but it's the cake topper that really knocked us off our feet!
Just look at that picture-perfect Swan sitting up on top of the cake!!!
What a regal and amazing animal to plan this first birthday celebration around!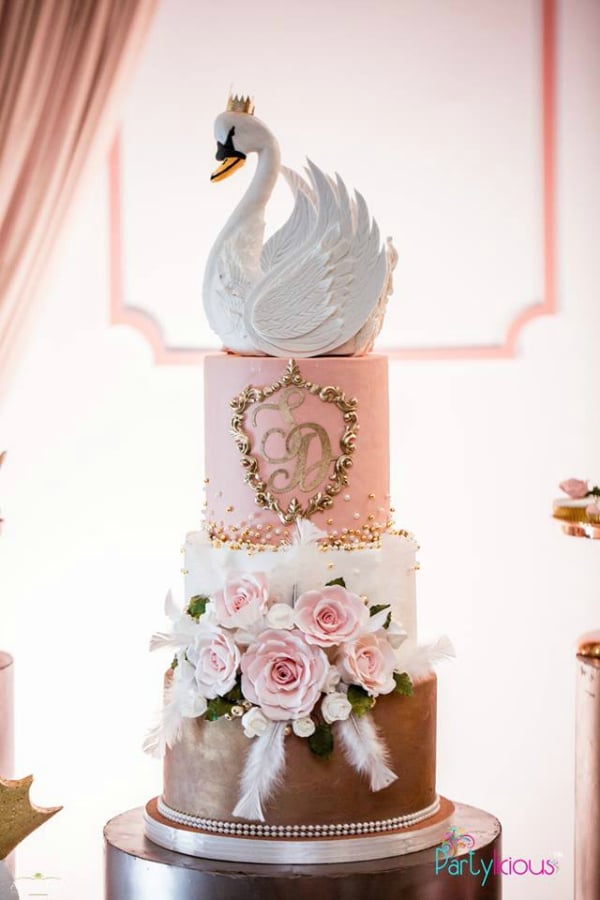 The Swan Party Theme cake was incredible and we love how the flowers on the middle of the cake add more eye-popping flair, especially with the gorgeous feathers interspersed.
We just love it and it adds such a spark of elegance to the entire event design.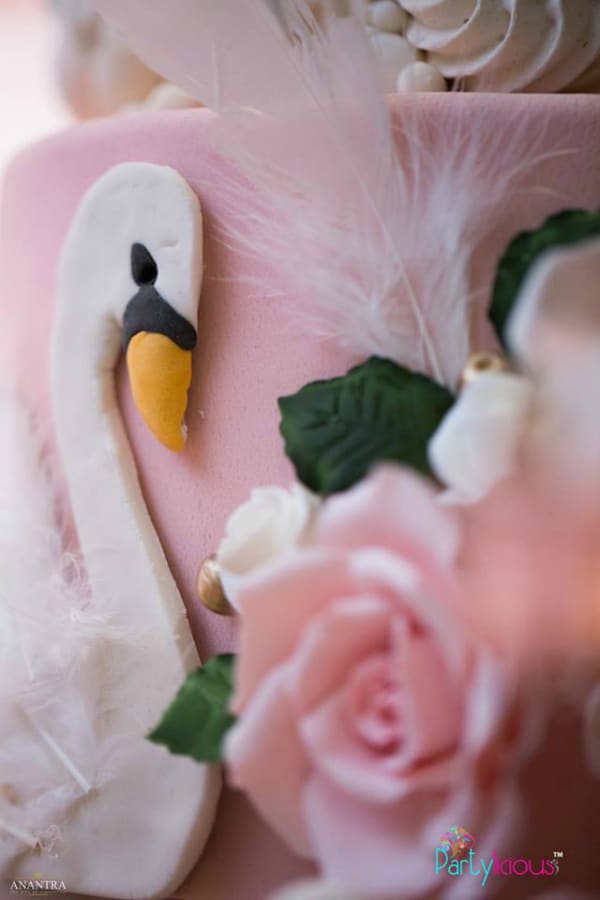 And don't forget the gorgeous swan details that are found on the cake with amazing fondant designs. What an incredibly beautiful cake.
This is one cake the birthday girl will have to have her parents frame for her to admire for years to come!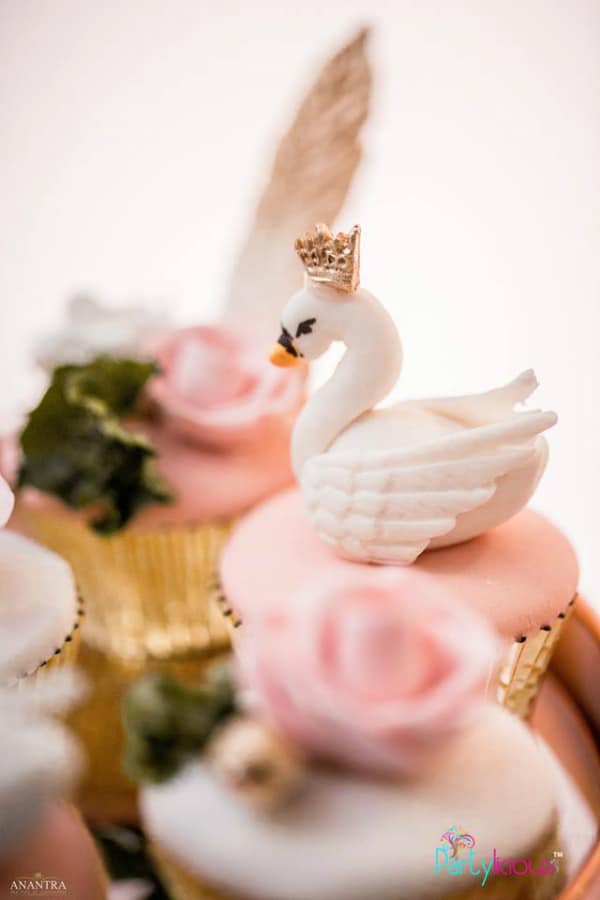 In addition to the perfect cake, there were elegant swan cupcakes that were included in this birthday celebration.
Who doesn't love a yummy cupcake to indulge in at a birthday party? Especially when they are so beautifully decorated!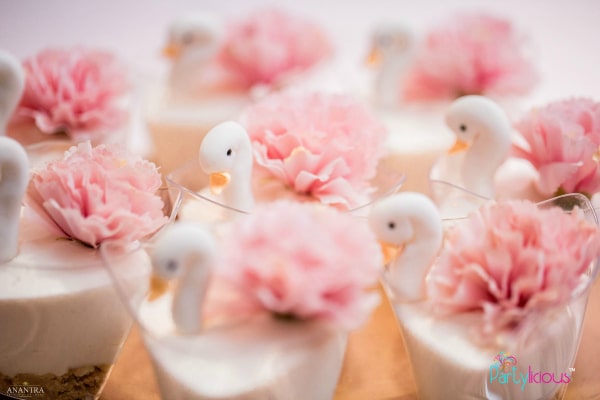 Additional Swan Themed Birthday Party desserts were available for everyone to try out. Everything was so perfectly styled. The food all looked to perfect to dig into!
Who wants to be the one that makes the first move to dismantle all of this gorgeous yumminess?!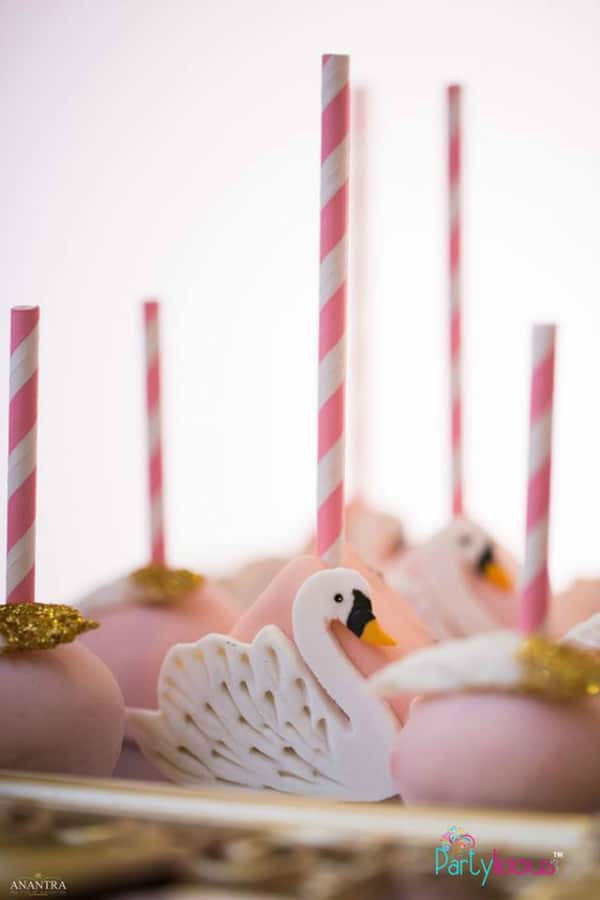 These Swan Party Deserts are absolutely adorable! With the pink striped straws and the delicate swan pattern on the side, these perfectly-designed cake pops are great Swan Party Ideas for your theme, as well!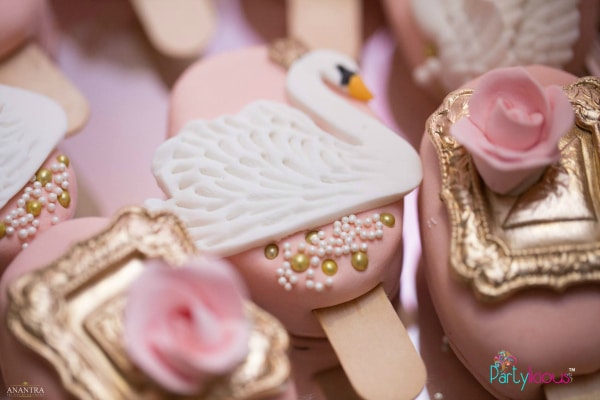 We love how the same swan fondant theme is used throughout many of the desserts that were made for the Swan Birthday Party.
And with the white and gold accents that were used, everything came together absolutely beautifully!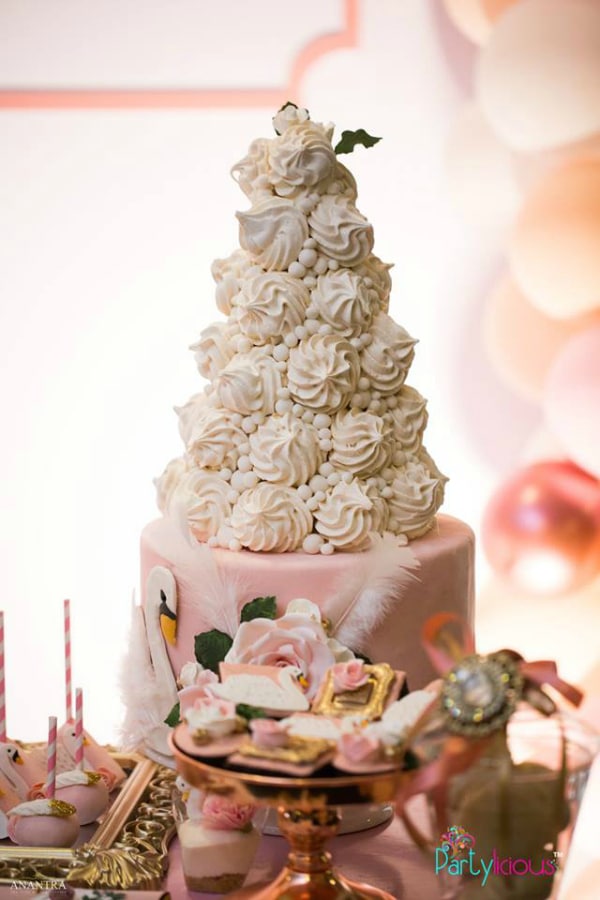 Look at this additional swan birthday cake that was created for the dessert table.
It's safe to say that we don't think anyone was going to go home hungry with all of the amazing creations that were made for everyone to enjoy. What incredible desserts!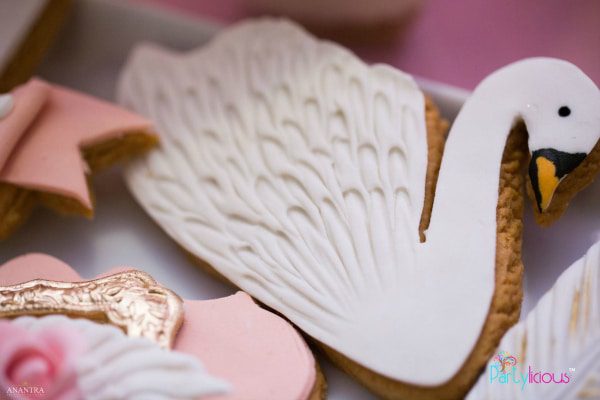 Of course, swan birthday party cookies were created for the celebration, as well! Look at the meticulous detail of every cookie!
It's like Swan Lake came to life and decided to flock together for this sweet 1st birthday celebration!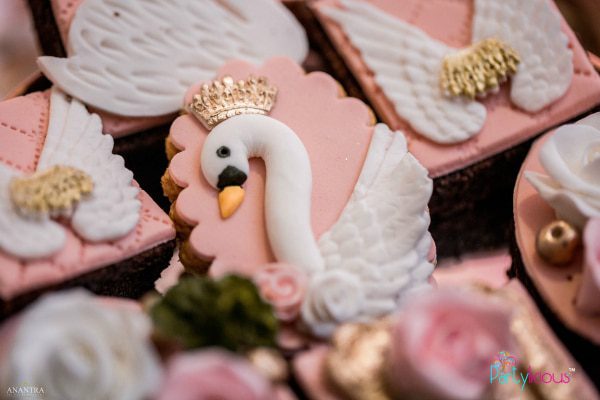 These swan cookies even included some gorgeous little gold crowns on them, as well.
We know this little swan princess party was sure to be a perfect celebration for this birthday girl's big milestone.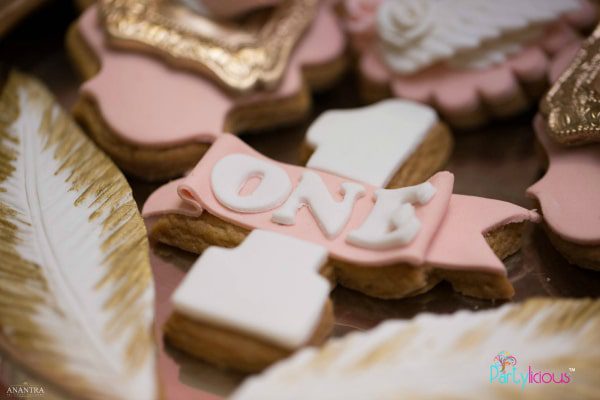 Even sweet little "One" cookies were created in honor of this lucky girl's first birthday. So many of the Swan birthday party decorations were found in the desserts, themselves!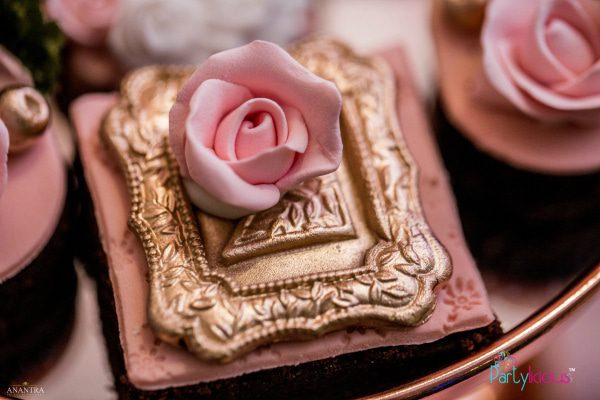 Cookies were everywhere and we just love all of the exquisite detail that was put into each and every one. Just look at this amazing pink and gold rose brownie … AMAZING!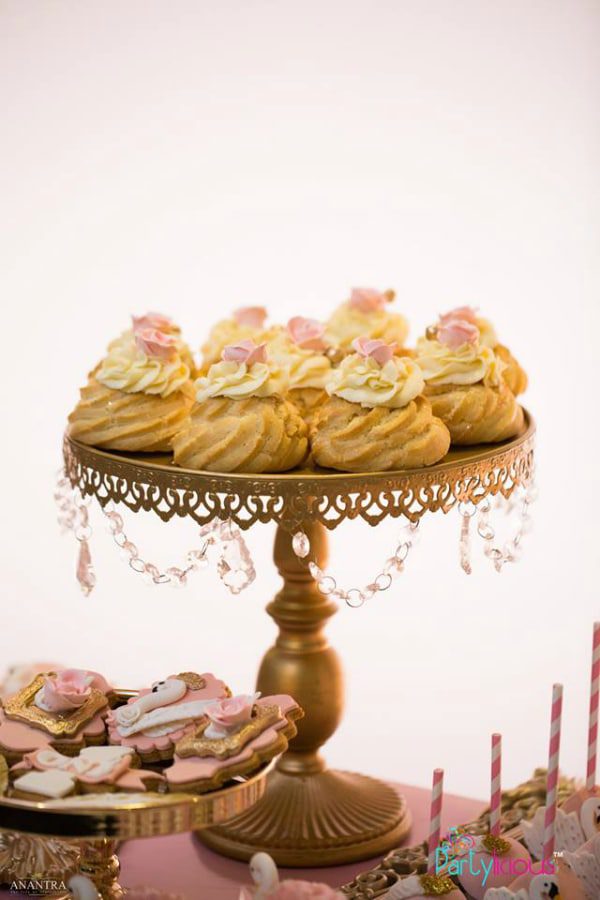 Yummy desserts were found around the entire event and nobody was going to miss out on a single one. How could you say no to something that looks this good?!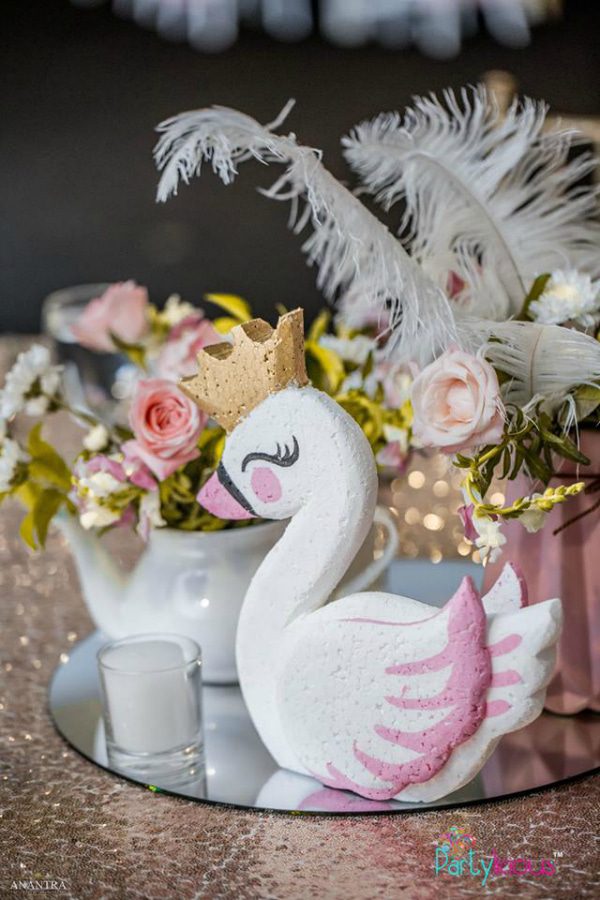 Even the gorgeous centerpieces contained the perfect decor elements for this Swan Birthday Party!
We love how the feathers are found throughout the birthday celebration, reminding everyone of the Swan Party Theme everywhere they went.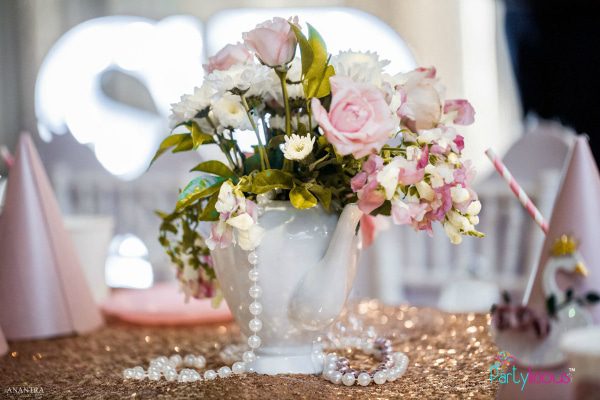 Beautiful flowers were found on the guest tables, and were amazing centerpieces tying together the pink and white colors.
We love the addition of strands of pearls that were found on the flowers, as well. So regal and elegant!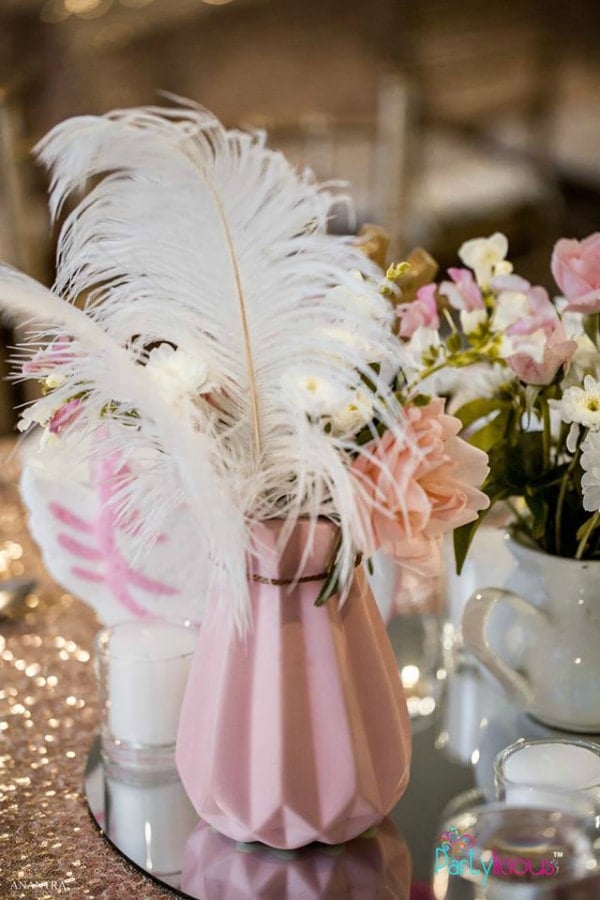 Other beautiful centerpieces included pretty feathers and flowers in pink vases, which was perfect for the Swan theme birthday party.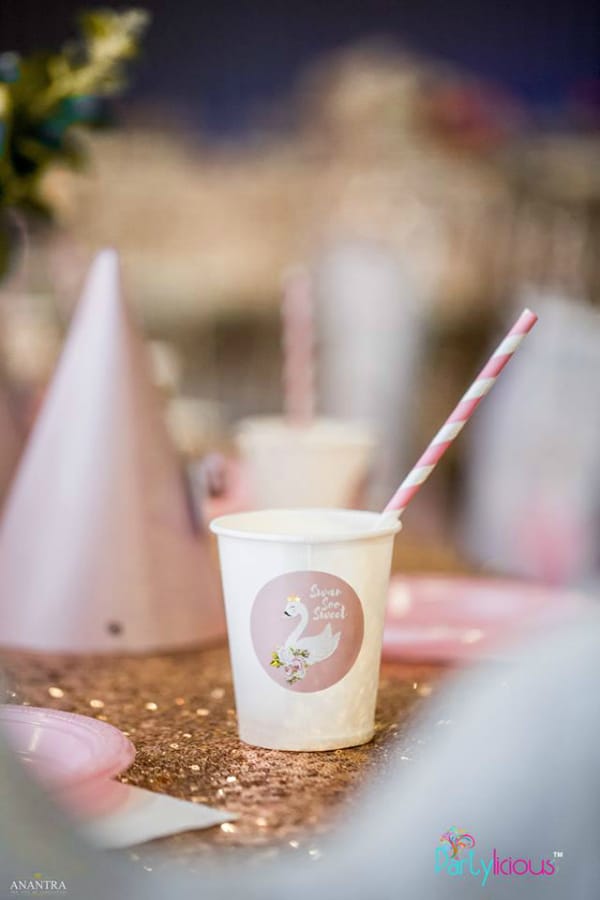 Even the cups found on the guest tables had the perfect swan embellishments included on them. And with fun white and pink striped straws, they looked oh so cute and fit the theme perfectly. We're sure all of the little kids just loved the table decor!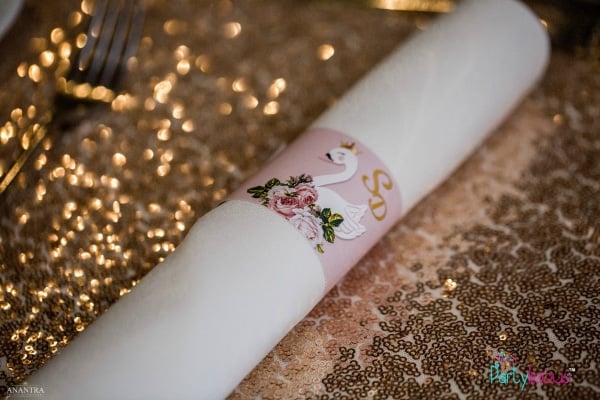 Themed napkin ring holders were used on the tables, which also incorporated the Swan birthday party decor, too. They looked great on the sequin gold tablecloth!
What would a Swan Birthday Party be without personalized swan party hats?! We love how these were put together and it was the perfect addition for a child's first birthday party.
We just adore all of the fun party supplies!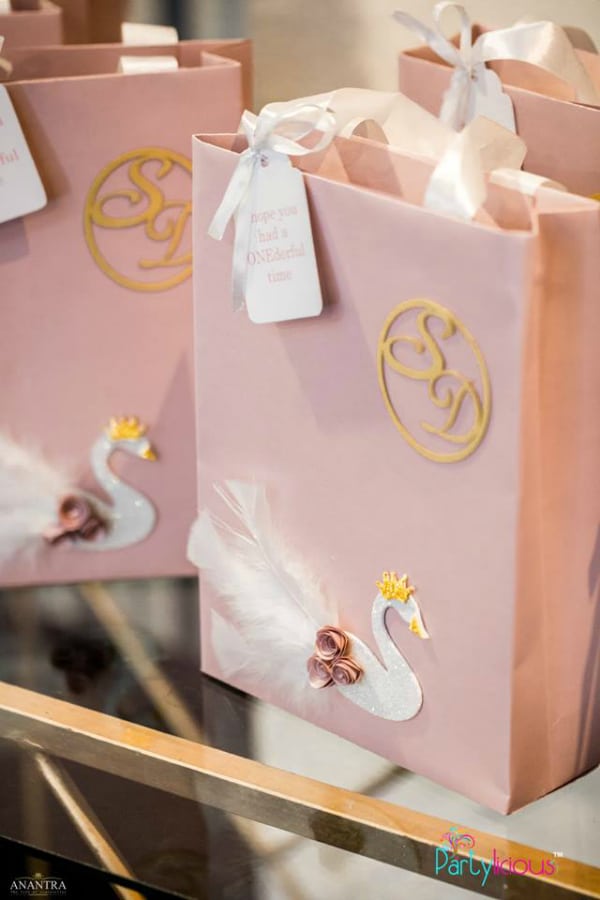 Finally, the cutest Swan Themed Birthday Party favor bags were presented to all of the children.
The pink bags were adorned with a swan and had personalized tags thanking all the guests for coming to the celebration.
What a great way to gift everyone and we're sure guests took a couple of extra desserts home with them to enjoy later. What a beautiful Swan Birthday Party for a special one-year-old girl!
Vendors & Credits
Event Planner/Styling, Decor Concept Designing & Props: Partylicious – Sanu Vitanachy
Cake Structure: Melshika Weerasinghe
Theme Items: Concept by Partylicious crafted by Shaziya Kamil
Chair Wings: Dhalia Sheriff Decor
Photography: Anantra
What's your favorite detail in this Pretty Pink Swan Birthday Party? Let us know in the comments below!
For more party ideas, follow us on Instagram @prettymyparty and Pinterest and join us in our private Facebook group.
Shop these Swan Party Supplies:
(Amazon Affiliate)