Elegant Little Mermaid Birthday Party
What could be better than an Elegant Little Mermaid Birthday Party for your birthday girl?!
This Elegant Little Mermaid Birthday Party from Uni Duni & T of Brazil is absolutely gorgeous! If you have a Little Mermaid lover who is a huge Ariel fan, this is going to provide so many amazing Little Mermaid Birthday Party Ideas!
The mermaid party decorations, desserts, cake, balloons, and favors were all so carefully planned and executed to make this family's vision come to life.
Little Mermaid Party Ideas
Mermaid Tail Balloon Decor
Ariel and Mermaid Dessert Table Backdrops
Glitter and Mermaid Dessert Pedestals
Incredible Little Mermaid Birthday Cake
Mermaid Tail Cake Pops
Ariel and Under the Sea Themed Cookies
Cute Little Mermaid Favor Bags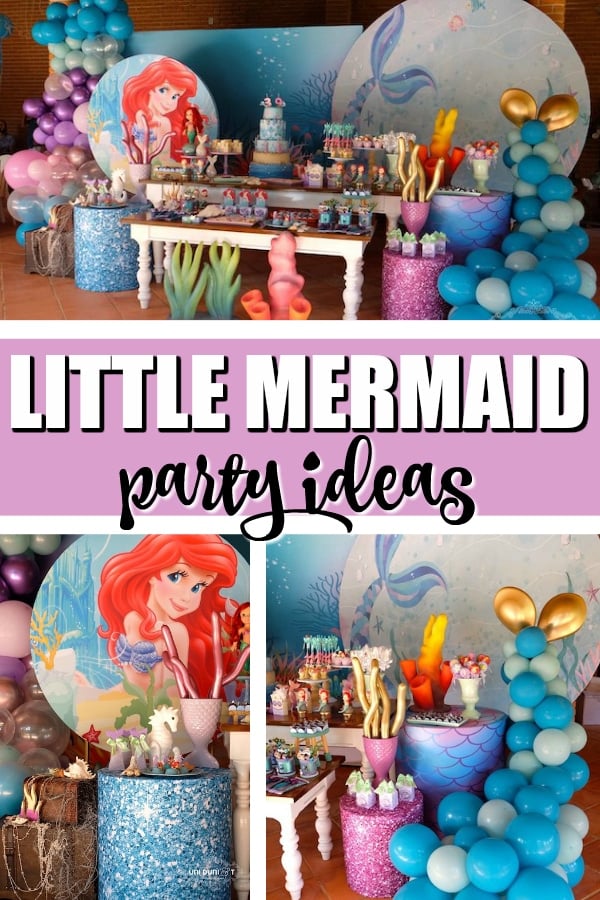 Little Mermaid Party Supplies and Decorations
SEE MORE MERMAID BIRTHDAY PARTY IDEAS HERE: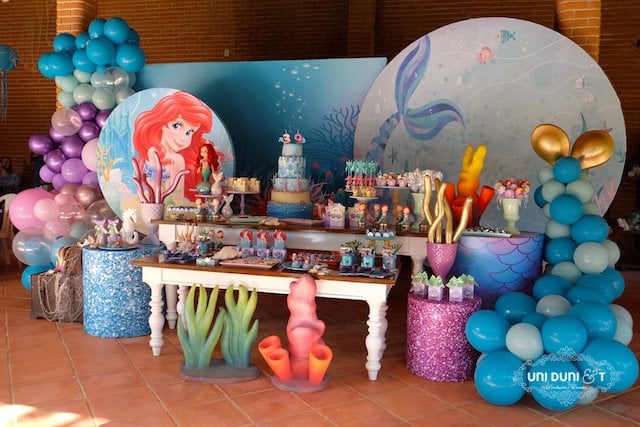 Wow! Look at this incredible Little Mermaid Themed Party dessert table! We don't even know where to begin and everything is picture perfect.
Milena Freitas completely outdid any expectations that a Little Mermaid fan would have.
From the beautiful backdrops and glitter dessert stands, to the incredible Mermaid Tail Balloon Decor on the side of the main table, guests were completely blown away by all of the gorgeous decorations.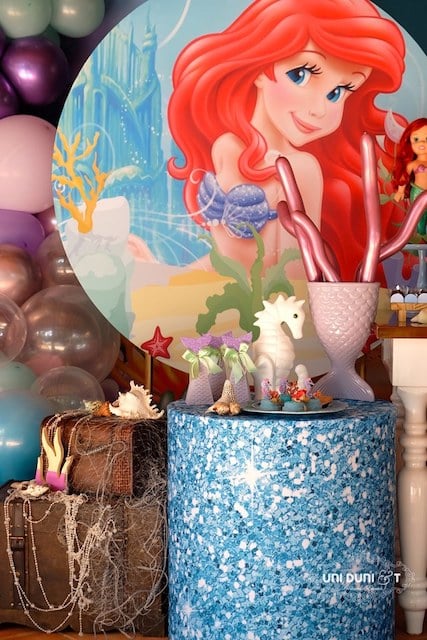 We are in LOVE with the Ariel and Mermaid Dessert Table Backdrops that were found at the Little Mermaid Birthday Party. Just look at Ariel giving us her big smile above!
We also love how the pedestal was covered with glitter before topping it with yummy desserts. What impressive and unique dessert presentations that served as the most gorgeous decorations!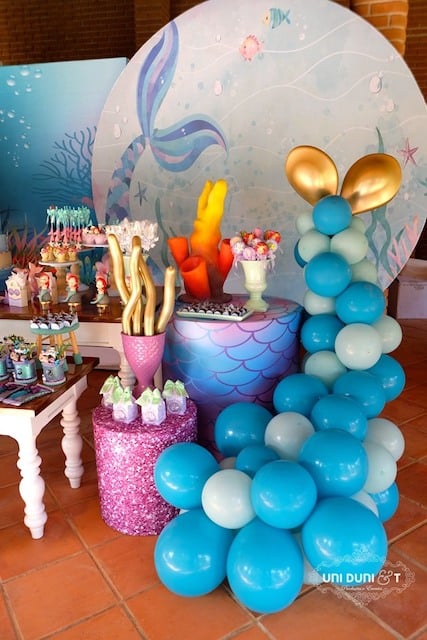 The Mermaid backdrop was just as impressive! The mermaid tail balloon decorations are out of this world!
Party decorations are always such an important part of a birthday celebration and there was nothing missing from this Little Mermaid Birthday Party!
This celebration is such an explosion of color, fun and elegance that it's exactly what any little girl dreams of!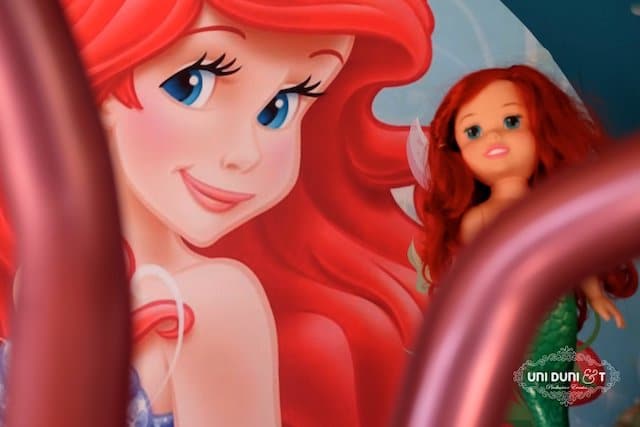 Ariel is found everywhere at this sweet Little Mermaid Themed Party!
Whether it was on the backdrop, though Ariel-inspired desserts or great Ariel dolls that were located throughout the party, there was no doubt that she was main presence to welcome the birthday girl into her fabulous Little Mermaid Birthday!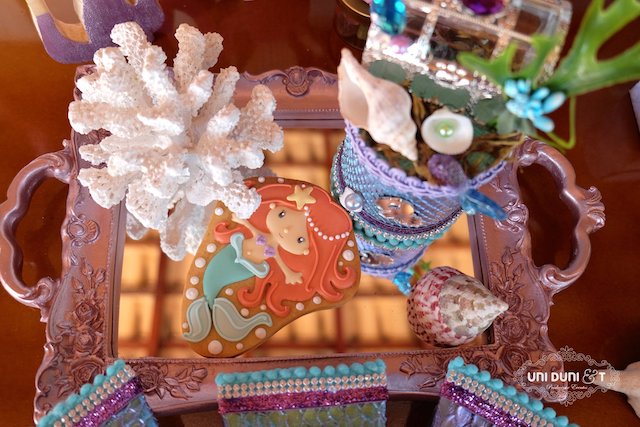 Look at this incredible Little Mermaid cookie! What an amazing work of art and all of the simple shell decorations surrounding the serving tray are such an easy way to spruce up a sweet Little Mermaid Party Theme!
It's the perfect way to give the beach vibe of a Little Mermaid party, while keeping things elegant and whimsical.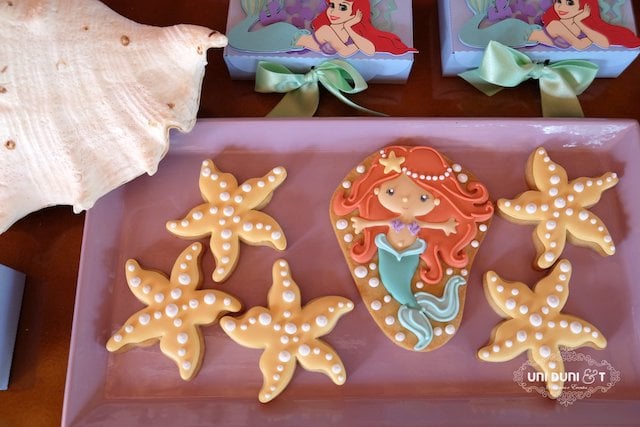 More delicious Little Mermaid cookies were available. How perfect to have starfish cookies present, as well! And they are so cute and decorated perfectly.
All of these under the sea desserts are starting to make our mouths water!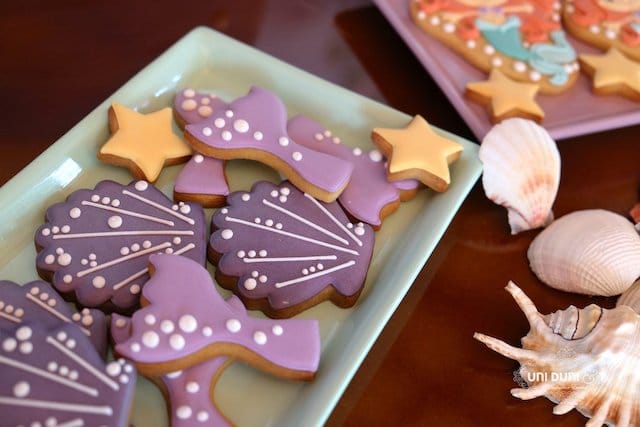 Additional shell and fin cookies were provided at the Little Mermaid Themed Party, as well. The purple looked so awesome with the great seashells adding the perfect element of decor to the birthday celebration.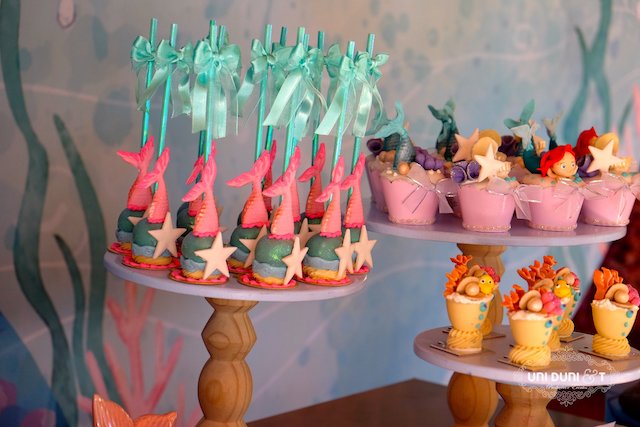 LOOK at these incredible mermaid fin cake pops! We can't even believe how amazing these Little Mermaid party treats are!!!
What amazing ideas to incorporate into your own birthday planning. Just look at how colorful and alive everything looks.
It makes you truly feel like you are immersed in the ocean, enjoying a fun party with Ariel and her friends. It's gorgeous!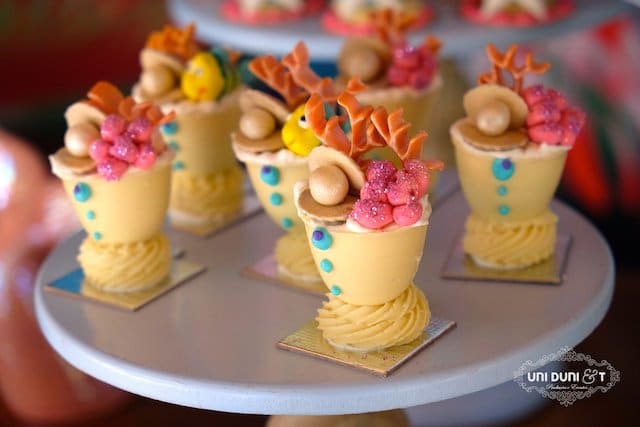 These Little Mermaid Birthday Desserts are really unique. Just look at all of the thought and detail that went into each one of these desserts!
Such unique and elegant decorations and even Flounder decided to make an appearance on a few of the treats! This Disney party just got kicked up a notch!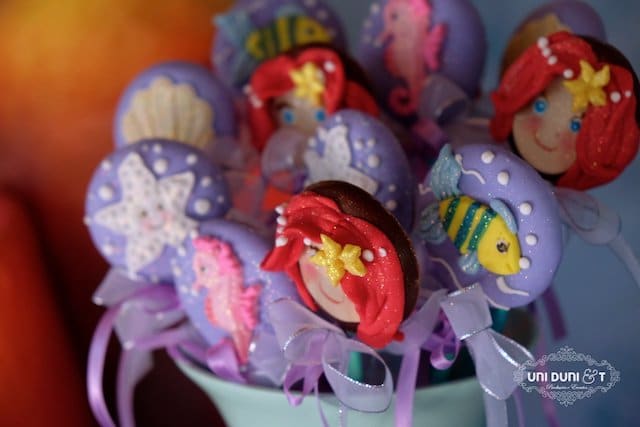 These Little Mermaid pops were available for all of the party guests. Everyone loved them and they were decorated so classy that we're sure all of the kids and adults wanted one for themselves! They look so yummy!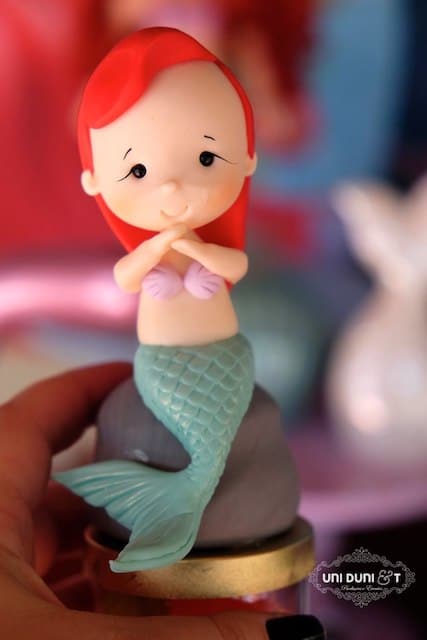 How cute is this little Ariel that was made entirely of fondant?! We love how great the detail is on her mermaid tail. It was a great addition to the Little Mermaid Birthday Party and everyone loved it.
She is just the sweetest and a perfect addition to a Little Mermaid Cake!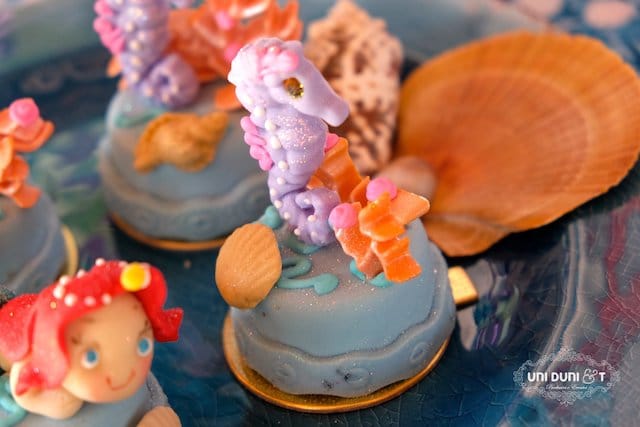 More Little Mermaid Birthday Treats were found on the dessert table. These awesome treats were covered with edible glitter, which of course, all of the girls loved. Seriously, who doesn't love glitter?!
We love how so many of the desserts at the Little Mermaid Birthday Party included characters from the Disney movie.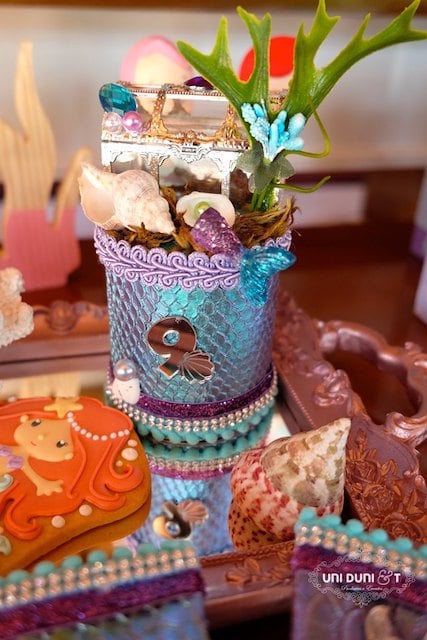 Additional party decorations looked like they were so much fun to create! This great pot is filled with shells and under the sea treasures that only Ariel would be able to find.
And we love how the pot is covered with what appears to be "mermaid scales" that are shiny and OH SO PRETTY!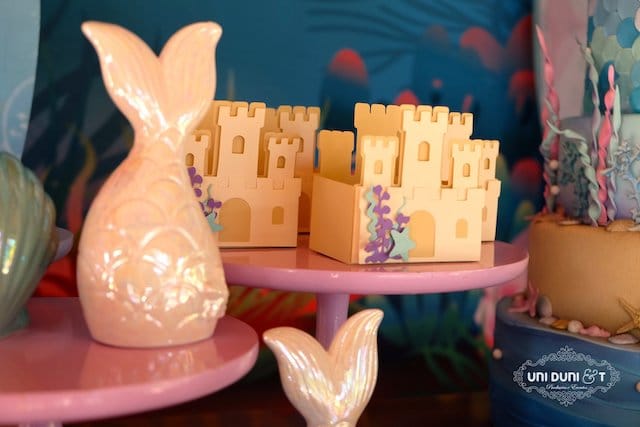 This Under The Sea village is where Ariel calls home, and of course it had to be included in this Little Mermaid Theme Party! The party decorations that were found around the event were so creative.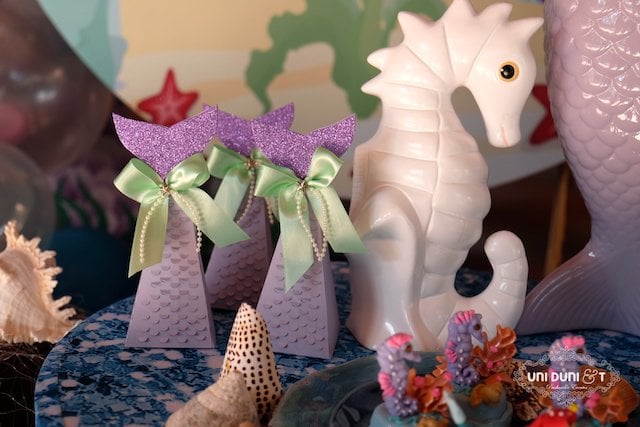 Little mermaid tails were on the dessert table to add to the decor, along with a great seahorse! Everything about this celebration screams ocean vibe that all of the little girls would squeal in delight over!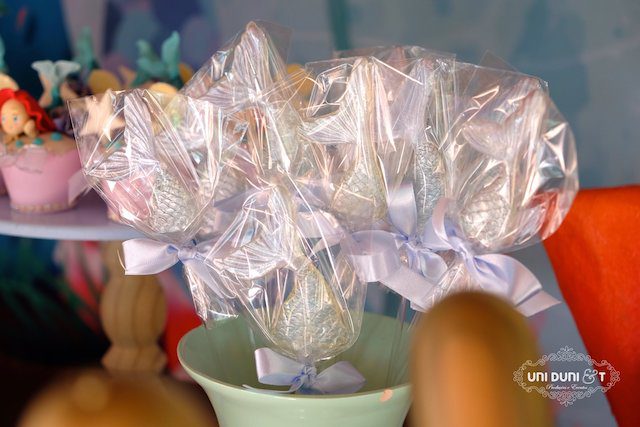 All of the Little Mermaid Birthday Party guests were so excited to get their own mermaid tail lollipop.
All of the treats never seemed to come to an end and as soon as everyone thought they saw everything, something new and exciting would be waiting around the next corner!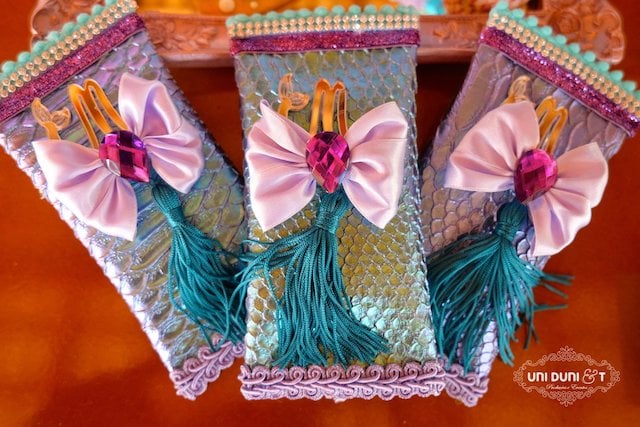 How amazing are these covers for the mermaid chocolate bars that everyone got to take home?!
They are absolutely incredible and we may not even take our chocolate bar out of this if we were able to bring one home. We just love it!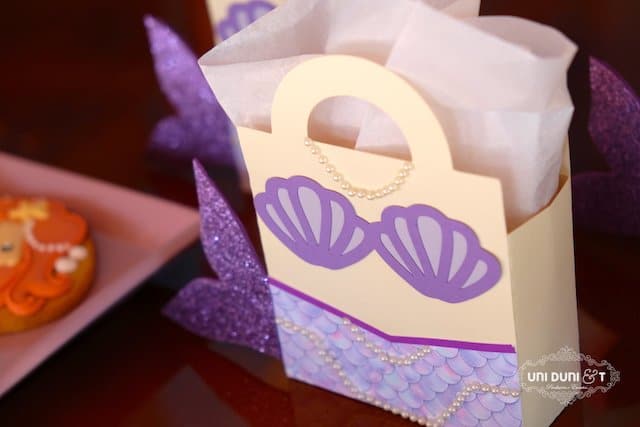 The favor bags were filled with lots of yummy treats that everyone was able to enjoy after they had to leave the fairytale behind.
This Little Mermaid Birthday Party definitely didn't disappoint and with all of the great Little Mermaid Party Ideas that were shown, we know that you have lots to look forward to with your own Little Mermaid Party adventure! Enjoy!
Vendors & Credits
Project, Execution and Photography: Milena Freitas
Partner: Thais Toledo, Antonio e Luzia
Candies: Sayo, Regina
Gifts and Stuffs: Tamy, Karla, Aline
What's your favorite details in this Elegant Little Mermaid Birthday Party? Let us know in the comments below!
For more party ideas, follow us on Instagram @prettymyparty and Pinterest and join us in our private Facebook group.
Shop these Little Mermaid Party Supplies:
(Amazon Affiliate)