Mermaid Kisses Starfish Wishes Party
This gorgeous Mermaid Kisses Starfish Wishes Party is a pastel party dream!
There's no denying that a Mermaid Birthday is on every little girl's wish list when it comes to party themes. Throw in some pretty pastels, a fabulous balloon wall backdrop and gorgeous Mermaid themed desserts and you can have an amazing Mermaid Kisses and Starfish Wishes Birthday Party like this one from M&J Kreations of Orange County, California.
We're totally swooning over every single detail in this party. The balloon wall backdrop is serious #partygoals. What a fun DIY project for a Mermaid Kisses and Starfish Wishes Party. We love how the balloon backdrop is made to look like bubbles.
Mermaid Kisses and Starfish Wishes Party Ideas
Gorgeous Pastel Balloon Dessert Table Backdrop
Personalized Pastel Seashell Backdrop
Pretty Pastel Mermaid Birthday Cake
Under the Sea themed desserts, including Chocolate Covered Oreos, Rice Krispie Pops, Cookies, Cake Pops, Macarons and Cupcakes
Starfish Dessert Platters with "Sand"
Amazing floral centerpieces and dessert table decor.
Check out these other Mermaid Party Features: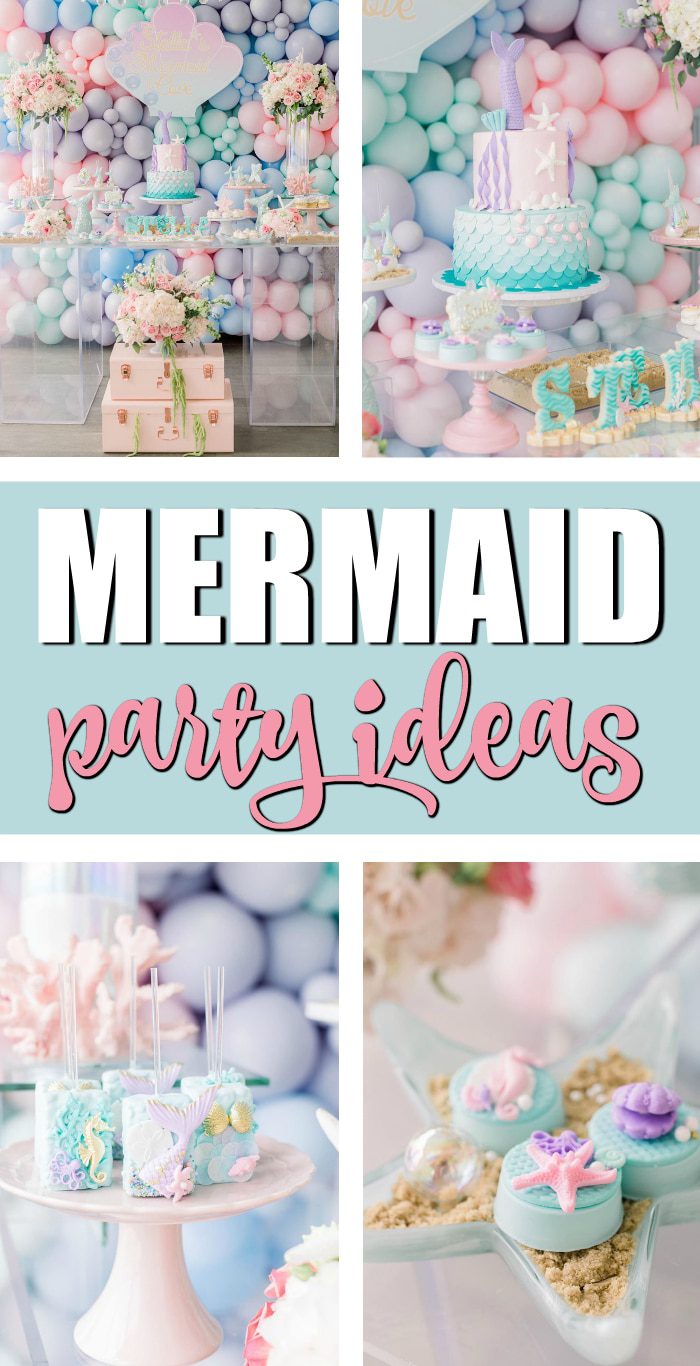 Mermaid party supplies and decorations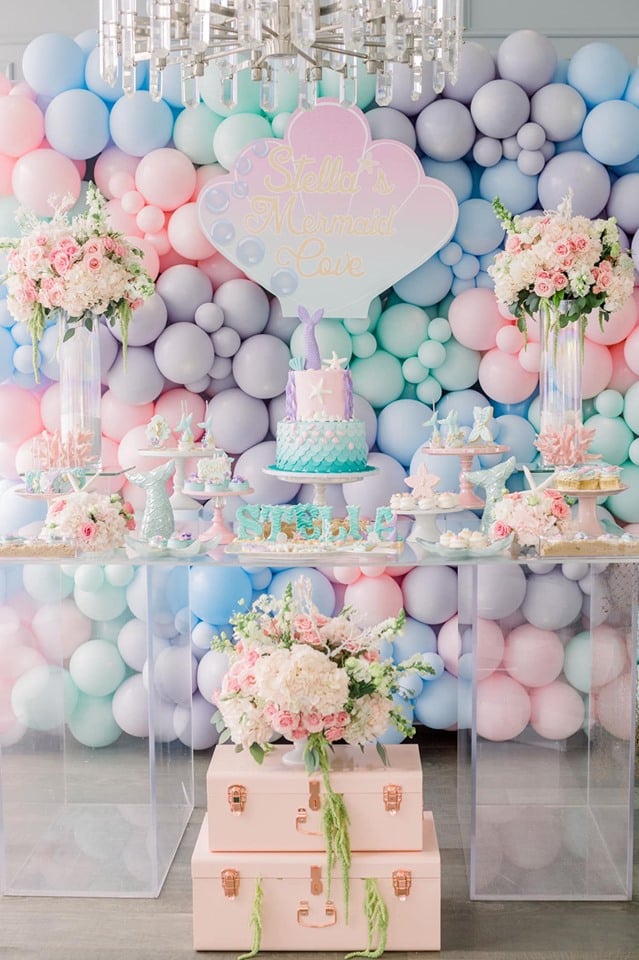 Let's start with the AH-MAZING Mermaid Theme dessert table. Seriously, how gorgeous is this set up? M&J Kreations always designs the most incredible parties and this one certainly makes a "big splash!" We're sure the birthday girl and her family we're blown away when they walked into this mermaid dream!
The clear dessert table featured a pretty birthday cake as the centerpiece with a purple mermaid tail cake topper and starfish and seashell decor. We absolutely LOVE the bottom of the cake and how it's made to look like ocean waves. Very clever!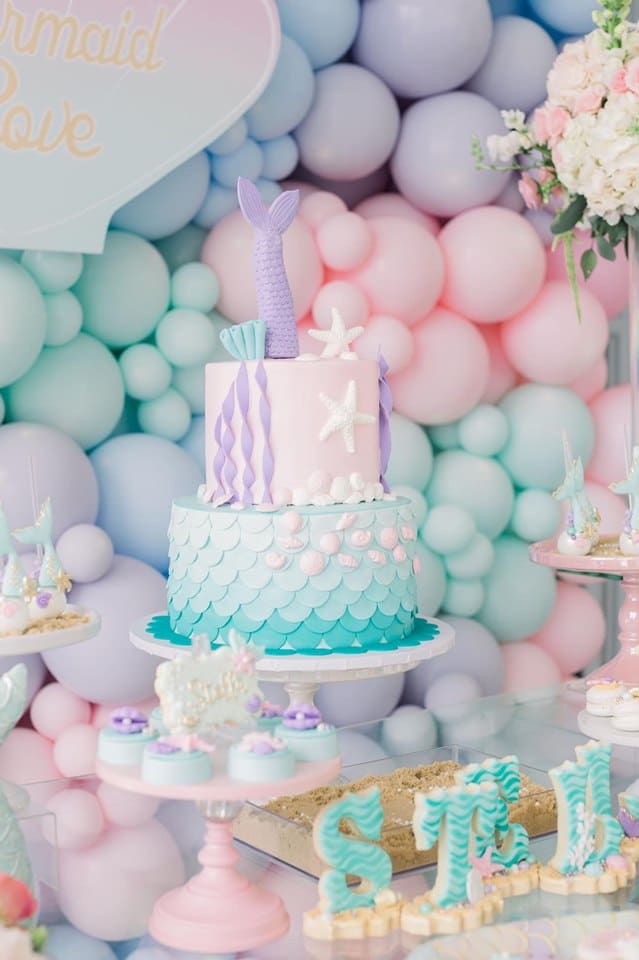 All of the desserts were amazing and true works of art. The detail of each dessert was so impeccable and fit the theme perfectly. We love how the birthday girl's name was included on the cookies. That's a great way to personalize any party.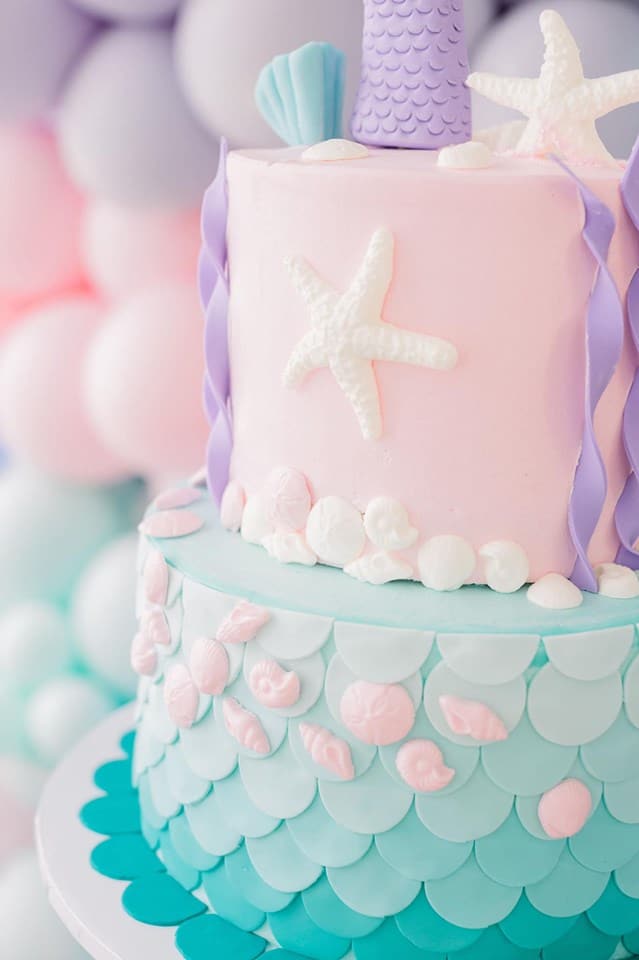 We're sure the birthday girl loved her pastel pink, purple and blue Mermaid Under the Sea Cake.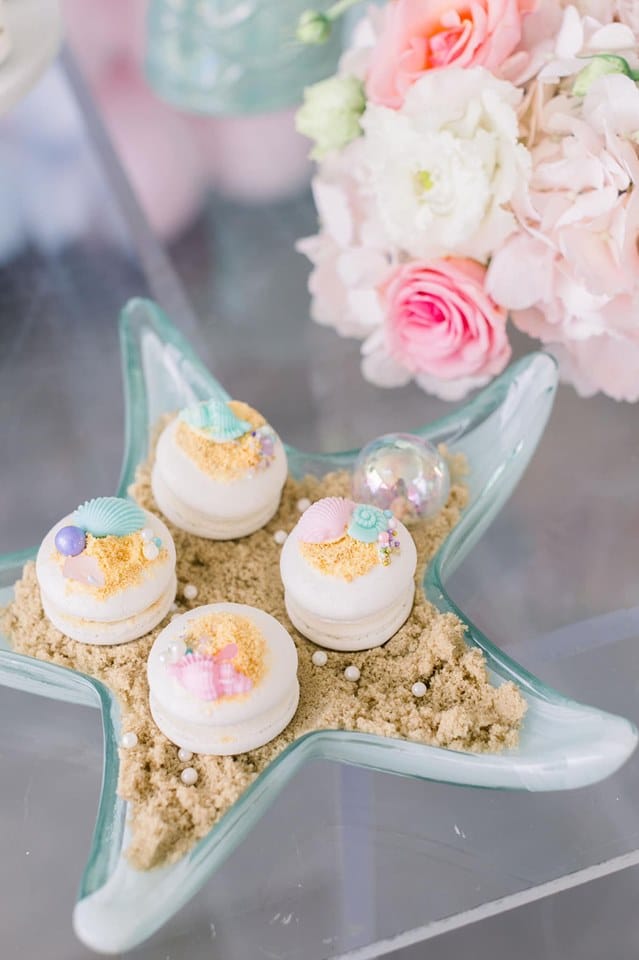 Macarons with sand and seashell details were sitting pretty in a pastel blue starfish serving tray.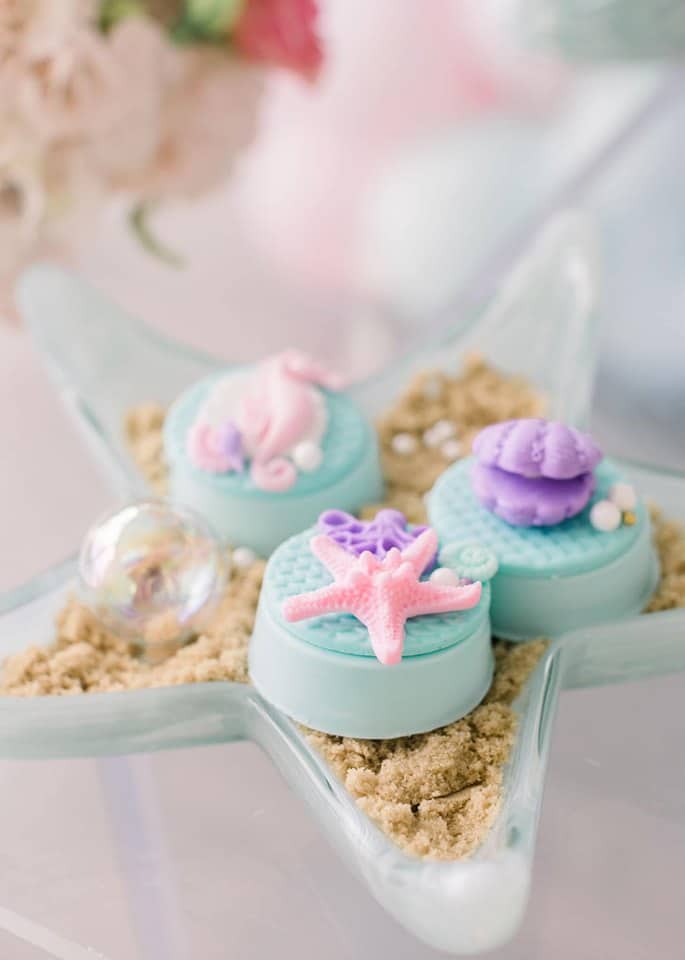 Another delicious dessert included chocolate covered Oreos topped with "beachy" details including starfish. We also love the "sand" detail in the starfish serving tray. How creative and totally appropriate for this fun theme!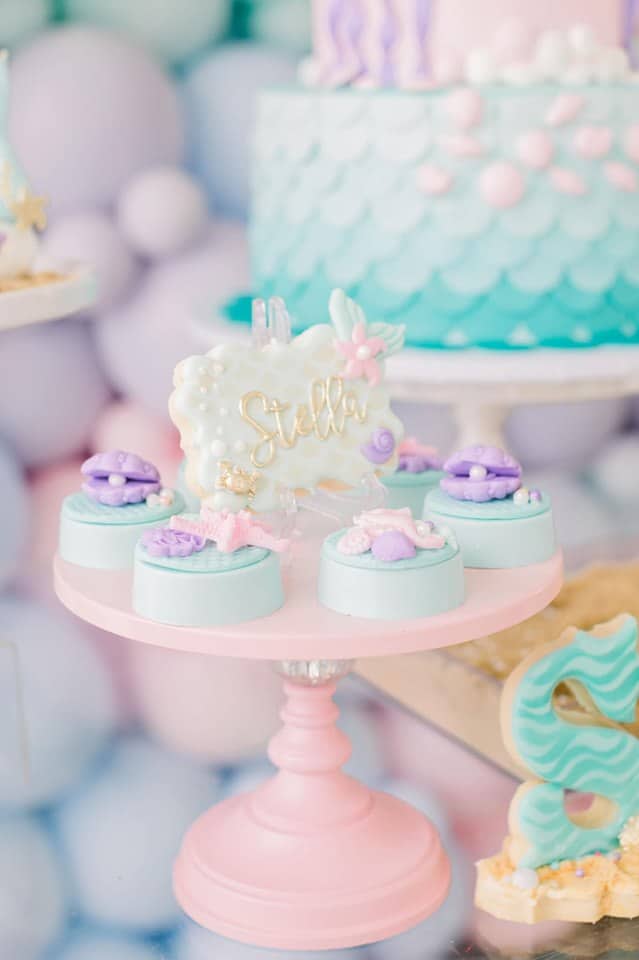 Desserts were also served on pastel dessert platters and looked great with all of the other pastel party decor around the dessert table and party space.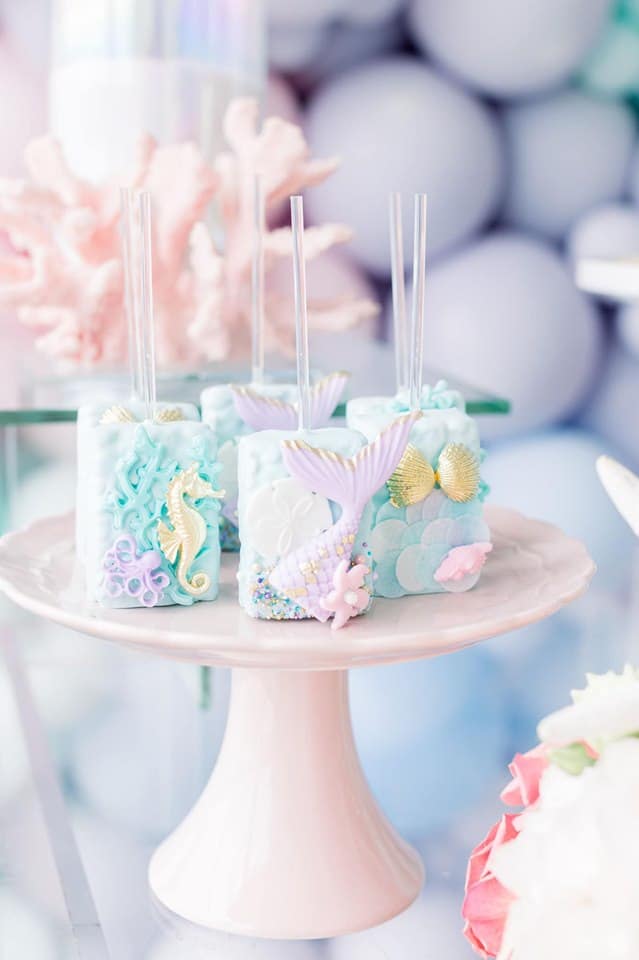 WOW! These are the most gorgeous Rice Krispie pops we've ever seen. Check out the amazing detail on them! We're sure the kids couldn't wait to get their hands on one!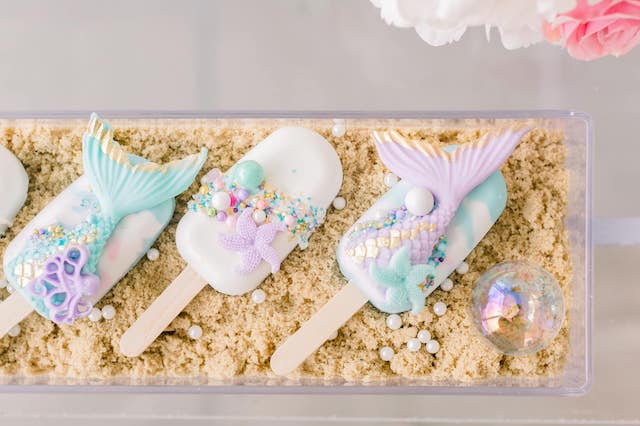 The mermaid details on these sweets are true perfection! Bubble details even made their way onto the dessert platters as well. No detail was left out of this incredible event.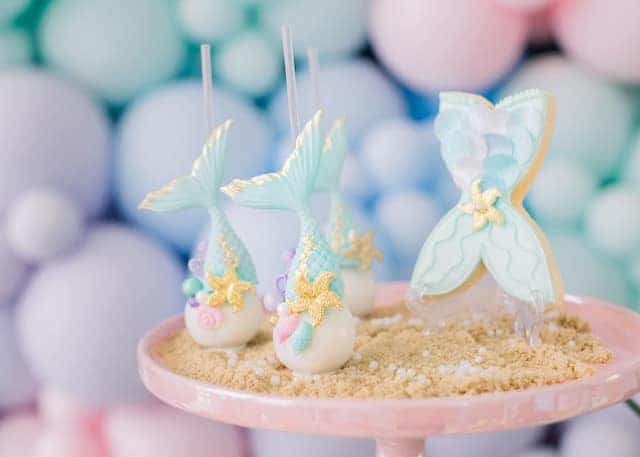 How awesome are these cake pops that featured mermaid tails.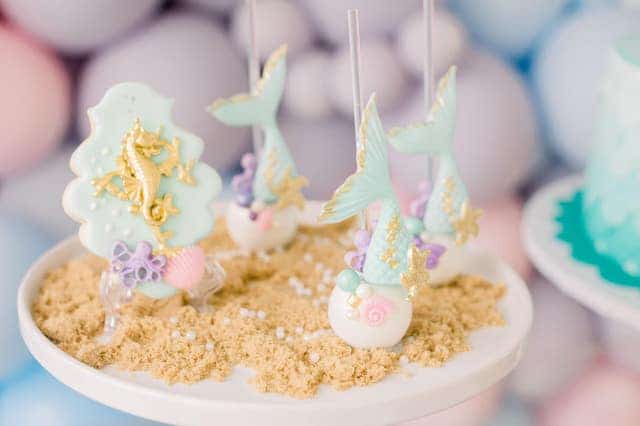 The desserts seriously look too pretty to eat! We love a party menu that includes a lot of desserts!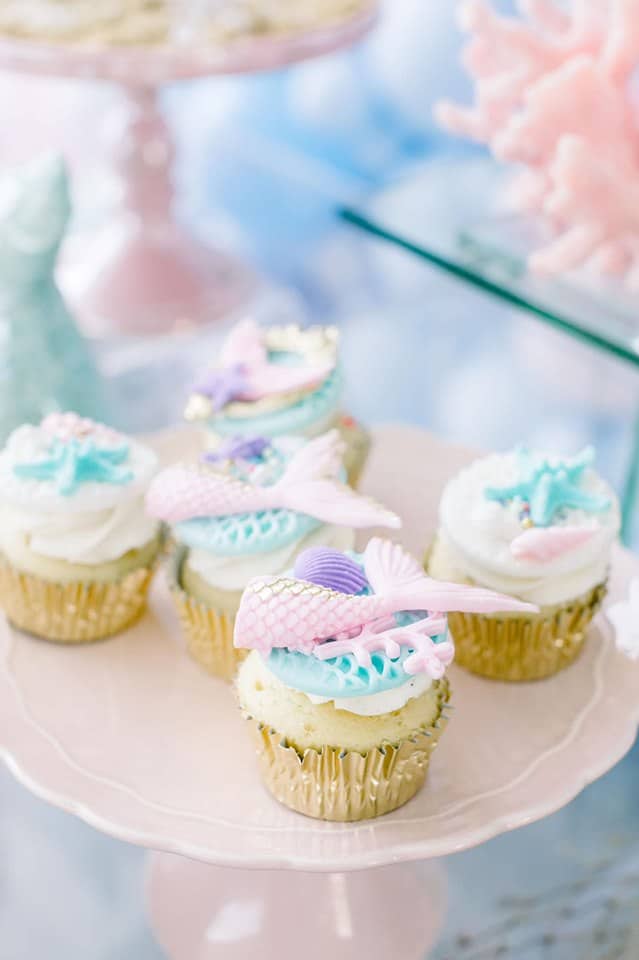 Vanilla cupcakes were topped with mermaid and seashell fondant and matched the cake and other desserts perfectly!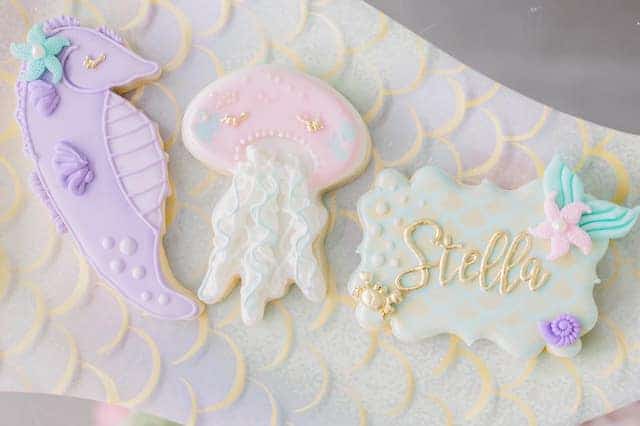 The cookies were sweet perfection as well. We're sure everyone had a great time digging into these desserts after they took a million photos of them, of course!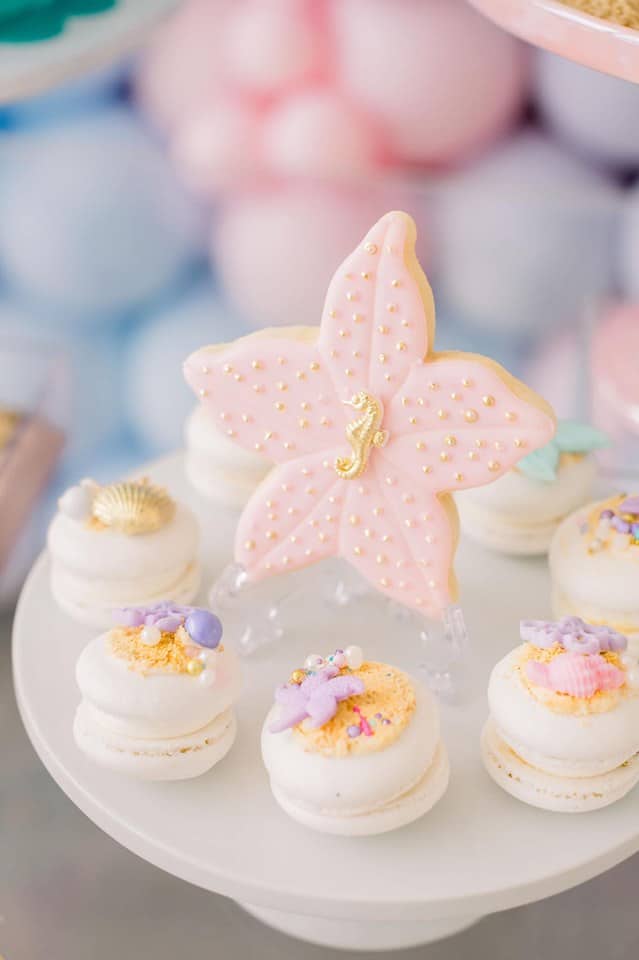 The desserts featured in this party make wonderful party decor. No need to go all out decorating with party supplies when you have under the sea inspired goodies like these on your sweets table.
The gorgeous pink, ivory and green florals paired perfectly with the other party decorations and supplies.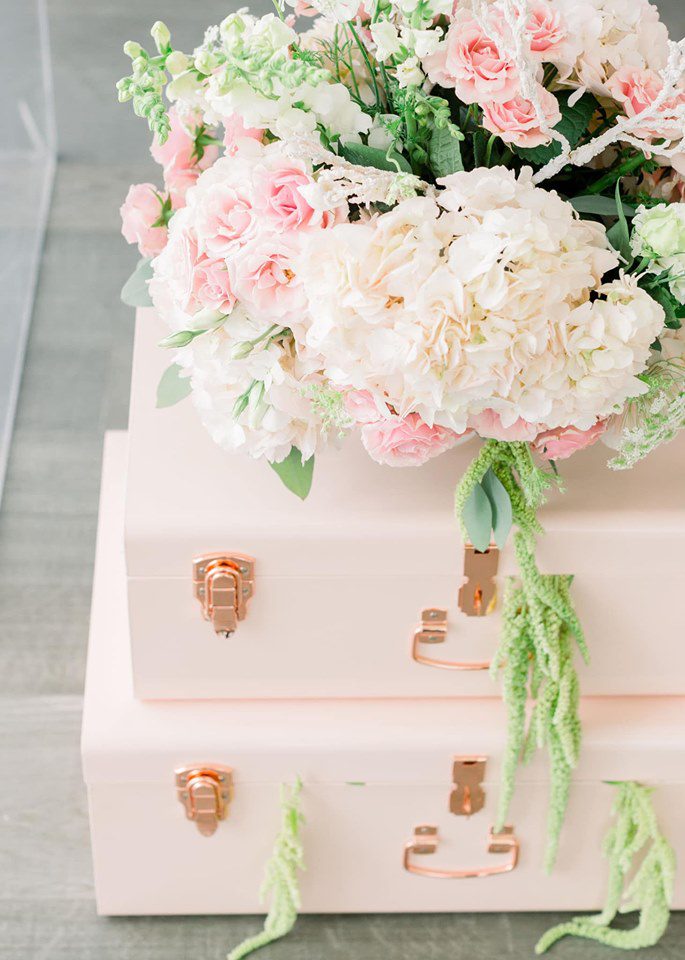 Other party decor included pink suitcases stacked in front of the dessert table which held the pretty floral decor. All of the party props were so pretty and well thought out.
The elegant tables featured ghost back chairs, blue table covers and gorgeous flower centerpieces. What a great venue overlooking the water!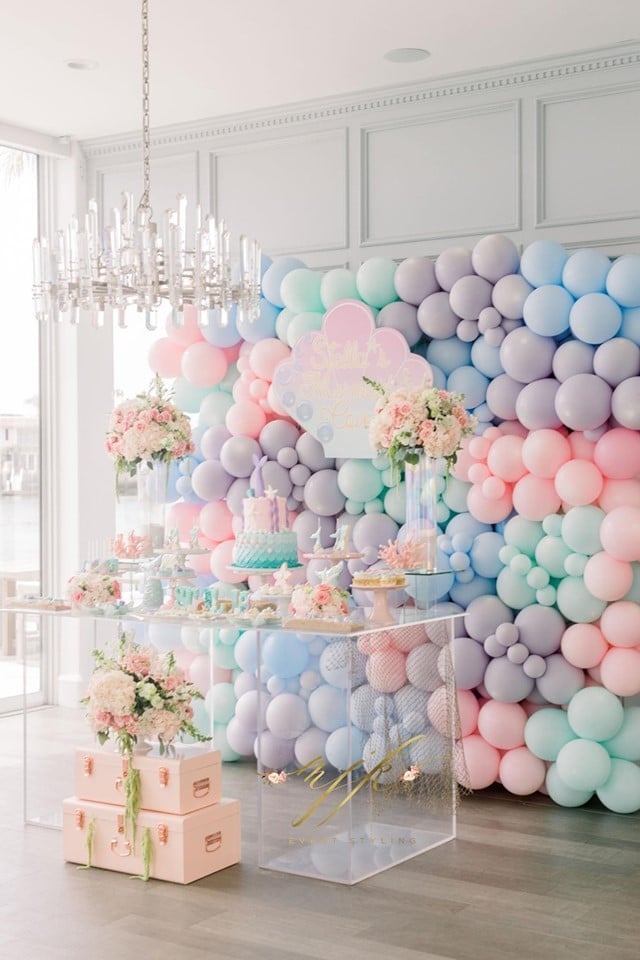 Wow! What an amazing event, perfect for any mermaid-loving little girl! Everything from the backdrop to the desserts was so magical. This event is definitely #mermaidpartygoals.
Vendors & Credits
Party Styling: M&J Kreations
Desserts: Sweets By Gigi
Photography: Jess K Photography
Balloon Wall: Angie's Balloon Decor
Personalized Seashell Sign: 360 Banner Design
What's your favorite detail in this Mermaid Kisses and Starfish Wishes Birthday Party? Let us know in the comments below.
For more party ideas, follow us on Instagram @prettymyparty and Pinterest and join us in our private Facebook group.
Plan a fabulous Mermaid Birthday Party with these party supplies and decorations
(Amazon Affiliate Links)