29 Magical Mermaid Party Ideas
If you're planning a mermaid birthday party, these 29 Magical Mermaid Party Ideas will have you throwing the best party ever!
Every little girl wants a mermaid party for their birthday and we can totally see why. There are so many fun ideas for a mermaid theme party, especially these 29 Magical Mermaid Party Ideas!
Everything from the pastel color palette and under the sea party decorations and desserts to the pretty party supplies, birthday cakes, and food, girls everywhere, small and big, want to celebrate their birthdays with this awesome party theme.
Even if you're on a tight budget, there are many fun DIY party ideas for a mermaid theme. Dress up some cutlery, make your own easy mermaid party food, or DIY a birthday crown or party favors for the perfect DIY mermaid party ideas.
You can even enlist the help of your daughter and her friends. They will have a blast making all things mermaid for the big event!
Here are 29 Magical Mermaid Party Ideas that are not only beautiful but creative too!
Mermaid Party Supplies and Decorations

Mermaid Party Ideas
These Clam and Pearl Cookies are an awesome idea for a Mermaid birthday party! There are so many creative mermaid party food ideas you can incorporate into your party.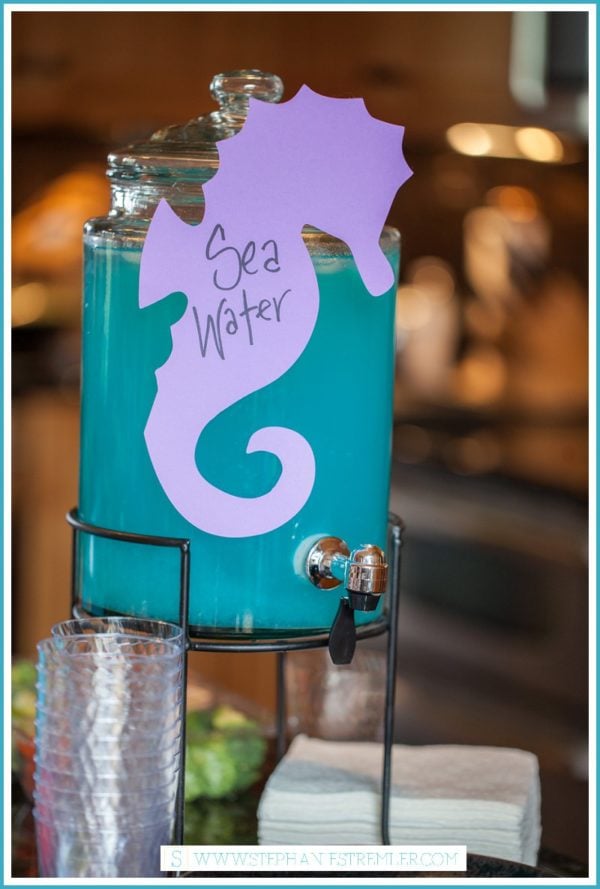 Offer your little mermaids some "Sea Water" to wash down all of the delicious mermaid party food and desserts.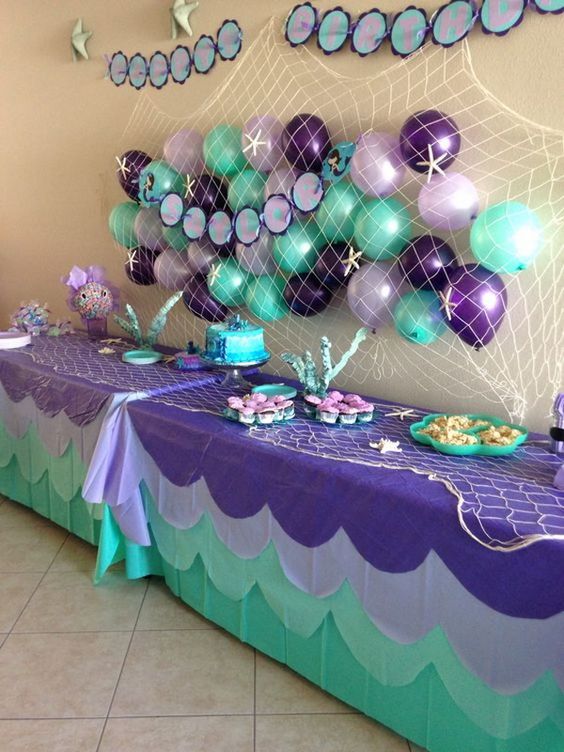 We love this pretty Mermaid Dessert Table with the creative balloon backdrop and table cover! What a creative idea for a party decoration.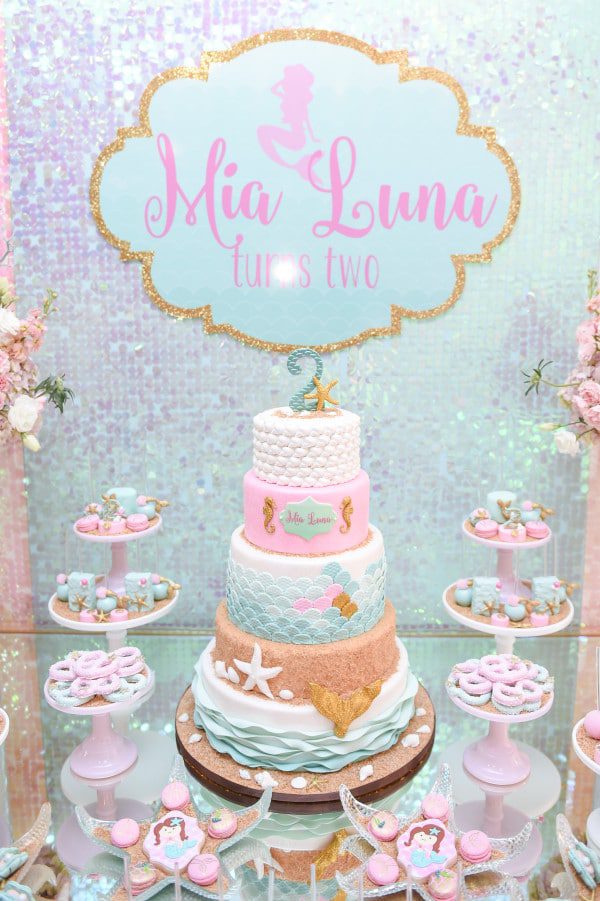 Wow! This gorgeous Mermaid Birthday Cake is absolutely stunning! All of the mermaid desserts match the party decorations and cake perfectly.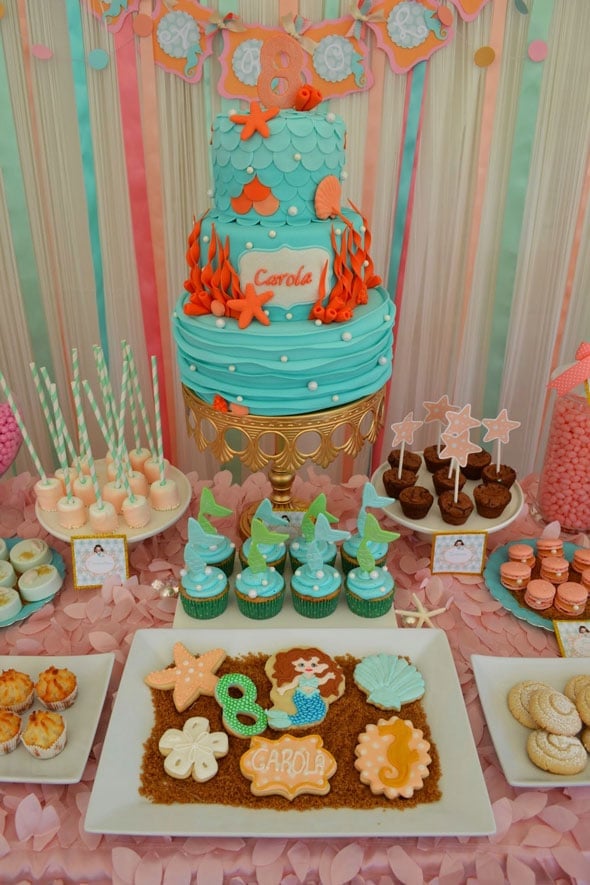 From the cute Under the Sea cupcakes to the adorable cookies, the Mermaid Cake and Desserts really make this mermaid birthday party one to remember!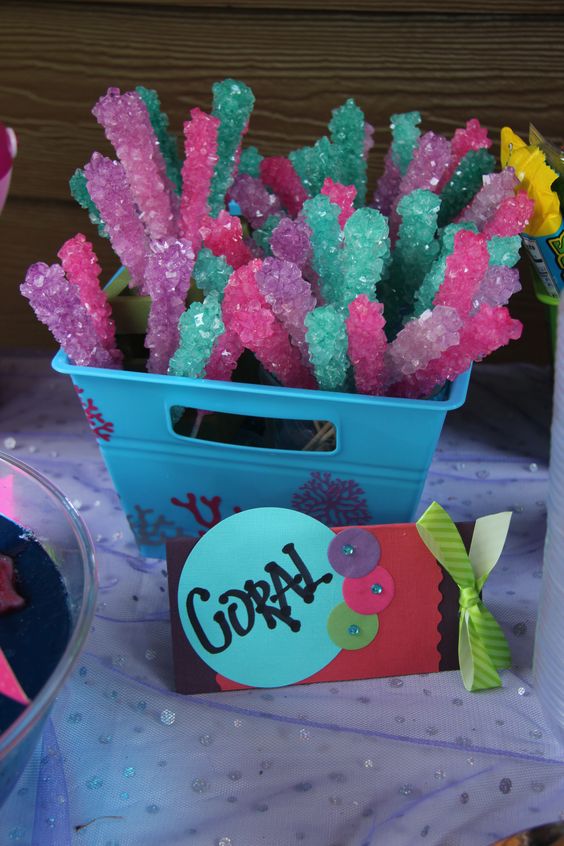 Rock Candy or "Coral Candy" is a great addition to your dessert or candy buffet! All you need are some clever food names and ideas and your food table will be a hit at your mermaid birthday party!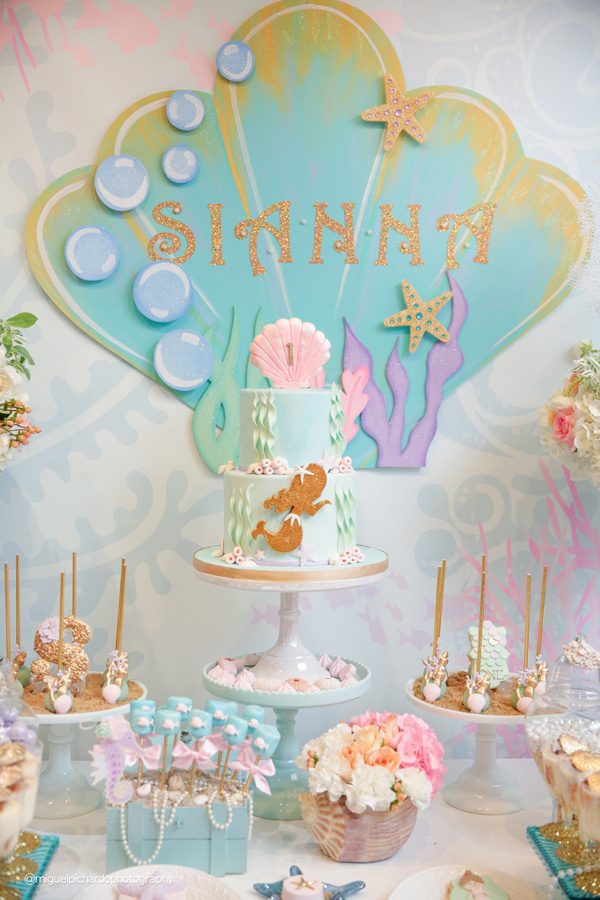 Talk about a magical mermaid party! This dessert table features exquisite desserts and an amazing cake and backdrop.
We're loving all of the pretty mermaid party supplies and pastel decor for this mermaid birthday.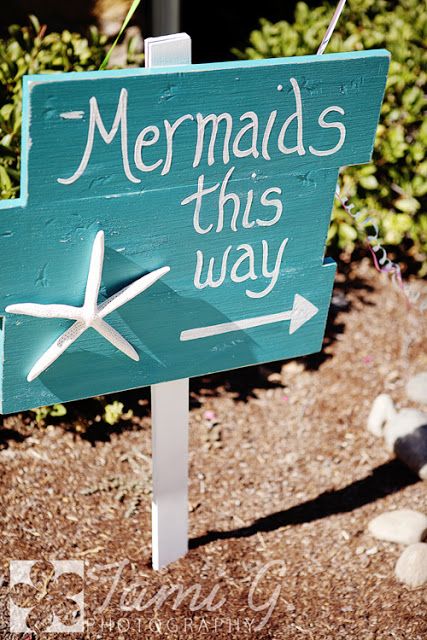 This Mermaid Party Sign is perfect for directing guests to your magical mermaid birthday party! You can even DIY this party sign if you're feeling crafty!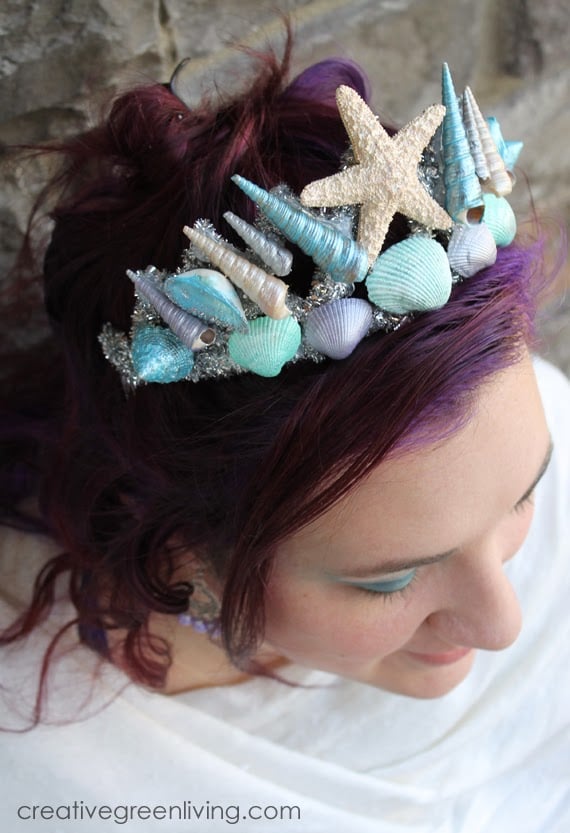 The girls will absolutely LOVE this DIY Mermaid Tiara! You can even have a Mermaid Tiara Making Station and have the kids make their own at the party!
What a fun party activity for the girls and they double as party favors. It's a win-win!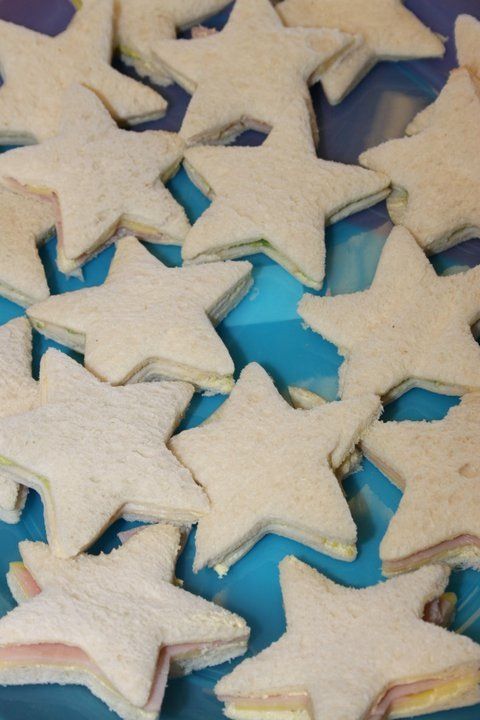 If you're looking to stay on budget for your mermaid party, make these easy Starfish Sandwiches.
What a cute and clever mermaid party food idea the kids will just gobble up!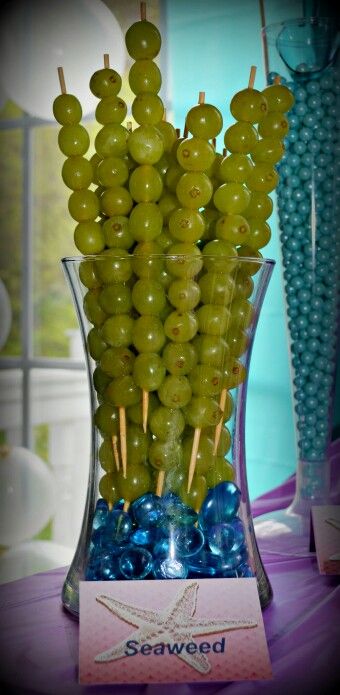 Green grapes on a stick are the perfect "Seaweed" for a mermaid party! What a fun and super simple party food idea!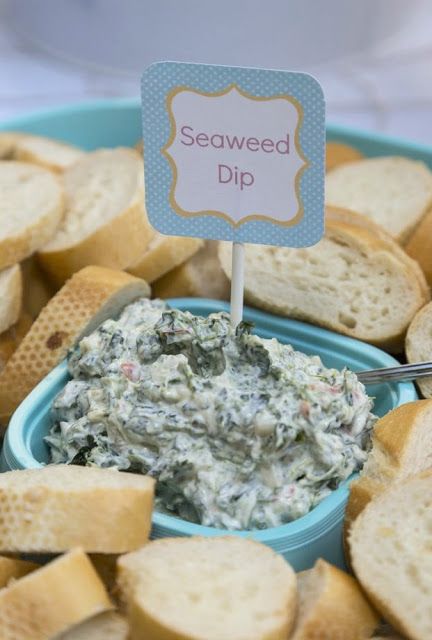 This "Seaweed" Spinach Dip is another creative idea for a mermaid birthday party!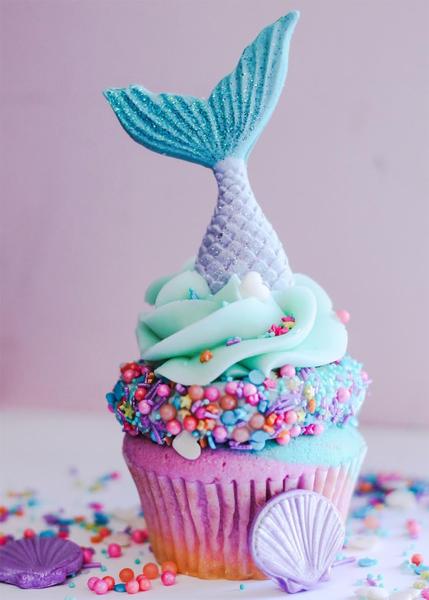 This Mermaid Cupcake is beyond PERFECT for a mermaid or under the sea birthday party!
Not only are they beautiful but we're sure they're super yummy. Your little mermaid and her friends will absolutely adore these cupcakes.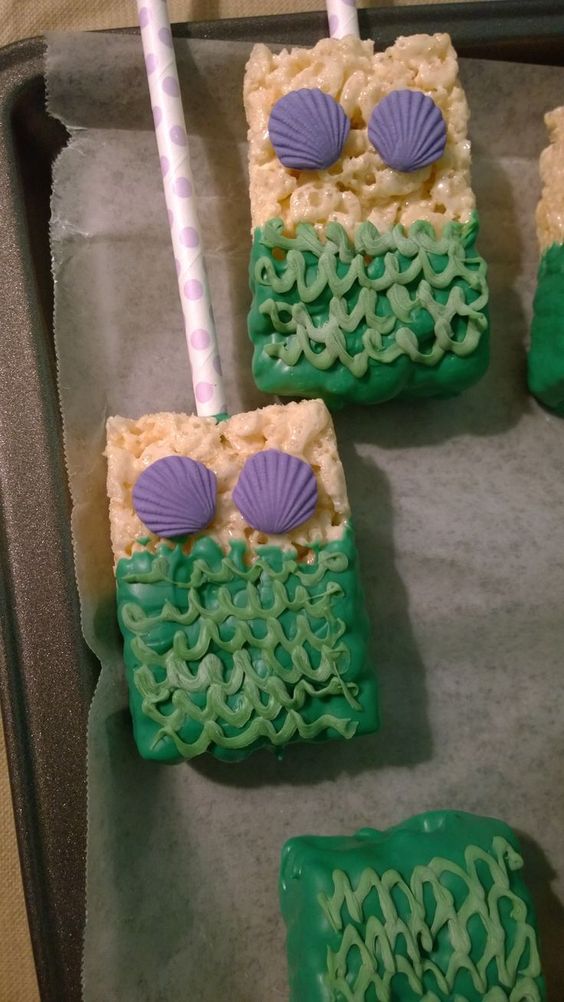 How adorable are these Mermaid Rice Krispie Pops? Plus they are easy to make and the girls will LOVE them!
There are so many easy and fun DIY party food ideas for a mermaid party theme!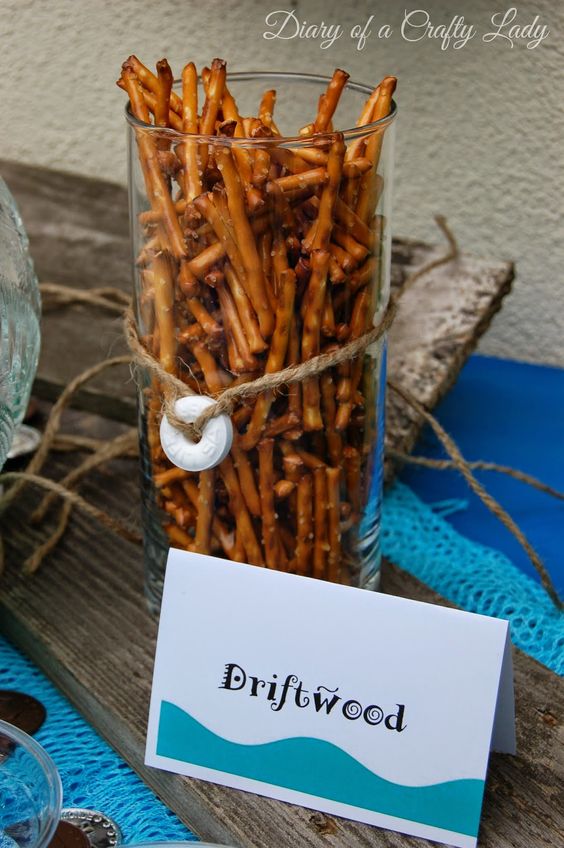 Driftwood Pretzels are another clever idea for snacks at your Mermaid party.
Check out the lifesaver around the vase too! It's those little details that set your party apart from the rest!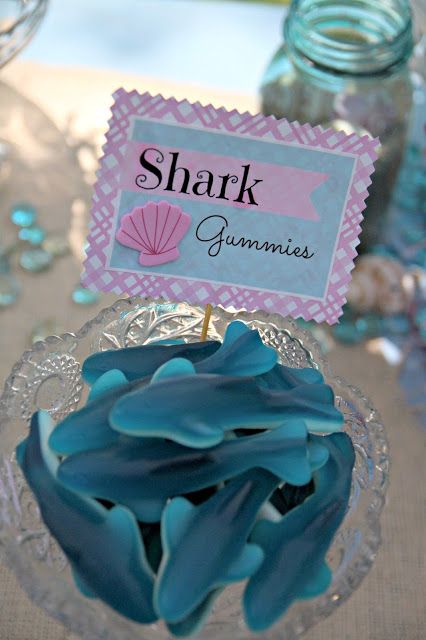 Since your party theme is all about Mermaids Under the Sea, why not add these Shark Gummies to your dessert or food table?!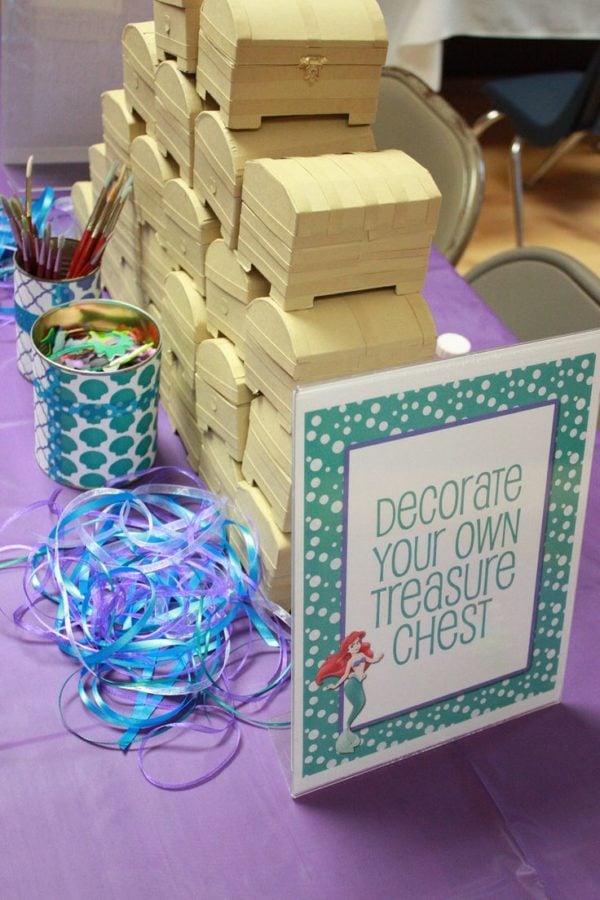 One of the hardest things for any mom is coming up with a fun game or activity for your child and their friends.
No worries if you're planning a mermaid or under the sea party because the kids will have a blast at the Decorate Your Own Treasure Chest station! What a great party activity!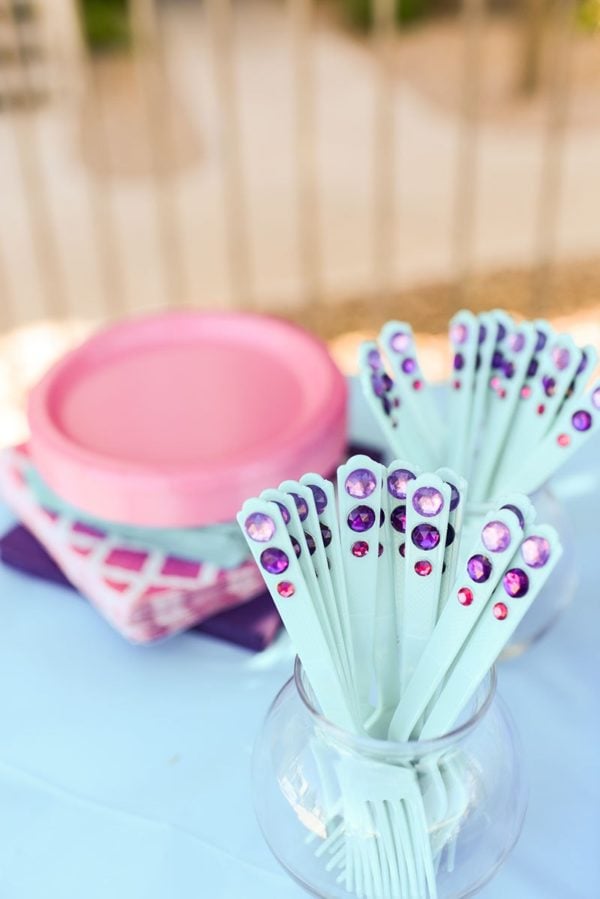 A few jewels and a little glue are all you need to make these Mermaid Jeweled Utensils!
This is a simple, cheap and fun idea for a mermaid birthday party!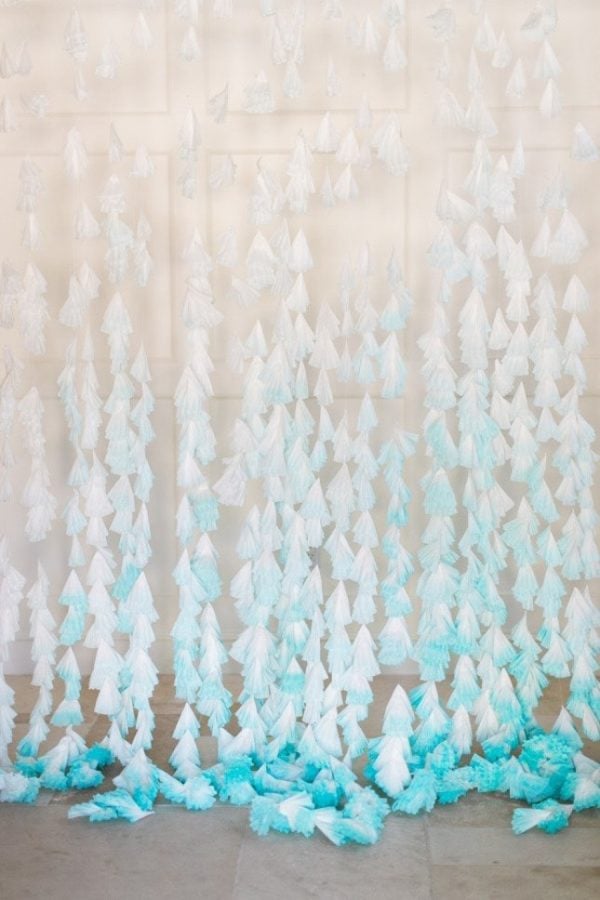 This DIY Dip-Dyed Coffee Filter Backdrop would look AH-MAZING at your mermaid party!
You can either make it a photo backdrop or a dessert table backdrop! The girls will have a blast taking photos in front of this awesome decor idea!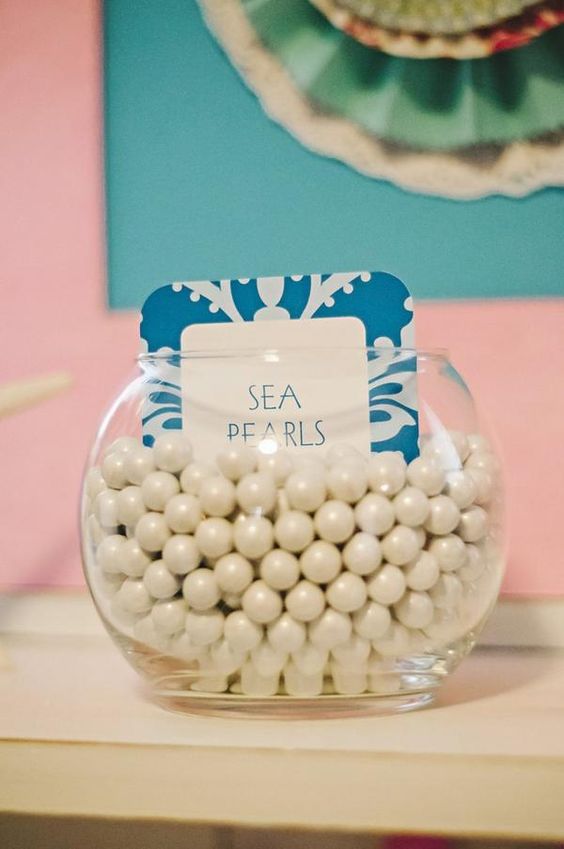 Sea Pearls (White gum balls) are another thing you can add to your candy or dessert table!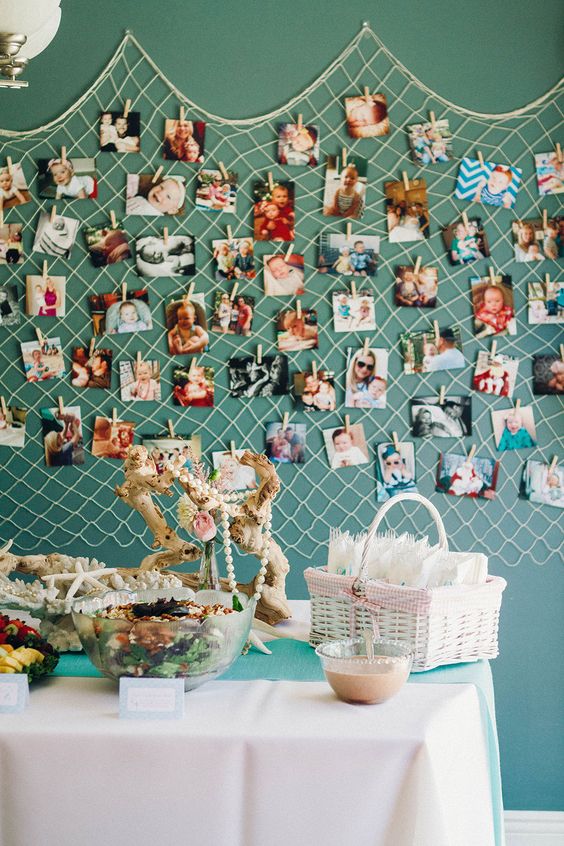 We love this Photo Display of the birthday girl using netting and clothes pins. What a fun idea to show off your little mermaid!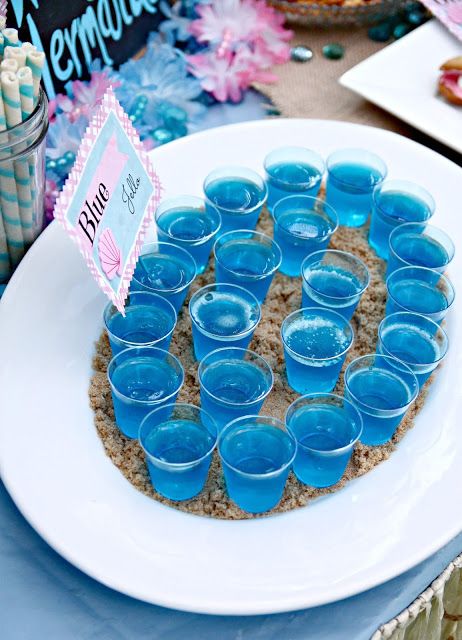 Blue Jello to represent the sea is another fun food option at your mermaid party!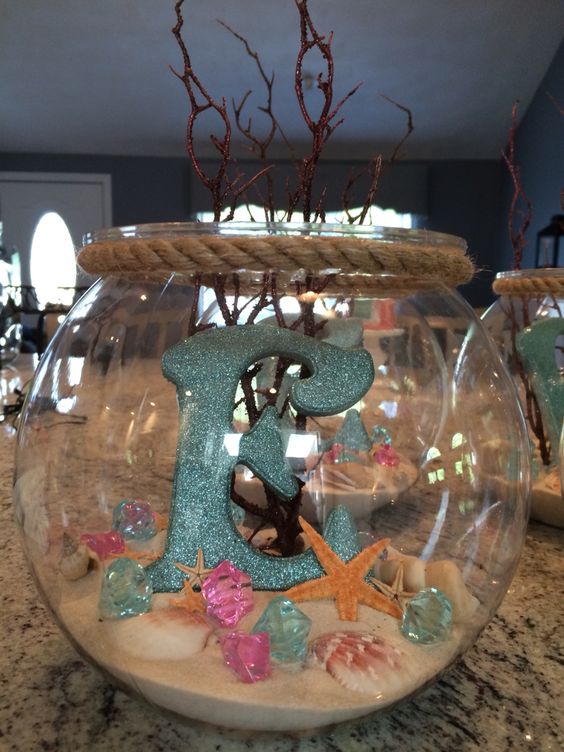 How pretty is this DIY Mermaid Party Centerpiece?! What a great DIY centerpiece idea for this theme!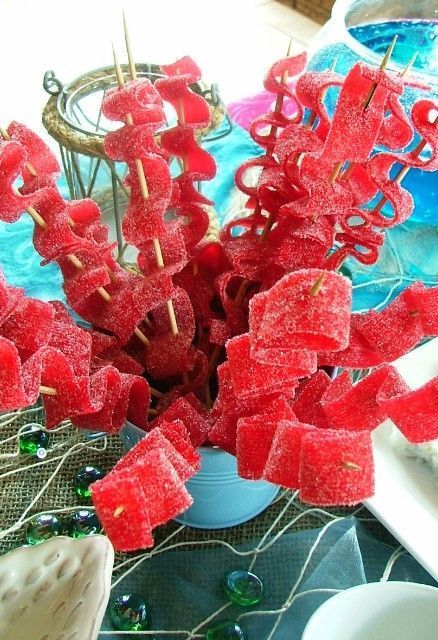 Here's another clever candy idea – Seaweed Candy Kabobs! The kids are sure to love all of these fun party details.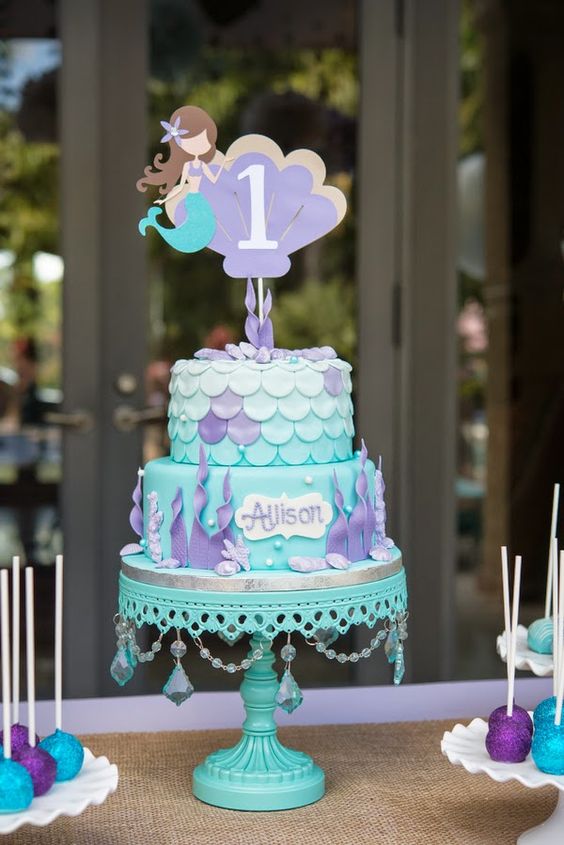 Are you looking for mermaid birthday cake ideas? Here's some inspiration for a Mermaid Birthday Cake and the cake stand is gorgeous too!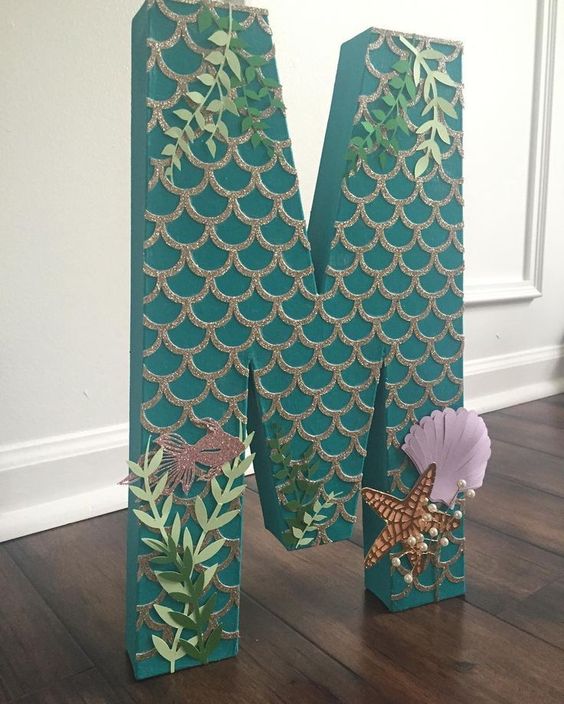 This DIY Mermaid Letter would be the perfect party decor to add to your gift table or dessert table!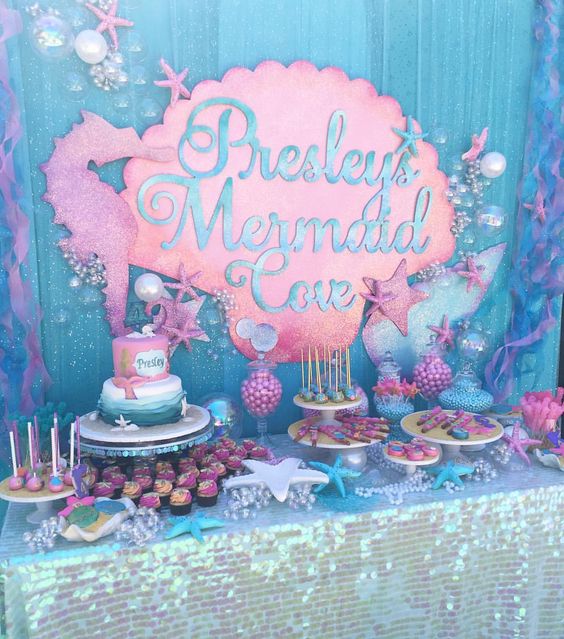 This stunning Mermaid Dessert Table or "Mermaid Cove" is the perfect inspiration to put together your dessert table!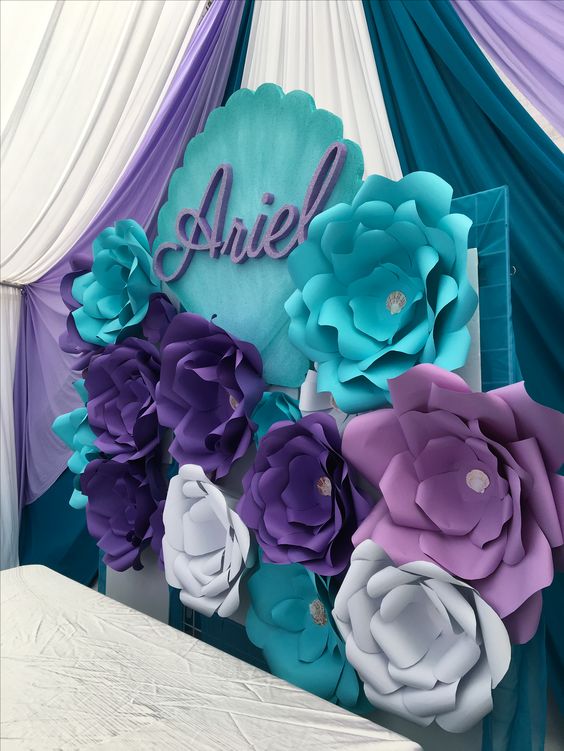 Make a statement with this gorgeous DIY Flower Mermaid Backdrop! Imagine the photo opportunities in front of this!!!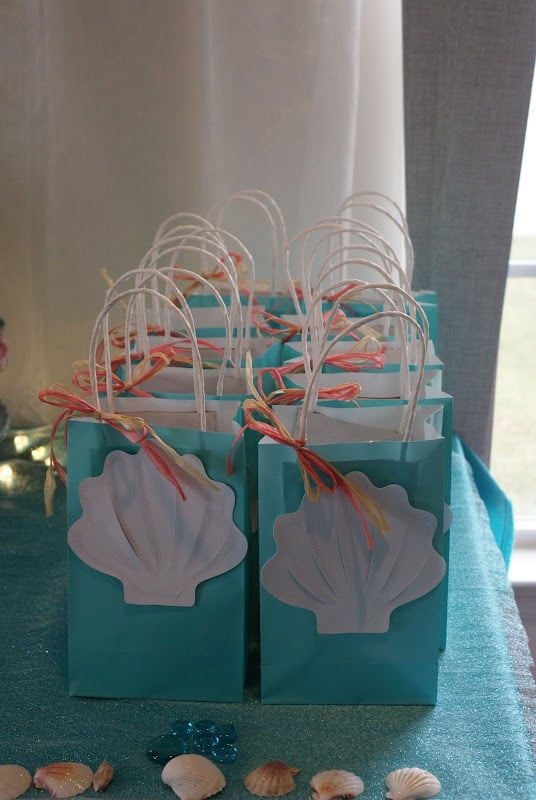 These pretty Seashell Party Favor Bags are adorable and can easily be done with a little crafty magic!
Which of these 29 Magical Mermaid Party Ideas will you incorporate into your party? Let us know in the comments below!
Do you have a party planning question? Join our private Facebook community where you can ask questions and get ideas for your parties!
For more party ideas, follow us on Instagram and Pinterest too!
SaveSave
SaveSave
SaveSave
SaveSaveSaveSave
SaveSave
SaveSaveSaveSave
SaveSave
SaveSave
SaveSave
SaveSave
SaveSaveSaveSave
SaveSave
SaveSave
SaveSave
SaveSave
SaveSave
SaveSave
SaveSave
SaveSave
SaveSave
SaveSave
SaveSave
SaveSave
SaveSave
SaveSave
SaveSave
SaveSave