Mermaid Themed Birthday Party
I don't know very many girls who aren't absolutely enchanted by the idea of mermaids! This birthday girl definitely falls in that category, so it was quickly decided that the perfect idea for this party was going to be a Mermaid Themed Birthday Party! Her mom got her a mermaid tail some time ago and ever since then, she knew what she was going to have!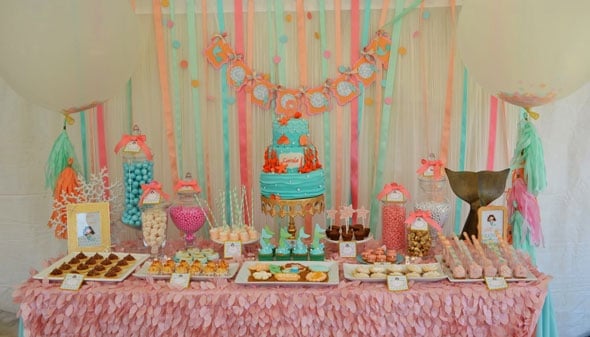 The colors for the party included aqua, coral, blush and pink – all perfect colors for an ocean theme, where all of the mermaids love to spend all of their time! The party was held at a private residence and there were 18 little mermaids and their families that attended the party. How fun!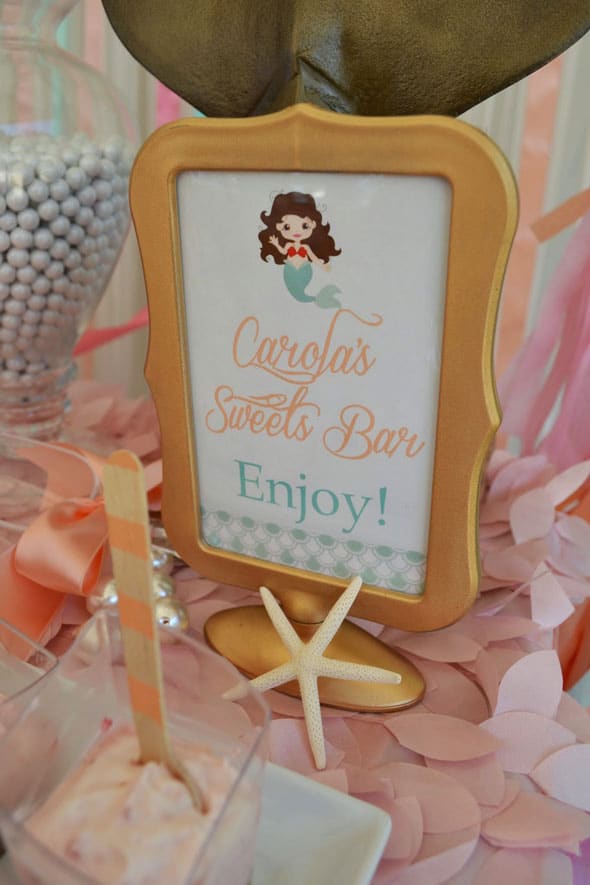 Partylicious has been styling parties for this family (including 3 girls and 1 boy) for quite some time now, and every party seems to become even more magical and amazing! Ideas started flowing quickly after the theme was chosen and thanks to the great inspiration found on Pinterest, along with perfect decor pieces found in local stores, things started coming together quickly.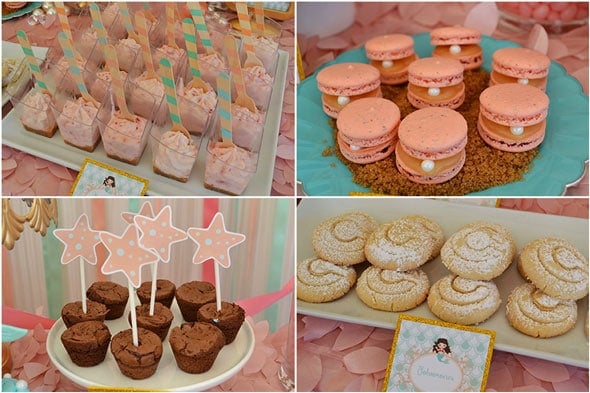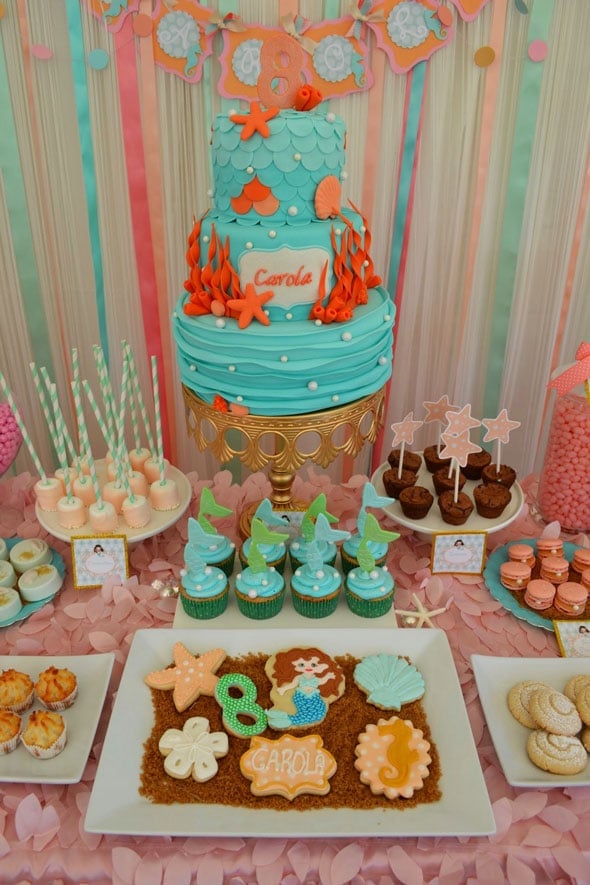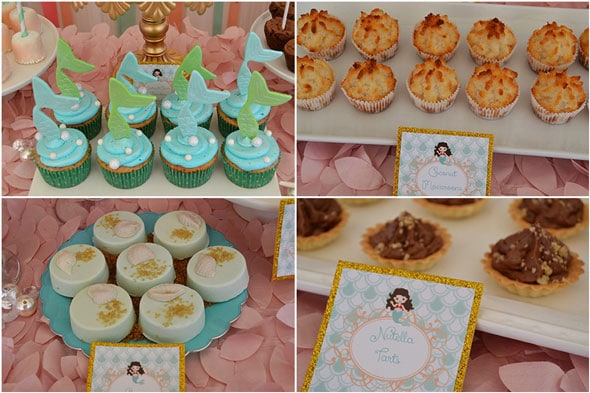 Everyone's favorite element of the party was the awe-inspiring dessert table and background. The color scheme gave the exact look that was desired. The textures of the tablecloth, the 3 balloons with tassels, the ribbon in the background and of course … those desserts! Everything was perfect and absolutely gorgeous.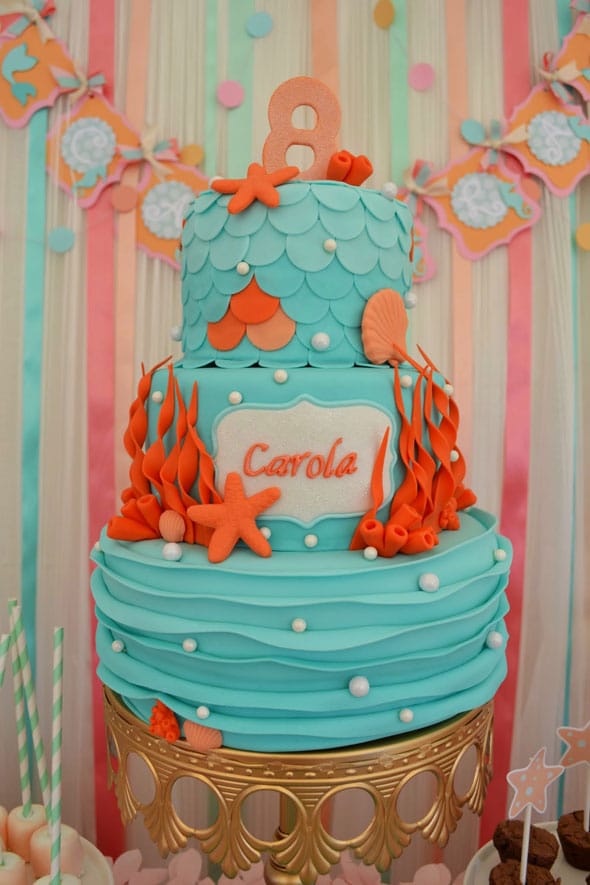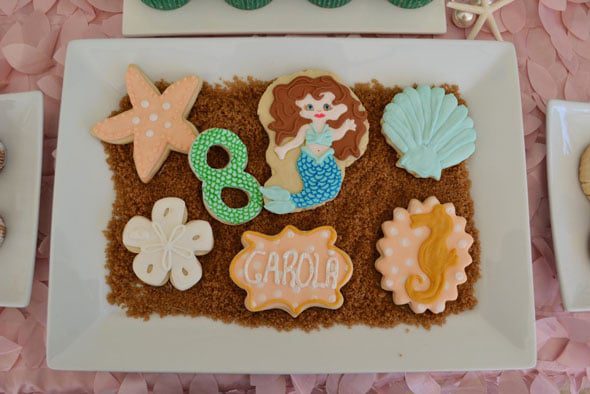 The dessert table featured a beautiful mermaid-themed cake that was the centerpiece of the event, which was made by Jovanna Valentin! Many other delicious desserts were included, such as cupcakes, French macarons, brownies, coconut macarons, sugar cookies, meringues, cheesecake cups, chocolate covered marshmallows, chocolate covered Oreos and Nutella tarts.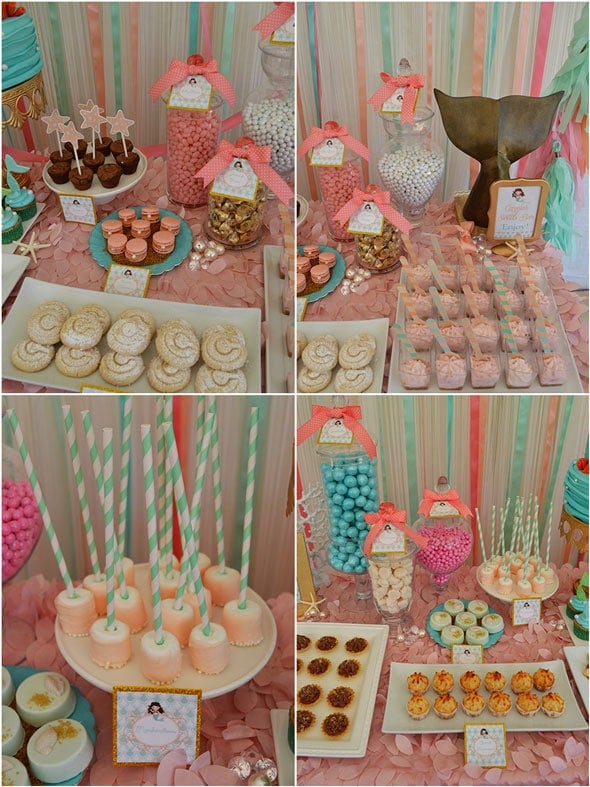 Phew! What a great array of sweets!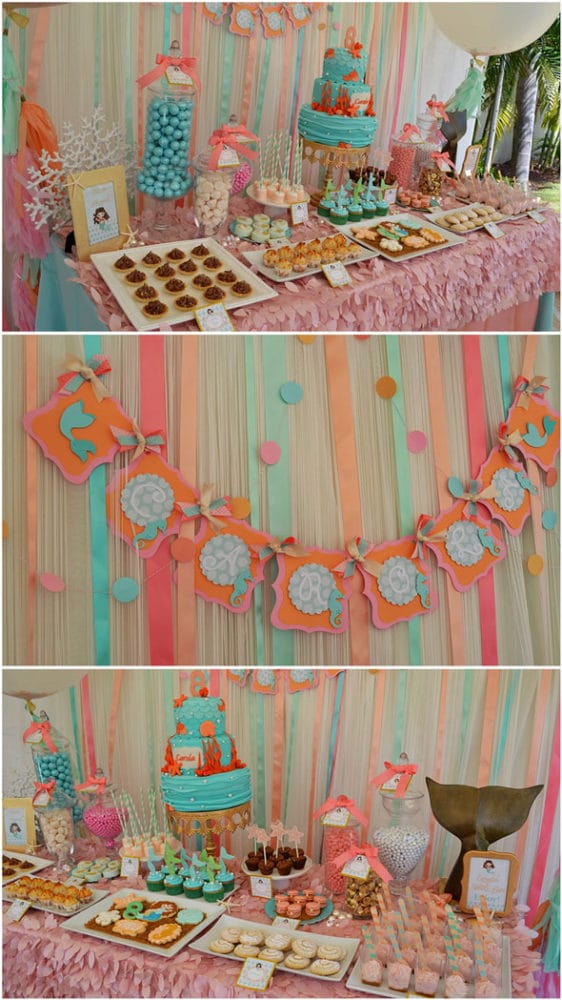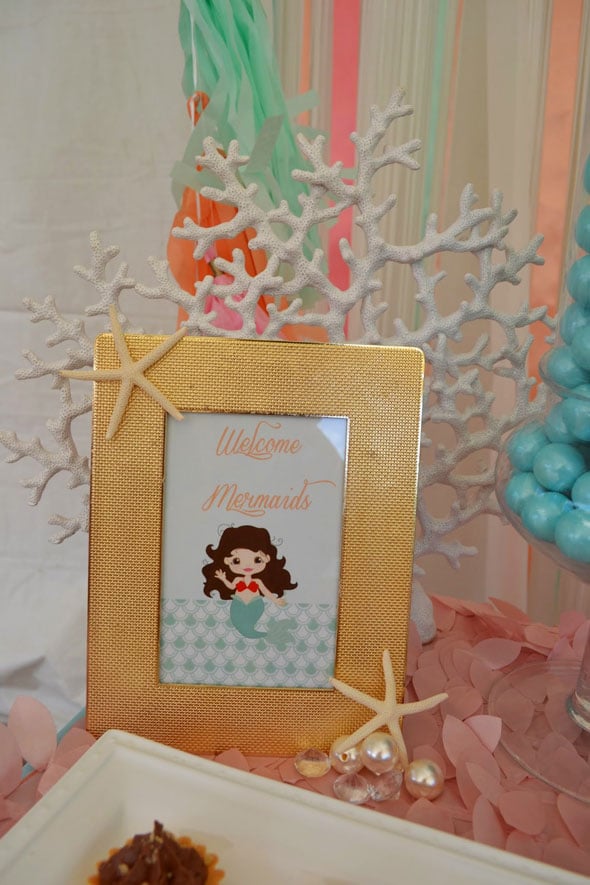 All of the paper products were handmade and designed exclusively for this party and what amazing products they were! They included the banner, the names on the girl's chairs, dessert and candy tags, water bottle labels and the balloon tassels. Everything was made with amazing detail to carefully match the theme colors, along with the look and feel of the party. Mission accomplished!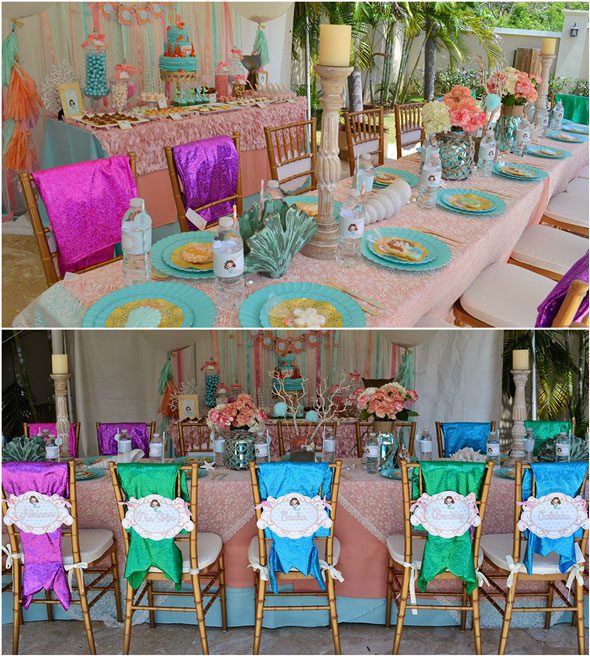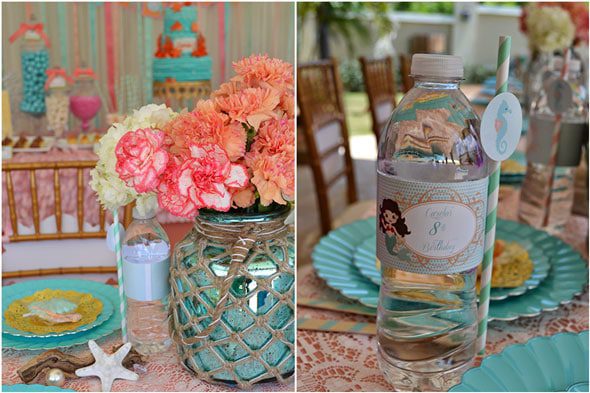 The kid's table was a show-stopper! Each chair was decorated with a personalized sign with their name and of course, their tails! Centerpieces included seashells, corals, pearls, flowers, you name it. A delicate and simple display of ocean-inspired items were placed everywhere around the table.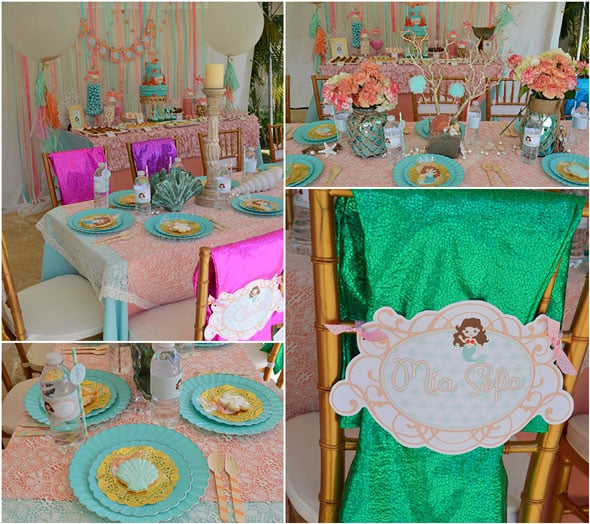 Each setting included aqua plates, a personalized water bottle, along with a cookie provided by Suehery. There was also fab wooden cutlery from Shop Sweet Lulu, as well! Partylicious didn't miss any detail!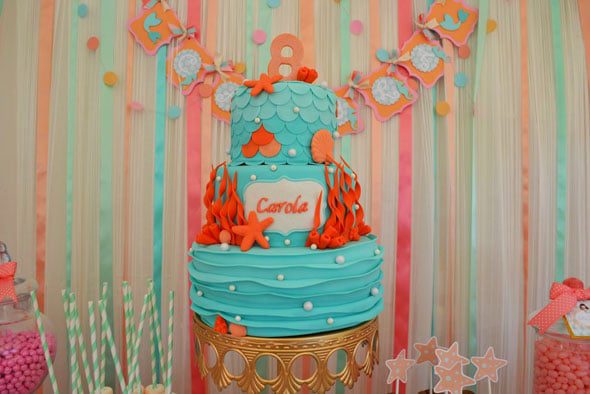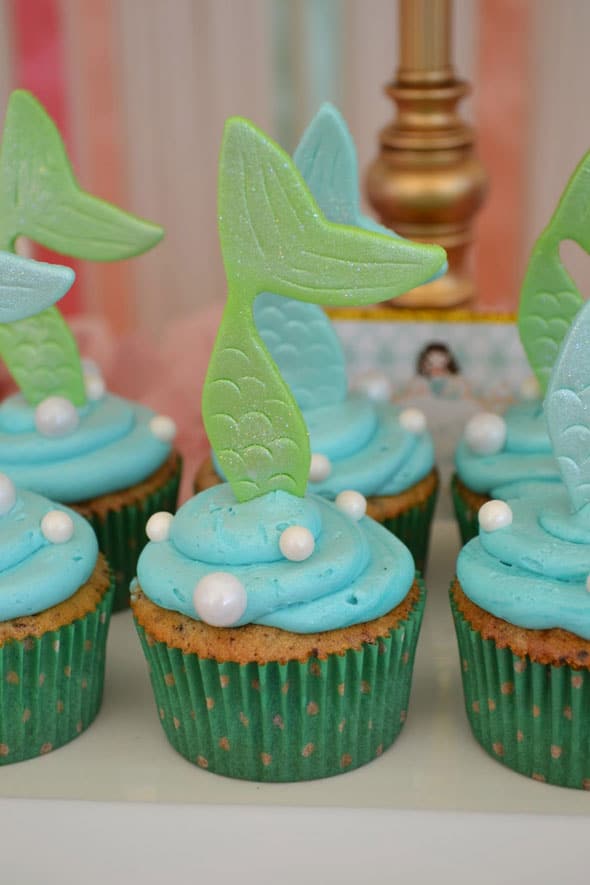 Every birthday guest received a mermaid tail to be used at the pool and they had loads of fun swimming later at the event! Overall, this was one amazingly-styled party and this birthday girl was one lucky little lady. I want a mermaid birthday party like this!
Vendors & Resources
Styling and Paperie – Partylicious // Cake and Cupcakes – Jovanna Valentin // Sweets – Sugar Bliss by Mari // Cookies – Suehery // Wooden Cutlery and Favor Bags – Shop Sweet Lulu
Plan your own Mermaid Tails Birthday Party with these fun party products!
Sign up for a 30 day free trial of Amazon Prime and get free 2 day shipping on your party products!