Whimsical Elephant Themed Baby Shower
How sweet is this Whimsical Elephant Themed Baby Shower!? It's the perfect way to welcome a little bundle of joy.
A Whimsical Elephant Themed Baby Shower is such a cute theme to welcome a little "peanut" into the family fold! And what a coincidence, this mom-to-be called her baby "peanut" from the moment she knew she was pregnant. So, an Elephant-themed baby shower was only appropriate! Blue Panda Invitations provided the gorgeous printables and invitations, which incorporated the color palette of white, sky, mint, grey and silver. It was a perfect baby theme for this sweet family!
This mom-to-be's parents and best friends all came together to plan, bake elegant cookies and make decorations with elephants and cute peanut accents. It was a beautiful summer shower at her parent's stunning home, which later turned into a pool party for friends and their own children.
Jimmy Duffy created a perfect menu and catered the luncheon event for the family's loved ones. The gorgeous elephant-themed cake was made by Kriebel's Custom Bakery, with many of the other desserts created in a DIY fashion by loved ones.
And how about those gorgeous diaper cakes that helped to provide the perfect baby shower decor? A traditional large one was available on one of the main tables, but smaller diaper cakes were created to act as centerpieces on the backyard guest tables for the Whimsical Elephant Themed Baby Shower.
What an incredibly memorable event!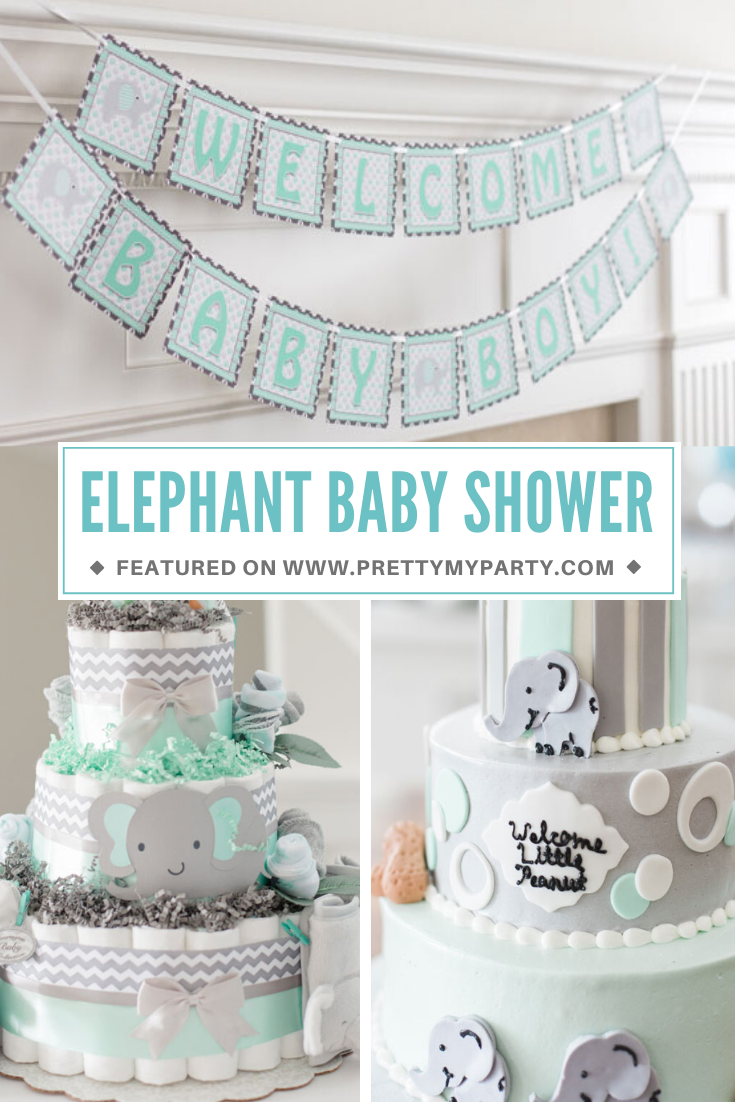 Whimsical Elephant Themed Baby Shower Ideas
Little Peanut Elephant Baby Shower theme, with peanuts surrounding the centerpieces on the guest tables
Adorable elephant baby shower decorations with a sweet mint and grey color palette
Individually wrapped elephant cookies that everyone was able to take home as party favors
DIY decorations including a fun baby balloon, a welcome banner and amazing diaper cake, all created by loved ones
While this was an Elephant Baby Shower for a sweet baby boy, it could easily be a gender neutral event
Cute table decorations with miniature diaper cakes and cups filled with peanuts, with printables that served as centerpieces
Adorable elephant cake found on the dessert table with a fun peanut cake topper display
Large diaper cake with lots of elephant decor and gifts displayed throughout the diaper cake
Sweet gift table with balloons, signs and an elephant backdrop to welcome guests
Perfect food ideas for an easy luncheon, with appetizers and and lighter cuisine to enjoy
Fun games for the guests to play and the mom-to-be to enjoy
The event ended with a pool party at the private residence for loved ones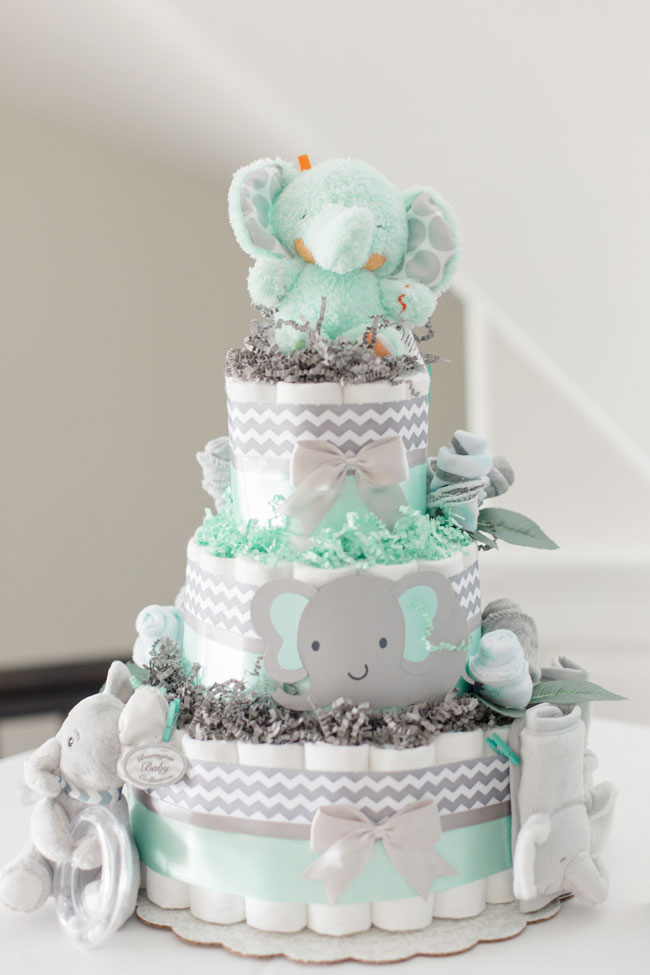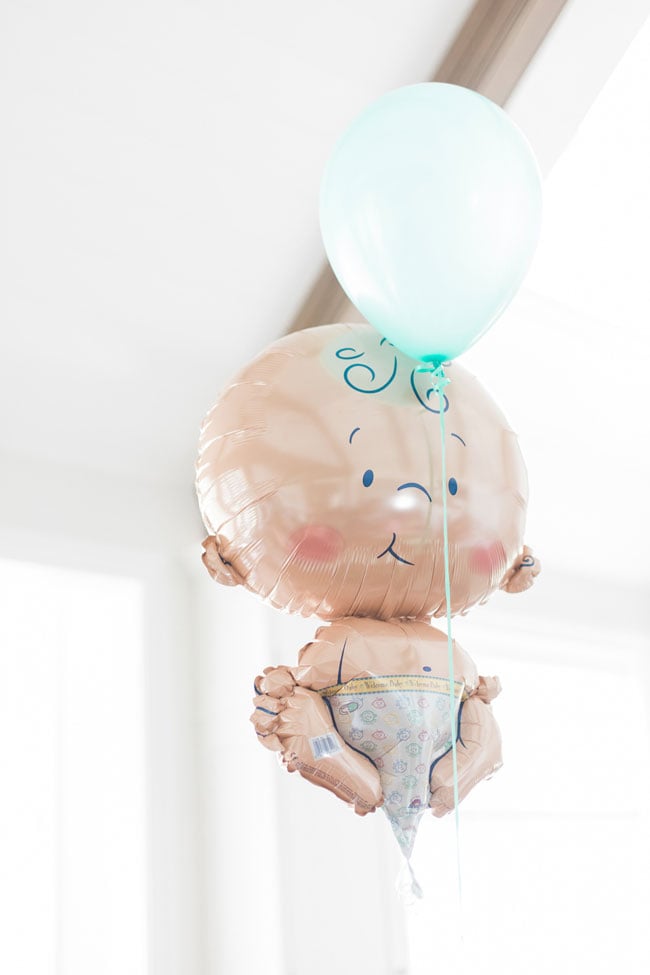 There are so many things to love about this Whimsical Elephant Themed Baby Shower! We just love the sweet color palette that is light and airy, but one of our favorite details has to be the incredible diaper cakes and centerpieces that were found around the event. One main multi-tiered diaper cake had lots of baby goodies in it for mom to use for months to come, but the smaller diaper cakes that were used as centerpieces were so cute! We love how all of the centerpieces also had peanuts surrounding the center item, which really gave the elephant theme a boost!
And what a beautiful property to have a baby shower at. How fun that everyone got to stick around for a pool party after the main event. We love when events like this last all day long with the ones that you love the most.
Shopping list: Elephant Baby Shower Decorations
See more baby shower ideas here:
What are your favorite details from this Whimsical Elephant Themed Baby Shower? Let us know in the comments below!
For more baby shower ideas, follow us on Instagram @prettymyparty and Pinterest and join us in our private Facebook group.
Party Vendors
Event Planner: L. Zaun Event Planning
Caterer: Jimmy Duffy
Bakery: Kriebel's Custom Bakery
Apparel: A Pea in the Pod
Photographer: Brittany Frisch Photography