Kate Spade Birthday Celebration
When you're getting ready to plan a 50th birthday party for that special lady in your life, having a Kate Spade Birthday Celebration is always a great way to go! That's what happened to Paisleys and Polka Dots, who planned a gorgeous Kate Spade birthday for her sister's 50th birthday! Her sister didn't want anything over the top, but definitely was longing for beauty and of course… a dessert table! But when you are embodying Kate Spade, how could it not be over the top? After a month of no sleep and lots and lots of gorgeous DIY projects, the party turned out perfectly. We're sure you're going to agree!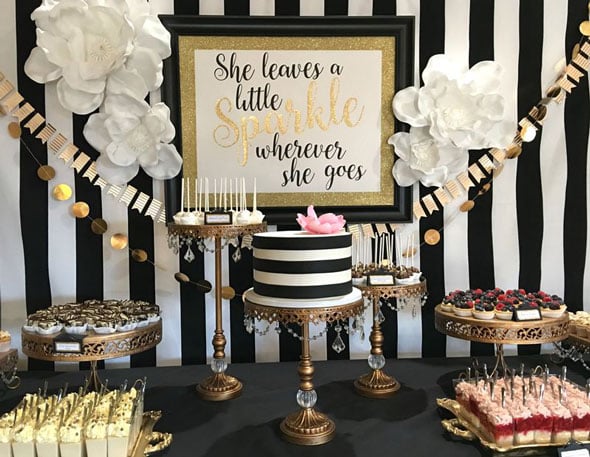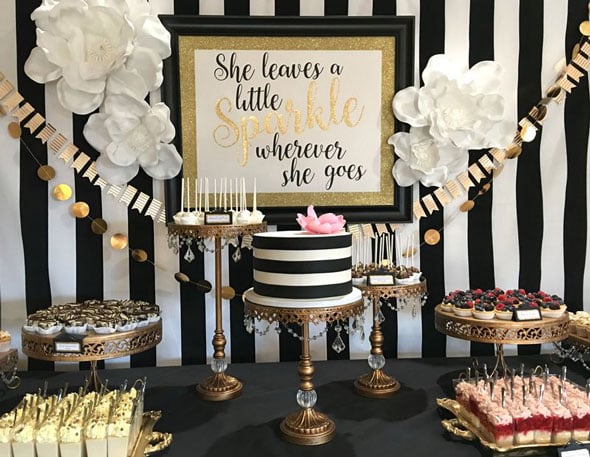 The theme for the evening was "she leaves a little sparkle wherever she goes" and talk about doing a wonderful job with adhering to the theme throughout the entire event! Sparkle, flash and beauty was found in every aspect of this birthday celebration. And of course, with it being a Kate Spade themed birthday party, black, white and gold were found in all of the details! The black and white striped backdrop for the dessert table was absolutely phenomenal, which was purchased at Jo-Ann Fabrics! It was obvious from the second people walked in that this was going to be a special and beautiful evening.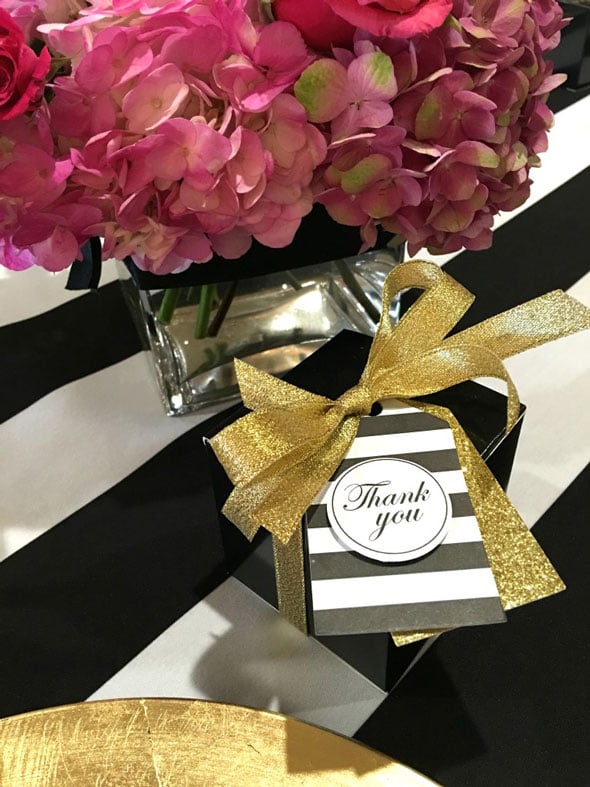 Party favor boxes were absolutely gorgeous! And of course, each box was filled with divine chocolate. Paisleys and Polka Dots created the party favors by using two separate tags with a die cut and using black and white striped paper, along with a gold paper tag behind. The "thank you" was printed on cardstock and a punch was used to punch them out. Talk about keeping things simple, yet totally nailing the classic Kate Spade look!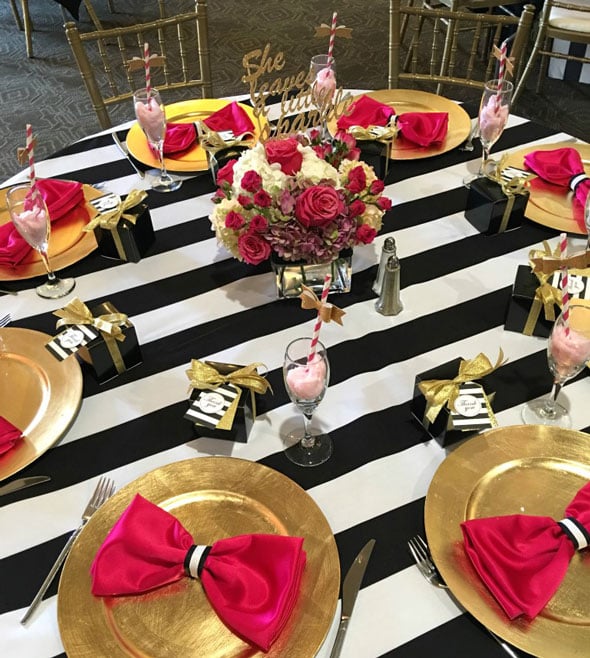 Tables were covered with a simple, yet elegant black and white stripe overlay and the flowers? Simply gorgeous!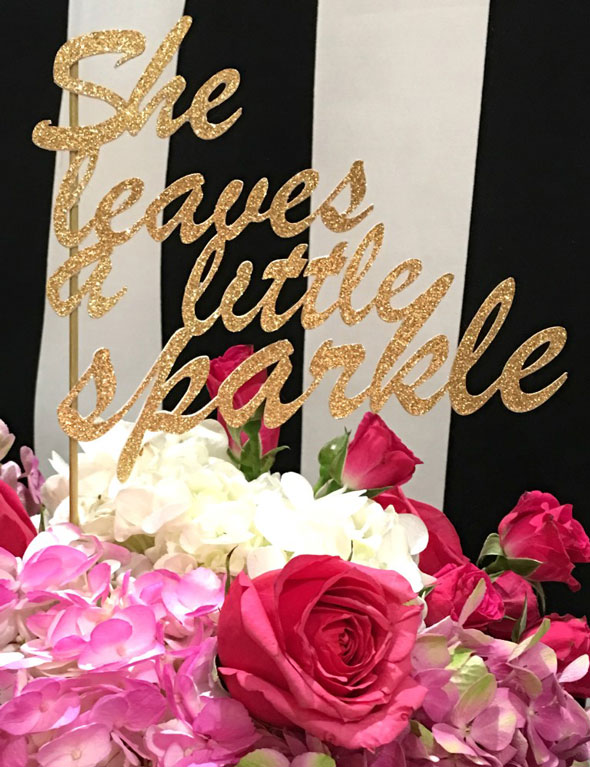 To keep with the theme for the evening, a little "sparkle" was added to all of the flower centerpieces. How gorgeous are these? Paisleys and Polka Dots went with the idea to keep things similar to a gold script cake topper, and used die cuts to cut the phrases out for each centerpiece, using gold glitter cardstock. They turned out phenomenal and soooo sparkly! They were then glued to a stick and placed in the center of the flowers and voila. The results turned out perfect!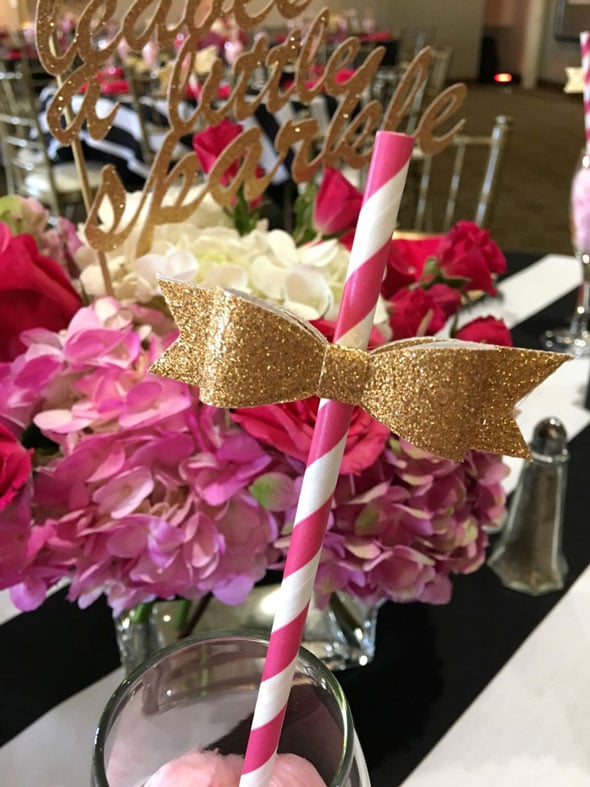 Next up, these adorable pink straws with the cutest little gold bows attached to them were a hit! Again, another DIY project, the bows were cut out of gold glitter cardstock. Once they were cut out, they all needed to be assembled and then glued to each straw. Tedious? Yes. But it was details like this that made the party such a huge success! Champagne glasses were placed at each table setting. And you won't believe how the straws were held in place in each glass… pink cotton candy! Even better, once champagne was poured into each glass, it turned pink, as well. What amazing party planning and this was such a cute element of the Kate Spade Birthday Celebration!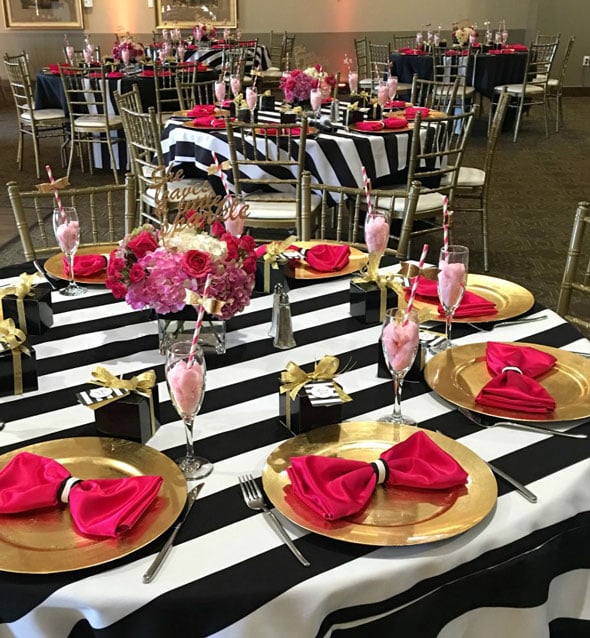 Take a look at how gorgeous the overall table settings were! Each napkin was folded up and placed on the table, with a black and white striped ribbon around the napkin to make it into a bow. Cute! And we just love the gold plate chargers. What a great color of pop for the Kate Spade birthday event!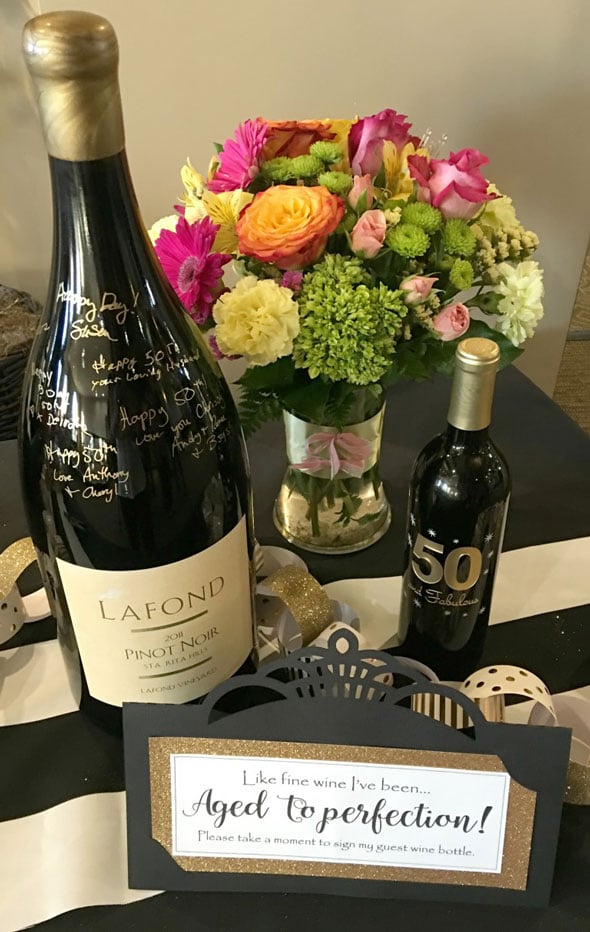 One of our favorite details of the birthday celebration was the table where guests could sign a bottle of wine as they arrived. Such a cute idea and a unique way for the birthday girl to always remember who helped her ring in her special year!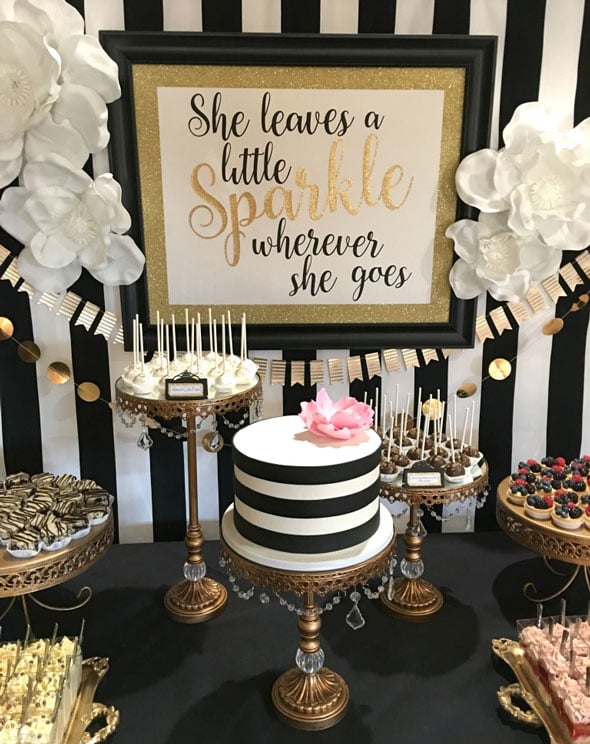 And then there was the dessert table! Gorgeous! All of the desserts were to die for and Fantasy Frostings definitely did not disappoint with their scrumptious cake and desserts that they prepared for the event! Treats included Gooey Butter Bites, Almond Cake Pops, Marshmallow Creme Cake Pops and Budino Dessert Shots. Yum! That wasn't all! Later, Hand Pies, Tarts and Cupcakes were also ready to be devoured by all of the guests. And how impressive that Paisleys and Polka Dots were able to make the entire backdrop with black and white striped fabric purchased at Jo-Ann Fabrics?! By purchasing a photographers backdrop frame, it was easy to have the striped fabric hold behind the table. And to hide the metal frame, a three-sided panel was sewed up and slipped over the top of the frame like a pillow case. Perfect! The sign on the backdrop was created with poster board with a gold glitter border. Again, by using die cuts, the letters were cut out and glued to the poster board. And to add additional detail, gold confetti and a small garland was attached with pins. Absolutely to die for!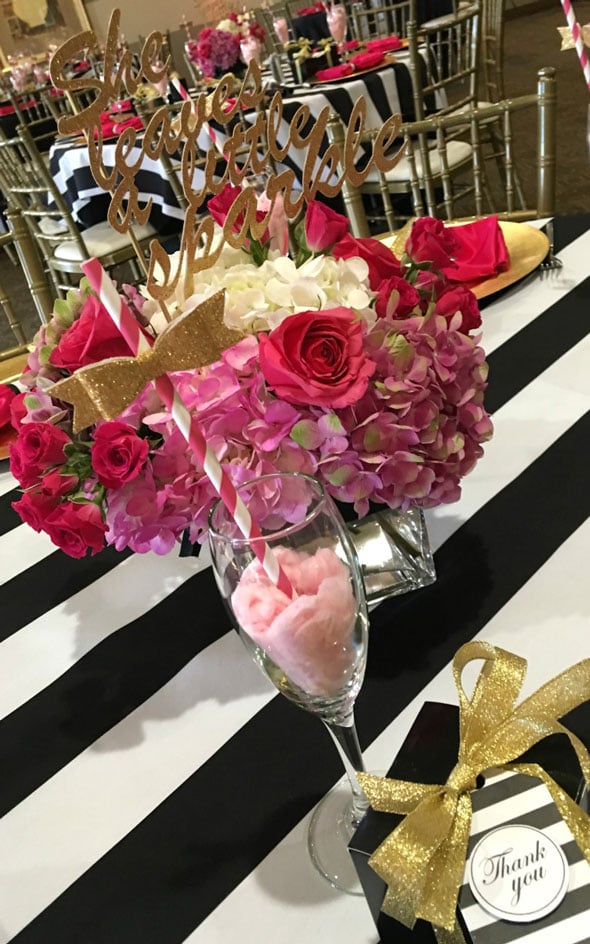 The night turned out absolutely beautiful and the birthday girl was absolutely stunned when she walked through the doors. How could you not be when you see all of these wonderful details, which were exactly like what the birthday girl had in mind! What a huge success and next time you're thinking of something gorgeous and unique for that special lady's birthday party, think of a Kate Spade theme!
CREDITS & RESOURCES
Party Concept and Styling: Paisleys and Polka Dots // Cake and Desserts: Fantasy Frostings // Paper Creations, Cake Topper, Party Favors : Paisleys and Polka Dots // DIY Dessert Table Backdrop: Jo-Ann Fabrics
Plan a fun Kate Spade Birthday Celebration with these stylish party products!