Chic Fourth of July Party
This fun and Chic Fourth of July Party will have the whole neighborhood hoping they get an invite!
How fun is this Chic Fourth of July Party?! Ambusheed With Boys and Klos + Co teamed up for a fun Fourth of July styled photo shoot and we love everything about it! All of these amazing vendors came together to put an amazing Fourth of July party together that any family would love to be a part of.
Red, white and blue were the main colors of this patriotic styled shoot that was held at Creative Space Studios. We love the fringe backdrop created by Glam Fete By Bri that was used, along with the balloons from Bijoux Balloon. And what a cute confetti cake, with the perfect red star used as a cake topper.
Oh Happy Day Party Shop did a great job putting all of the table settings together. Everything looked so American, with Coke bottles and pies available for guests to nibble on. What a perfect summer treat for the Fourth of July! We also love the confetti from Shop Studio Pep that was spread around the guest tables. How festive!
An American flag was the perfect dessert table backdrop, with florals interspersed throughout the event, which were provided by Tracy's Flower Shop. Even felt flowers from Fancy Free Finery were used! Mini disco balls from Ellie and Piper, along with fun garland from Pearl and Jane were also used in the Fourth of July party decorations and everything was tied together beautifully.
These moms did a great job getting things styled and set for an incredible photo shoot. And how about those adorable models that were used, with the perfect Fourth of July outfits?! We would definitely want to be invited to this great American birthday celebration!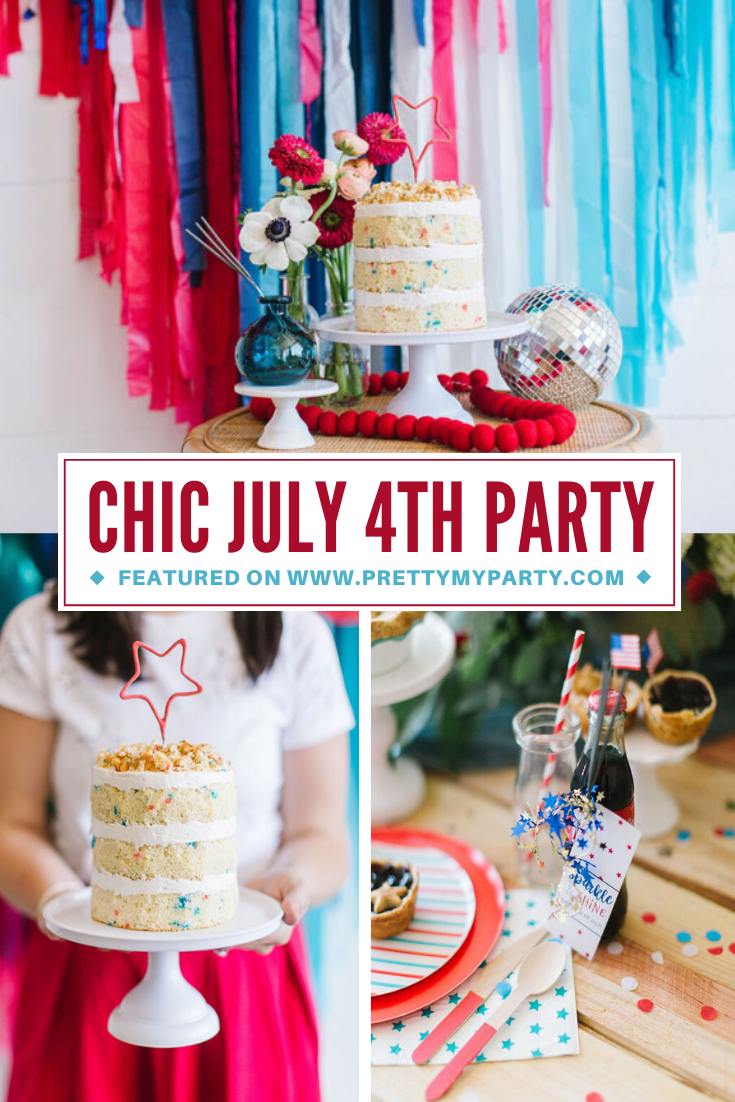 Chic Fourth of July Party Ideas
Fun Fourth of July Party with red, white and blue party decor
Table settings included festive napkins, plates and straws with fun milk bottles being used for the drinks
Cute All-American Fourth of July desserts, including homemade pies, cookies and a fun confetti cake
Fourth of July cake theme was simple, yet classic, with confetti and vanilla frosting. A fun red star cake topper finished off the look perfectly
American flag backdrop was used behind the dessert table to show off the Fourth of July theme
Picture station backdrop included red, white, and blue streamers and balloons, topped off with a fun disco ball for all to enjoy
All-American floral centerpieces were used on the guest tables
Individual pies were created for guests at each place setting
Fun Fourth of July food ideas were incorporated into the event, with appetizers and a backyard BBQ theme
Coca Cola bottles were part of the Fourth of July drinks offered, to give the American theme a fun touch
Family Fourth of July outfits were utilized for this styled shoot and would be fun to replicate for any Independence Day celebration
A mimosa station was available for all of the moms to enjoy, with fresh fruit and champagne ready to be used
Fun backyard games and activities were available for kids to play, as well as adults
Fourth of July themed party decorations and invitations utilized modern and chic styling, along with the party supplies
DIY banners, signs and printables were found throughout the event, such as the individual tags attached to guest milk bottle place settings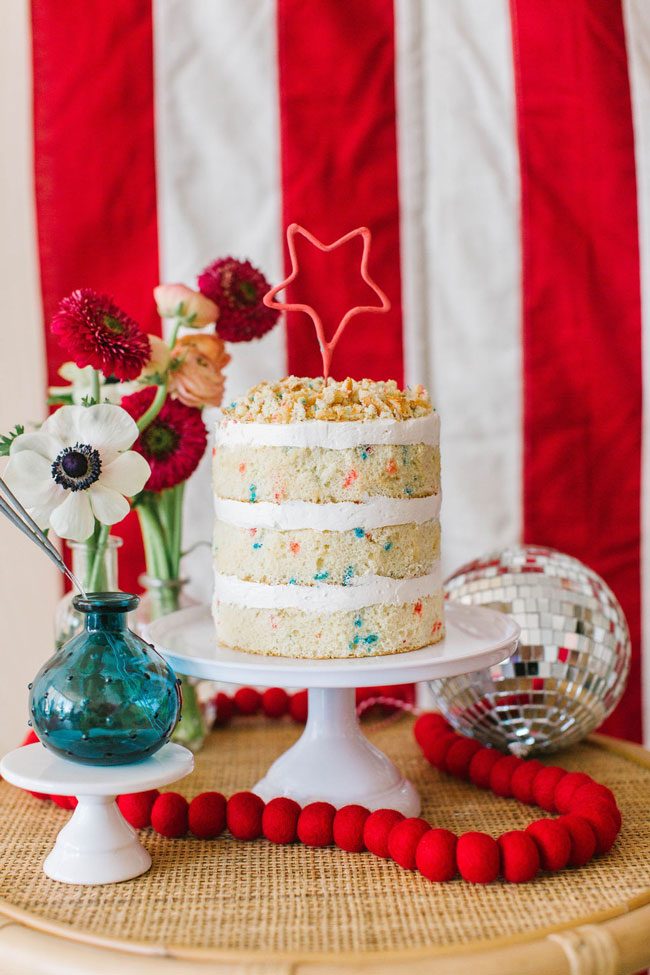 Celebrating Fourth of July is always a fun holiday, with it being summer time and enjoying family barbecues and fireworks! And this Chic Fourth of July Party puts everyone in the mood to celebrate America's birthday! We love all of the great details from this styled shoot, but our favorite detail is all of the red, white and blue backdrop items, including the American Flag. What could be more perfect?! That confetti cake looks like a burst of fireworks ready to delight all of the guests and all of the outfits are so adorable for a summer holiday.
If you're looking to celebrate the Fourth of July in style, look no further than this great styled shoot for inspiration. From the table settings to the wall decor and desserts, this Fourth of July party will have everyone looking forward to the holiday!
Shopping list: Chic Fourth of July Party Decorations
What are your favorite details from this Chic Fourth of July Party? Let us know in the comments below!
For more fun party ideas, follow us on Instagram @prettymyparty and Pinterest and join us in our private Facebook group.
Party Vendors