Creative Pool Party Ideas
Make a splash at your pool party with these fun, creative Pool Party Ideas!
Are you looking for a fun way to celebrate an occasion this summer? There's nothing better than throwing the ultimate summer pool party! These amazing pool party ideas will give you the inspiration you need to plan the best kids pool party ever! Whether you're throwing a birthday pool party or just a summer pool party for the kids, these ideas will help you dive right into planning!
Fun Pool Party Decorations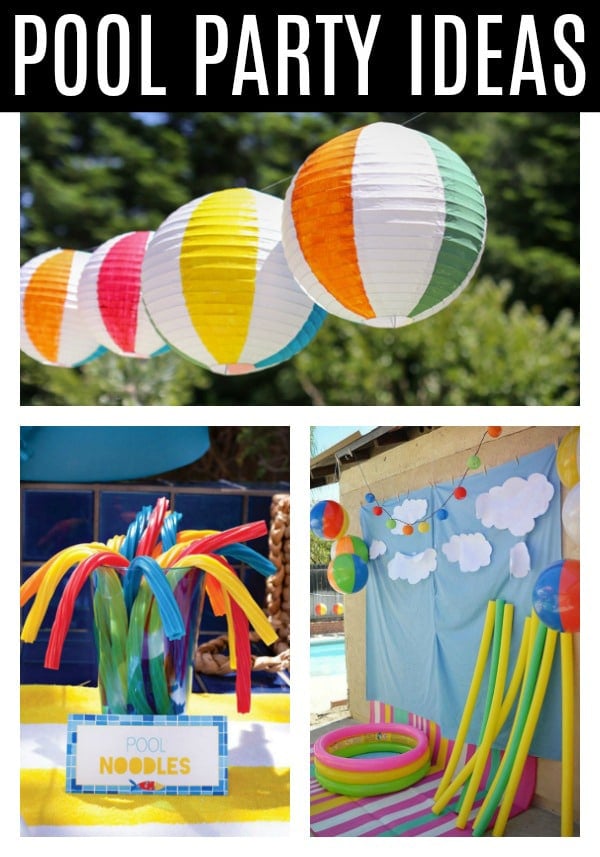 Summer is right around the corner! Are you one of the lucky ones who has access to a pool whenever your heart desires? Then this is the year to throw that amazing pool party you've been dreaming of with these great pool party ideas! These fun ideas are a hit with the teen or tween crowd, so if you're planning a birthday party this summer, they are totally Instagram-worthy! A neighborhood cookout and pool party is another great excuse to soak up the summer sunshine. Whatever the case may be, a summer pool party is always a hit with kids, teens and adults. Check out these great ideas below to get started on planning the biggest bash of the summer!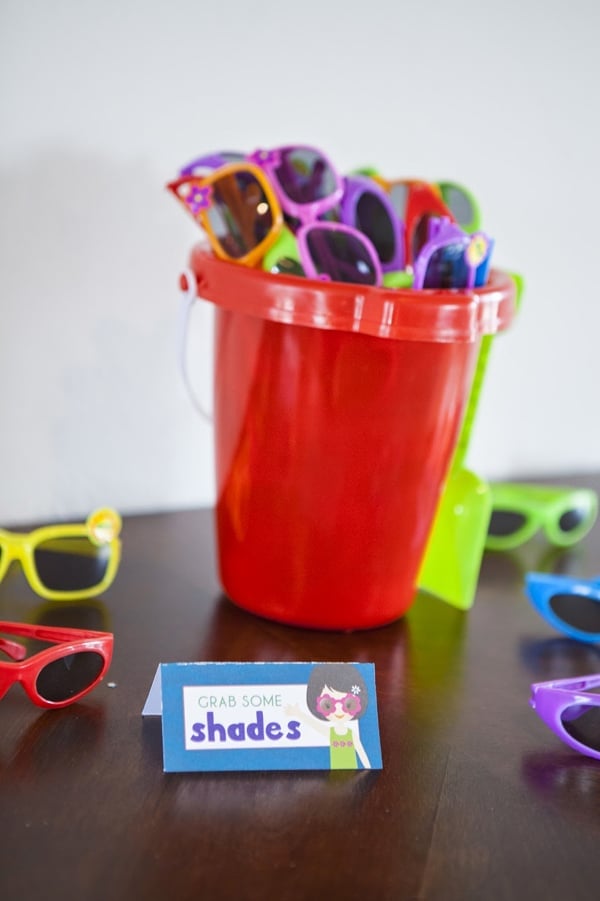 Have the kids grab some shades with these fun Pool Party Favors. Pool Party Favor Ideas are always in demand and with this simple "shade" bucket, you won't have to think twice! We also love that it's an inexpensive party favor, too!
This Awesome Pool Party Birthday Cake is seriously too much fun! It's the perfect birthday cake for a Teen Pool Party. The kids will absolutely go wild over this adorable pool party cake! Although it might be hard to cut because it's just so perfect! This cake will certainly make the perfect centerpiece on your pool party dessert table.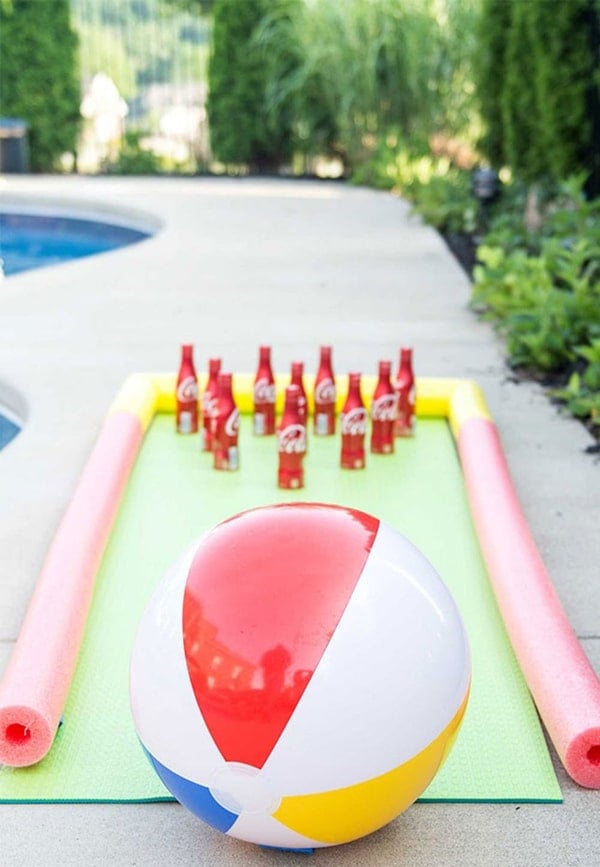 What type of pool party games can you do when everyone is too water-logged to go back into the pool anymore? This DIY Beach Ball Bowling Game is a great idea! Especially since so many of these items are probably already found around the pool! Take that beach ball out of the water and get ready to throw some strikes down the "alley"!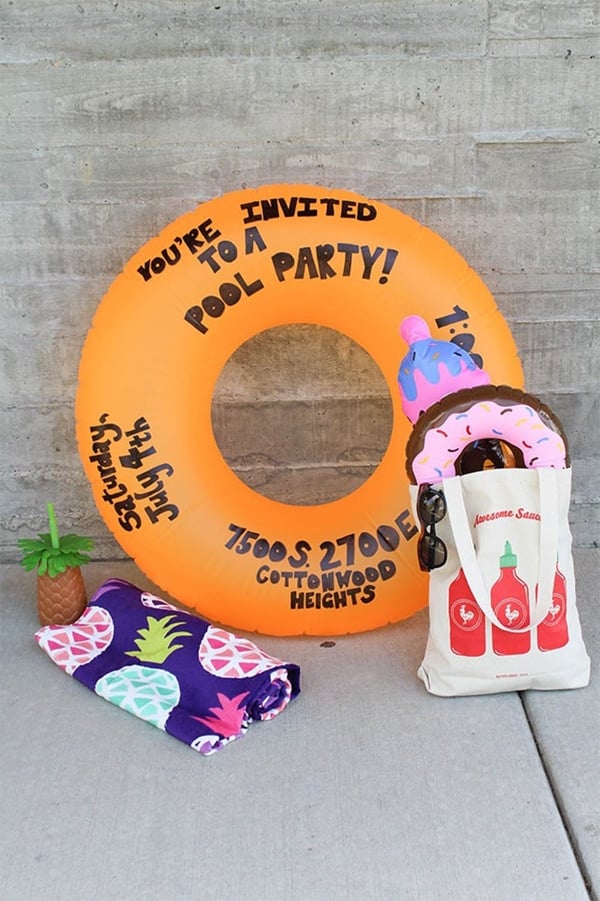 Unique birthday party invitations are always so much fun to receive. This DIY Pool Float Invitation is as cute as can be and is an absolute perfect pool party invitation! I'll admit, one of my kids got a similar pool party invitation this summer for a party, and we almost missed the writing on the float! So if you get something like this over the summer and have no clue why, make sure you check to see it's not a pool party invitation! You definitely don't want to miss out on something as fun as a pool party, right?!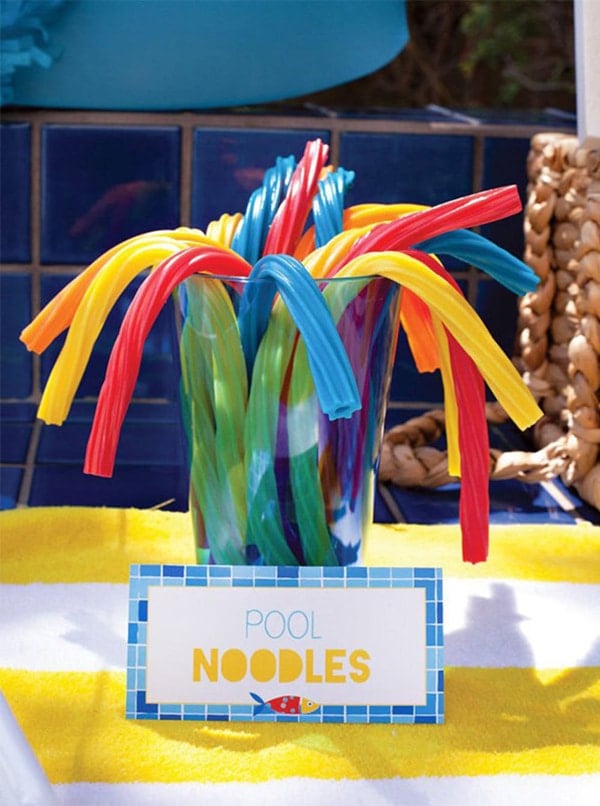 This Pool Noodle Candy idea is a great way to get the little ones out of the water and headed over to the colorful dessert table! There are so many different pool party food ideas that can be used for a pool party theme. This is such a clever idea with a fun "pool noodles" tag to go with the theme! What a great way to incorporate some good, old-fashioned Twizzlers!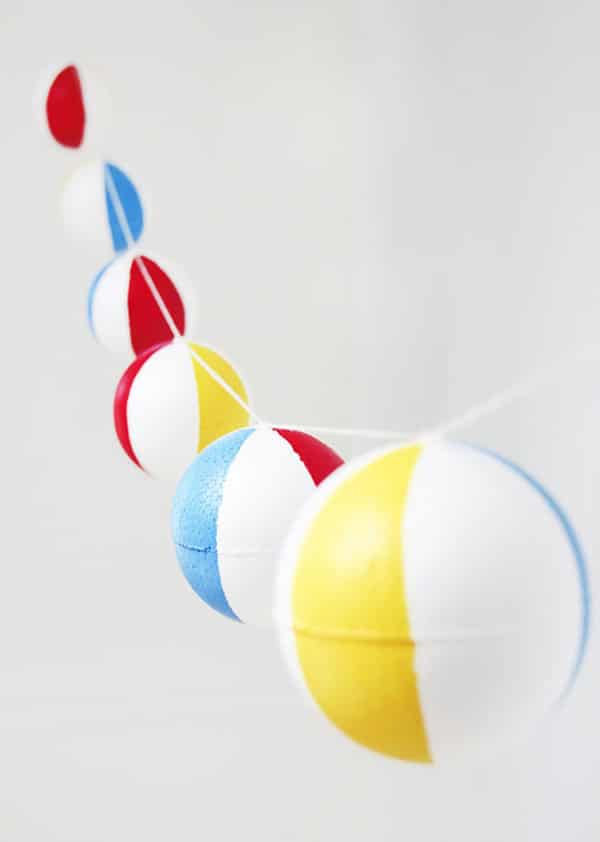 If you're looking for some great pool party decorations, this DIY Beach Ball Garland will make any pool party more festive! Decorations can seem secondary at pool parties, where everyone just wants to take a dip ASAP, but this really brightens up the party space and adds to the summer fun!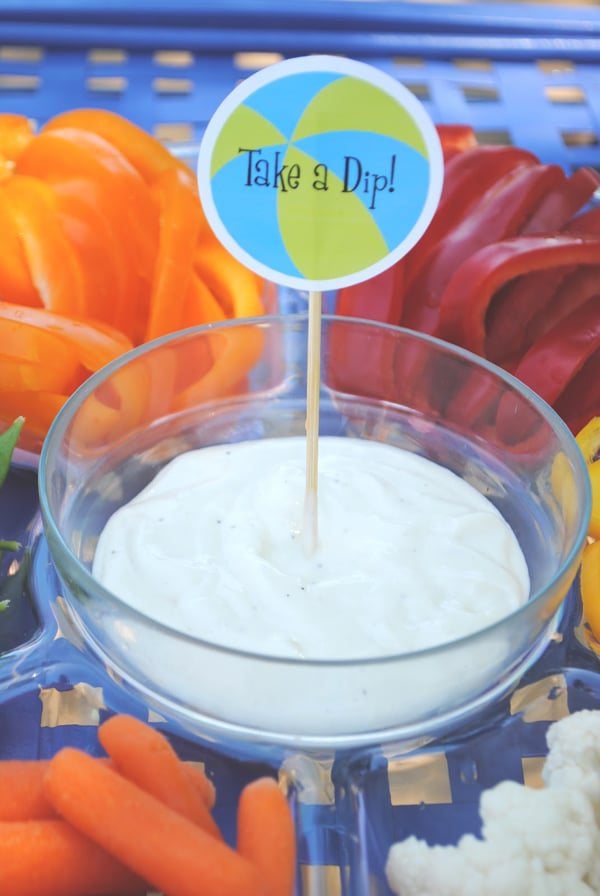 This Take A Dip Party Dip Sign is great when it comes to finding creative pool party food ideas! It doesn't get much easier than this, and if needed, it's an easy sign to create all on your own. Don't have time to make it fancy and print it? No worries! It will look just as great with your own handwriting!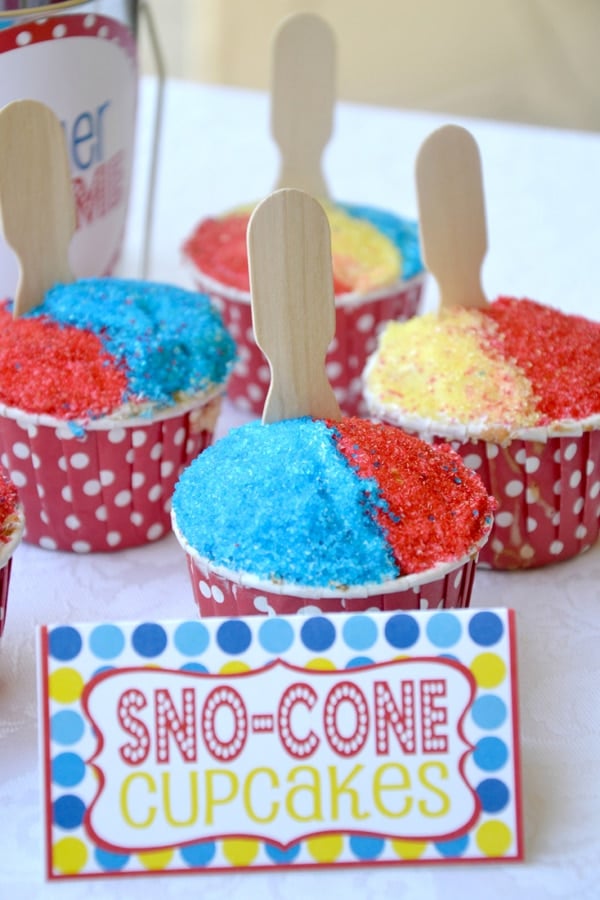 Now don't get excited … these are not real snow cones. They are Snow Cone Cupcakes which make a great dessert for any pool party! This dessert idea doesn't get much easier, and with some colored sugar and frosting, you'll be able to whip these up in no time. You totally got this!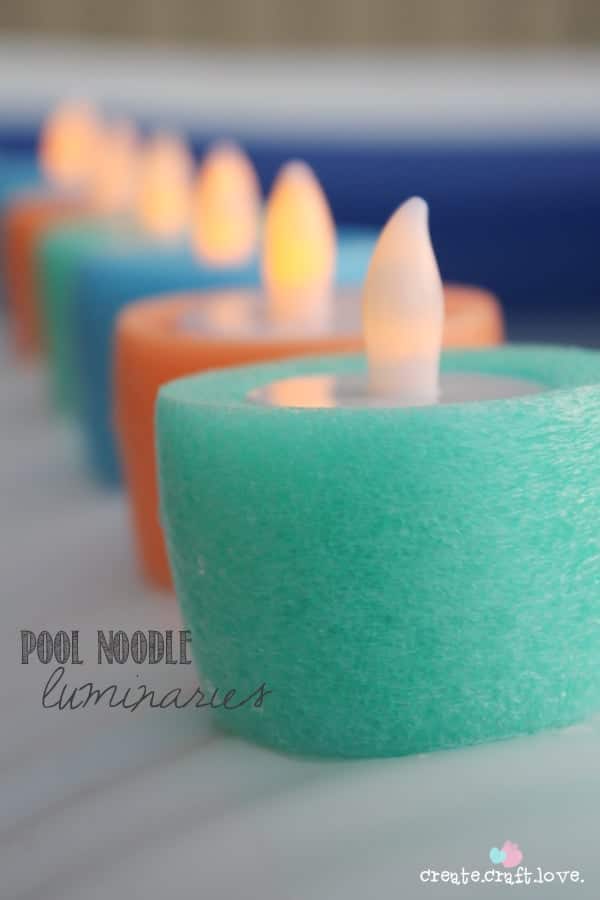 We love fun, crafty and unique ideas for decorating a birthday party. These DIY Pool Noodle Luminaries are exactly that! Simply by cutting up a pool noodle and sticking some fake candle lights in them, you have created gorgeous pool party decorations that will light up the event all night long! We think this is a great idea to have around the pool, no matter if you have a special party in the books or not!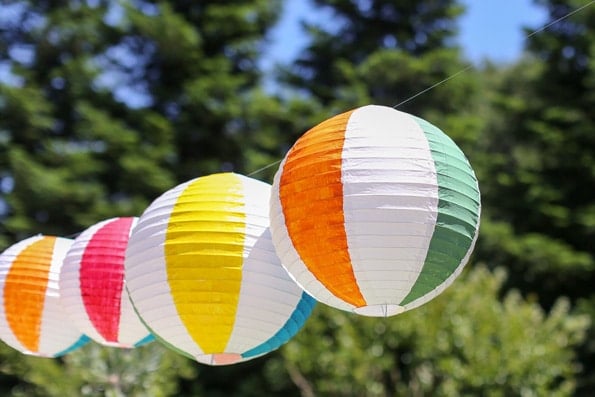 These DIY Beach Ball Paper Lantern decorations are a great way to get the pool party started! Simply string them up, hang them around the pool, and you have yourself some amazing decorations that are cheap and easy to create! Don't these look so festive for a pool party?!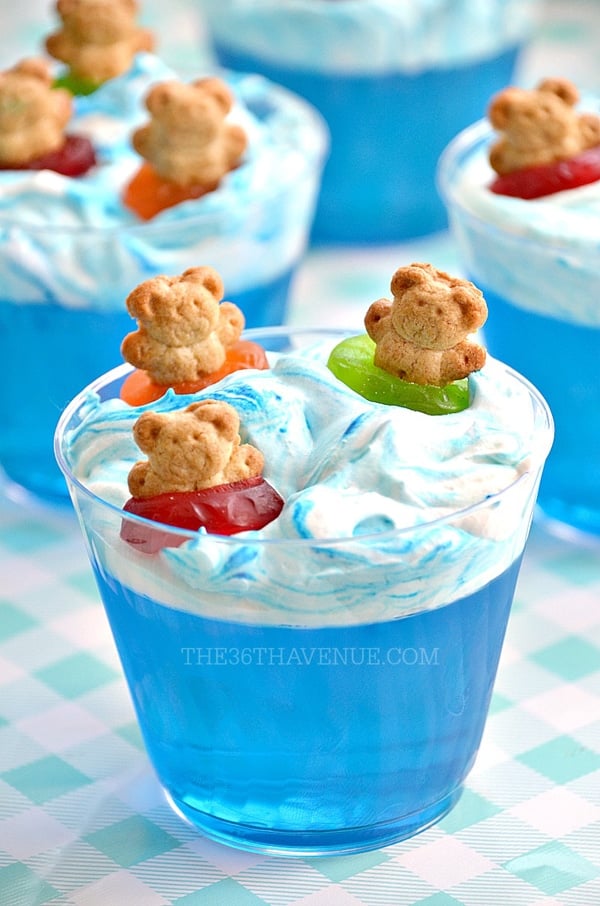 OK, this teddy bear and Jello Pool Party Snack may be just one of the most creative pool party food ideas we've ever seen! We absolutely love everything about these for a Kids Pool Party. What a great way to beat the heat with these cool jello snacks!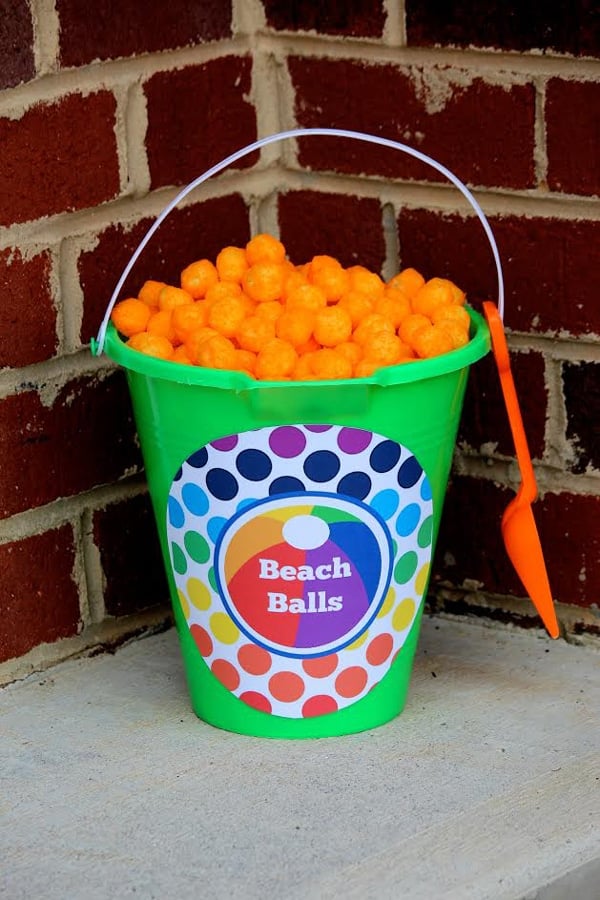 Looking for some fun ways to display the appetizers or snacks at your pool party? These cheese puff Beach Balls will have everyone doing a double take! This is the perfect pool party food and all you'll have to do is make sure that the sand pail is kept filled to the brim. We're sure it will be a popular snack on the food table!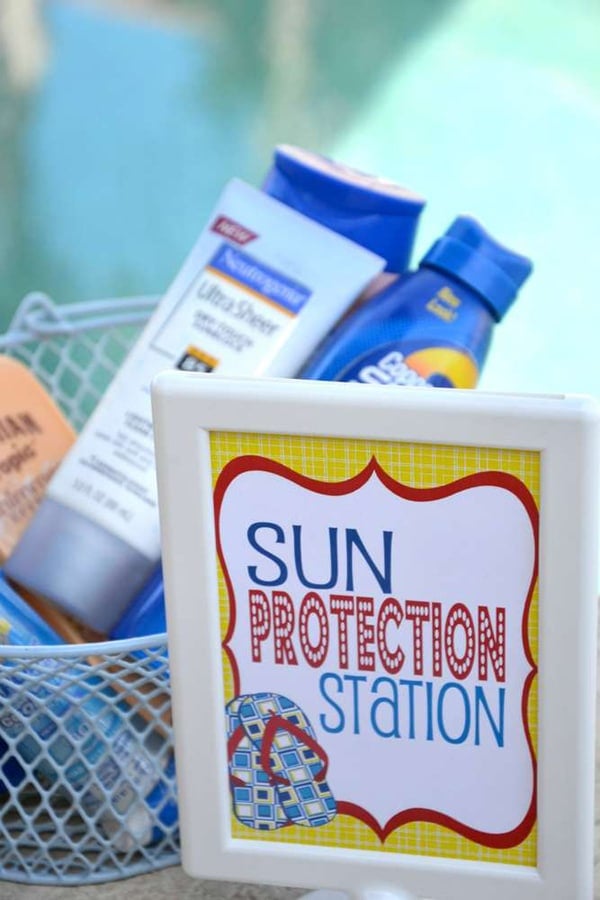 Nothing is more important at a pool party than a Sun Protection Station! Make sure everyone stays safe in the sun by providing different types of sunblock for the kids and adults to use. You will also want to make sure plenty of the sunblock is waterproof, because this pool party is going to last awhile!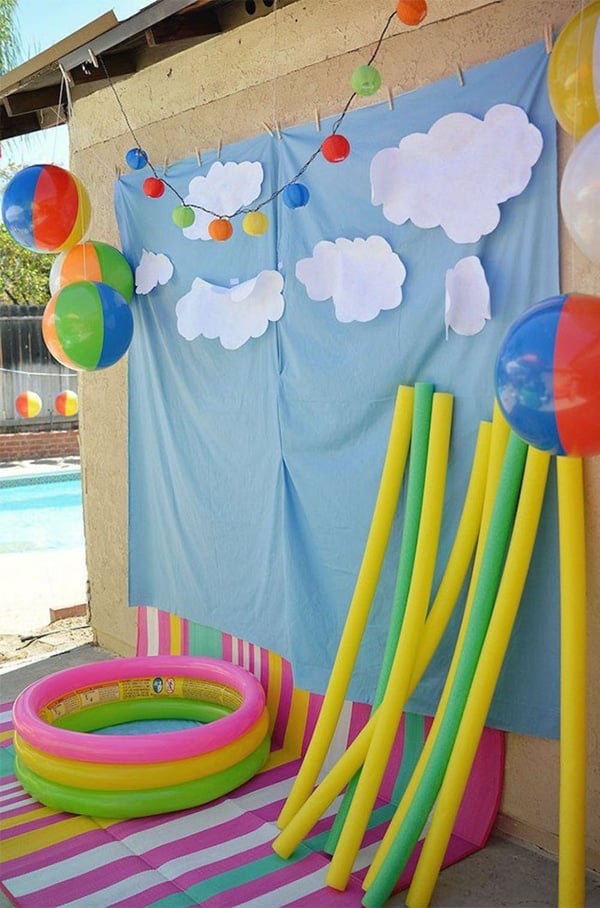 Who doesn't love a good photo booth at a birthday party?! This Pool Party Photo Booth will be so much fun for everyone to clown around in. It's a great way to relive all of the pool party fun once the summer is over. And this fun and colorful backdrop is easy to recreate, with some beach balls being the perfect enhancement!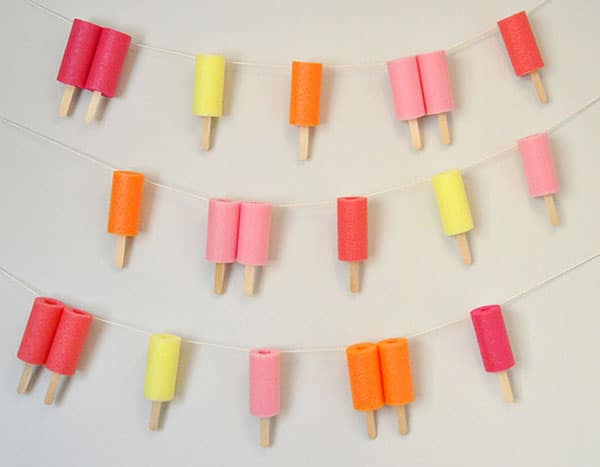 This DIY Pool Noodle Popsicle Garland is super cute and makes a great addition to your pool party decorations! You'll have this created in no time and it will make a great backdrop for a dessert table or even a photo booth! Everyone will love this crafty decoration idea no matter where you place it!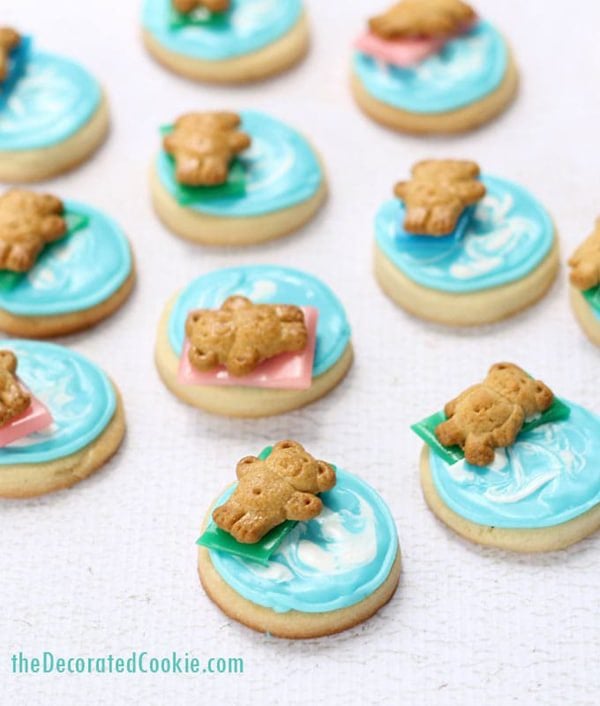 These sweet Pool Party Cookies may be just about the cutest things in the whole wide world! Teddy grahams get a lot of play with cute pool party desserts, but all they have to do here is lounge around and swim until their heart is content! What a simple, yet adorable dessert to create for a kids pool party!
And just like that, you're going to create the most epic pool party this summer! If you have a little one who is lucky enough to celebrate a summer birthday, a pool party is a must for one of those special days! With these great ideas above, you'll be able to pull this off easily, and with a ton of great ideas! And what's great about all of these pool party ideas is that none of them are over-the-top too difficult to pull off all on your own. Make a splash this summer with these creative pool party ideas!
For more fun party ideas, follow us on Instagram @prettymyparty and Pinterest and join us in our private Facebook group.