17 Cute Baby Shark Party Ideas
Are you planning a fun Baby Shark party for your little one? These 17 Cute Baby Shark Party Ideas will certainly make a big splash with your guests!
There's no denying that Baby Shark is one of the most viral kid songs ever. Pinkfong certainly hit the jackpot when they released this song back in 2016. No parent of a toddler would contradict its popularity!
What made the Baby Shark song so popular? Aside from the catchy tune and funky dance moves, it's also got an adorable video that kids (and parents) never fail to watch over and over again.
It's so successful that it's been featured on The Late Late Show with James Corden. Even grown-ups often catch themselves humming the tune from time to time – we know we have!
So if you're looking at birthday party themes, what better way to celebrate than having a Baby Shark birthday party?
If you need some help, you're definitely in the right place.
We have tons of awesome ideas that you can use to make your kid's Baby Shark party a hit!
From baby shark cakes, baby shark cupcakes, and baby shark desserts, we guarantee that these ideas will surely make your kid's birthday unforgettable, just like the song!
See also:
Here are 17 Cute Baby Shark Party Ideas …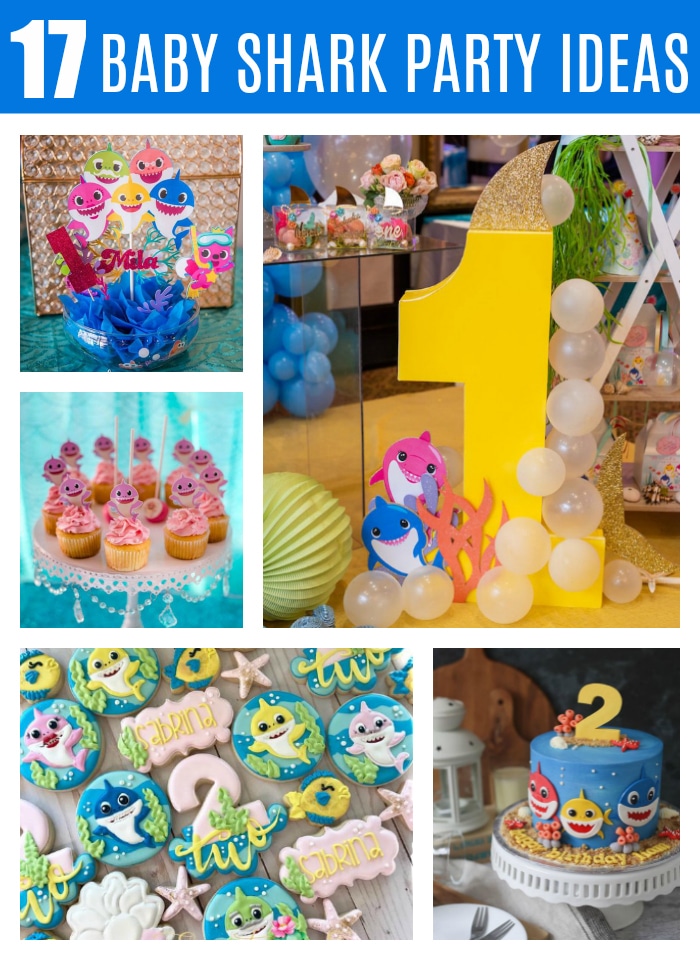 Baby Shark Party Supplies and Decorations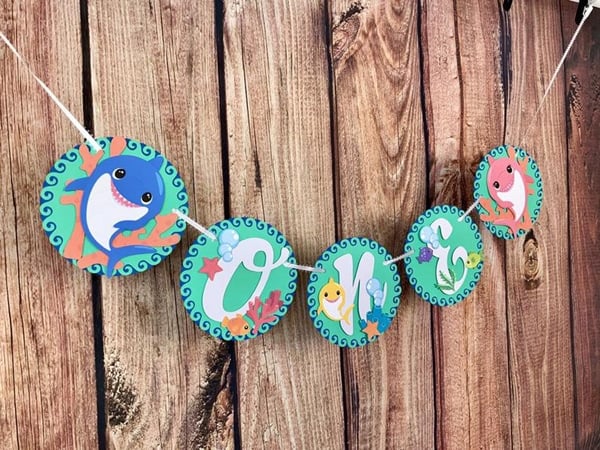 Baby Shark Party Idea #1: Amp up the baby shark decorations at your kid's birthday party with this adorable Baby Shark Birthday Banner! The bright colors will add a festive vibe to the party! The sign also pops out especially if you hang it on a wooden board or fence like this one.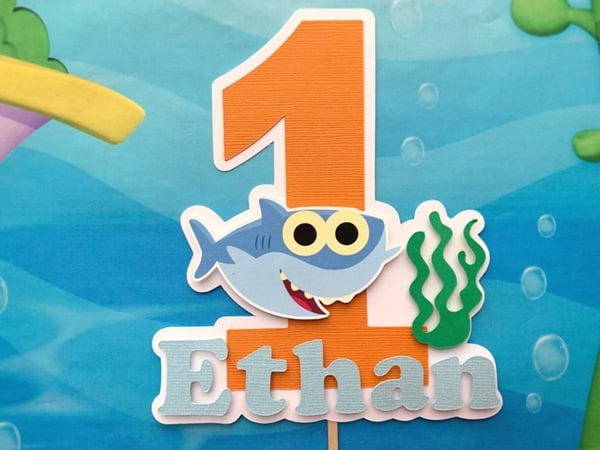 Baby Shark Party Idea #2: This bright and colorful Baby Shark Cake Topper will fit right in with your theme. All it needs now is an awesome baby shark cake to go along with it!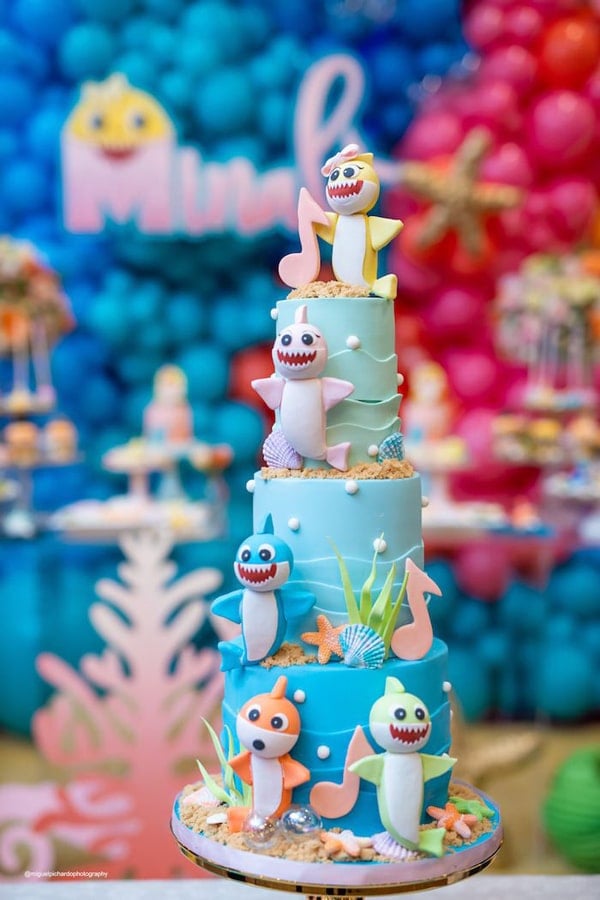 Baby Shark Party Idea #3: This amazing Baby Shark Birthday Cake will look absolutely smashing on your dessert table! From the adorable baby sharks to the cute starfishes and seaweeds at the bottom, this cake will surely be an Instagram hit with the grown-ups at the party!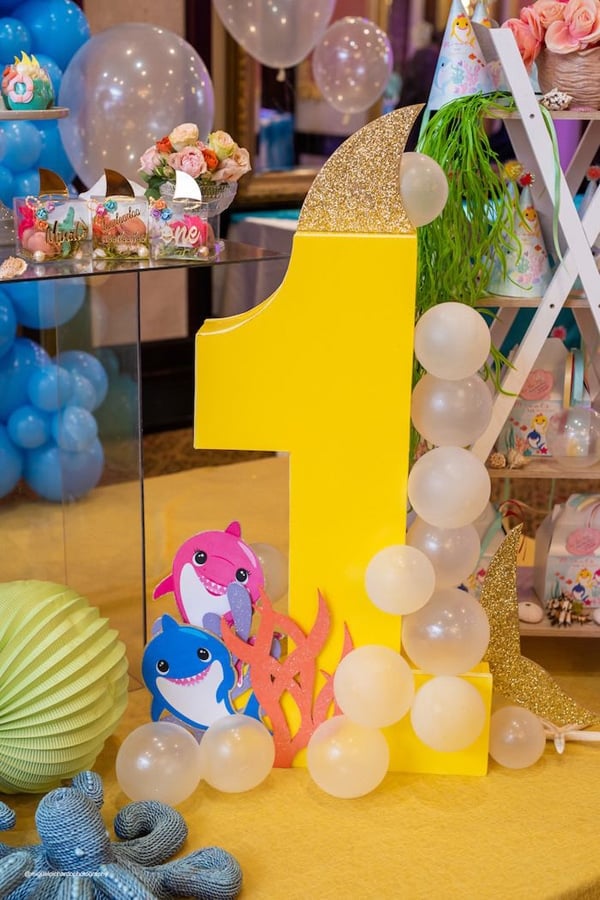 Baby Shark Party Idea #4: How amazing are these Baby Shark Party Decorations?! The standing decorative number sign with the sharks, the little balloons and the adorable octopus certainly make this party extra special.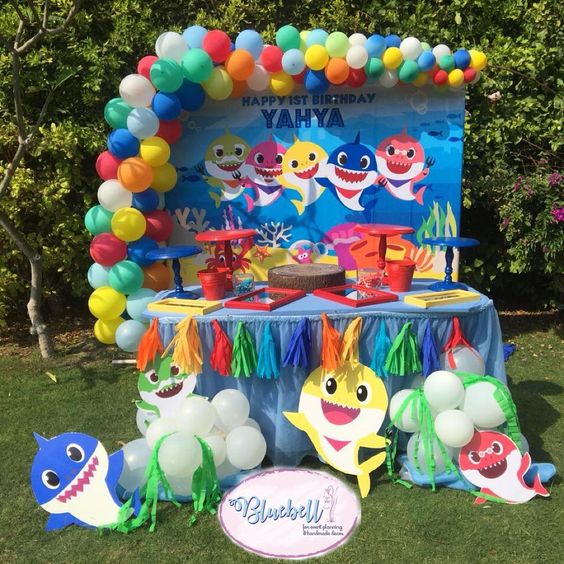 Baby Shark Party Idea #5: What's a party without desserts? And what better way to showcase those yummy sweets than with a Baby Shark Party Dessert Table? Add more oomph to your baby shark themed party by putting some balloons at the top with some colorful pompoms to match!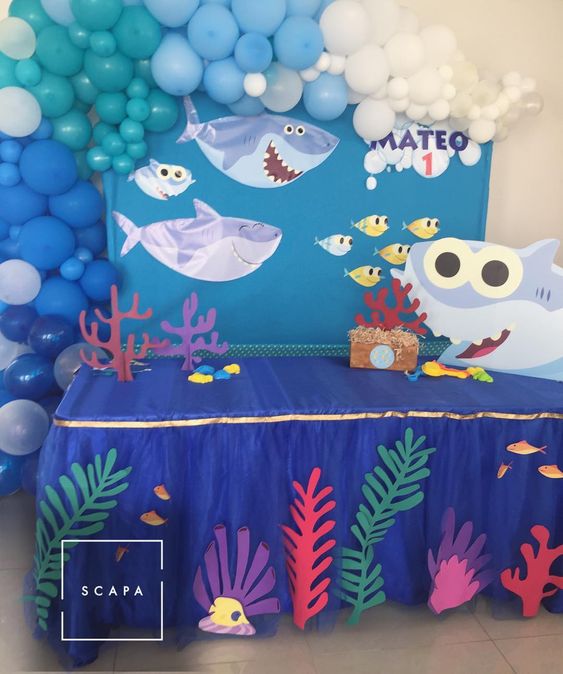 Baby Shark Party Idea #6: Here's another Baby Shark Dessert Table that you're sure to love! The sharks and fish swimming in the background will make this table the perfect backdrop to showcase the sweets. To copy the look, just get some baby shark printables online and use blue cardboard or fabric as a background. Don't forget the seaweeds!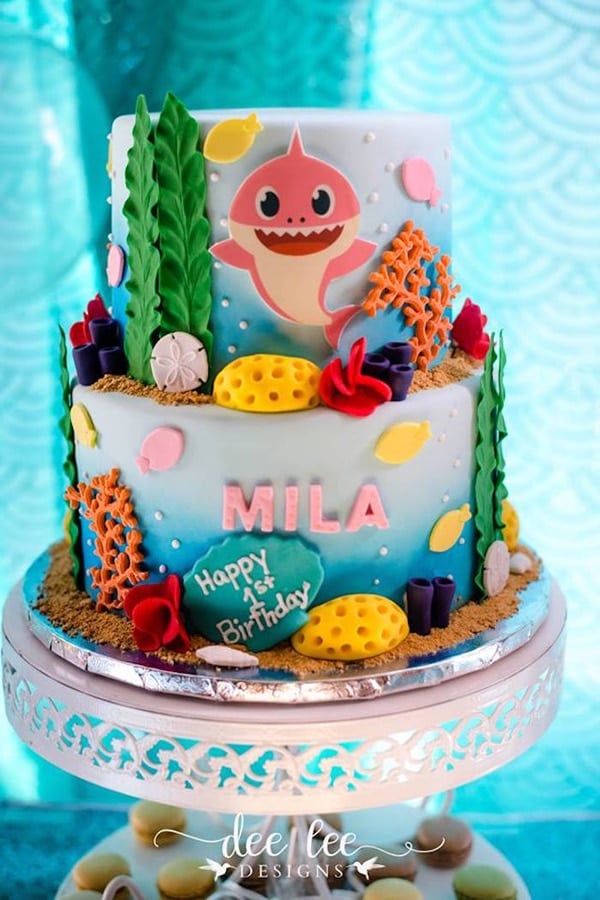 Baby Shark Party Idea #7: We're loving the gorgeous details on this stunning Baby Shark Birthday Cake! It will surely make a splash and be a hit with the guests at the party! Just look at all those fantastic trimmings.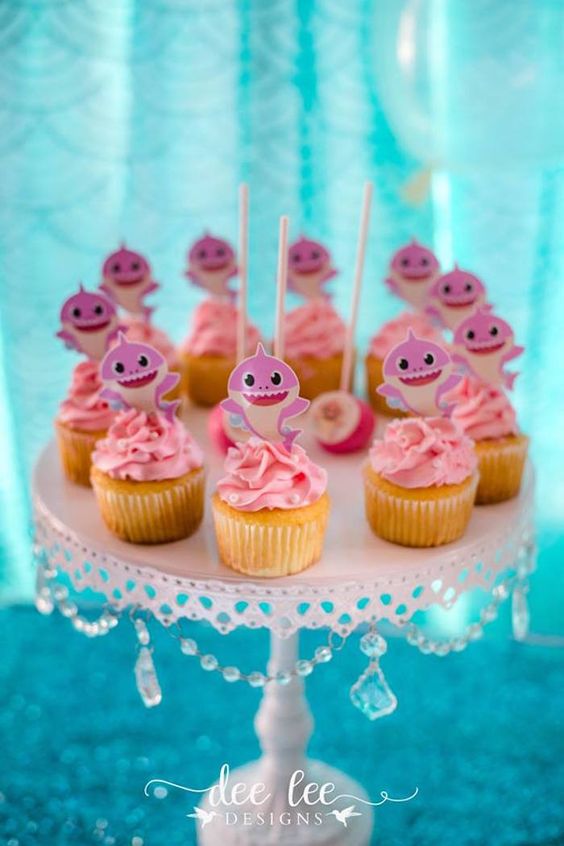 Baby Shark Party Idea #8: These Baby Shark Cupcakes, together with its elegant cupcake holder, would make an awesome centerpiece on the dessert table. The pink sharks and pink icing make these tiny cupcakes too adorable to eat. A great dessert for your little girl's birthday party!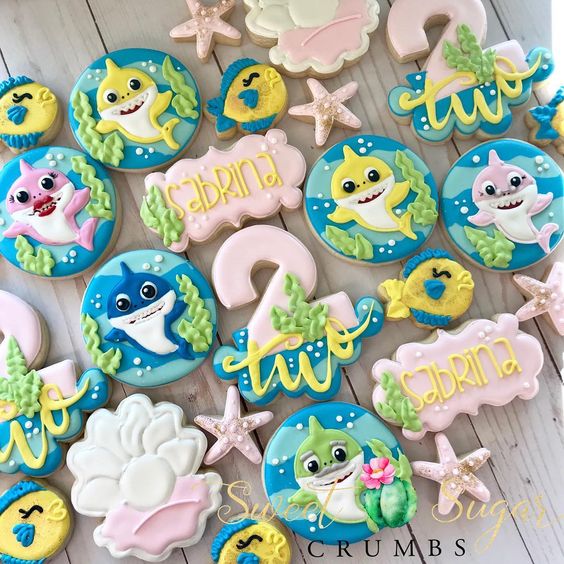 Baby Shark Party Idea #9: These Baby Shark Cookies will surely delight your little guests! If you're giving away some goodie bags, add these yummy cookies. Everyone loves cookies and these baby shark cookies will be a hit!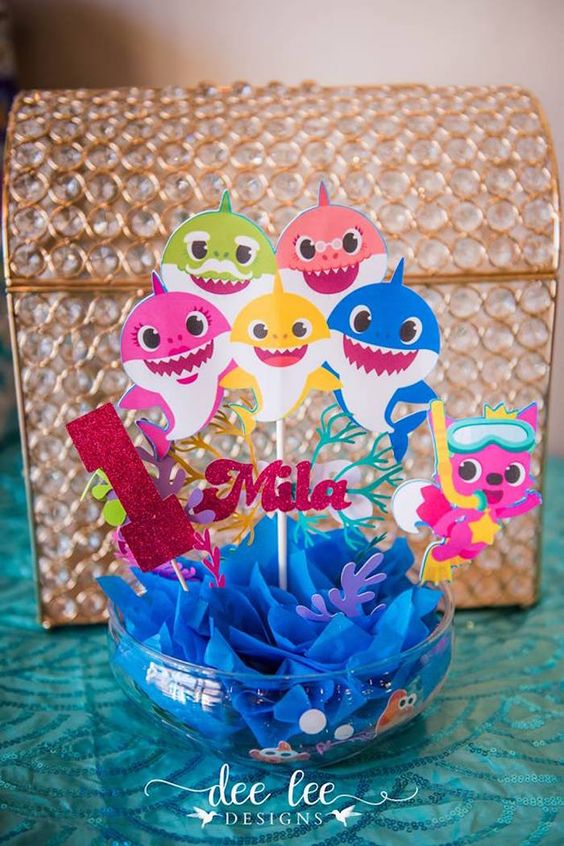 Baby Shark Party Idea #10: Aww, the whole shark family look absolutely adorable in this Baby Shark Centerpiece! This would look perfect on every table at your kid's Baby Shark birthday party! They're easy to make, too!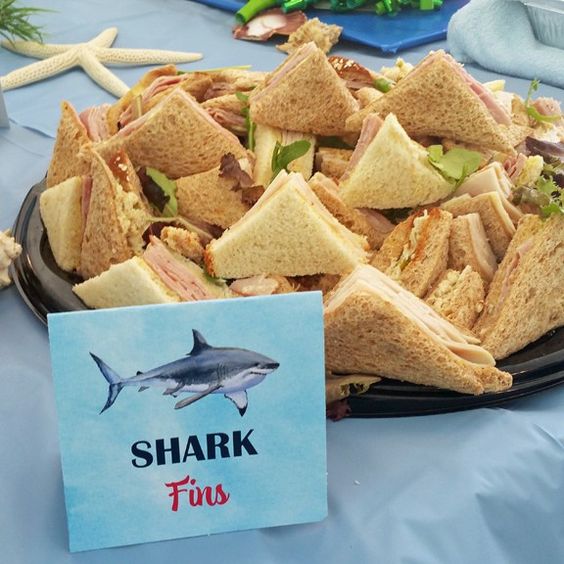 Baby Shark Party Idea #12: These Shark Fins look delicious! Plus, they would make a healthy addition to your birthday menu. For kids who are picky eaters, these shark fin sandwiches should do the trick!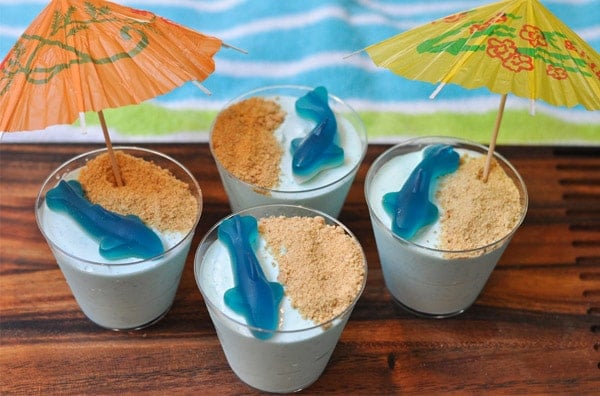 Baby Shark Party Idea #13: Looking for the perfect dessert? You certainly can't go wrong with this delicious Jello Shark Dessert! It is easy enough to DIY, too. Perfect if you're pressed for time. Serve these and watch as kids come back again and again for more!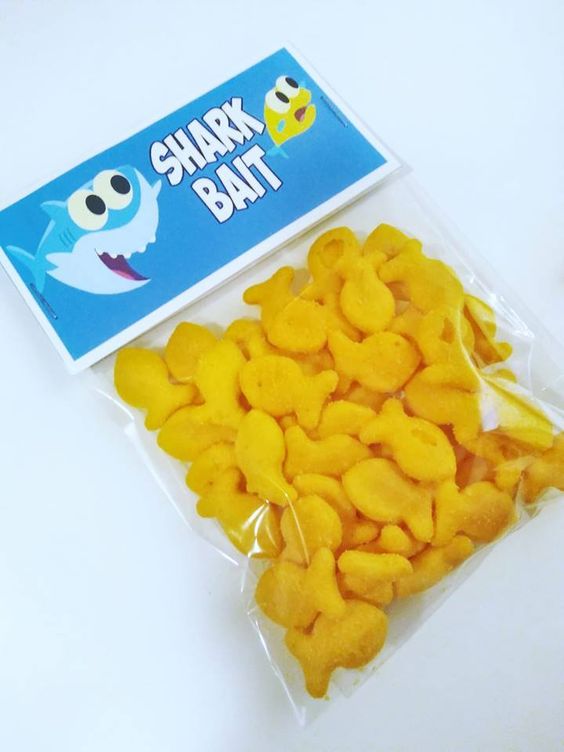 Baby Shark Party Idea #14: These cute Shark Bait Party Favors would make the perfect giveaway for your kids' Baby Shark birthday party. Pair these with some baby shark cookies or even a baby shark coloring printable and they're ready to go!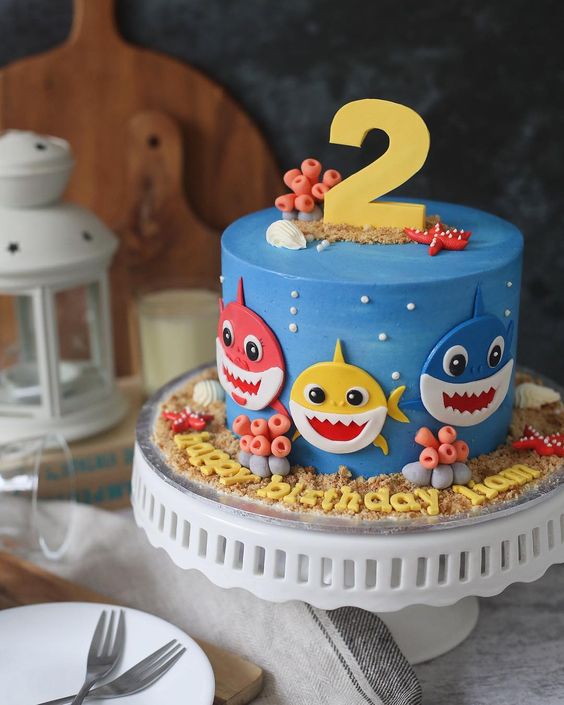 Baby Shark Party Idea #15: This delightful Baby Shark Cake looks too good to eat! It's the perfect cake if your kid is begging you for a Baby Shark themed birthday party. Take it up a notch by making it as a centerpiece on a baby shark dessert table!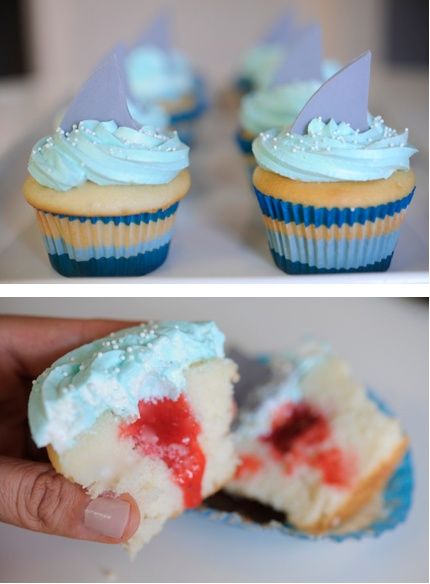 Baby Shark Party Idea #16: Up the ante with these Shark Bite Cupcakes with a twist! Watch your kid's eyes go big with delight when they take a bite out of these scrumptious cupcakes. Those shark fins look really cool, too.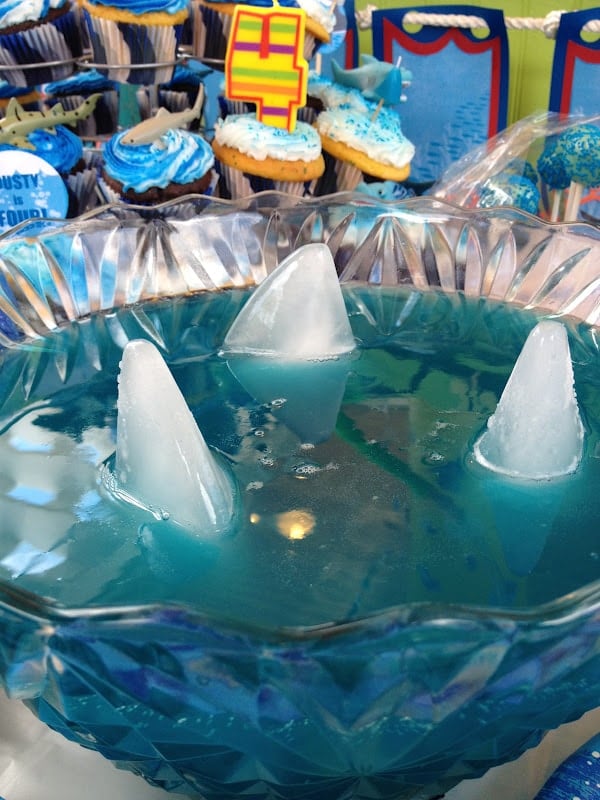 Baby Shark Party Idea #17: Speaking of shark fins, this Shark Punch made with Hawaiian Punch Blue with the icy shark fins is sure to make a splash with your guests when they get a drink.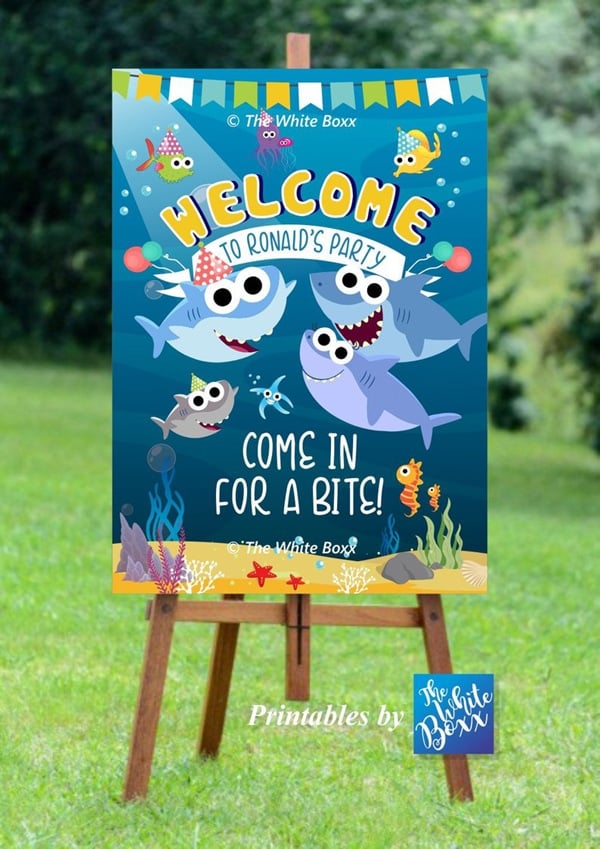 Bonus Shark Party Idea: Finally, give your guests a warm welcome with this delightful and colorful Baby Shark Party Welcome Sign! The festive colors should set everyone in the mood for funky dance moves to the tune of, what else but Baby Shark of course!
Which of these 17 Cute Baby Shark Party Ideas are your favorites Let us know in the comments below.
For more party ideas, follow us on Instagram @prettymyparty and Pinterest and join us in our private Facebook group.