Gorgeous Mother's Day Party
This Mother's Day Party is an amazing celebration for the women who are most important in our lives, our Moms!
We just love the idea of a brunch specifically for a Mother's Day Party. This styled shoot is absolutely amazing and we love the parallel that is seen in the bird theme that is used for this brunch. Mother birds are often associated with motherhood, as they build a safe nest for their baby birds and shield them from harm. They supply a constant provision of food to help the young birds grow and she nurtures them in a self-sacrificing way to ensure survival. For these reasons, and many more, we love the references that were drawn to mother birds and motherhood for this Mother's Day Party.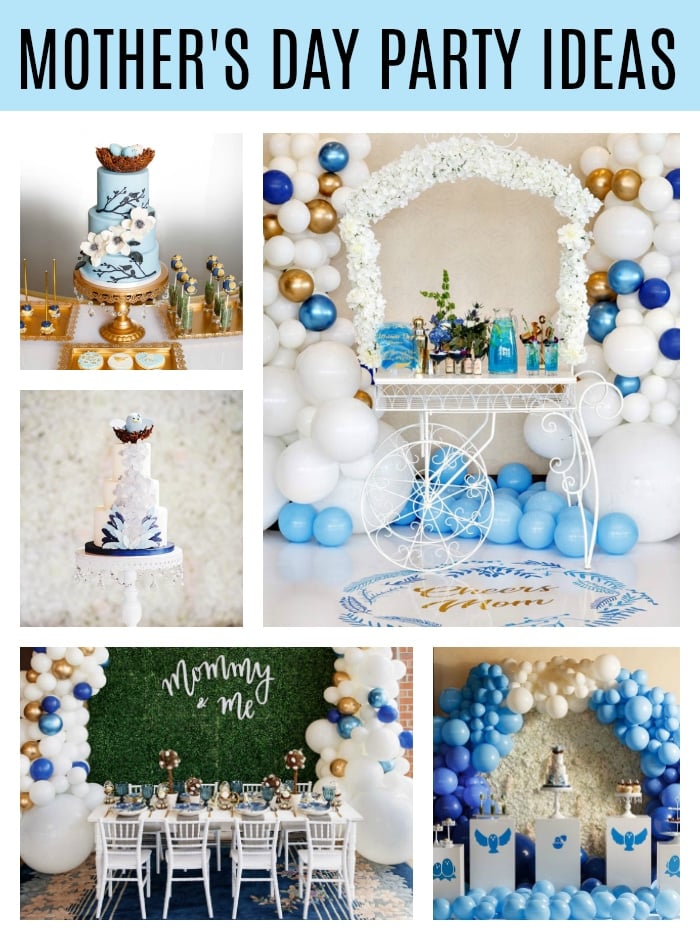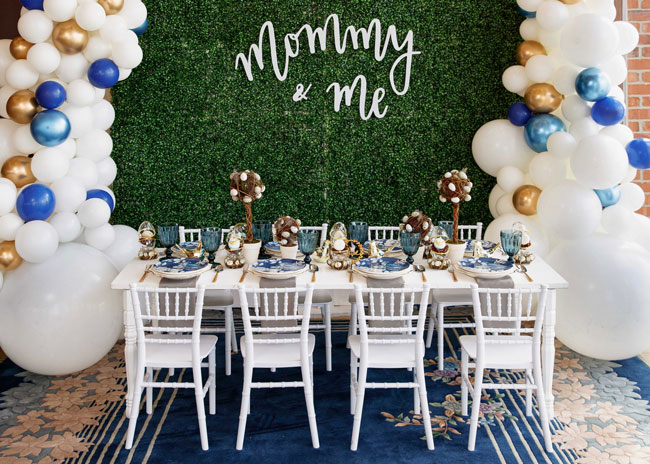 There's always a certain mood that colors can evoke. For this Mother's Day Party Theme styled shoot created by Asian Fusion Weddings and Formosa Events, the focus was on blue, gold, white and grey. What we love the most, though, is the thought that was used in the decision of using each color.
Blue is referenced in many phrases such as "blue collar work", which many moms do; inside and outside the home. And how about the "royal blue" which gives an intrinsic value or noble cause, which is exactly what a mother represents!
There is also a golden quality about being a mother that transcends everything. There is inherent value in being a mother that doesn't decrease over time and the wealth of experiences from being a mother can be shared between strangers and friends.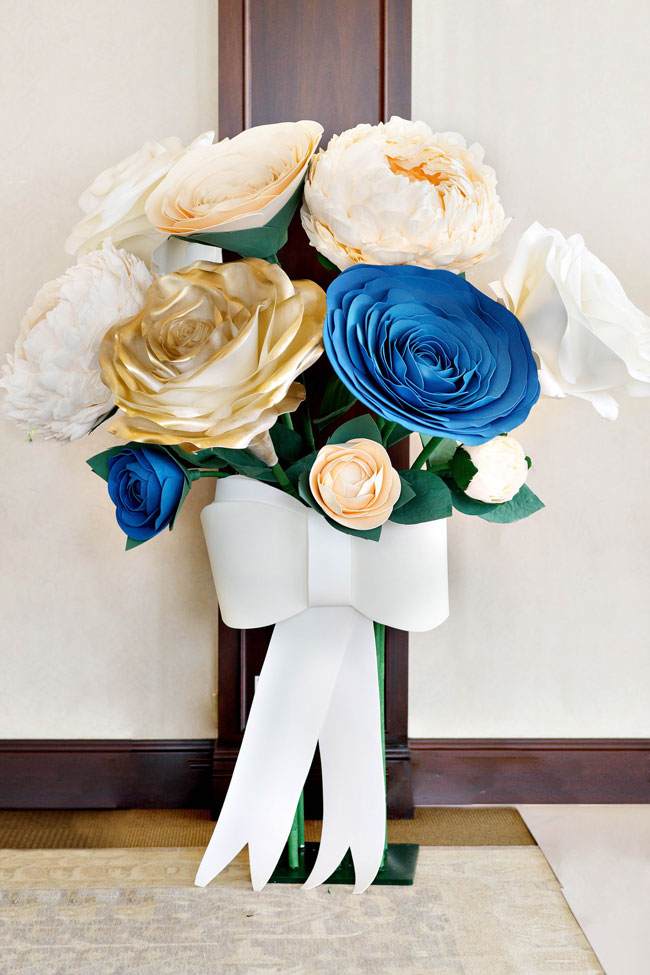 Of course, the white represents the children that are all born with a clean blank slate. What we, as mothers, teach and invest in our children's lives helps shape a colorful narrative for them.
Finally, when looking at the last color in this fun Mother's Day Party is grey. Because being a mother isn't always black and white. There are a lot of grey zones and areas of being a mother, which moms are constantly navigating.
What a unique and fun way to think about the color palette used for this incredible Mother's Day Party Theme! Magic Flowers Ontario did an incredible job on these giant paper flowers, as well!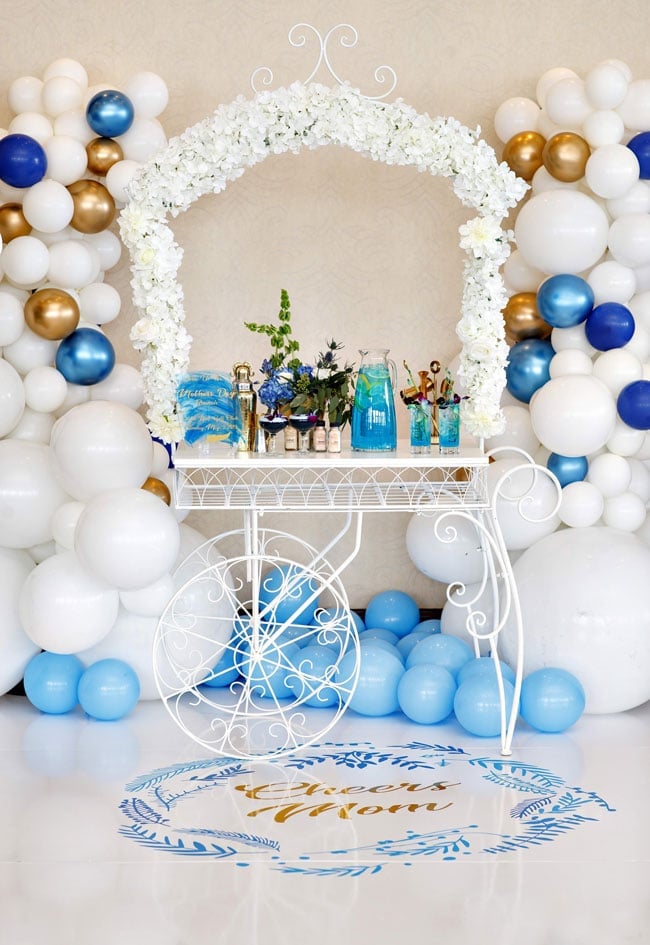 Eagles Nest Golf was an amazing venue to hold this fun Mother's Day Party styled shoot! We just love this fun drink station that mothers would be able to get their signature cocktails at.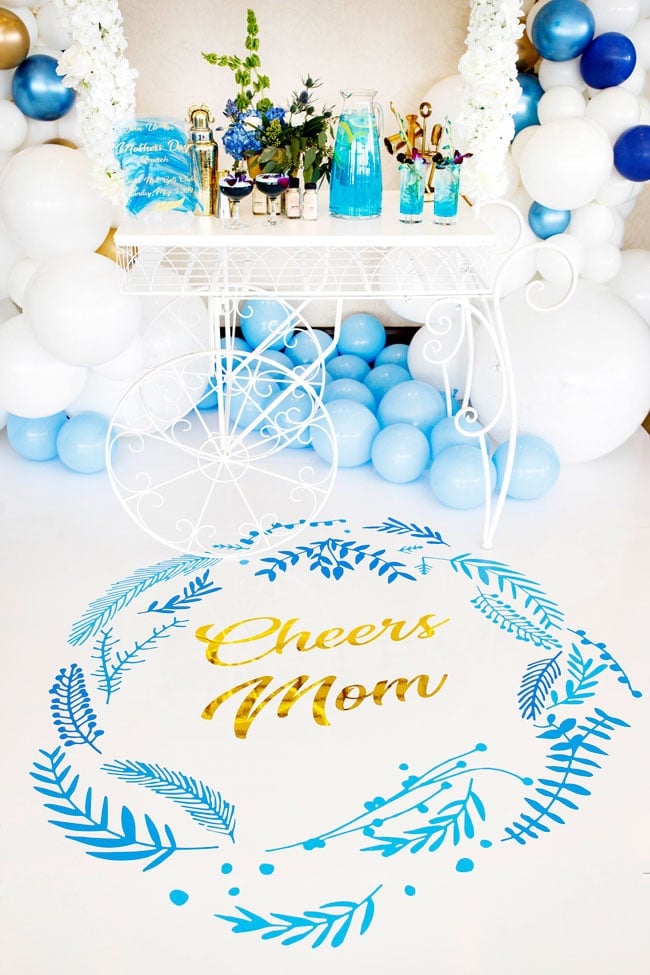 How fun is this signage that was used on the floor?! What a great party decoration to include in a Mother's Day brunch that looks wonderful!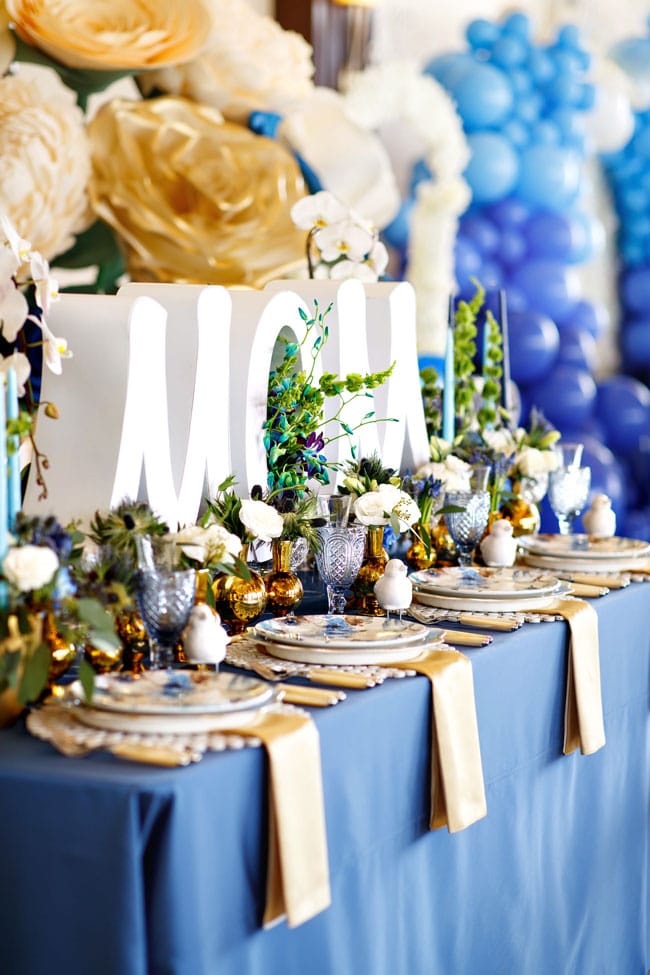 The tablescapes for this Mother's Day Party Theme were absolutely incredible! Between all of the decor and colors, it was a mix of glamour and lush table decorations that couldn't have been any more beautiful! That blue table cloth makes everything stand out perfectly!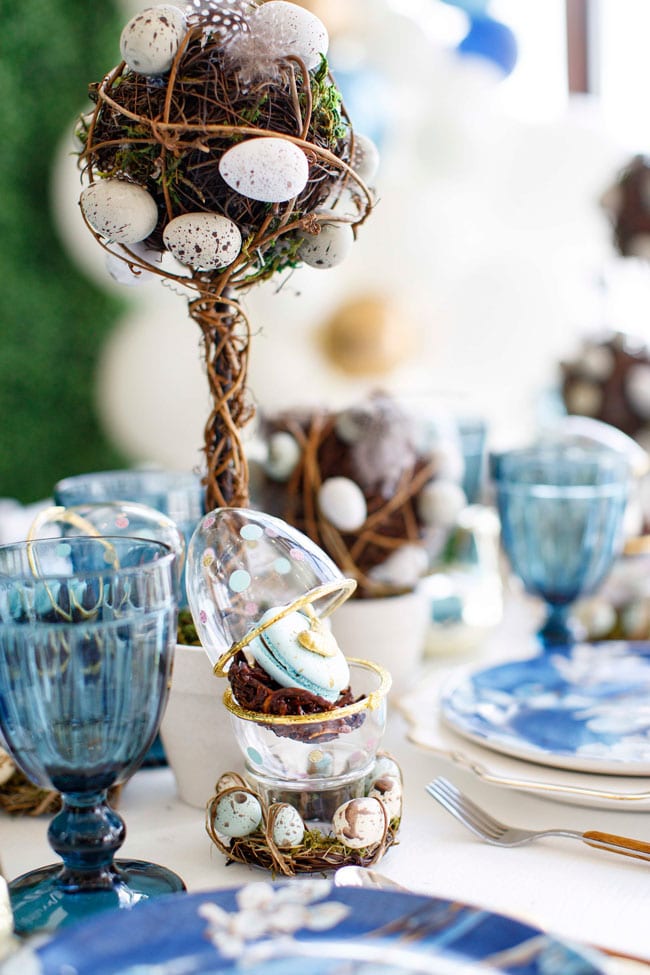 Plate Occasions was on-point with all of the table decorations that they provided for the Mother's Day Party. Everything was incredible and the bird theme was so sweet and beautiful that it took everyone's breath away.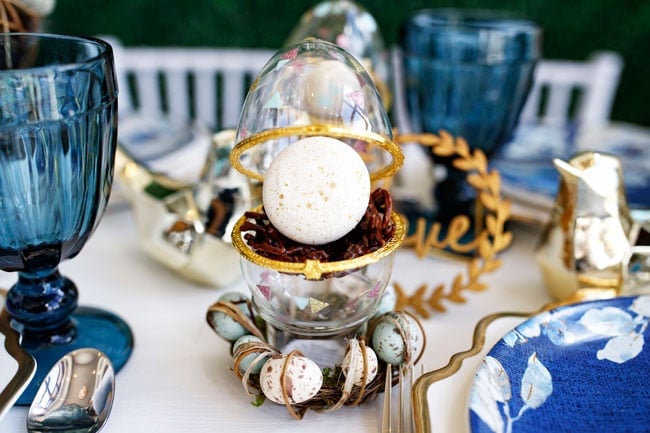 How amazing are these great centerpieces found on all of the brunch tables for everyone to enjoy?!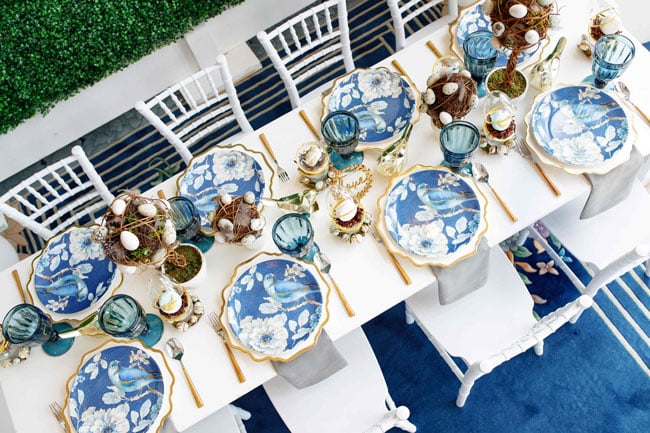 All of the table settings and table decorations made for the perfectly curated Mother's Day Party. Every mother would be honored to be able to walk into this brunch and enjoy her big day with the ones she loves most!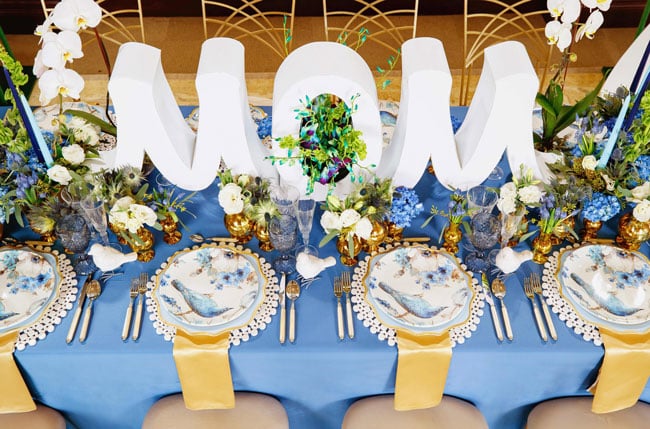 CMVE Designs and Miss Paper Cut did an amazing job on all of the acrylic and laser cut signage. This "MOM" sign that was used as a centerpiece on some of the tables was a great addition to the Mother's Day Party Theme.
More sweet table decorations created the perfect background for everyone to enjoy their day together.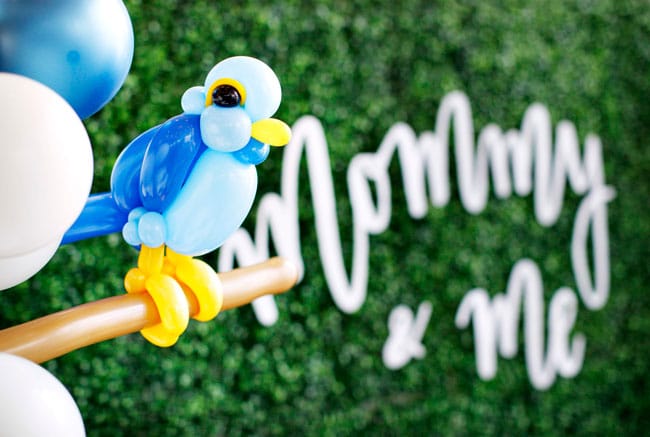 Even some fun balloon artistry was available, thanks to Twisted Inflation. What a fun little birdie that sat on its perch to watch all of the fun being had all around her! So sweet!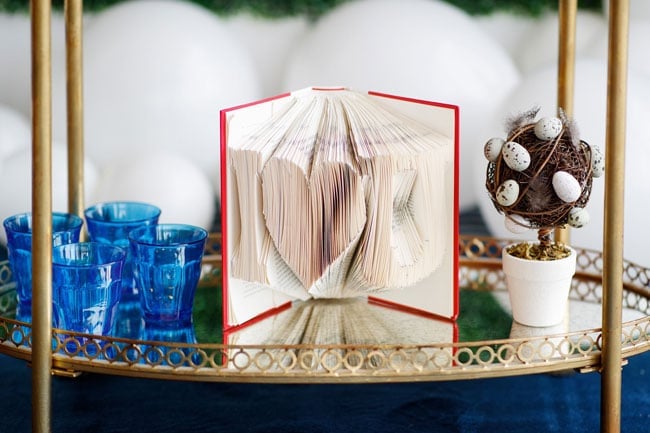 No detail was left untouched. We just love all of the decor of this Mother's Day Party so much. There is no shortage of Mother's Day Party Ideas, should the mood strike to create one of your own soon!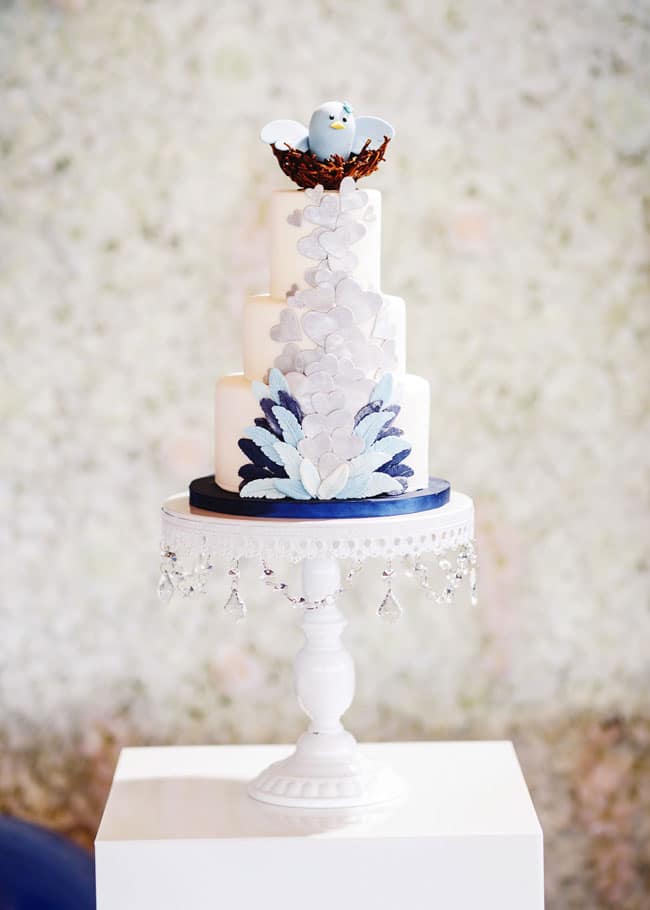 Shirley's Sweet Creations created not only one, but TWO gorgeous cakes for this Mother's Day Party. They also provided the sweets that were found at this styled shoot. Everything looked so amazing and the menu left nothing to the imagination.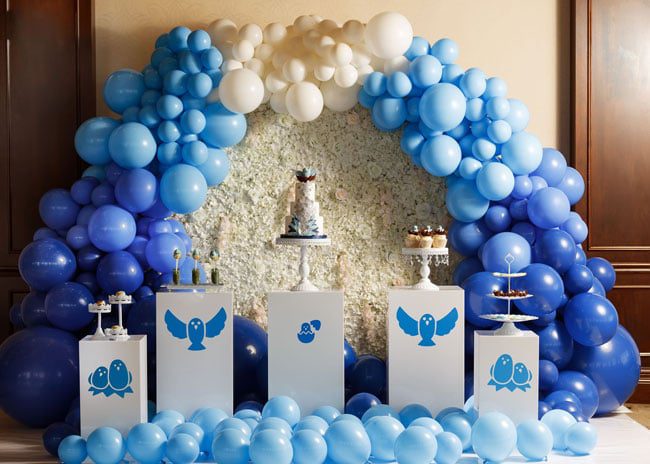 What an amazing display for the treats and cake that were presented for this Mother's Day Party! We love the unique tablescape that is used, without a traditional dessert table. And of course, the balloons around the Forever in Bloom white flower backdrop is to die for!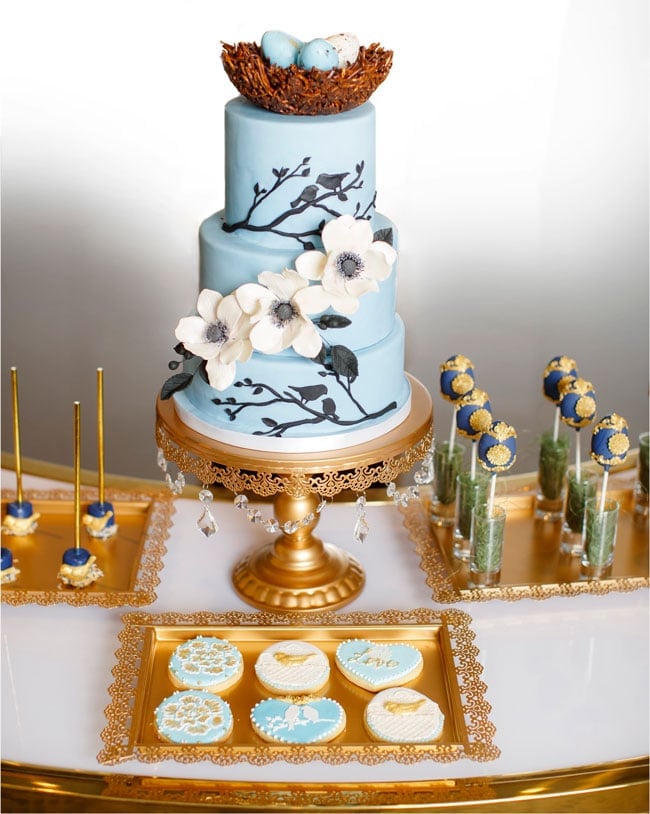 The second Mother's Day Party cake is just as amazing as the first! What an amazing creation that any mama bird would love to see at a brunch in her honor!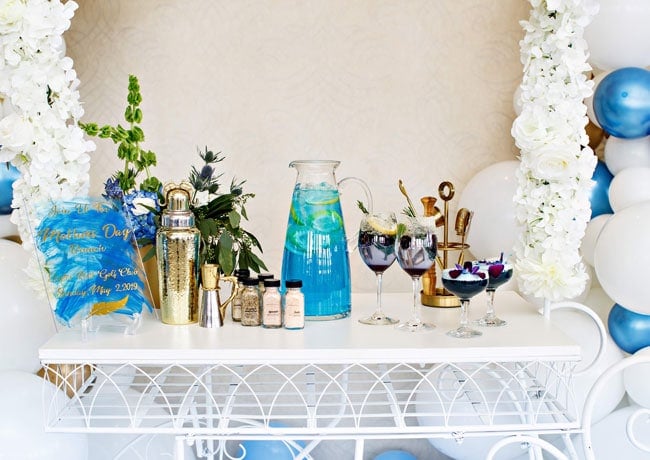 We just love the drink stations that were found at this styled shoot, in honor of all of the hard work that moms everywhere do every single day! What a beautiful drink card, along with gorgeous cocktails that were created just for this event!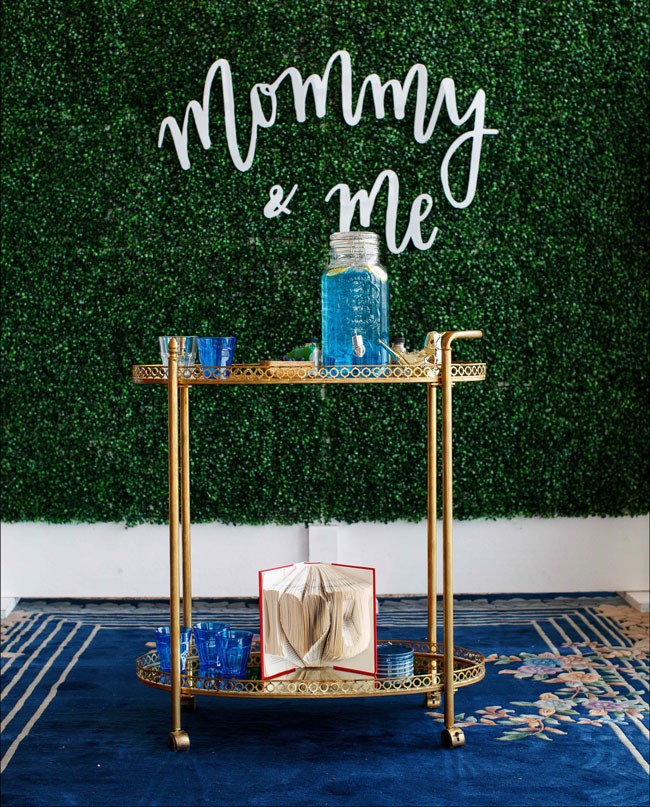 Hand Made Dreams created the gorgeous Green Boxwood Backdrop that would be the focal point of any celebration. All of the Mother's Day Party Ideas and party supplies that were used in this styled shoot are great inspirational points for a celebration of your own!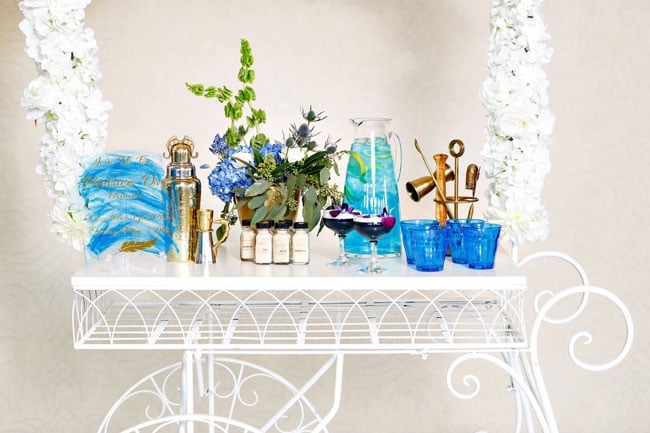 Back to the fun drink cart! Salty Paloma created all of the drinks and garnishes that were used for this fun Mother's Day Party Styled Shoot. We love a good drink stylist and this definitely didn't disappoint! The color scheme alone is amazing!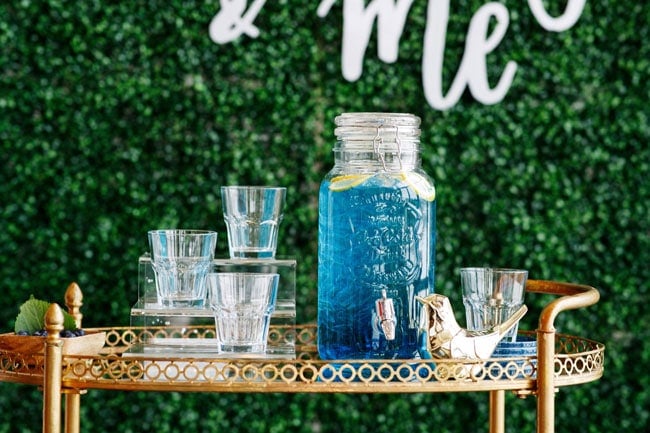 Even a fun drink station for the kiddos was available!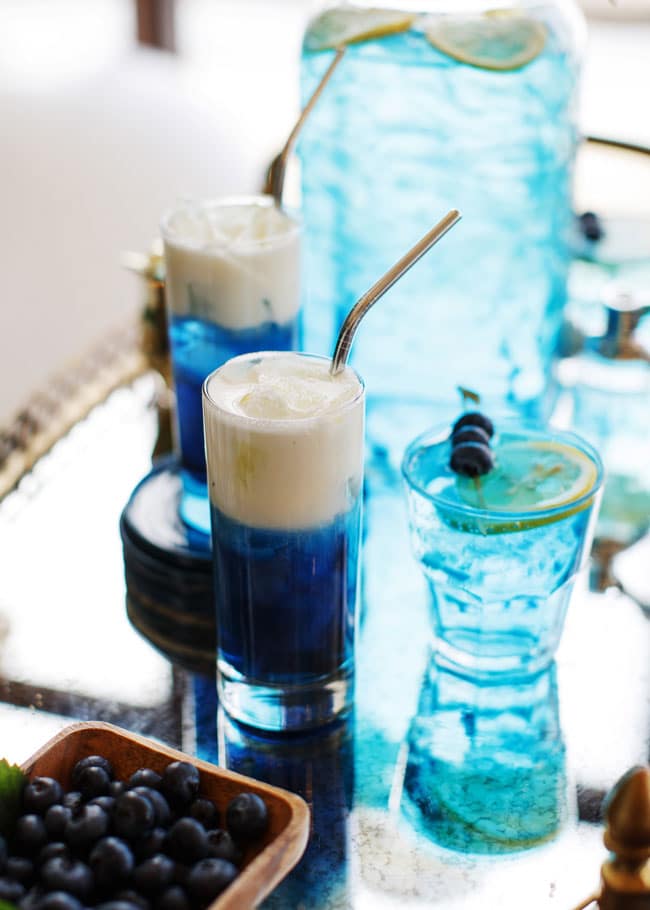 This fun and frothy blueberry drink was created for the Mother's Day Party. We're sure it was a hit!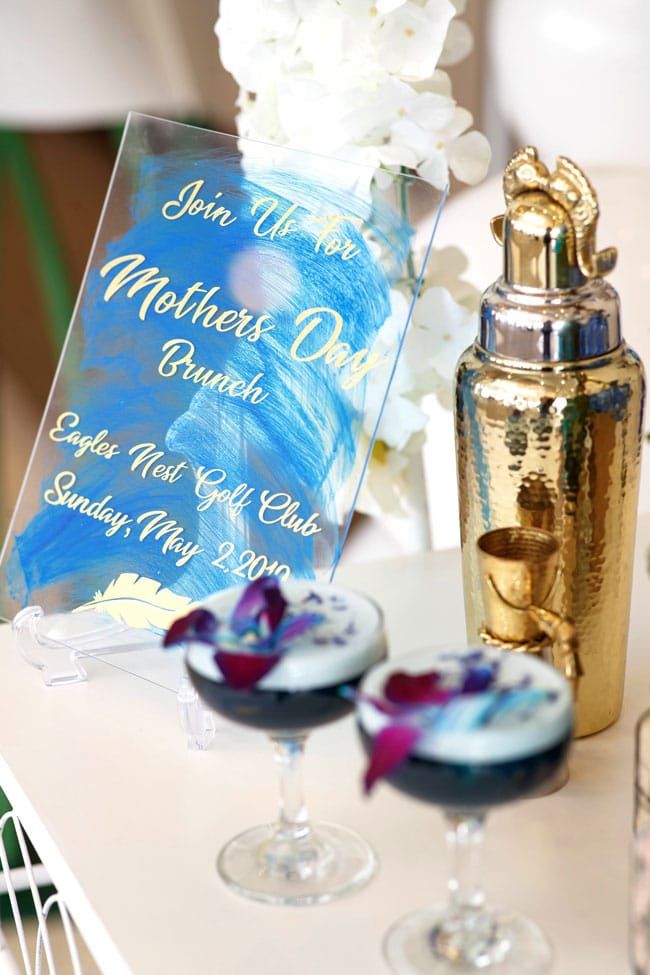 We love the beautiful sign that is found on the edge of the cocktail cart.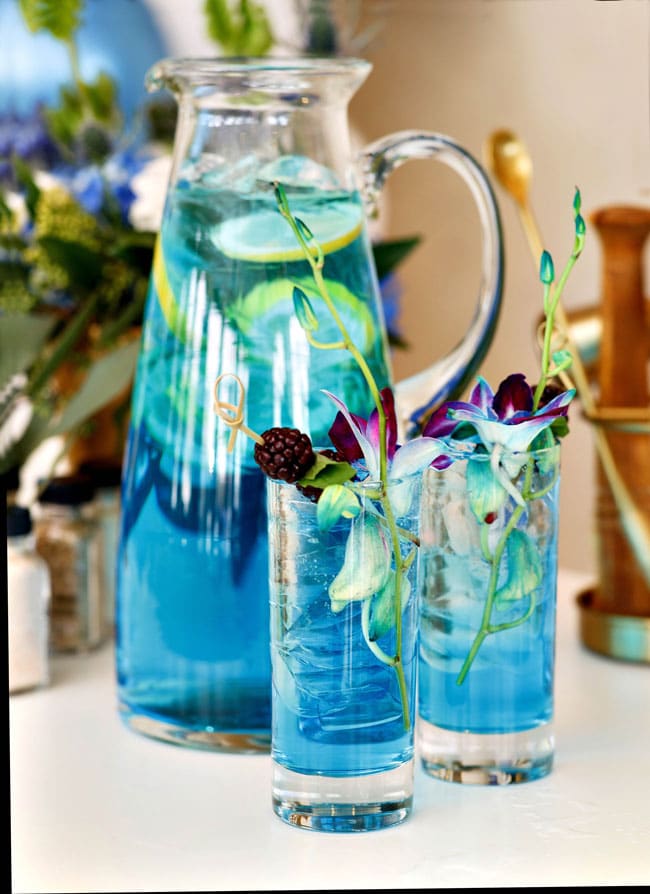 Is a drink supposed to look this pretty? For a Mother's Day Party it sure is! We love the garnishes that are used in the these cocktails as much as the pretty drinks themselves!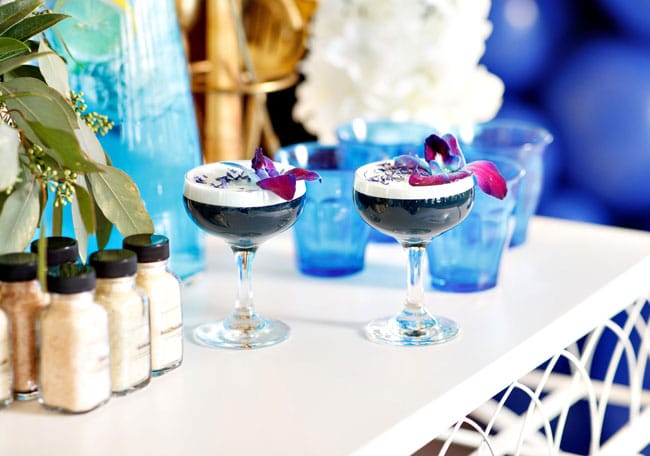 Every mom is going to find something she likes off of this drink cart!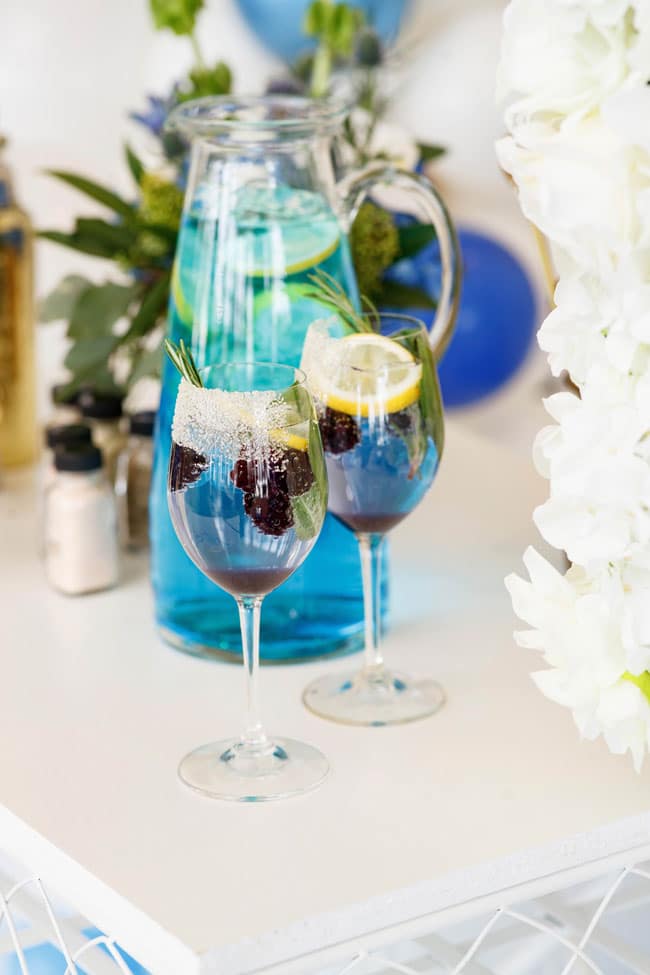 We can't get over the beautiful colors that were incorporated into all of the cocktail mixes. Everything stands out perfectly and it makes us feel relaxed and happy just looking at them!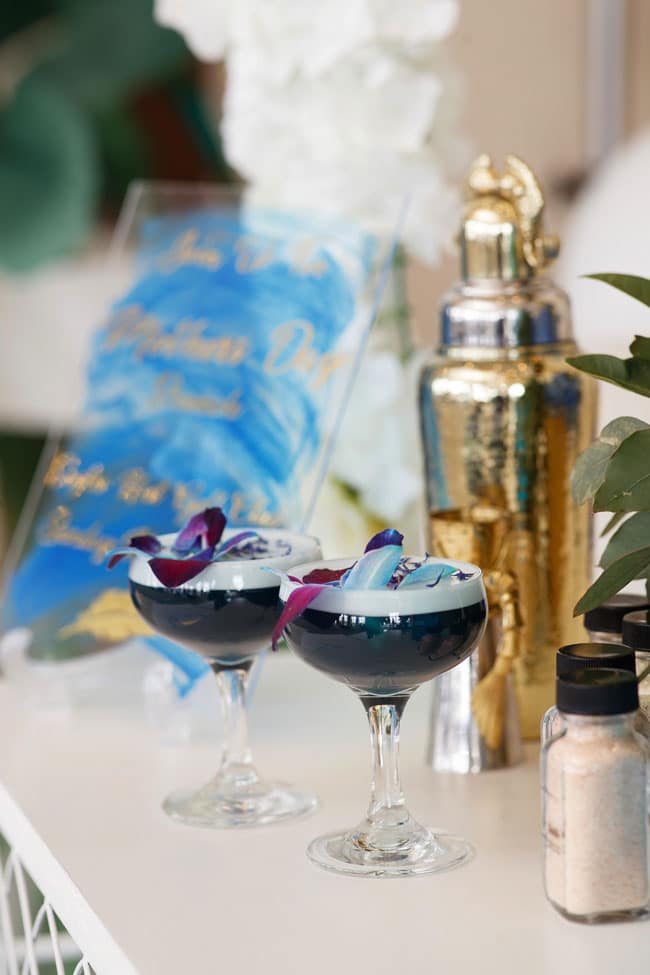 Flowers were a huge addition to the garnishes for many of these drinks. What a wonderful, feminine touch for a fun Mother's Day Party celebration.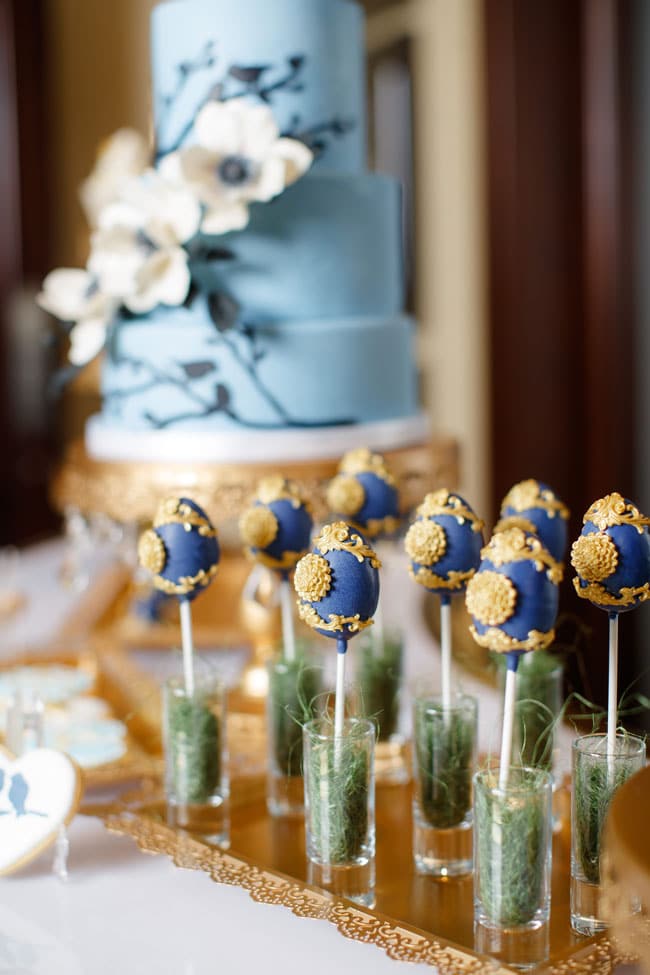 Shirley's Sweet Creations did an amazing job on creating an incredible dessert menu that anyone would love. We love how these cake pops are kept earthy by having them presented in a sea of grass. So classy!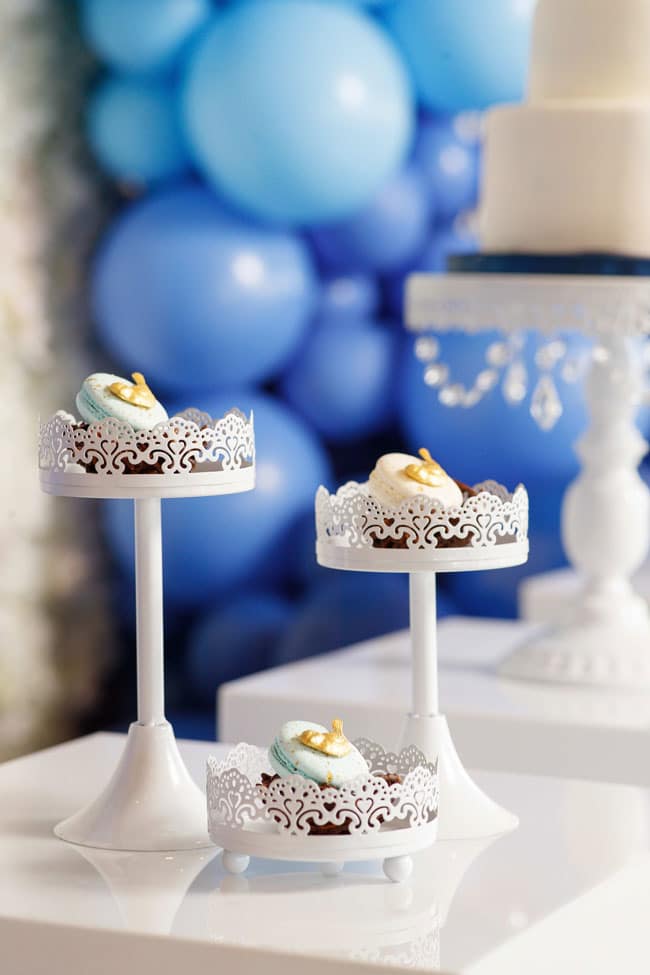 Simple, yet beautiful presentation for everything on the menu!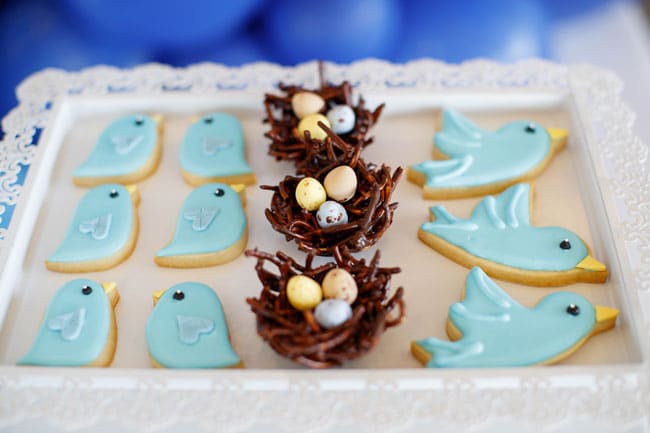 What sweet bird cookies and we just love the fun bird nests made out of chow mien noodles! Yum!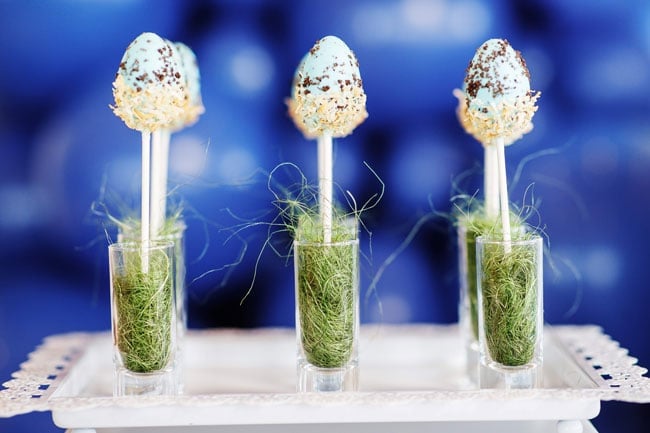 More cake pops were presented at the Mother's Day Party in the shape of eggs to incorporate the bird theme.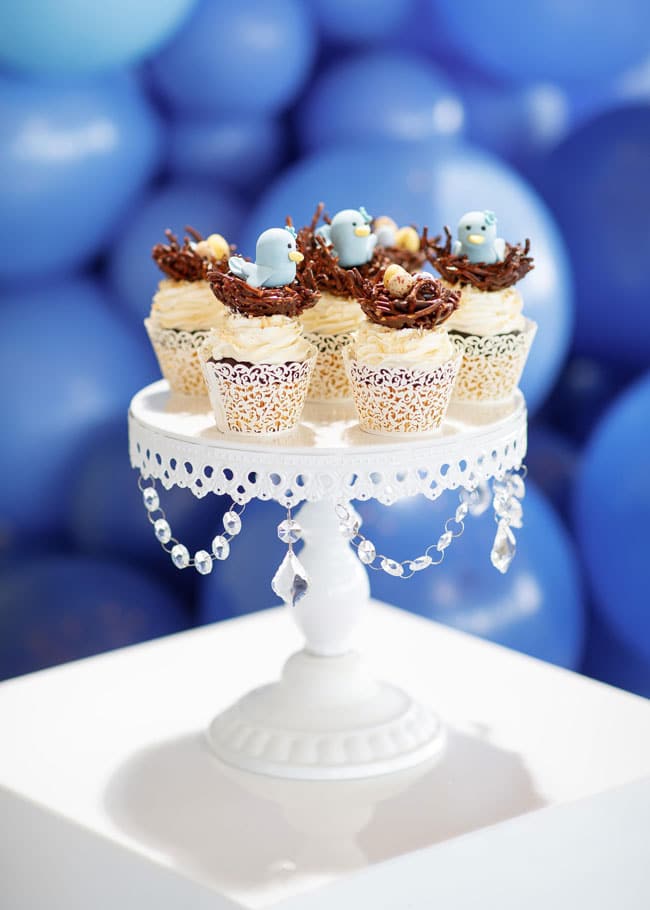 Of course, there had to be bird cupcakes included in the Mother's Day Party Theme. How cute are those sweet baby blue birds?!
Being a mother can at times feel unrewarding, exhausting, and overwhelming. This Mother's Day Party is a great reminder that we are to be celebrated. Especially during those rougher moments where we need "a little pick me up" to get to the end of the day. Why not get dolled up and spend a little time together with one of the most important people in our lives. It's the perfect excuse to get fancy and celebrate!
We need to remind ourselves that we don't need to be perfect all the time, every time. Some days, moms need to take a break because moms get tired – and that's perfectly ok. We are all human and juggling motherhood with all of the other business of life.
There will also be days when moms feel like they are at the top of their game. But never feel bad for reaching out for additional support. We aren't meant to go at it all alone and that is the beauty of this special Mother's Day Party!
For more party ideas, follow us on Instagram @prettymyparty and Pinterest and join us in our private Facebook group.
Credits & Vendors
Photographer – Stephen Sager // Co-Concept Design/Producer/Wedding Planner/Stylist – Asian Fusion Weddings and Formosa Events // Rental Carpets – Reznick Event Carpets // Adult Furniture Rentals – Detailz Couture // Children's Furniture Rentals – Petite Occasions // Cake and Sweets – Shirley's Sweet Creations // Tabletop Rentals – Plate Occasions // Sweets Stands – Chic Events Styling and Rentals // Florals – Oh la la Event Decor // Giant Paper Flowers – Magic Flowers Ontario // Balloon Artistry – Twisted Inflation // Hair and Make-up – May Nguyen // Boys' Attire – Tuxedo Royale // Drinks Stylist & garnishes – Salty Paloma // Acrylic Signage – CMVE Designs // Laser cut signage and plinths – Miss Paper Cut // Linens and Napkins – Event Rental Group // White Floral Wall and Beverage Cart – Forever in Bloom // Green Boxwood Backdrop – Hand Made Dreams // Venue – Eagles Nest Golf