Winnie the Pooh Baby Shower
Who doesn't love a sweet Winnie the Pooh Baby Shower, especially when it's a surprise for the guest of honor?!
A Winnie the Pooh Baby Shower is such a timeless and classic way to celebrate the joy of welcoming a new baby to a family! But it's extra special when it's a surprise! Katy, from Katy Murray Photography walked into this shower thinking she was shooting a session for a client, so you can imagine her surprise when she realized it was a surprise baby shower set up in her honor!
But not without a little drama at first. Stephanie G Calligraphy almost unknowingly ruined the surprise by posting the cutest honey jar with a calligraphy name tag on it, which Katy saw and adored. She even messaged her with excitement about how cute it was, not knowing it had anything to do with her own shower!
The event designer, Creative Motion Events by Fay, knows all about Katy's big love for all things Winnie the Pooh, and created a plan months ago to keep it a complete secret. Katy went in thinking she was shooting a Boho bridal theme at Sandy Spring Museum, and she suddenly saw lots of yellow and Winnie the Pooh fun. Once it registered what it was, the pops of red included in the party made for the cutest Winnie The Pooh theme.
Everything was soooo cute! The Pooh Bear Macaroons created by Mrs. Macarons, along with the amazing cupcakes from Baked By Samuel, were amazing! And that cake?! Wow! Yummible Creations went out of their way to create the perfect Winnie the Pooh Themed cake to make anyone hungry for a pot o' honey!
In addition to the amazing dessert table, decorations were on-point! The table liner, red napkins and literally everything that was used brought this sweet theme to life in the most gentle and subtle way! Blown Away Events did an incredible job in creating an amazing balloon installation that flanked different guest tables around the event. And Island Girl Flowers provided the perfect floral arrangements for this surprise baby shower, including incredible sunflowers that added the sweetest touch to the event.
Every mom-to-be deserves to have an event as special as this to celebrate the little one that will soon be joining their lives. And this Winnie the Pooh Baby Shower is the perfect non-gender, fun event that anyone would love!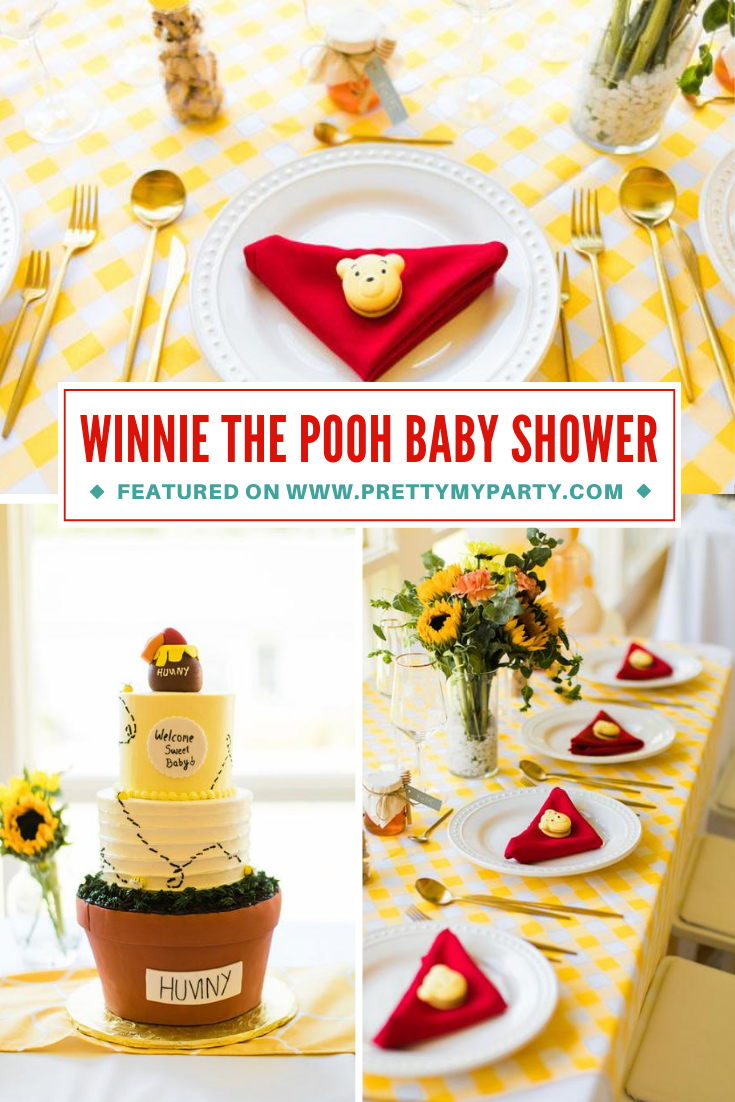 Winnie the Pooh Baby Shower Ideas
A Winnie the Pooh themed baby shower is nothing without a great yellow color scheme, with added splashes of red for dramatic effect
Incorporating different aspects into the Pooh themed baby shower, such as "Hunny" bee additions added to the charm of the event
What an incredible dessert table, filled with gorgeous creations like Winnie the Pooh cupcakes, Honey Bee donuts, and amazing Winnie the Pooh macaroons
Nothing could top the amazing Winnie the Pooh Baby Shower Cake, with a sweet "Hunny Pot" found on top for the cake topper
A fun bright yellow drink station was filled up with lemonade, with additional lemons found around the table and fun milk glasses and yellow straws available for guests
An impressive balloon garland was built and placed by guest tables, with an incredible color mix of yellows and whites
Honey Pot party favors were created and customized for each guest, with their names added in calligraphy
Yellow baby shower decorations made the entire event more sunny and gave everyone a big smile on their faces
Winnie the Pooh Themed place settings were gorgeous, with bright red napkins laid across each plate, along with a cute Winnie the Pooh macaroon found on each place setting
Yellow flowers, including amazing sunflowers, were found as centerpieces on the guest tables, along with the drink station and dessert table
A sweet baby shower guest book was created with a Winnie the Pooh theme, where all guests gave a quick piece of parenting advice and the end result could be framed as a momento
Signs and printables were perfect, with additional calligraphy used, including a fun sign on the Winnie the Pooh baby shower gift table
Fun games and activities were created for the guests, which included a honey pot filled with animal crackers that had to be guessed, and a large pot of "honeycombs" that also needed to be guessed
Sweet Winnie the Pooh invitations were created, with the big secret being the main requirement of the guests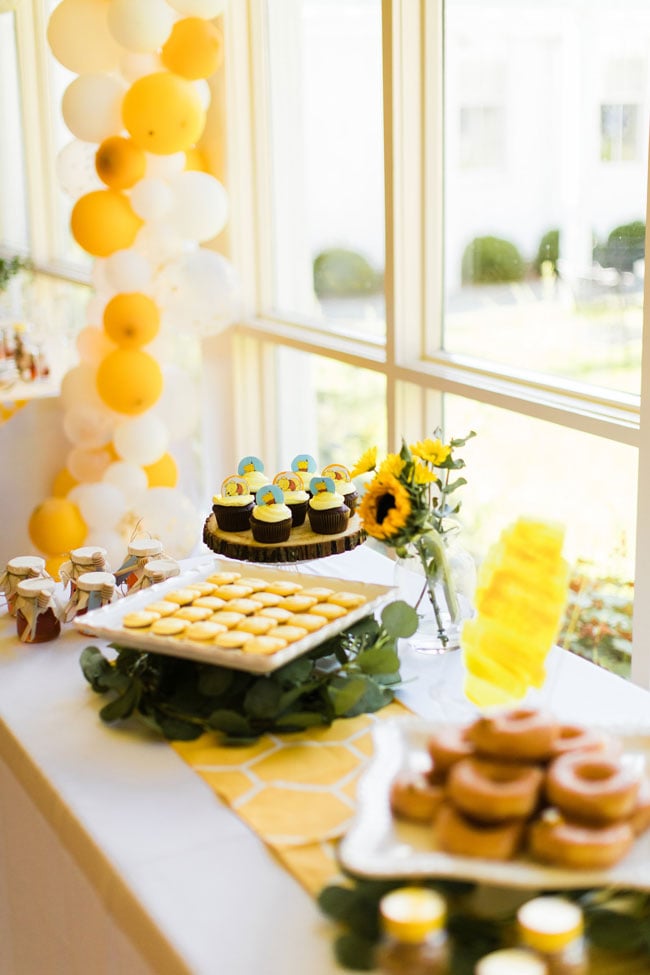 A baby shower is always such a special time to surround the mom-to-be with love and support for the days ahead. But when it's a surprise? It's even better! This surprise baby shower was so full of life and love, it was the perfect theme. We love the bright yellow color scheme, along with the fun additions to the Winnie the Pooh theme that aren't inherently attributed to the series. Things like the honey bee additions and amazing "Hunny" cake were some of our favorites.
Another thing we loved about this baby shower was the fun guest book that was set up for everyone to sign. Instead of having a typical guest book, a fun Pooh Bear printable was created where everyone added a piece of advice on new parenthood for the mom-to-be to keep. What a special keepsake that could be framed and used as a decor item in the baby's nursery!
What are your favorite details from this Winnie the Pooh Baby Shower? Let us know in the comments below!
For more fun baby shower themes and ideas, follow us on Instagram @prettymyparty and Pinterest and join us in our private Facebook group.
See more baby shower themes here:
Party Vendors