Peter Rabbit Inspired Baby Shower
A magical Peter Rabbit Inspired Baby Shower is the perfect way to celebrate a new baby boy!
Walking into the Peter Rabbit Inspired Baby Shower at Coral Gables Country Club was such a charming theme brought to life! This mom-to-be just loves Peter Rabbit, which is a classic and easily one of her favorite storybooks. It was easy to see why she wanted this sweet and whimsical theme to celebrate the upcoming birth of her baby boy!
Susie Life Events did an incredible job bringing this theme to life. From the beautiful vintage pieces and wicker chargers on the guest tables, to the mossy rabbits, every detail was styled to perfection! But a favorite part? The sweet reading corner that was set up, with space that incorporated another favorite, "Guess How Much I Love You" by Sam McBratney.
The mom-to-be wanted to make sure that everyone knew that kids were welcome to help celebrate, and the kids table was filled with activities and the cutest decor, including some adorable miniatures. It was the perfect spring theme with a fun color palette of marigold, sky and forest green.
"I remember I used to half believe and wholly play with fairies when I was a child. What heaven can be more real than to retain the spirit-world of childhood, tempered and balanced by knowledge and common-sense." –Beatrix Potter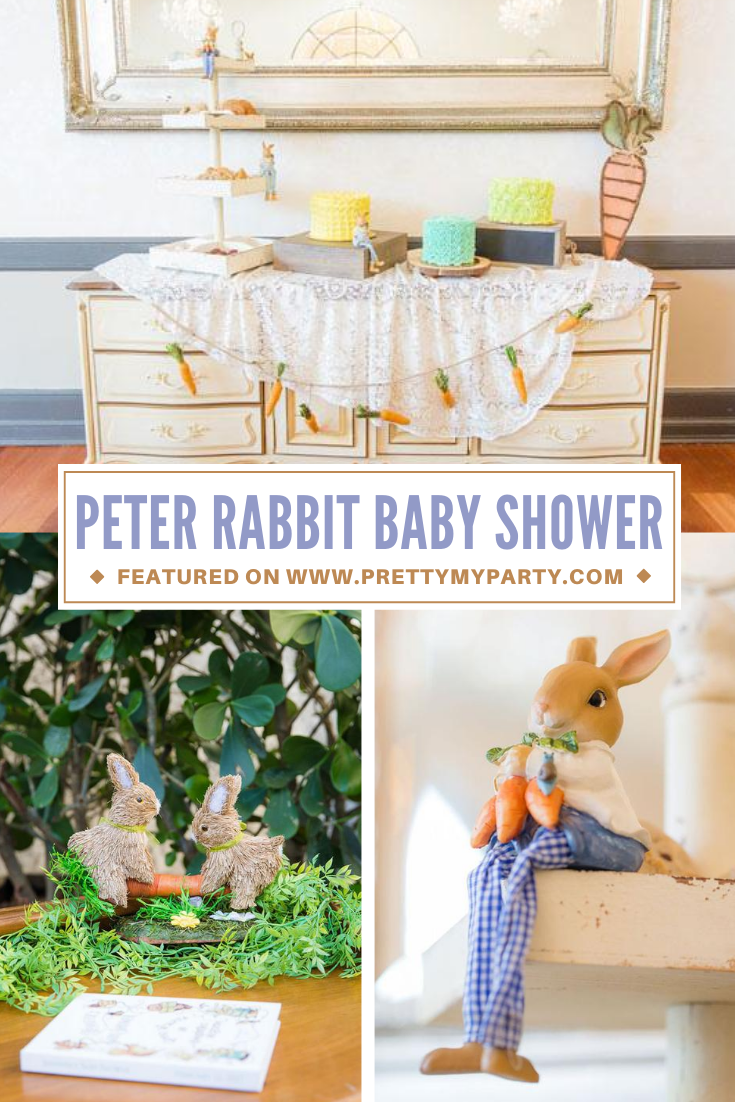 Peter Rabbit Inspired Baby Shower Ideas
Rustic and whimsical Peter Rabbit Baby Shower decorations and party supplies
Sweet Peter Rabbit baby shower invitation was sent to guests to save the date
Guest tables included moss rabbits, greenery, floral centerpieces with burlap and wicker decor
Vintage rabbit statues and miniature fairy garden pieces added to the whimsical vibe of the boy themed baby shower
Fun pastel baby shower cakes in different shades of the color palette with minimal cake toppers
Peter Rabbit dessert table with fun desserts such as cookies and cupcakes
Beatrix Potter Peter Rabbit baby shower with reading corner available for guests and kids to enjoy their favorite books
Special kids table, including bright bunny napkin place settings with special rabbit ear decor
Peter Rabbit theme kids' tables also included special gift baskets with coloring books, Play-doh and other fun children activities
Spring themed baby shower incorporated pastel colors with rustic undertones
Fun outdoor area to enjoy during the Peter Rabbit Baby Shower with lounging and a bar
Unique guest book idea that incorporated everyone sharing parenting advice, which could be saved as an heirloom for years to come
Adorable carrot banners, decor and printables found on the dessert table and guest tables
An outdoor bar was available with drinks and cocktails for everyone to enjoy
Games and activities were available for the young and old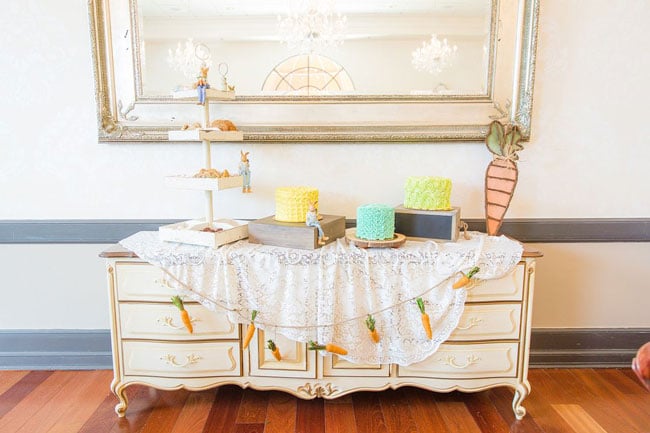 Welcoming a new baby with friends and family is always such a fun milestone for any mom-to-be. And this sweet Peter Rabbit Inspired Baby Shower is a great way to celebrate with the young and old! We love all of the rustic and whimsical details of this Peter Rabbit themed shower, along with the fun pastel cakes and dessert table that was available.
But our favorite detail has to be the fun kids' table that was available for the little ones to enjoy. With unique table decorations, along with kid-crafted gift baskets, they were sure to love spending time at this great baby shower! There is nothing like going back in time to your own childhood by celebrating an upcoming birth with the mom-to-be. How fun!
See more baby shower ideas here:
What are your favorite details from this Peter Rabbit Inspired Baby Shower? Let us know in the comments below!
For more baby shower ideas, follow us on Instagram @prettymyparty and Pinterest and join us in our private Facebook group.
Party Vendors
Event Designer: Susie Life Events