Katy Perry Inspired Threenage Dream Party
Every little girl deserves a fun Katy Perry Inspired Threenage Dream Party like this, full of rainbows and magic!
A Katy Perry Inspired Threenage Dream Party full of rainbows and pastel fun is sure to cheer up any little girl during the current pandemic! So Cal Event Planners helped this birthday girl's mom plan the perfect drive-by birthday parade, with all of the family's loved ones passing by to wish the birthday girl a happiest of days.
Mom originally wasn't planning any type of celebration this year due to the pandemic, but when the drive-by birthday party was proposed, she knew it would be a hit. What was originally supposed to be a small and simple affair with Mom, Dad and the birthday girl ended up being one of the most magical parties we've seen!
Pastel rainbows ended up being a fun theme since it's one of the birthday girl's favorites. And thanks to the birthday girl's dad, who is a music producer, a unique spin turning Katy Perry's hit song Teenage Dream, turned into a fun Three-nage Dream that everyone absolutely loved. Stars And Dreams Co created gorgeous signs for everyone driving by.
A sweet art table was set up outside by Little Artist Party with a craft table provided by The Rustic & Chic Co. All of the birthday girl's friends were able to stay socially distanced from each other while creating a work of art outside while they passed by. What a fun way to include everyone, while still remaining safe.
And talk about desserts?! From the delicious cotton candy stand set up by The Jolly Sheep to the traditional knafeh dessert and crumbles pastry from Knafeh Queens, all of the parade participants were able to grab a yummy snack as they were wishing the birthday girl a special day! LA Chai Cart also set up a fun chai station, which came with chocolate covered biscuits that were decorated with pastels and a fun rainbow mix. And don't forget about the delicious Paleta that everyone was able to enjoy from Paleta Please!
It all tied in perfectly with the incredible rainbow cake and a second custom cake provided by Sweetest Gallery, along with a sheet cake from Something Meetha. What a gorgeous dessert spread that was designed perfectly with a gorgeous balloon and pastel backdrop. It truly did look like a dream! The incredible balloon installation was created by Balloona Venuela with design by Hello Kismet.
Finally, the birthday girl's close friends got to enjoy a fun backyard "drive-in" movie with fun kids lounge furniture provided by Above The Top Party Rentals and the perfect video projector from RL Footage. Don't forget the fun colored popcorn that everyone was able to enjoy, as well! We bet the entire neighborhood was in awe of the beauty that was being created in the drive-way for this special three-anger's birthday!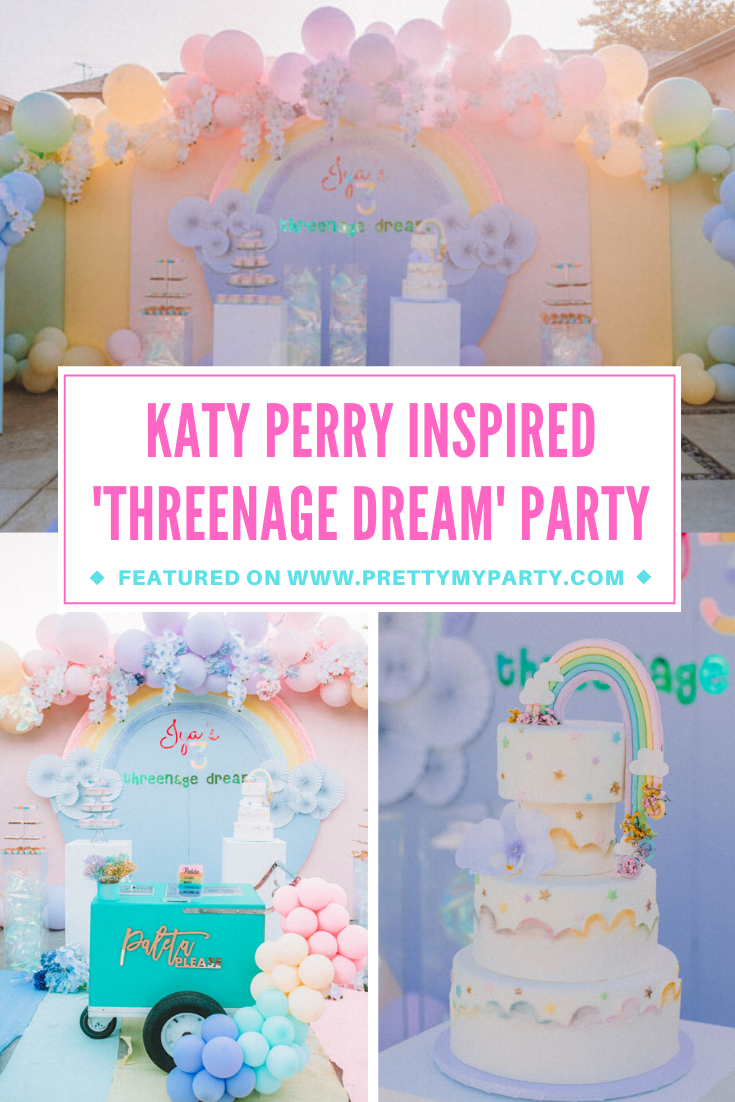 Katy Perry Inspired Threenage Dream Party Ideas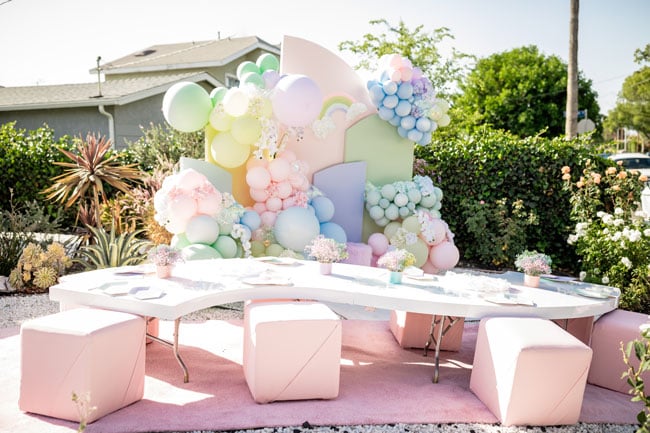 We don't know how this Katy Perry Inspired Threenage Dream Party could be any cuter?! It is absolutely breathtaking, from the second anyone was ready to drive-by for this birthday girl's parade. All of the rainbow and pastel items were girly in the best way and this little 3-year-old was on cloud nine. It looked like a dream!
It's so hard to choose just one detail that is a favorite from this sweet party, but it has to be the pastel backdrop with an incredible balloon installation. It is stunning and the pastel hues brighten up an already sunny day. Birthday parades are new with the environment of today, but we love the concept of all of the outdoor vendors serving guests as they drove by to wish the birthday girl a happy birthday. And with the rainbow and pastel theme, along with the fun balloons found strategically around the outdoor event, everything tied in together beautifully. What a great way to celebrate a birthday during this summer's trying times.
See more birthday party ideas here:
What are your favorite details from this Katy Perry Inspired Threenage Dream Party? Let us know in the comments below!
For more birthday party ideas for girls, follow us on Instagram @prettymyparty and Pinterest and join us in our private Facebook group.
Party Vendors