Dinosaur Themed Birthday Party
Jurassic age lovers will definitely love this cute and awesome dinosaur themed birthday party that is pure dino-mite!
Dinosaurs might be extinct but this adorable dinosaur themed party from Elaine Tan of Ms. Laine Events of Malaysia definitely brings the prehistoric giants back to life! From cutesy to rawr-some, this dinosaur themed birthday party has got everything dino-loving boys and girls could possibly want!
This cool pastel yellow and green dinosaur theme was perfect for the 7th birthday celebration of little boy Jaywin who absolutely loves the T-rex, pterodactyl, triceratops, and all their other fellow dinos! He and his friends definitely had a roaring time with all the awesome dinosaur-themed games, activities, decorations, party favors, and delicious food at the party.
This party has just the perfect balance between modern and prehistoric with a modern glass crystal table that makes it look like the delicious desserts are floating plus white wire party tables and some neon lighting. The pastel color palette also gives this dinosaur party a contemporary, fun, light, and airy feel.
The birthday cake looks absolutely adorable with its cute cartoon-like 3D dinosaur edible cake toppers and pastel yellow and green theme. The dinos are even celebrating with some party flag streamers and little party hats. How cute! We really like how the cake is placed on top of a sleek and modern wire and marble cake stand which really makes it the center of attention. The other pastel colored desserts, including meringue kisses, macarons, cupcakes, and cake pops look so sweet and lovely too!
The dinosaur balloons and action figures scattered all over the venue are also very eye-catching. The dino figures on the dessert table look super adorable with their teeny tiny party hats, and the large dinosaur balloons look like they're having a blast!
Looking for awesome decor ideas and food ideas for your very own dino-themed party for your toddler or little kids? Check out the cute and creative dinosaur party ideas below!
Dinosaur Birthday Party Ideas
Super cute yellow and green dinosaur themed birthday cake with lovely little 3D dinos

Large metallic dinosaur balloons

Adorable dinosaur head cake pops

Tyrannosaurus and sauropod silhouette cupcake toppers

Cool 'floating' crystal dessert table with pastel colored dino desserts

Birthday T-rex backdrop with roar balloons

Roar welcome birthday banner and standee

Dinosaur footprint cutouts scattered across the venue floor

Jungle foliage table decorations and centerpieces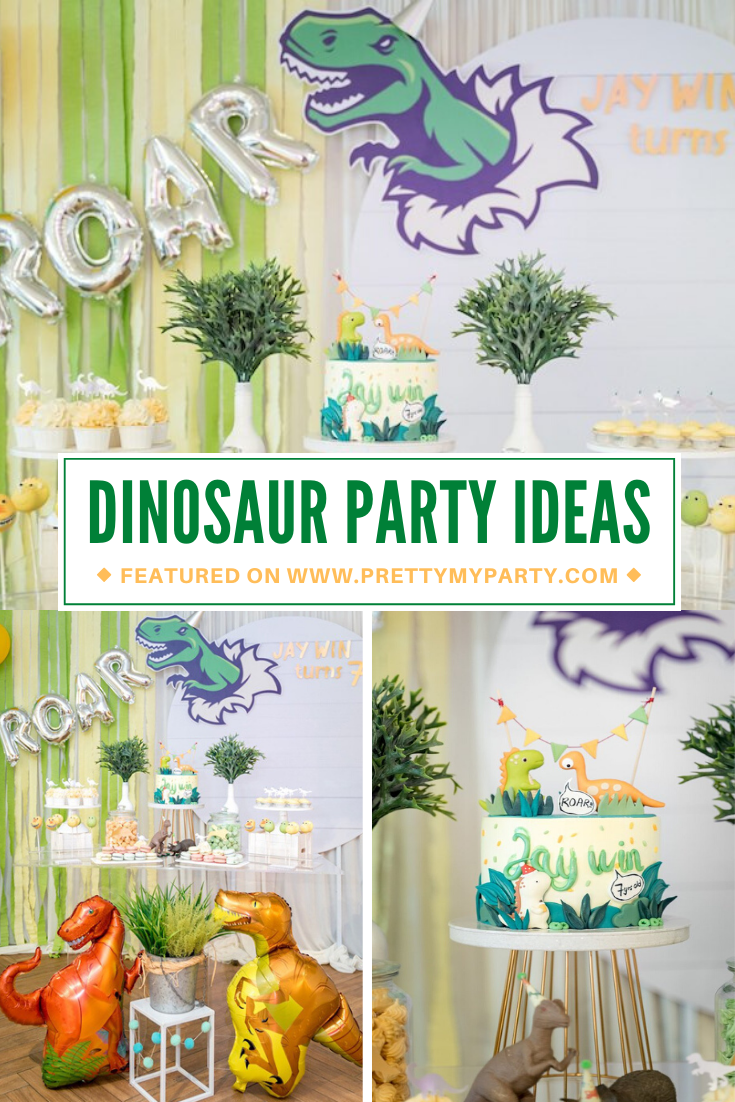 This Dinosaur Party surely looked like a ROAR-some time! From the cute and yummy desserts to the super cool metallic dinosaur foil balloons, everything looked absolutely amazing. This party is definitely perfect for kids of all ages, from toddlers to big kids, who are just fascinated with these prehistoric creatures. Our favorite elements are the adorable cake pops and dinosaur birthday cake!
What were your favorite details in this Dinosaur Themed Birthday Party? Did you love the cake pops or the dino balloons? Let us know in the comments below! And don't forget to share your very own dinosaur party ideas too!
For more fun birthday party ideas for kids, follow us on Instagram @prettymyparty and Pinterest and join us in our private Facebook group.
Party Vendors
Party Styling: Ms. Laine Events
Event Space: Brew & Bread
Cake: Comel Cake House
Cake pops: Mavcakes