Roaring Dinosaur Birthday Party
Stomp on over for some prehistoric fun with this dinosaur party!
This Roaring Dinosaur Birthday Party, styled by Karla Marcondes, of The Big Little Party, from Alexandria, Virginia, features a ton of dino-mite party ideas any little paleontologist would love!
The family's backyard was the perfect setting for this amazing
dinosaur-themed party
, set in the middle of lots of trees and greenery. Wood shelves and dessert platters, along with hanging and potted plants, transformed the back deck into the land of the dinosaurs!
The
dinosaur theme
dessert table was incredible with a nice variety of dino-inspired treats for guests to enjoy. The two
dinosaur birthday
cakes were incredible, in addition to the sugar cookies, chocolate lollipops, egg nests, and much more!
Dinosaur
decorations
, in a variety of colors, could be found everywhere you looked! Kids even got their very own dino tails to wear and act like dinosaurs for the day. What a great addition to this fourth birthday party!
Dinosaur Birthday Party Ideas
Dinosaur themed dessert table with natural background of trees and greenery
Hanging and potted plants brought the dinosaur party theme to life
The boy's first birthday cake was two tiered, brown crate boxes that said "FRAGILE" with a blue dinosaur cake topper
The second dinosaur birthday cake was a single tier decorated with dinosaurs and palm trees; the cake topper was a boy holding balloons, a dinosaur hatching out of an egg and a 4
Dinosaur figurine decorations in various colors were found around the party; some with party hats!
Wooden platters and cake stands were used for the cakes and desserts
Fun danger dinosaur sign in a blue frame with blue dinosaurs
Desserts including dinosaur themed sugar cookies, egg nests, chocolate lollipops, and more
Adorable dinosaur backpacks for the kids
Cute candy favor boxes with dinosaurs on top
Small potted plants with the birthday boy's photo
Realistic dinosaur masks used as decorations
Picnic table for the guests with plant centerpieces, palm leaves at each place setting, lunch boxes and dinosaurs
Dinosaur tails for each guest to wear plus cool sunglasses
Awesome wooden dinosaur decoration on wooden platform
Dinosaur decor and plush animals used as party decorations and more!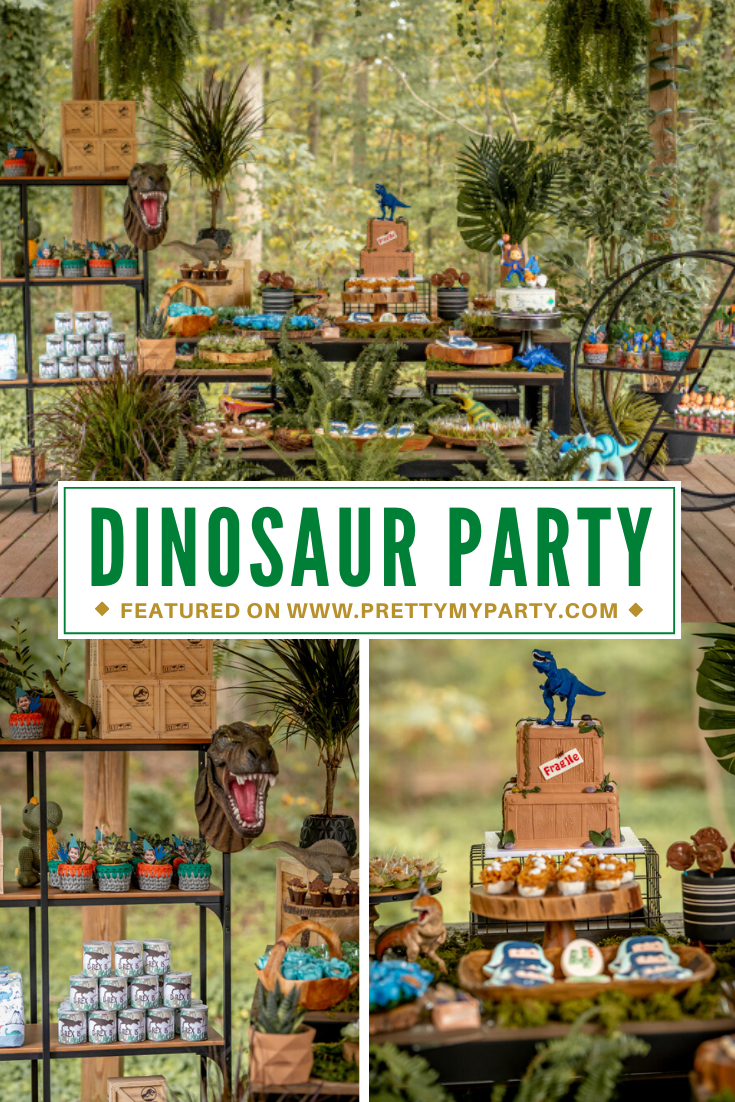 WOW! What a ROAR-some Dinosaur Party! We're sure the birthday boy and his friends has a blast at this perfectly planned dinosaur birthday party!
Shopping list: Dinosaur Party Supplies and Decorations
What's your favorite party ideas in this Roaring Dinosaur Birthday Party? Let us know in the comments below!
Party Vendors
Cakes: Vanessa Placido