Dreamy Boho 1st Birthday Party
This Dreamy Boho 1st Birthday Party is everything that is perfect with sweet vintage decorations
How cute is this Dreamy Boho 1st Birthday Party?! What a perfect way to celebrate the special milestone of a little girl's first birthday celebration. The birthday party was extra special since it was held at the little girl's grandfather's estate. What special memories that will always be cherished with such a picturesque backyard setting that already meant so much to the entire family.
The boho-themed party was designed by the talented Sweetwood Creative Co., with vintage furniture and lawn games around the lawn for all of the guests to enjoy. We just love the picture table that greeted all of the guests, with sweet photographs from the birthday girl's first twelve months being displayed in gorgeous rustic frames. There was also a Time Capsule station available where all of the guests were able to write a note to the birthday girl. She will then open it on her 18th birthday. What a fun and unique idea!
We can't get over how gorgeous the pink color palette looks with the whites and greenery designs, which were found on the guest tables. We just love the different areas that were set up for guests to sit and relax, while still maintaining the feel of a true backyard celebration. It was like the inside came to life outside! All of the boho-inspired decorations looked lovely.
This fun wild one dessert table had every sweet treat you could imagine, thanks to all of the hard work from Summit Sweets, The Bakesmith, Delightful Donuts and Macaron Queen. The sweets table featured a variety of specialty donuts, along with delicious macarons and other fun treats. Cakes by Darcy created a gorgeous, yet simple cake, along with a fun smash cake that the birthday girl had fun digging into later in the day.
The backdrop found behind the dessert table was absolutely breathtaking. It was exactly what you would expect to find at a boho birthday celebration! A custom birch wood support beam was at the top of a macrame backdrop, with delicate lace crocheted doilies filling everything out, with a custom wild one backdrop secured to the fabric. It was gorgeous and gave off the perfect bohemian vibe.
There was also a gorgeous teepee, which featured fresh eucalyptus garland. It completed the boho theme and made a great backdrop for portraits and for the birthday girl to dig into her smash cake!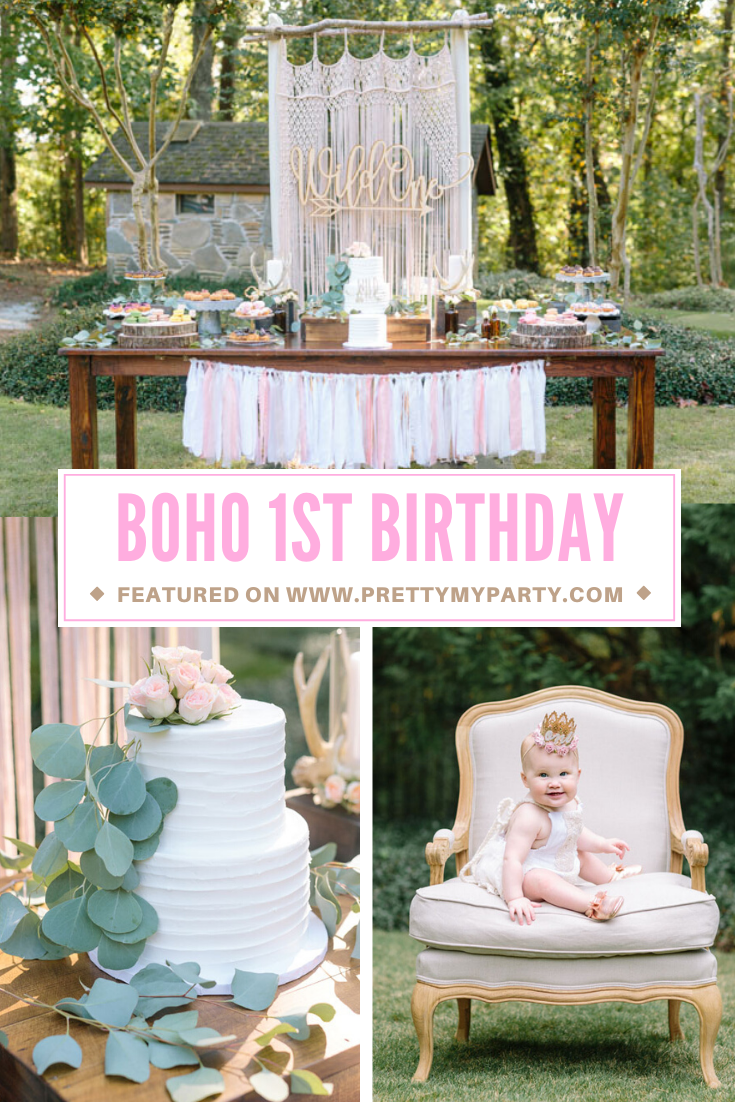 Dreamy Boho 1st Birthday Party Ideas
Whimsical dreamcatchers were displayed throughout the event to add to the boho theme
A sweet pink and gold birthday crown was created for the special girl to wear for a fun birthday photoshoot, along with a special first birthday dress
Gorgeous boho dream high chair banner created with burlap and pink flowers
Fun teepee tent addition with greenery added for a photo backdrop and cake smash area
Amazing Boho Theme Birthday Party dessert table with Wild One sign and macrame backdrop
Wood and galvanized metal accents added to the bohemian style of the dessert table
Bohemian Themed 1st Birthday Party decorations with muted pinks, whites, and greenery including fresh eucalyptus
Fun time capsule station for guests to include well-wishes for the birthday girl
Sweet and simple white birthday cake, with florals and greenery added for an understated, yet elegant cake topper
Kids games for the perfect outdoor, backyard celebration
Delicious treats table, including donuts, macaroons, and other fun desserts
Amazing party supplies accentuated the guest table centerpieces, such as florals, animal horns, and vases
Boho Chic Birthday Party sitting areas allowed the guests to feel like the inside comforts had been brought outside to relax
Sweet picture table with the birthday girl's first twelve months of special pictures set up in rustic frames for everyone to enjoy
Pretty floral notepad party favors were distributed to guests for the boho birthday party
Perfect outdoor catered food provided to fit the theme and climate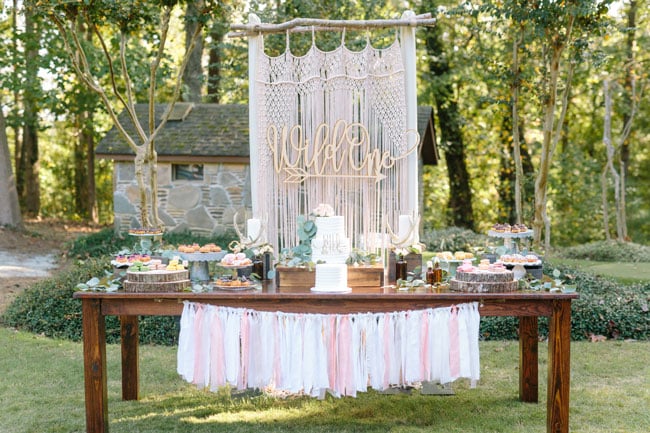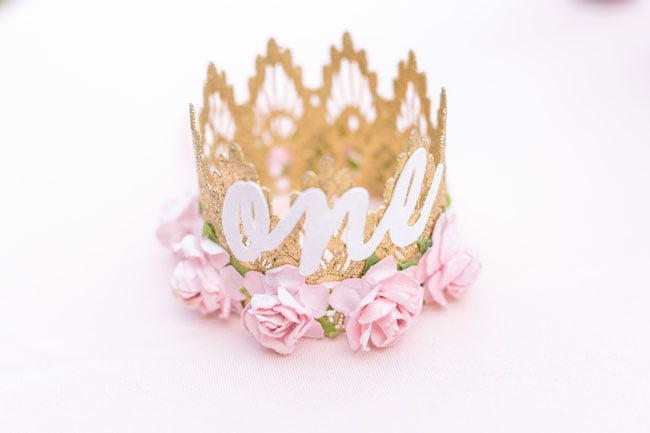 Everything couldn't have been more beautiful for this special Dreamy Boho 1st Birthday Party. We know it can always be risky to have events like this outside, but things couldn't have been more beautiful and the weather cooperated perfectly. Everything felt just perfect and light for a sweet first birthday celebration.
There are so many different details that we love, but our favorite has to be the amazing dessert table setup. The bohemian backdrop is breathtaking and all of the extra greenery and wood decor made the table fit in perfect with the theme. And how about that sweet first birthday crown that was created for the birthday girl to wear for pictures?! Finally, we love the idea of having a Time Capsule for guests to fill out. What a special thing to look at years down the line, to see what people said and the dreams they shared for this sweet little baby. What a fun addition to the celebration!
Shopping list: Boho 1st Birthday Decorations
What are your favorite details from this sweet and Dreamy Boho 1st Birthday Party? Let us know in the comments below!
For more 1st birthday party ideas, follow us on Instagram @prettymyparty and Pinterest and join us in our private Facebook group.
Party Vendors