Tropical Tutti Frutti Flamingle Party
Let's flamingle! This tropical tutti frutti party is colorful and sweet!
This Tropical Tutti Frutti Flamingle Party from Alicia Wiley Photography was a celebration for two sisters – one turning 1 and the other turning 4. This adorable party features bright and colorful party decorations in true tutti frutti style, which included watermelon, pineapple, pink flamingos, palm leaves, and more. Everything from the two gorgeous birthday cakes to the outdoor, pink kiddie pool filled with pineapples, flamingos, cactus floats, just screams F.U.N.!
Tropical Tutti Frutti Flamingle Party
Large, gold Happy Birthday balloons as cake table backdrop
Pink Let's Flamingle banner
Flamingo name banner
Pink, white confetti, green, orange and yellow balloons
Watermelon, pineapple and palm leaf decorations
Two birthday cakes – a tutti frutti 1st birthday cake and a tutti frutti ballerina cake
Pink flamingo pool raft used as drink cooler
Colorful Let's Flamingle birthday invitation
Adorable Hooray party plates and napkins
Palm leaf plates
Cactus napkins
Pink flamingo straws
Outdoor guest table with palm leaves, fruit and pineapple centerpiece
Pink kiddie pool filled with flamingo, pineapple and cactus pool floats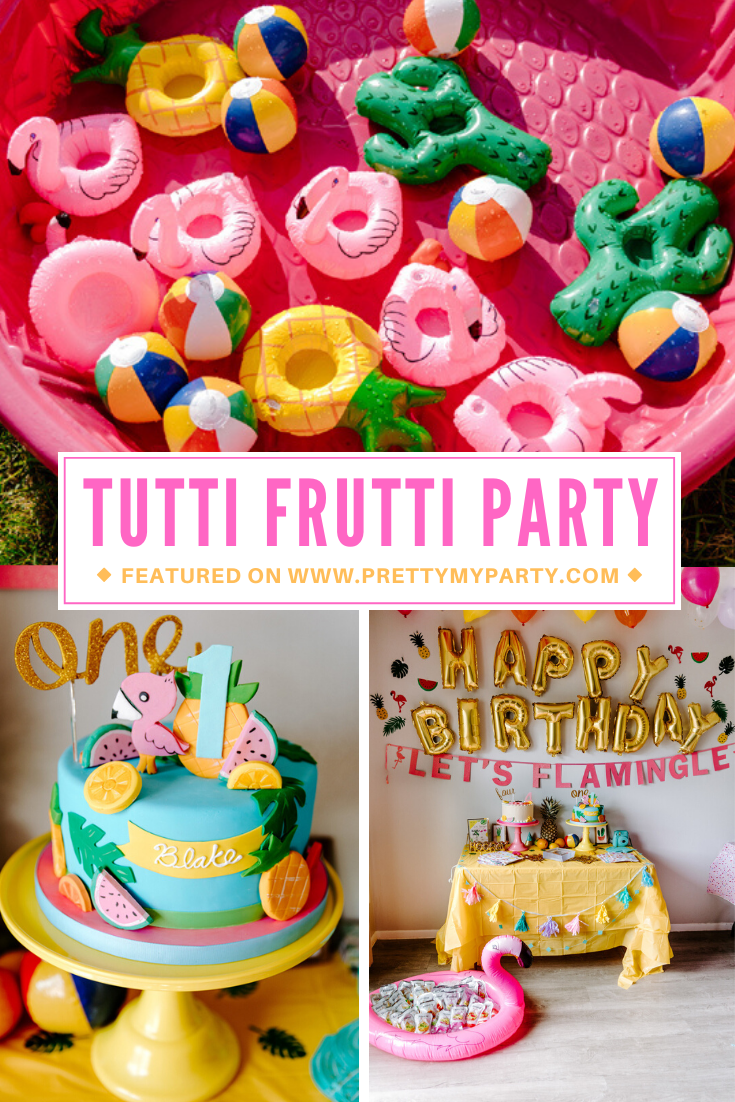 This is such a fun party theme for sisters! It's bright, colorful and tutti frutti! We're sure these two girls had the best time with family and friends.
What's your favorite party ideas in this Tropical Tutti Frutti Flamingle Party? Let us know in the comments below!
For more fun birthday party ideas for kids, follow us on Instagram @prettymyparty and Pinterest and join us in our private Facebook group.
Shopping list: Tutti Frutti Flamingle Party Supplies
Party Vendors
Photographer: Alicia Wiley Photography