Fabulous Flamingo Birthday Party
There's nothing more fun than a flamingo party! Plus, it makes a great summer party theme!
This Fabulous Flamingo Birthday Party styled by Sunshine Parties is cute, colorful and totally awesome for a summer party! If you're looking for a fun party theme, you can't go wrong with some fabulous flamingo party fun!
There are so many fun and creative ideas you can do for a flamingo birthday party. And if you have a pool, why not make it a flamingo pool party?!?! It is one of the best summer party themes! Start collecting ideas for your summer birthday bash with these flamingo party ideas from Sunshine Parties. Everything from the party printables and decorations to the birthday cake and desserts just screams "Let's Flamingle!"
We also love that the flamingo theme is super versatile in that you can be any age and still have a totally rockin' Flamingo Party! You can even make it more of a tropical, luau vibe if that tickles your fancy. Just think beachy, palm trees, pineapples, etc. Whichever way you decide to "flamingle" just remember to have fun! I'm sure you will with a flamingo party like this one, so let's get started on all of the fun details.
Flamingo Party Supplies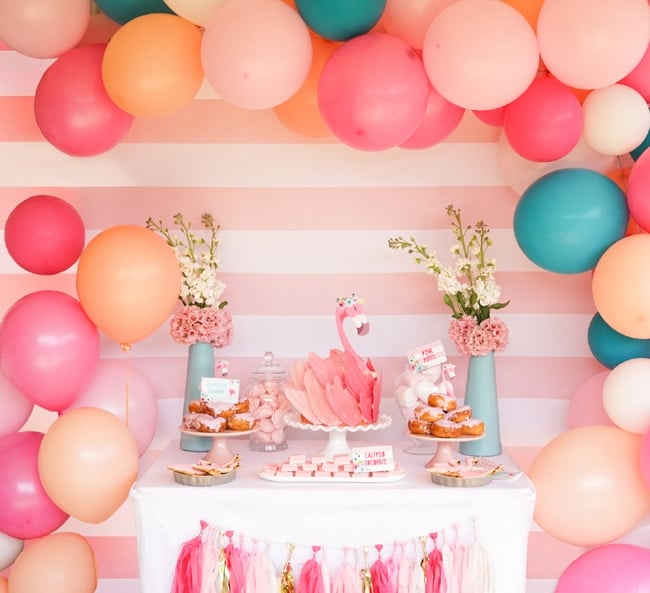 Flamingo Party Ideas We're Loving:
The fabulous pink flamingo birthday cake

The adorable flamingo party favors "Flamingo Foam"

The fun and colorful flamingo party decorations

The awesome balloon garland over the dessert table with colors matching the party theme

The super cute flamingo party invitation

The adorable flamingo cookies

The creative food label names
Flamingos have totally gone from kitsch to cool. And why on earth not? They are trendy, they are pink, and they represent beauty, and 'standing out'. Which was a perfect theme to represent Cath's fabulous little cutie, Hannah, as she celebrated turning two with a Flamingo Party!
It was so much fun designing, arranging and coming up with an array of flamingo party decorations. From a gorgeous backdrop and banner, to fabulous detail on the cupcakes, food, drinks and party favors. But the piece de resistance was the Flamingo Birthday Cake!
So, if this is a theme you would like to work with, come with me, I'll show what and how we did the Flamingo Party Flamenco!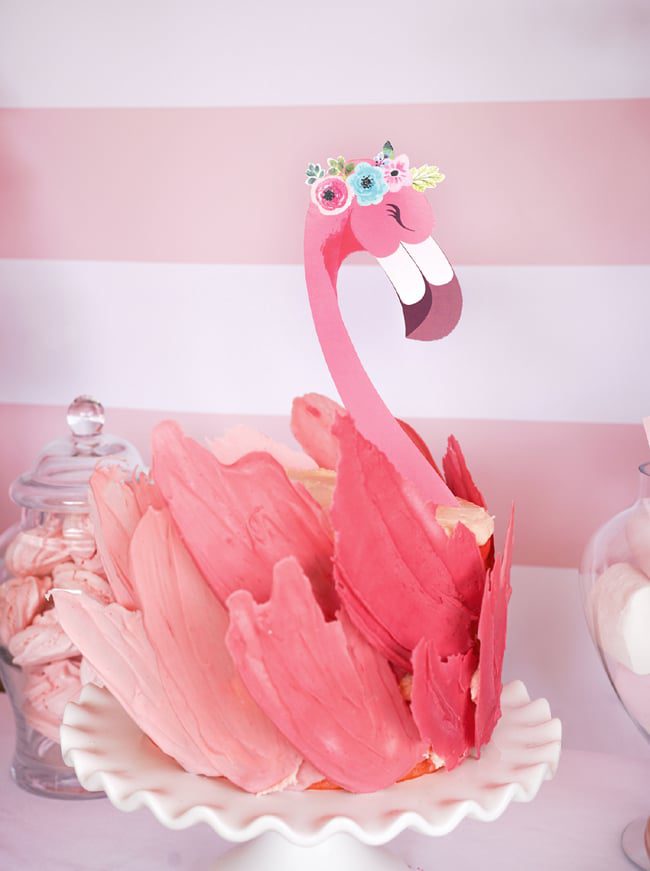 This is it! THE CAKE! The gorgeous flamingo birthday cake, the creation that caused 'ooohs and aaaahs' from the assembled kids, and adults, of course. Not only does it look like an elegant flamingo just cruised across the party table, it tasted dreamy too!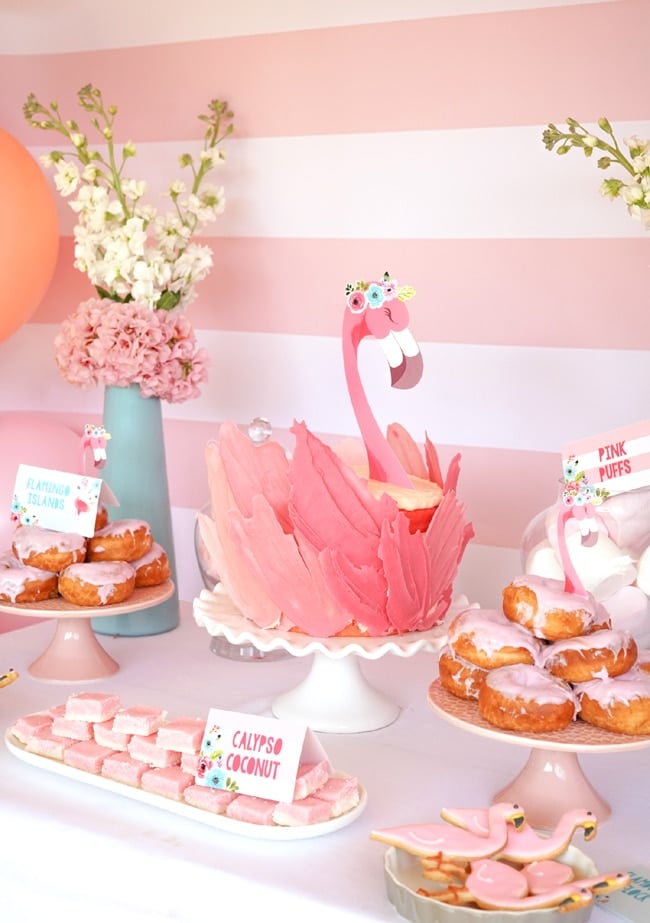 How to make a Flamingo Birthday Cake
Cath started out with a naked ombre sponge, four layers, with buttercream icing in between each layer. Not realizing that the chocolate shard 'feathers' would cover most of the cake, she went to all the trouble of creating a pink ombre effect with the layers, from darker to lighter pink. So, for her sake, I am just letting you know that sponge is pink ombre, baby!
The flamingo cake topper is an absolute winner, you just download and cut out. We used a stiff, 400gsm card for printing, and a thin wooden stick and scotch tape to go up the neck and into the cake, to keep our flamingo standing proud and elegantly tall.
Using a double boiler, Cath melted white chocolate. She created chocolate shards by smearing a 'shard' of chocolate onto wax paper, and letting it dry. She created different sizes and colors to get the perfect flamingo feathers effect – going from deep to light pink front to back, and using longer and shorter shards to create the correct flamingo shape. You can also use the microwave for melting chocolate if you don't have a double boiler, works just as well. Just don't let chocolate get too hot and go lumpy or burn, rather take it slow and just do 10 seconds at a time until you have the perfect consistency.
Make sure you use something pretty to put your flamingo on, a cake stand or pretty presentation platter makes all the difference!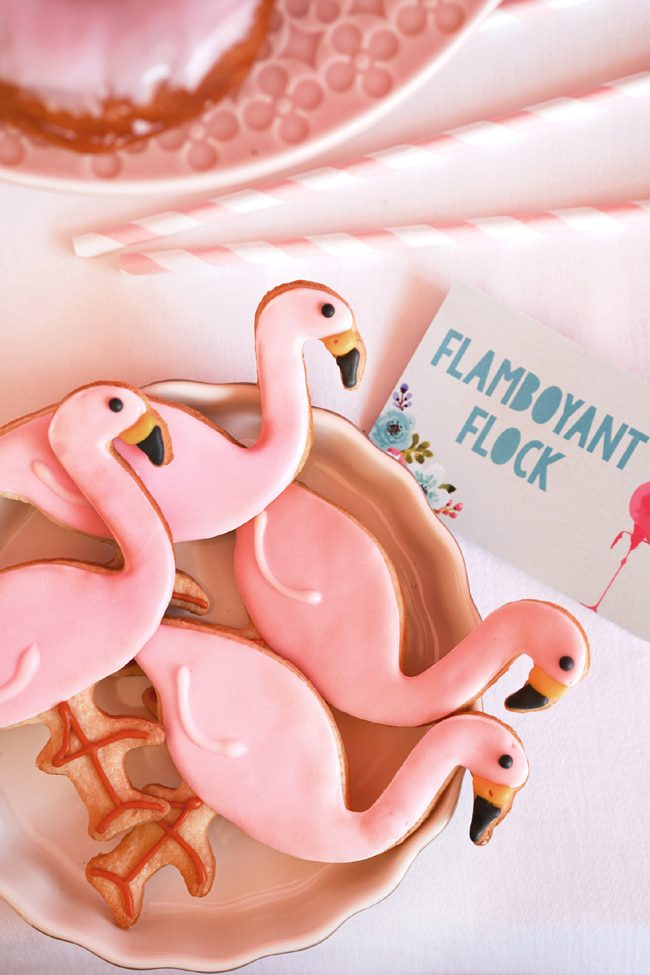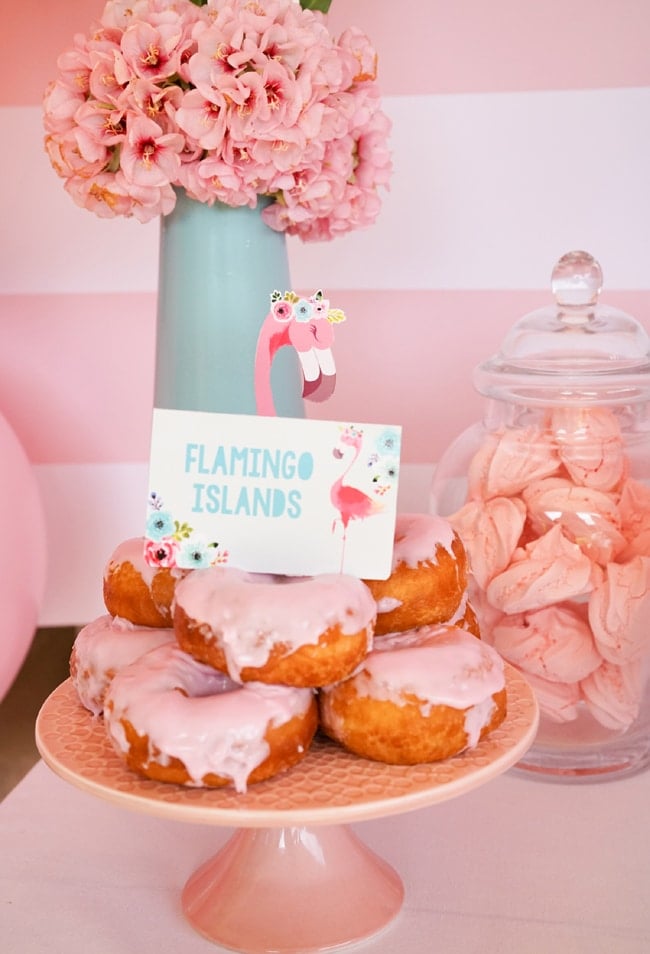 Coming up with fun and creative names for food and desserts is what makes a party stand out from the rest. Pink glazed donuts were the "Flamingo Islands" and the "Flamboyant Flock" was of course, the awesome pink flamingo cookies.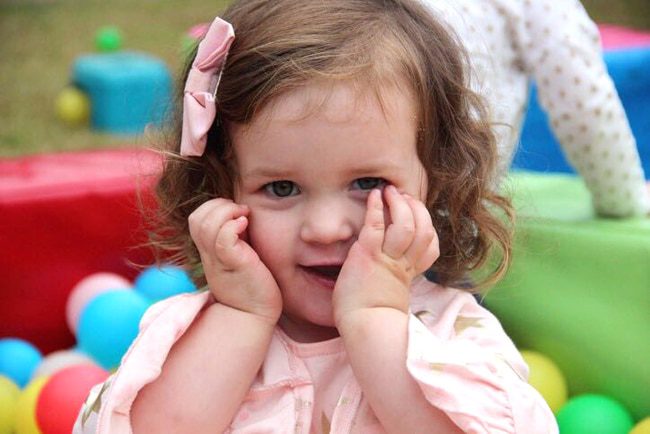 Hannah's little face when she saw her flamingo party cake! We're sure she had a total blast at her fabulous Flamingo Party!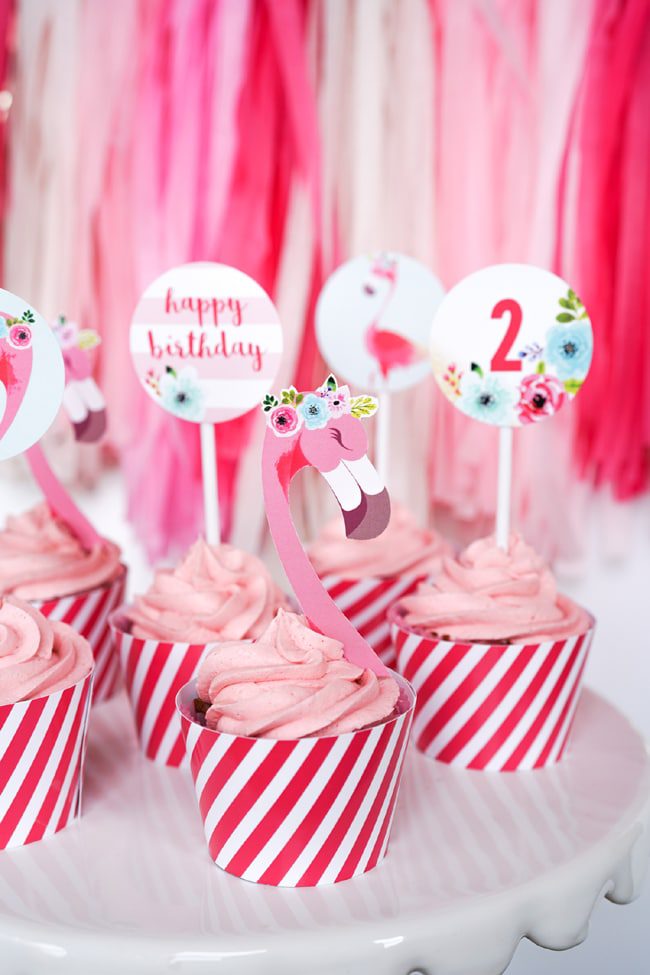 Flamingo Party Cupcakes
And while we are on all things cakey and delicious, these flamingo cupcakes were another winner. This cool cupcake look is achieved with our pink and white candy stripe wrapper, editable round cupcake toppers and a gorgeous version of the flamingo cake topper, but small, and cute and mini for cupcakes. Adorable!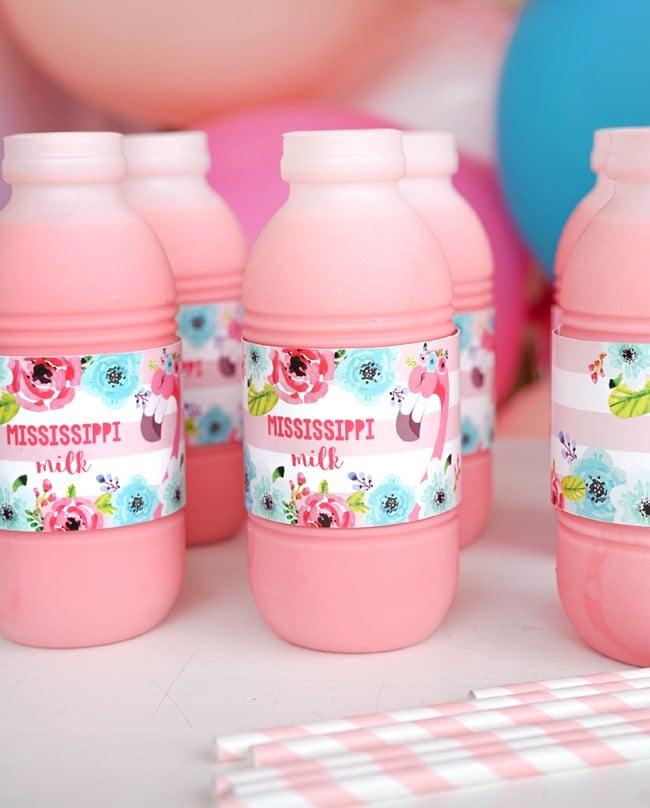 Flamingo Party Drinks
All this fabulousness is enough to make anyone thirsty – use these super pretty drink labels and edit them with whatever you would like to serve – whether is it a water bottle or a wine bottle (that's for an adult party of course!). What a Fabulous Flamingo Party indeed!
Flamingo Party Labels
We chose to go all out with pink and white food, and labelled our coconut ice 'Calypso Coconut' and 'Pink Puffs' accordingly.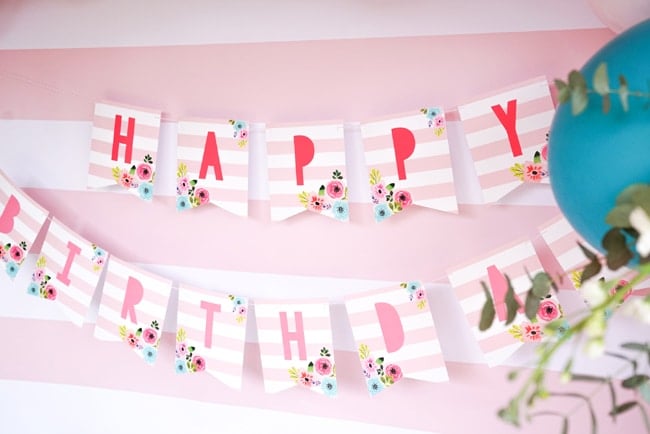 Flamingo Party Décor
A party banner and backdrop always serve to just 'make' the party décor, we think! For this flamingo party, we created a gorgeous pink and white, broad candy stripe backdrop for the main party, or dessert table. So pretty!
Especially when offset by this matching banner, bringing our flamingo flowers into the banner design. The banner is downloadable, and editable, so you can have it read whatever you want, for as many panels as you want!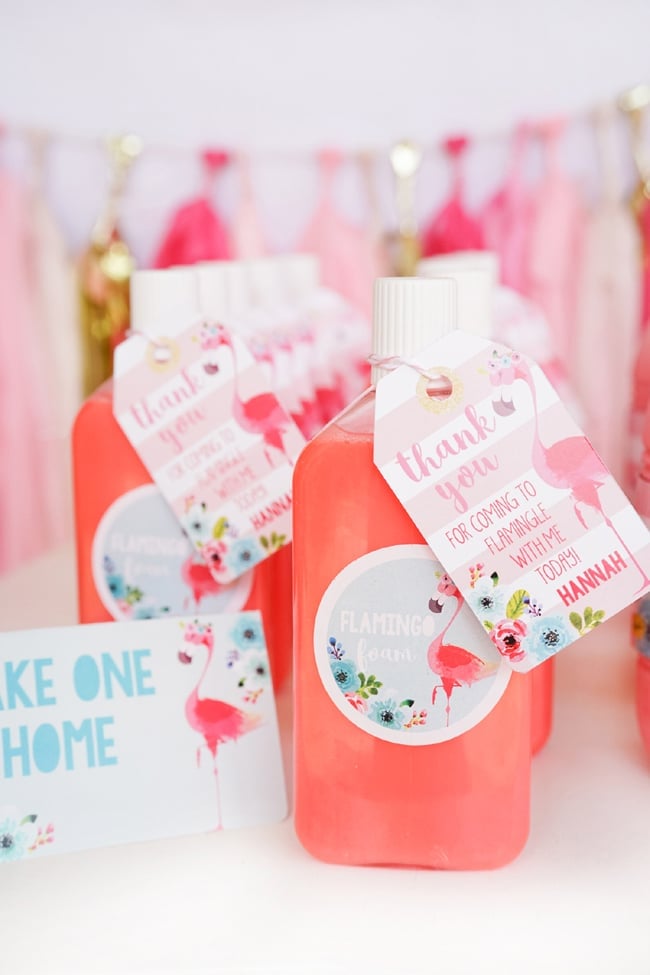 Bubbalicious Flamingo Party Favors
We decided long ago that party favors do NOT always have to be sweets! They've already gobbled up the cake and other goodies anyway! Some plastic bottles, and some pretty pink bubble bath make a delightful (and fairly cost-effective) flamingo party favor. A custom Flamingo Thank-You Tag with editable message AND a cool round sticker option make this printable full of value!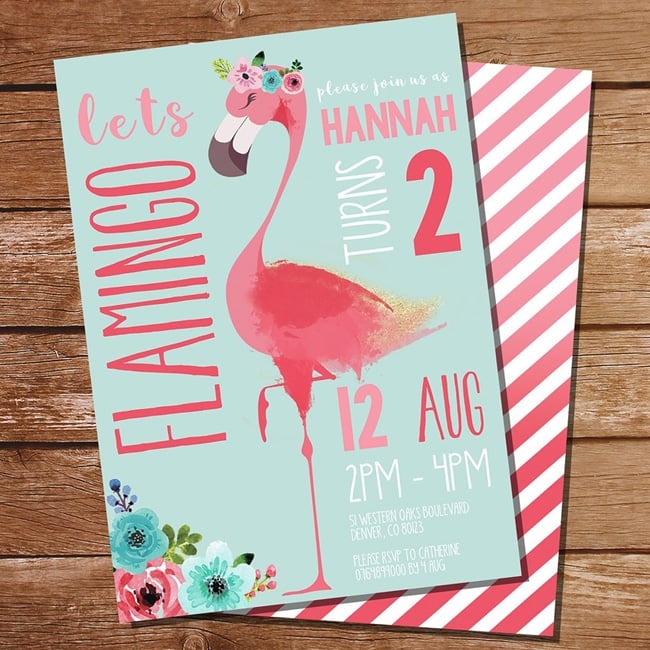 And how did it all start? With this absolutely beautiful flamingo party invitation. Fully editable, an instant download and the flamingle is all yours!
While we loved this for Hannah's second birthday party, this theme is really versatile – it can be used for a birthday party, a bridal shower, or any get together where pink and stylish is the way to be!
If you liked these designs, Shop the Flamingo Party Collection.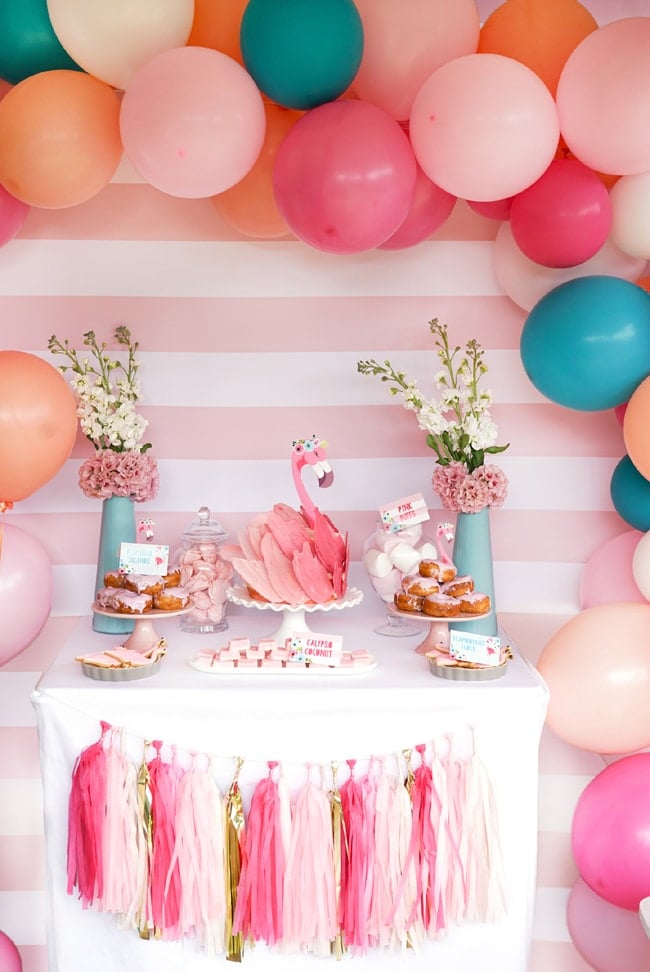 What do you think of this Fabulous Flamingo Birthday Party? Do you have a favorite party detail? Let us know in the comments below!
For more fun party ideas, follow us on Instagram @prettymyparty and Pinterest and join us in our private Facebook group.
Vendors & Credit
Party Styling and Printables: Sunshine Parties