Donut Worry Be Happy Party
Donut worry, be happy with this sweet and hole-some donut themed photoshoot that's perfect for your kid's donut birthday party!
How awesome is this donut party theme? This delightful backyard photoshoot definitely provides a lot of inspiration if you're looking for some donut party ideas.
This sprawling grassy backyard is the perfect setup for a cute little donut themed photoshoot. Even though it's just a photoshoot and not an actual party, it has some really creative and fun elements that are perfect for a true donut party!
We absolutely love the huge cardboard DIY donut truck that is the central focus of this photoshoot. The pastel color scheme is perfect for the sweet party theme. The light pink donut truck really stands out! The huge donut balloon and lilac alphabet balloons that spell out the word 'donut' adds extra oomph to the cute little truck. We love how the tiny windows are just perfect for a little donut truck driver and their tiny donut-selling companion. How adorable!
Of course, a donut party will not be complete without the main attraction: donuts! Donuts of different colors and flavors are must-haves for any donut party. Pair the yummy donuts with delicious milk to wash down the sweetness. We love how the milk is presented in classic milk bottles and adorned with a pastel spiral straw. For a donut themed birthday party, adding other pastel colored desserts such as macarons, cupcakes, donut hole cake pops, and a donut themed cake will do the trick!
More pastel colored decorations including table confetti, a confetti garland on the donut truck, and some bunches of pastel colored balloons complete the look for this adorable photoshoot. You can also have a donut themed backdrop and birthday sign to turn this into a full-on donut party!
Want to throw your very own donut themed party? From donut party food to donut party decorations, here are some inspiring donut themed party ideas for you!
Donut Themed Party Ideas
Pastel rainbow color scheme for the donut party backdrop and decor

Cool DIY donut party truck made of painted cardboard

Huge donut balloon and pastel colored DIY party balloons

Lilac alphabet balloons that spell out D-O-N-U-T

Pastel colored donut party plates and donut stands

Tiny party table and chair sets for guests

Pastel rainbow confetti and garland birthday party decorations

Donuts in a wide range of flavors of course — from chocolate to cream filled to rainbow sprinkles!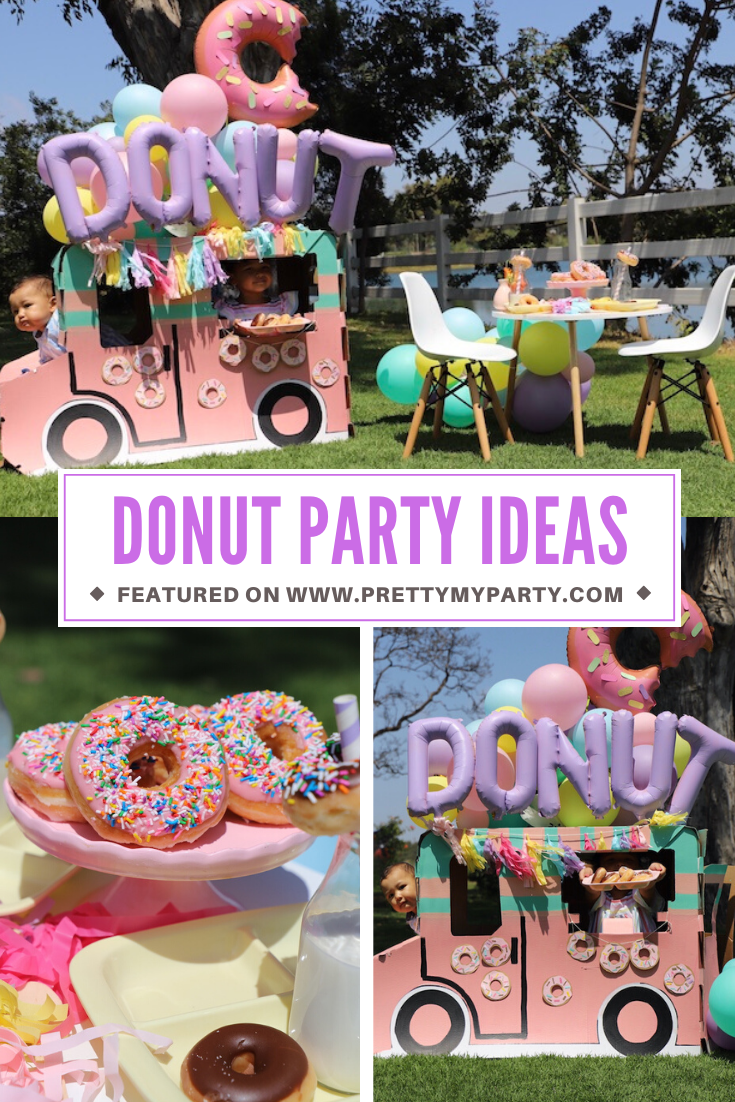 Donuts are amazing, so it's a great party theme for any age! Whether you're throwing a donut 1st birthday party or a donut themed party for your teen, you can use the ideas above for a cute and colorful celebration. Donuts are pretty common party elements too, so you won't have a difficult time sourcing donut themed party supplies. Or you can go the DIY route like this awesome photoshoot above and create cool donut party decorations, birthday signs, invitations, and party food yourself!
Which of these cool and creative decoration and food ideas are you going to use for your very own donut themed birthday party? Do you have your own donut party ideas that you want to share? Leave your thoughts in the comment section down below!
Party Vendors
Style, Design, Balloons & Crafts: Pretty Sweet Deets / Instagram and Assistant: Instagram
Balloons: North Star and Qualatex
Cardboard Truck: Oriental Trading