15 Unforgettable Donut Wall Display Ideas
Add a donut wall to your wedding or party for a sweet party decoration and dessert!
If you've been hanging out on Pinterest lately, you've probably come across one of those awesome donut walls! The donut wall is the latest trend in parties and weddings and we absolutely LOVE the idea! If you're planning a wedding and looking for a candy buffet or wedding cake alternative, the donut wall is PERFECT for you! We've also seen them added to dessert tables for birthdays and showers.
What's fun about donut walls is they are totally pun-appropriate! We love these donut puns, "Donut Go Breaking My Heart!" or "Donut You Want One?" Come on, you know you love it! Donut walls are super easy to make too! Just grab a pegboard, dress it up and add your favorite donuts! Easy as pie, or in this case, donuts! The donut wall is great because you can have it fit any wedding or party theme, especially a donut themed party! Guests will be talking about your event long after it's over because of your fun donut wall! Here are 15 Unforgettable Donut Wall Display Ideas that you can try at your next event!
Did you have a donut wall display at your party or wedding? We would love to see it. Just tag @prettymyparty on Instagram for a chance to be featured!
Donut Walls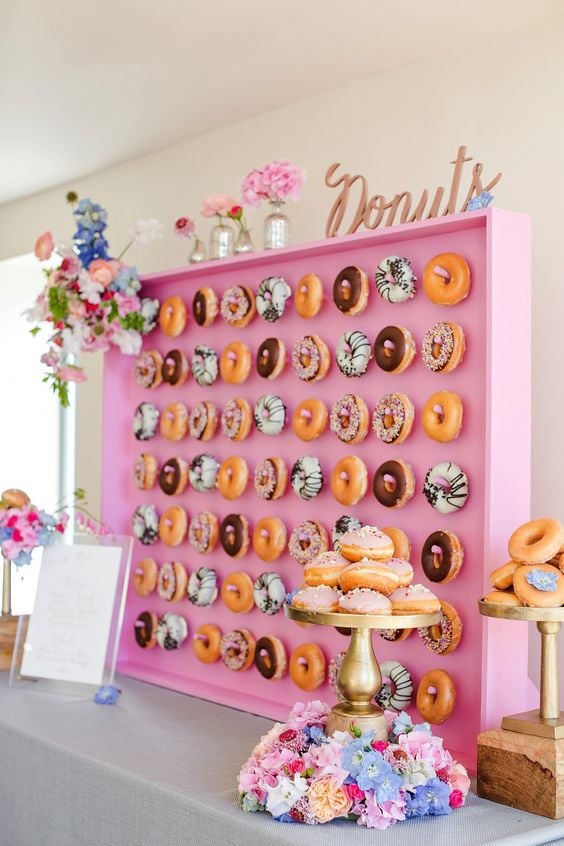 Donut Wall #1: Pink Donut Display
Cupcake stands are so out and donut walls are in like this pretty in pink donut display. DIY your donut wall yourself by painting a wood pegboard pink and adding some donuts. Place it in the center of your dessert table for an instant eye-catcher.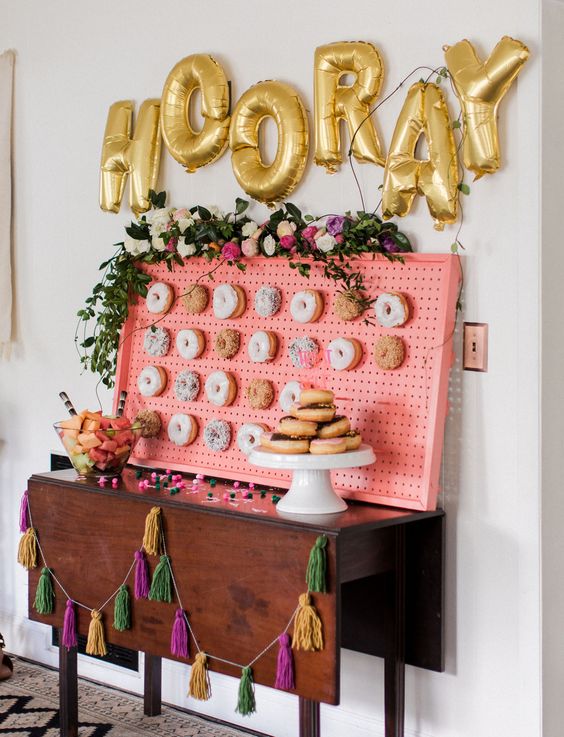 Donut Wall #2: Hooray Donut Pegboard Display
Donut walls are the best thing to happen for parties and weddings. They add such a fun element to the desserts and decor. Don't be afraid to dress up your donut wall with a sign, a good donut pun, or flowers like the one above.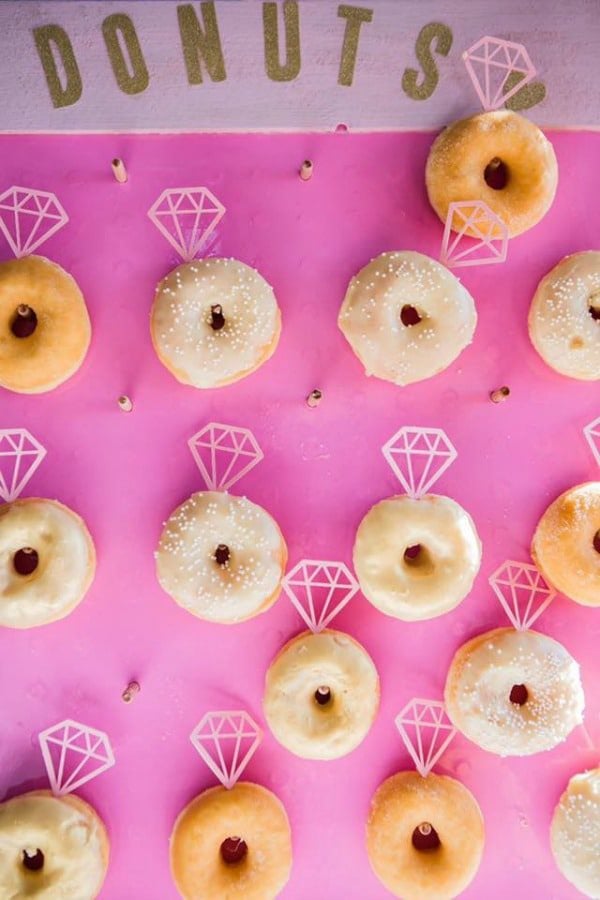 Donut Wall #3: Engagement Ring Donut Wall Display
We adore this pink donut wall with donuts made to look like engagement rings! So clever! This is perfect for an engagement party or bridal shower. All you have to do is get a pegboard, paint it pink, add your donuts and then add diamond cupcake toppers to the top of the donuts.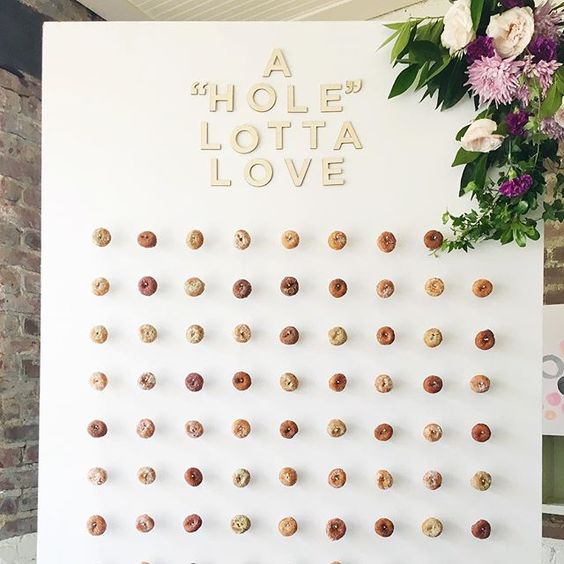 Donut Wall #4: A Hole Lotta Love Donut Wall
Maybe you're looking for a real statement piece for your wedding or event. This large white donut wall with a great donut pun will really make a statement! Add some fresh flowers to dress it up and you have the perfect wedding or party decoration!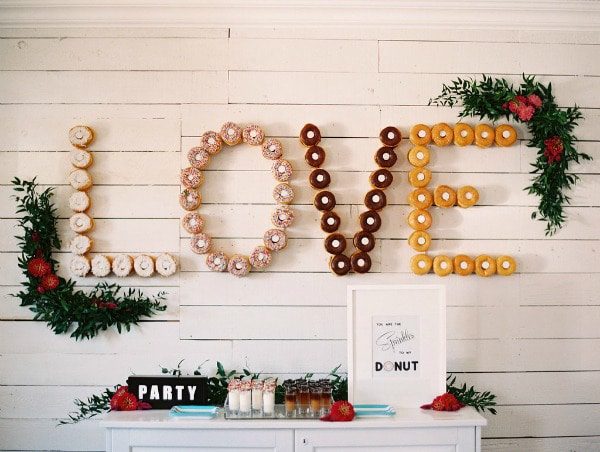 Donut Wall #5: Love Donut Letters
Want your donut wall to say something? This LOVE donut display is one sweet idea! Other ideas for a fun donut display are Mr. and Mrs., the guest of honor's name, Married, etc. Make your display part of your dessert table backdrop and offer a variety of sweets with the donuts as the star, of course!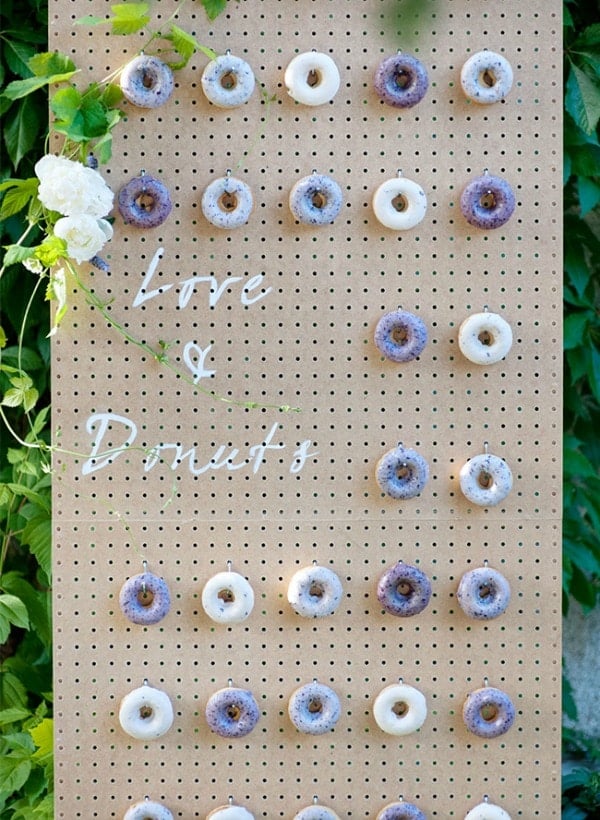 Donut Wall #6: Love & Donuts Donut Pegboard
This simple pegboard with a saying is an easy decoration you can add to any party or wedding. You can even have Mr. and Mrs. with your wedding date or Happy Birthday, etc. Customize your donut wall to your party and theme for the ultimate party conversation!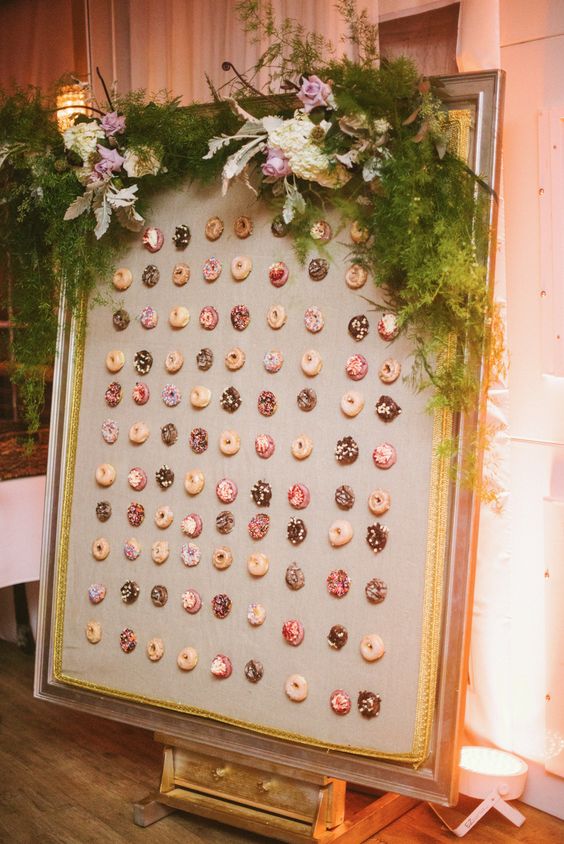 Donut Wall #7: Gold Frame Donut Display
DIY a framed donut display for your wedding like the one above. Add some greenery and flowers for an elegant look.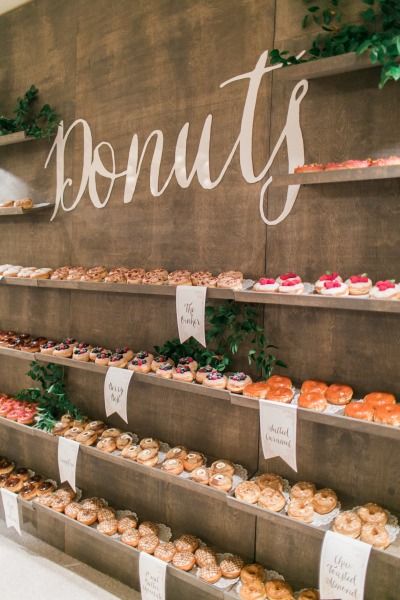 Donut Wall #8: Rustic Donut Wall With Shelves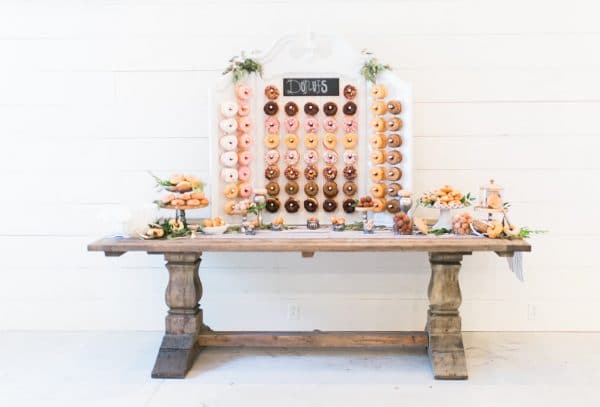 Donut Wall #9: White Vintage Donut Display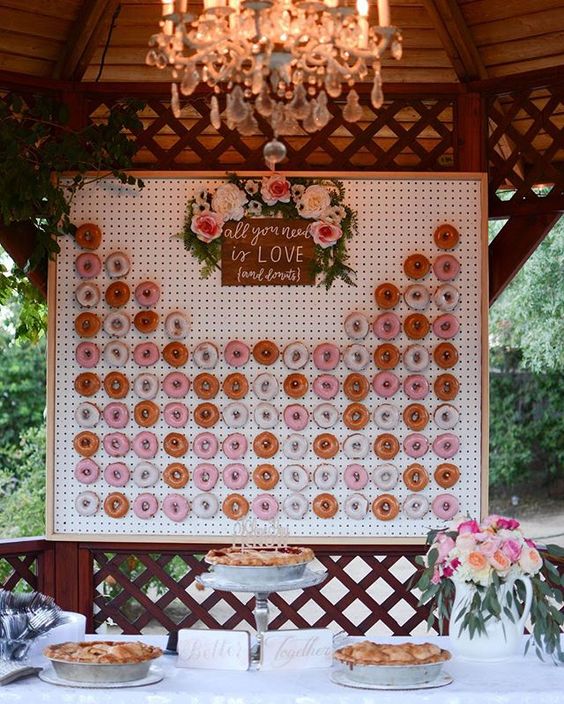 Donut Wall #10: Rustic Pegboard Donut Dessert Display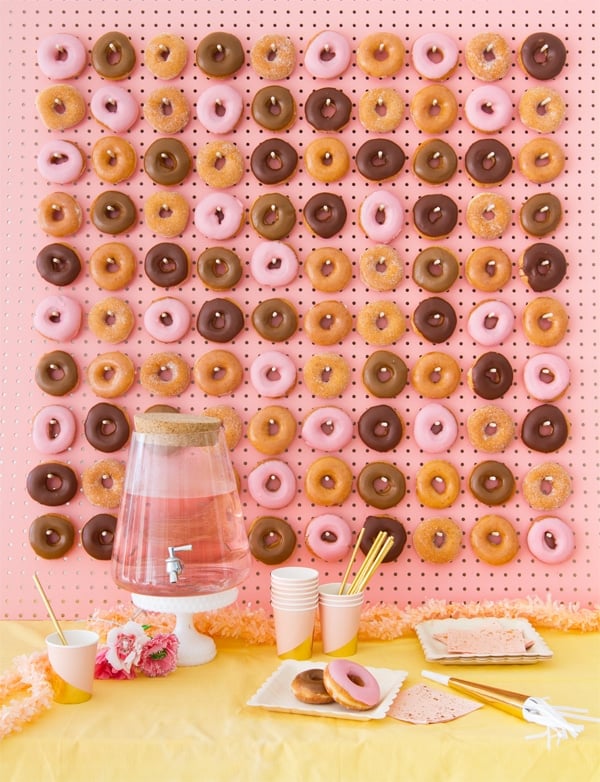 Donut Wall #11: Pink Pegboard Donut Display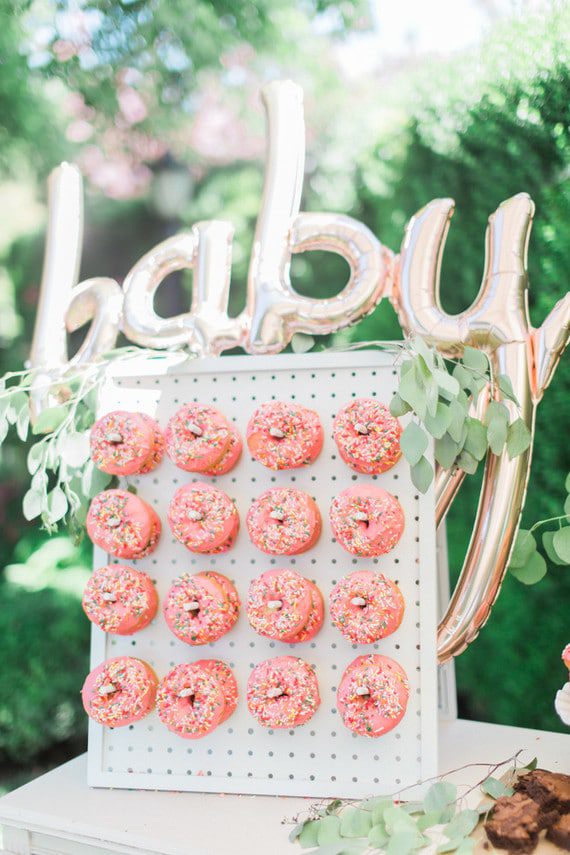 Donut Wall #12: Mini Donut Pegboard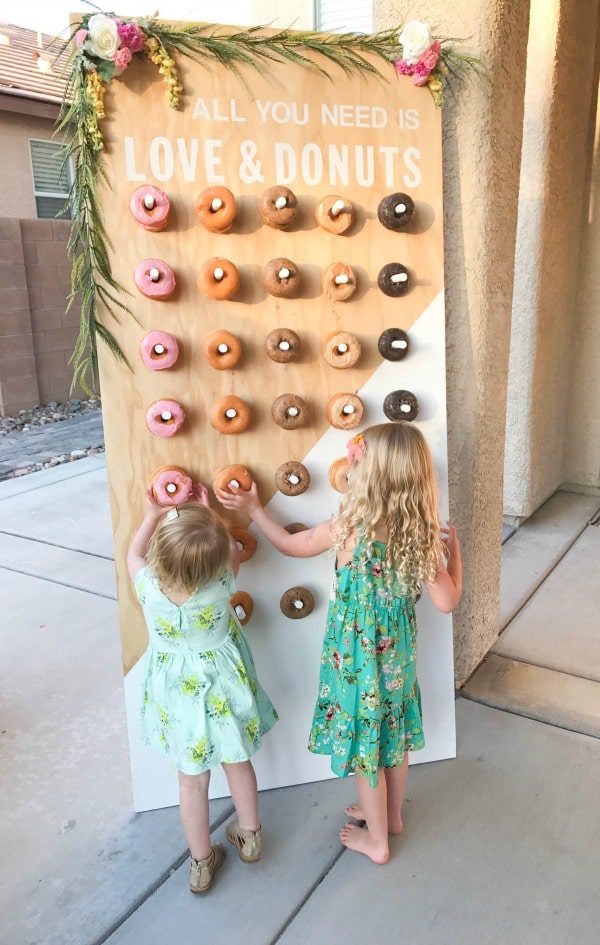 Donut Wall #13: Wood Donut Wall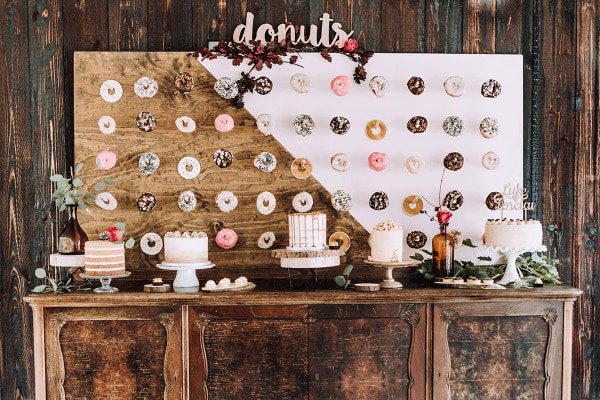 Donut Wall #14: Wooden Donut Display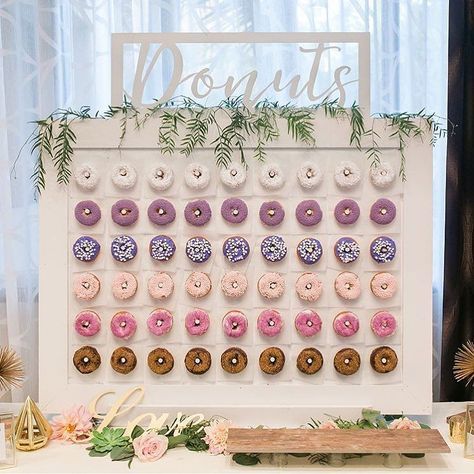 Donut Wall #15: White Donut Display