Donut Party Birthday Celebration
How fun is this sweet Donut Party celebration for an adorable little donut-loving girl! If you are a big fan of donuts, than this party is the perfect theme for you!
A Donut Party Birthday Celebration sounds like a sweet and yummy time for anyone celebrating a birthday! But this birthday girl is especially excited, as donuts are some of her favorite treats around! Donut Decorations were found all over and it felt like a true food cart had come to life and became the center of this Donut Birthday Party!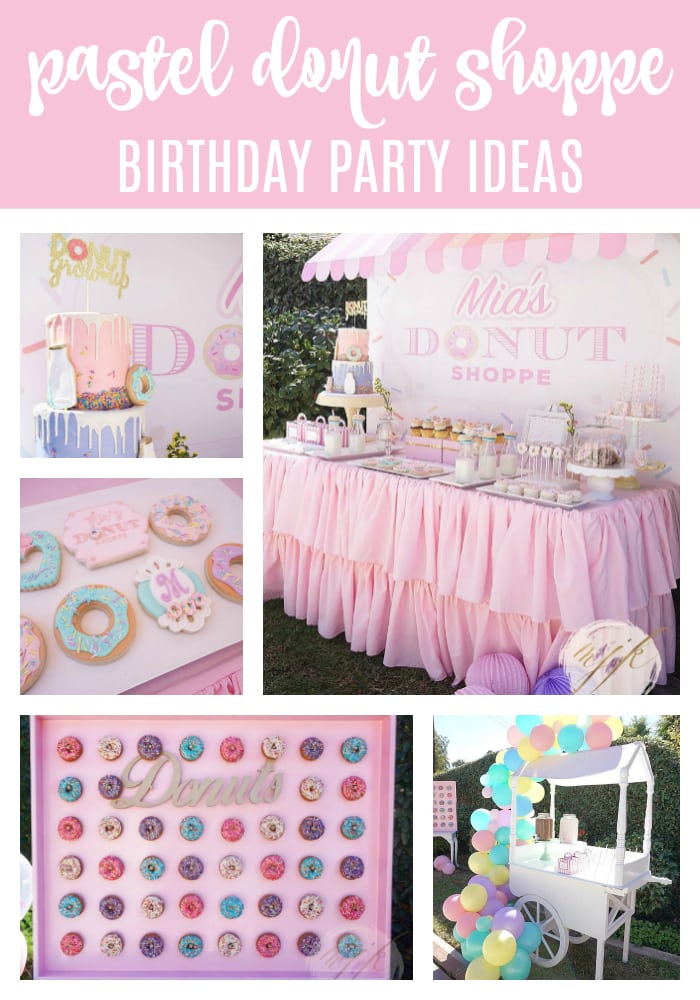 Donut Party Supplies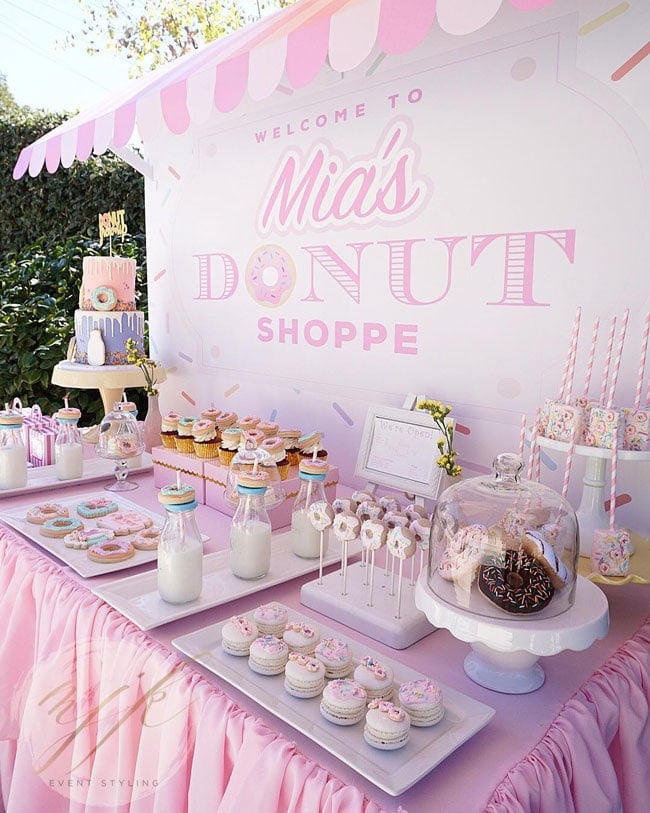 Everything about this Donut Themed Party, from the Donut Party Invitations to the Donut Decorations guaranteed that all of the guests were going to have one sweet time! Styling and decorating by M&J Kreations was exquisite and this amazing dessert table was presented as the perfect donut shop that anyone would be lucky enough to visit! We bet that these guests were pretty excited to be included in this amazing Donut Birthday Party!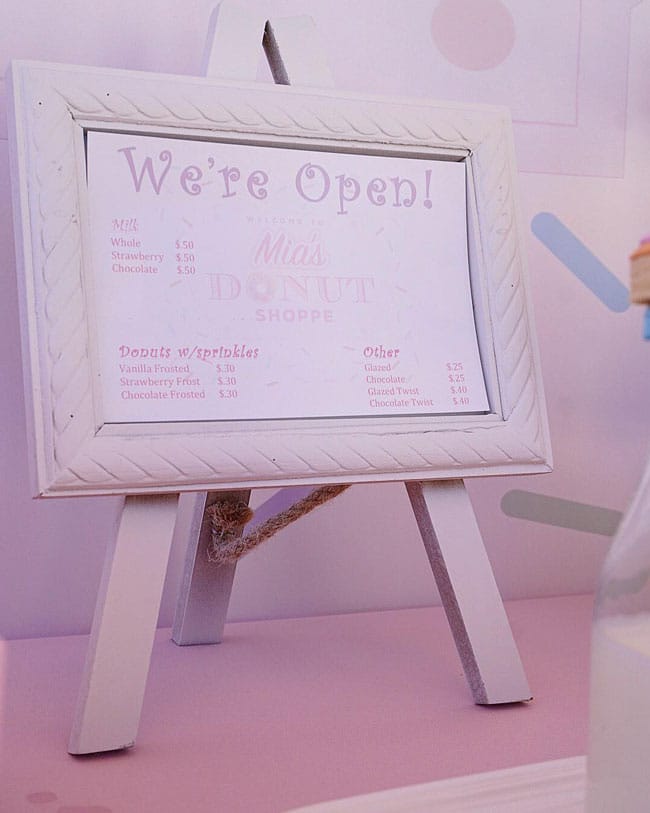 Donut Party Printables that were found at the birthday celebration included this great sign. Everyone knew what they were going to be able to "order", but luckily, everything was free, despite the cute prices that were included on the menu. How fun! This birthday girl was ready to roll out the donut truck to everyone there, but she was excited to give away everything she had!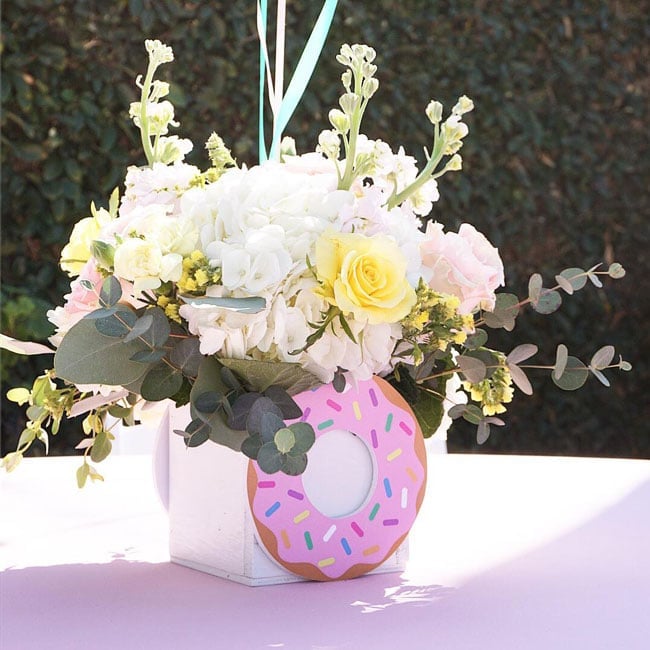 Gorgeous flowers were found around the Donut Themed Party. Check out these fun vases that were used to hold all of the roses, carnations and greenery for the table centerpieces! Of course they were Donut Decorations! We just love it and it helped to tie everything together around the event.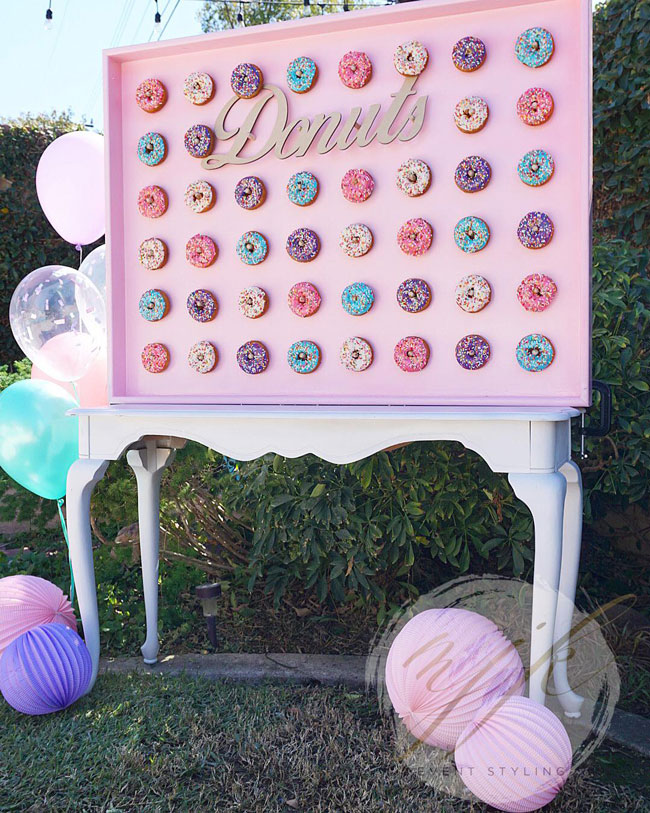 You can't put together a Donut Party without including a famous donut wall that included many different kinds of colored and sprinkled donuts! We just love this new trend that has emerged and it's a fun and easy way for all of the guests to grab whatever kind of donut that may tickle their fancy. What a fun, interactive way to present dessert at the Donut Party!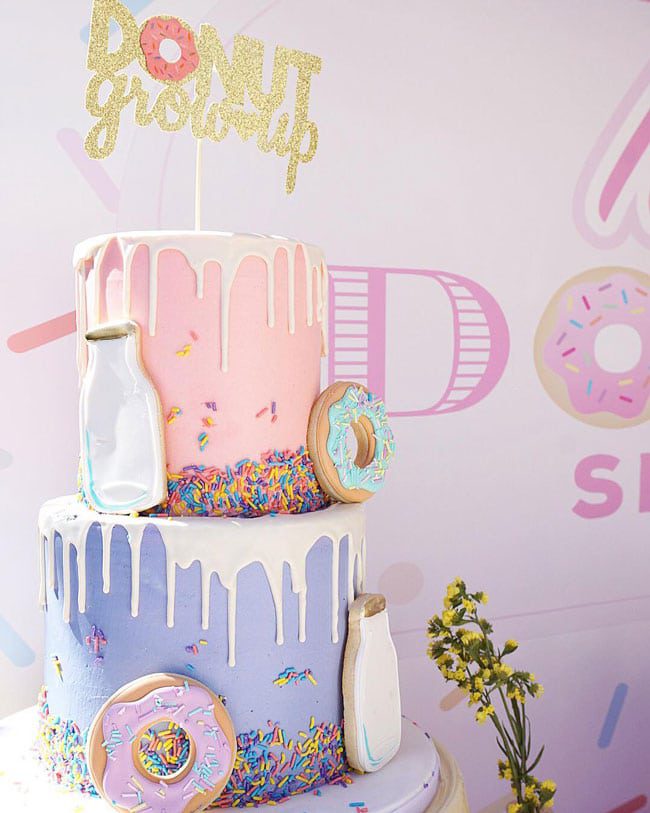 How do you top a fun donut wall for all of the guest to enjoy? Create the most amazing Donut Birthday Cake ever seen! This two-tiered magnificent creation was everything the birthday girl dreamed of and more! Just look at the "milk and donut" cookies that were found on the side of the cake. And with an amazing cake topper that included gold glitter, it was sure to be a hit with every single girl at this fun Donut Party!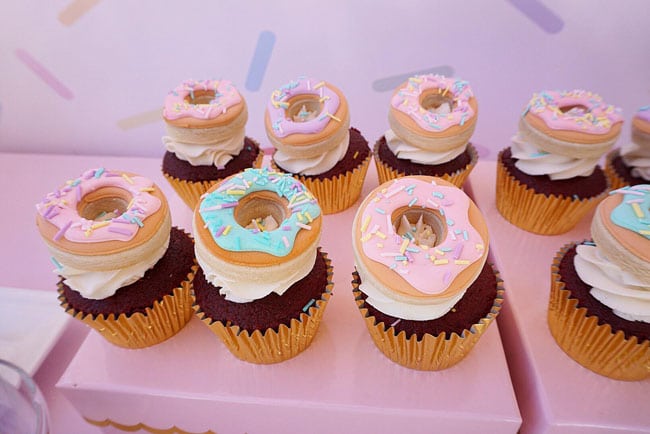 You know you're at the best Donut Themed Party around when the cupcakes are topped with donuts, too! Everything couldn't have been more delicious looking! The gold foiled cupcakes were perfect and all of the different pastel colors were gorgeous and fun for any little girl's birthday celebration!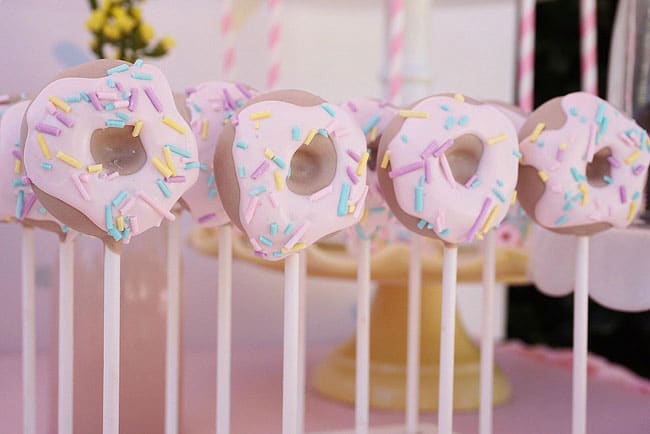 Of course, donut shaped cake pops were included, too! Donut Party Ideas were overflowing with M&J Kreations and it's evident in all of the amazing desserts that were included. Not many Donut Decorations had to be added in with all of the gorgeous treats that took center stage!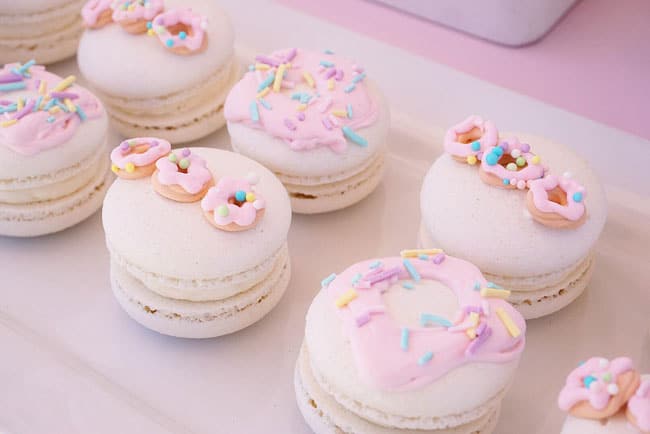 Donut-themed macaroons were included on the dessert table, as well. Guests had no shortage of amazing desserts to choose from at the Donut Birthday Party and everyone was just fine with that fact! It was a dessert-lover's paradise!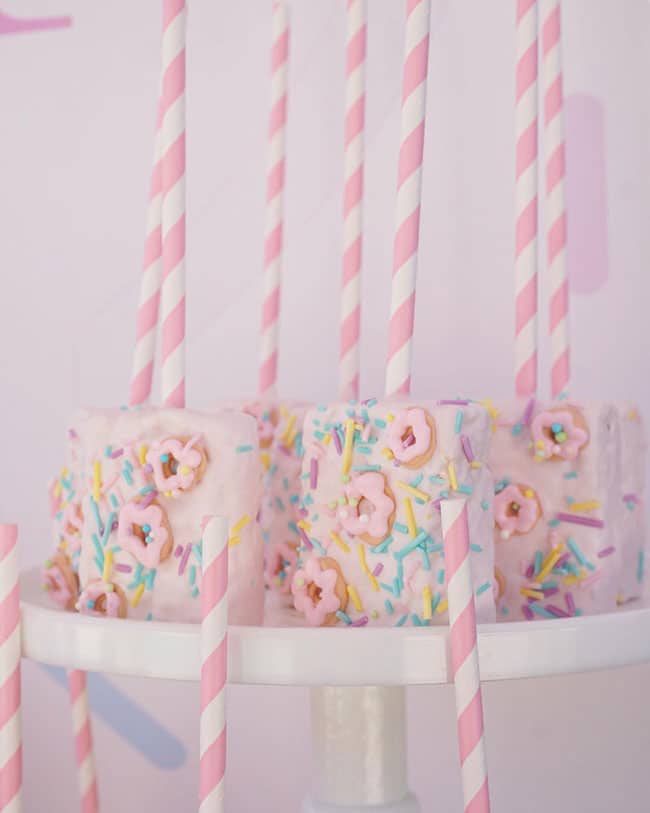 These amazing Rice Krispie treats were a huge hit, as well! We love the paper straws that were added to all of the treats, which made it easier for all of the guests to grab what they wanted. And with the soft pink and white spirals, it added to the color theme perfectly! In addition, who doesn't love sprinkles on their Rice Krispie treats?! We know that we do!
If you're going to throw an amazing Donut Birthday Party, you better include some milk to wash down all of that yumminess! And that is exactly what M&J Kreations did, but in absolutely perfect style! All of the milk was presented in great milk jars, ready with straws and a yummy donut cookie rounded over the top!
What a cute idea and it was a great way to make sure that all of the kiddos got a little bit of calcium during their sugar spree! Besides, is there any better way to wash down sugary donuts, cake, cupcakes and cookies than with milk? We didn't think so!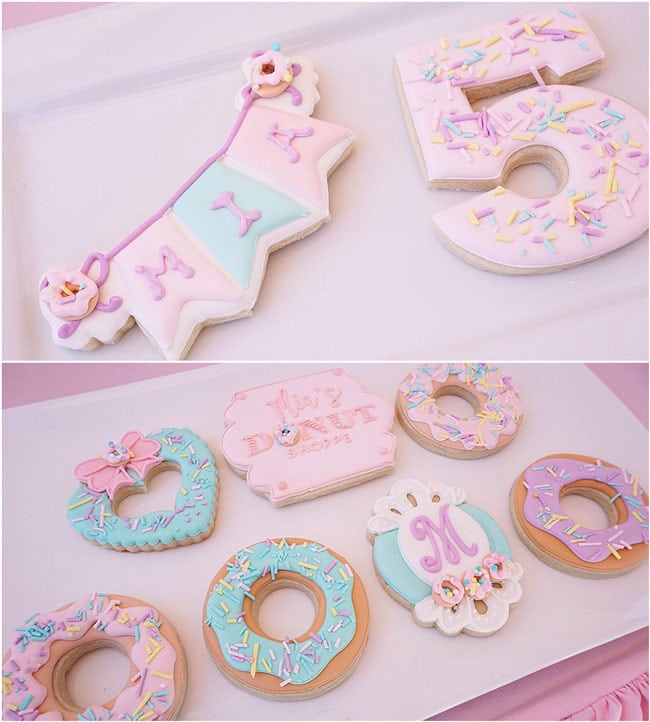 Donut cookies were included, with incredible detail and sprinkle decorations! There were personalized cookies for the birthday girl, including the number "5" to commemorate the birthday girl's age! How lucky is this sweet 5-year-old to have her birthday celebrated with such an amazing Donut Themed Party? We just love the color scheme and Donut Decorations!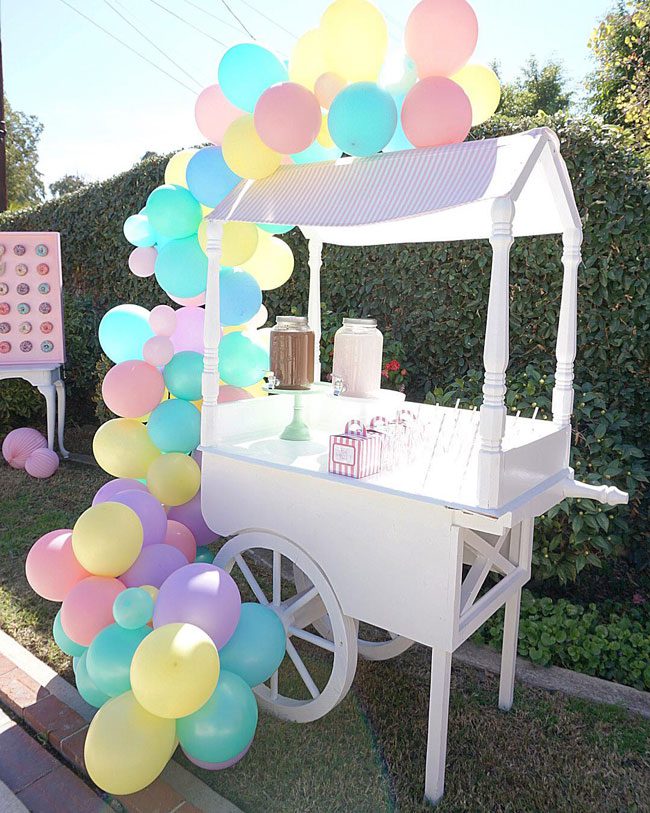 Pastel balloons adorned the side of this great cart, which held some of the Donut Party Favors, drink containers and drink glasses. What a fun and unique way to hold different Donut Party Supplies that were used during the celebration! We love all of the fun and bright colors that were used to make everything really "pop." The color scheme for the Donut Party was on-point!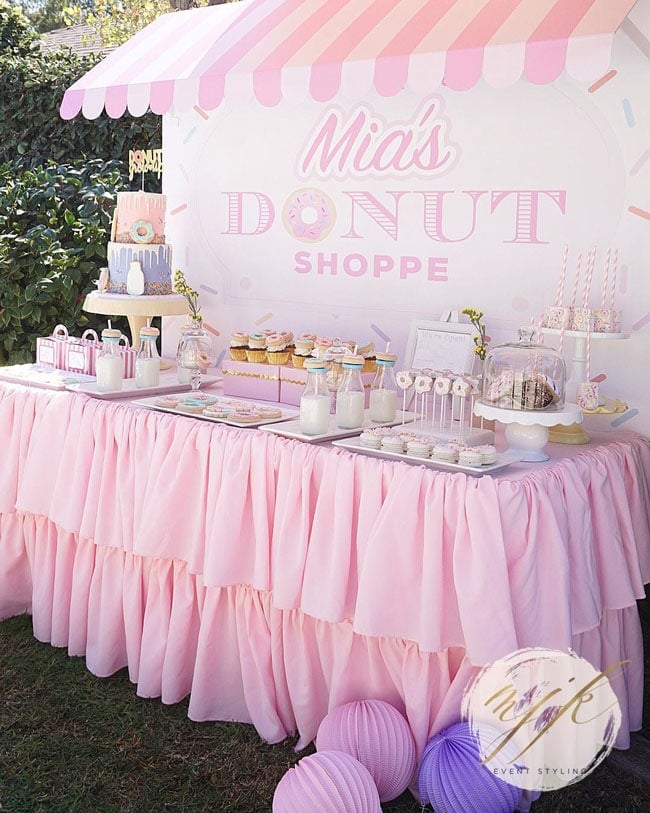 The Donut Party dessert table was the highlight of the event. The draped and ruffled pink table cover is such a sweet and feminine touch for this little girl's birthday party. We also love the backdrop that was used for the birthday girl's "Donut Shoppe", which pulled together all of the gorgeous desserts that were consumed. Yummy!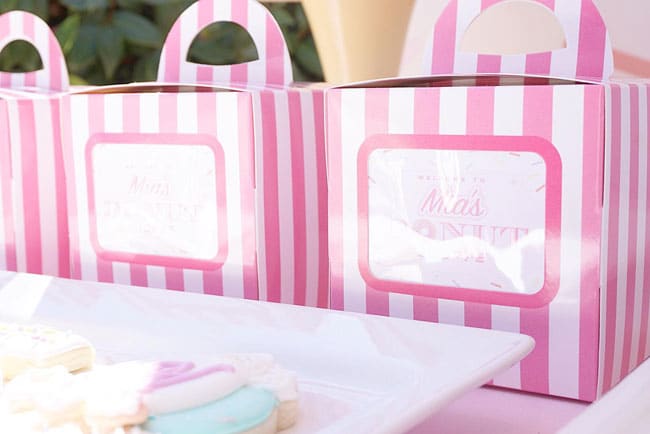 Donut Party Favors were personalized for the birthday girl's Donut Party event, and were perfectly tied in with the color scheme. Everyone was able to grab extra desserts to fill their party favor boxes until their heart was content. And who wouldn't want to take all of these yummy desserts home to enjoy again later?
Overall, this was an incredible Donut Themed Party that we're sure the birthday girl will remember for years to come! We just love it!
What's your favorite details in this Donut Party? Let us know in the comments below.
For more party ideas, follow us on Instagram @prettymyparty and Pinterest and join us in our private Facebook group.
Vendors & Credits