Little girls everywhere are screaming at the top of their lungs over this amazing Hello Kitty Party! With all of the muted colors and amazing treats, it is one incredible birthday celebration!
This Hello Kitty Birthday Party was in honor of one very sweet two-year-old little girl that couldn't stop smiling when she walked into this amazing Hello Kitty Party wonderland!
Just think of how her face must have lit up when she entered a party full of Hello Kitty Party Decorations that she only thought were possible in her dreams!
We hope you love all of these amazing Hello Kitty Birthday Party Ideas as much as we do. If you have a little one who loves Hello Kitty, you'll definitely want to take notes!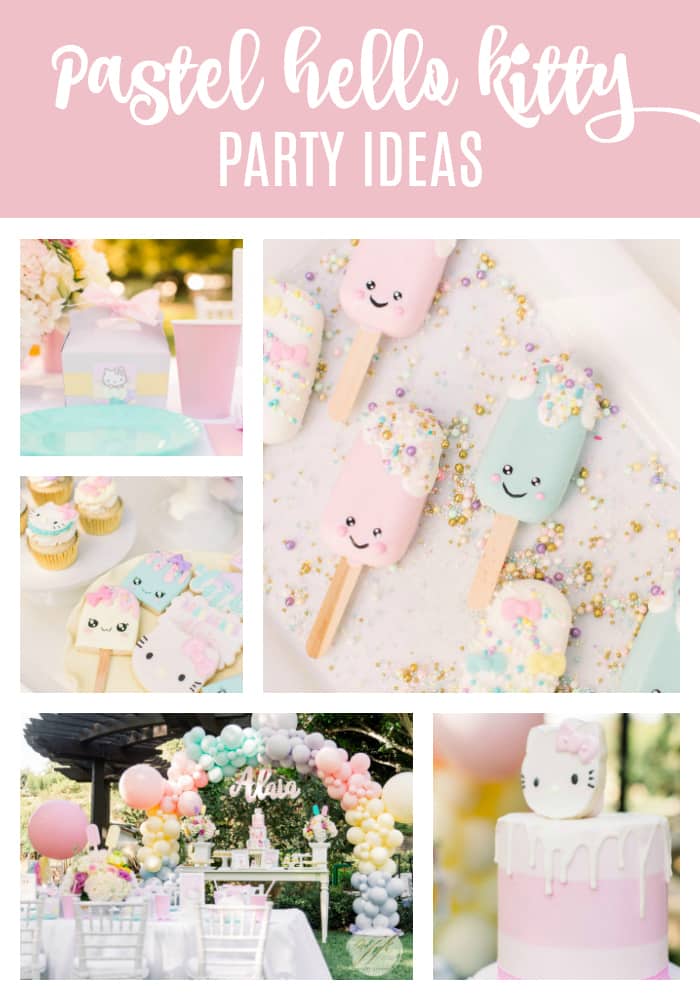 Hello Kitty Party Supplies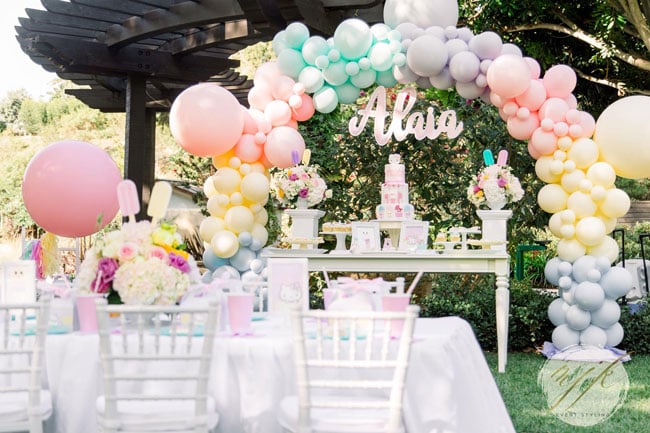 A magical Hello Kitty Themed Party was created with all of the design and styling details left to M&J Kreations. What gorgeous decorations and incredible desserts that were found throughout the Hello Kitty Party! Just look at this amazing balloon garland that was created to hover around the main dessert table. It was spectacular and was the talk of the entire celebration. Simply gorgeous!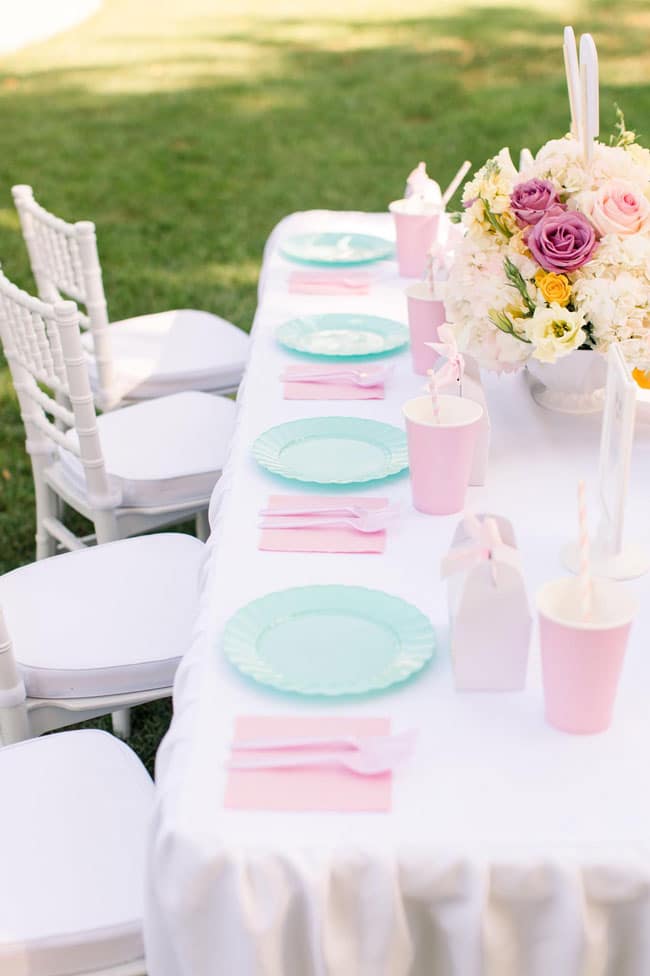 Hello Kitty Party Supplies were found throughout the event, and the guest tables were exquisitely designed at each table setting. We love the muted, pastel colors that were the theme of this event. Gorgeous white chairs and linens were used to keep the clean, well-manicured design uniform, along with gorgeous florals that were the perfect centerpieces for all of the tables. Nothing was left to chance and it was beautiful.
Roses, carnations, greenery and other florals took center stage on the tables for the Hello Kitty Party Centerpieces. We also adore the sweet "popsicle" treats that were created to pop up out of the flowers! What a fun and unique way to have all of the little birthday guests clamor for their seat! We bet the scent was divine and had everyone excited to sit down for their fancy meal with Hello Kitty Party Food! Yum!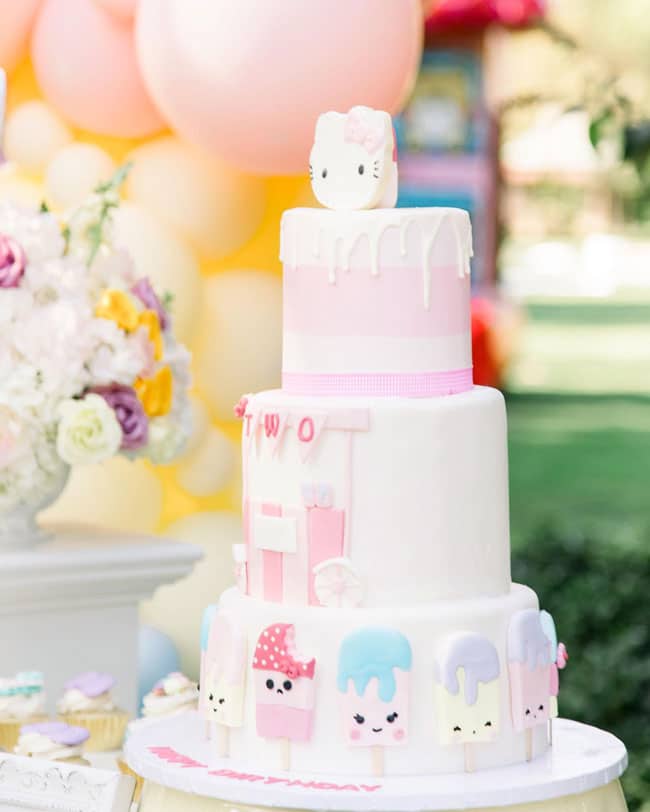 The Hello Kitty Birthday Cake was one like we've never seen before! Just look at all of the incredible detail that was included in this sweet birthday cake! Popsicles with pastel colors were lined around the bottom of the three-tiered cake, along with great detail of this cake dripping with candy and sugar!
We bet the entire birthday party was in absolute awe of such an incredible work of art. Whoever had the task of cutting this beautiful cake probably had to think twice before they finally took the serving knife to it!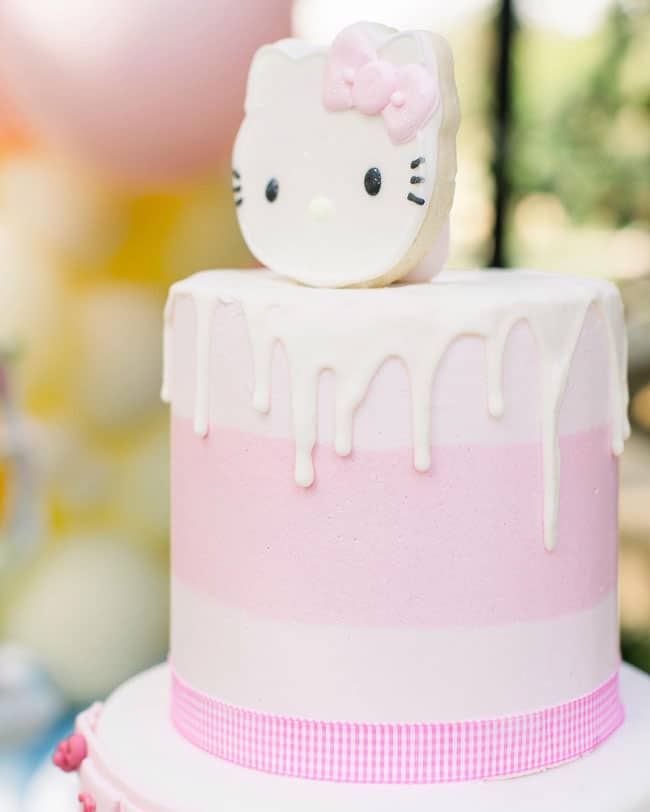 An incredible Hello Kitty face adorned the top of the Hello Kitty Birthday Cake and was the hit of the decor! This little birthday girl had an incredible pink and white cake that included everything that she loved and she was in awe of her massive cake from the second she walked in! We just love it!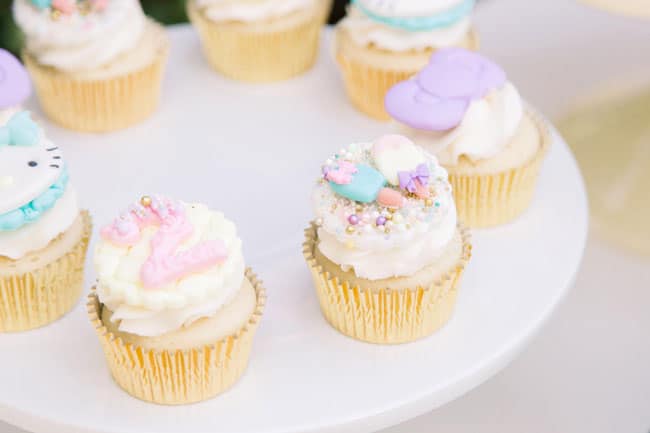 Sweet "2" cupcakes, along with cupcakes that held popsicle decor were found at the Hello Kitty Birthday Party. The dessert table was full of amazing sweet treats, but these gold-lined cupcakes were some of the scene stealers! They were decorated to perfection and the frosting on top looks as soft as a cloud. Who wouldn't want to dig right in and get their face dirty with this yummy treat!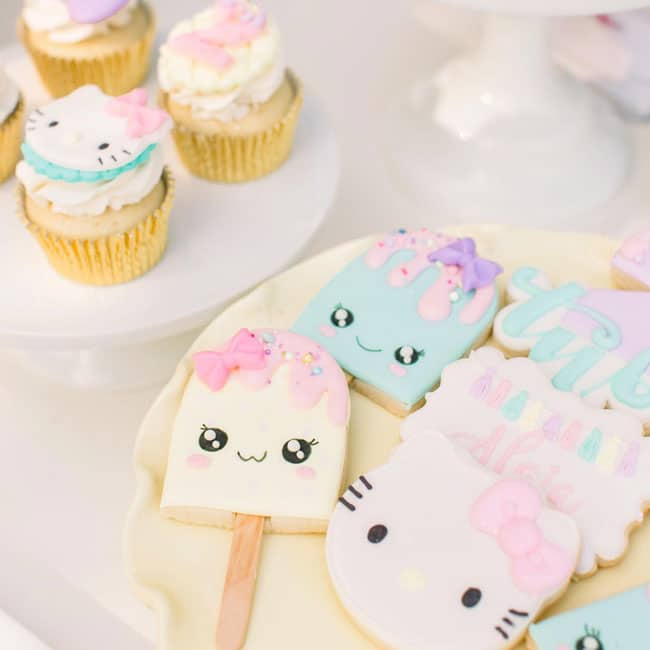 Of course, there had to be Hello Kitty cookies available on the dessert table, too! Hello Kitty face cookies, along with more Hello Kitty popsicle cookies were found on different platters on the dessert table. So many amazing Hello Kitty Party Ideas were a part of the planning stage, but M&J Kreations knew that it was going to include delicious cupcakes and cookies!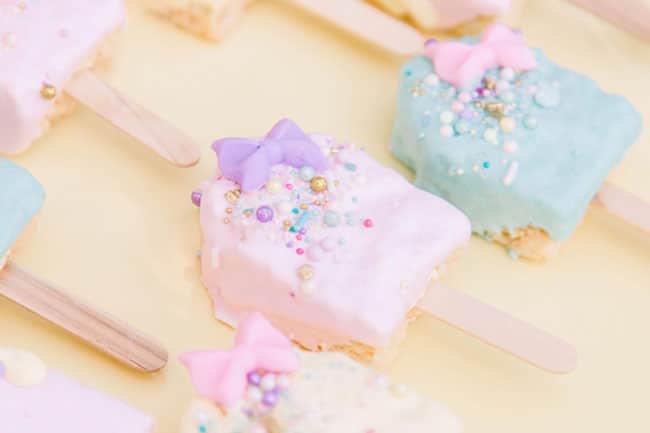 Pastel colored frosting was used to cover these sweet Rice Krispie treats, with a popsicle stick pushed in to make it easier for the little hands to hold. Look at all of the fun and glittery decorations that were used to make the treats a little more fun for everyone! What great imagery and thoughts to include for all of the desserts found at the Hello Kitty Party!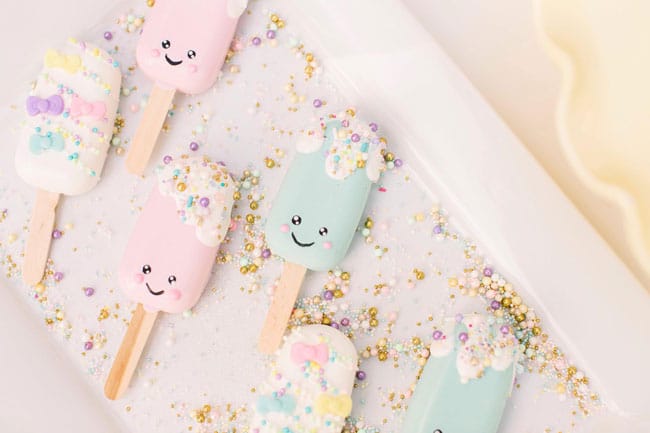 Not only were the fun glittery and gold decorations used on the popsicles, they were also used to help decorate the platters that held all of the desserts. What a fun way to add a little pop to all of the other Hello Kitty Party Decorations! We also love how these sweet "popsicles" were added, but nobody had to worry about them melting since they weren't actually popsicles! No need to worry about that mess!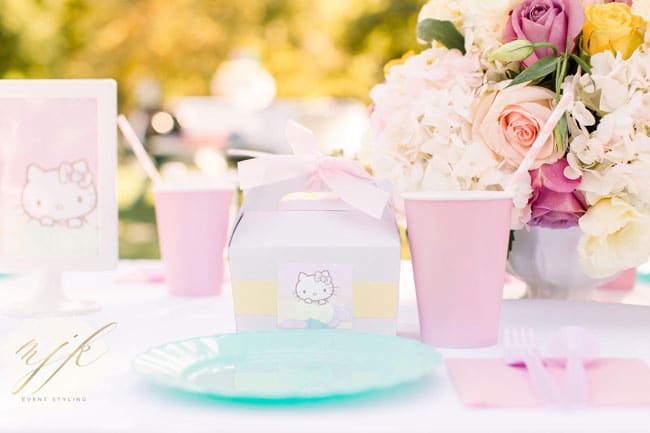 Hello Kitty Party Favors were included at every table setting where the guests sat. They were themed with the Hello Kitty logo and included lots of yummy treats, along with a little room for all of the party guests to add a few treats of their own from the dessert table! We all know there were plenty of delicious desserts to go around and it was the perfect way to make sure all of the guests got to try each and every one!
Fun Hello Kitty Party Games were also available for all of the sweet birthday guests to play. Everyone had a great time and this birthday girl went home exhausted, with wonderful dreams ready to take center stage in her head from her perfect birthday!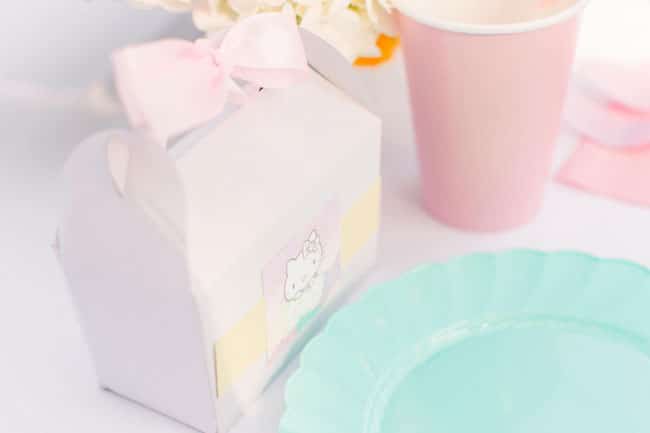 Hello Kitty Party Favors were tied together with a pretty pink bow, for everyone to take home. We don't know about you, but this is one Hello Kitty Themed Party that couldn't have any other details added to make it better! Everything was incredible and this lucky birthday girl will love looking back on these Hello Kitty Birthday Party photos for years to come.
We can't wait to see what kind of party outdoes this one in the future for all of the rest of her big birthdays! We're afraid her parents have a lot to live up to in the future, but we're positive they won't disappoint! We hope you enjoyed it as much as we did!
What's your favorite details in this Hello Kitty Party? Let us know in the comments below!
Vendors & Credits