These adorable Turkey Cupcakes are super quick and easy to make with the kids for Thanksgiving!
It's Turkey Day soon and these Easy Turkey Cupcakes will make everyone smile during your "Friendsgiving" or Thanksgiving celebration! Get the kiddos rounded up and start working on Thanksgiving cupcakes that are cute, fun and delicious!
Just look at those sweet little googly eyes! We all know how much the kids love to help out with different cooking and baking duties during the holidays and these will fit the bill perfectly!
This Thanksgiving cupcake recipe is easy as pumpkin pie and will have everyone saying how creative and cool you are!
Little do they know how easy they are to make and how fun the kids think they will be to help with. What a great family activity and your guests are sure to "gobble" them up. It's a win-win!
See also: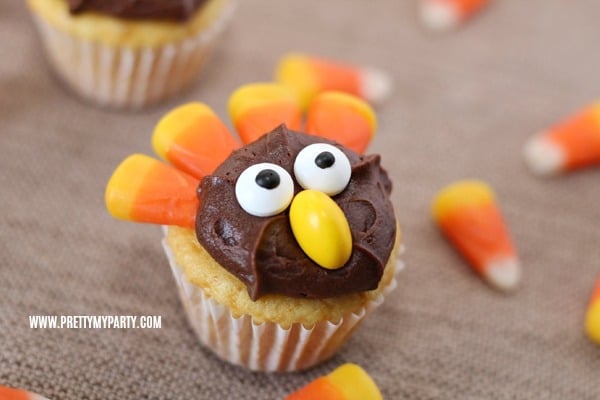 These Easy Turkey Cupcakes look super yummy and the kids will have a great time helping you create them for Thanksgiving. And most important … they are really easy to make! And let's face it. With all of the work that Thanksgiving meal prep can be, you deserve to have your dessert be fun like these adorable turkey cupcakes!
Pick up the ingredients below and get ready to make these fun turkey cupcakes with candy corn. Lucky for you, all of these ingredients are easy to grab and there is nothing that is going to make you lose your mind with an obscure ingredient!
Ingredients:
That's it! With those simple ingredients, you are well on your way to making these Thanksgiving cupcakes that your entire family will enjoy! And we are betting that they are going to have a pretty fun time helping you create them, too. They are super kid-friendly!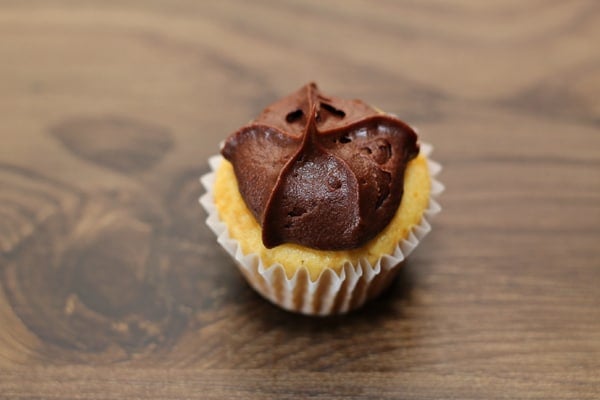 How to Decorate Turkey Cupcakes with Candy Corn
One of the things that we love the most about these cute turkey cupcakes is how easy they are to make. They are the perfect dessert to have the kids help with and they will love helping to decorate their own little turkey once the cupcakes are made! Everyone will be able to decide just exactly how they want their Thanksgiving turkey cupcake to look.
1. Cake Batter
Start by preparing your cupcake batter according to the box instructions. It doesn't get much easier than that! Generally, you will just need to add eggs, milk and oil and you'll be set!
2. Fill Cupcake Pan
If using cupcake liners, fill them 1/2 of the way full with the prepared cupcake batter. If you're really feeling fancy, feel free to get some fun Thanksgiving cupcake liners to make your sweet turkey cupcakes even more festive!
3. Bake Cupcakes
Bake the cupcakes according to the box instructions. I typically only bake mine for about 15 minutes, rather than the recommended 19 minutes. But it will depend on elevation and where you live. Pay close attention and you'll be just fine!
4. Let Cool
After the special Thanksgiving cupcakes are finished baking, let them cool completely before attempting to frost them.
5. Frost The Cupcakes
If you decide to use an icing pipping kit, now is the time where you will want to fill your icing bag with the chocolate icing. If you don't use the pipping kit, it is completely fine, just decide how you will frost the cupcakes.
Typically, I start in the middle of the cupcake and just add one large dot of icing onto each cupcake. I do use the icing pipping kit, however, to make this a little easier.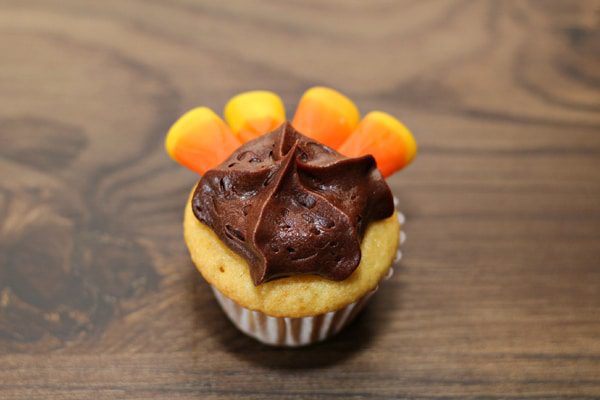 6. Add Candy Corn
Next, add the four candy corns (top of the corn in icing) to your cupcake, as shown above. Your fun turkey cupcakes with candy corn suddenly have tails!
This is the part of the Thanksgiving cupcake decorations that the kids generally love helping out with. They have quite the imaginations and before you know it, turkeys are going to be gobbling up all of the space in your kitchen!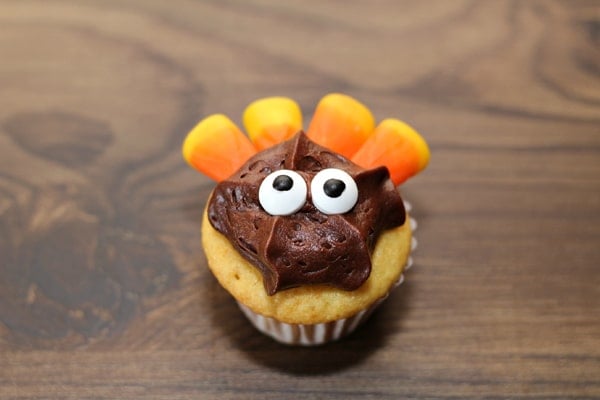 7. Add Candy Eyes
Another favorite decorating moment for the kiddos is adding the candy eyes! Suddenly, your fun turkey cupcakes can see! Just look at how cute they are!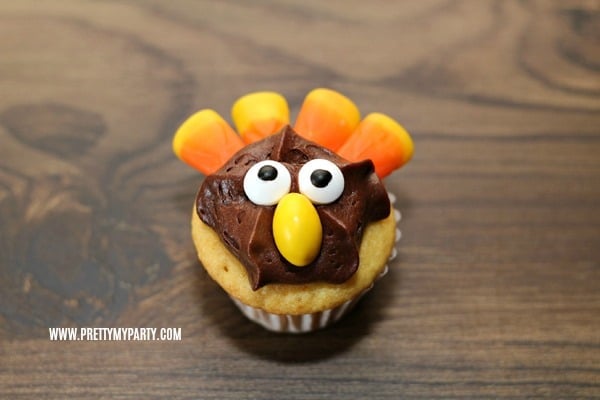 8. Add M&M's
Finally, you will add a yellow M&M that will stand in for the turkey's beak. And just like that, your Thanksgiving cupcakes are all finished up!
Now, you can eat turkey for dinner, and finish the meal with turkey for dessert! Gobble, gobble!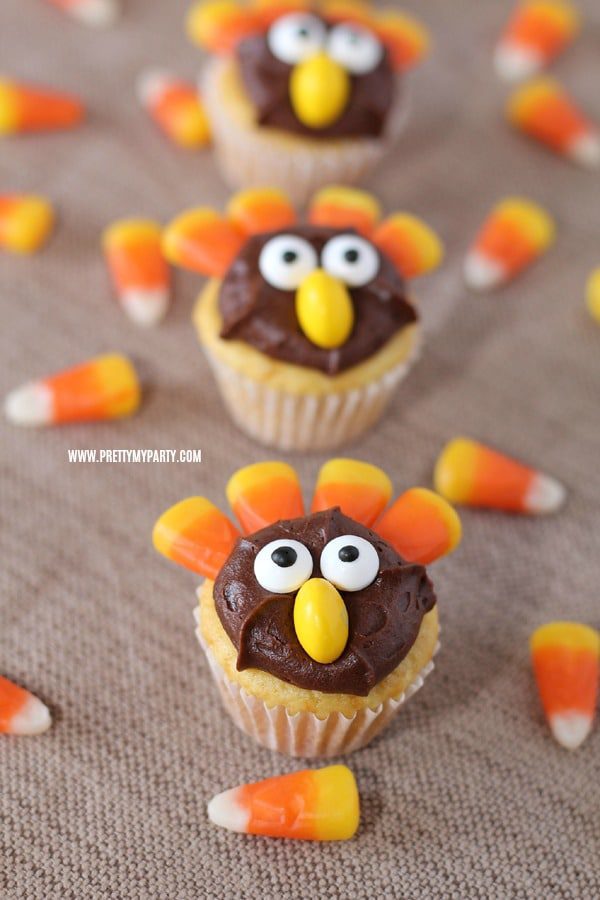 Now, you can serve and enjoy! How easy were those to create?! The kids love being involved with Thanksgiving prep and it's a great thing to have them decorate while you are busy making all of the other Thanksgiving food that will be enjoyed during the day.
This could also be a great activity that you could have the kids do during your actual Thanksgiving Day celebration. All you would have to do is make the cupcakes ahead of time, and let the kiddos create their own turkey cupcakes to keep them busy during the day. It's always handy to have something going on for the kids while you are busy in the kitchen trying to get the meal ready to serve!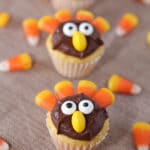 Easy Turkey Cupcakes
Make these Easy Turkey Cupcakes with the kids for Thanksgiving!
Ingredients
White Cake Mix

and ingredients listed on box

Chocolate or Fudge Icing

Candy Corn

Yellow M&M's

Candy Eyes

Mini Cupcake Liners

Mini Cupcake Bake Pan

Icing Pipping Kit

optional
Instructions
Start by preparing your cake batter according to box instructions.

Fill your cupcake liners 1/2 of the way full.

Bake cupcakes according to box instructions (I only baked mine for 15 minutes, rather then the recommended 19 minutes. Just pay close attention.

After baking let cool completely.

If you choose to use a icing pipping kit, fill your icing bag with your chocolate icing.

I started in the middle and just added one large dot of icing, on to each cupcake.

Next add four candy corns (top of the corn in icing) to your cupcake as shown.

Add two candy eyes.

Finally, add a yellow M&M for the beak.

Serve and enjoy!
Does your child have a Thanksgiving celebration at school? These are great treats to bring in for all of the kids to enjoy, as well. We just love themed dessert ideas! And the kids are pretty darn excited to bring these in for all of their friends to gobble up!
These candy corn-studded cupcakes will help you celebrate the holiday. Even better? No actual turkeys will be harmed in the making of them. At least for the cupcakes!
Enjoy your Thanksgiving holiday with your loved ones! We're very happy to provide a fun and easy Turkey cupcake that the entire family will love on your Thanksgiving buffet!