Gorgeous Donut Themed Birthday Party
When the birthday girl could easily eat a donut a day, it was no surprise when she said she wanted a Gorgeous Donut Themed Birthday Party! Her goals? To eat donuts and wear a pencil skirt. PERFECT!

See also: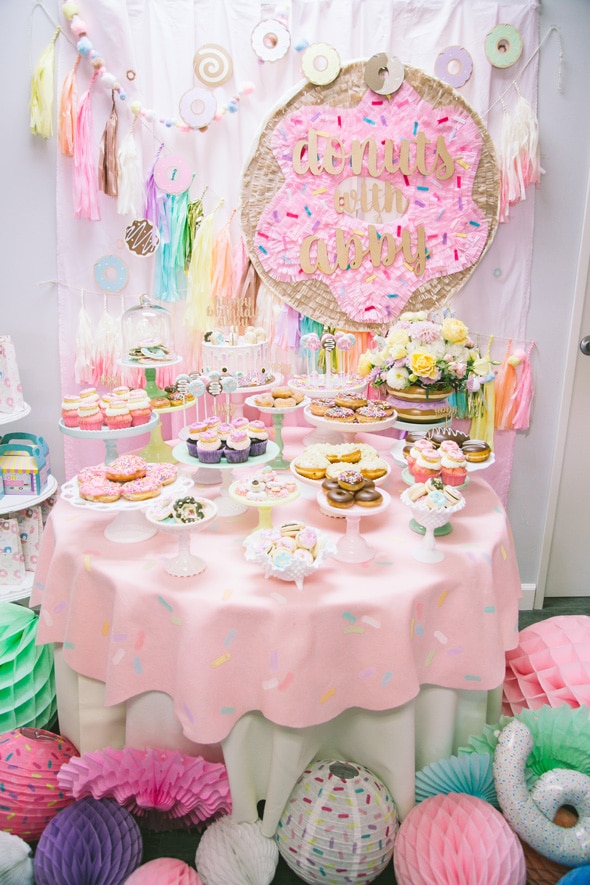 The party was created with a small group of friends in mind by Minted and Vintage, while finding things that would keep the girls entertained. What little girl doesn't enjoy making crafts?! Adorable scented squishy donut charms were found on Etsy and the girls were able to make their own necklaces at Happy Ever Etched.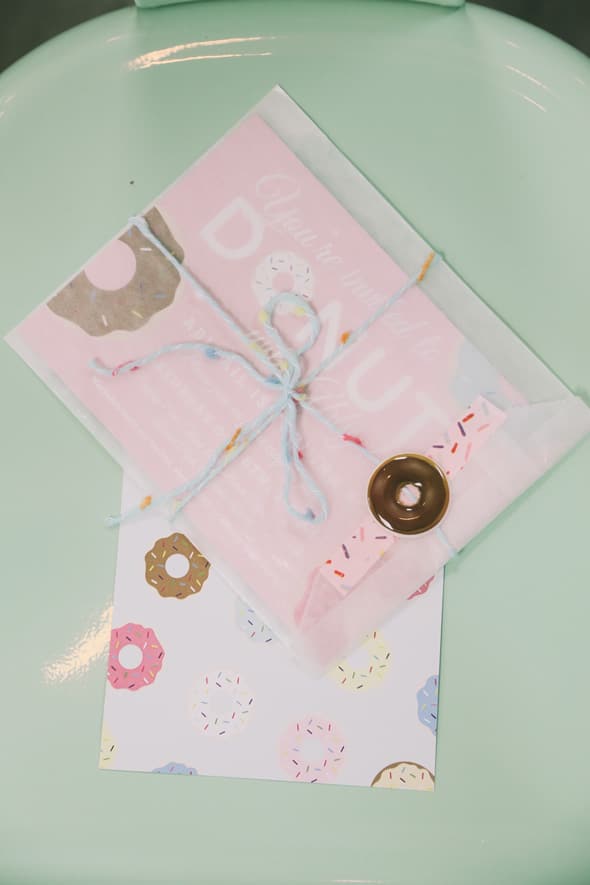 For the invitation, the goal was cute and simple. Colleen Michelle Design created the perfect donut invitation printable, which was placed in glassine envelopes and tied with sprinkle yarn for the birthday girl to hand-deliver. So cute!
Guest tables were adorned with simple paper runners that were hand-stamped with sprinkle shapes that were hand-carved out of potatoes. What a great DIY project! Cute donut paper plates with matching cups and a party hat were placed at each table setting. Spectacular!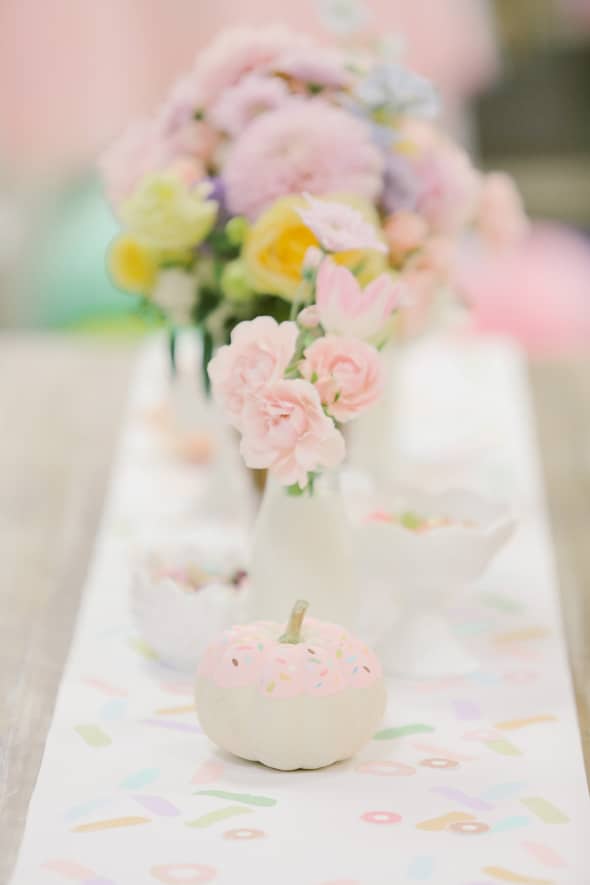 For the table centerpieces, Cerritos Florist designed whimsical, soft pastel arrangements to go along with the hand-painted donut vases. These were accented with cute milk jars, as well, that were filled with actual milk for the flowers instead of water! What a unique idea!
The dessert table was nothing short of a donut wonderland! Girls were served their favorite donuts from Krispy Kreme.
The French Confection Co. whipped up a gorgeous drip cake topped with donut macarons, mini donut-topped cupcakes and donut iced sugar cookies.
The donut shaped cake pops from Bella Bakery were the cutest! Little brigadeiros were served, as well, from Simply Brigadeiro, in donut shapes and traditional ones topped with donut and bow sprinkles.
Look how cute these cupcakes are with mini donuts on top!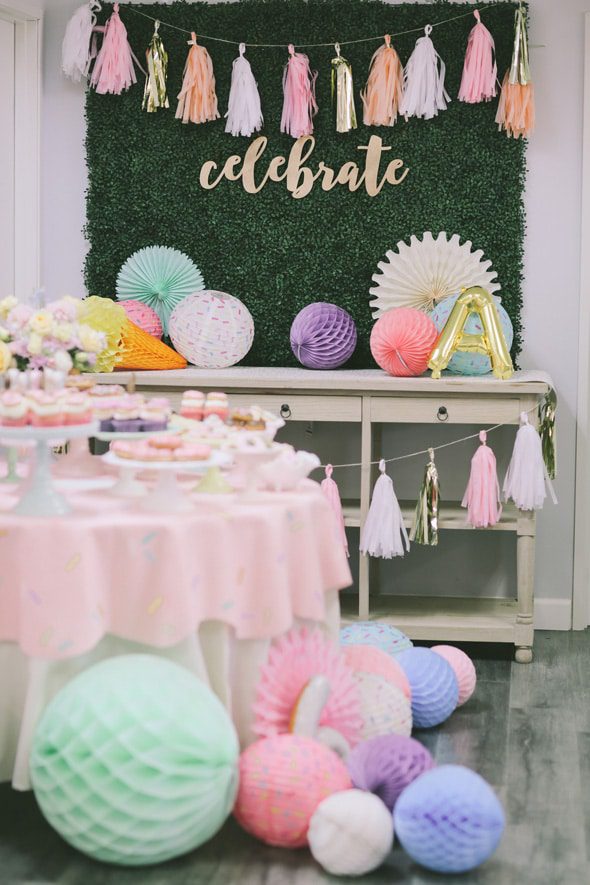 The decor and design of the dessert table were so fun! We love how they used a round table, in order to look more like a donut!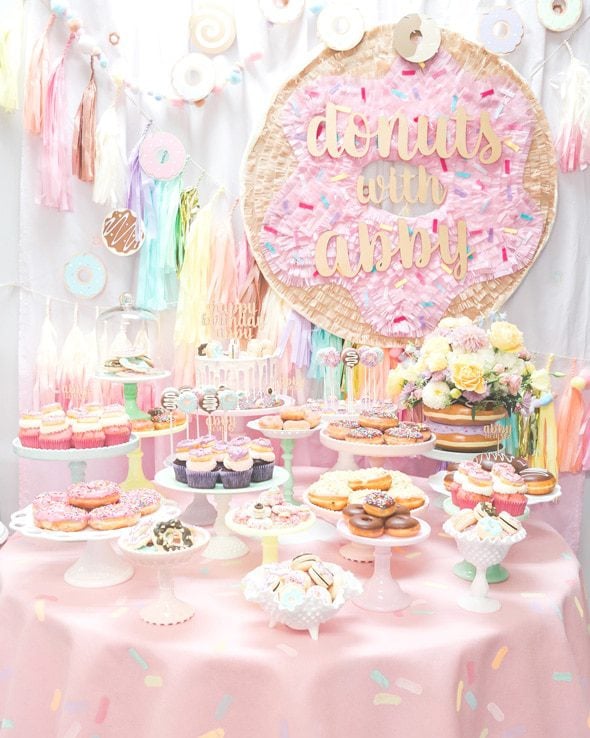 How about the handmade table topper to look like the pink icing with sprinkles?! It was created out of pink felt fabric, with a circle cut out. Sprinkle stamps were again used from the cut out potatoes and the topper was stamped with different color paint. It looks so adorable!
For the backdrop, a big fringe donut was created out of tissue paper and cardboard, with a laser cut sign custom-made by Happy Ever Etched. They also made matching cake toppers and picks for desserts to tie it all in!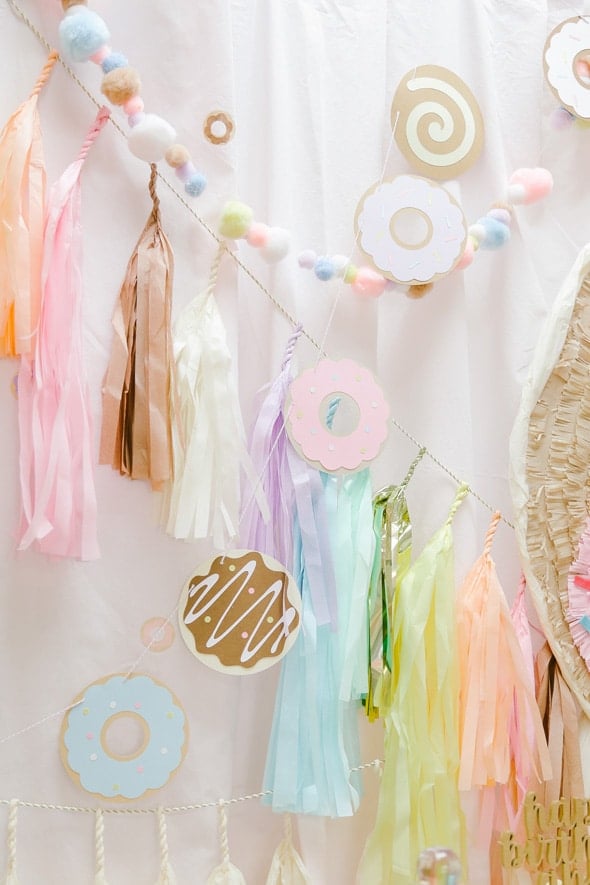 A garland of paper donuts from Party Hearty Shop was used to decorate the party, along with the super festive and pretty fringe tissue garlands from Paper Fox LA. Adorable!
Guests took home donut favor bags along with scented donut soaps from Soapopotamus. They got to fill up their own to-go treat boxes, with all their favorite goodies from the dessert table to enjoy at home. Yum!
The birthday girl wore a pretty pink leotard with the pencil skirt she so wanted, handmade by Mom. So impressive! We also love the donut Minnie ears from Parlor of Pretties. What a great way to top off the perfect donut outfit!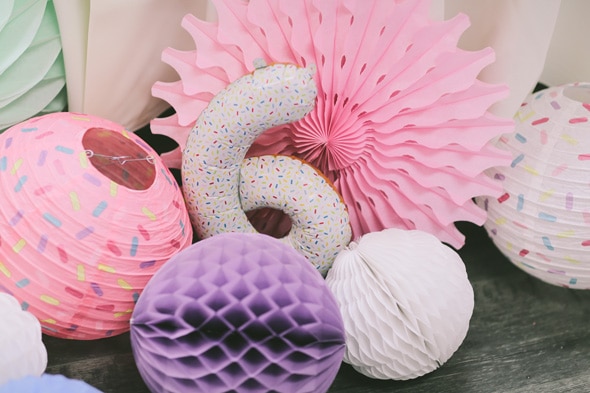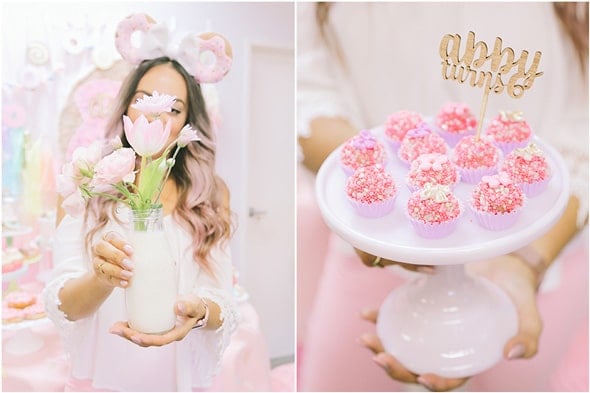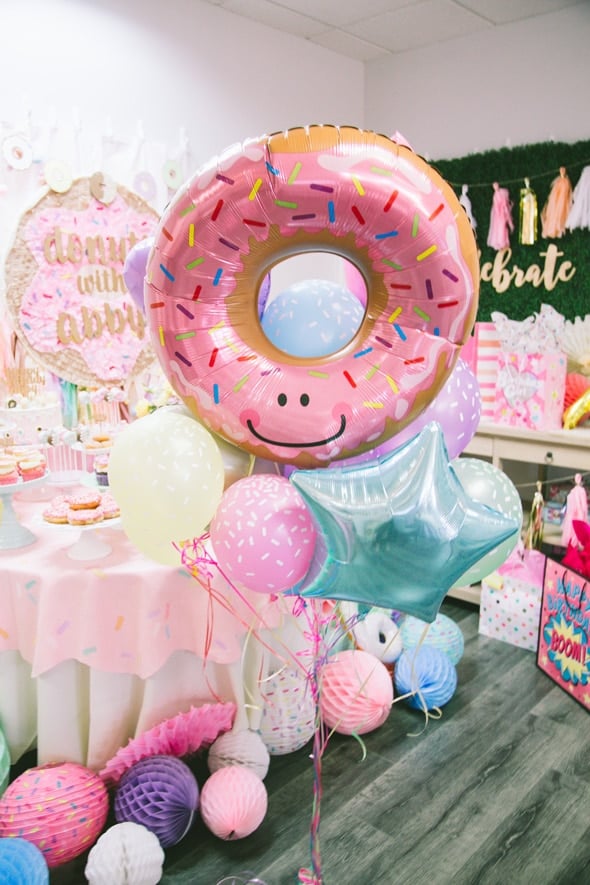 This sweet girl had a blast on her birthday with her closest friends! She was able to do exactly what she loves the most, eating donuts and wearing a pencil skirt! What a wonderful day!
What's your favorite details in this Gorgeous Donut Themed Birthday Party? Let us know in the comments below!
For more party ideas, follow us on Instagram @prettymyparty and Pinterest and join us in our private Facebook group.
Vendors & Credits
Design: Minted and Vintage // Photography: Brianna Muniz Photography // Floral Design: Cerritos Florist // Workshop Space, Laser Cut Sign & Toppers: Happy Ever Etched // Invitation Design: Colleen Michelle Design // Cake Pops: Bella Bakery // Donuts: Krispy Kreme // Brigadeiros: Simply Brigadeiro // Cake, Cupcakes, Cookies, Macarons: The French Confection Co. // Cake Stand Rentals: Minted and Vintage // Paper Donut Garland: Party Hearty Shop // Fringe Garland: Paper Fox LA // Donut Ears: Parlor of Pretties // Donut Partyware: Oh Happy Day // Handmade Donut Necklace: Andisa Charms // Donut Soap Favors: Soapopotamus // Donut Treat Boxes, Donut Rings: Oriental Trading // Leotard: The Leotard Boutique // Donut Fabric: Spoonflower