Anthropologie Inspired 1st Birthday
This Anthropologie Inspired 1st Birthday was EVERYTHING with fun textures and lots of popping color!
What an amazing Anthropologie Inspired 1st Birthday from Klos + Co! This unique first birthday theme had mom excited for months and it turned out beyond fabulous. Many of the items were done with an attention to detail and DIY fabulous-ness, with lots of help and contributions from family and small businesses.
Invitations were created by Itsy Bitsy Parties and they NAILED it! The texture and the scalloped edges were off the charts and exactly the Anthropologie Inspired invitation mom wanted. They also created the fun favor boxes filled with candy and toys, along with the smash cake topper that was used for this first birthday celebration!
But… we just have to talk about that amazing colorful plate backdrop, that was one of the main inspiration points for this Anthropologie Inspired 1st Birthday. Oh Happy Day Party Shop created this incredible backdrop, which was a highlight of the entire party. It was the perfect way to showcase the fun fondue menu that everyone was able to enjoy. Because of the texture, poms and disco balls that were used, there was an underlying 70's theme, so of course fondue was the perfect menu item!
Cheese and chocolate fondue were the highlights, served with appropriate yummy treats to enjoy the fondue. Deviled eggs and delicious colorful cookies from Sugar Chic Designs were also on the menu, with personalized cookies on each guest plate, as well. What a fun thing to sit down to! Custom fondue skewers were created, along with fun small scalloped plates for all the guests from Ellie & Piper, which make snacking easy.
The tablescape on the guest tables was simply amazing! All of the fun and bright colors made everything festive and exciting. Tons of tablecloths, pillows and blankets were added to give everything a cozy feel. And of course, the scalloped plates made the Anthropologie inspiration come alive! A fun macrame table cloth finished things off, with sparkling disco balls adding in some extra texture.
And the cake! Balloon garland from Studio Pep, along with a fringe backdrop from Glam Fete helped to highlight the outstanding cake creation, with a smash cake added in for the birthday girl to enjoy all on her own. The smash cake even had a topper that matched the birthday invitation! The main cake was a DIY creation from Mom! It was adorned with a great cake topper from Fancy Free Finery. All of it was gorgeous and a total showstopper!
Even the drink station was customized perfection! Drinks were simple, yet amazing. champagne was in adorable pink glasses, along with peach sangria. And of course, the kids had fresh lemonade to enjoy, as well! The glasses all had custom tags reading "Happy Birthday" "Brennan Garland" and "Made of Magic", which gave them that extra something … they were perfect! Drink canisters were used that mom had around the house for years and she finished them with drink tags from Chalk Designs By Me and poms, of course!
Monthly photos of the birthday girl were displayed on a latter and adorned with tags and pom garland. It was the perfect decor to add in for a first birthday and it was a lot of fun for the guests to see how much the birthday girl grew over the past year. And of course, the birthday girl had an adorable outfit from Tea Collection. What a perfect first birthday celebration that all of the guests enjoyed so much!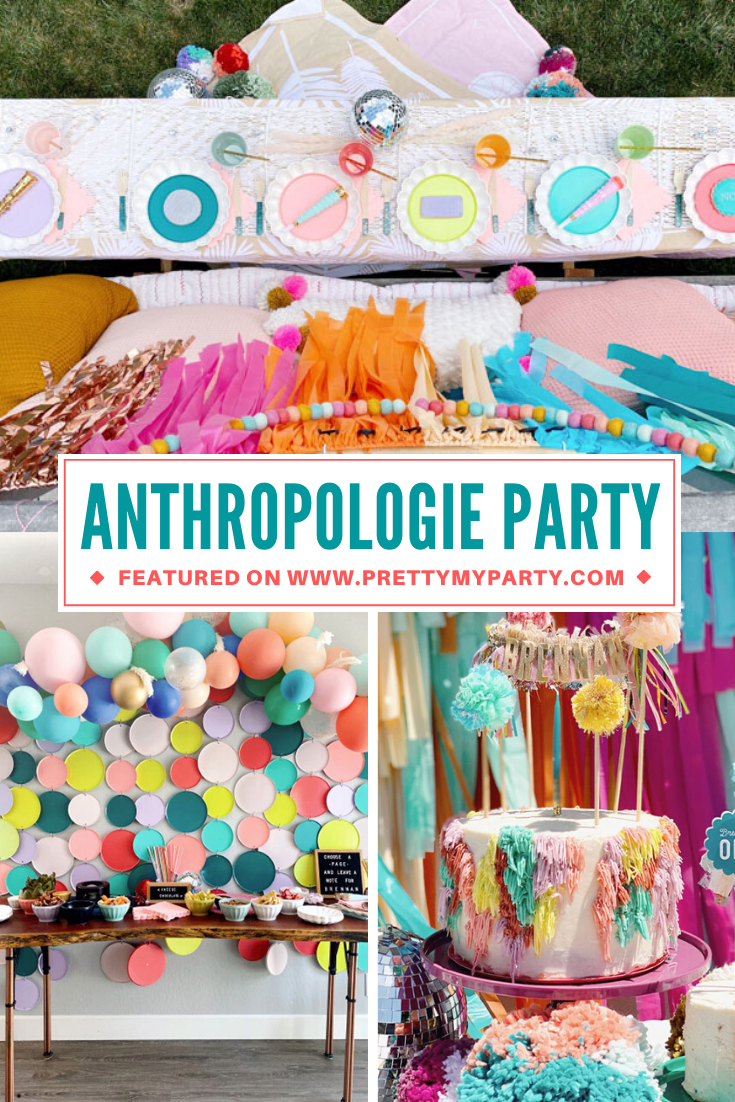 Anthropologie Inspired 1st Birthday Ideas
Colorful and festive Anthropologie birthday backdrops, including a hanging plate and balloon installation with lots of garland
Birthday invitations matched the overall theme of the event, with color and styling
Fringe backdrops were used for the dessert table to showcase the birthday cake
The Anthropologie inspired birthday cake was a DIY dream with bright colors and fun pom and fringe cake toppers for the main cake and the smash cake
Pom poms and disco balls were main decor items to give the event a 70's theme vibe
Food ideas included fondue stations with cheese and chocolate fondue pots
Guest tables were a whimsical treat with incredible tablescape decor
Scalloped edge plates, straws, fun cups and fun flatware were found on macabre tablecloths for this one year old birthday celebration
The drink station included drink tags on the jugs, which included sangria, lemonade and water
Dessert table goodies included personalized cookies, cupcakes and candy bowls
Gift boxes were created for all the guests, which were filled with bright and colorful toys and snacks
Fun activities and games were provided around the birthday celebration, which guests were able to enjoy
Signs were uniquely displayed around the birthday party
Monthly photos were displayed on a ladder with birthday streamers, decor and tags highlighting each month
A guest book was set up for all guests to leave a sweet note to the birthday girl, which will be shared with her when she is older
An adorable and colorful birthday outfit tied the whole day together, which the birthday girl wore with glee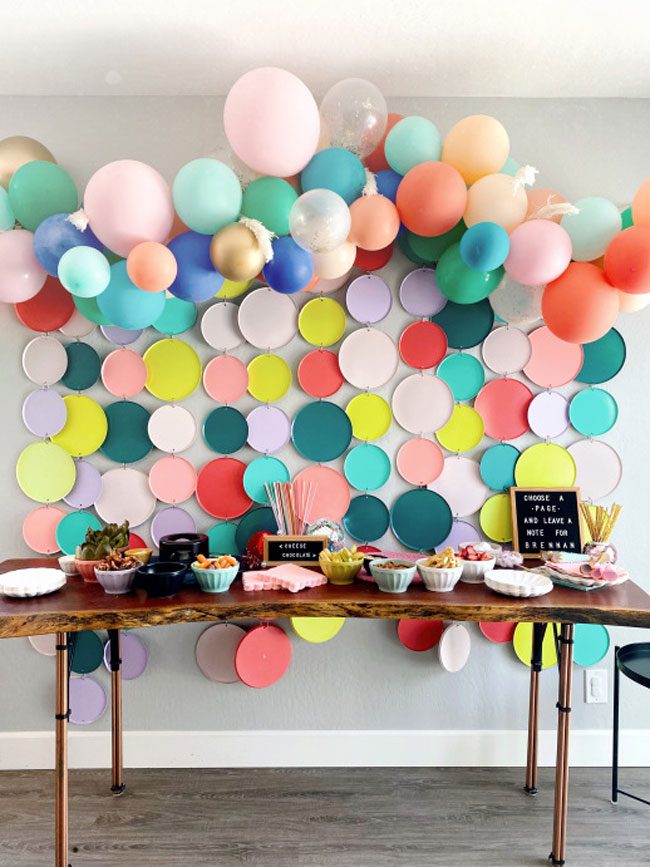 With so many amazing features and details in this Anthropologie Inspired 1st Birthday, where does one even begin to find a favorite?! Everything was a favorite, in our book!
The best part, though? It has to be the amazingly colorful backdrops, that came in all sorts of shapes and sizes. From the amazing plate backdrop to the balloon installations and fringe backdrop, they were incredible! Everything had a perfect boho vibe, while remaining vibrant and fun. Anthropologie inspired items were found in many of the great party details, including the cake and smash cake. We just love the cake toppers for both, which matched so well with other birthday decor around the event. Add in all of the poms and the different sized disco balls … it was a sensory explosion of the very best kind. What a great way to celebrate a first birthday party for not only the birthday girl, but all of her loved ones!
See more first birthday party ideas here:
What are your favorite details from this Anthropologie Inspired 1st Birthday? Let us know in the comments below!
For more 1st birthday party ideas, follow us on Instagram @prettymyparty and Pinterest and join us in our private Facebook group.
Party Vendors
Party Design: Klos + Co.
Cake Topper & Topper Pom Poms: Fancy Free Finery
Cookies: Sugar Chic Designs
Wand & Pom: Kiss You Co
Invites, Favor Boxes, Smash Cake Topper: Itsy Bitsy Parties
Fondue Skewers, Flatware: BKLYN Party
Felt Garland: Pearl & Jane
Purple Cake Stand, Melamine Cups, Raffia Place Mats: Rice by Rice
Balloon Garland, Confetti: Studio Pep
Fringe Backdrop: Glam Fete
Plate Backdrop: Oh Happy Day Party Shop
Scallop Plates, Napkins, Party Horns, Mini Disco Balls, Candle: Ellie & Piper CO
Party Hat & Magic Bows: Rolly Polly
Acrylic Drink Markers: Zoi & Co
Jug Tags & Name Tag: Chalk Designs By Me
Glasses and Pampas Grass: Blush Pella
Green Cake Stand: Shop Sweet Lulu
Gold and White Table Cloth: Major Party
Palm Leaf Table Cloths: Beach Road Designs
Letter Nails, Bowls, Giant Pom, Over Sized Pillows, White Pom Garland: Anthropologie
Pool, Beach Towels, Macrame Table Cloth, Drink Jugs: Target
Letterboards: Letterfolk
Monthly Prints: Chatbooks
Eat The Cake Book, Pink Coups, Gold Straws, Favors, White Square Tray: Amazon
Brennan's Suit: Tea Collection